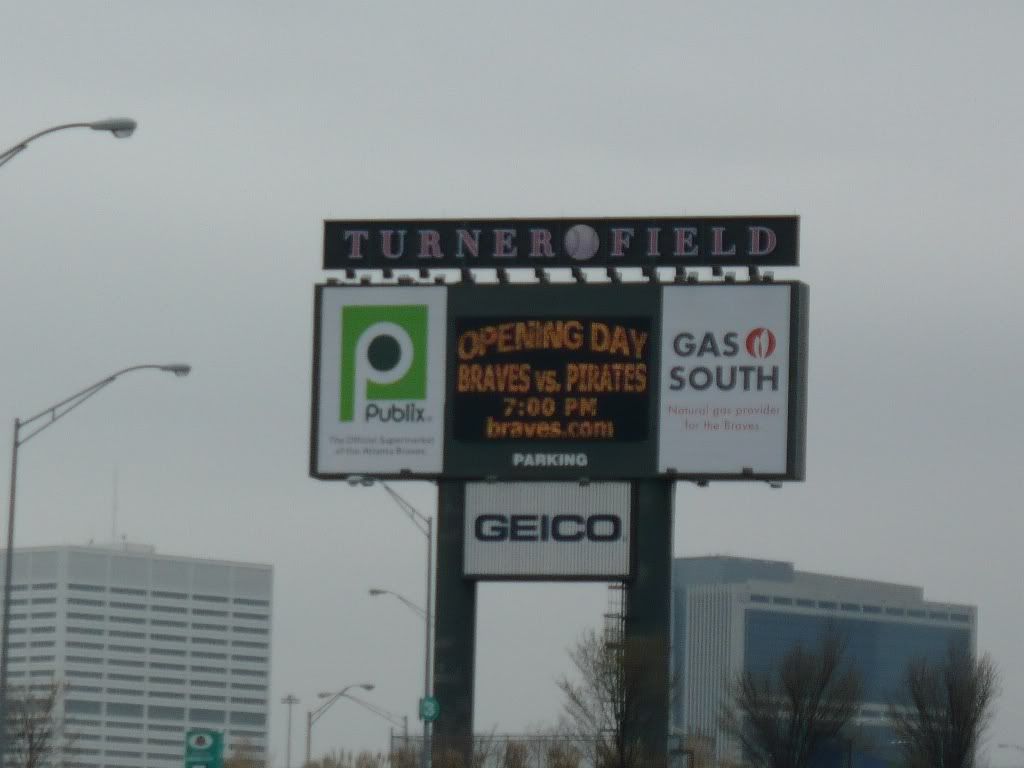 It was a gloomy but exciting day. Here are the pics from Monday's game. Enjoy!

Pigeons and homeless people and beer...I love Atlanta. This was taken as I walked under 75/85; the stadium is straight ahead.

Arriving at Turner Field. The boys posing in the bottom right were so cute. They seemed ecstatic to be there. I know a lot of adults who need to regain that enthusiasm and positivity!

CF View -- I didn't watch BP for long (got there when the Pirates were on the field), but I did take a couple of pictures of my brother's former little league teammate, Matt Capps. (Bending here) He was a phenom at 14, and he was one of two the locals hoped would make it to the bigs one day. (The other boy didn't make it; last I recall hearing, he hurt his arm before being drafted.)

Jair Jurrjens signing autographs. Seems like a class act, that kid, and confident in his abilities. Thumbs up!

Mark Lemke jokes with someone in the crowd from his radio show booth. Pic 1 - Pic 2 - Pic 3

Formerly the Lexus level, now the Golden Moon Casino level.

The outfield wall has been redecorated with a history of the Braves franchise, dating back to 1871. It was pounded in our heads all night that the Braves are...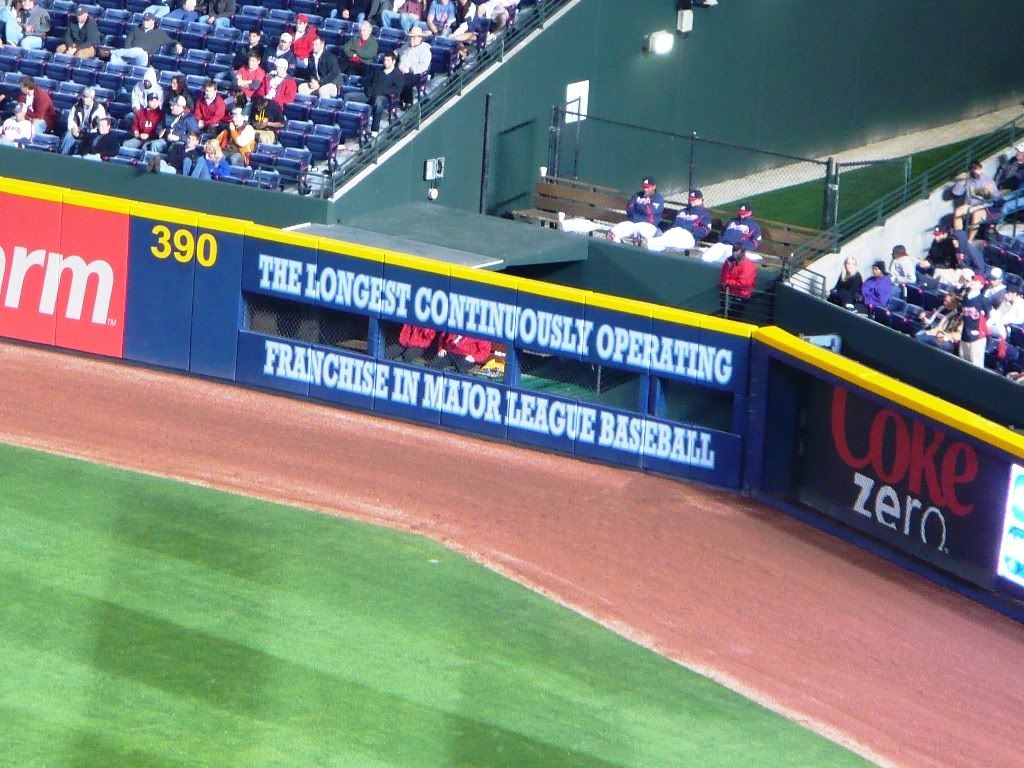 Wall pic 1 - Wall pic 2 - Wall pic 3 - Wall pic 4

It's nice to know some things don't change: Baby still hates his hat.

He also signed a ball for someone in the stands while waiting for Tommy to come out to the bullpen; I thought that was nice.

Here he is warming up with Tommy.

Yay, opening day! Balloon release, fireworks, etc. I was disappointed that there wasn't a fighter-jet flyover, but the weather may have been too bad. Visibility was very poor.

The National Anthem. Moylan's balder than I remembered, and holy cow, Blaine has a lot of hair. ("What about prom, Blaine?!" ...That had to be said.)

Also? This kid was NOT accustomed to noise, and clamped his little fists over his ears even harder when the national anthem started. I thought Diana DeGarmo did a decent job, but this kid...heh. He was cute.

Tom Glavine warming up on the mound in Braves Home Whites, just as it should be. ;)


I didn't take as many action/individual player shots as I usually do, but here are a few:

Mark Teixeira's first at-bat

Teix at first base

Tommy pitching

Baby's hat makes him sweaty, as usual.

Frenchy looks different this year, no?

Matt Diaz goes to bat

Tommy's first AB as a 2008 Brave

Tommy's Jumbotron pic. Not bad, old man! :)

Baby hit a home run!

Kotsay. Mug Shot. Scary.

I know a lot of people have worn #14; Martin Prado is wearing it this year. Do you know which Brave I still associate #14 with? Brian Hunter. ...Yeah. Anyway, I like Martin.

Didn't get any shots of the patented Yunel Escobar Double Vertical Leap, but I did notice all his little tics before he bats. He makes 5 lines in the chalk with his bat and does a tappy thing once he gets in the box. It's not as bad as Nomar's batting glove tap -- maybe I just find it endearing because I heart Yunie so much. Also, boy is not afraid to get dirty.

Hi Pete! Pant legs down this spring, I see. Bobby takes him out of the game.

Royce Ring!

Matty's little eye sparkle...he always looks like he's up to something!

I really like Brayan Pena's signature. What's that at the end of his name?

Opie...er...Blaine Boyer up to pitch.


Back to regular pics, the "Andruw's Brew Crew" sign was out for the first half of the game, which I loved. When it came down, I wondered who noticed and sent the word over: Wren, Schuerholz, Cox?

A poor quality picture, but McCann's Cans were in attendance! What's up, fellas! :)

Home Depot Tool Race. I was cheering for the saw, but the drill won. I love how people really get into watching three cartoon tools race around the bases.

My friend Jey thinks Pirate Ryan Doumit looks like a mongoose. You are correct, sir! He (Jey) also loves Franquelis Osoria's sport goggles. They are pretty sweet.

The SunTrust Club section wasn't as full as I'd like to have seen it, but considering the price of those tickets and the attached swanky lounge, I don't wonder. (They could have hired seat-fillers or something, though.)

Finally, you can see in this picture how many windows were blown out of the Atlanta skyline from the tornadoes a couple of weeks ago. It's kind of bizarre to see that much destruction, but the city is assuring us that Downtown is being cleaned up and repaired as quickly as possible.


The game went 12 innings and the final score was 12-11 Pirates. It was a very fun game to attend, even if the bullpen crumbled a little under pressure. Entire album is here.