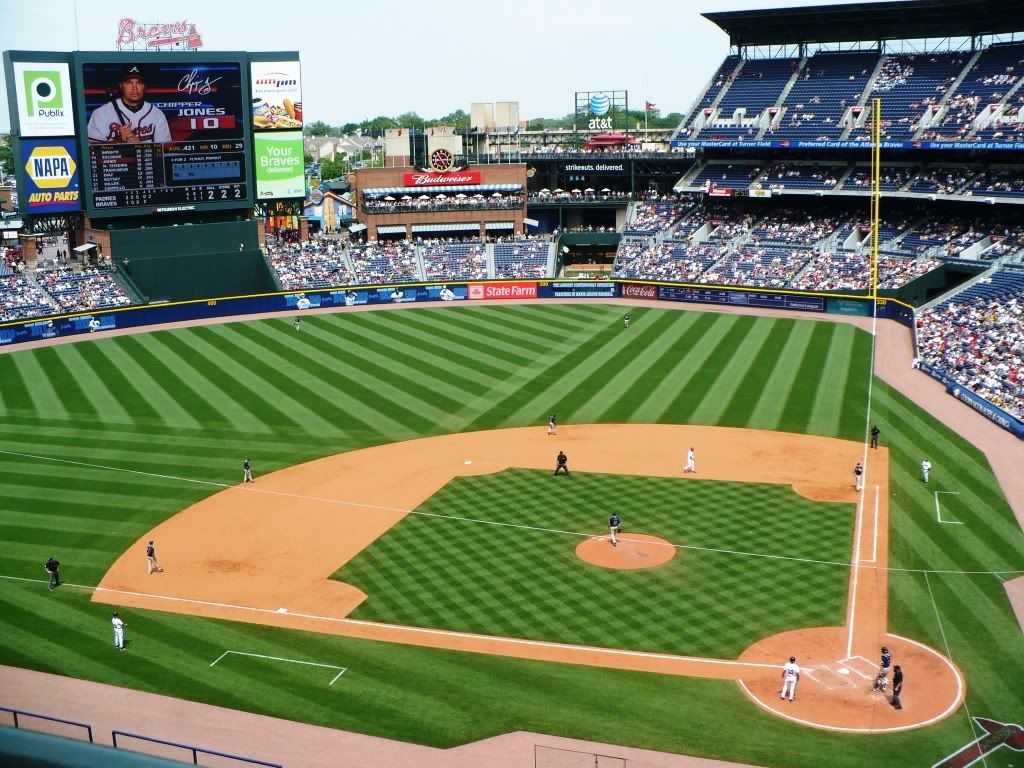 Day Game! I haven't been to a 1:00 start in years, but it was a nice change. One of my awesome co-workers left me a couple of his season tickets, but we didn't sit in his seats -- we moved around the horn a bit to have a little less sun and a better view into the dugout. We ended up sitting in 408 (one of my favorite sections). It was my friend Taylor's second baseball game ever, and I think he had a good time. I tried to entertain him with stories about the guys and made him sing along and play the games on Braves Vision. So let's get started!

Lineups. I think it's funny that, the entire game, "M. Teixeira" was on the big board. Is there another Teixeira on this team?

First glimpse of Omar Infante in a Braves uni. He's wearing my Pete Orr!™'s #4.

Speaking of Petes, here's Mr. Van Wieren, looking sharp in a pink oxford. I'm still not used to his 100% bald head.

Homeboy Upstairs and HU2 sitting together in the GM box. Schuerholz was drinking regular Coke -- didn't see any food or beverage for Wren.

I can't tell who's fixing Frenchy's hat here. Is it Huddy? He was sitting on the bench with Baby for a little while this early in the game.

Mr. McCann seemed to be in the middle of everything yesterday. See: Exhibit A -- Exhibit B -- Exhibit C -- Exhibit D -- Exhibit E

Teix and Omar, playing leapfrog.

The guy who threw out the ceremonial first pitch was "a member of the 755 Club". I think they just walked around the 755 Club until they saw a guy in a Sunday Red jersey with suspenders on top, and asked him if he wanted to throw out the first pitch. Suspenders! Over! Jersey! I kinda wish Tommy would do that. I could see him wearing suspenders in 25 years or so.

Bobby bumping fists. That's hilarious to me, for some reason.

Injury report takes two screens! Boo. Screen #1 -- Screen #2. While we're talking about this, I'd like to call BS on putting Brayan on the DL. How did he strain his mid-back? $10 says he didn't -- they just needed to move someone off the 25-man roster to make room for Infante and Morton, and Brayan's out of minor-league options, so...ow! There goes his back. *rolls eyes*

Omar's big screen pic.

Who's this guy undressing My Buddy? (Not my Buddy, but "My Buddy". See the similarities?)

Baby helped warm up the pitcher between innings while Corky put his gear on. Baby usually wears red pads and Corky usually wears navy pads, I've noticed.

KJ, staying sharp in the dugout.

See the heap of trash in the floor of the dugout? See who's sitting above it? Yep. Heap. I swear, he reminds me of Pigpen from Peanuts sometimes.

Run, Teix, run! I think kids would read more if they had pictures like that to look at. The girls, anyway, and a few boys. ;)

Greg Norton's Jumbotron pic.

Baby hung out on the top step for a while. These pics are scattered throught the game... Pic 1 -- Pic 2 -- Pic 3 -- Pic 4 -- Pic 5 -- Pic 6

A requisite MattE Diaz lean back pic.

I really like this white-on-white alternate jersey. I'd totally have one of those, if I knew where to find one. While looking at the Braves online shop trying to find it, I ran across these swim trunks. How cool are those?!

Jeff Francoeur: The latest Stepford Wife.

Royce Ring! Kicking [butt] and taking names this year, in spite of that ERA.

Taylor was excited that this guy's name was Gotay until I told him it was pronounced "Go Tai" rather than "Go Tay". He took it as a personal shout-out.

This may be my computer's new wallpaper.

Braves Win, thanks to MattE's walk-off hit in the bottom of the 9th! Pic 1 -- Pic 2

OKT, getting MattE ready for his post-game interview. I really like Katy Temple, and she has a great dynamic with Brian Jordan in the pre- and post-game shows.

Anyway, YAY for MattE! Hero of the day!