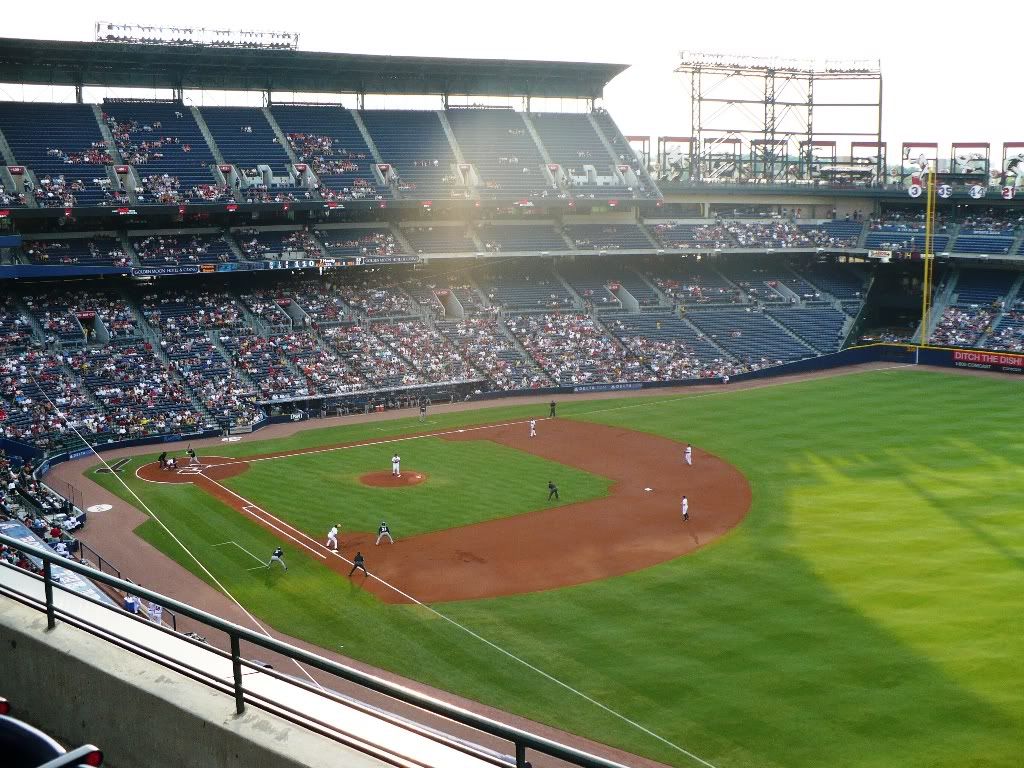 First, THANK YOU to LizzieBeth for the tickets to last night's game. Even though we lost (4-1), it's always fun to go to the stadium and cheer for our boys!! Jenny thanks you too. :)

I hadn't been to a game in over a month, and I felt like I was going through withdrawal. It was so exciting to walk through the gates and head down to watch some BP. As I was trying to identify the groups of guys to see where I wanted to camp out for a few minutes, I almost laughed out loud at my boy Jair. He was jogging around the outfield, randomly hugging his teammates from the side. No one reciprocated while I was digging in my bag for my camera, until he got to Manny. Manny hugged back! I was shocked. They hung out and talked for a good while.

Wait, what's this? Pete Moylan! In the outfield for BP! He was out there for about two minutes after I got there, then took off to the dugout. (I know, I should take it personally. Hee.) Before he went though, I was surprised to see him catch a fly ball. He kept the ball in his glove, put the glove under his right arm, took the ball out with his left hand, and threw it back (again, using his left arm). Bye, Pete! Good to see you! Hope your arm's getting better!

Other fun BP stuff...

KJ talking to Bobby Dews.

Will Ohman wearing a "Bat Boy" jersey. (AWESOME, I love it.)

Charlie doing some long-toss. (Jair did some too.)

They're always fascinated by what goes on in the stands.

Martin taking some grounders -- hopefully he'll be back soon. Kots also took a lot of balls (...) and practiced leaping, running to the side, and throwing while running. He looked pretty good out there!

For those of you who Like Mike: Mmmm!

But I won't lie; Huddy's was better. :)

There were some nice displays of athleticism...

...and some secrets swapped.

Teix! He's great.

Okay, Braves BP was over. I'm trying to finish a book before Wednesday when it's due back to the library, so I went to find a bench on the upper level (windy, shade, not bad). There was no one up there. It's been a long time since I've been to a game this deserted! The few people who were there were peering over the side into the player parking lot. Now I've never personally seen any of the players in their current vehicles, but I hear things...and if what I hear is correct, Baby and Frenchy were parked next to each other. Awww. The back window of Baby's car was a mess. (Not surprising!) There were more Cadillac sedans than I expected, a lot of trucks and SUVs, and a couple of sensible cars. (Someone with a bit of common sense drives a Ford Focus -- Gas is $4/gallon, people!)

Moving on...

Baby likes to stretch, and he totally pops his butt out when he bats. You just can't always see it because he wears his pants so big.

We did cheer for Frenchy, unlike most of the stadium. He needs a full day off -- no pinch hitting, no filling in in RF for the last inning. He's got to clear his mind. Also, he's back to his country intro song from last year. It didn't help him tonight, but maybe it will soon.

Hi, Teix. *sigh* He was also featured in the "Who's Hot" on the scoreboard between innings, and every single picture was adorable. <3!

Waiting for Buddy. His picture is so weird, y'all. I'm not a fan.

Pete, Skip, Joe, and Boog.

Guys hanging out on the rail! ~1~ ~2~ ~3~ ~4~ ~5~

I have no idea why I took this, but at the end of the night, here's a shot of KJ's jumbotron pic. *shrug*

Even if we didn't win, it was still a great time. Go Braves!