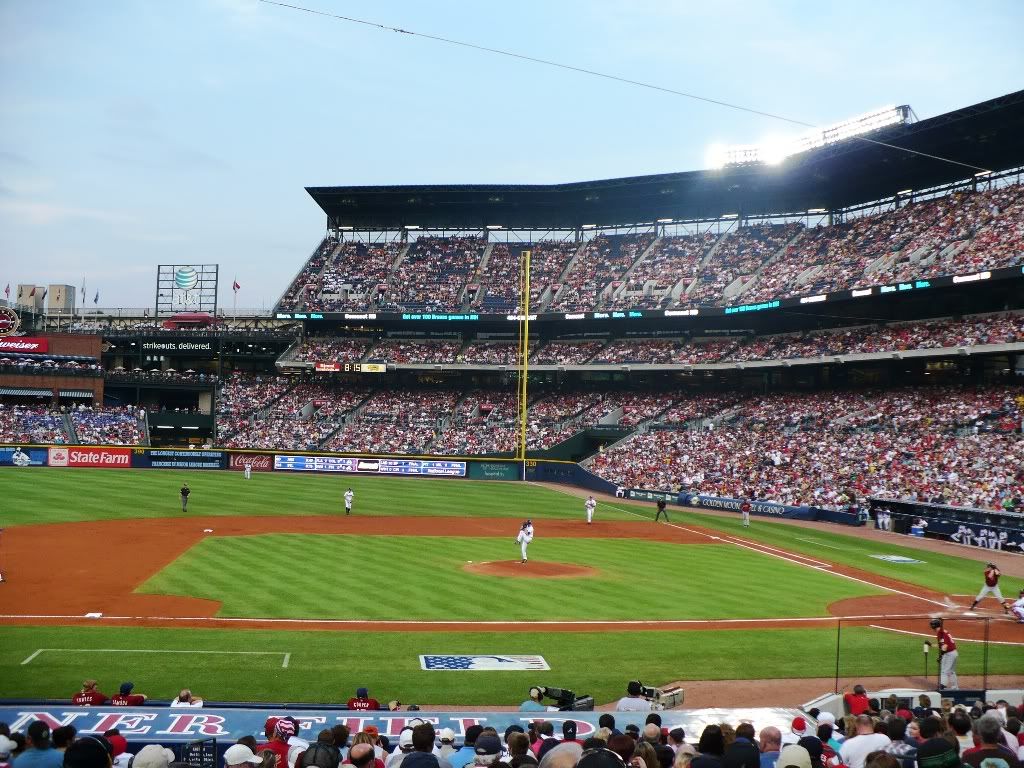 Hi lovvies! Happy 4th of July! The awesome LizzieBeth offered some tickets again, so a few of us went and sat just a few rows up from the visitor's dugout. We were on the jumbotron after the game, and our boobs were on TV in the 5th (but not our faces! sad).

We got to the stadium before the gates opened, ready for BP! My friend Kristen and I parked in my usual area in Mechanicsville (free!) and had this little exchange with a guy on his front porch as we walked past on the sidewalk...

Guy:

Y'all going to the game?


Me:

Sure are! Go Braves!


Guy:

There gonna be fireworks tonight?


Me:

Should be. [walking faster]


Guy:

You got some fireworks in the back of those pants! Have a good time, baby!
Um, thanks. Heh.
Once we met up and got inside, the first guy I got a picture of was
Jason Perry
, Frenchy's temporary replacement. He's actually pretty cute, and he really got off to a great start, making Braves history as the first Brave to get a triple in his first Major League plate appearance.
Royce Ring and Jorge Campillo,
high-fiving
.
Blaine was wearing an
arm brace
of sorts. I'm sure he's looking forward to the all-star break. More Blaine:
pic 1
~
pic 2
~
pic 3
~
pic 4, very excited
Baby in the outfield during BP:
pic 1
~
pic 2
~
pic 3
Mike!
Here he is
playing pitcher-catcher with Manny
~
cracking up Jeff
~
looking cute
~
looking for a hug
~
looking cute again
The oh-so-pretty Jeff Bennett
KJ fields some BP
Kots, Baby, and Blaine
Ohman & Kots, Baby & Blaine
I took an extraordinary number of pictures of Peter Moylan. I think I was just excited to see him again -- he was such an important part of the team last year, and I'm sad his season was shortened. They said on the broadcast for last night's game that his tattoos weren't compromised by the surgery (sweet) and that he's going home to Australia for a couple of weeks on Sunday, "to visit his girls". I'm sure his family will be happy to see him again.
Here's a little video of Pete "helping" with BP, followed by some pictures.
pic 1
~
pic 2
~
pic 3
~
pic 4
~
pic 5
~
pic 6
~
pic 7
~
pic 8
~
pic 9
I'm pretty sure Pete recognized me in that last picture. I
do
go to a lot of games, and go early to BP, and the guys
do
look into the stands. (One of the coaches recognized me at a charity golf tournament from the stands. He was pretty nice about it.) Anyway, hope your recovery goes well, Pete, and that you come back better than ever! In the meantime, hold still, Buddy, you've got an eyelash: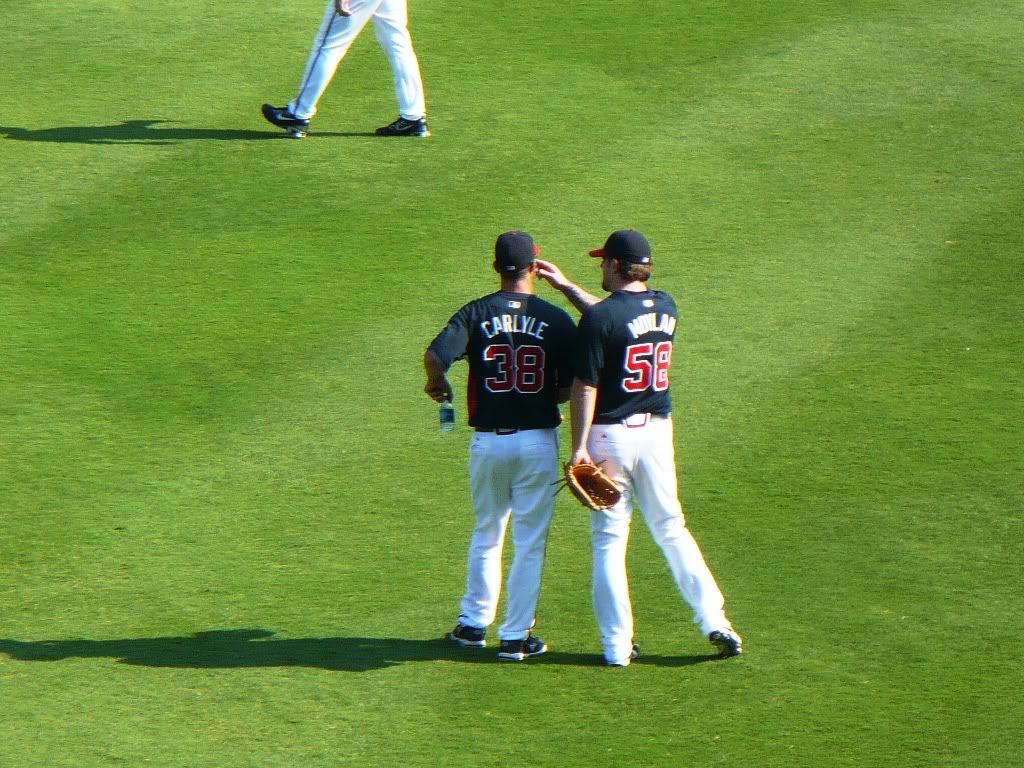 Kots has been practicing
his posing
using
his wife
as his model, while
Manny's warming up to this "hug" concept
.
The grounds crew had some
patriotic shirts
!
Game time!
Glenn, Pete, Jo-Jo, and Charlie
started the game hanging out on the rail. Baby was a
TOTAL FLIRT
with
EVERYONE
,
ever
. I guess with Frenchy gone, he had to get it out of his system somehow. ;) Huddy pitched a great game, and
looked good
doing it.
Lineup pics! The American Revolution has recruited some very talented soldiers:
Gregor Blanco
Yunel Escobar
Chipper Jones
Mark Teixeira
Brian McCann
Kelly Johnson
Mark Kotsay
Jason Perry
(later,
his pic again
with BA listed at 1.000!)
Tim Hudson
And pinch hitting later on,
Martin Prado
Aww, Baby in the dugout:
Bat + Shin Guards
~
Sweaty
~
Stretchy
And Teix on the basepaths:
pic 1
~
pic 2
~
pic 3
Jason's first hit!
Way to go, hon!
Every time the Astros'
Darin Erstad
came to bat, I did a double-take at his picture, thinking it was Pete Orr!™ Sadly, Darin ≠ Pete.
After KJ's home run, the camera guys caught this little gem in the dugout:
About halfway through the game, in the next section over,
a guy stood up and was yelling for security
. Security and the ushers came down, and Loud Guy was all, "This guy was CUSSIN'." People started tittering around, and the usher was trying not to laugh while reminding us to keep our eyes on the field in case a ball or broken bat came our way. They got into a big argument, and the usher finally succeeded in getting
the CUSSER
to sit down. Hey, nothing says classy like a camo tank top and camo hat at a baseball game. Ooops! Almost didn't see you there!
Um, speaking of flirty Babies, check out this little guy that was sitting a few rows down. He's BMac in training, with the hair and all. So adorable! :)
pic 1
~
pic 2
~
pic 3
Blaine
comes in to relieve Huddy. If his arm falls off this season, I'm blaming Bobby.
Baby hanging out on the rail,
very cute
.
Mmm,
Gonzo
in to pitch!
Braves win!
Game totals
After the game, Friday Night Fireworks were pretty good! Some of the players brought their families out -- I saw Will Ohman with his twins, Buddy and Carter Carlyle, Jeff Bennett with one baby, and several other Braves in civvies.
Great game! I'll be there again tonight, in some amazing seats from my employer. Maybe more than my chest will be on TV this time. ;)