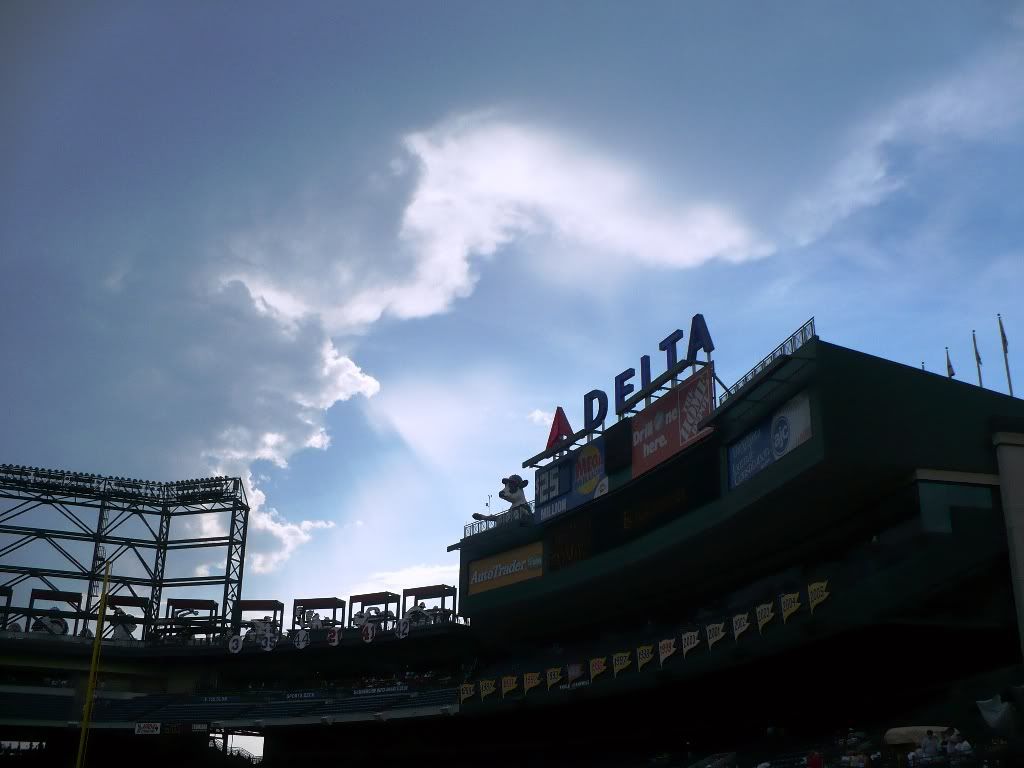 First, thanks to royhobbs over at Talking Chop for sharing the tickets to last night's game. We had a great time!

Since I've been a bit under the weather this week, I didn't stay "under the weather" (har) for the full game. It thunderstormed most of the afternoon here in Atlanta, and I assumed they wouldn't take outdoor BP. Of course they did, and I missed it. Boo.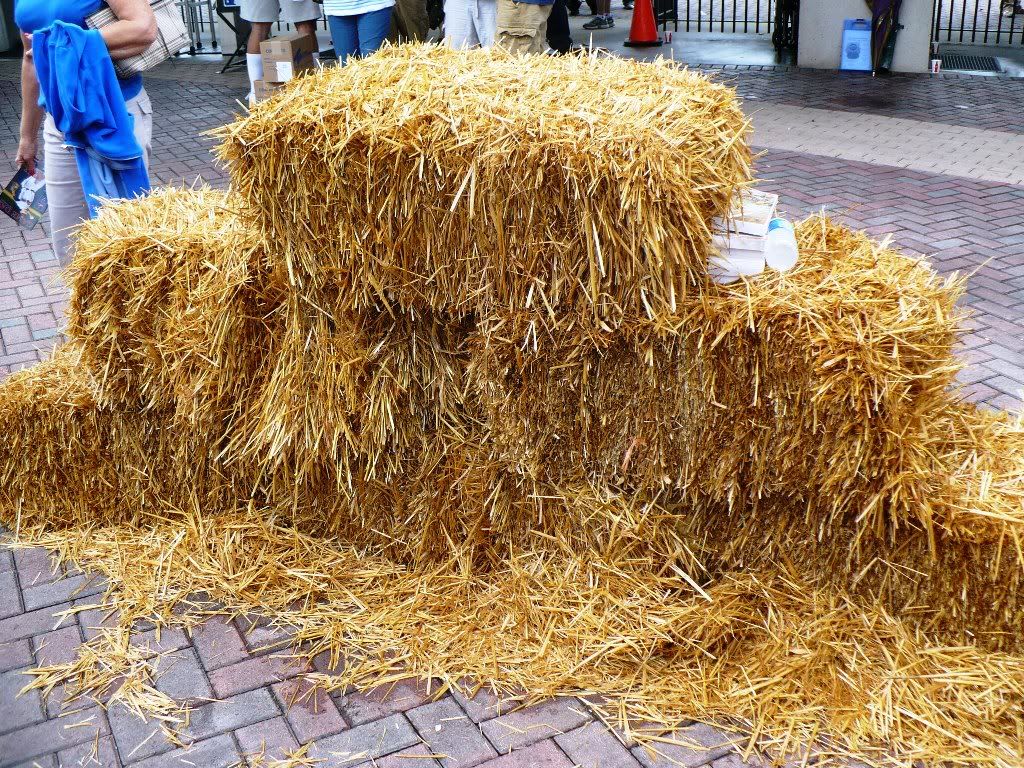 Hey, did you know it was Wild West Night? I totally didn't. The Wild Bill's girls were dancing and someone very authentic-sounding sang Frenchy's former intro song, "Watching Airplanes", in Fan Plaza. There were mechanical calf-roping games for the kids and wagons and the hay bales up there. Hey, Skip & Pete's BBQ fits right in! Also, all Teix stuff was 50% off. He's 100% not here, so shouldn't it be free? ;)

Some of the pitchers did some throwing on the field before the game. Here's Charlie and Buddy, Gonzo and Jeff Bennett, and...I took more pics than necessary of those two. ;) I love it when they play pitcher-catcher. pic 1 ~ pic 2 ~ pic 3 Love that JB used his hat as a makeshift home plate. :)

Royce Ring signed autographs forever. This was about 15 minutes later, he was all the way down the row. I know he's kinda been sucking lately, but I'm still a fan. I mean, he's cute! He reminds me of Scott Caan, minus the ears. ;)

Tony LaRussa, the manager of the Cards, was in the outfield during BP. He hits the infielders practice balls and chats up his players. From all accounts he's a "weirdo", but he really seems connected with his team. I just like that he wears his sunglasses at night.

Pre-game! Clint stretches out; Corky is always laughing. Gregor stretches by himself. He spent most of the game stretching, actually. And here's KJ, stretching and running.

Cameras followed Hammy closely everywhere -- almost like they were...expecting...something... :D

One of the last things before the game starts is the Tomahawk Team shooting t-shirts into the crowd. I loved watching the guys watching the girls... Braves, more Braves, Braves still staring... and a Cardinal totally forgot he was stretching while he was gawking. Hee.

Jewel sang the National Anthem. From a post-game chat with Jennifer:


Lauren: also, Jewel sang the national anthem
Lauren: veeeeerrrrrrrrry sloooooooooooooowly
Lauren: but well
Jennifer: heh
Jennifer: what happened to her?
Lauren: she's stuck doing mid-year national anthems for teams with losing records
Lauren: she's living in her van again.
Jennifer: exactly
Jennifer: LOL!
Lauren: ;)
Jennifer: down by the river
Lauren: with matt foley!
Lauren: I have to sleep.
GAME ON. The guys signed baseballs for kids on the field. I like it when the guys bend down or squat to talk to the kids.
Frenchy
did, but Kots didn't need to.
Look how tall his girl is!
I liked her;
she took her shoes off
to run off the field. I would have done the same, chica. Great idea!
The Wild West theme extended to the big screen. Here's
Greg White's pic
. None of the others came out because of the angle, but you get the idea. :)
This was our in-game entertainment: