Can you think of a better thing on a sunny Saturday afternoon than spending it in the Braves Clubhouse? I sure can't! ...Okay, that's not true, but yesterday was tons of fun. Here are some pictures I took in the Hall of Fame and on the tour of Turner Field. Enjoy!

We walked the Hall of Fame / Museum while waiting for the tour to start. The only thing I felt a need to capture in digital film is the following, in the 2005 locker: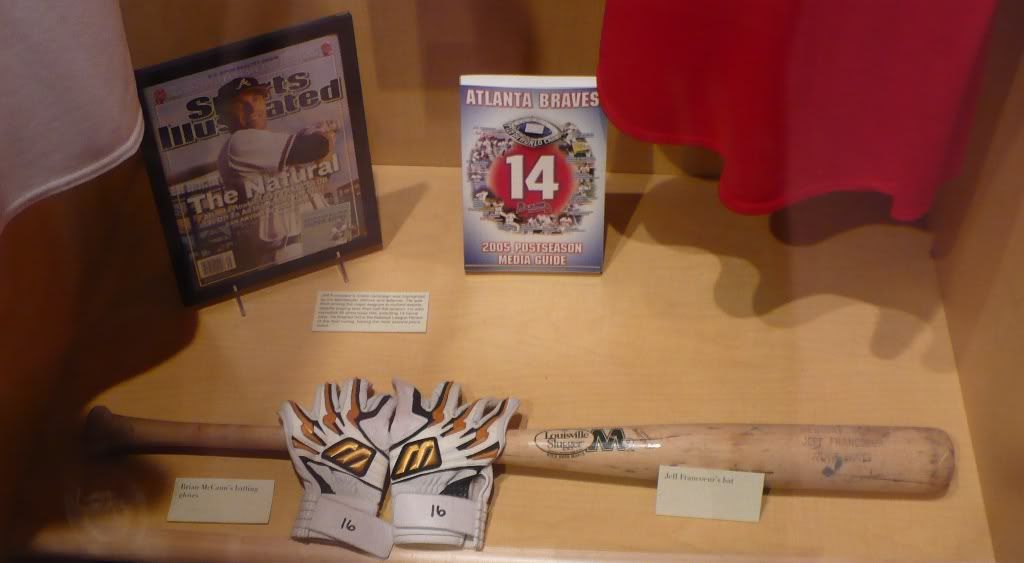 (insert inappropriate "wood" joke here)

*ahem* Anyway.

It was bizarre to be there in a completely empty stadium.
Pic 1 ~ Pic 2 ~ Pic 3 ~ Pic 4 ~ Pic 5 ~ Pic 6 ~ Pic 7



There were some fun things we saw during the open-air part of the tour! That stupid cow - there's no telling whether it's a boy or a girl... The Budweiser clock wasn't operating... The Atlanta skyline is still beautiful from the upper deck! ...And in the dugout, Frenchy & Baby's bat holders are next to each other. (Insert inappropriate "wood" joke #2)

We were allowed to walk behind home plate but were warned not to get near, touch, stand on, etc. the grass because of the growth chemicals applied by the grounds crew. Of course, two whole parents not only didn't stop their little girl from running into the infield, but encouraged her to stand out there for a picture. People like that shouldn't be allowed to have kids. Sheesh.

We did get to go into the Suntrust Club! Look how pretty! It's a lot smaller than I expected, but the green special chairs outside are super-comfy. They also had the BP schedule hanging outside.



Braves Clubhouse! Here's the trainer's room, the showers, the scales (who bent these? Andruw?), and a few lockers. Pic 1 ~ Pic 2 ~ Pic 3 (Tommy Glavine's pills, Baby's chair and a giant box in front of Pete Moylan's locker.) Speaking of Pete's locker, can I just tell you how much it grosses me out that he has an autographed poster of Chipper Jones in there? One of my friends pointed it out, and I said, "GROSS" so loud that the security guy inside laughed at me. (He was a sweetie -- he let me lean WAY in past the zippy rope to snag a picture of the poster.) Anyway, ugh.

Let's talk about something else awesome...we got to go into the press box and broadcast booths! ID required! Here's the radio booth and the view from the TV booth. (I was going to try to sit in Boog's chair, but there were tons of kids on the tour and they beat me to it. That's cool.) Here's an interesting sign on a cabinet, and an American flag that was flown in Afghanistan in honor of Pete, Don, Skip, and Joe.

The press box was...exactly what I expected. Here's where I don't care to sit again, and here's a friend of mine on the AP phone (totally against the rules!). On the way from the press box, we went by the press cafeteria. Woo.

Oh, we got a tour of a couple of private suites, but they weren't anything special. (If you've been in one private suite at a professional sporting event, you've pretty much seen them all.)

It was a very, very fun day! If you ever get a chance to take the tour, jump on it!