Before this game, B and his B'ham boys and I stopped by Ikea and The Varsity, so we missed most of Braves BP. Fortunately, I still got a few good shots!

- Gonzo has a blow pop today!

- JB wants one too!

- Please, please tell me this isn't a dip can in MattE's back pocket. :( :(

- Yunie batting with his back pocket inside out

- Derek Lowe played left field for a little bit

- O'Flaherty and Bennett

- My two favorite crowd shots: "I KNOW IT" and "Forrest". (I really wanted to make a "Run, Forrest, run!" joke about the usual #7, but you never know who's listening and I didn't want to offend Forrest. Heh.)


Since we sat in the outfield for the game, all the pics from last night's game are pretty much from the same angle.

- Baby and Kawakami warming up! 1 ~ 2 ~ 3 ~ 4 ~ 5

- B wanted to make sure everyone saw the stretching exercise that the Nats trainer was using to "help" the boys. Me: "There's no way their junk isn't touching!"

- While warming up their legs, MattE ran backwards right into Frenchy's outstretched hand. He recoiled in shock, and everyone seemed to think it was hilarious.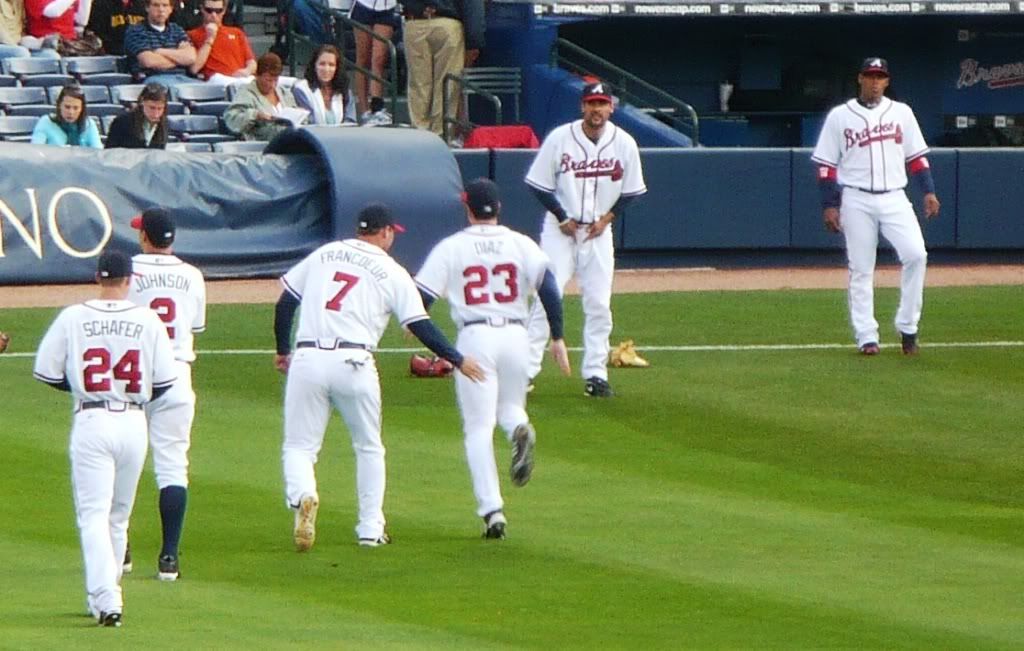 - Baby with his 2008 Silver Slugger award, which was presented to him before the game. WOO!

- No dip can here. :/

- Fun action shot

- Cotton candy, cotton candy, COTTON CANDY! (Yes, I love it. Any questions?)

- Baby and Moylan have a chat on the mound. Pete seems back on track, with three strikeouts in the 7th.


Braves win! See the full album here. :)