Dear Braves,

Thank you for giving my friend Kristen and I free tickets for our respective birthdays in the Golden Moon Casino Level. We had a lot of fun, even if the results of the game weren't as we hoped.

Love,
Lauren

--------------------------------

Dear Lovvies,

Please take advantage of this program! Just go to braves.com/birthday for more information and for your free ticket!

Woo!
Lauren

--------------------------------

I had a busy day yesterday and wasn't able to go early for BP, but hopefully the pics I did snag will be interesting enough.

A lone rose in Mechanicsville.

Typo! Typo! Two in one day!

Chipper and Yunie got picked off in the first, a bad start to the game: video

The GMC Level has some really great food options. I ended up with chicken nachos and my friend had BBQ. We talked about the pasta bar, but that was all the way on the other side. :D That's on my list to try one day.

Jo-Jo wasn't happy to be in the bullpen. This lucky shot is just for you Gonzo-lovers: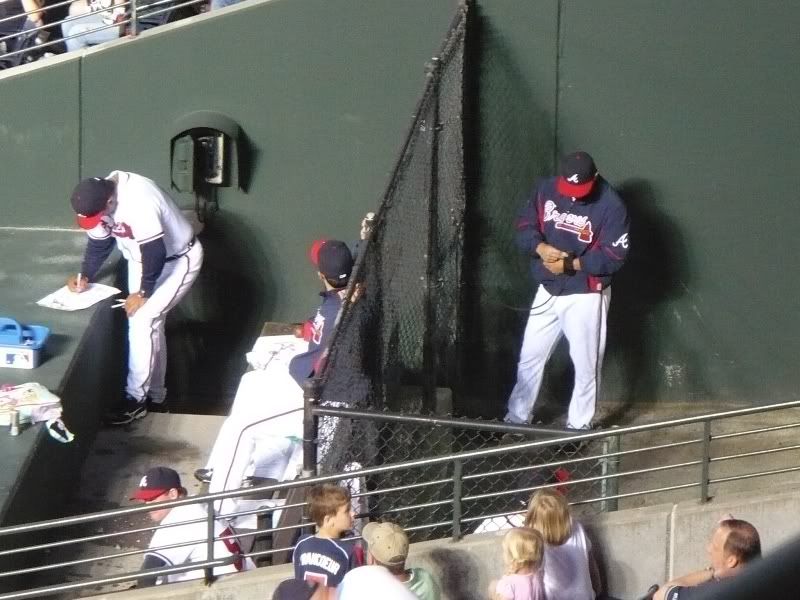 Norton and Schafer

The Tools get ready for their race. Drill totally knows how popular he is now -- watch him strut!



An umpire got dinged during an AB.

The crowd goes crazy for BMac:



McFrenchy

Jeff Bennett in to pitch:



Anyone recognize his intro music? It just sounds like "generic rock song" to me, but then, I rarely listen to rock...



Braves.com is now bilingual, one of the signs at the park told us. pic 1 ~ pic 2 ~ totally random pic 3 that showed up right after 1 and 2

A fan threw a baseball onto the field. Schafer looked in that direction, appeared to see it, and didn't go remove it. A little bit later, Frenchy ran over and tossed it back into the stands -- to a random fan and not the jerk who threw the ball onto the field during play.

What's the snack bag that the rookies are forced to carry to and from the bullpen called? The Barbie bag, or something? This year's bag is baby blue with pink straps -- sorry you can't see it clearly in this picture.

Full album here. We lost horribly, but it was still a fun time. Thanks again, Braves! See you soon!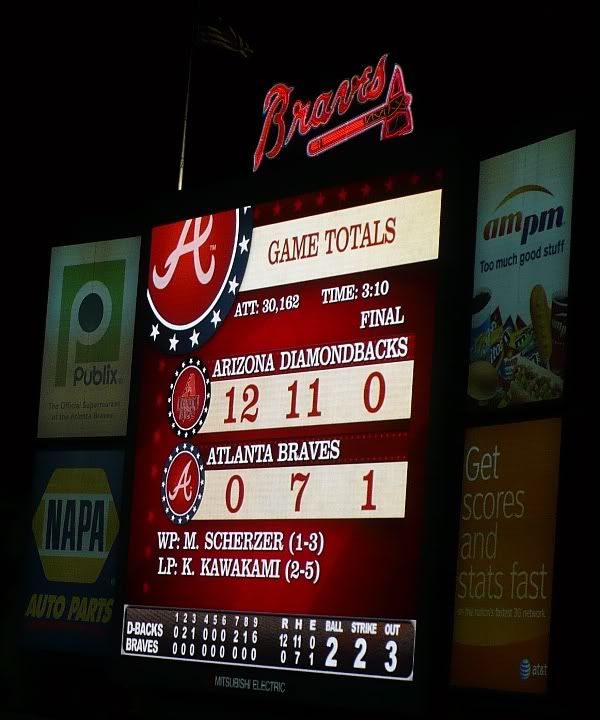 PS -- I updated the intro songs with Frenchy's and Baby's new songs, as well as a correction for Garret. :) I can't believe Baby's batting to the Black Eyed Peas now.