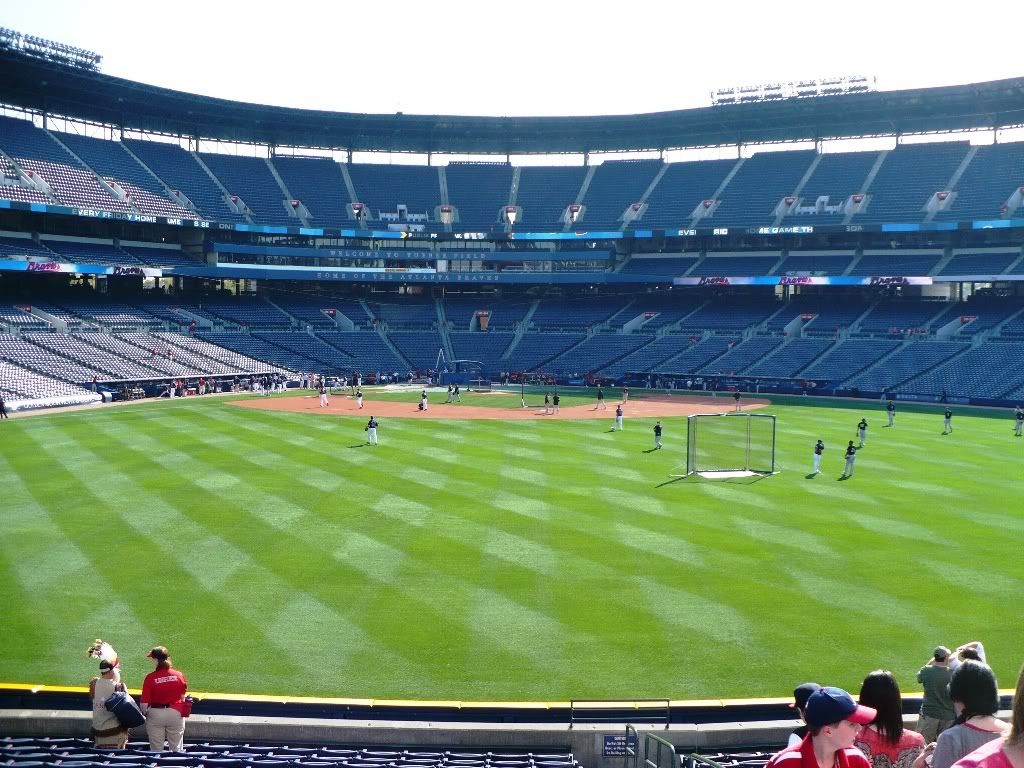 Ah, this is the closest I could get to Spring Training baseball this year - a preseason exhibition game at Turner Field! All upper deck tix were $5, so we got a handful of friends together (and told some other friends to meet us in 410) and took off!

Sadly, traffic was way-bad on this Good Friday and B and I got there so late that we completely missed Braves BP! Lizziebeth got in the gates on time, so hopefully she'll have some pics to share. :) I did snag a shot of Curaçao natives Jair and Andruw chatting in CF between their BP sessions, which was super-cool. Andruw hit some bombs in BP - pic 1, pic 2 - as Ozzie Guillen mentioned, we forget sometimes that Andruw's only 32! It was fun to see him again.



Lauren: "Look, it's Tommy Glavine!" Lizziebeth: "How did you SEE him?" Heh, I don't know. Pretty random, right? This whole post is going to be pretty random. Please bear with me. :)

We have a new bromance! I love Heyward & Freeman. They're so fun to watch, and I really wish we had a spot for Freddie in the Big Club this year, but his time will come. For now, I took far too many pictures of them warming up together! And maybe a little video too. ;)



Pictures 1 ~ 2 ~ 3 ~ 4 ~ 5 ~ 6 ~ 7 ~ 8 ~ 9 ~ 10 ~ 11

Excessive, I know. I'm just way too excited for this season to start and I'm kinda missing the McFrenchy stories, and Salt & Pepper are a perfectly wonderful replacement friendship!

Let's go to the in-game pics!

Lineup video:



- They're still using Baby's old jumbotron pic. I'm OK with that - it's cute.

- Glaus' pic is also way cute!

- Druw Jones was in the dugout for the whole game, and was MEGA cute. (Have I said cute enough yet today? Gimme a break, I've been working on this post for 3 days, somehow! :D) Pic 1 ~ 2 ~ 3 ~ 4

- Yunie got injured a little (for real this time, not for fake)

- Andruw at bat! Pic 1 ~ 2

- Clint! Pic 1 ~ 2 ~ 3

- As I discussed earlier, I am super-excited for Freddie to move on up the ladder. I haven't met him, but by all accounts he's a great kid and he appears very talented. Also, he's pretty cute. (There's that word again!) (Also, I have to remind myself he was born in 1989. I'm starting to feel old compared to these new Braves!)

OK, so here's some Freddie stuff. :)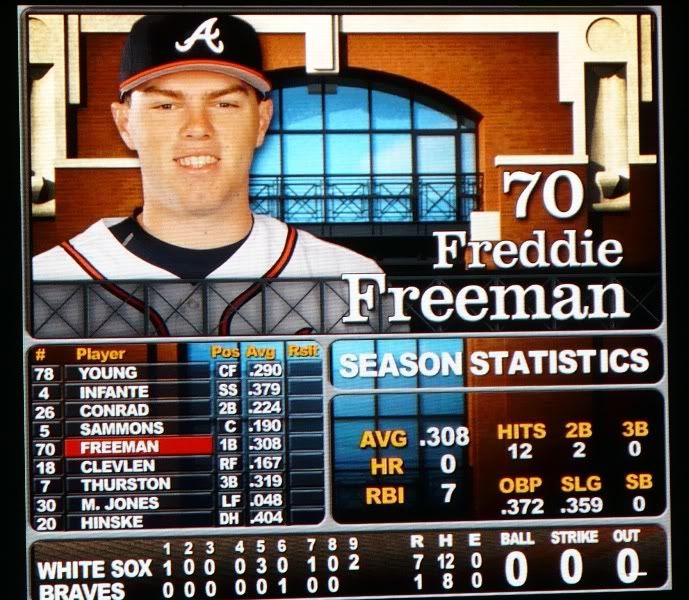 Honey, I have an eyebrow lady who can help you out. You'll still look like a man and no one will ever know. Ask for Shila at the Spa Sydell in Buckhead -- she is the absolute best at eyebrows I've ever known, and I've sent more than one man to her. Tell her the Lauren she used to work with sent you to her. Just saying. Loves, bye. :)

More Freddie pics and pics of the whole day in the full album. Lovvies, hope to see you all later today at Opening Day!!