A couple of people have emailed me wondering what "Gay Lumberjacks" is referring to, so here's a little intro. Sports, from rec leagues up to professional levels, are full of butt-slapping, boy-on-boy full body hugs, and locker room hijinks. But sometimes, the brilliant photographers who work for the news services get us some hilarious pictures.

The actual term came from Talking Chop. It's a shame the best picture ever was pulled by Yahoo or whoever was hosting it -- Brian McCann was giving end-of-game congrats to Bob Wickman, and they actually looked like big, burly lovers. (ETA: Oh! Found it!!)

I'm not saying the Braves are gay. (If they were, I wouldn't care!) But these pictures... hahaha...







And from yesterday's game...




Oh, Baby. I know you're a huggy boy and all, but that takes it a little far.


I may have spoken a little too soon...apparently Baby knows how to please a person: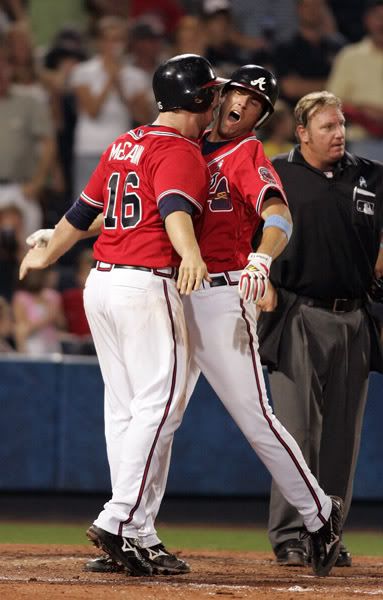 (Thanks for this last pic, Jenny!)