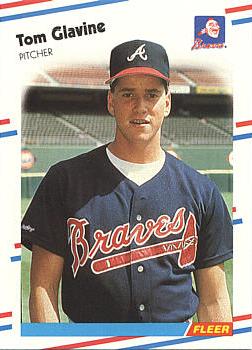 There are several excellent stories out this morning about Glav's return to the Braves. The following are excerpts from my favorites...


SI.com's Jack Wilkinson:

"What I told the Mets was I didn't think I was worth $13 million," he said. "I'm not that kind of pitcher anymore. I don't view myself as a No. 1 guy aymore. I'm not worth that money, and I didn't want the added pressure of having to go out there and prove that."

So Glavine came home, in every sense. A homecoming that could return the Braves to the playoffs, and has already rejuvenated an old family man.

"It's taken years off of him," said Gregg Clifton, Glavine's long-time agent, who surprised his client and close friend by flying in for Monday's ceremonies. Seeing Glavine standing there in his Braves cap and white 47 jersey, Clifton beamed: "He looks 10 years younger."
AJC.com's Carroll Rogers reports:

Part of the Glavine family arrangement during the school year meant his kids flew to New York on weekends from their suburban Atlanta home. This start was on a Sunday. He gave his sons Peyton, 8, and Mason, 7, the option of coming up. They decided to stay home.

"I think for me, that really ..." Glavine started to say during Monday's news conference. His wife Chris, who was seated next to him, finished his thought for him by touching him in the chest, heart-high.

"That was it for me," Glavine said. "That's when I think I was really faced with, 'What are you doing? And what is this about?'"
AP's Paul Newberry, as reported in the Macon Telegraph:

"Sentiment goes a long way," Braves manager Bobby Cox said, "but we all think Tommy can still win at the major league level. That's the bottom line."


Here's a video clip from the local ABC news affiliate

And one final interesting note: Tom Glavine is now officially the oldest Brave, eclipsing John Smoltz. Looking over the current roster, there are guys there young enough to be his son, and not in a gross way. Cool.