Here are my pictures and videos from last night... (As always, you can click to enlarge.)

I got there in time to see about 20 minutes of the Braves batting practice, which is always fun. Not many people were in the outfield for us -- it's usually just the relief pitchers and the occasional bench guy...and Kelly Johnson. At least, he's the only starter that seems to be out there every time I go. It was nice to see he still seems to be friendly with Pete Moylan.

Pete and KJ trade batting tips. Apparently Pete's batting lefty today.

A really squally girl a few sections over got their attention, briefly. Pete doesn't usually look up into the stands, but he did throw a few balls to a kid in the left field corner. Later on, Blaine Boyer pointed to a little girl in the CF seats with his glove and then tossed her the ball, and she was completely thrilled. That's what it's about, guys.

Brayan Pena didn't hang out with a crowd. He moved in to take some 3B practice not long after this shot.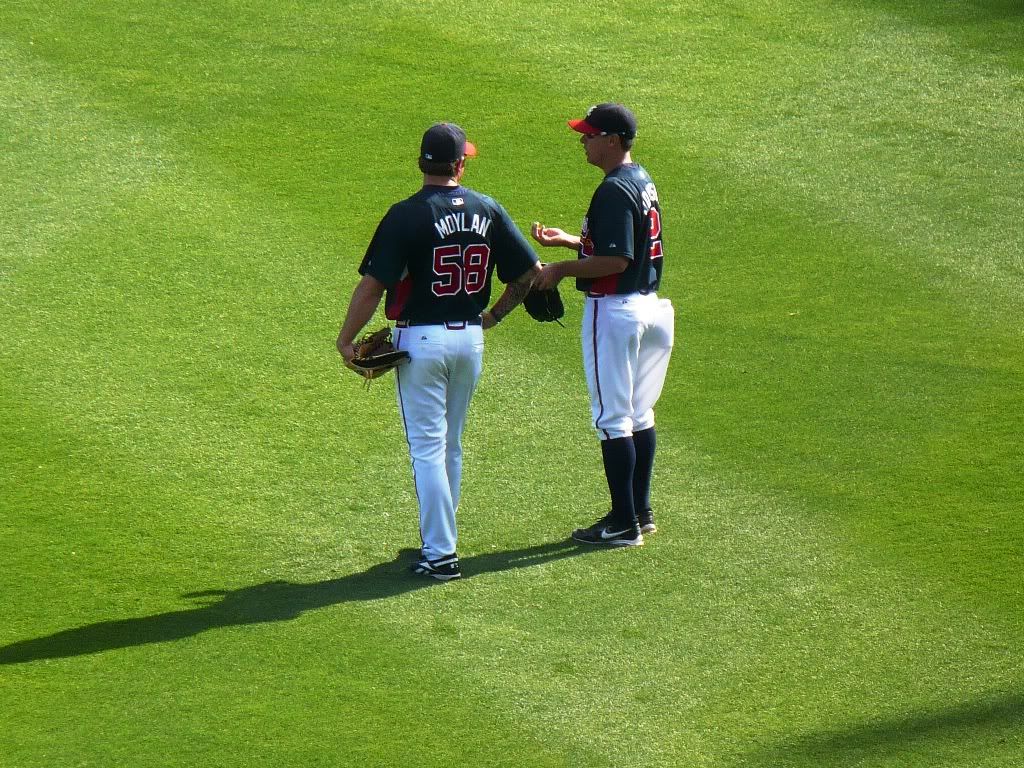 Pete: "Yes, yes it is. IN PRISON!!"




Pete: "I'm bored with you now."




KJ: "FINE, see if I care. Blaine's going to come over and tell me about taking Andie to the prom, and how he's going to deal with Steff and that Duckie kid."




Pete: "Okay, that was funny. I'll come back and hang with you guys now."


Blaine's baseball in his back pocket almost makes me want to tag this as a GL post, but I won't. :)

PETE, STOP IT. STOP TRYING TO THROW. I'm not kidding, young man! Now, I understand he needs to test the arm. From what I saw, he wasn't putting anything behind the throws, just checking his motion. I was kinda far away, but I didn't see any winces or touching of the injured elbow.

See? Far away.

Backup catcher Corky Miller and former Braves catcher Johnny Estrada had a chat, probably about how they're glad Javy Lopez retired so at least one or two women will look at them. (Kidding, guys, love you both.) After the Braves ran in, a few of the Nats hung out in left-center, waiting for someone to hit a ball that way. Here are former Braves Ray King and Johnny Estrada.

BP was over and my friend still wasn't there, so I wandered the Clubhouse store for a minute, then went outside to watch The Heavy Hitters. They have a girl this year! YEAH! She's playing the cymbals, but still! (I played the bass and quads in high school -- drumline was awesome.) One of the quad guys, "Swirv", has a really nice smile.

While watching their performance, I noticed this:



Um, that's a blank wall. Weird.


Okay, time to go up to my real seats. I took a large number of pictures of Teix stretching, almost as many as I took of Moylan in BP and Baby with his helmet off in the dugout. Honestly, there wasn't much going on today. Aside from Smoltz, it was a pretty boring game.

So: Teix stretching. Here he is with MattE, who's having his pre-game prayer.



MattE's serious today.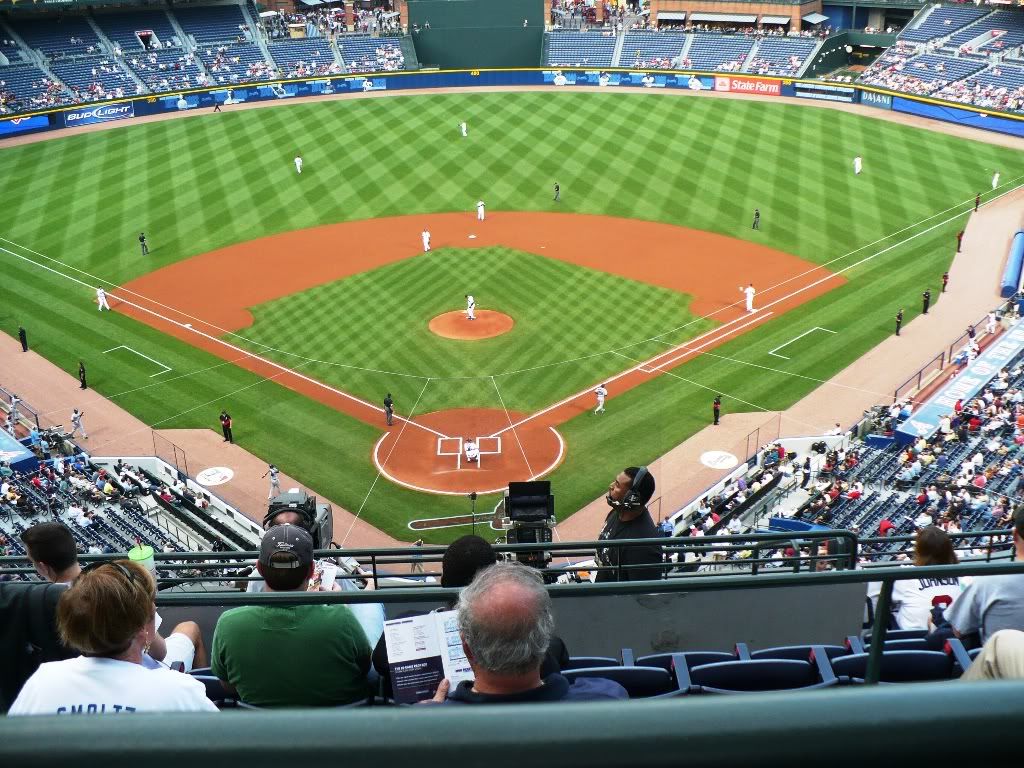 Our seats. I love it up here. You can see everything fine (for the price), and it's cooler in the summer because the wind whips around.

The starting lineup of YOUR Atlanta Braves! They're still doing the butt-to-crotch-to-face swirl-up. Weird.