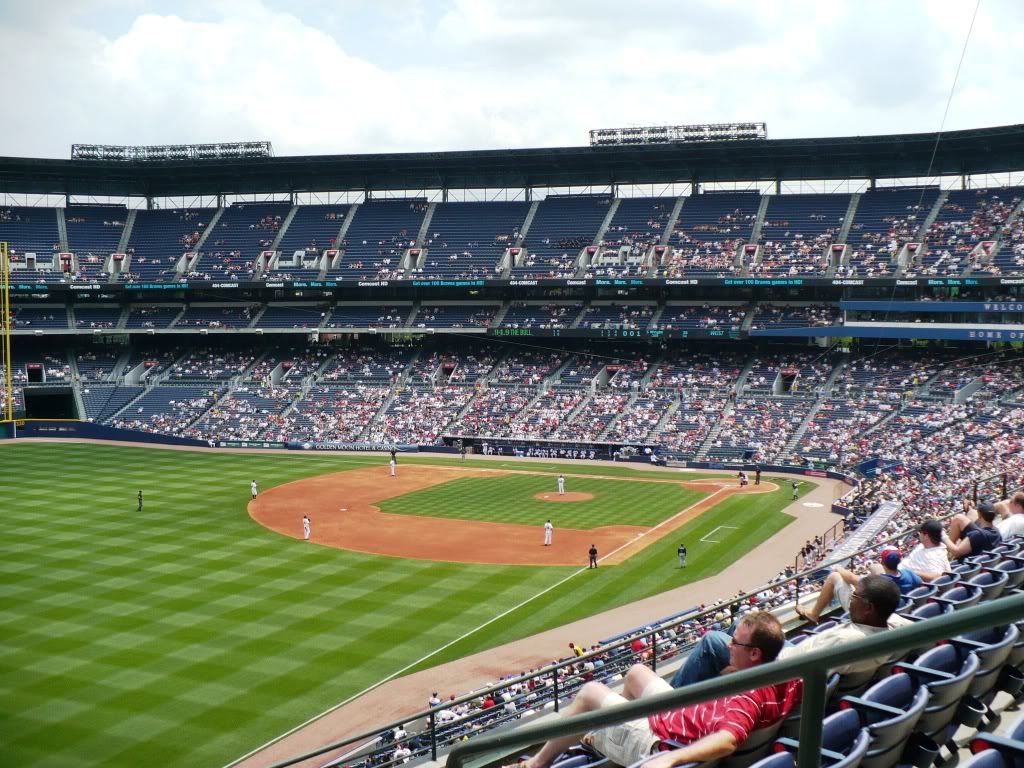 My amazing employer sends us on little outings about once a quarter to keep us upbeat and happy, and today's outing was a Braves game! Hooray for a half-day off and the All-You-Can-Eat club level seats!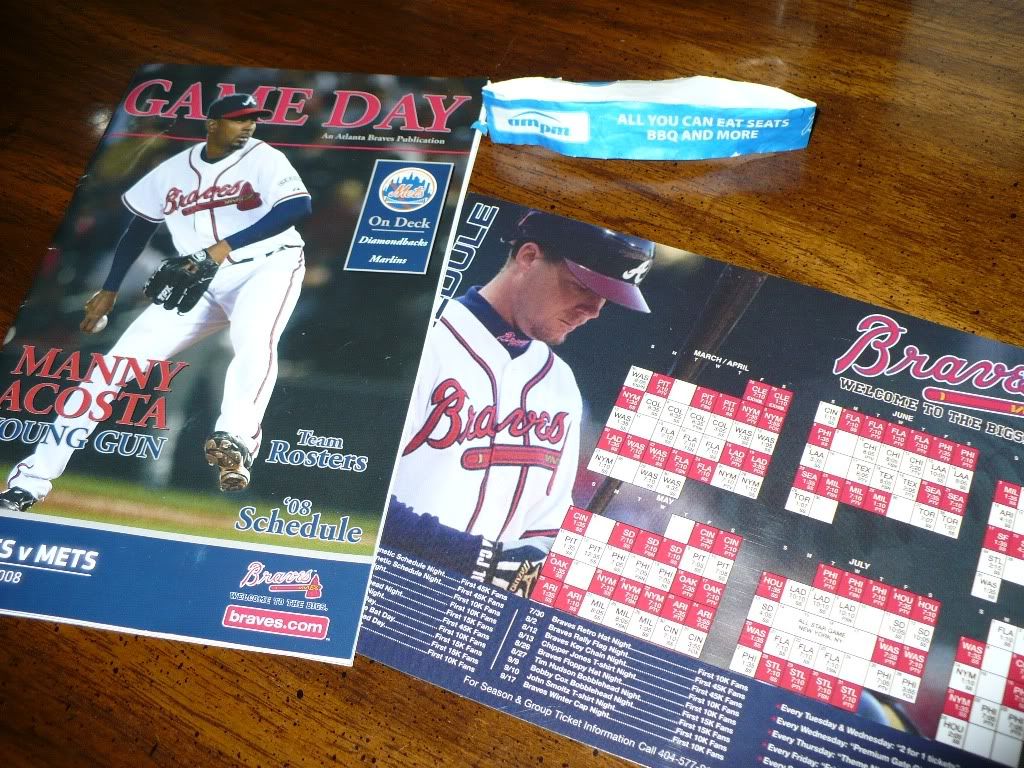 If you ever have an opportunity to sit there...the view isn't the best, but it's super-nice. The beer-tenders were a little sad that I kept stopping by for the water bottles instead of taking their beer, and heckled me about it every time I walked by for three hours. They were fun guys.

Okay, let's back up a second. I did have to arrive a little early to meet with someone in the ticket office about our group tickets, and I really didn't expect to see on-the-field batting practice, but they were out there!

Jeff Bennett and Royce Ring

Heads, L-R: Jair, Stockman, Acosta, Ohman, "WAP" Blaine, Jo-Jo and Chris Resop, who was worthless out there.

Bennett's dimples and bum. So cute.


"Who?" Yes, you!

MattE does the lean back even in BP. He didn't play in the first game today. For the most part, all the batters were working on opposite field hits today.

Jair! I do hope we can keep him for a long time. He's a real pleasure to watch, and we always need a smiling boy from Curaçao on the team.

Huddy had a bullpen session with McDowell and Butts.

Buddy signed a lot of autographs. A lot.

Watching warmups is like watching a nature program sometimes. The Mets do some sort of turtle-y thing, the amazing Johan Santana tosses a ball, and John Maine (today's losing pitcher) prepares to enter the bullpen to do his own warmups.

Tommy pitched a GREAT game. How old are you again, Tom?



I wish there was a perma-list out there of the Braves intro (at-bat) songs, but I'm happy to say I finally identified Brian McCann's. It's "Rockstar" by R. Kelly, featuring Ludacris and Kid Rock. Check out the chorus.

Kots is constantly proving his cool factor, by coming out to Low by Flo Rida. This song is mainstream, but Kots is totally hood. I'm liking this guy, in spite of his mug-shot face.

In the Bizarre News of the day, Frenchy used several intro songs today, including Business Time by Flight of the Conchords (kinda NSFW). He was batting behind Baby. That's all I'll say about that. ;)

(Wait, no. I will also say that I'd like to see Frenchy's business socks.)

Speaking of bizarre: these two loved each other, apparently. And this mohawk was pretty sweet.

Finally, the games between the innings are totally dumbed down. This game was a high-low Price Is Right-style game. They asked her if the peanuts were higher or lower than $1 ...


Considering it says "2 for $1.00" on the picture of the peanuts, you'd have to be an idiot not to get it.

Sheesh.

The drive home. Love you, Atlanta!