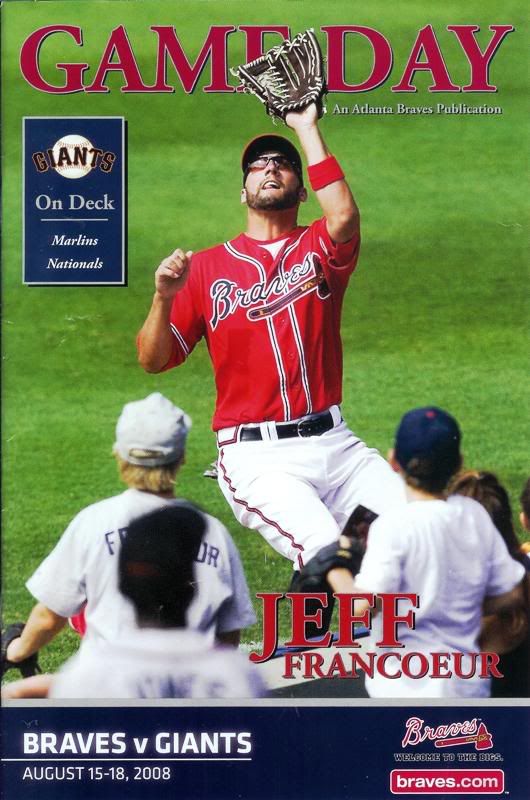 Brilliant. The running, the beard, the strained neck, the tongue, the pants (for those of you who look at that sort of thing) ... it's the best gameday program cover ever, I think. Frenchy amuses me so.

My friend Shaun (the one that loves "The Big Puma") got some sweet dugout seats from work and even gave me the Diamond Preferred parking pass. Thanks, babe! As you'll see from the in-game pics, we were super-close to the field.

Batting practice was pretty boring...

Onto Giants BP... some pics of Zito and Lincecum for my girls:
pic 1
~
pic 2
~
pic 3
~
pic 4
~
pic 5
And one of
just Zito
, stretching.
Done with BP, I went to get my free soda (just sign up to be a designated driver!) and watch the
Georgia Tech marching band
. My brother goes to Tech, and I was on the drumline back in the day, so this was fun to see. Then on the way to the (excellent) seats, I stopped to see the player parking lot.
Huddy's truck!
Yay, he's here! Just a week after surgery! (The other giant blue truck is Chipper's, according to pics from the Power Lunches.)
Aren't these great seats? So, so cool. I watched some pre-game on-the-field workouts -- it's not the same without Teix...