Special thanks to two extraordinary Braves Love readers, Lizziebeth and Leah, for their efforts in sending in these pictures for us all to enjoy forever. And now, on with the show!

--------------------------------

Lizziebeth's pictures:
Gregor Blanco!
(pink suits him nicely!)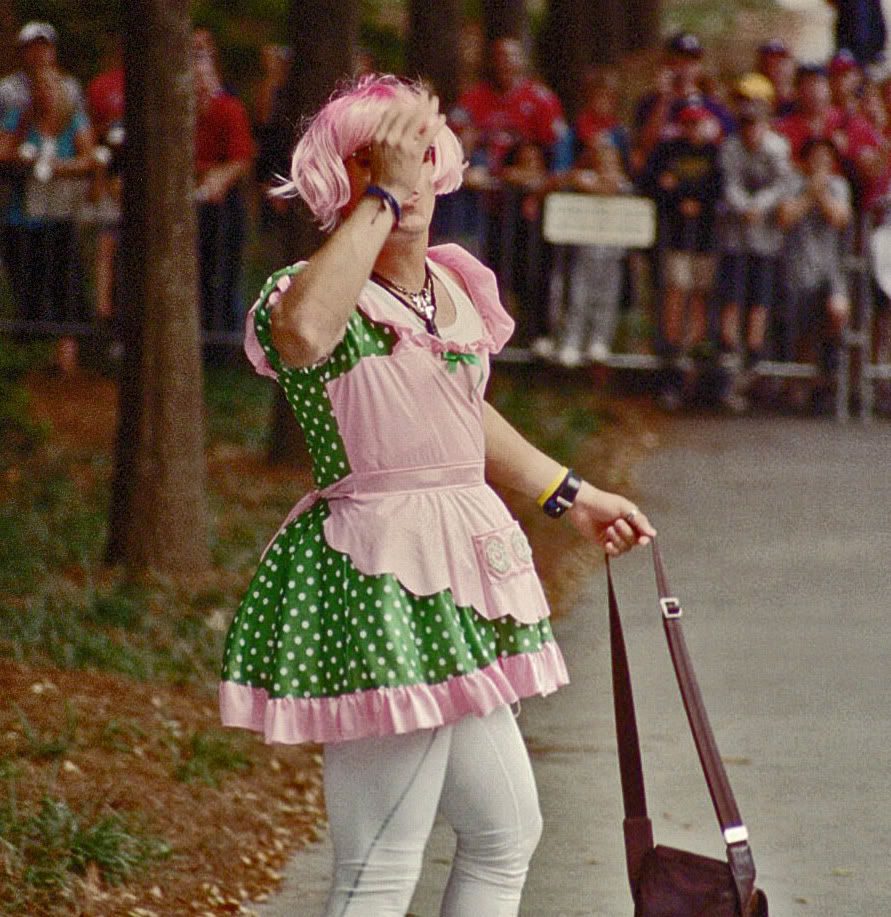 Jair Jurrjens!
(stunning, in spite of the elf shoes)


Brent Lillibridge!
(I'm sure someone will call, dear.)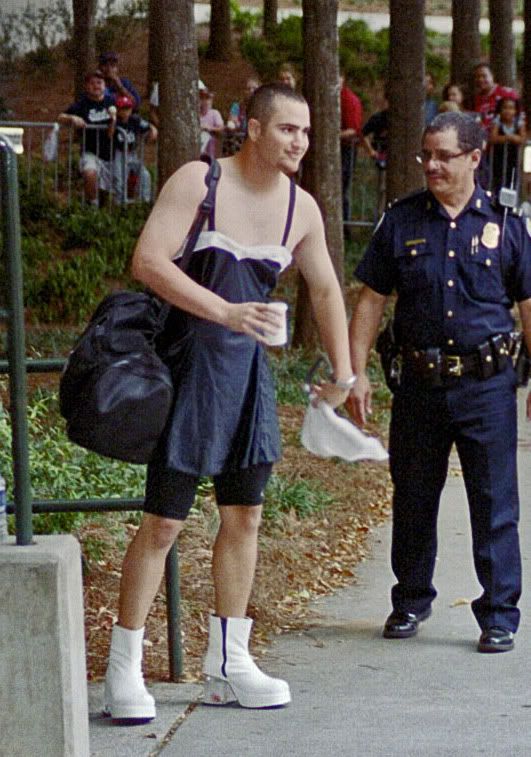 Charlie Morton!
(can't snark! still too cute!!)
Jo-Jo Reyes!
(sumo wrestler supreme!)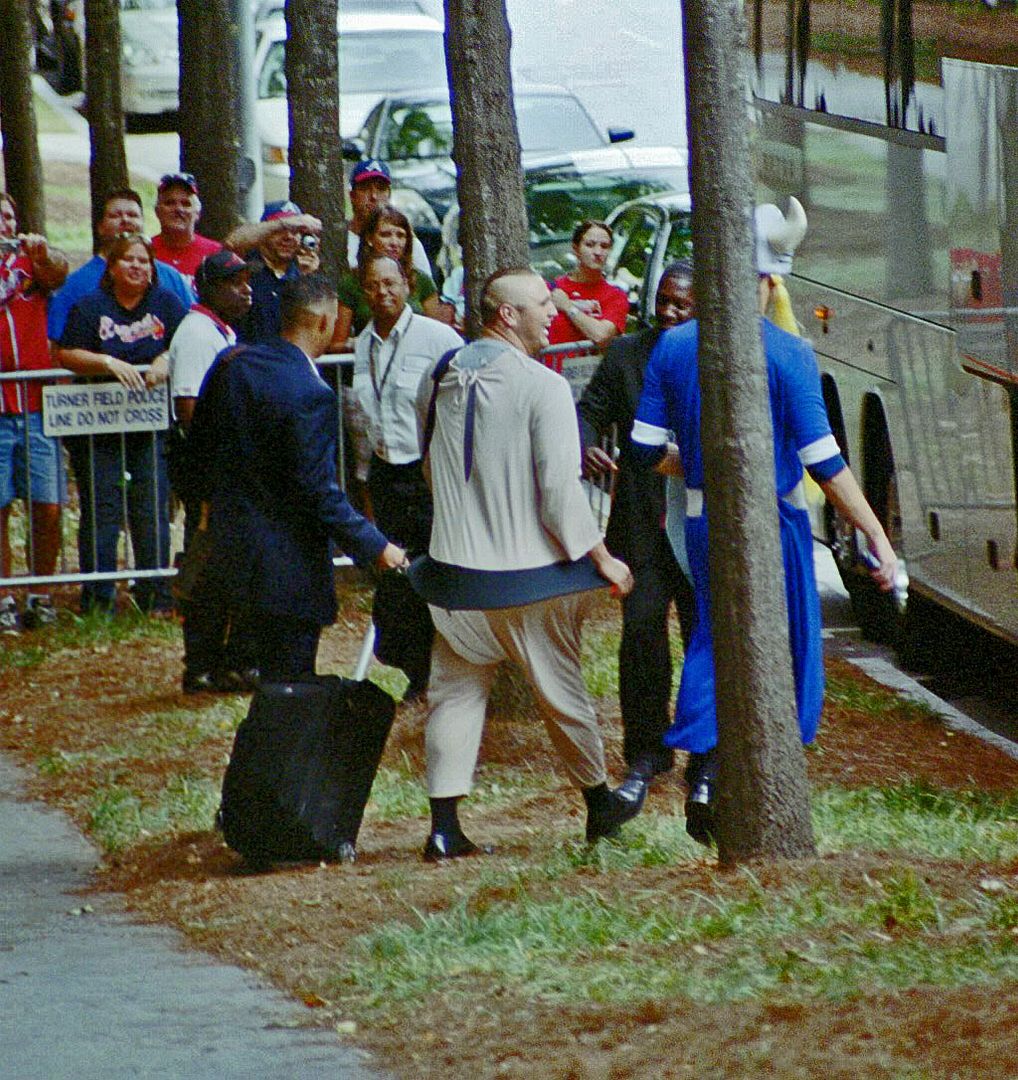 (Click to enlarge this one, girls -- Charlie's a doll!)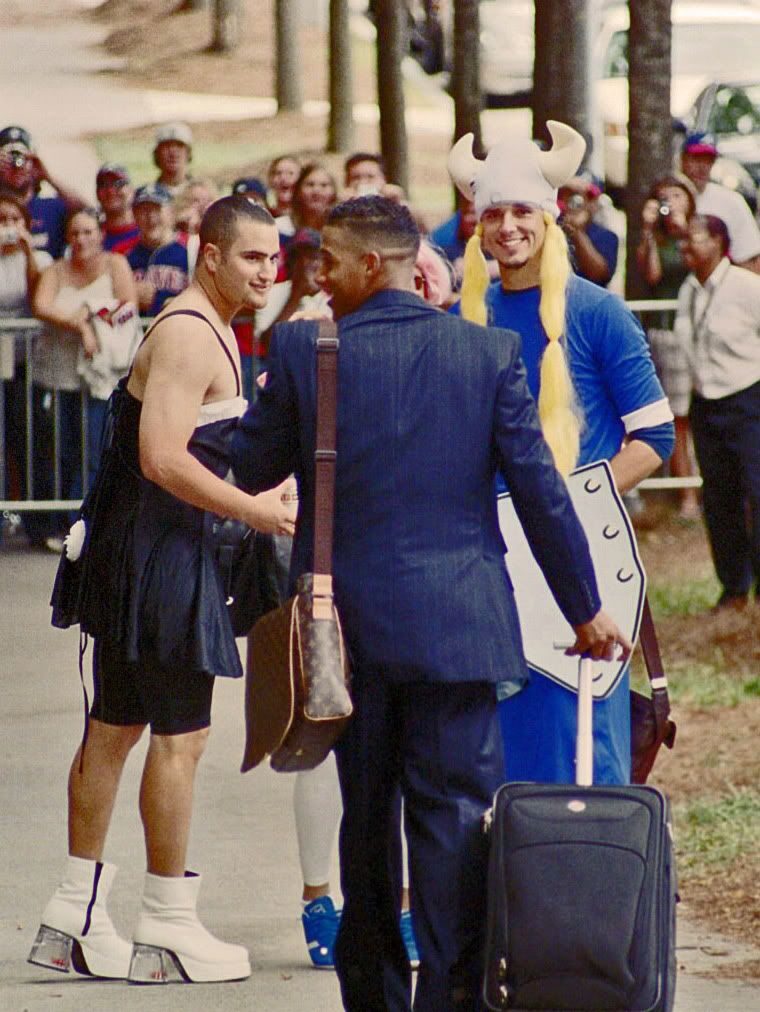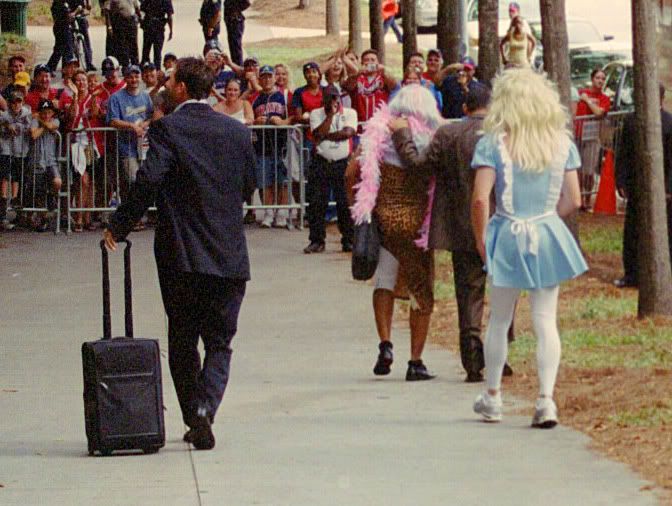 --------------------------------
Leah's pictures and comments:
All of the rookies were good sports and hammed it up for the fans. It was so funny. And even then, they had to get searched in front of everyone by airport security. They said that the guys took too long on the runway and that's why they were being searched there instead of at the airport. They weren't allowed to give autographs because once they were searched they weren't supposed to touch anyone afterward. TP and Eddie P. did. TP signed for fans and Eddie P. hugged a fan on the opposite side we were on. A lot of the guys were very nice and waved, as well as smiling, even Chipper, much to everyone's suprise. There were a few that didn't do either, though, and didn't even acknowledge the fans out there. It was the usual ones, but I won't name names, lol. KJ did ignore my friend who tried to get his attention, but I won't make any comments on him this time. I still like him. Casey looked over at everyone but didn't wave or anything. He looked kinda scared and kept going. Poor guy. Of course, Mac waved and grinned at everyone. He was so cute, as usual. Anyway, if you have a question on a picture, let me know and I'll describe it to you or do my best. ;)
-
Charlie Morton
: Charlie couldn't help but laugh and grin while people were calling for him. He waved at everyone, too, holding up his shield.
-
James Parr
: He looked to be embarrassed but he was into it as well.
-
Brent Lillibridge
: He was making a phone-to-his-ear gesture with his hand and told everyone to call him. He was into it.
-
Josh Anderson
: I think he was supposed to be Snow White (or it fit anyway). He proceeded to pull his short dress up showing his butt cheek and pointed to it. I didn't get it, but it was priceless. Of course, he had spandex pants on though. He is seriously as white as those pants. He has a really muscular butt. ;)
-
Jair Jurrjens
: He waved a bunch of times and smirked at everyone. Of course, Frenchy couldn't contain himself as seen in the picture. (That's Jorge Campillo holding his hand -- they were walking beside each other and JJ wanted to hold his hand.)
-
Gregor Blanco
: Omar and Escobar were ragging on him so bad and he was hitting on them. Omar kept snapping pictures on a digital camera, probably for blackmail purposes.
-
Jo-Jo Reyes
: I'm really not sure what Jo-Jo was supposed to be. I'm guessing a sumo-wrestler? He even had his head shaved on the sides, which was kinda weird. :\
--------------------------------
To balance all the boys in dresses, let's show a couple of very well-dressed Braves on the way to the buses. Here's Mike Gonzalez, looking slick with his matching Gucci purse and
suitcase
: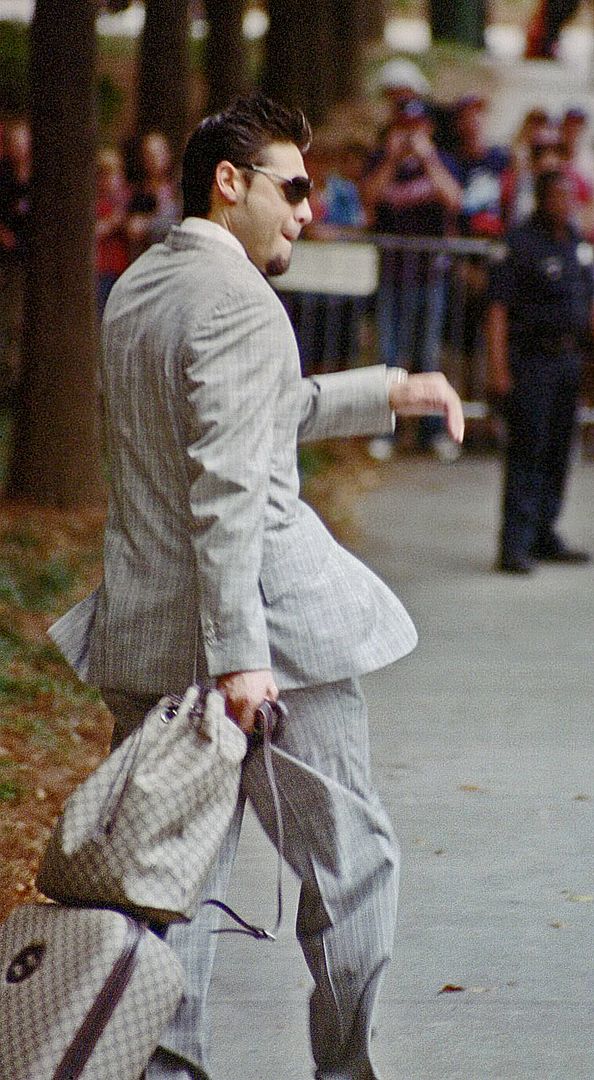 And...Frenchy?! I honestly didn't recognize him... (ETA: It's Eddie Perez, not Frenchy!)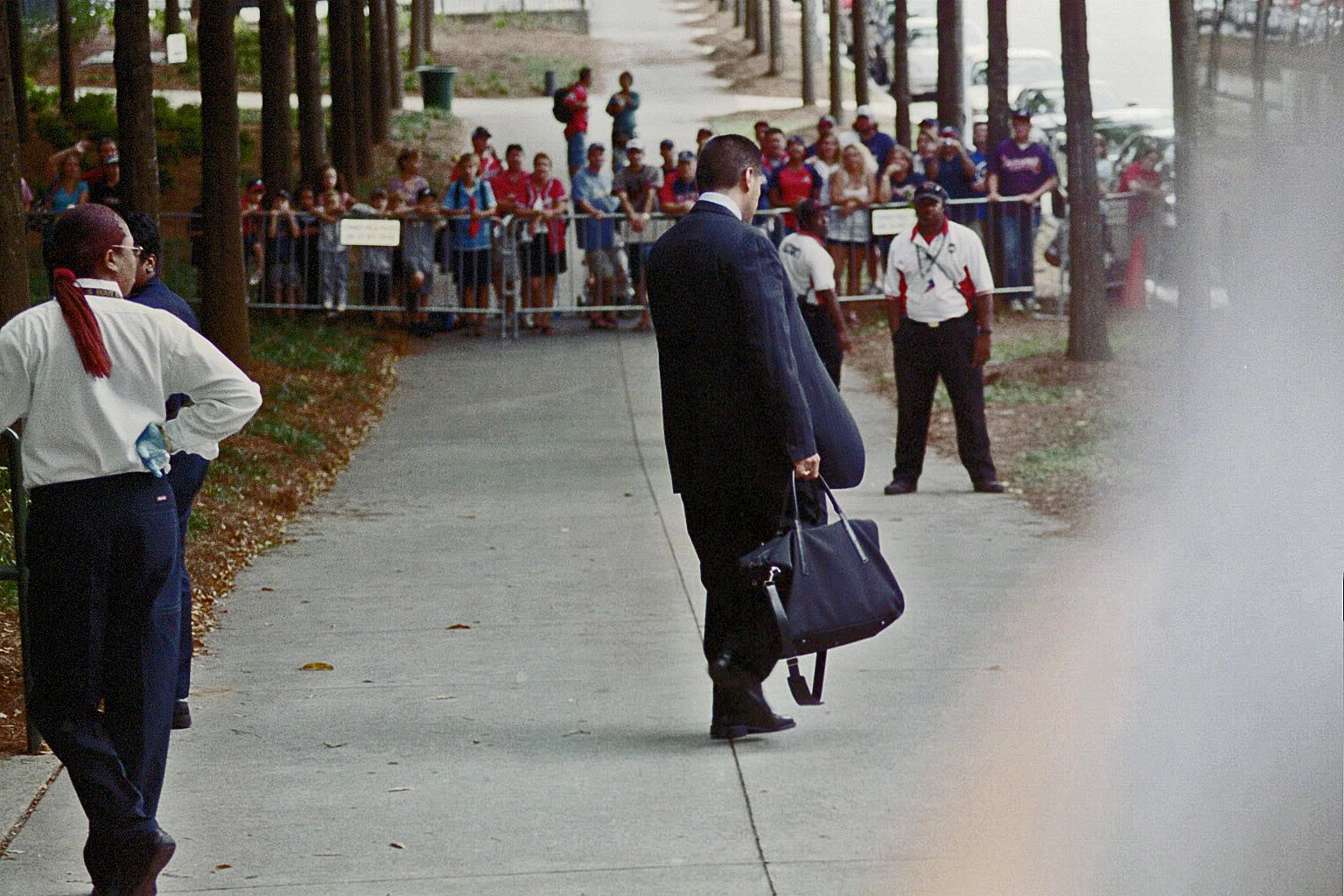 I wouldn't usually tag a post like this as a GL post, because everyone does it and it's obviously in good fun, but seriously -- Yunie's purse and Gonzo's purse? Wow. :D