Hi Charlie! (article inside)

My 15th game of the year was very, very comfortable, weather-wise. We lost 8-7, thanks to a surprising 2-run homer Gonzo gave up in the 8th, but it was still a lovely -- if sad -- evening.


BP!

- Group pics: pic 1 ~ pic 2 ~ pic 3

- Jeff, Jeff, and Charlie. Large, medium, small - best, better, good - whatever you want to call it. ;)

- Speaking of Charlie, he's so cute. Do you know what he was doing? When he tossed balls into the stands, he would pick out a little girl (like, 8 or younger), smile at her, and toss the ball to her. He did it a few times with different fans -- it was very sweet. One little girl's brother stole the ball from her, so Charlie tossed her another. She kissed the ball as soon as she turned her back from him. Really, did we think it was possible to love him any more?

- Alternately, Kyle Kendrick was tossing balls to the 13- and 14-year-old girls. Reminded me of this, heh heh.

- MattE was busy in the outfield! He ran down a few balls, gave BJones a shoulder rub (which BJones seemed to like).

- Will Ohman's friend Scott Eyre gave him some hugs at the BP switchover time, and they hung out for a loooong time during the Phillies' BP.


Between BP and game time, I went and talked to a few of my stadium employee friends -- Sandy (the defensive driver signup lady), Icee (the best usher ever), the guy with the great braids that I never remember his name. ;)

On the way to see Sandy, I saw this: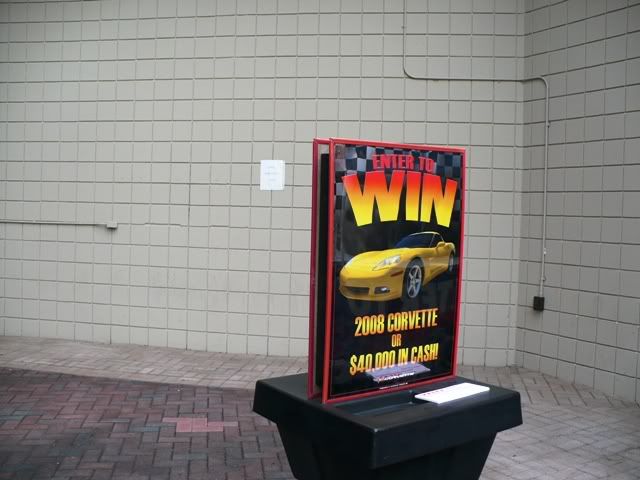 The sign behind reads...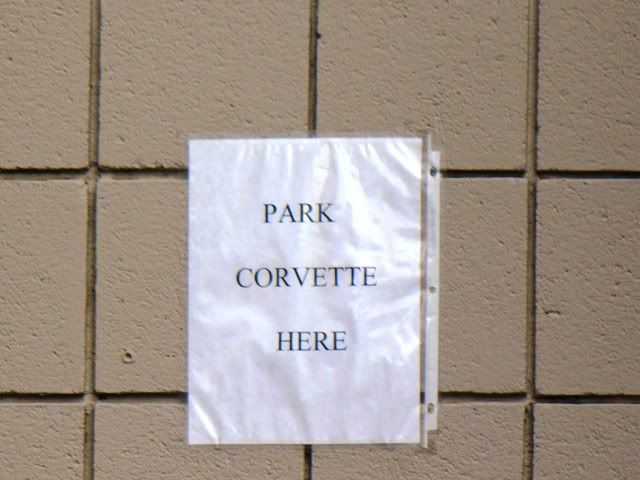 Do you see a Corvette? I don't! And thought it was funny, because there's totally not room to park a Corvette there, so I took a couple of pics. Thennnn... I got swarmed by the sweepstakes guys. They thought I worked for Chevy and was checking up on them, and didn't believe me when I said I just thought the sign was funny. So I somehow got roped into listening to their timeshare presentation. They tried to get me to give them $20, I laughed in their faces, and one of the guys asked if he could put some purple Mardi Gras beads around my neck. Um, sure! OK, thanks dude. *walk away quickly*


Game time!

- Is this Josh's papa? Grandpa? I love that he has a #22 jersey, even though Josh is #24 now. :) And is that his mom? They look too young to be grandparents, but you never know!

- Mmmm, Phillies. I know I'm supposed to hate them, but I *love* Chase Utley and Ryan Howard. Howard's a doll.

- James Parr vs Jamie Moyer

- Joshie, after one of those head-first slides he does so well.

- A very grainy pic of Boog in his winter hat, the giveaway for tonight's game.

- There was a super, super, super drunk guy in the next section. The guy behind us caught me taking pictures, and asked what I was doing. I told him I was going to put the pictures on my Braves blog, and he was like, "Cool, can I be on your blog?" Um, sure! Meet Sam. He's from New Jersey and he's a Yankees fan, and he seemed to hit it off with my friend.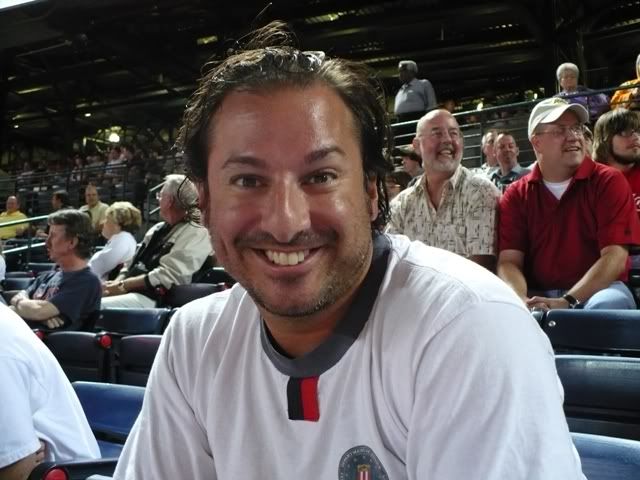 - Pat Burrell struck out 5 times last night, and Sam called the last two. Crazy!

- Swing, Frenchy! They said on the broadcast that he was using BMac's bat tonight. (It didn't seem to help.)

- Speaking of Baby, when it comes to running, he's in the top 3 Braves that I enjoy watching. The other two are Josh (so fast!) and Frenchy (so Muppet!), but watching him truck out that accidental bunt in the 5th was awesome.

Please enjoy the full album of pics here. If any of you attend any more games this season and would like to share, please email me your pics and/or stories and I'd love to put them up here!

---------------------------
Special thanks tonight to Jennifer and Jo with their help in identifying names and things that happened that night. You can't see as well at the game as you can on TV, obviously. :)
---------------------------

I'm going on vacation and won't return until Sunday. Hope you guys enjoy the rest of the home series!!