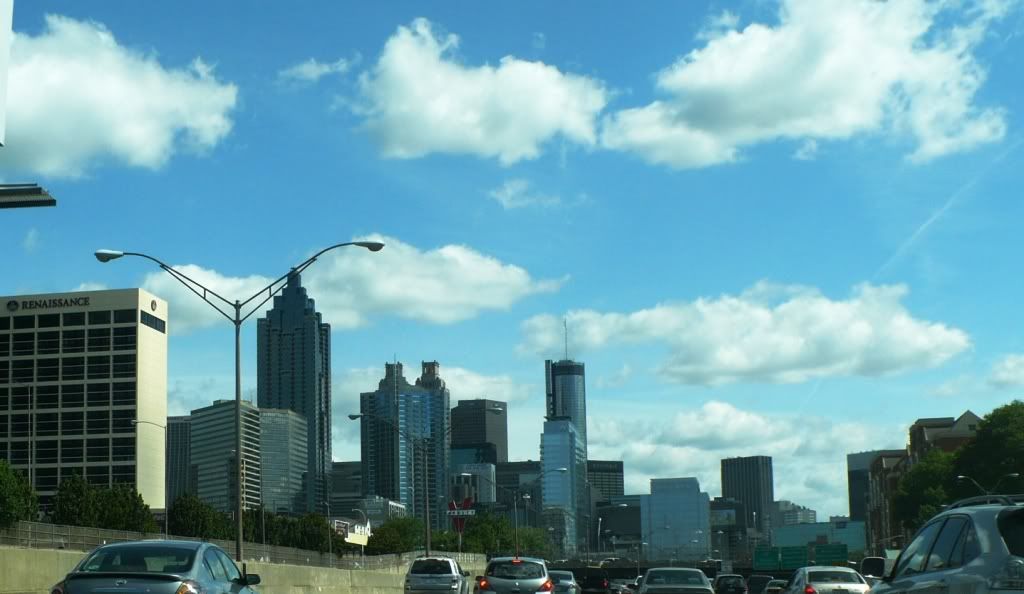 No, I didn't take that while driving to the game. ;) That's the view of Downtown Atlanta from Midtown, on 75/85 South. :D

Thanks to B's coworker's husband, we had some sweet seats in the Golden Moon Casino level.




He works for... let's say... a media source here in Atlanta, and we got to enter the stadium through the media entrance, which was pretty cool. Before we went in through the media entrance, though, B and I bought the $1 skyline seat tickets so we could get into the park to watch BP (then left the park to go in for our "real" seats). So! BP pics!!

Norton: "Who, me?"

The third of four random hugs BMac got. For the record, he didn't initiate any of the hugs. ;) Here's JJ with hug #4.

I think...I think... I can see Garret Anderson's teeth here. Is that a smile?!

JJ takes a drink. Hey, we have those baby Dasanis at my office! They're too small to squeeze. :(

KJ, Baby, and Huddy, laughing, and laughing harder. KJ's fingers are all taped up; I hope he's ok.

O'Flaherty, Bennett, and Moylan

We have a new babyface on the team, and his name is Kris. I've been calling him Tiny Dancer, but I'm open to other nickname suggestions. pic 1 ~ pic 2

Moylan started talking to a fan in the stands who appeared to have more ink than Moylan does. They compared sleeves, and Pete started tossing a ball against the yellow out of boredom. I really thought he was going to throw the guy a ball, but he didn't. Hmm!

Aww, a Jurrjens fan. I love seeing kids with a player's number on their back. I had a tot-sized Dale Murphy jersey when I was a toddler, and I wish my mom had kept it. I thought that was the best thing ever!

O'Flaherty is cute. Have I mentioned that today? ;)

OK, time to meet up for the sweet, sweet tickets. They provided access to the 755 Club, so I enjoyed a ginger ale while B got a Coke, and we watched a little of the Rockies' BP from the outdoor tables. For the record, I think ginger ale should always be available, anywhere with a fountain. Mmmm...

Hey, nuns! pic 1 ~ pic 2

The rest of the pictures are from our ticketed seats...

Frenchy wants in on this stretching session! Is he always left out?

Yunie has some fans in the Chop House!

Heap! It's game time, buddy!

Hee hee, look at how tiny this kid is! I would have been scared to death at that age, and probably wouldn't remember the experience at all. :/

Triple for MattE!!

Okay, a small detour... B wanted food a few innings in, but I was okay. It took a little convincing for me to walk with him to grab something to eat, and we ended up in the concessions area behind home plate on the club level. I went into the restroom while he stood in line, and who was there drying her (HUGE) ring? Catie F. She gave me a smile of acknowledgment; I had something in my eye and didn't really have anything to say to her except a polite "hi", so I washed my hands and proceeded to check out my bloodshot eye in the mirror and she walked out. Ah, a mini-brush with fame. She got something from the concession next to where B was, which surprised me a little. I thought the suites had both private restrooms *and* catered food and beverages? (The ones at Philips Arena do.) Maybe the restroom was occupied and she wanted something else? Or maybe she just needed a breather? I get that way in enclosed spaces full of people sometimes. Anyway, she's a cutie. Hi, Catie!

Back to the game, Yunie's highlights are getting more and more ridiculous. Will someone please tell him that color is TOO HARSH against his skin? Please??

Prado! Frenchy! MattE's thin goatee! Hee hee. I know, they can take a while to grow out.

"I got a fevah! and the only prescription, is..." pic 1 ~ pic 2 ~ pic 3 ~ pic 4 ~ pic 5

Baby! He makes Rossy smile, and that makes me smile. :D

Bennett's big-screen pic. He got to pitch two innings and did very well, even reaching base in his AB. He looks so young in this picture, and we're the same age!

Omar, reacting to his hand/finger (?) being broken: pic 1 ~ pic 2 ~ pic 3

Hey, Ronnie Gant's in the dugout! Love ya, Ronnie!

BRAVES WIN!! Way to go, boys!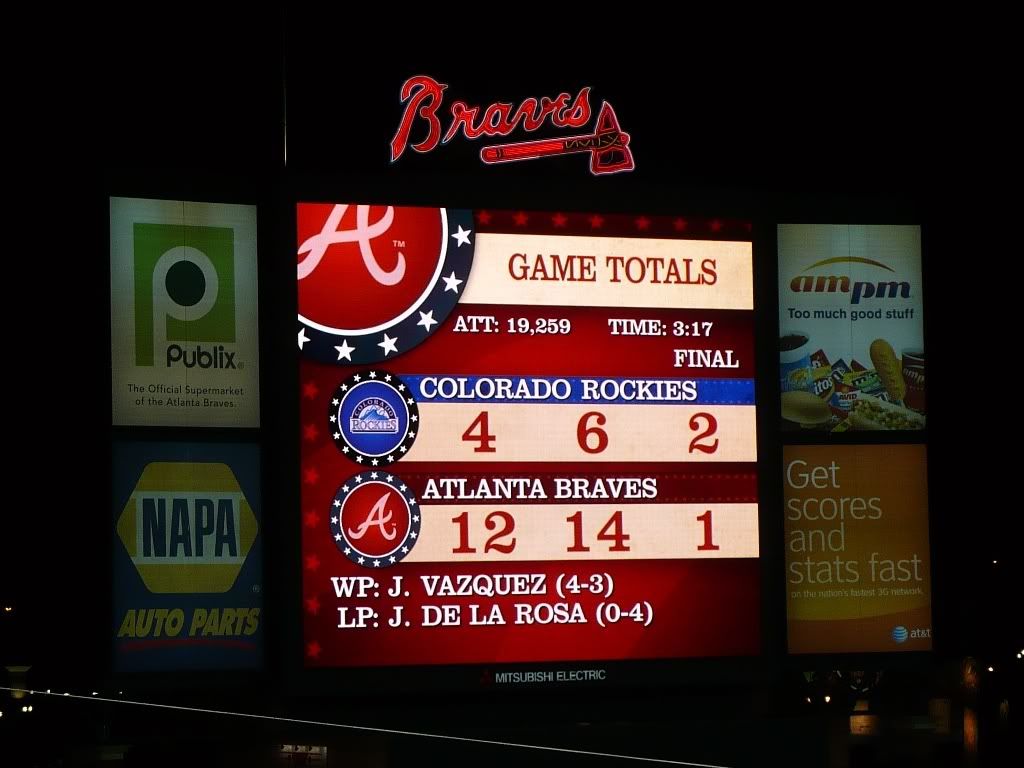 Full album here. Enjoy!