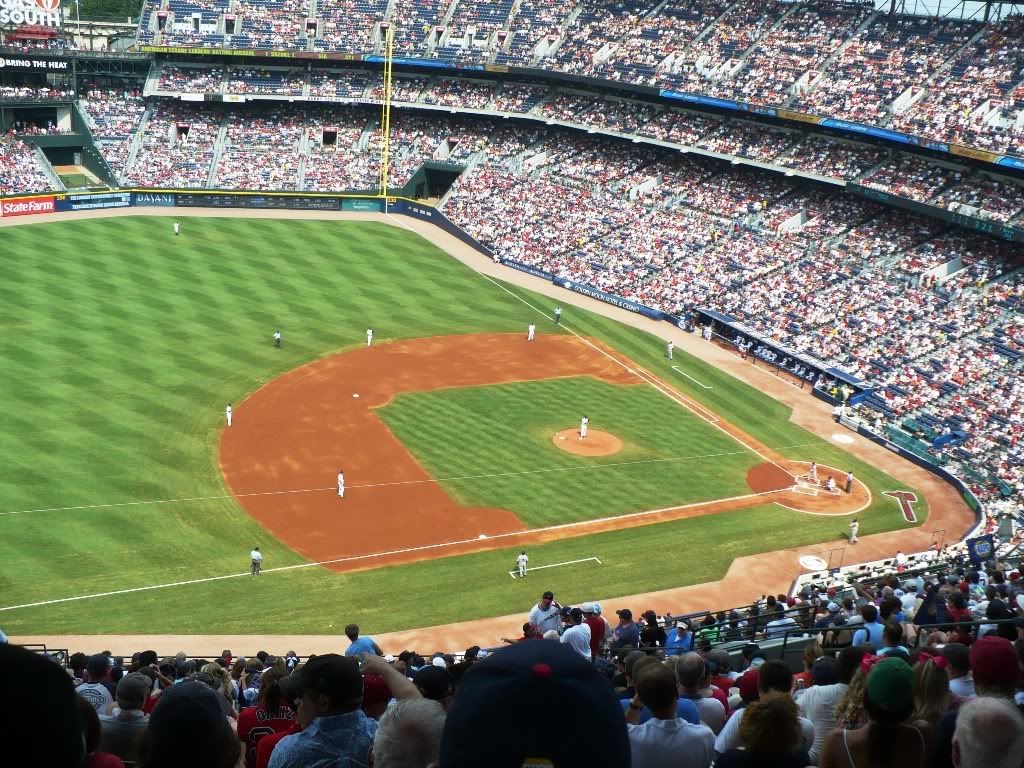 Being able to see my favorite two teams play each other was an awesome treat. It just would have been nice if I could have actually seen the game. ;) My friend Jen and I were on row 24 of section 418, so it was pretty difficult to follow the game from that height and angle. Losing 1-0 behind a spectacular pitching performance by New Javy didn't help, nor did the incessant heat! I swear, I sweated for six hours straight. :D

BP pics!

- Roger McDowell was in RF, hitting balls to D-Lowe in the far LF corner, and Lowe was throwing them back to Eddie Perez in the far RF corner. It was an amazing display of athletic ability; I'm certain I couldn't throw that far.

- Smoltz did some long-toss before heading into the bullpen, where Baby went to visit him. :)

- Frenchy fielded grounders at 3B with Chipper, and KJ later mocked the way Frenchy throws the same way from 3rd to 1st as RF to home. :D

- Aww, this is the first time this year I remember seeing them hang out alone. *sniffle*

- Catchers!

- MattE!

- JB tosses a ball to some eager fans.

- Jon Lester is a huge dude.

- Gonzo (with Blow Pop in mouth) "races" Jair back to the dugouts -- Gonzo running backwards. :D

- Former Braves Mark Kotsay and Nick Green

- Pedroia's so tiny and bald. I love him.


Now, up to the super-hot super-high seats in the outfield!

- Here's Boone Logan, getting some hugs from a blonde girl. I like how several people in the section are taking a picture from their respective seats, one with a cell phone. ;)

- Lineups! The person sitting to my right called it our B team. :/ I'm sad Varitek wasn't catching.

- Big Papi and Youk warm up

- During the pop-fly pre-game game, Kots helped the contestant know which direction the ball was going to go. The guy won 25,000 Delta Sky Miles!

- Medlen dancing for the crowd with the MLP bag. :D Pic 1 ~ Pic 2

- When did Frenchy get red shoes? (BTW, is anyone familiar with the Hans Christian Andersen fairy tale, "The Red Shoes"? That's the first thing I though of when I saw his shoes. Also, real fairy tales are creepy!)

- Tiny boy waiting to have BMac sign a ball for him. Mac was the only player who squatted down for his kid. *Hint hint*

- Dane Cook shouted "Play Ball!"

- YOUK! signs :)

- Tek!

- "Chowda", really? I have to say, I'd be a little offended if I went to a game in Boston and they typed out our Southern drawl phonetically in a between-innings game. :/

- The Tools get ready for the tool race. Tool race!!



- Great game, New Javy. <3 - Look at how much the cotton candy shrank in the heat!

- They have mini-fireworks (really, just a spray of sparks) squirt out of the Gas South sign after each Braves pitcher records a strikeout now.


Random fans!

- Santa Claus, with Braves stocking hat

- It's Fred McGriff!

- Nomaaaahhhhhh!

- Coco Crisp!

- 73*

- Red Sox baby

- "Demon", haha


Final score, 1-0. :( It took a full half-hour to get to the car (usually 10 minutes) and another half-hour to get on the interstate (usually 3 minutes, literally) because of these insane crowds:




Have I mentioned I hate crowds? I do. I really, really do.

Full album here. In case you weren't following the Twitter feed on Saturday, here are the tweets from the game...


D-Lowe is the only one on the field. He#7 catching flies hit to him by Roger. :D


1:12 PM Jun 27th from txt



Smoltzie doing long toss in deep left field.


1:22 PM Jun 27th from txt



Frenchy's playing 3rd base with Chipper!


1:37 PM Jun 27th from txt



Baby just ran into the visitor's dugout - Smoltzie is still in there. :)


1:57 PM Jun 27th from txt



KJ's mocking how Frenchy throws from RF. :D


2:20 PM Jun 27th from txt



Papelbon was just dancing in rhythm to Rihanna's SOS. :D


2:32 PM Jun 27th from txt



Just passed a girl with a Boston B tattoo on her ankle. Awse!


3:23 PM Jun 27th from txt



Tek isn't catching! Sadness.


3:51 PM Jun 27th from txt



Dane Cook said, Play Ball!


4:11 PM Jun 27th from txt



Krotchman's intro song is totally Low by Flo Rida.


4:44 PM Jun 27th from txt



Blanco's song - Akon's Survivor


5:00 PM Jun 27th from txt



The Dugout Diner is out of ice!


5:54 PM Jun 27th from txt



MattE on deck!


6:24 PM Jun 27th from txt



http://twitpic.com/8m5am -


6:27 PM Jun 27th from TwitPic



The guys behind me are singing George of the Jungle at Kottaras. Ha!


6:42 PM Jun 27th from txt



Huge traffic jam at the stairs! This is ridiculous.


7:06 PM Jun 27th from txt



http://twitpic.com/8maxg -


7:07 PM Jun 27th from TwitPic



@[reader] Jen bought me a pretzel with cheese, and it seems like I'm bad luck this year!!


10:40 PM Jun 27th from web in reply to [reader]