Thanks for dragging me out there, Jenna. :) It was a super-fun game!
I got to the stadium about 10 minutes before Jenna, so I chilled in the shade and crowd-watched for a little bit. This was the line
about 5 minutes before the gates opened
, and this was the line
when the gates were actually open
and people were filing in. It's great to see so many fans at the game, even if a lot of them were in blue & white. ;)
BP was more fun than the last few have been. Several pitchers played pitcher-catcher together...
O'Flaherty & Moylan
Logan & Gonzo
Acosta & Soriano
And some guys are better at special high-fives with Rossy than others:
EOF brought out baby Dasani water bottles in his glove and
blow pops in his back pocket
, but JJ and Gonzo were only interested in the water. To quote Jenna: "I'll take your blow pop, O'Flaherty!" EOF was also "
shooting
" the loose baseballs towards the holder as if they were basketballs...and didn't make a single shot. Aww. :)
Other miscellaneous:
- Atlanta Police
helicopter
buzzing the stadium -- have no idea why.
-
Infante
taking infield practice at SS, and doing a good job!
-
MattE
, looking cute. :)
- Moylan giving JJ a rubdown
1
~
2
~
3
- Dodgers:
Manny
,
Ausmus
(LOVE), and
Fookie
Before heading to our seats, Jenna wandered into the Clubhouse Store while I found my brother who was there with a friend of his. Jenna sent me three pictures of the outrageous amount of Dodgers crap in the Clubhouse store -- not just one rack of t-shirts, but a whole section of Dodgers gear and souvenirs! Check out her pictures:
1
~
2
~
3
That's not right.
Game Time!
-
Baby stretching
-
Joe & Chip
prepping for the PTV broadcast
- Hanson
warming up
-
Fookie!
- Manny in the
on-deck circle
, and his Friday night reception by the fans at Turner Field:
- Hanson's
jumbotron pic
- Home Depot Tool Race! Paintbrush TOTALLY shoves Drill down! NOT COOL. (
but definitely funny
)
- After the
Diamond Dry
was applied to the home-plate area
- The Rossy / Baby
tradeoff
- EOF, giving his back
a good stretch
-
Medlen
in to pitch!
-
This was my actual view
for most of the game. I swear, this guy's head was HUGE.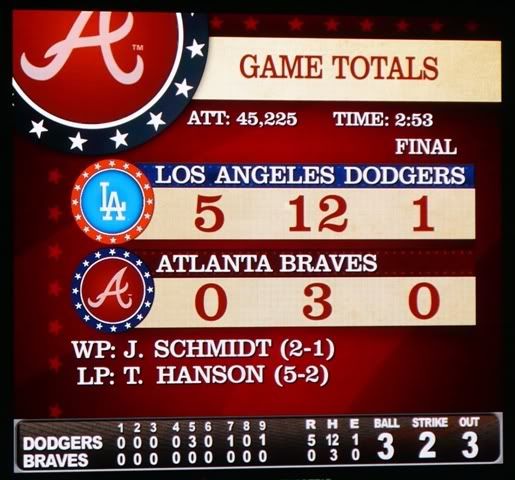 Braves lose. I really don't remember the last time I went to a game where we won -- maybe I should stop going? :D
Full album here!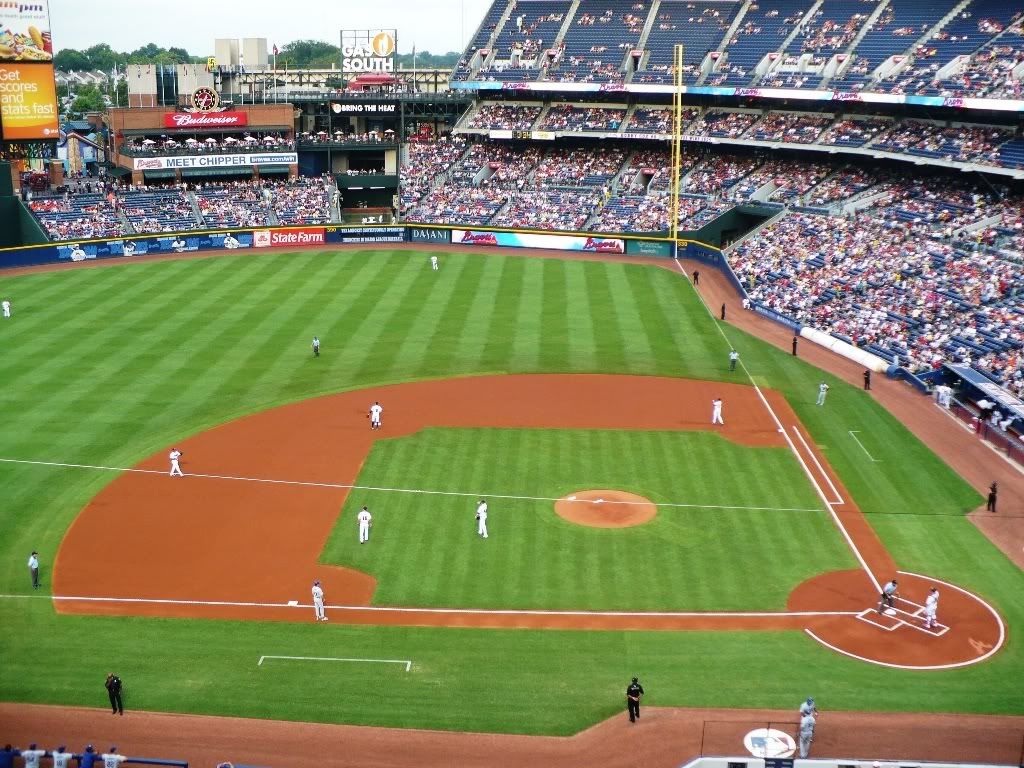 PS -- I was entertained 100% by the Braves Organist's choices of intro music, as you could see in the Twitter feed. He's brilliant. I hope you could hear some of them over the broadcast! :)