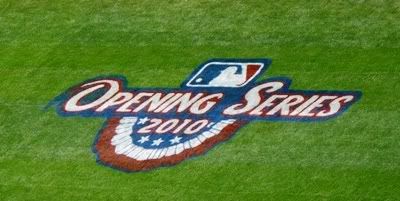 Welcome to 2010!
What a fab game.
Largest day crowd
in Turner Field history, third largest crowd in Turner Field history, and boy, were the right field seats bumpin! Let's start out with some BP pics, though...
Lines to get in
, the kid in the gray totally wins!
Hinske & Diaz
~
O'Flaherty & Medlen
~
Omar & his batting gloves
Brooks, Rossy, EOF, Meds
Jogging pitchers
1
~
2
~
3
Rossy, don't your
knees
need a break?
Pretty shot of
Hanson

Moylan
, looking very covered up. Speaking of, he was showing some of the guys some cricket pitches and I couldn't get the camera out fast enough. Hopefully this video is good enough. :)
I only took pics of one Cub, because my party had to potty. Here's my boy Dumpster scarfing sunflower seeds...
As I mentioned on Twitter, on the way to our seats
B got a new shirt
and a Braves employee stopped us to ask us to take a survey. We hoped it would mean we would get a seat upgrade later, but nothing happened. Sad.
Let's see some pre-game videos!
Baby's presented with his 2009 Silver Slugger.
Opening Day lineups! I like the Braves Country Lineup look.
Hank Aaron throws out the first pitch of the season to Jason Heyward.
Views from our seats at the top of Upper Reserved 417:
1
~
2
~
3
While looking around, guess who I spotted just a few rows down? Brandon Bond of
All or Nothing Tattoo
, aka the tattoo artist of the Braves! I went down to say hi - we've exchanged emails in the past and his assistant Nicole has always been super-nice. Well, he was great in person too. Why was he in these sucktastic seats, I asked? He had given his good seats to his parents and gotten these from a scalper. What a good guy. I don't have any tattoos (bleeding disorder, ftw), but I think his art is beautiful. Anyway...
Check out the
media swarm
watching Heyward stretch. I couldn't do that.
Huddy
on Braves Live
The Braves sure are getting a lot of use out of that
America-shaped flag
, aren't they?
This is Braves Country.
Travis Tritt singing the
National Anthem
, with both teams on their respective baselines.
Bobby took out his own
lineup card
to start the season. Cue big emotional music. Cue big applause.
First pitch
, for real!
Baby at bat,
1
~
2
~
3
Hey,
McCann's Cans
are back! I wonder if those are the same guys I met years ago. They were nice kids.
Jason Heyward's first at-bat, 3-run homer and all! I
barely
got it, and B (in my hot pink Wayfarers) called it! Awesome.
And his second at-bat, which wasn't the same but it was fun to hear the crowd get excited for him:
Excellent "God Bless America"
singer
, maybe best I've ever heard live.
Tool Race vid. I'm getting a little tired of recording these -- do you still have fun watching them?
These guys were so proud of their Heyward jerseys.
Nate doesn't write
vowels
when he autographs?
Braves win! Player of the game is!
All pics and vids
here
. And before we go, some fan shots!
Sid Bream shirt
Not a typical KJ fan
The Yoda backpack at the ballpark...might not pick up women
Wrong game,
Lincecum fan
.
Hanson & Jurrjens
couple
Baby
wig
! (ok, it's probably real. either way, so cute!)
THIS
is why "this seat is so tight!"
GIANT TOMAHAWK!!!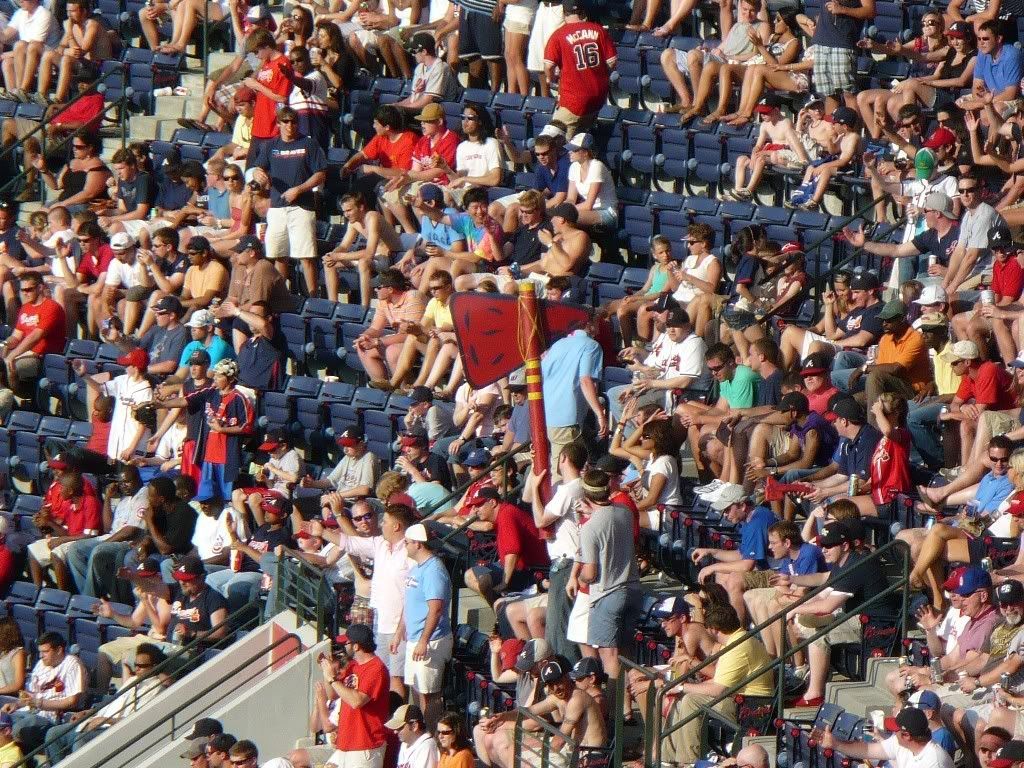 What a fun game! Hope to see you at Turner Field soon!