Wild West Night at the Ted! B's sad he missed the Tomahawk Team's costumes for the night. Also, he misses several members of last year's team, if any decision-makers are reading today. :D

So, this game was a Cousin Night trip, with my brother and his girlfriend and only two of our cousins who live in the area. The original group was larger, but people trickled away with other plans, and my brother and his GF ended up leaving after the third, but we had an awesome time anyway. Let's look at some pics!

Baby gnawing on / sniffing his fielding glove 1 ~ 2 ~ 3 ~ 4 ~ 5

MattE talking to some fans and chasing down a fly ball

Omar & Marteen -- see, CABravesFan, they're different people!! ;)

Huddy & Hanson

Baby & EOF hanging out 1 ~ 2 ~ 3 (even though we can't see their faces, they look like they're laughing in pic 3, don't they?)

Okay, these pictures just cracked me up. I love how tiny Tiny Dancer (Medlen) looks next to Lowe. D-Lowe's a giant, so I'm sure Meds isn't actually teenaged-boy sized, but he kinda looks that way in these pics. ;)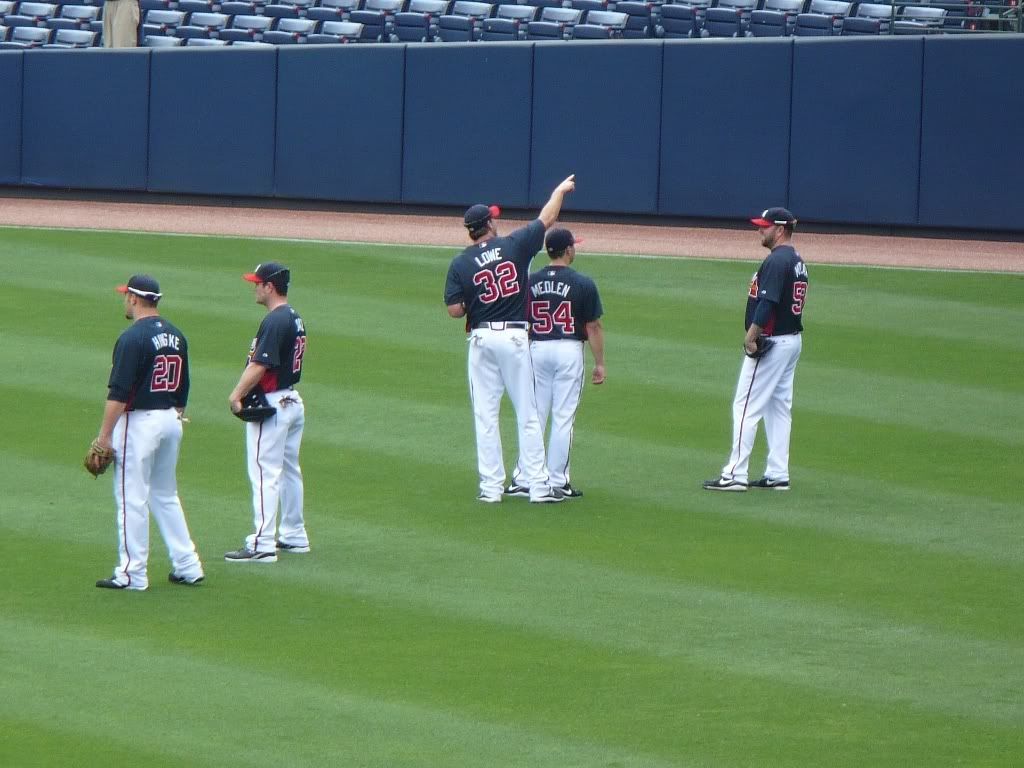 Hee, I love BP.

After the Braves did their usual hugs and tackles and Moylan demonstrating cricket pitches, it was time for the Diamondbacks to come out. Only a couple of the guys had numbers on their BP jerseys, which did not help! Luckily, former Brave Blaine Boyer was easy to spot with his awesome red hair. Here are some pics!


More: 1 ~ 2 ~ 3 ~ 4 ~ 5

I also heard his super-cute wife was thrown a baby shower by the other Wives that weekend. That's gonna be one of the cutest former Braves babies ever! I miss Blaine -- always heard he was one of the good guys.

Hey, time to go up to the BOGO College seats. Thanks for still being in school, cousins! ;) And check out who's in the booth, getting ready for the game! Hi Smoltzie! Glad I'm here and not at home so I don't have to listen to your horrible, horrible jokes.



Heyward received his Rookie of the Month award for April!



I mentioned earlier that it was Wild West night, right? Well, there was some creative photoshopping with the players' mug shots... take a look...

Dbacks

Kelly Johnson

Adam LaRoche

Braves

Prado

Heyward

Chipper (hilarious)

Baby (so funny, I took a closeup)

Glaus

Hinske

Omar

Nate

Kawakami (KK has a new fan club -- you may have seen them on TV, but in case you missed them, here are Kenshin's Geisha. That's...so wrong. :D )

Brooks Conrad

MattE

Melky


Nate had a nasty run-in with the wall, and Hinske squatted on the warning track with him till he was OK. None of my pics of that came out well (boo), but this pic shows how hard he was breathing. Were they friends in Pittsburgh, or have they become friends now? Either way, I'll bet Nate has some slight bruising after Hinske celebrates with him after Nate's home run. ;)




Walkoff win thanks to Marteen!!



Tons more game pics in the full album -- I don't think any of the other pics need explanation or have a special story. There's a way cute pic of a favorite starting pitcher and his wife on the field before fireworks. :)