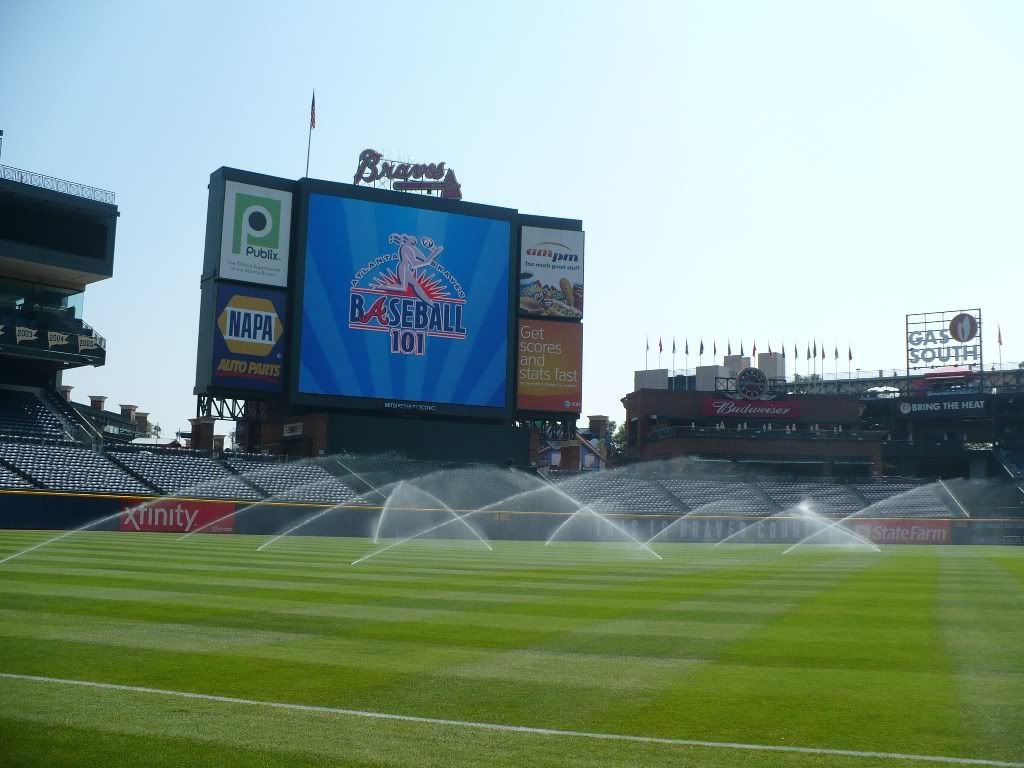 Jenna, Molly, Susan and I met up for Baseball 101, and we had a great time. Lots of pictures and details below, followed by the gameday pictures!

------------------------------

Braves in attendance: Eric O'Flaherty, Brooks Conrad, Jonny Venters, Craig Kimbrel, and Brandon Hicks. This was the itinerary of the day's events:

9:00 a.m.-10:00 a.m.: Registration. Free parking was provided in the Green Lot, and light refreshments were served. (OJ and Munchkins)

10:00 a.m. – 10:30 a.m.: Q&A Seminar at the Right Field Patio hospitality area

10:30 a.m. – 12:15 p.m.: Baseball 101 Instructional clinic conducted by Braves players

12:15 p.m. – 1:00 p.m.: Autograph Session

1:00 p.m. – 2:00 p.m.: Lunch/Closing Activities at the Right Field Patio hospitality area

2:00 p.m. - 2:30 p.m.: Tour of the Atlanta Braves Museum & Hall of Fame and Turner Field (optional)

7:00 p.m.: Atlanta Braves vs. Kansas City Royals
During registration, you wrote your name on a nametag with a dot sticker which indicated whether you were in the red, yellow, or blue group. We were then herded into a tent with picnic tables set up, and the Q&A session was up first. It really felt like there were more than the reported 85 women there, especially when they all started squealing for the Braves.
The guys were mostly in good humor so early in the morning -- EO was finishing up his breakfast as he approached the tent and spent a good bit of the intro waking up. :) The rest of the guys looked ready to be there, and Carroll Rogers of the AJC joined the panel for the questions. They answered some pretty generic questions from the crowd and Carroll told a great story about approaching Barry Bonds for an interview when she was a newbie.
The best response, by far, was babyface Kimbrel. The question was about whether the guys like interleague play, and everyone was pretty much in favor...except Kimbrel, who started talking about how much he wanted to play every day and wanted to play as much as possible. The panel couldn't hold it together, and before long, he was so far off topic everyone was cracking up and Brooks just took the mic from him and was like, "Back to the question,
interleague play...
" and everyone cracked up all over again. It was really great! If anyone got video of that, will you please let me know? :D
Photos from the Q&A!
EO
zoned out
~
talking
~ looking
straight into my camera
! (wallpaper-sized by request)
Carroll Rogers
with Brooks
~
with Brooks & Jonny

Brooks
pic 1
~
pic 2
Kimbrel and Hicks
Next, the groups split and we headed to the visitor's bullpen.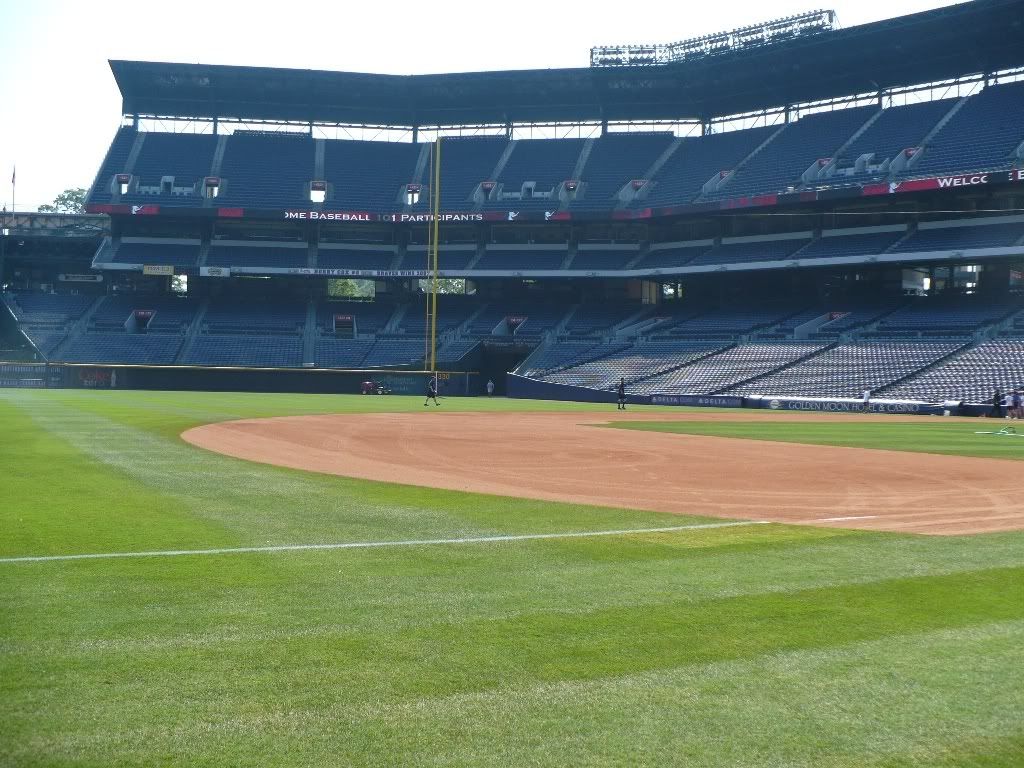 Everyone in the bullpen got two throws. We appreciated that they called us by name (even if they were coached to do so, haha) and made an effort to high-five us, give us lots of smiles and encouragement, and I never heard a negative word out of any of their mouths. Jonny Venters and Craig Kimbrel seemed happy to be there and, frankly, happy we knew who they were! Jonny coached the ladies on how to pitch from the stretch and Craig was our catcher, and there was a radar gun. If he was announcing our pitch speeds, I didn't hear mine, but I threw straight and hard enough for Jonny to say, "Very good!" after my first pitch. After my second, he handed me the ball again (we were only supposed to get two) and I asked him to teach me to throw something different. It was supposed to be an instructional clinic, after all? I had been throwing a two-seam fastball and he showed me a four-seamer, and I had some decent movement on my last pitch. I was pretty proud of that!
Here are our pictures from the bullpen!
Woman who asked Jonny to hold her bag and sign a ball while she pitched (smh)
pic 1
~
pic 2
Jonny and I
pic 1
~
pic 2
Jonny and
Susan
,
Molly
, and
Jenna
He was so patient and kind and smiley. He jumped way up on my fave Braves list -- his wife is a lucky lady. :)
As we walked to short right field to our next stop, we got to run through the Turner Field sprinklers! It might have frizzed out my hair for the rest of the day, but it was totally worth it. :)
In the outfield, Brooks Conrad taught us to shield our faces with the glove and don't use it as a scoop (so the ball doesn't zip into your face). Eric O'Flaherty was the catcher, and mostly just sat on his bucket near the line. I caught my first pop-up from the machine and didn't get another ball. (I used two hands like a good former softball player.) Brooks high-fived me (and everyone else), and when I jokingly griped about only getting one pop-up, he said, "you were good!" Well, I still only got one pop-up. :( There was plenty of time for people to take pics on the field, though!
Here are our pictures from the outfield!
Brooks and
Molly
,
Susan
,
Me
EO and I
, pics of him on his bucket
pic 1
~
pic 2
(last two are wallpaper-sized by request)
A few more notes about Brooks and EO -- Brooks was a doll. Very very nice, super-personable, and it was clear he was happy he had fans! His side hug was snuggly-tight in a not-pervy way, if that makes sense. EO, on the other hand, was making it clear to everyone that he has a girlfriend. Yes dear, we know. Calm down.
OK, the last "clinic" was in the indoor batting cages. There were so many women packed in there, it wasn't funny...and that's just in our group! There was a guy named Chris who worked for the Braves who was working with the tee, then we went over and got live soft-toss from Brandon Hicks. Chris was helpful and encouraging he kept the batting cage experience from being a total bust. He told me I had a good swing and didn't seem to lose patience at all with the endless stream of women knocking over the tee, getting frustrated, and trying not to look dumb!
Soft toss, on the other hand, wasn't fun. My first pitch was unhittable, below my knees, so I didn't swing at it. The next pitch was better, and when I waited for a third (hoping I could hit two), Brandon Hicks said, "That's it; you get two." I smiled and said the first was unhittable, and he just shrugged, so I stepped out of the cage and took photos of the bats in the bins and chatted with my friends and the nice security guard for the next 15 minutes while we all stood around and waited. I mean, what's one more pitch? This blog is called Braves Love, and I'm always hesitant to write anything but lovey things about the guys, so I'll just say it didn't seem like #18 wanted to be there that day. If I'm wrong and "that's just [his] face", I apologize, but we all caught on to his general attitude.
Pics of some cool stuff in the indoor cages:
Pine tar
Bats:
Prado
~
Melky
The batting practice schedule
Prizes and autographs were next, and Susan won
an autographed Troy Glaus baseball
! A couple of the guys signed the yearbook, Hicks was exactly as personable as before, and I got a
horrible-hair
picture with Jonny. (Why did I run through the sprinklers earlier?? Am I six?! Oh, who am I kidding, I'd do it again.)
That was followed by lunch, which wasn't bad! We appreciated the options! They fed us chicken and rice and a field greens salad... and hot dogs. :D And cookies and brownies. The guys went through the line after we did, which surprised me a little.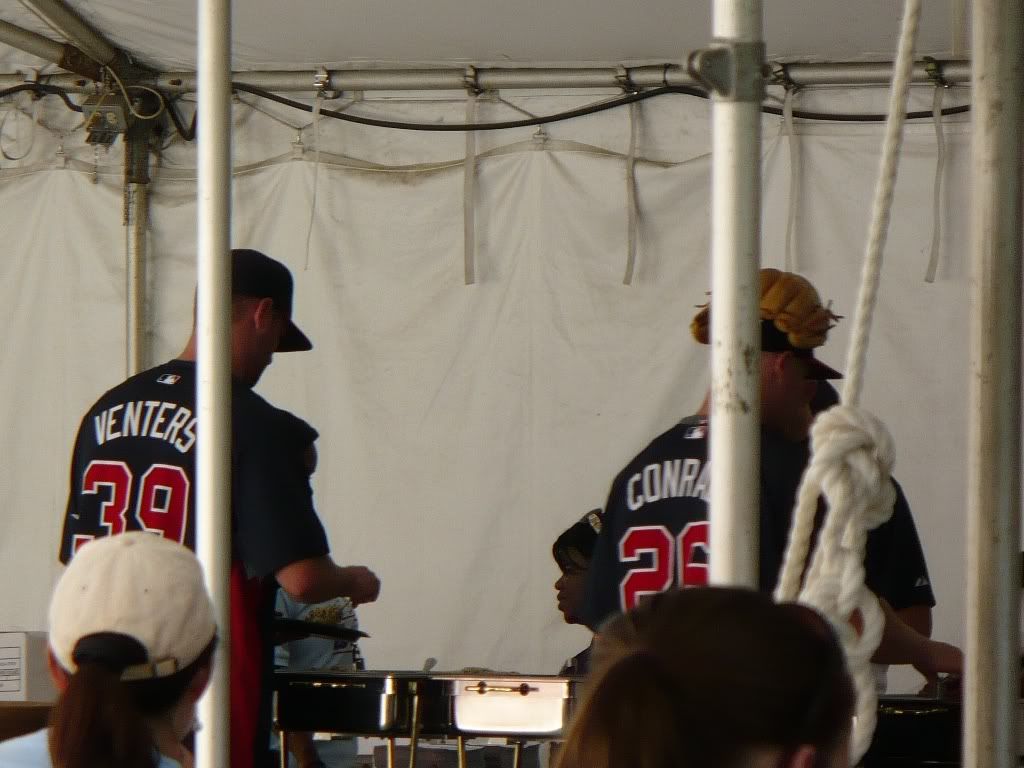 After lunch we had a ton of free time before the tour started, so we gathered our goodie bags and certificates of completion and went to hang out in the hall of fame & museum for a little while. The air conditioning was so nice! Here are a few pics from the tour...
Empty Terrace level
~
Empty stadium
New Coke bottle
Atlanta Skyline
~
Turner Field sign

Would you eat
ballpark sushi
?
Pile of mail for
Mr. John Smoltz
Official scorer's
seat
and
view
Bat racks
1
~
2
~
3
MLB Network's
Ballpark Cam
! It's in the camera well behind the visitor's dugout. I love MLB Network.
Other notes from the day: We enjoyed the frequent water and Powerade stops but would have loved to have a couple of restroom breaks built in to the schedule. We didn't always know where to find a restroom, or if we knew where one was, we were afraid we'd lose the group.
And speaking of the group... I know the organization wanted to accommodate as many women as possible on Saturday, but it was a little disheartening to pay so much for an instructional clinic and get to catch one pop up and hit two live pitches in a batting cage because there were so many other women there, yet there was plenty of time for pictures and autographs in the field (even though there was time set aside later for the autograph session). It's not so much that I needed the instruction, but I would have liked to catch two or three pop ups. The other ladies got several chances when they missed theirs, but I only got one because when I caught it, my turn was over. I think it would help if the group was smaller, everyone got the same number of balls regardless, or the rules were a little more clear. Same thing in the batting cages... I spent three times as much time with the tee as I did with the live pitch.
We had a fabulous time and I definitely plan to go back. But I wouldn't go back without friends, because if I had gone alone and had thrown three balls in the bullpen (I got a bonus one there, I know), gotten two live pitches in the batting cage (one unhittable), and one pop-up and a high-five in the outfield, I don't think I would go again. But I'm a lifelong Braves fan, I love my Braves, and I rarely miss a game (whether on TV or in person) so of course I jumped at the opportunity to attend this event!
So, when YOU go to Baseball 101, make plans to go with a friend or three. :)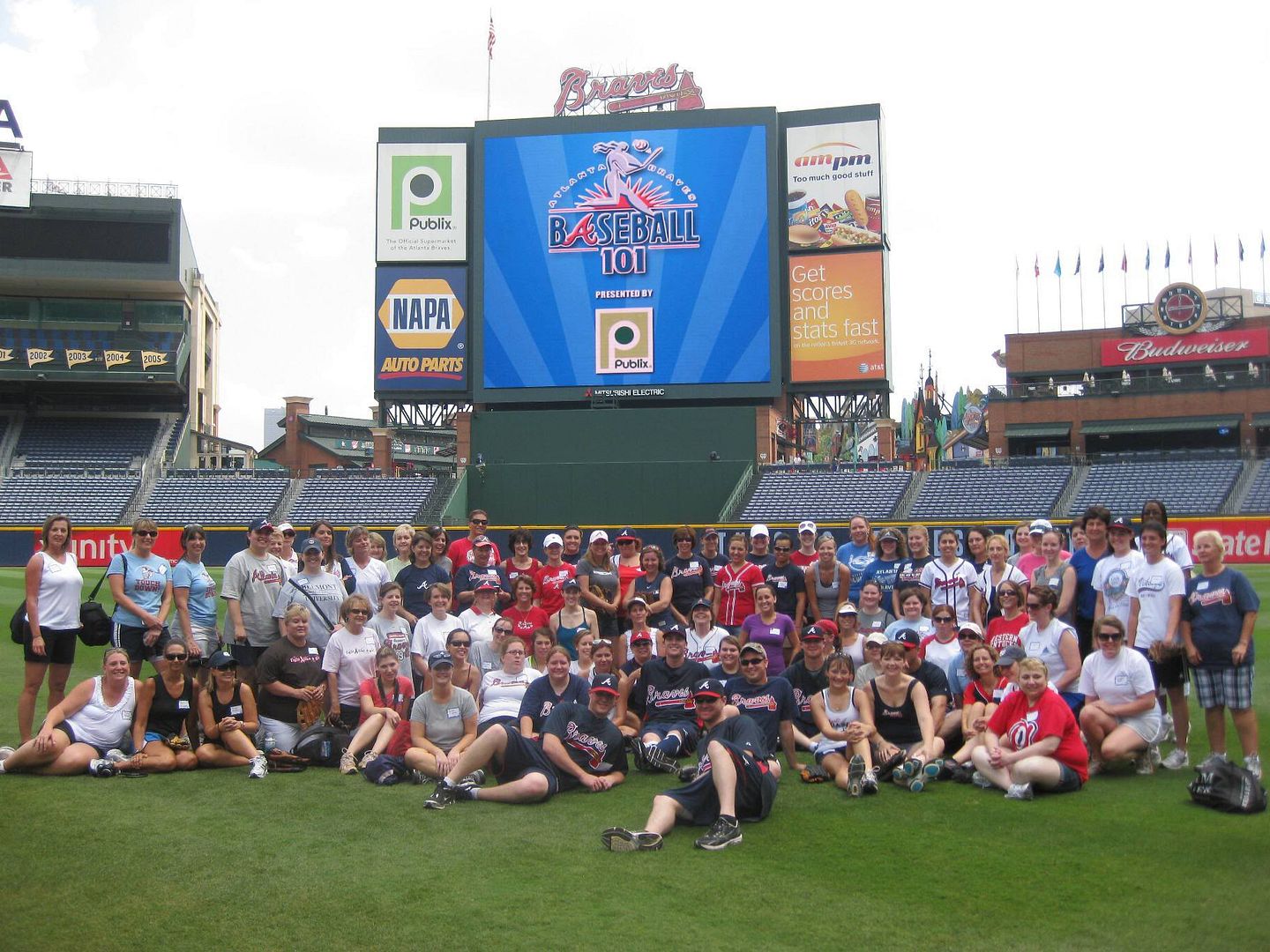 ----------------------------
Here's the album
with the Gameday pics from the game that evening. We may have snuck down to lower seats. ;) We won with a walk off homer by Troy Glaus! GO BRAVES!!!