Mormon Night at the Braves! ...Yeah, not kidding. :D Here's the flyer, and while I remember going to these "all the time" as a kid, the only one I can find proof of online is from 1987:

LDS Scene


"LDS Scene," Ensign, Oct. 1987, 80



Approximately 4,000 members and 38,000 nonmembers attended the sixth annual "Mormon Night at the Braves" in Atlanta, Georgia, July 3.

The baseball game between the Atlanta Braves and the St. Louis Cardinals was broadcast nationally to a potential audience of 42 million homes. Elder Robert E. Wells of the First Quorum of the Seventy attended with his wife, Helen, and threw out the first ball. Their daughter, Sharlene, 1985 Miss America, sang the national anthem. Braves star Dale Murphy was also honored.
Anyway, as a perk, we got to do the on-field parade before the game. It was freakin' hot down there -- I don't know how the players do it every day. As as we walked past the dugout the only Brave in there was David Ross, so I waved as we walked by and casually called in, "Hi Rossy!" I didn't stop or wait for a reply, so I didn't hear him, but my brother, his girlfriend, and the two guys I was with all said he called back something like, "Hey, how's it going?" Heh, I was just being silly; I didn't expect an answer. What's up, Rossy!
Well, that wasn't going to be the only time the Braves were going to notice me this evening, and that's not necessarily a good thing. :D I
may
have been taking pictures of Huddy stretching (I was taking them for you ladies!), and Eddie Perez caught me and pointed out the girl with the camera to Rossy and Huddy. Oops!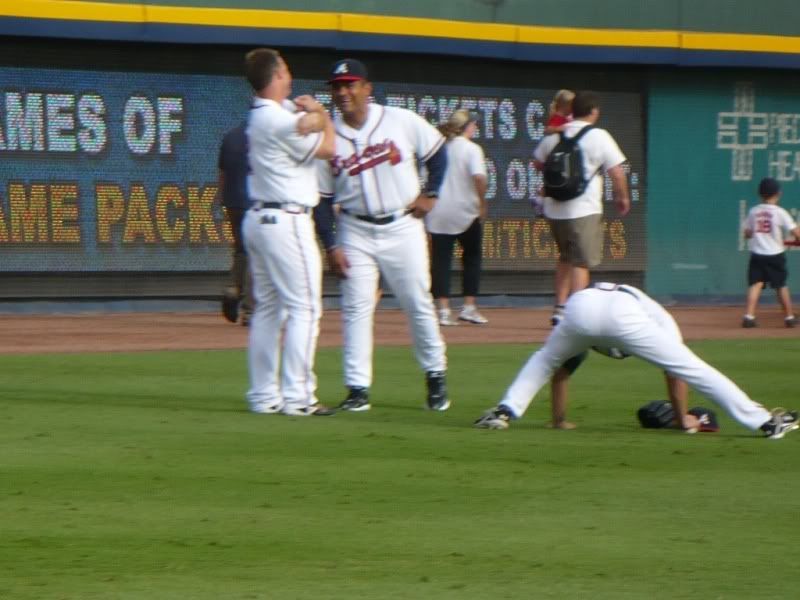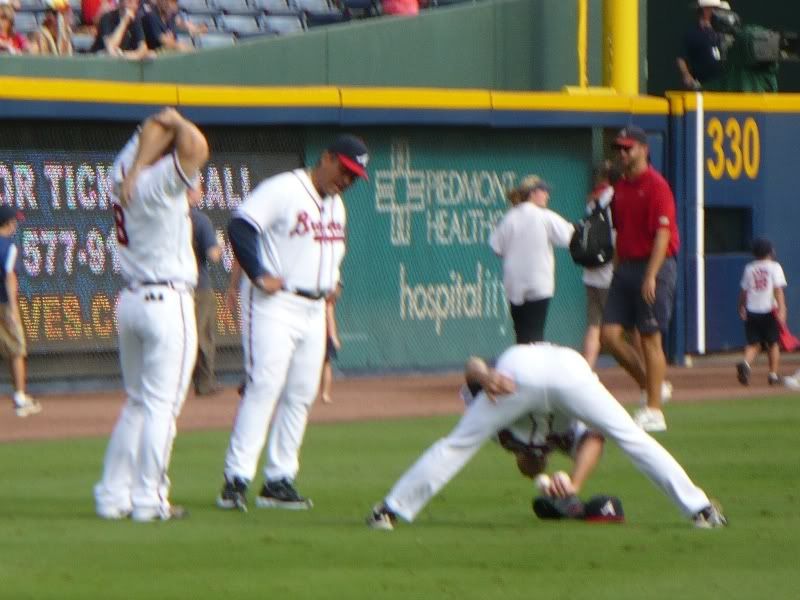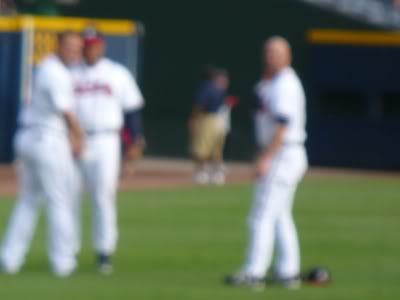 So sad this pic didn't come out well; at least Eddie and Rossy were laughing. (Huddy was mega-focused!) I gave Huddy a "Have a good game, Huddy!" fist pump as we walked past. He was too focused to respond - and I certainly didn't expect a response - but my cheering obviously worked, right? ;)
Here's
another family's story
of their experience at the game, and now I'll move into the usual gameday post. (I don't know the family - I just thought their stories were cute!)
~~~~~~~~~~~~~~~~~~~~~~~~~~
I watched batting practice alone, waiting on my brother and friends to arrive, and since it was overcast I didn't hide out in the shade like I usually do. Everyone around was friendly, as usual, and I loved watching little things like
Heyward
tossing balls to the African-American kids in the stands,
Prado playing center field with his broken knuckle
, and Lowe playing with his kid brothers Medlen and Hanson...
Here's another video, of the bullpen guys taking their daily BP jog:
Chronogically next was the parade. I talked to a nice Braves employee who was trying to herd people into the line while I waited on my brother and friends, then we
stood in line
for.ev.er. before being led down to the
tunnel
. The groundskeeping area we walked past was pretty cool, and I especially liked this dumpster:
Snotty girl behind me: "Why are you taking pictures of the TRASH."

Me, pointing: "No trash."

Girl: "Oh... I didn't read. I just thought you were taking pictures in the dumpster."

Me: smh
One last thing about the parade around the field -- it was weird. A few days ago on Q100, Wendy made a blanket statement, "Everyone wants their 15 minutes of fame," and you know what? No. Everyone
doesn't
want to be the center of attention of thousands. I wouldn't do the parade again unless I was taking my (future) child around. When we got back to our seats, I very was glad it was all over.
View from our seats. I know I've mentioned it was mega-hot, but seriously, it was hot. I hate outfield seats. I ended up with a little bit of heat exhaustion, if that's the one where you stop sweating and your skin gets dark red. I ended up having to go into the AC and guzzle some Powerade for a little while. (BTW, blue Powerade on tap at Chick-Fil-A! Yeah!!) So I don't have a ton of in-game pics, but I do have a good video of the bullpen boys walking out! We were right next to the Braves 'pen, and who is Venters waving at? His fans, I hope! He has tons!
Great pic of
MattE
on the Jumbotron - wish I'd had a better angle.
Frenchy watching the Jumbotron
- some things don't change. ;)
Diory
is back and wearing Yunie's old #19.
Braves win!!
Let's go again soon!
Full album here
, see ya there Friday night for Glavine's jersey retirement ceremony. :)