Thanks to my friend Ariel's husband for these sweet corporate seats behind home plate! You'll notice a lot of the pics have the netting and the mic pole "in the way", but it sure didn't obstruct our view of the game as a whole. My cousin and I had a wonderful time - thank you thank you!!
I took C early for BP, joking I was going to hook her up with Sweet Cheeks Kimmie (not that I know him personally, and he probably has a Significant Girl like they all do), but while all my usual faves were in left field, all the mug shots she thought were cute in the menu were hanging out in right field! ...But, there's shade in left field! There are age-appropriate guys for you over here! All the guys over there would be age-appropriate for me if they weren't married, silly girl! haha! Oh well, we weren't going to talk to anyone for real, we were just waiting on them to do something fun -- wrestle, hug, whatever!
Before we headed to RF we saw MattE chest bump Jonny, then chest-bump Diory and talk to a Marlin for a while. Freddie, Beachy, and CK were all checking something out above the tarp, and I don't remember anything else special going on. There were a lot of fans clamoring for baseballs!
In the RF stands, there was a way-cute Grandma attending her first game (and getting an autographed baseball from
Billy Wagner
, who had
a nice little chat with her
), a pack of blondes who were sitting almost as high as were, a section over, and a tank-topped girl with waist-length curls who was doing her best to get some attention. The boys on the field were almost all
so
well-behaved, heh heh. They just watched BP and talked amongst themselves.
Jerome, Roger, & Eddie in the dugout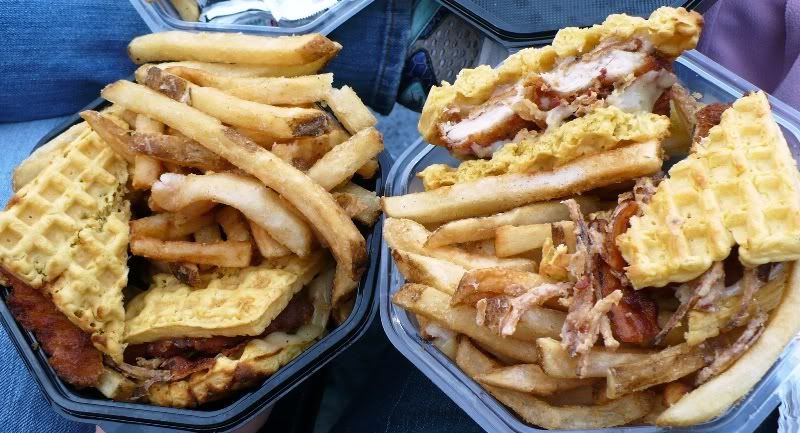 The "best" food at the Ted - the Hammer!
OK, time for three of the funniest on-field warmup pics I've taken so far this year, presented without comment. Fill in your own caption, please... :D
Okay, I do have one comment - I love how Rossy's stance doesn't change. :D It's like he's waiting on a punch in the gut or something! He also trotted over to say hi to
Mac's wife
, who was sitting in the SunTrust Club, before catching the first pitch from a guy in an Auburn shirt. My cousin thought Rossy was pretty cute until I told her he went to Auburn -- I think that spoiled him for her. Sorry, hon. :)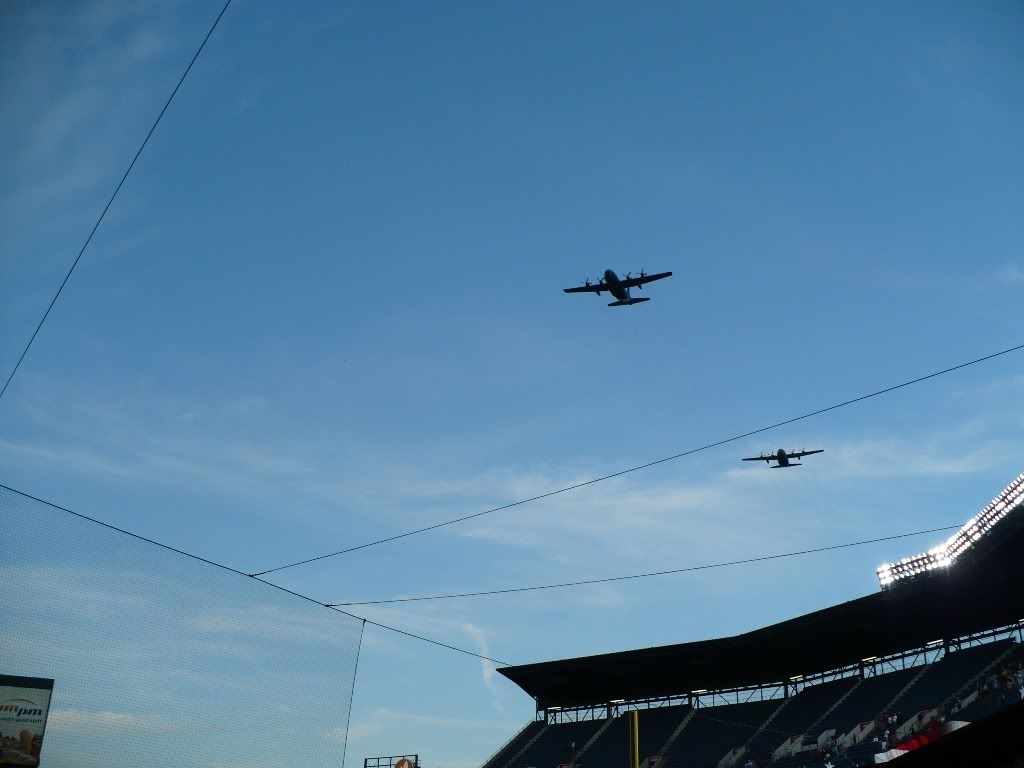 C-130 flyover!
I
totally
called Ske's home run, the one that put us in the lead! We were on row 16, and I was yelling "Go He-Man!" (like I promised a few of you I would do from so close!), and Lizziebeth said I wasn't yelling loud enough in the crowd. I'm sorry, I'm not a super-loud person, generally, so right before he hit the homer, I yelled, "HOME RUN, HE-MAN!"
AND HE HIT IT!! WOOOOO!!!
Video from braves.com
That was so, so cool!! (Also Ske, love that you're growing your hair out again.)
[Inserted Friday, 10/1] My cousin Catherine doesn't think the bat boys get their due. She
IMed me
to say she was disappointed I left them out after she took my camera especially to take pictures of them -- I told her I'd add them if she'd find out their names, but she
didn't...
hee hee. But here are her bat boys anyway, followed by more in-game shots. :)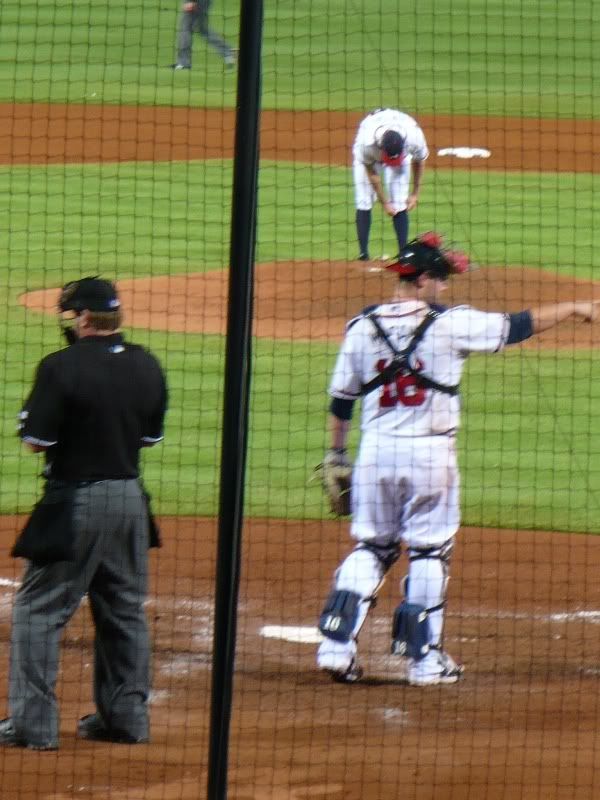 This cracks me up, because as I recall, there was no context.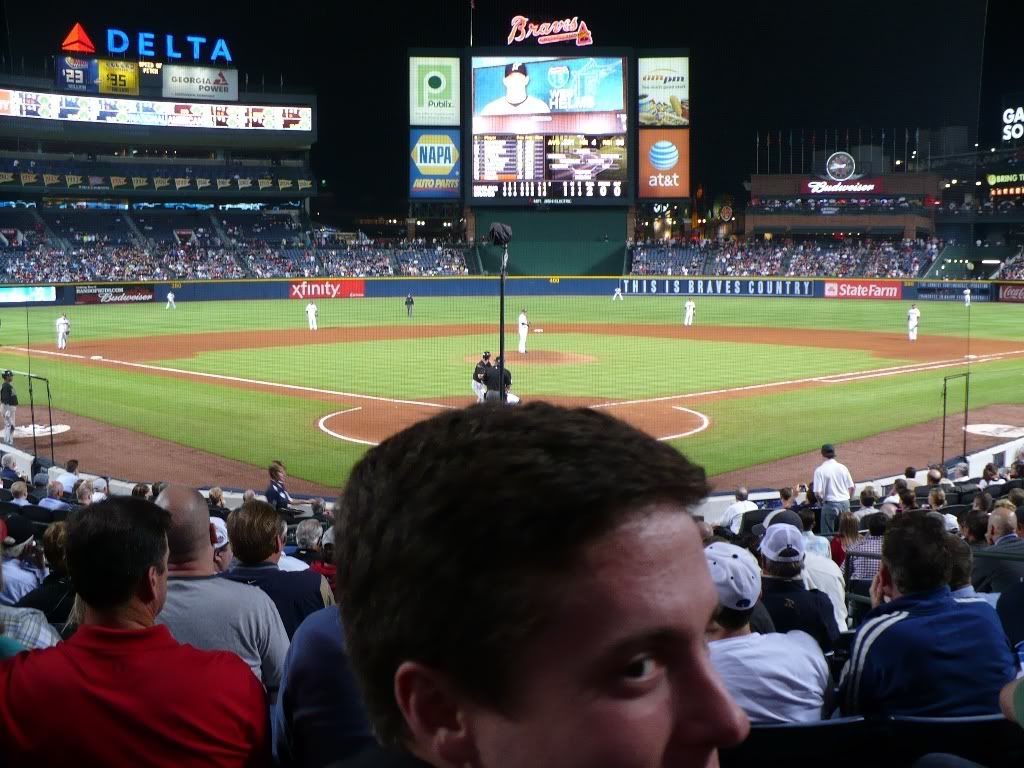 My brother likes to photobomb.