Every one of these men pitched, and a few more too...
I love this picture. Why so sour, EO?
This game got a crazy amount of national publicity. Longest game (time-wise) in Atlanta Braves history. Rally girl who never ever ever stopped screaming for her Pirates. The guy running around the stadium with his tower of cups...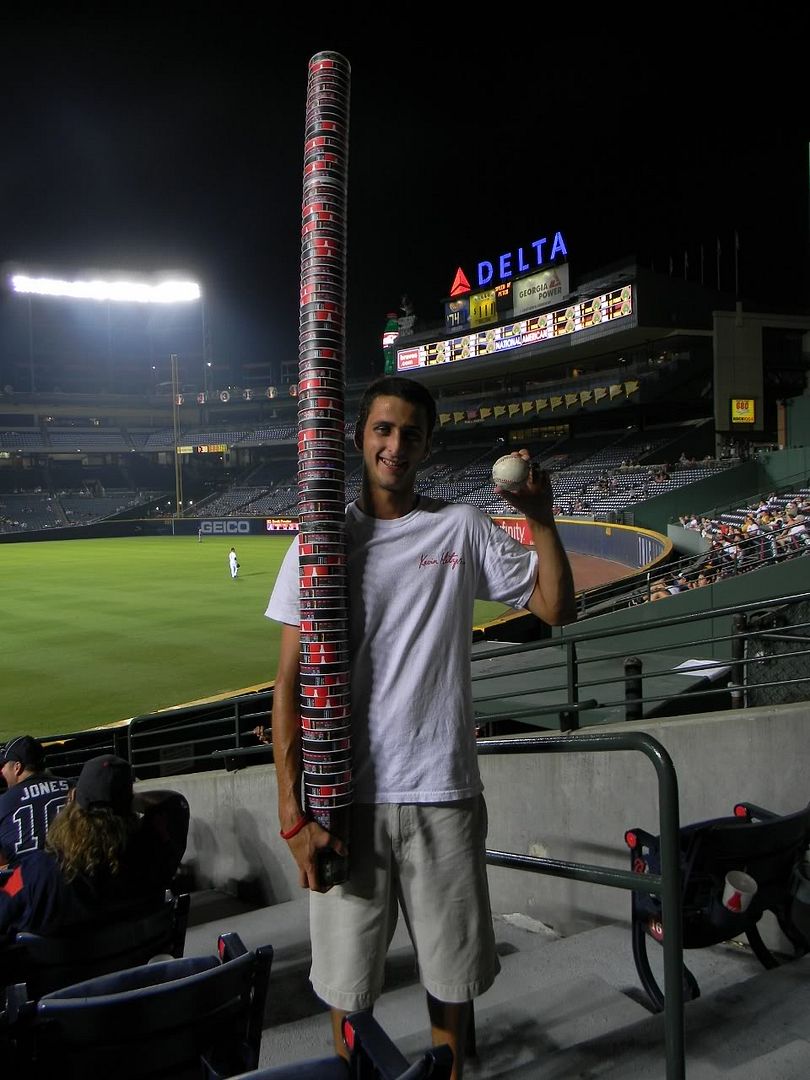 Met Gavin around 1:30am - cool guy!
We used all our bench, all our bullpen, Mac's on the DL now, Fredi and Nate got tossed (and Nate tossed
the bubblegum box on the field
), Cristhian pitched like he was starting the World Series, and we won on a walk-off hit by a relief pitcher
everyone
is hating on lately. (Oh, and a controversial play at the plate we somehow got the call on.) (I still think everyone just wanted to go home.)
Let's start with BP! I met follower April as I entered the bowl (hi!) and C joined me as I took pictures. Alison arrived a little later for the game and we sat with one of our favorite ushers, Bernie. Bernie's awesome. Hi, it's Tuesday. It's the Pirates. "Find a seat," he says. We may have had to move once or twice ;) (and Alison made me swap seats with her once!) until finally, we settled in where Bernie said, "Here. You're in 101 and 102." He's great. We discussed what cookie recipe he'd like us to bring him. (He likes chocolate chip and "raisin".) :D
Pictures! Click to enlarge!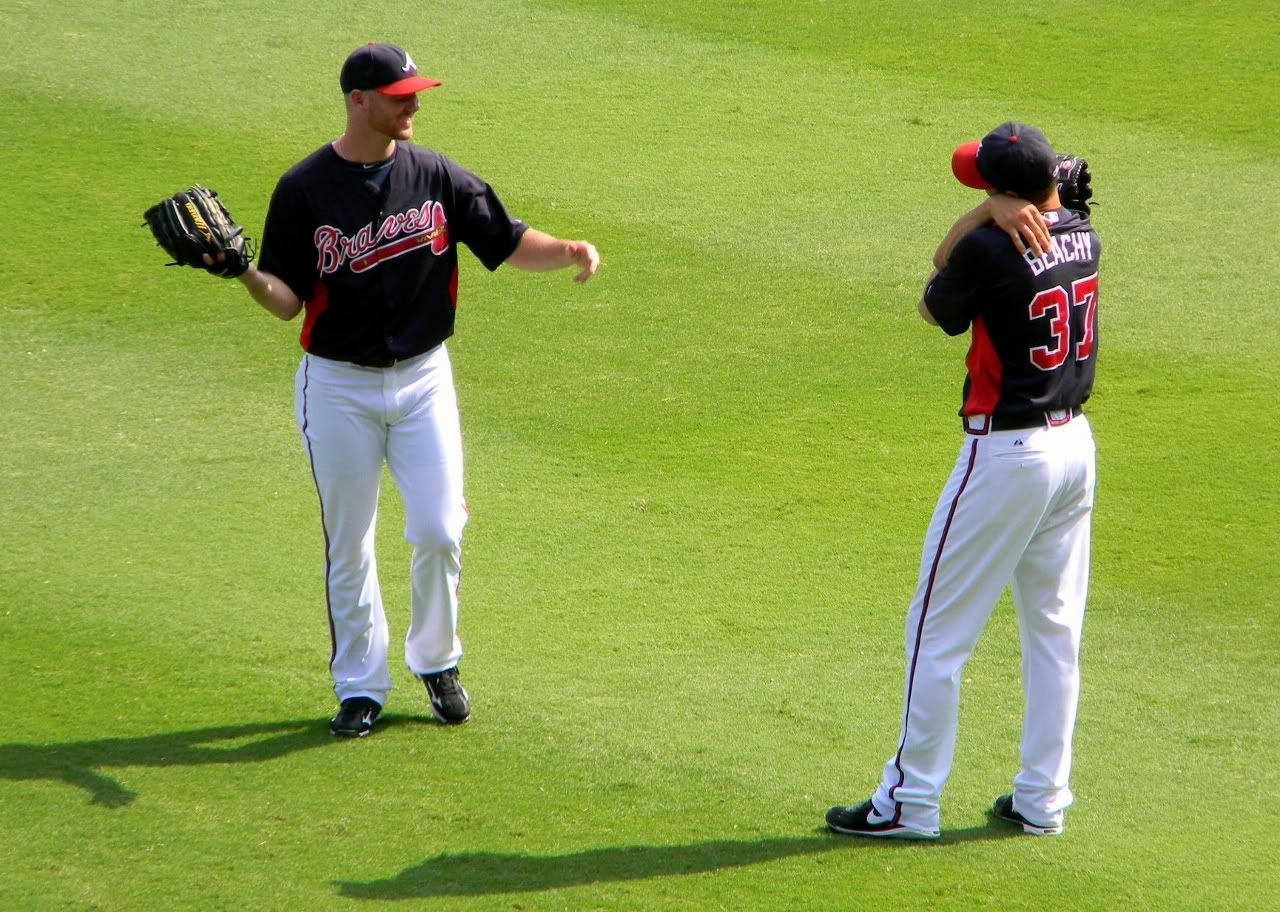 hug!
Story on this is pretty funny... Curly hair in the bottom corner was a lady in a yellow Pirates #23 Diaz shirt. Rossy was aiming his empty baby Dasani into the gap between the wall and the stands, overthrew it, and it hit her. He apologized profusely, and she kept saying "it's okay!!" I like seeing the water bottle misfires. :)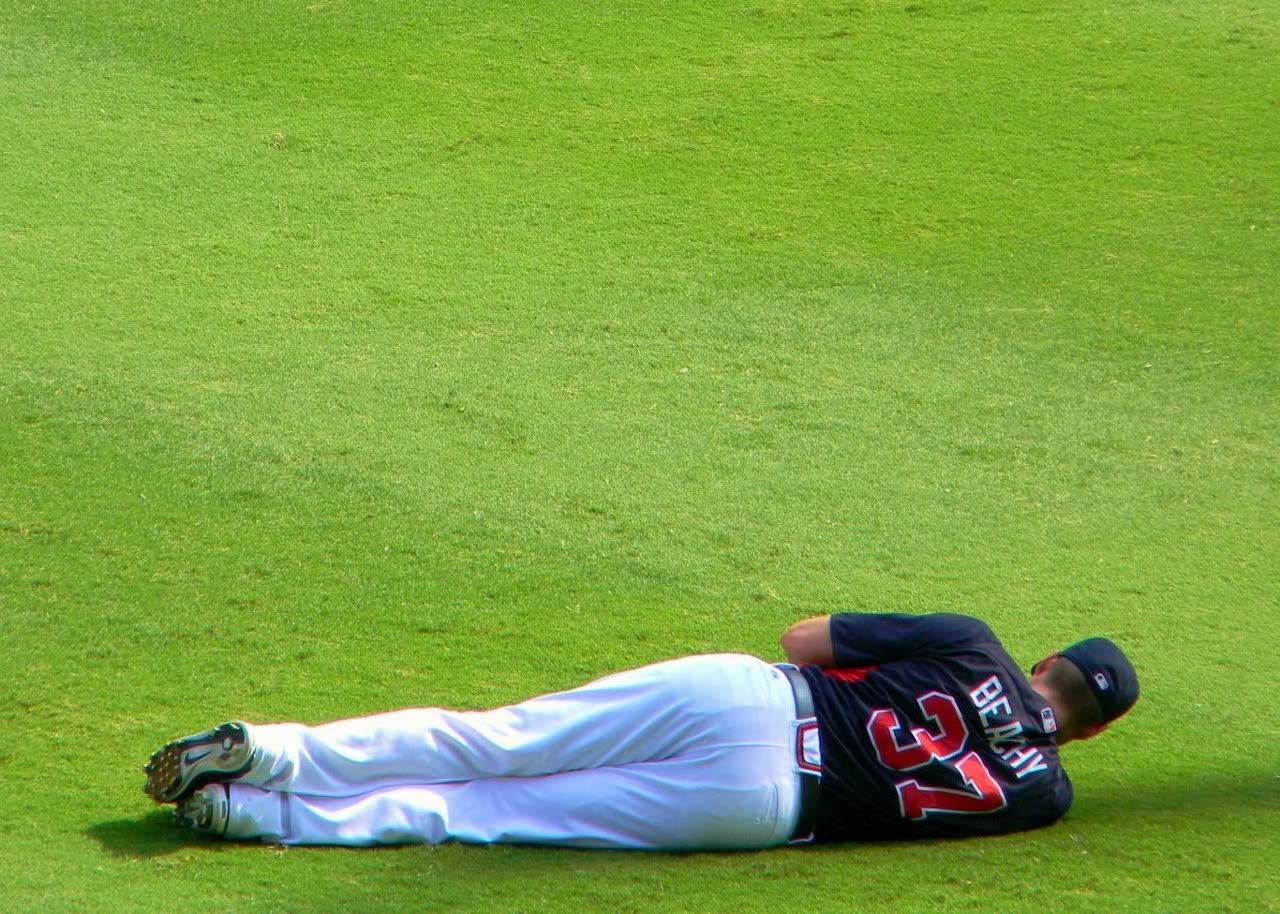 Beachy? What's this? My friend Jenna got a very similar pic in Seattle. We don't know. Is this an oblique stretch? An exercise? Either way, JV came over and watched him.
Nate has a Pirate friend.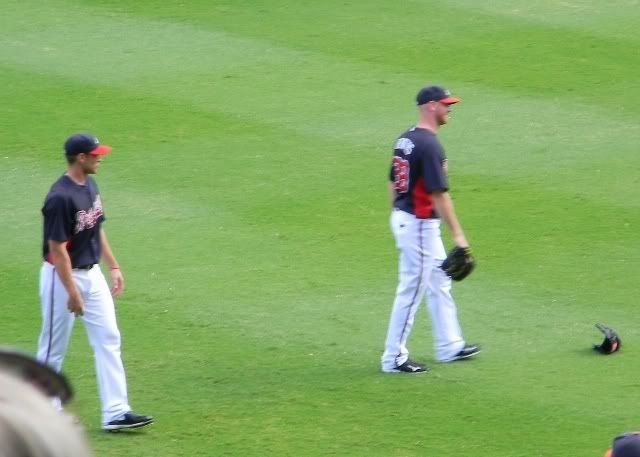 JV kicked Beachy's glove :)
Heyyy guys. This is totally a normal way to stand while waiting for fly balls. ;)
EO decides he's going to pick on JV a little
...a lot
Stole his hat
(...dude, the hat thing!)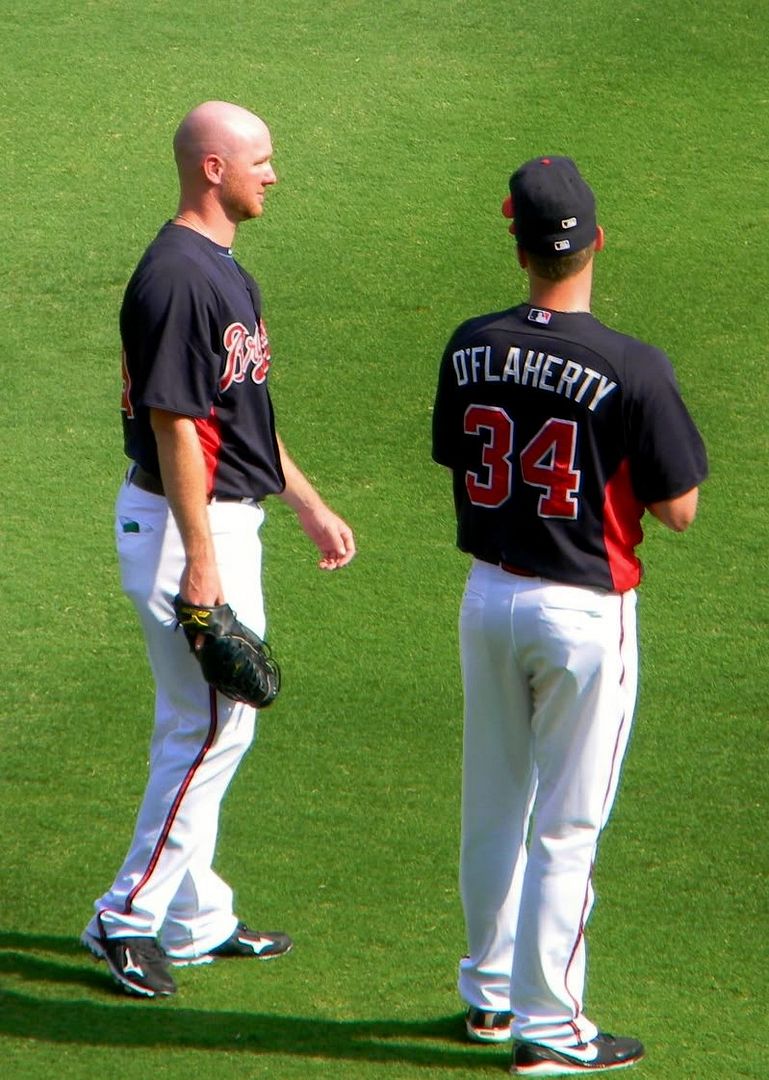 OK, this is hilarious. :D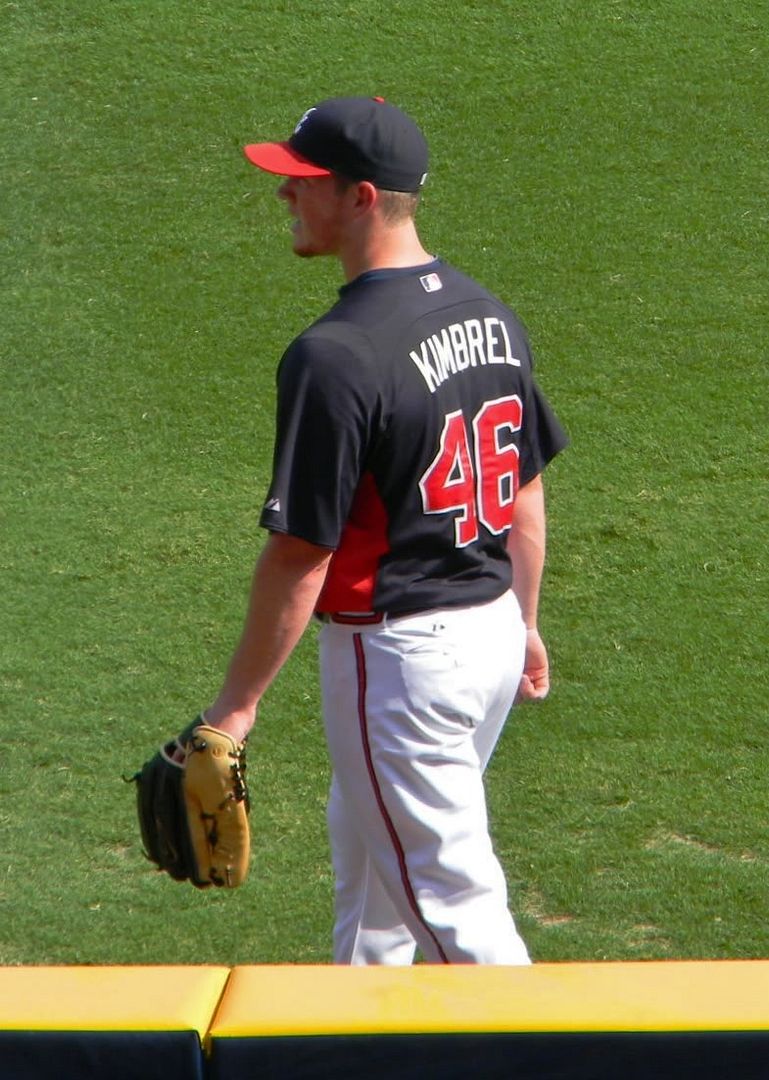 He looks so red, I want to give him gatorade popsicles and cold washcloths. :(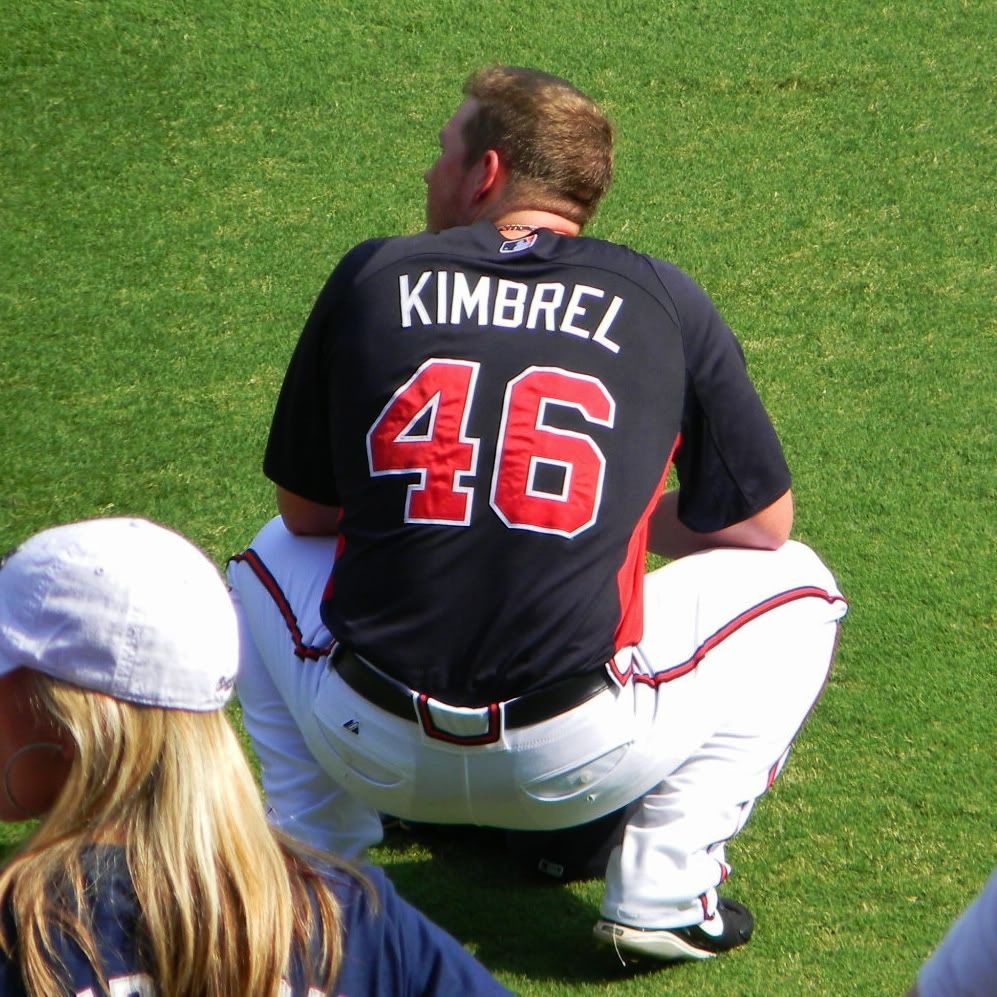 Poor doll.
"Yeah, I'm fine."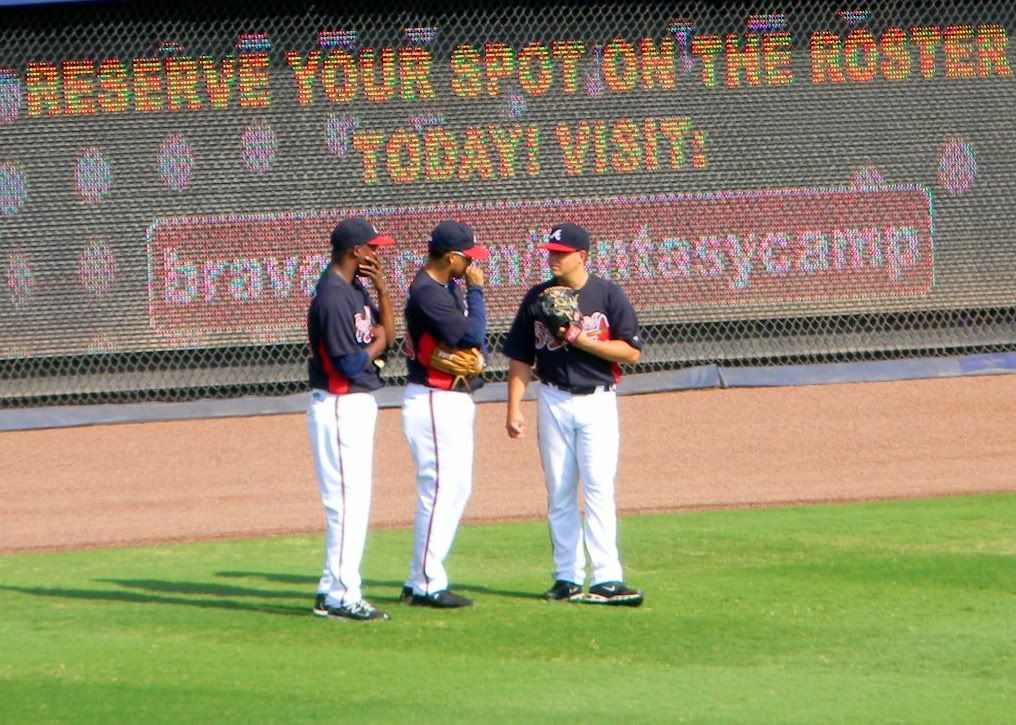 So these guys have to go online and say they want to be Braves next year? heh
Is this Chris Resop?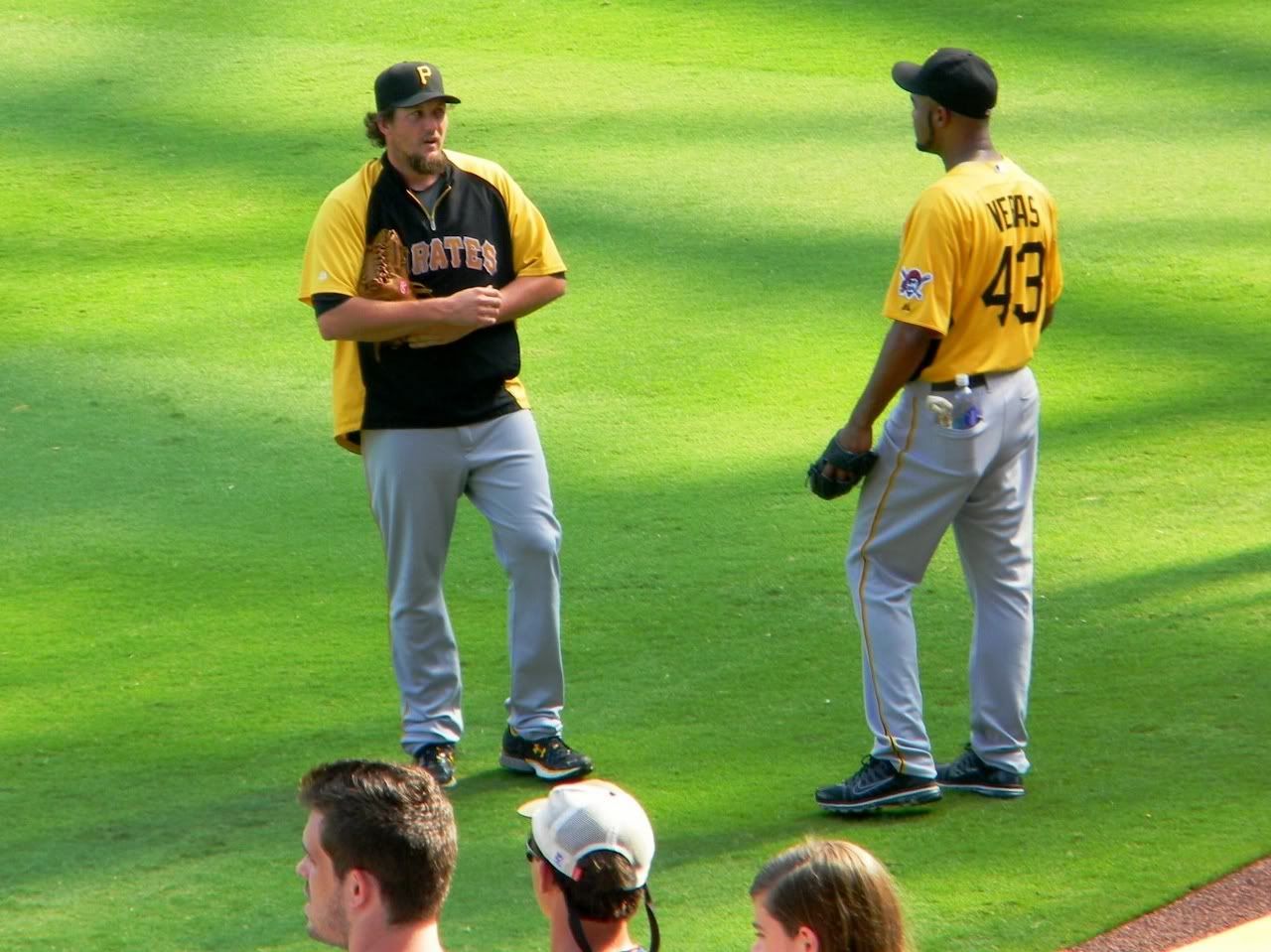 Joel Hanrahan waved so hard at the fans on the wall and I didn't see anyone wave back. He's an all-star, people! Come on. Throw him a little love.
MattE signed for fans
Acknowledged the many, many "MATTAY!" yells in LF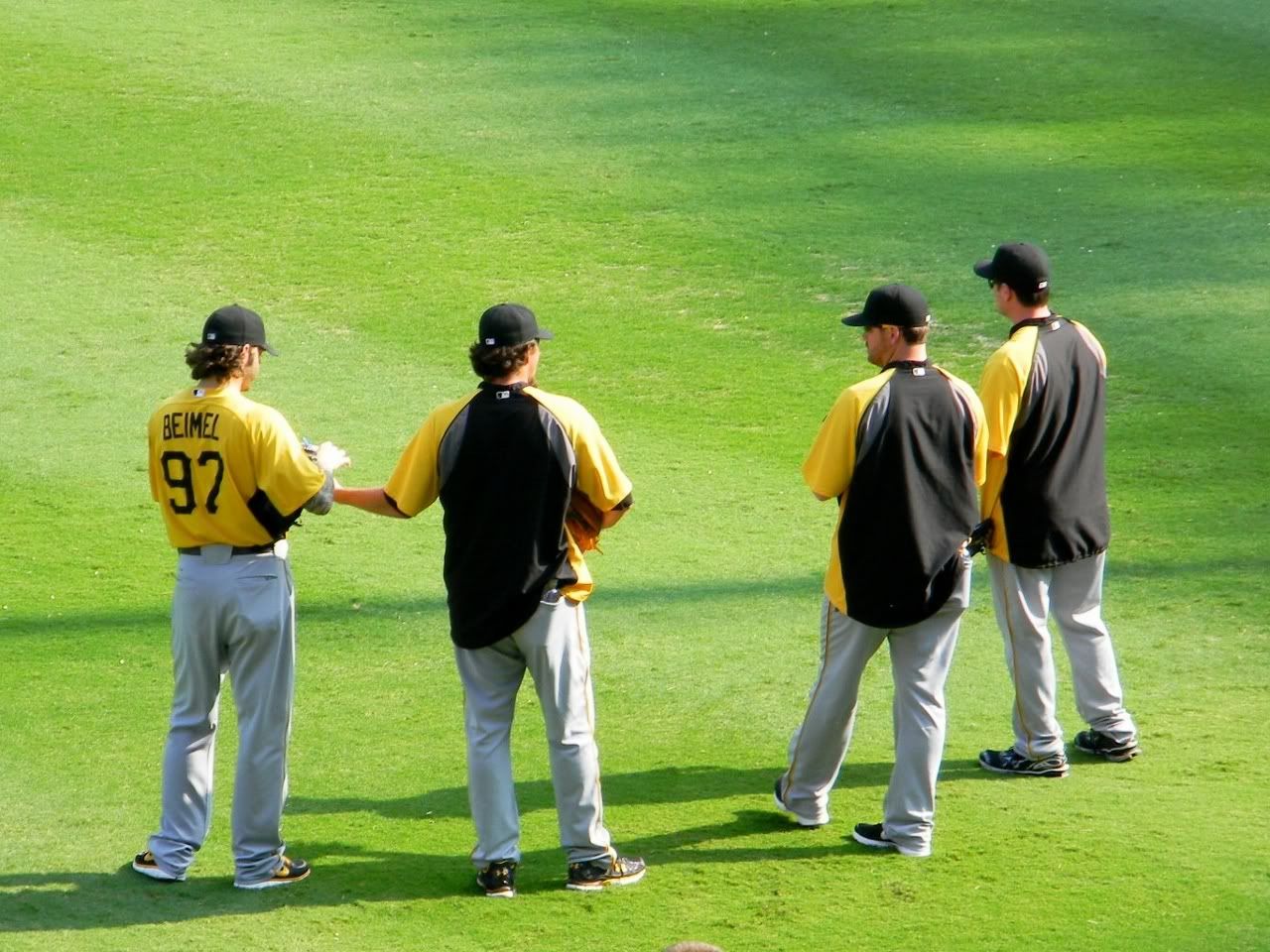 He and his buddies all signed a ball, and he tossed it up to the 755 Club.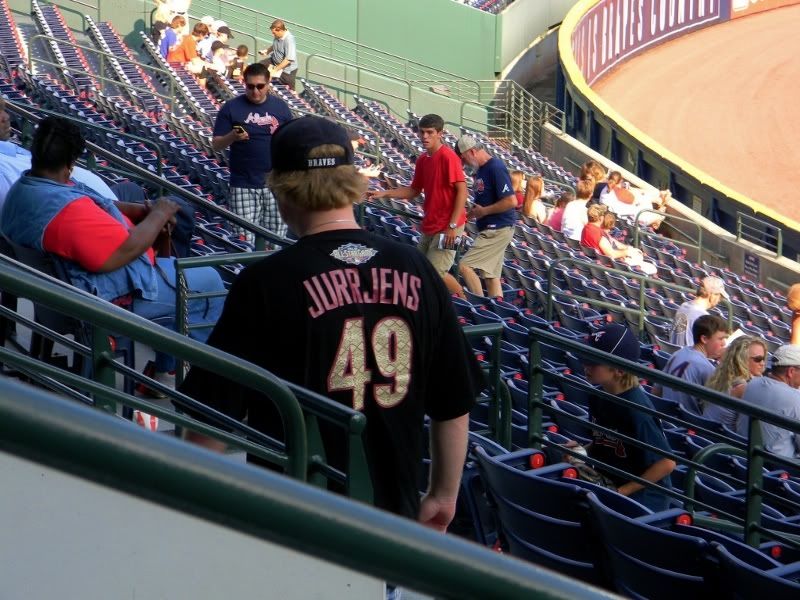 JJ all-star shirsey!!
One of Faye's favorite Braves. She got so excited when I showed her this on my camera's viewfinder. :) Need to get this printed for her.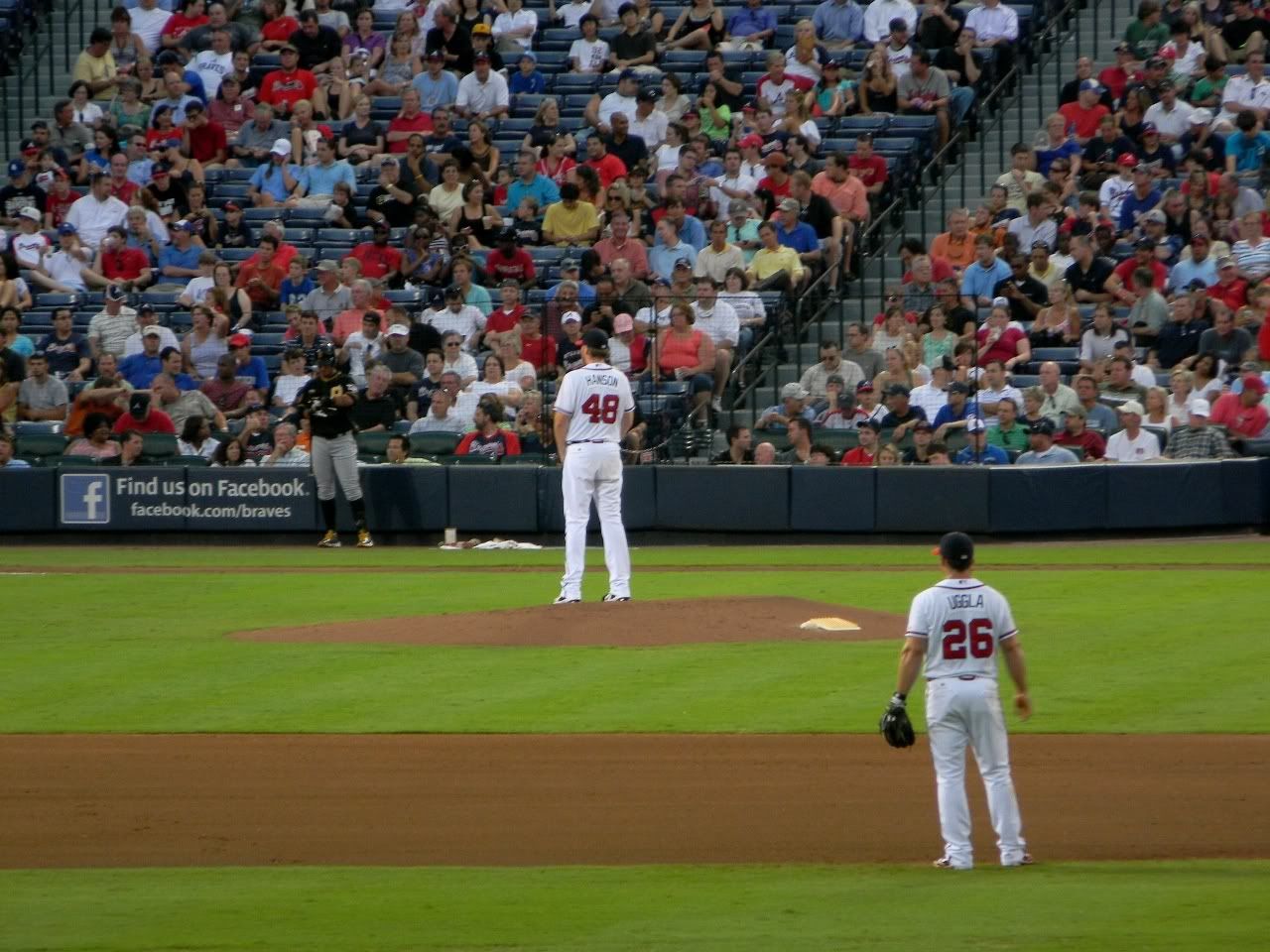 Jenna: "Tommy!"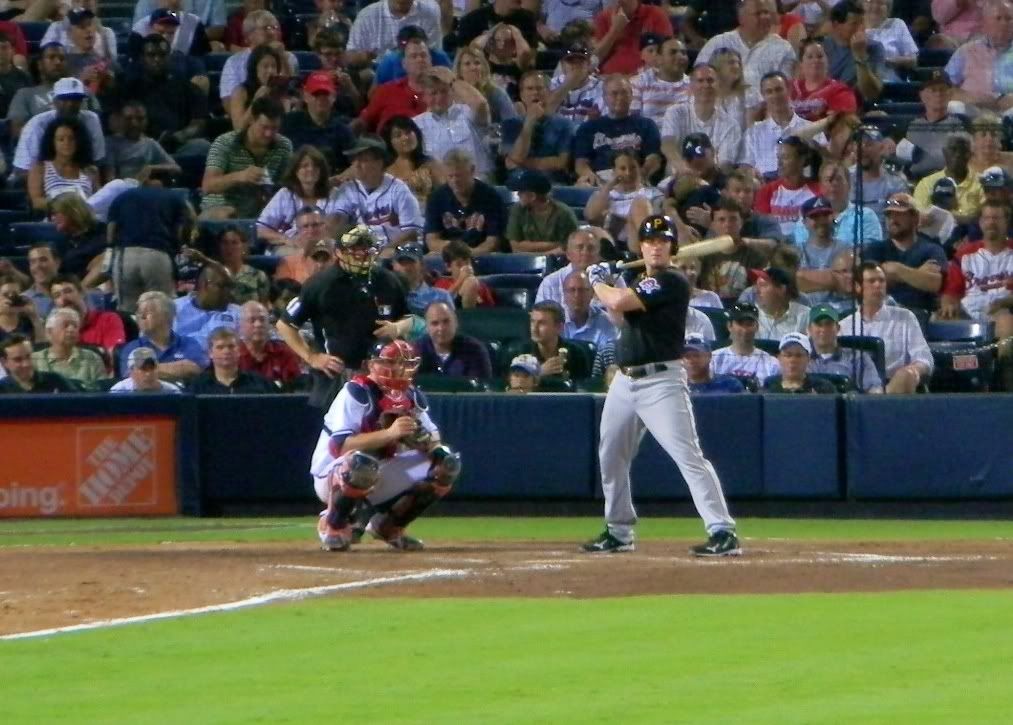 MattE got one at-bat and didn't play defense at all. :(
Organist played Happy Birthday for this guy, and they showed him on the big screen. Happy Birthday, whoever you are!
Jonny!!
Kimmeh!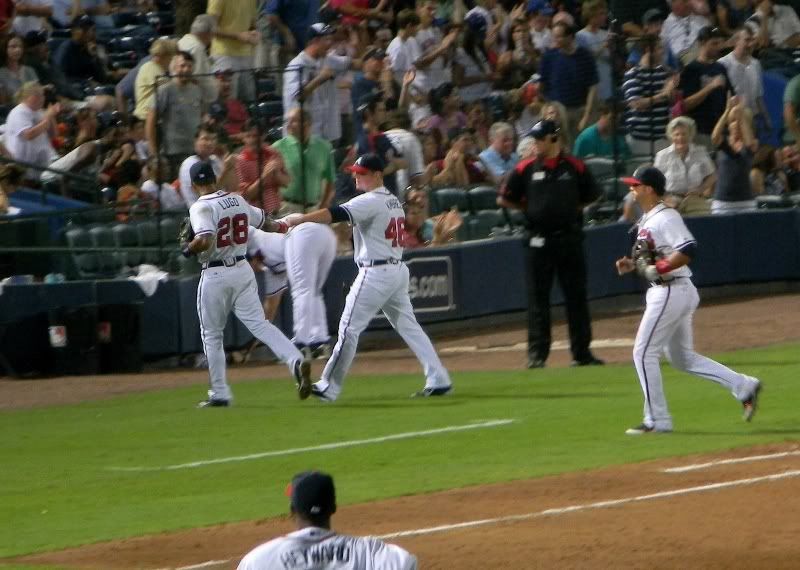 Fist bump!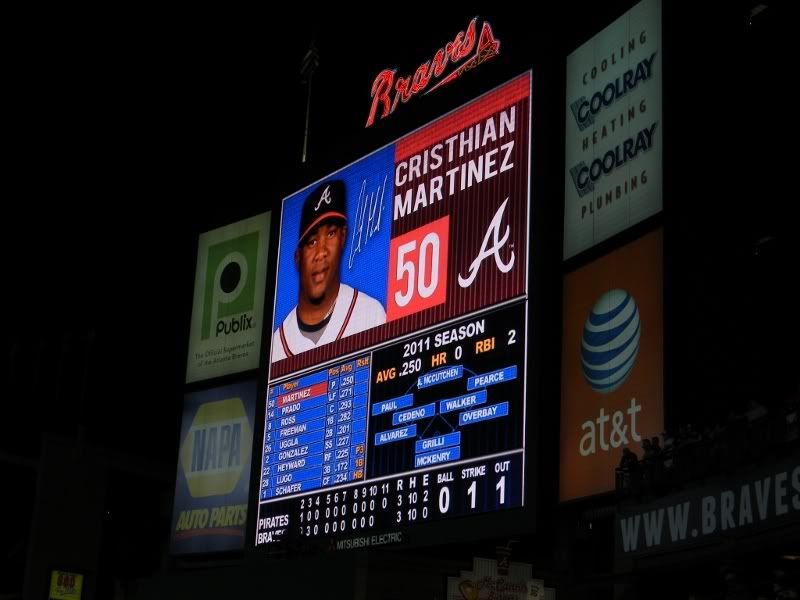 Cristhian was pretty much amazing.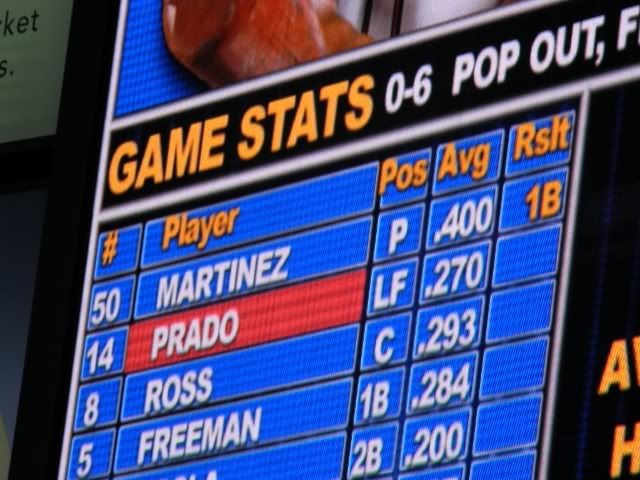 And look at his batting average! .400!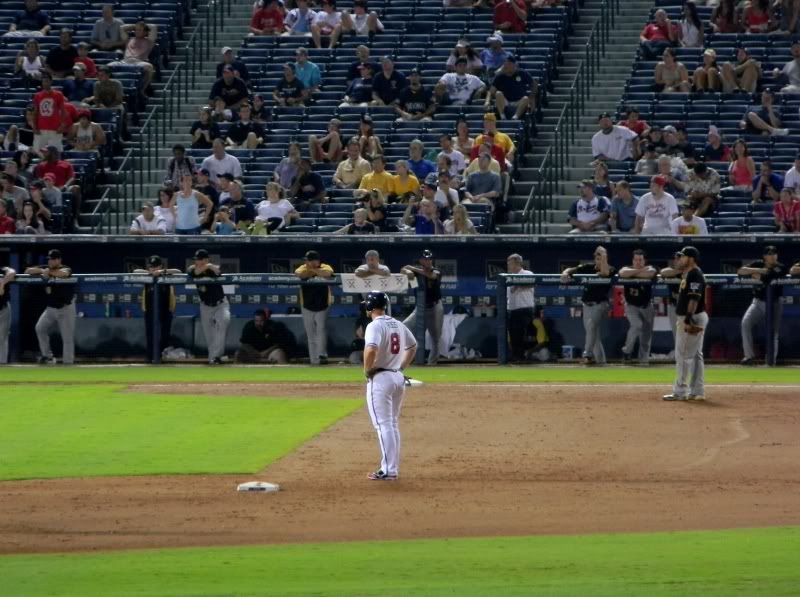 Let's get used to this!
This is getting insane!
McCutchen, trying to stay loose in the 18th
Actual game time - 6 hours, 39 minutes
Proctor getting mobbed after his walkoff hit!
Moylo with the water bottle :)
♡
Braves win!!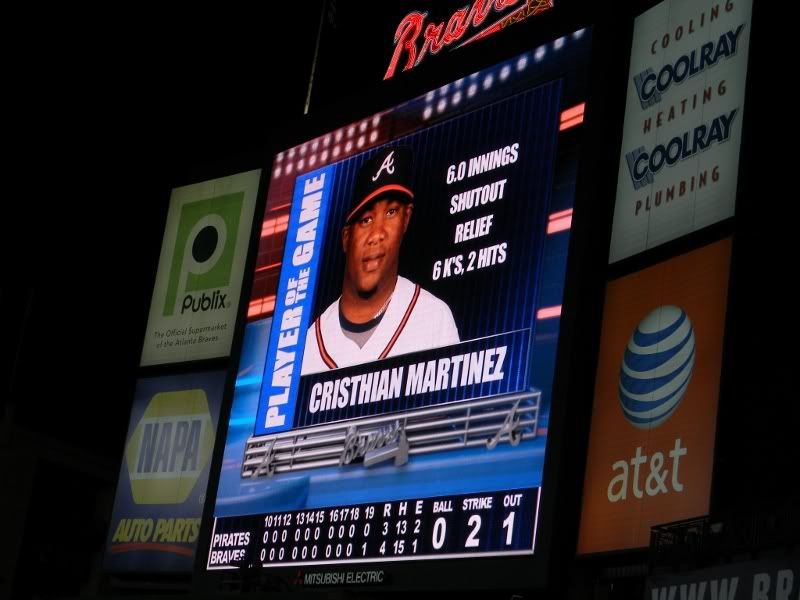 Player of the game! Our bullpen is amazing.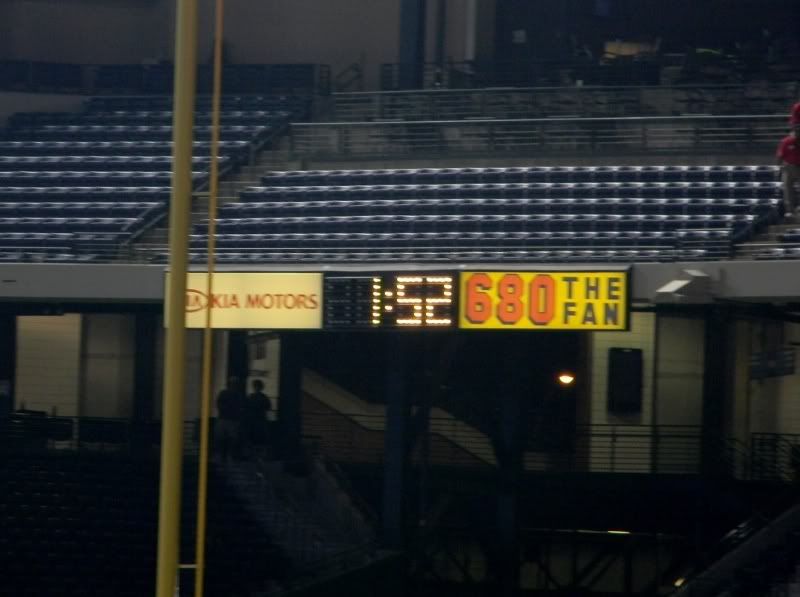 ...seriously.
Us making "ridiculous" faces with the clock. Alison is being CJ Wilson with her mouth, all cute in her work clothes! I look gross in my oddly-streaky-faded MattE shirt with the collar chopped out. This is what I get for buying a shirt on the street. :D
Some fun tweets you may have missed...
"Fat"
Little boy and Eddie
(the family stayed till the end, he was a trooper!)
"Go Home"
Kimmie's intro
Pirates pitcher McCutchen
1
~
2
The postgame quotes in the AJC were pretty classic.
Check them out...
And here's the
Full Album
. See you there tonight, yes? :)