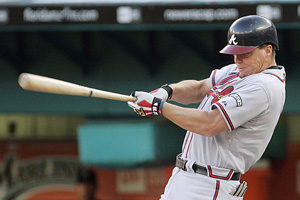 Right fielder Jeff Francoeur jokingly calls him "the old fart in the clubhouse," then ranks him among the most underrated players in the game.
"I'm definitely smarter now," Jones said. "I'm quicker to pick up on pitchers and teams -- how they're trying to pitch me, knowing pitchers' repertoires and what they're going to try and get you out with in a crucial situation. I'll sit on a pitch and wait the whole at-bat for that pitch. Young hitters don't do that."
Full article here,
from ESPN.
Thanks to an anonymous reader "meeboguest188559" for notifying me of the article. Meebo me again anytime! The box is in the right column of every page.