This was the view from section 203! It was a fantastic place from which to watch the game -- and it was Jimmy Buffett night, so there were some fantastic costumes around the park too. :D The guys' jumbotron pics were the best; let's start with some of those: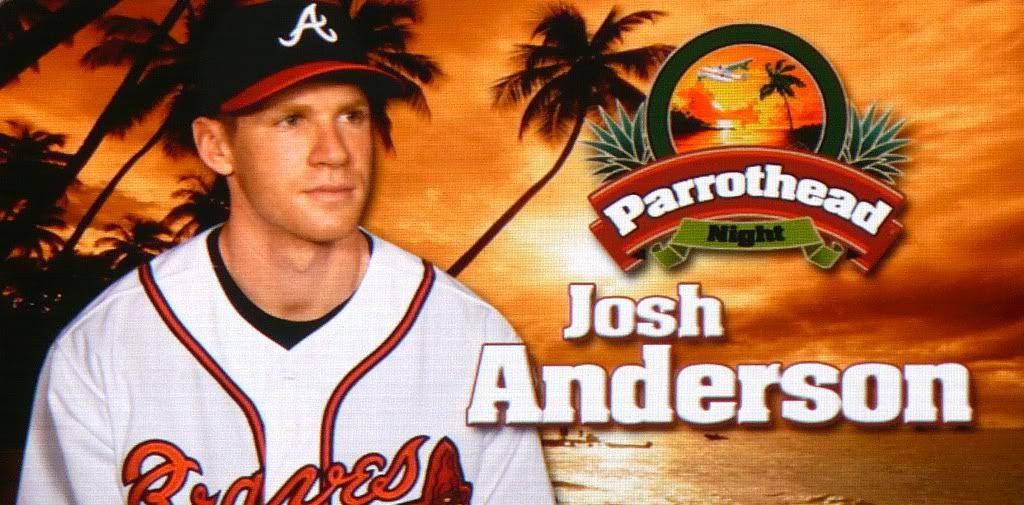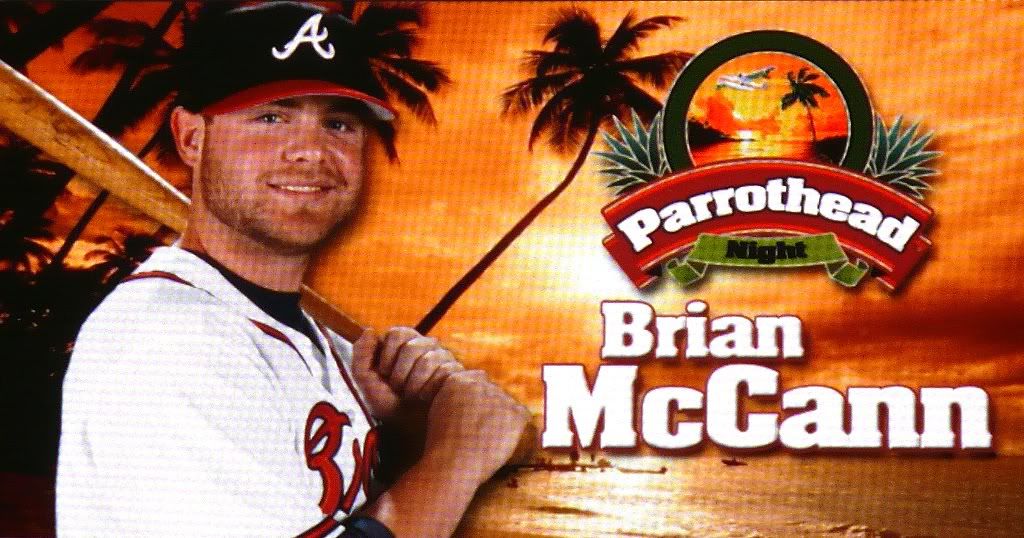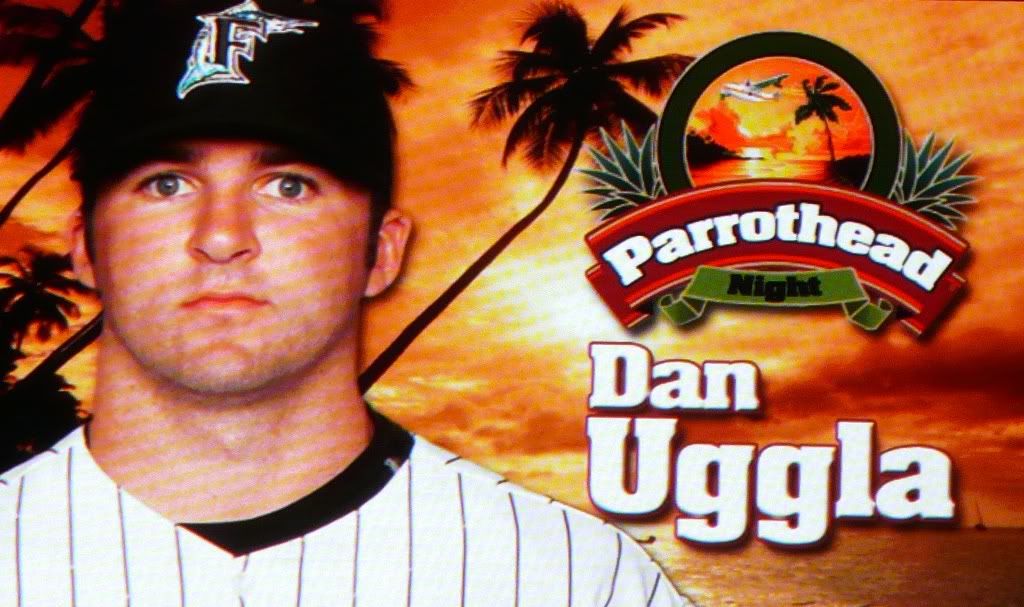 Okay, kids, let's backtrack to BP. I took far too many pictures of my boyfriend Josh -- if I don't stop, Baby and MattE and Charlie and Pete are going to get jealous. Well, maybe not Pete. I'm pretty sure he knows my face, even if he doesn't know who I am, because he sees me taking BP pics from the same spot, usually at least once per homestand. (I'm not a stalker, Pete! I just love baseball / watching hot men play baseball!)

Speaking of Pete, he looks like some sort of alien with his head shaved. I am not a fan of this. I'd love to know what his lady thinks. ;)


Other unusual things:

- Pete drop-kicked Buddy's glove. Awesome.

- Chipper taking fielding practice. I don't remember ever seeing this before.

- Blaine jokingly shoving Eddie Perez repeatedly as they went to the bullpen. (Thanks to Lizziebeth for that pic!)

- JJ dancing (maybe that's not unusual, ha ha)

- JJ entertaining his friends. Ruben hops in and does a nice little slide-step.

- Baby took BP without any sort of hat or helmet on. I love seeing his little cottontop running around without a hat, but is that safe?


Game time!

- Pre-game stretching pic 1 ~ pic 2 ~ pic 3 ~ pic 4 ~ pic 5

- I snuck some pics during the national anthem. (shhh!) pic 1 ~ pic 2 ~ pic 3

- Josh signing autographs

- Charlie and Clint head in from the bullpen

- Charlie on the mound pic 1 ~ pic 2 ~ pic 3

- "Daaaaaaad, I don't want to hit anymore!"

- BJones comes up to bat to Kanye West's Stronger.

- Hanging out on the top step pic 1 ~ pic 2 ~ pic 3

- Kelly brought Martin's things out, but not Josh's. Aww, sad.

- Mmmm...Gonzo...


OK, some fun things:

- A pic of Josh's bum, for J.H. who's "here for the butts". ;)

- Baby's home run celebration

- Spotted some TV personalities: Our Katy Temple in the dugout during BP and Boog up in the booth. It's a Krang-like picture, only Boog's not evil and doesn't have a henchman named Shredder. Heh.


And some interesting fan shots:

- An adorable kid, who sat next to us with his guardian, who was eating a bag of melted Sugar Babies as if it was a candy bar.

- The Indian (an unofficial Turner Field mascot, of sorts), hitting on "Hope", one of the Tomahawk Team. She seems receptive.

- Someone famous-looking, with his handler.

- A girl wearing a Bobby Cox shirt.

- Old dudes, one with his foot propped up.

- A guy with a rat tail. A RAT TAIL.


Braves win! Baby gets interviewed by OKT and looks super cute on the jumbotron.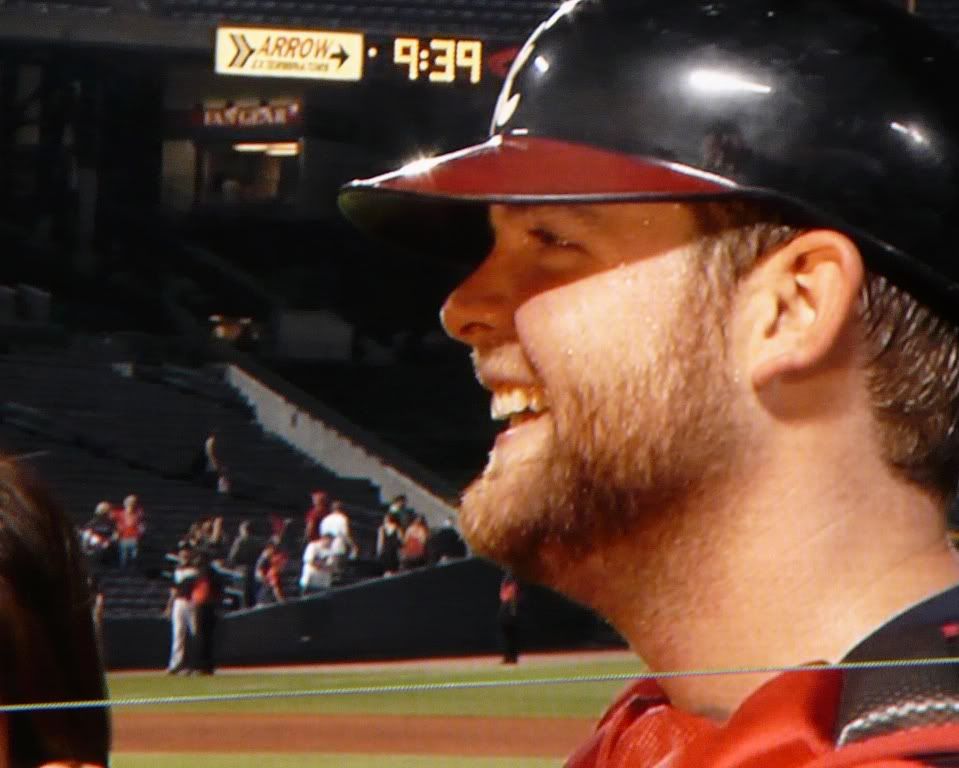 And, the evening ends with the sprinklers turning on. Good times.

(Full album here, with many, MANY more pictures. Enjoy!)

---------------------------

Here are some videos from this game:

Baby's 3-run homer
Charlie montage
BJones' awesome catch

Josh pre-game!




JJ, Ruben, and Gregor mugging for the camera!




Baby post-game!




Charlie post-game!