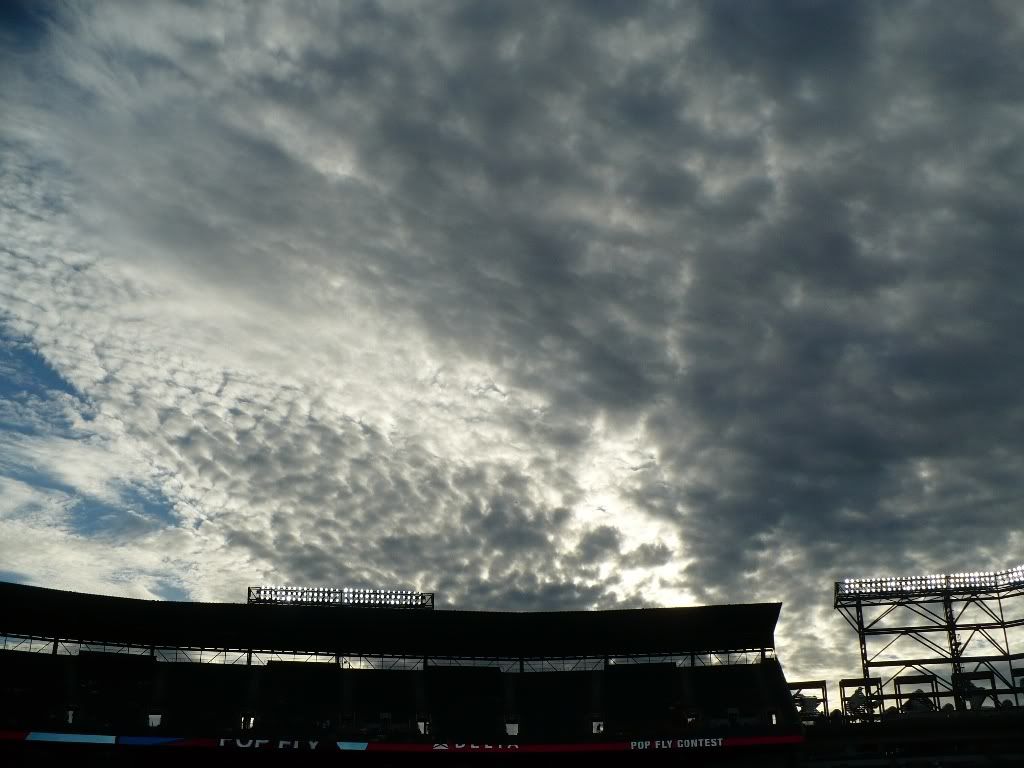 I lost my new job today (the 9th), and the Braves were feeling my pain (we lost 11-4). I left 3 years in a really stable position for a smaller company with growth potential, and after 10 weeks the company decided, oops, we actually don't need you. *sigh* The site gets more traffic than Twitter or FB followers shows, so if you know of anything, I have a business degree and I'm about 8 years into my career --
shoot me an email
and we can discuss things further. Thanks! :)
I didn't make it to Braves BP today (was a little busy wrapping things up), but check out this guy's homemade
RAW DOG
shirt. That's just great.
While waiting for little SJ and her family to arrive for our outfield seats, I took some pics and vids of her favorite - "Bwian McCaaannnn!", stretching and warming up with Eddie and Jurrjens.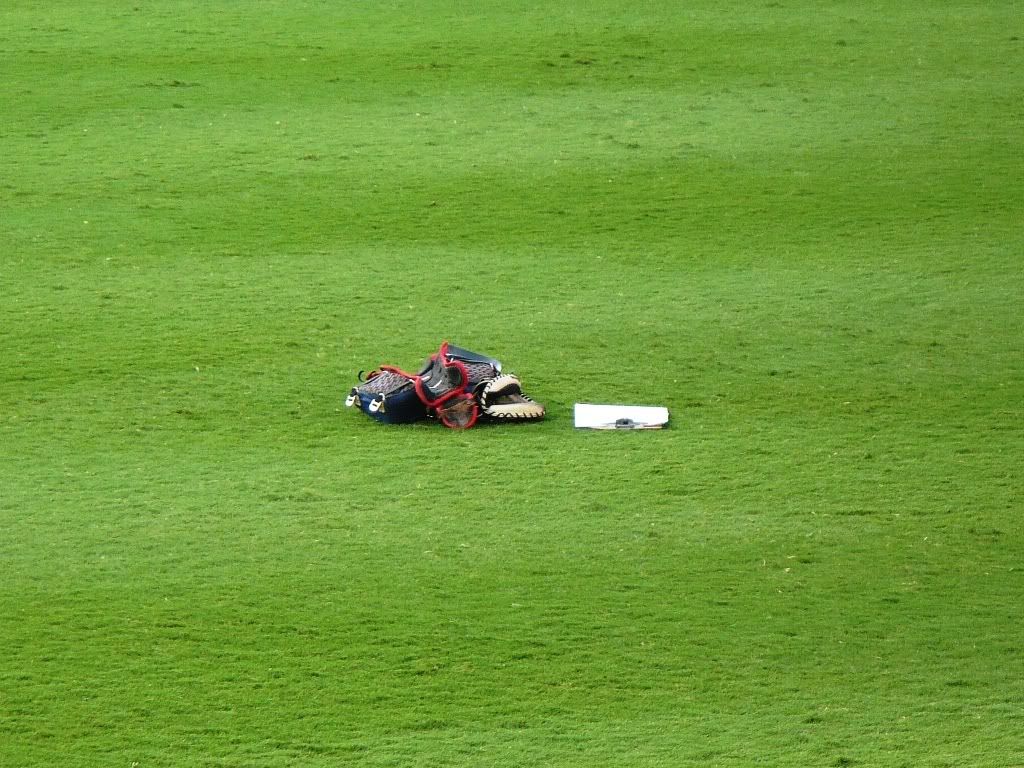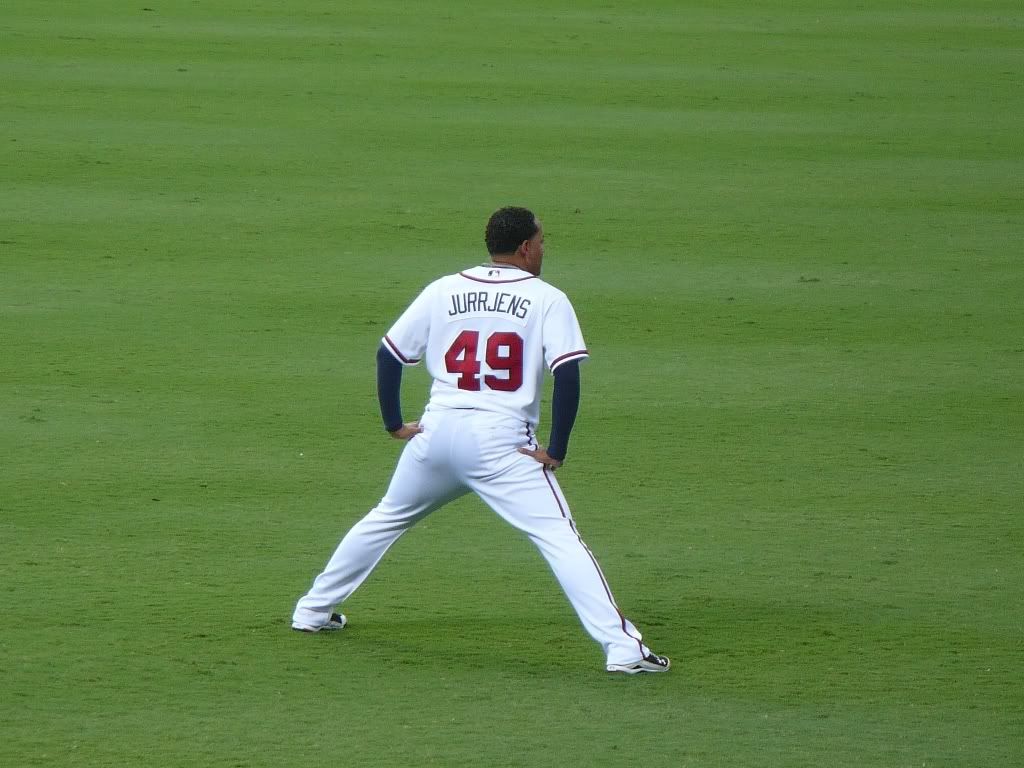 Hinske warmed up on the field for.ev.er. too.
1
~
2
~
3
Seemed to be having fun out there by himself. :D
Here comes the bullpen! Wait...
all the rookies have Barbie bags! ALL OF THEM!
Venters was carrying this year's original Hannah Montana bag,
Martinez has a purple bag with green straps
and girls of color on it (I can't think of another way to say it, but his princesses aren't white),
Kimbrel has a super-pink bag
, and
Dunn's bag is blue
. I took better pics on Friday night -- will include those pics in that gameday post. :)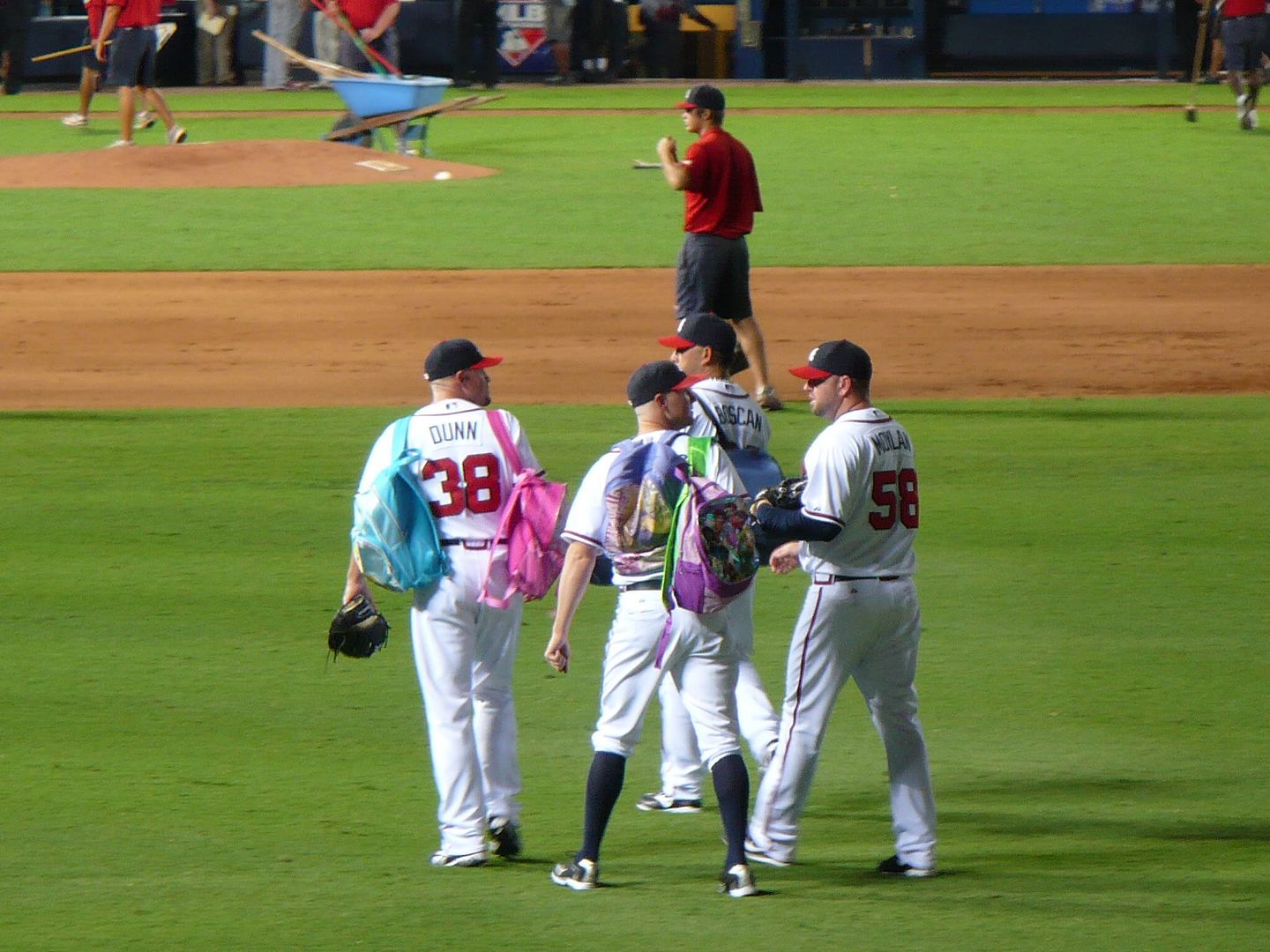 ♥

Look at all the bags!

♥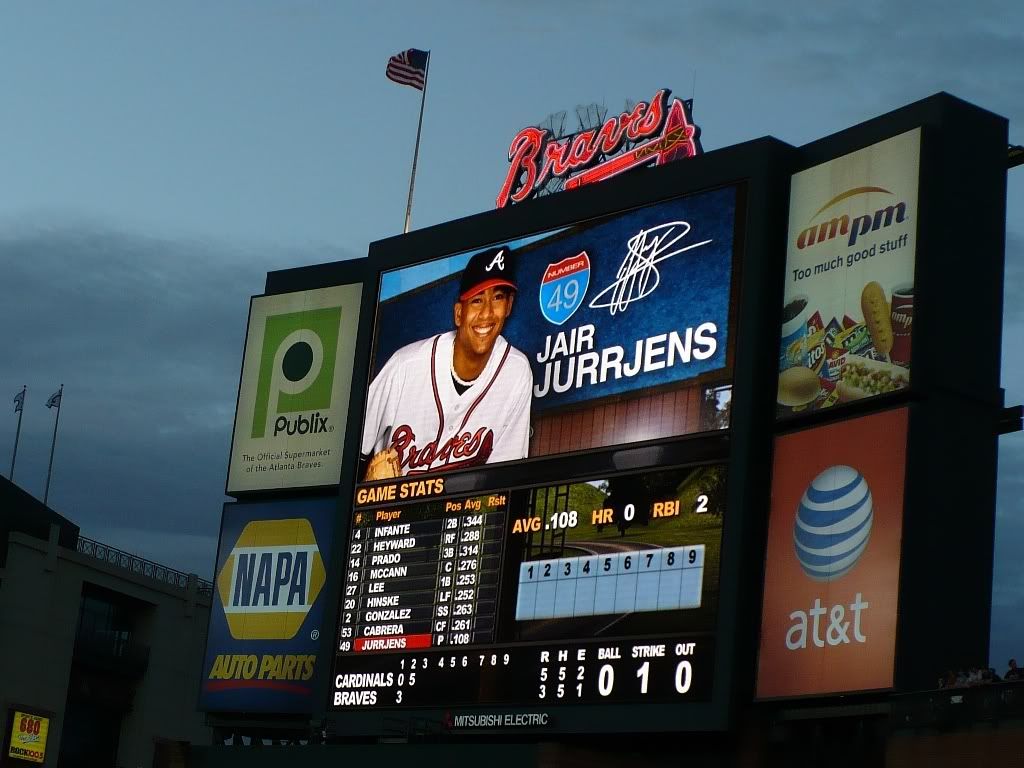 JJ's jumbotron pic is the cutest in the history of the world.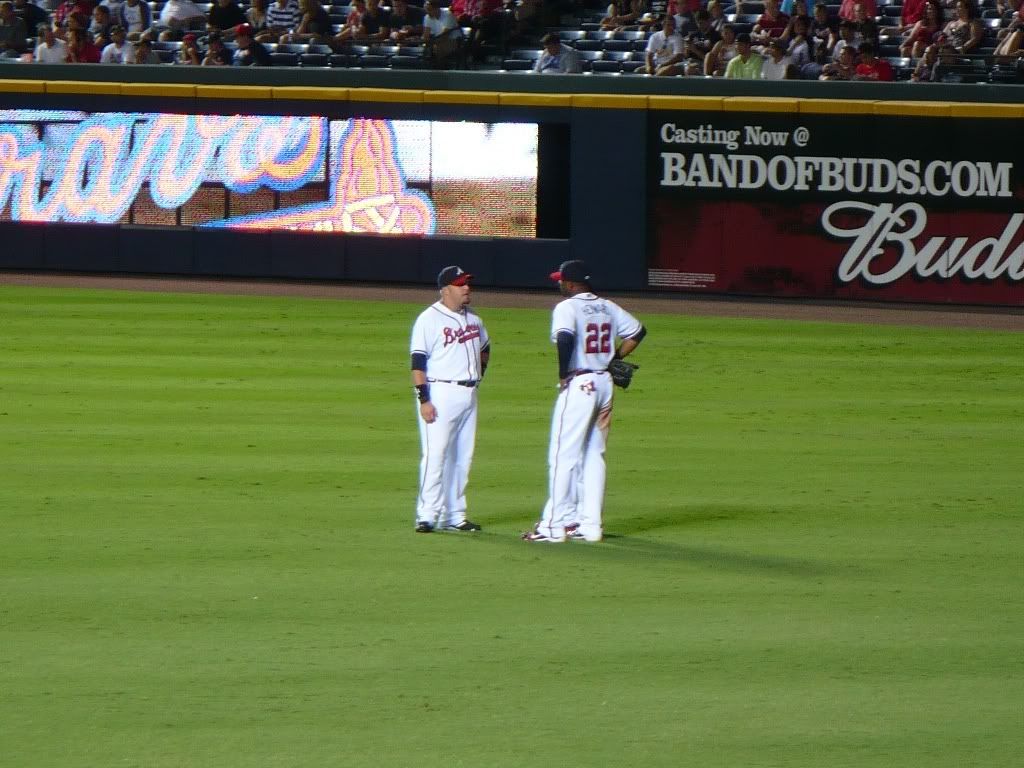 Heyward's so big, you can't even see Melky standing behind him!
Freddie checks in at first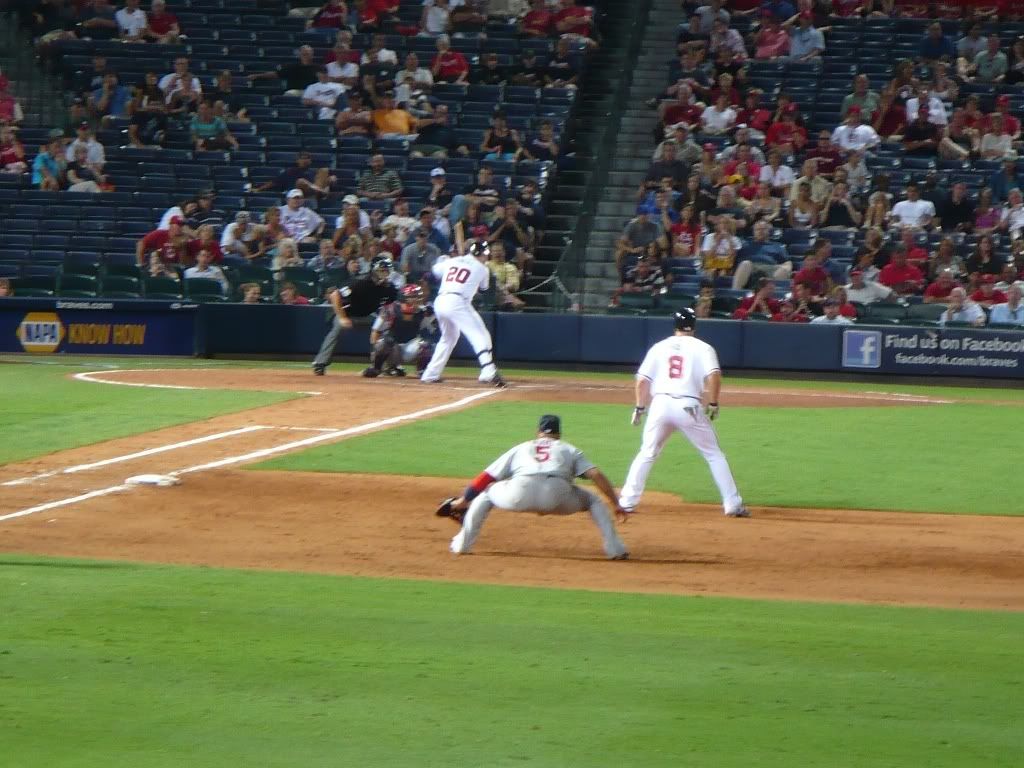 Hey B, I got a shot of PUJOLS! for ya...
The game wasn't much to watch and I'm very glad I had a 4-year-old there to keep me entertained. This is the same one who was horrified a few nights ago when she asked who lived at my house, and I said, "just me!" She replied, "you need a daddy and a baby there!" Yeah, all the kids in my Sunday School class don't understand why there's no daddy or baby in my house either -- I keep trying to get them to hook me up, but none of them have any age-appropriate friends. Imagine that! ;)
So after all her talking about how she's going to "mawwy Bwian McCann", when BMac was presented with his pre-game award, I pointed out BMac's real wife and, I swear, SJ didn't blink while watching Ashley on the jumbotron, and called her "Ooooh, sparkly!" I pointed out Ashley's
HONESTY bracelets
and asked if SJ wanted to wear her pop bead necklaces like "the real Mrs. McCann's bracelets" and she said, "YES!!!" So here's the video of Brian & Ashley McCann accepting the Braves' nomination for the Roberto Clemente award (
vote here now!
) and below are SJ's imitation HONESTY bracelets. How cute, yes? :D She wore them that way all night, too. :)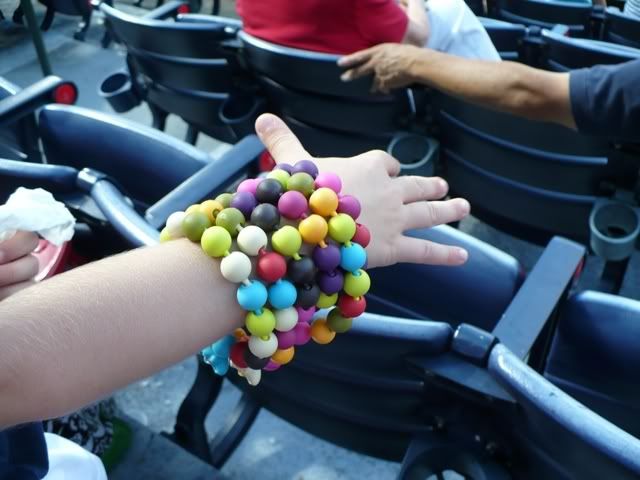 We also played
Hearts!
during the game. Her top 3 Braves, in order, no coaching: McCann (obviously), Jonny Venters, and Nate McLouth. That last one surprised her mom and I a little, until we realized all the boys she started hearting had fair skin and light eyes. I asked her if she liked any of the other boys, and she pointed and said "Yes, I like his smile a lot!" That was Alex Gonzalez she pointed at, and his mug shot in the gameday program
is
nice. :)
She got a little carried away with the sharpie later on in the game, so the players with pink hearts are her original selections, with no coaching from me except to help her find "Fweddie"...
(click to enlarge)
Well, Braves lost, but made up for it the next night. It was still a fun game to attend. Thanks for the ticket and the cheering up, SJ's fam. Love ya!
Here's the full album of pics.
Lots more stretching, lots more Barbie Bag, and a GIF from Chicago Jen that she just couldn't resist making after seeing a few of the pics. :)