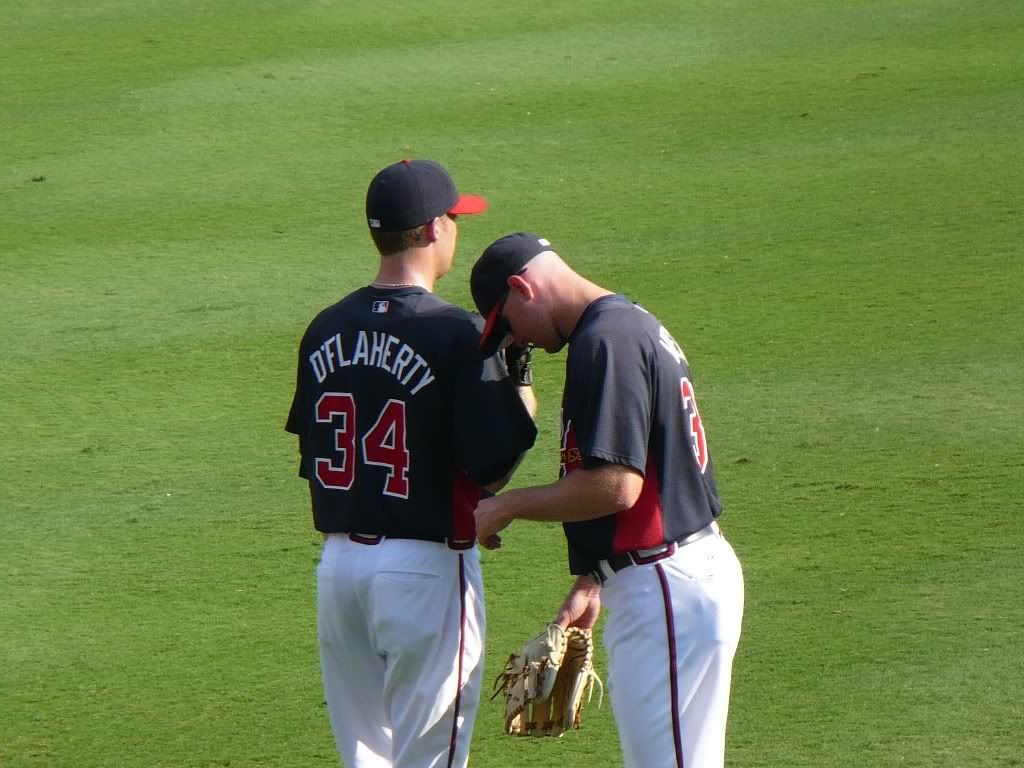 Right before a head-butt!

Attended this game with the lovely Alison from
Aly ♥ Baseball
, and boy, did we have the best time! I've been to three games since, so I don't remember much off the top of my head about Friday except that D-Lowe seemed...altered... and Rossy seemed to be his babysitter during BP. ;) I'm sure there was more, let's look at some pics and see what jogs my memory!
Rossy has a Blow Pop! Blow Pops are back, baby!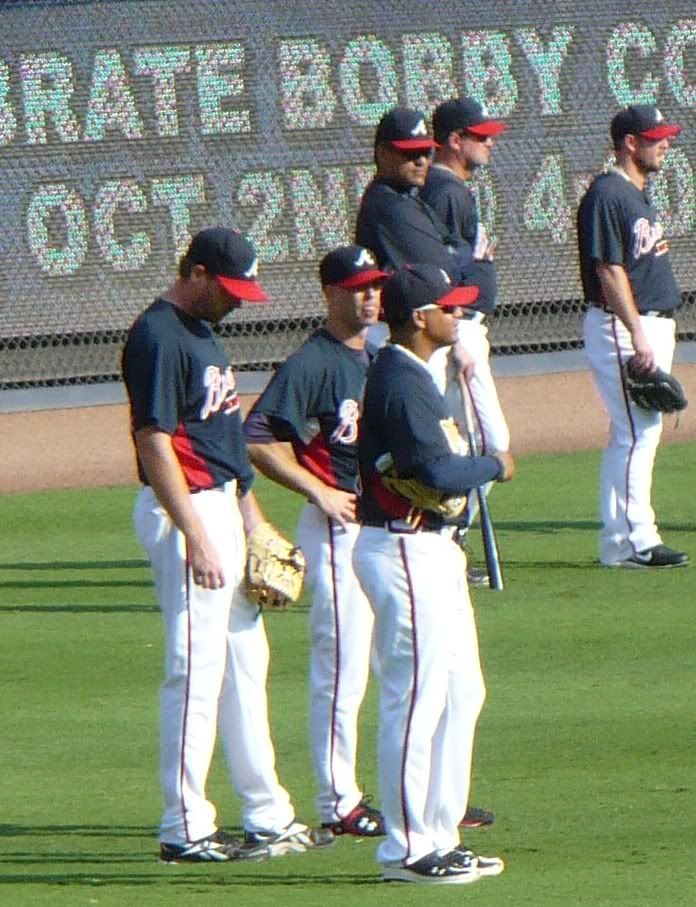 Huddy has one too!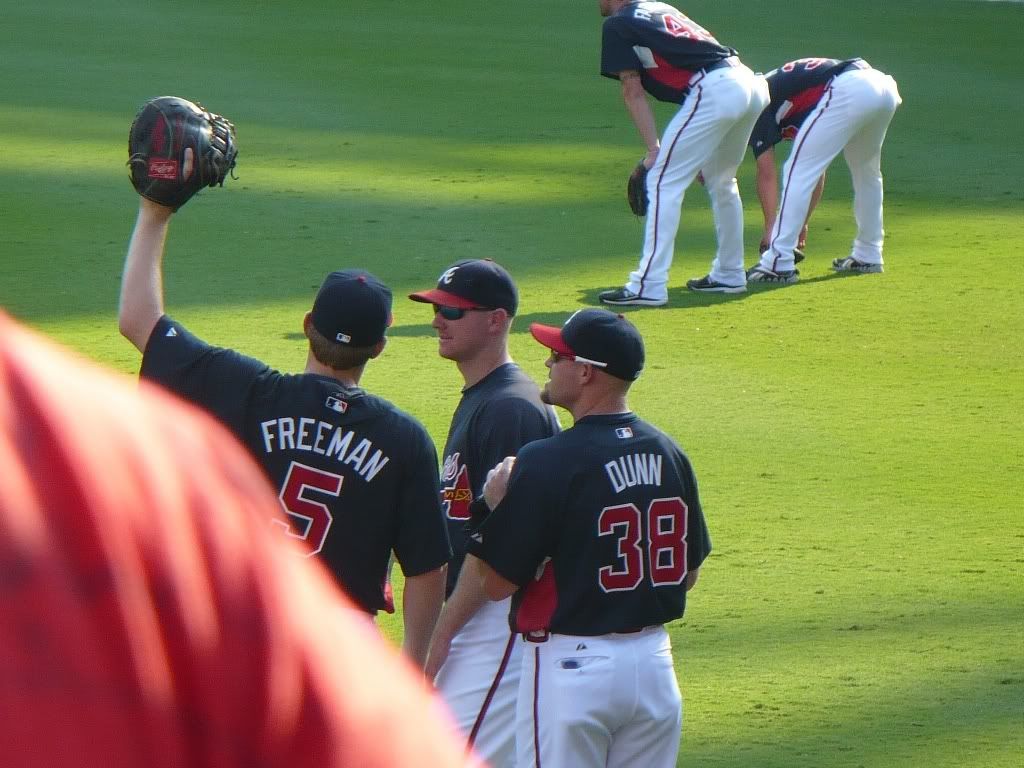 This looks more like a catcher's mitt than a first base mitt, yes?
Pre-game Stretches!
Backpacks! Craig Kimbrel's Hannah Montana's matches his cheeks (love that so much), and Mike Dunn's Tinkerbell is super-fly. click to enlarge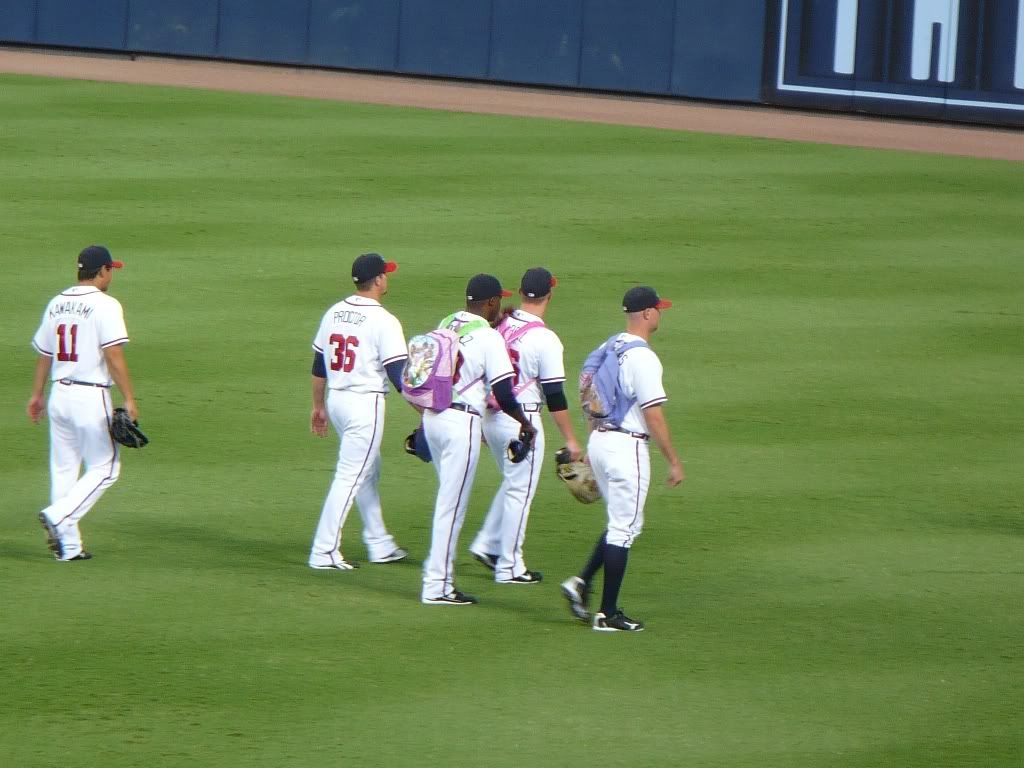 Jonny's periwinkle Hannah Montana looks different than the one used earlier in the year, and Cristhian's backpack has incredible detail -- the images are a bunch of fairies of color, with a white Tinkerbell thrown in there for funsies.
Before the game started, three Braves were honored in a pre-game ceremony. Huddy was August's pitcher of the month for the national league, Omar won the NL player of the week for August 16-22, and BMac got a little token trophy for his 100th career home run. I think it's pretty hilarious that Rossy accepted the trophy on Mac's behalf...you can hear me snarking on the video that they're not interchangeable! ;)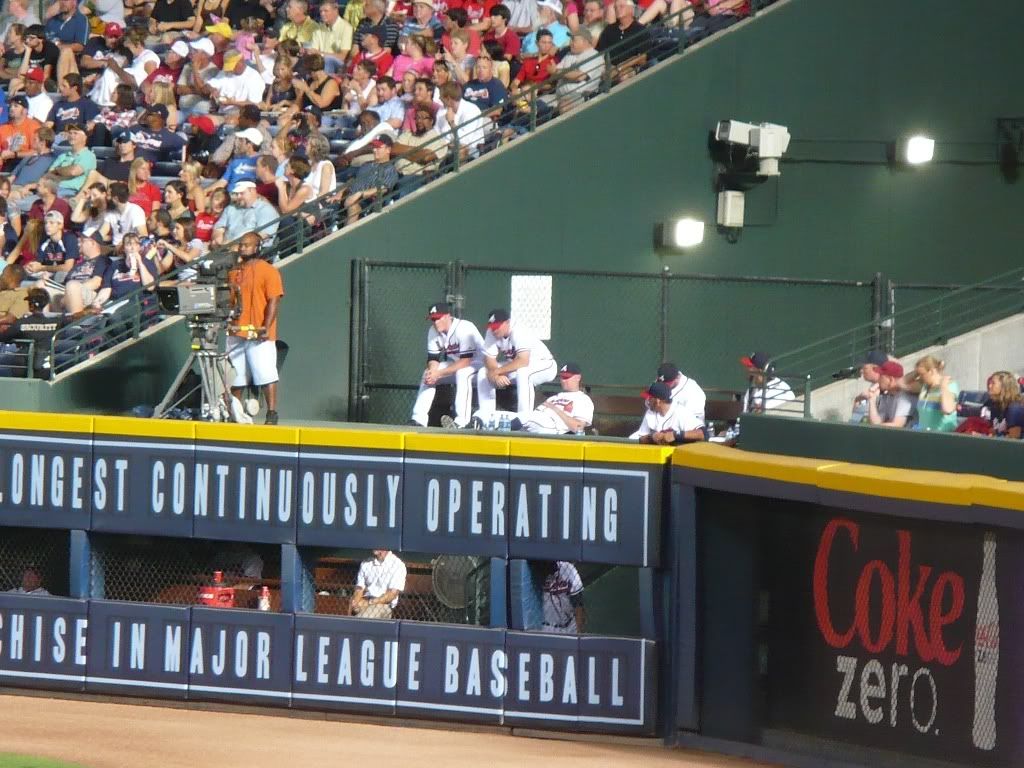 The game wasn't super-exciting at this point. Wake up, Jonny! :)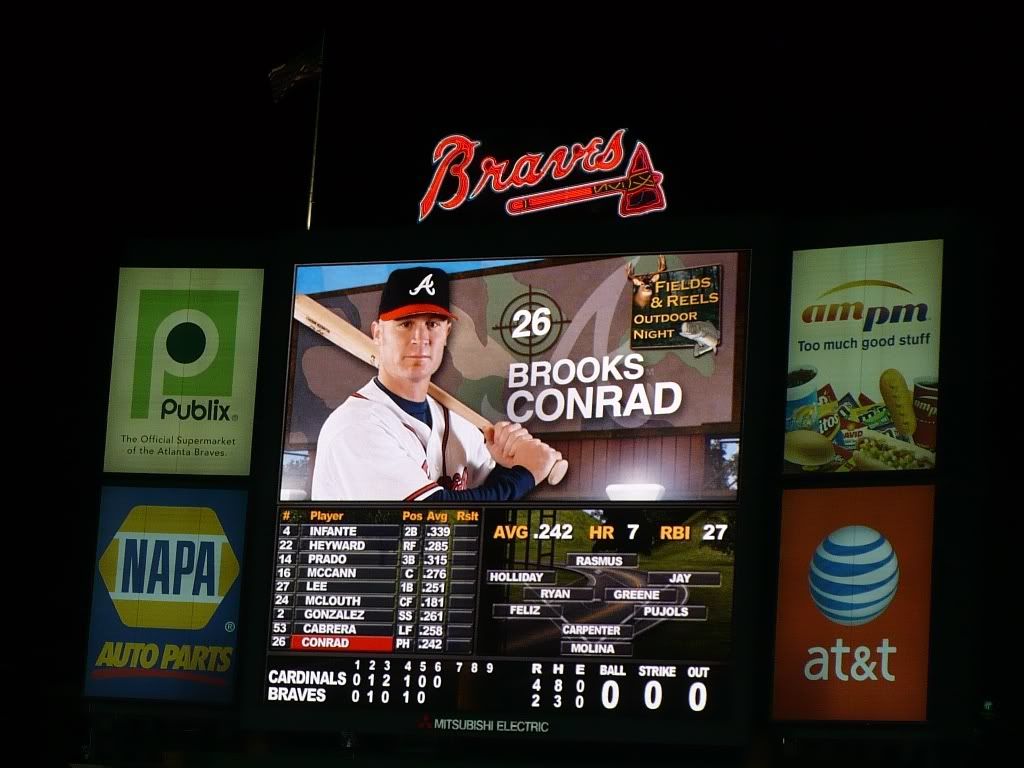 Brooks got a HUGE ovation on Outdoorsman Night, or whatever it was called. Everyone loves Brooksy!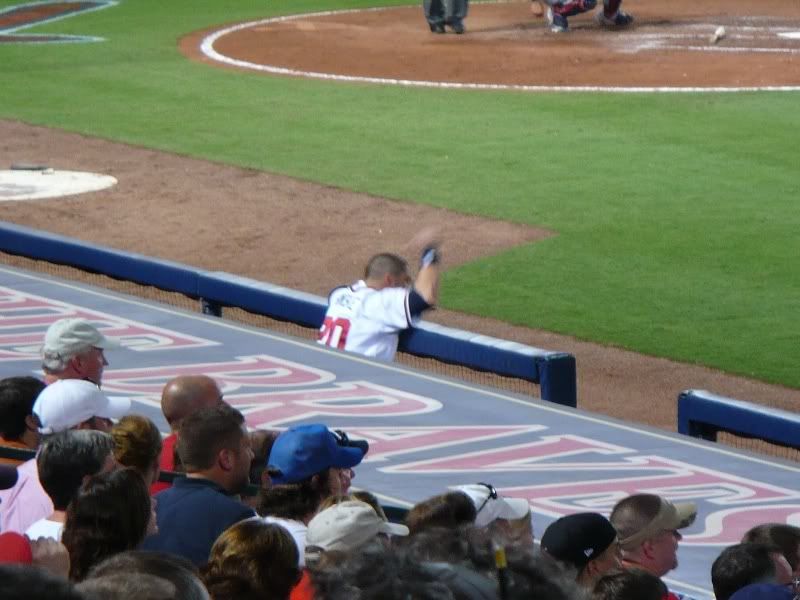 Ske loves to win! He hung out here while we were on our scoring streak...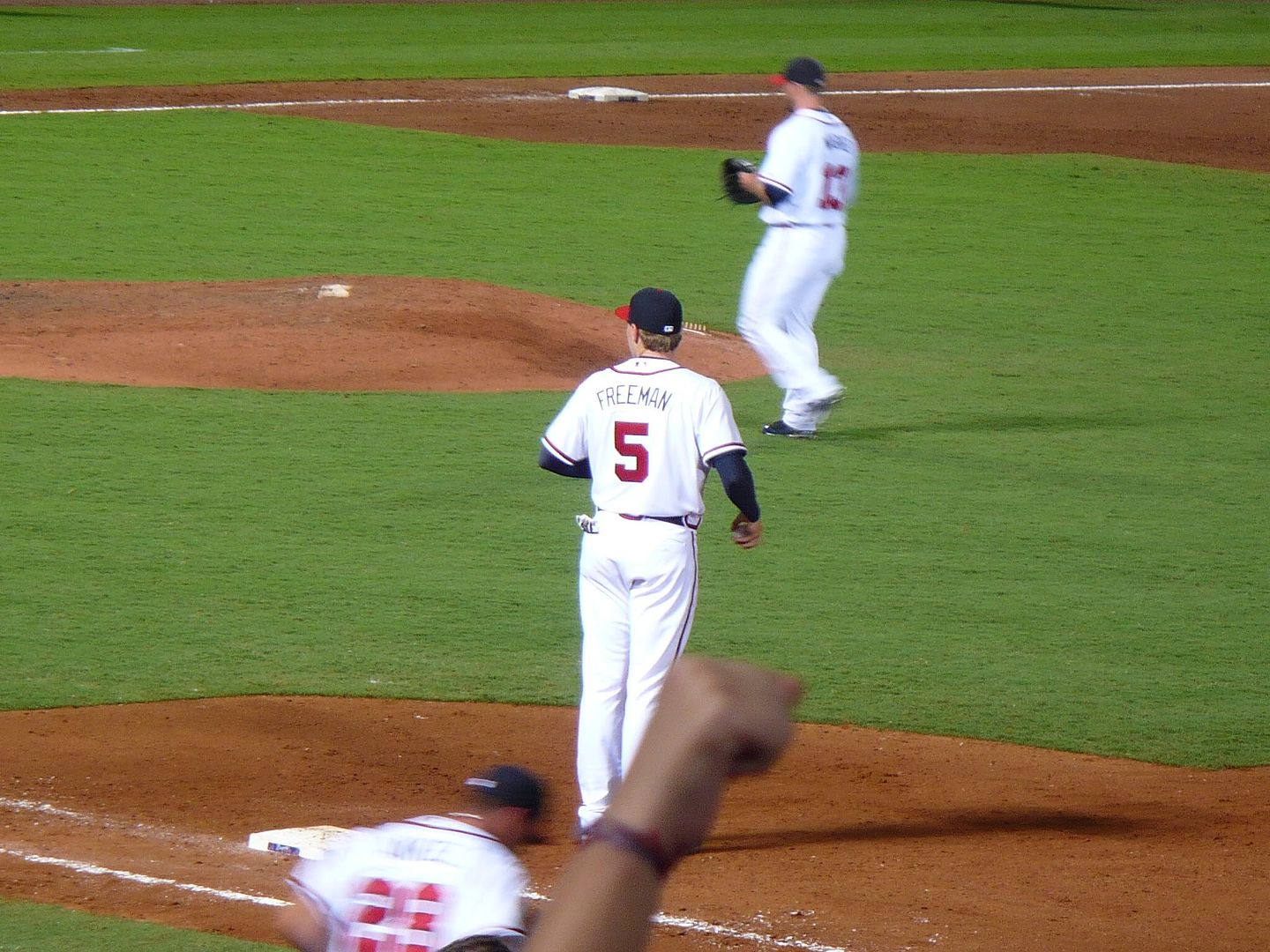 A fan in front of us was very excited for Freddie.
Good game video! Check out D-Lee's super-high five! LOVE IT.
Alison took a gazillion more pictures than I did, so please take a look at her post for this game - her first picture is...well, I don't know what to say. Yes, we see you. This is why I don't have many pics from recent games, honestly. I've been to so many games this year I think the guys are starting to think I'm some sort of stalker. Traffic has dropped significantly since I started using twitter, but we're still is getting over 15,000 views per month. I don't go back to the player parking lot or trail them to bars; I'm just taking gameday pics for those of you who can't go as often as I've been fortunate to go this year! Eesh, I hope no one's getting the wrong idea. :/
So! Here's my full photo album, as usual! There's some good stuff in there. And finally, I really loved the following quotes from Brooks Conrad in the AJC:
On team coming back to win, not mailing it in

"We won't [quit]. We never will. That's the makeup of our team, and even thought we're going through a little rough patch the last week, we don't give up and we keep fighting."

"It was exciting. We get down and then come up with that huge inning. We're going to need to do that when we get down early in games."

On the big Friday night crowd

"It's huge. We love that. It definitely plays into our hands when we get a crowd like that, and hopefully they'll keep coming out for us down the stretch, because it's a big factor for us."