Beachy!
Alison and I went to meet my favorite rookie yesterday morning. Since we don't live close to each other, we met at the CNN Center, and she arrived not long after I did. We planned to be there around 9am for his 10am signing, because the lines are usually insane, right? Well, this was the line at 9am...
Not cool, Braves fans. NOT COOL. I counted 5 people.
I was so disappointed. I mean, I know he doesn't have a win yet, but seriously? He's not bad. He's got
great
stuff. He rocketed through the minors. He knows what he does wrong and he appears to work very hard to fix it. He comes across very humble and down-to-earth in interviews - and, now that I've met him, I can say he's the same in person. And girls, as you can see, he's
very
handsome. I can't believe there were so few people there. I may have ranted a little on Facebook. ;)
Anyway. Here are a few more pictures. I didn't take many!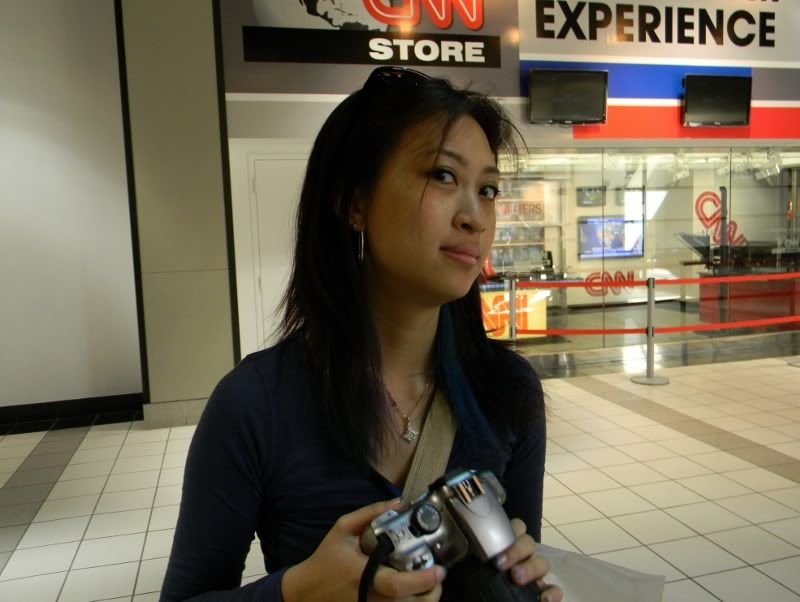 "Why are you taking my picture, Lauren..."
"Fine, I'll take yours then. ...Oh, that's how it's going to be."
Signing... blurry... the blondes in front of us were SO excited and kept bopping around. It was cute.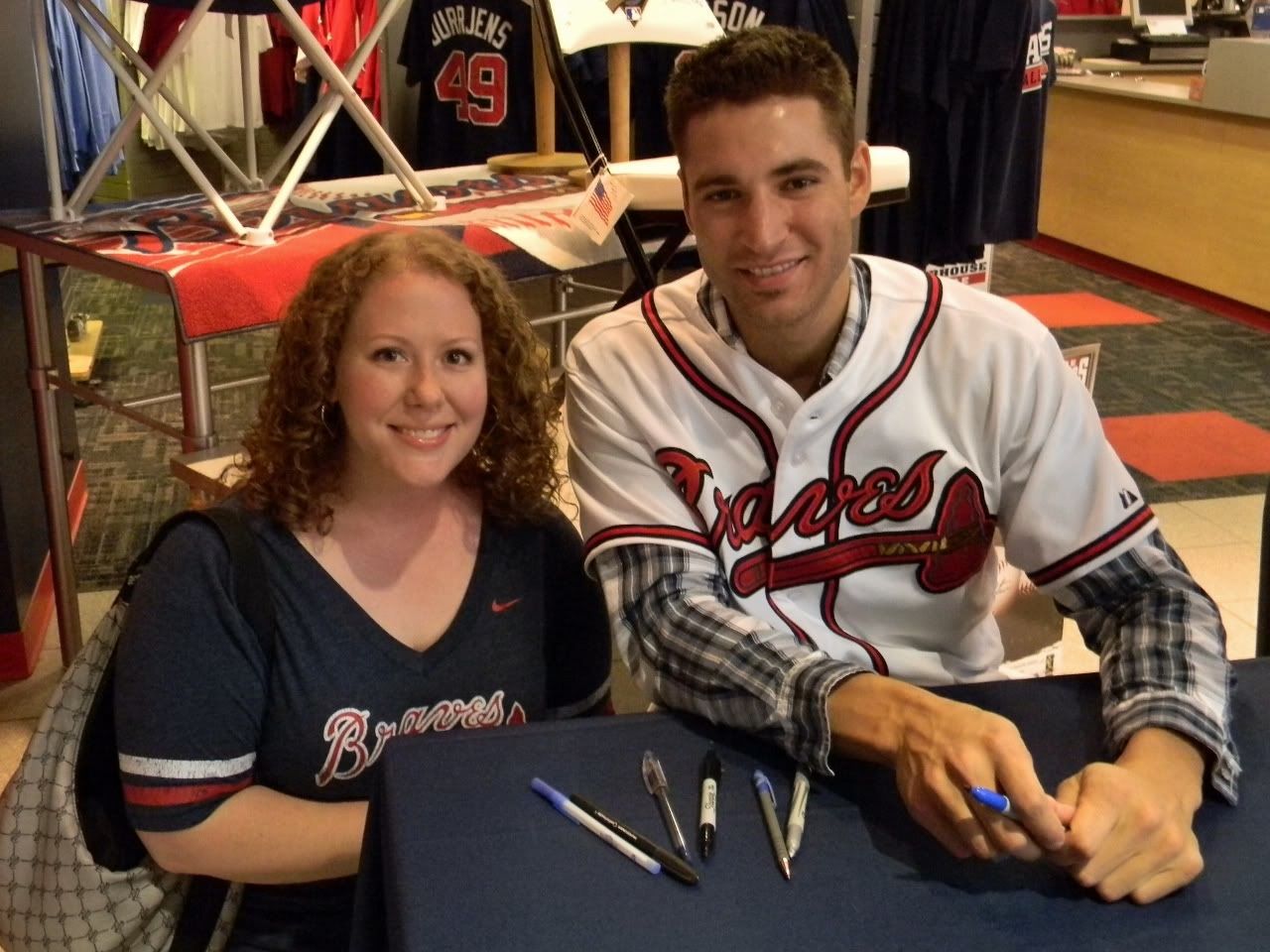 Beachy and I
I took him a packet of pictures I'd taken from a couple of games this year. There were... a lot of them. I think I took 11? What can I say, he's an easy target. :) I was like, yeah, just maybe sign one for me, or I'd like a picture with you, and you can keep the rest. I think called the pictures a "prize" for him, haha. (I like gifts, what can I say.) He sifted through them and signed out one, making a self-deprecating joke about the back of his head being his best feature (I said, "aww!"), then Alison poked another and said, "I like that one!" He looked at that one and was like, yeah, this one too and signed that one as well. He said his family would like the pictures, and the Braves rep beside him said it was a nice gesture. (I've seen him before, haha.)
He was exactly as he comes across in interviews. I like that, and I'm still a big fan. Go Beachy! You'll get that first win very soon!
Alison talked to him about his intro music. He asked her to clarify, his pitching walkout or his at-bat song? Smart girl, she said both! He talked about both his 2011 songs and she was a little sad he wasn't using Queens of the Stone Age's "Go with the Flow" anymore...and he's like, hmm? Apparently, he didn't choose the song last year and wasn't familiar with QotSA, and Alison encouraged him to get to know them. She got a baseball signed, and didn't want to hold up the line by asking for a picture, so we walked off to the side.
A couple of people we met at another Braves event, Michelle and Jacob, were with us in line. They both got autographs on balls as well, and pictures. Jacob shook Beachy's hand!
After we all compared our loot, we realized... the line was dead. And Alison felt sad, and wanted her picture with him now. ;) So we went back over there and she asked for one, and look how cute...
I turned around to my friend Kim asking, "What do you think you're doing here at my work and not saying hi?" Violent hug, next thing I know we're doing a free tour of the CNN Center to kill some time before going to beepee for the doubleheader. That was pretty cool, even if, like me, you're not a 24-hour newswatcher -- it was more about television production than the news.
Anyway, I thought the morning was pretty great. Quite a few of my readers said they didn't hear about this autograph signing, but I saw it on several Braves sources and I know I announced it on Twitter and mentioned it on Facebook, so... yeah. The info was out there. This wasn't a secret signing! ;)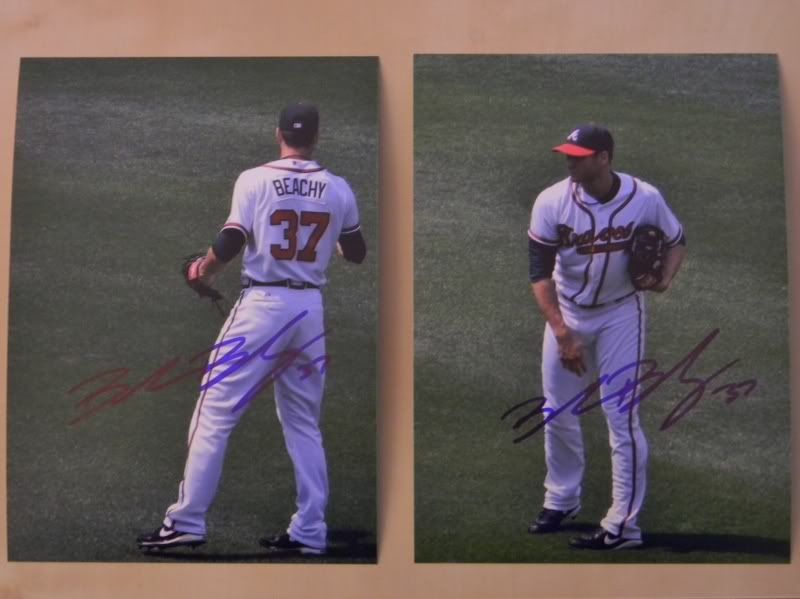 Thanks, Beachy! ♥