Batting Practice Experience
My amazing season ticket holder friend Jenna had
a spare pass
to the
Braves VIP Batting Practice Experience
. You know, go stand behind the white picket fence behind the Braves batting cages and watch them take beepee? The thing I said I can't imagine I'd want to pay to do? (Look at the prices, y'all. I have a very modest budget. I cannot afford $55 on a weekday or $70 on a weekend.)
Our group was very small - I didn't count, but it wasn't more than a dozen - and we entered the field just a few minutes before gates opened to the public. We signed a form saying we wouldn't sue if we ended up on TV or if we got smashed by a piece of equipment, and we were instructed not to hoot at the guys before they hit, but after they were finished hitting we could call them over and ask for autographs if we wanted.
Once we got down there, we realized there was a sizeable group between our fence and the dugout. Gene Chizik - Auburn's football coach - was on the grass watching beepee, and there was quite a group behind / around him. Don't know if they were all with him, but I had a feeling none of the boys were going to come talk to us, with such a big name right there. That's okay, they don't talk to us when we're in the outfield either. ;) We'll just take some pictures and marvel at how huge they are up close. :)
We started on the 3B side, where Fredi smiled and waved at us and mouthed, "hi girls". I said, "hi Fredi," back -- love him!
Fielding practice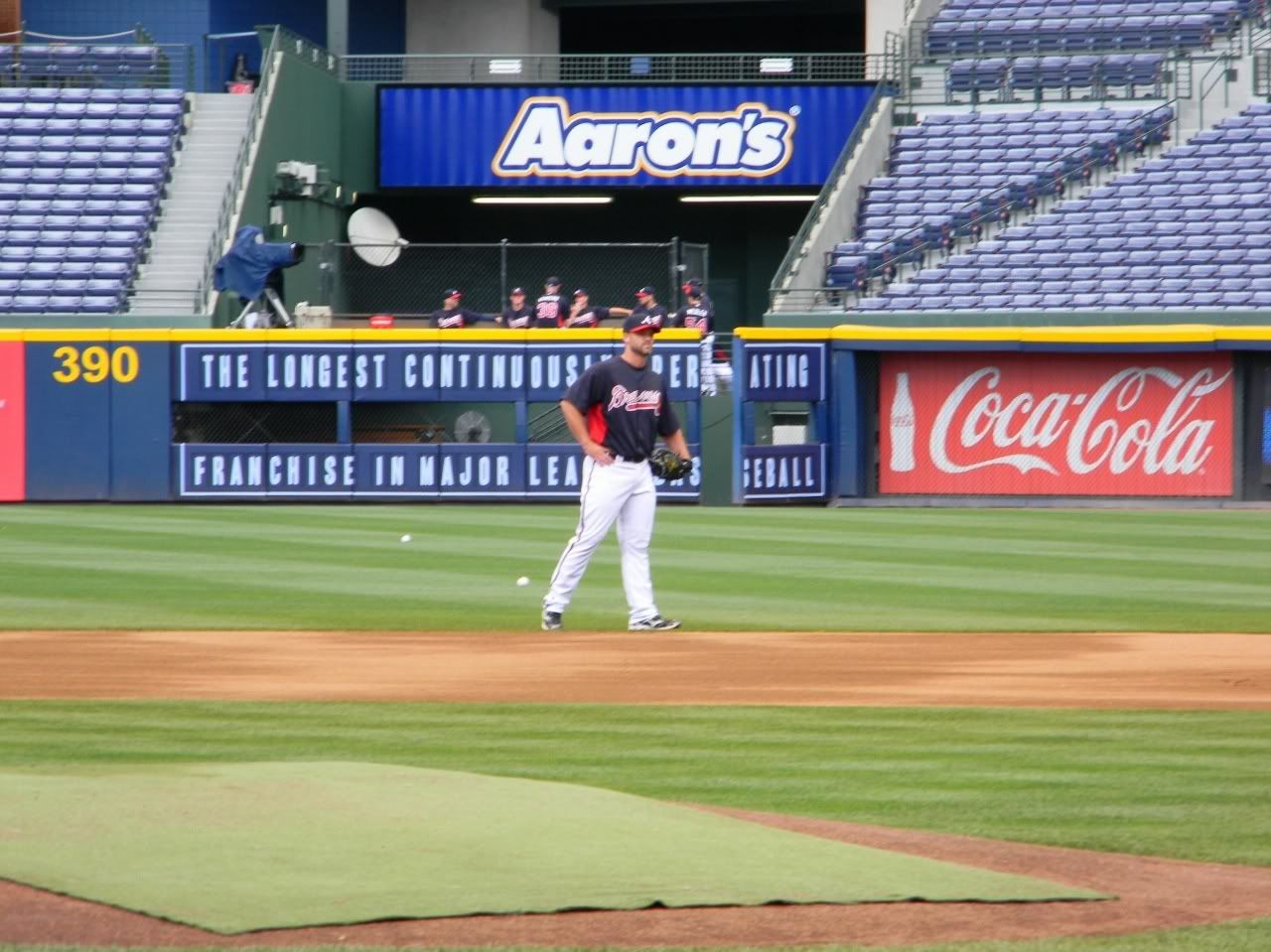 blurry, but hi Rossy, and...why are the pitchers in the bullpen?
Prado practicing 3B
Freddie mid-flight
Fredi hits some ground balls for fielding practice while Eddie throws BP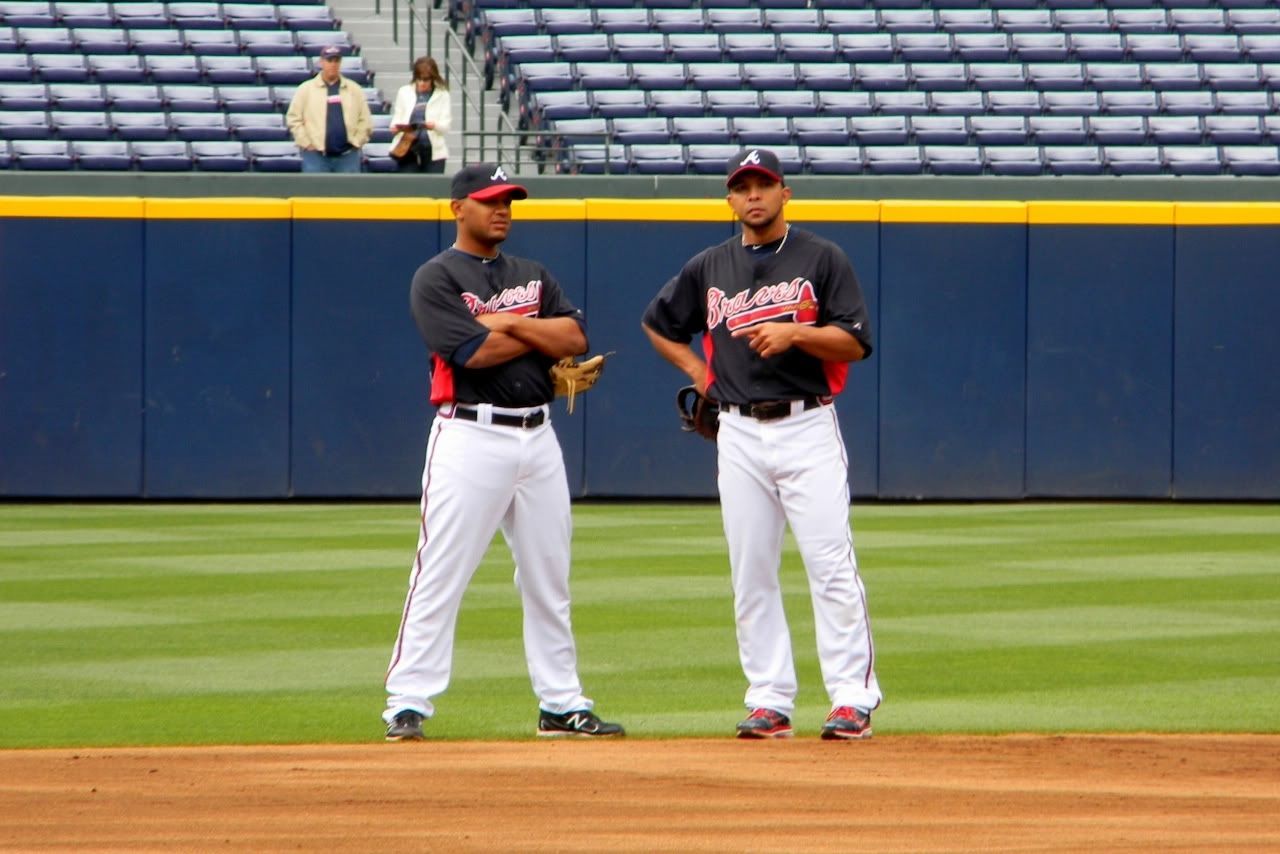 Diory and Gonzo! Hi shortstops.

Took a few pics on this side but none of the boys were staying on that side after hitting, so we went to the Braves / Chizik side. ;)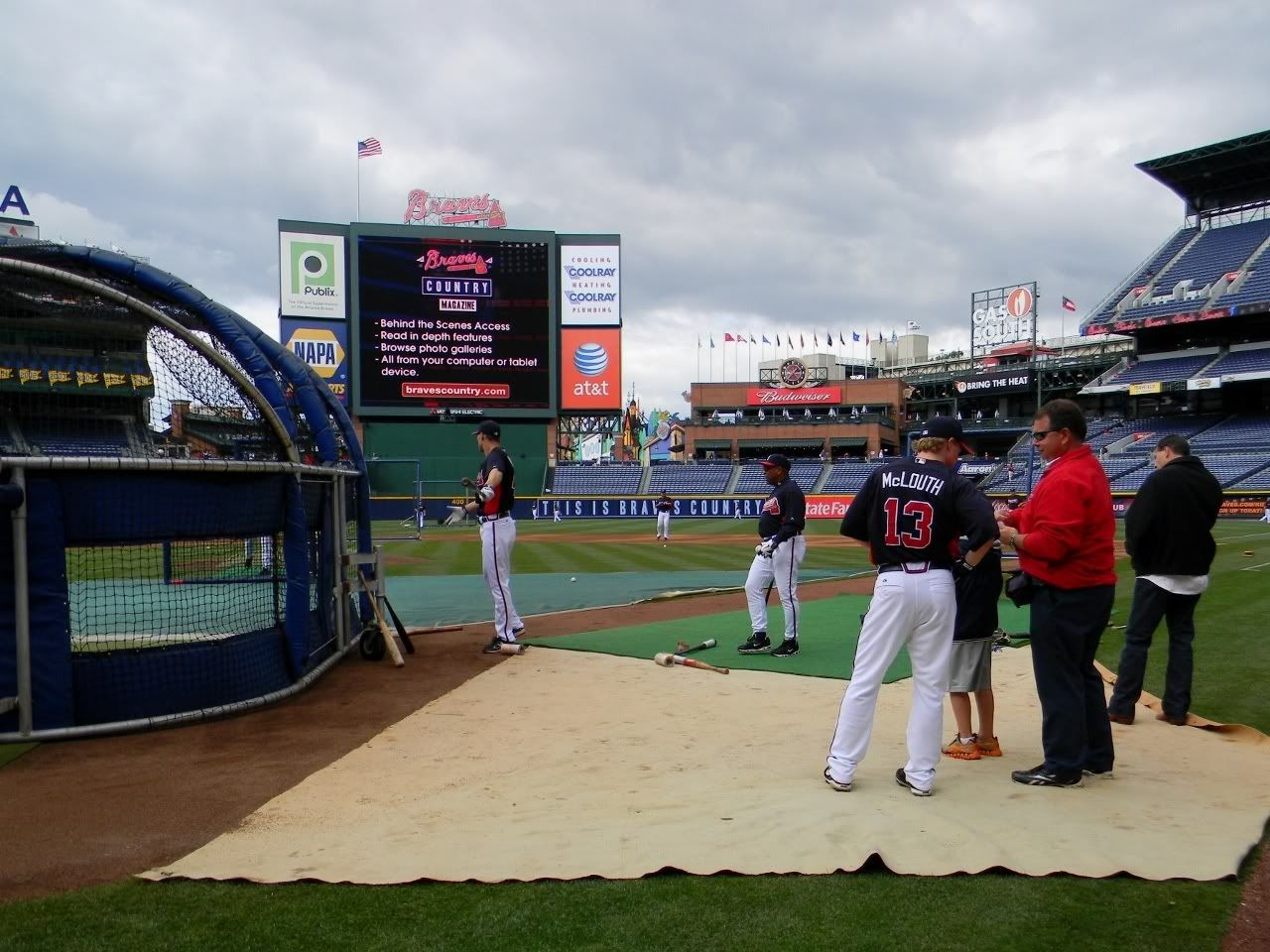 Nate for Summer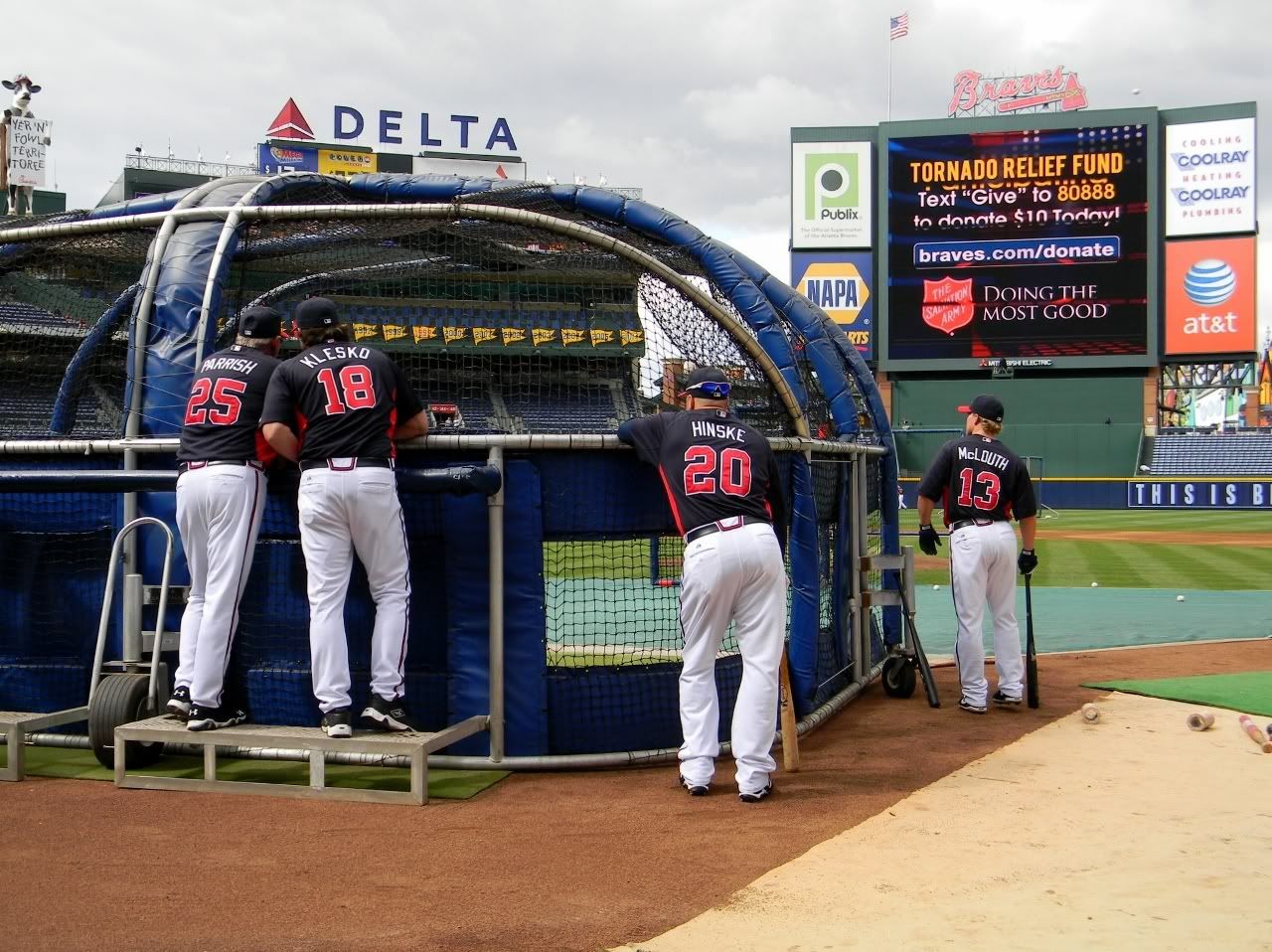 Oh hi, He-Man. I would have loved a picture with you, but it's okay that you only talked to the little kids in the group outside the fence. I guess. *sigh* I suppose I could have hooted for his attention, but I can't recall ever doing that. For anyone.
Hilarious balance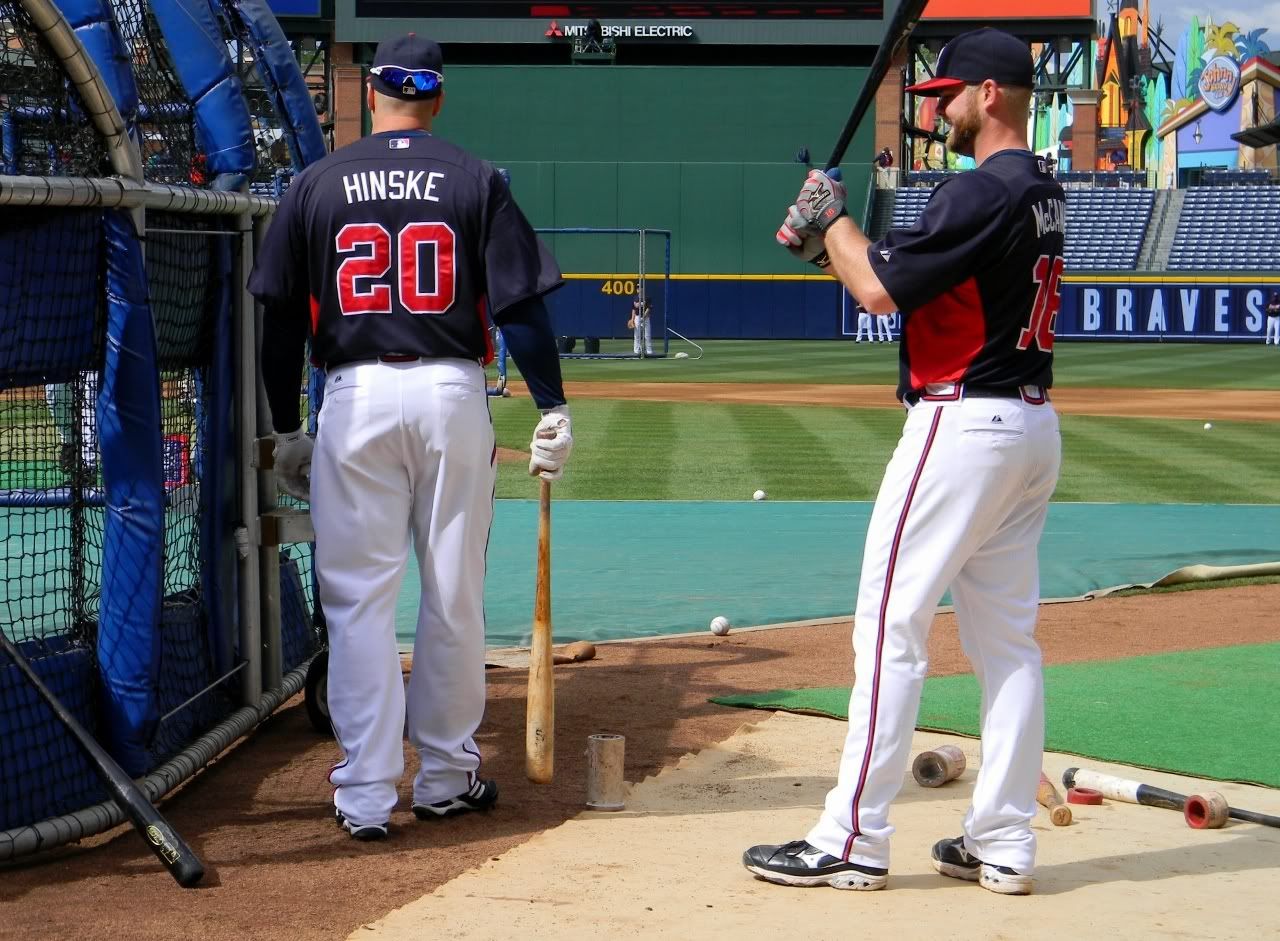 pleasehugpleasehugpleasehug
NO. WHY DID YOU NOT HUG.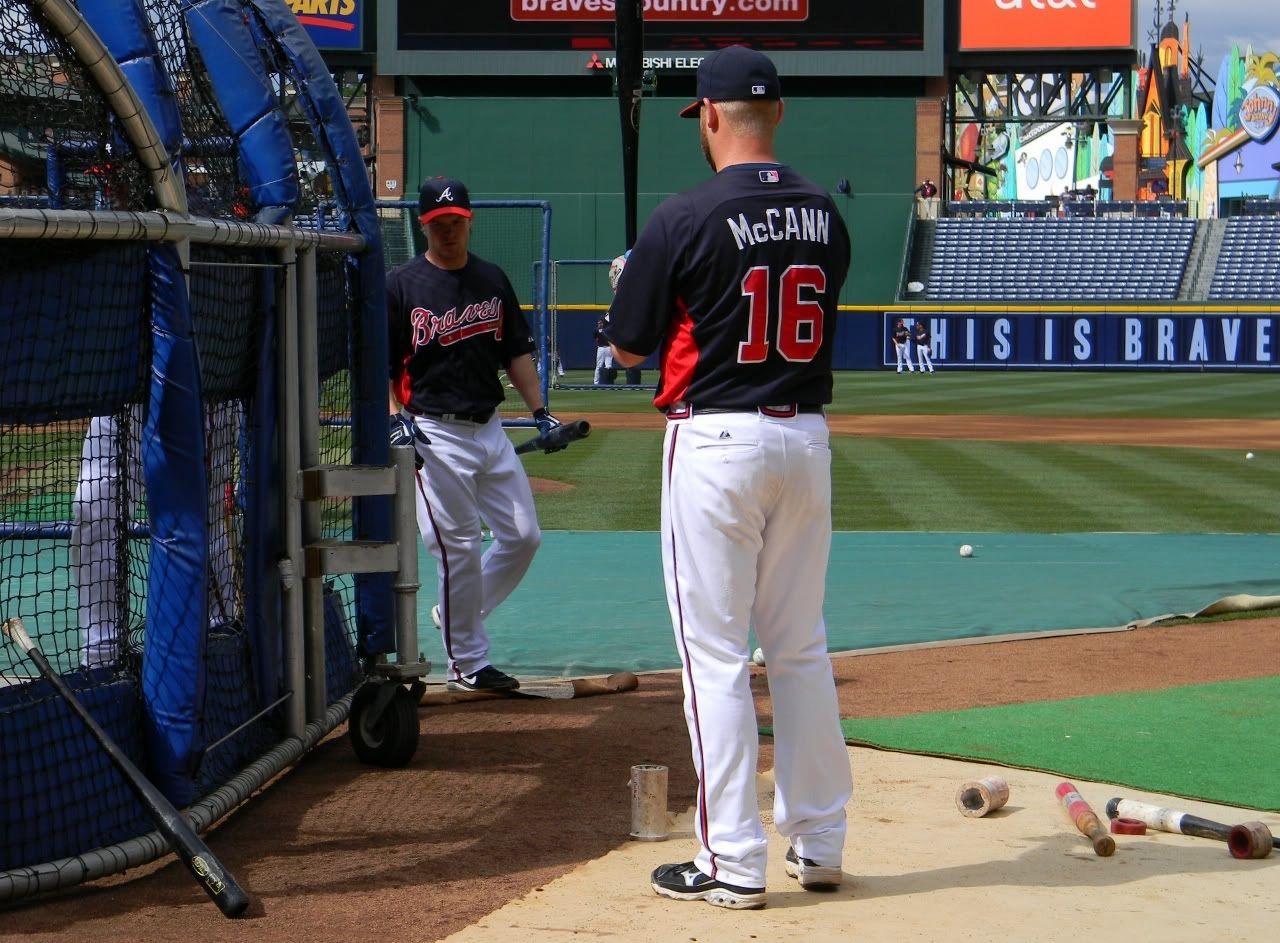 Someone got a haircut!
Who's this playing catch with Fredi?
Why, it's former Brave Ryan Klesko!
If Klesko threw BP today he threw before we got on the field -- he mostly hung out behind the cage and talked to fans and took pictures while we were there. He's just as handsome as ever, and everyone loved him. He didn't come to our section of the white picket fence.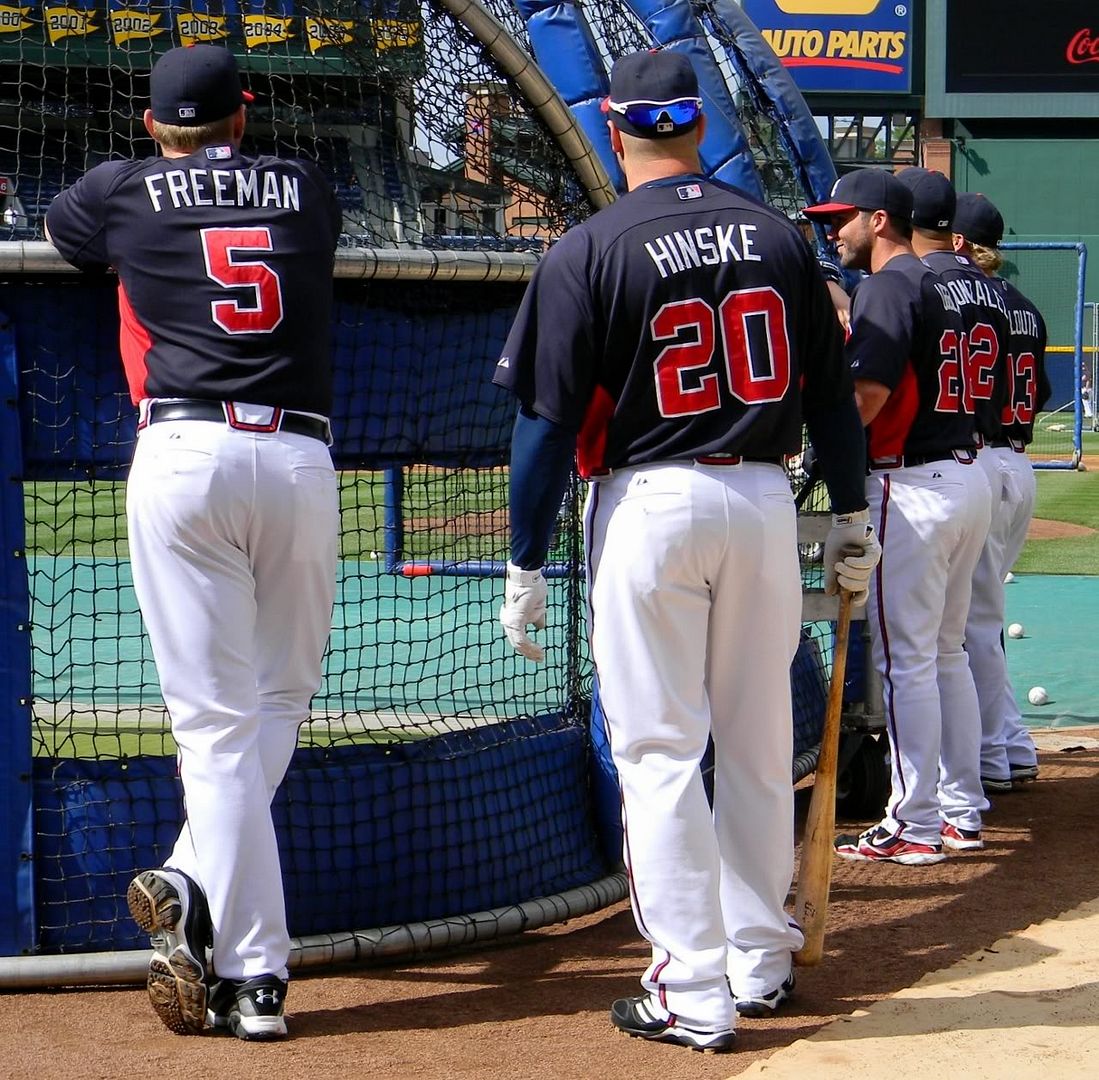 Posing. ;)
Aside from the shoes, Chip was wearing a very well-put-together outfit.
I was surprised.
It was pointed out to me that a couple of my friends want to help you with those pockets, Marteen.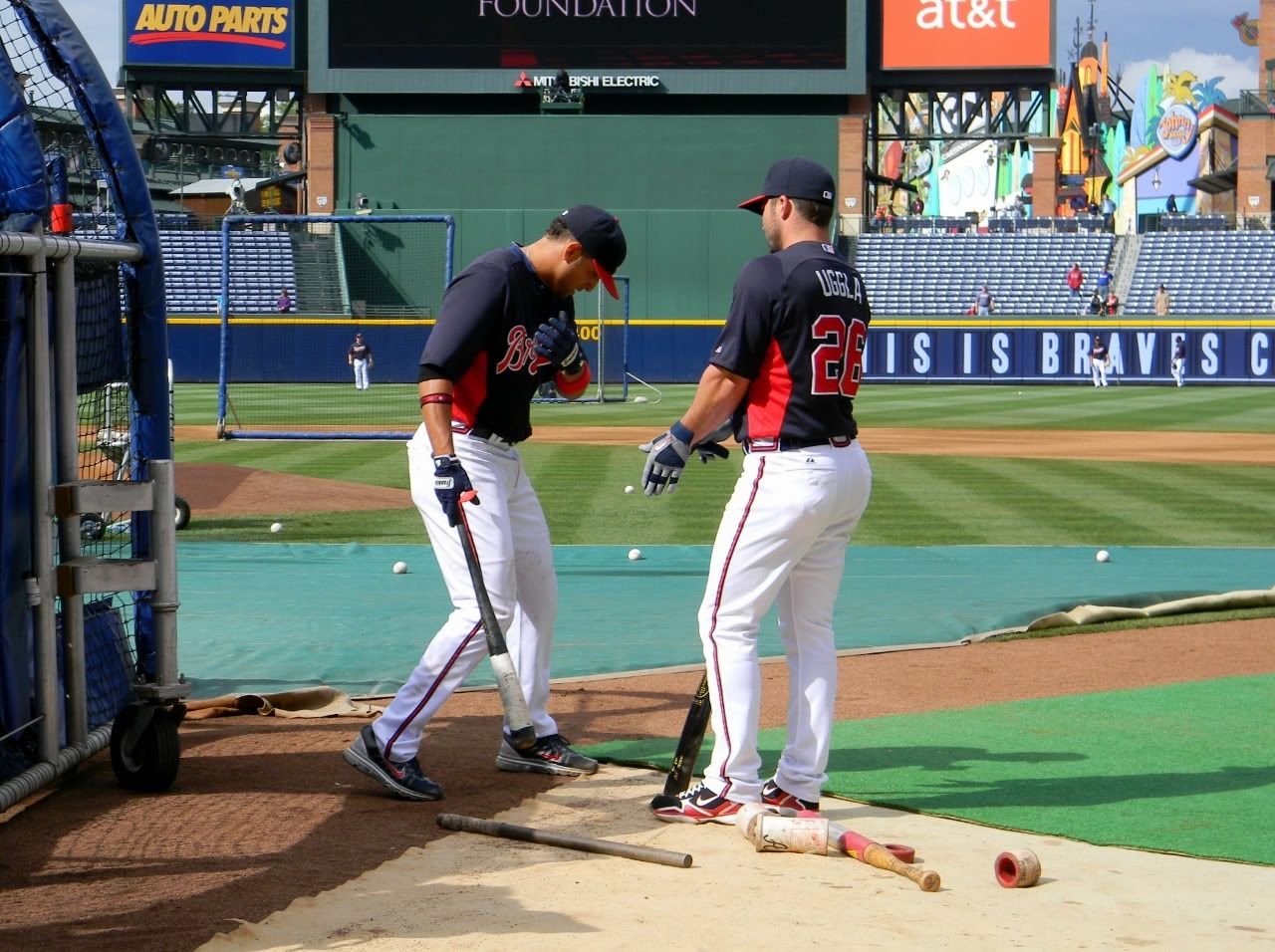 Discussing a swing

Before Jason Heyward batted, he came over and signed things for people behind the fence. We were so surprised and happy that someone was coming over! Yay!! Everyone was just shoving things at him and no one was talking to him at all, though; it was horrible. When he got to us I had my camera out (didn't have time to go to my bag for the baseball I had in there), and I looked up -- he's over a foot taller than I am! -- and said, "Hi, I'm Lauren." He seemed a little surprised someone was talking instead of pushing crap at him, and he looked down, smiled and said, "Hello, I'm Jason." Oh, pleasantries... I think I know your name, superstar. His mama did well. Anyway, Jenna took a picture of us in the super-wind and it did not come out well. I lost an earring while trying to keep the hair out of my face and we didn't have time to re-take it. *sigh* Maybe we can take another on a better weather day. Jenna's is below as well...
My mom, upon seeing this picture: "He is a TREE." And he's not standing up straight, Mom.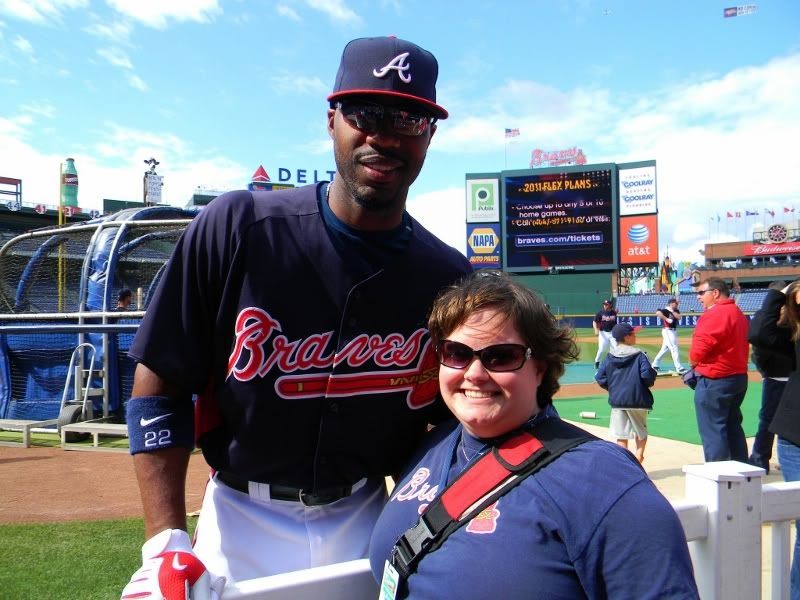 Jenna is about... 4" shorter than I am. :D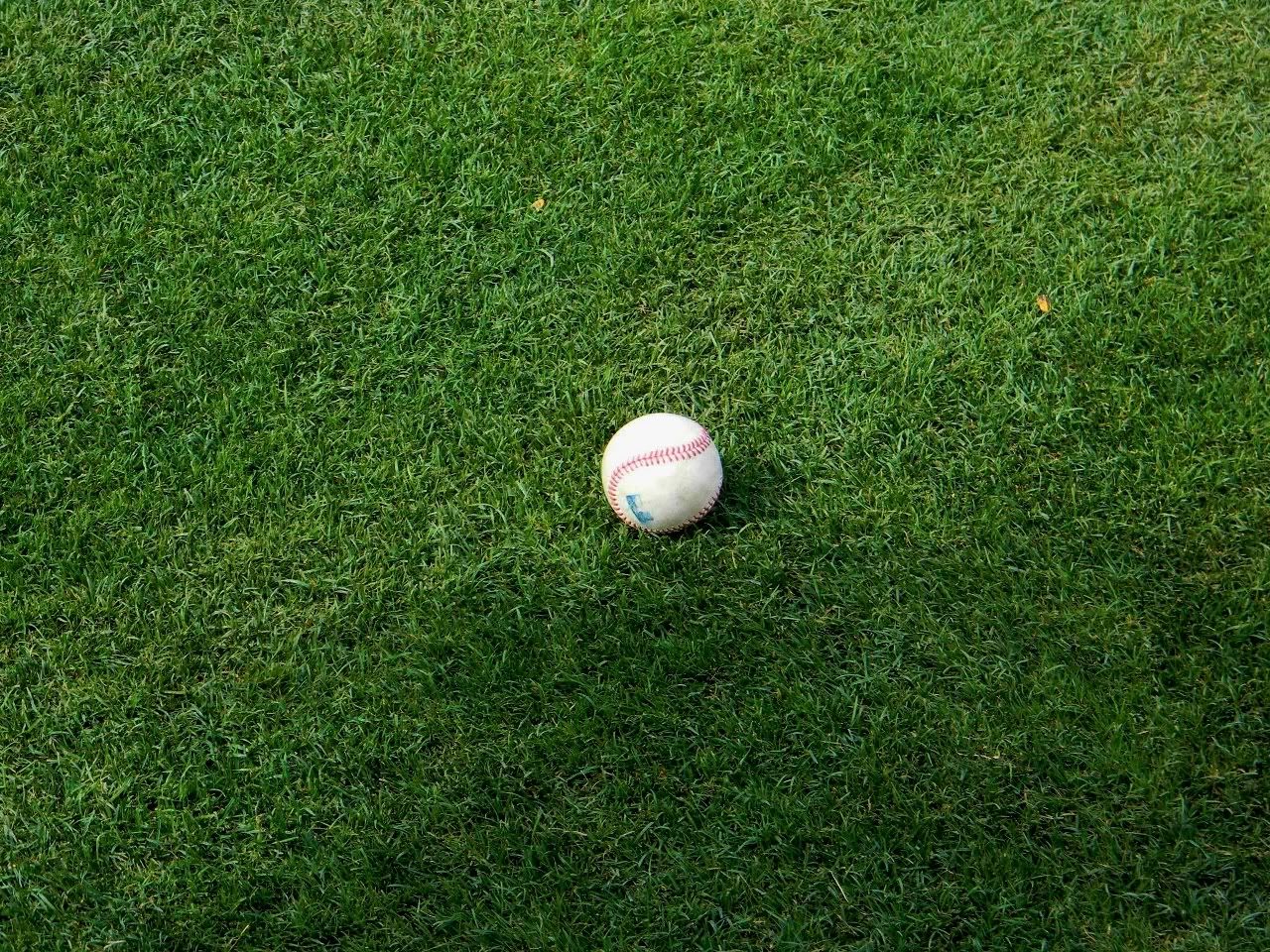 So pretty.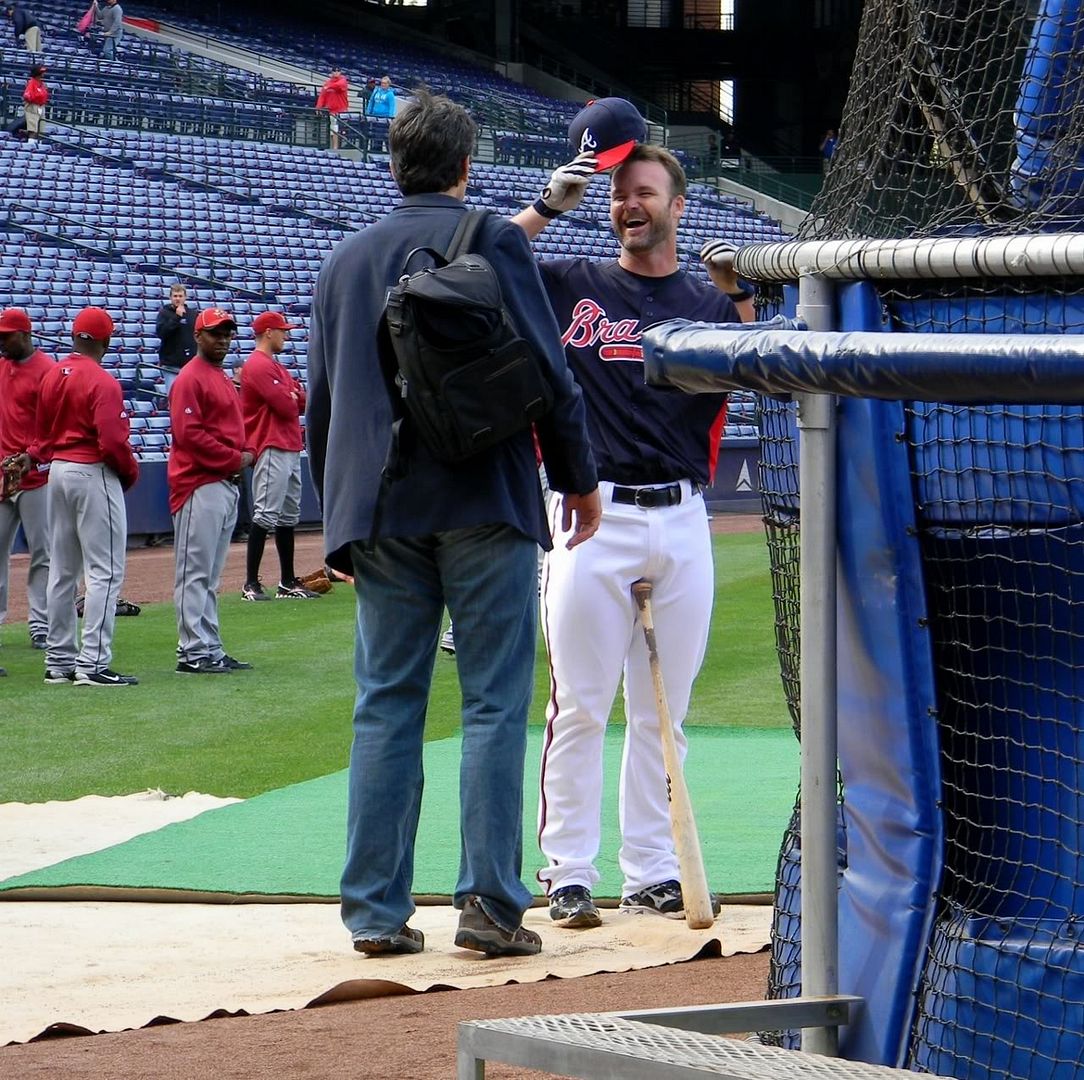 Some guys to our left hooted at Rossy, asking him to come over and sign. He promised to come back after he hit. Would he?
This first fan story... a couple of friends I've told it to so far say it's solidified their David Ross infinity love forever. He was adorable with this lady. So after Rossy finished hitting, there was a lady in our group. Her husband was like, THIS IS HER FIRST BASEBALL GAME, all loud, and Rossy joked with the guy, "That's what they all say: 'It's my first game', 'it's my birthday'. It's MY birthday!" The last one, he pointed to his chest like he was saying it was his own birthday. :) He told the lady he liked her hair, and y'all... it was not good hair. Short, late-50s lady hair, 4 different colors, spiky in weird spots and flat in others.
Her husband said something like, "it's awful!" but the lady was like, "thank you SO MUCH!!!" and Rossy gave her the kindest smile, then he complimented her (odd) glasses, "I like your glasses too." ...And the husband made a snorty noise. To the husband, Rossy said, seriously, "I DO," with lasers in his eyes. It was like he was trying to say to the hubby, "Shut up! I'm a pro ballplayer and I'm complimenting your WIFE. Let her have this!"
The man Was Not Getting It. *sigh*
So Rossy joked about the picture – he told her twice she had to use it as her Christmas card, with a big huge grin – and she was like, :D :D :D!!! Then guys started clamoring, and he's like, "Sorry guys, I gotta go. Team meeting... I gotta go..."


But he took pics with two blondes in their 30s who were shoving to get to him ;) and then stopped in front of me. And I grinned, and told him I like his beard. (This was one of my mental Braves goals: tell Beardy Rossy in person that I like the beard! Can't believe I actually did it.) He said thank you, and I handed my camera to Jenna and he put his arm around me and Jenna's like, "it's all black. I can't get it to work." So I touched the right buttons (my batteries were dying) and went back over to the fence and we posed again, and it died again. :(
Beardy joked, "Maybe I broke it. I do that." Ha! Whatever. So she handed it to me, and he was telling Jenna to "make sure the screen's on good". Working for sure the third time, we got a cute pic! Yay! Thanks Rossy! ❤
After we traded off and I got one with him and Jenna, he ran and got three balls – gave one to the crazy-hair-first-game lady then passed the other to outstretched hands while looking up in the stands. Guess who got one? JENNA! Exciting!
My body language looks horrible in this pic; it's like I have an elbow in his ribs, saying, "GETOFF." That was NOT the case, haha! I was just resting my arm on the rail!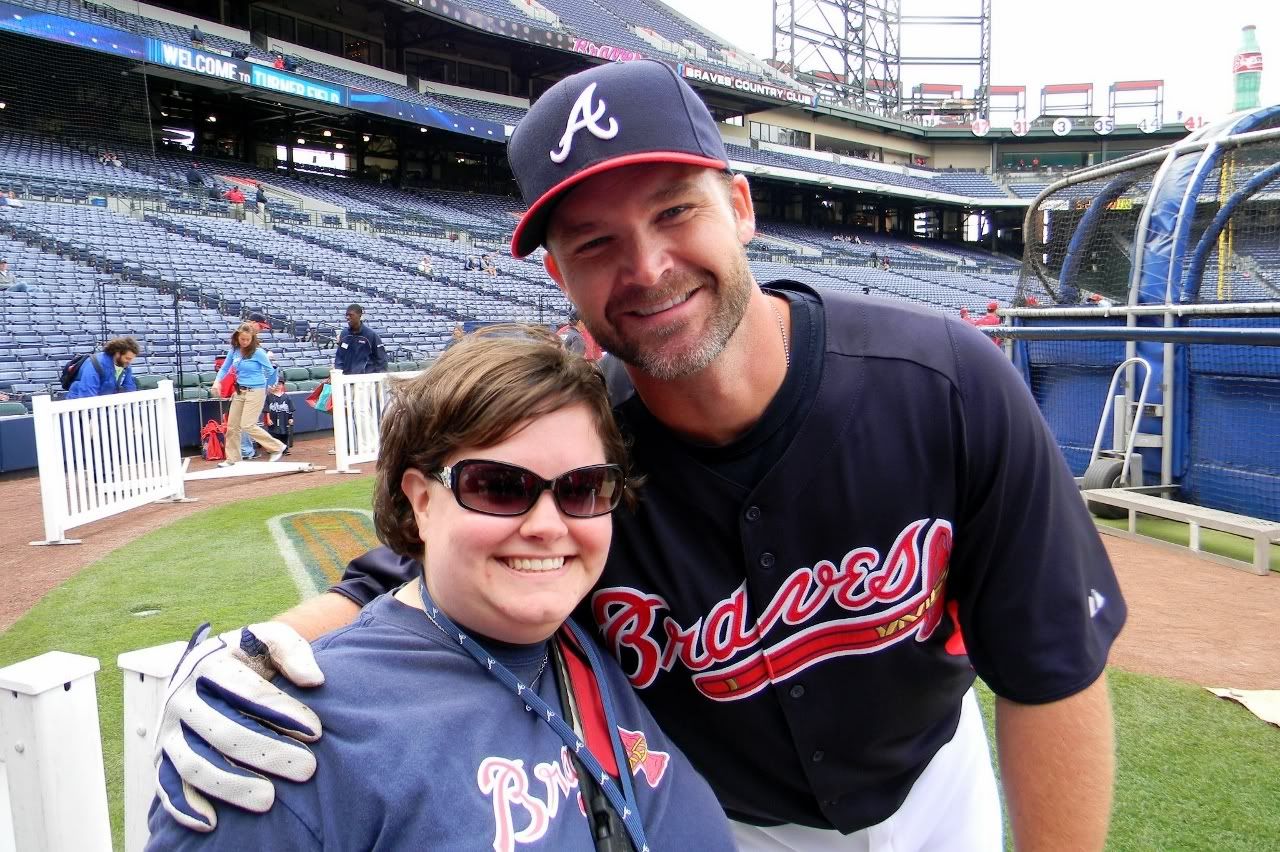 Cute Jenna!

We couldn't get pictures of the pitchers -- too far away! Still love you, boys! -- and didn't watch Astros beepee. How many Astros do we know anymore? Not many. Oh well. Let's go...
on the stairs near the Suntrust Club

Jenna went up to her seats with her friend and I met up with Alison for the game. I only had a general admission ticket to get in, so I didn't actually have a seat. Oops. Good thing we know a few ushers and it wasn't very busy! (Paid attendance was just over 17,000.) So, there are just a few pics from the rest of the game because of our location...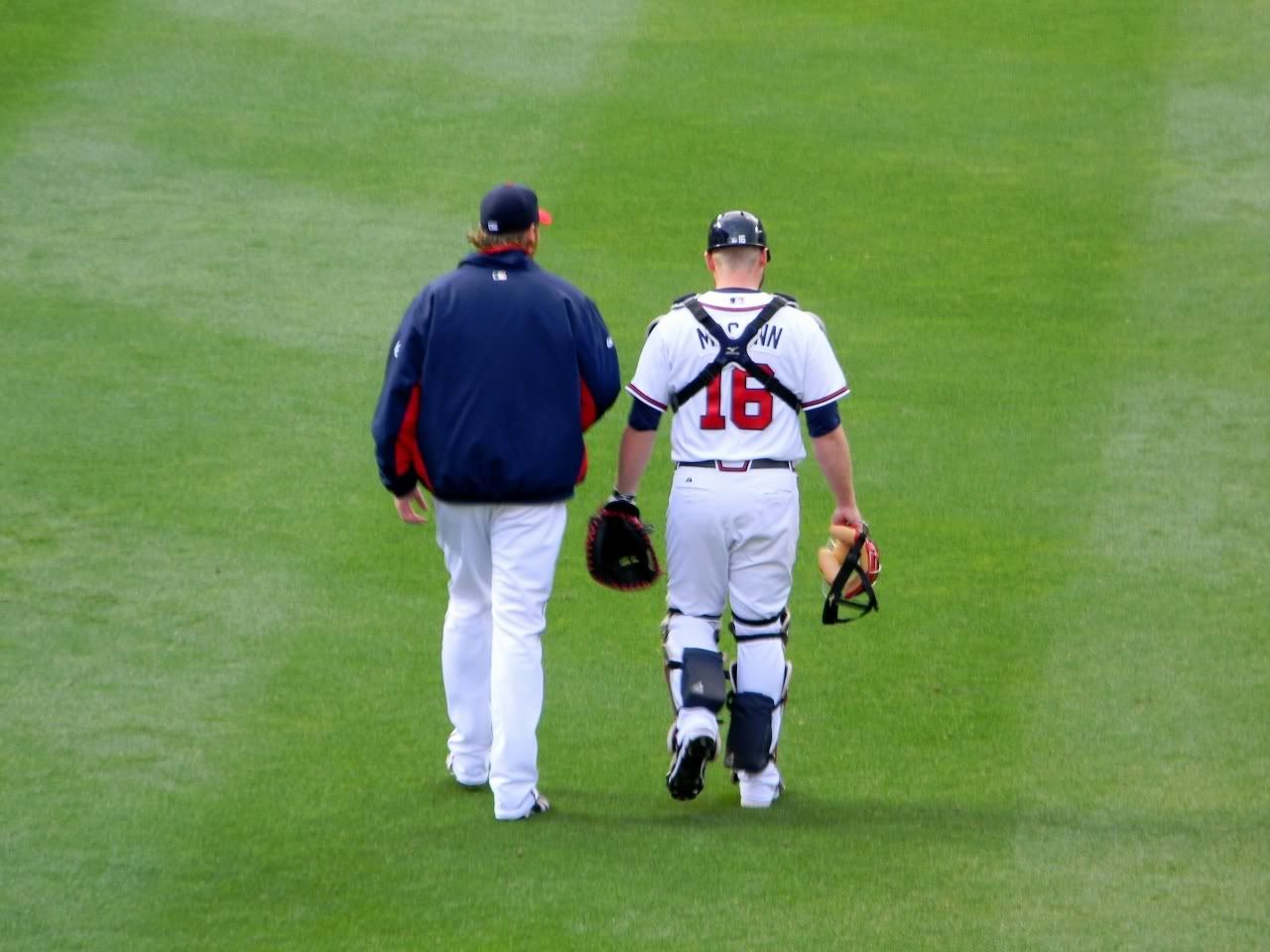 Did Tommy get a little haircut? Looks like it!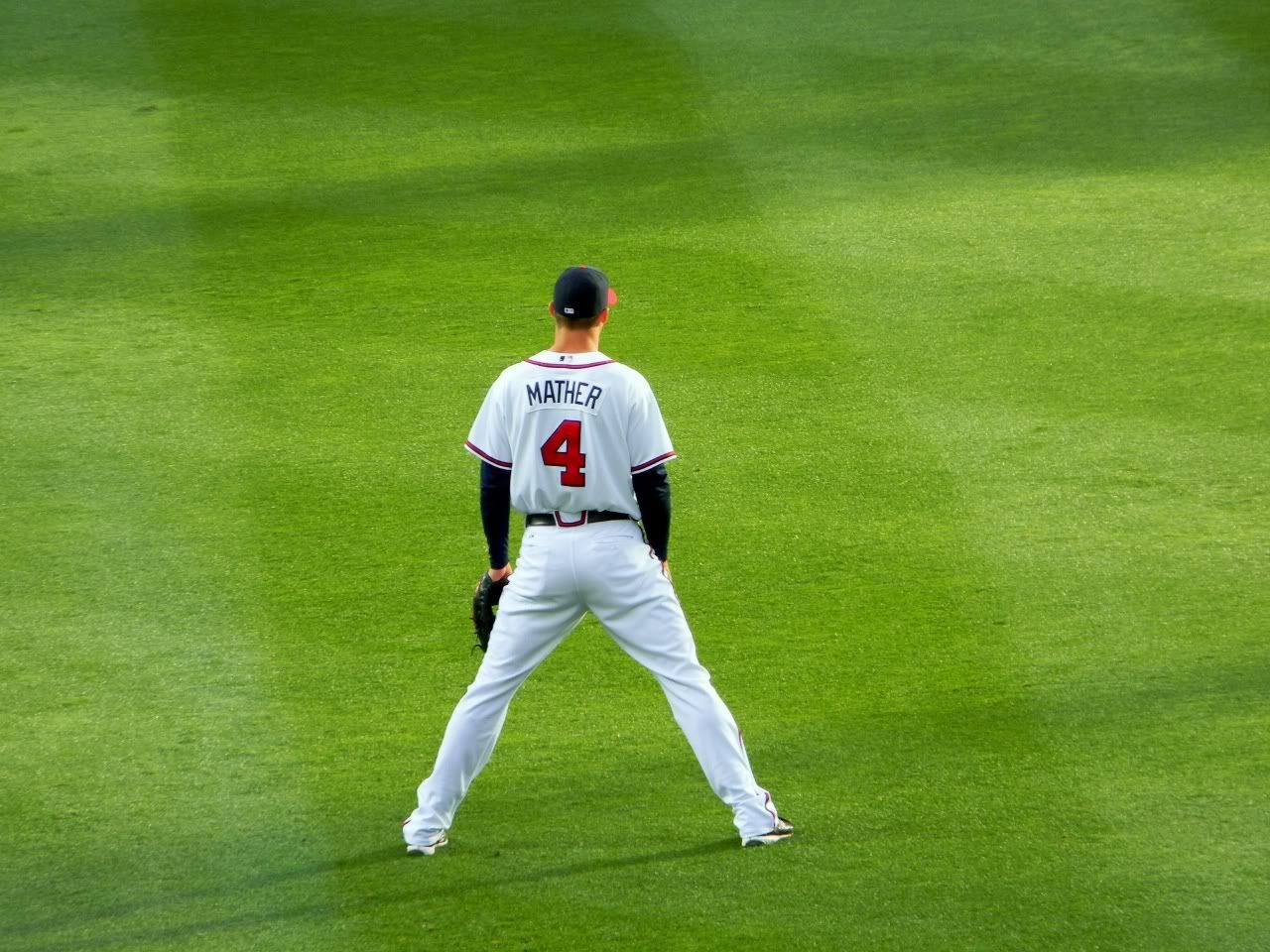 We are Joe Mather fans. "GO JOE!"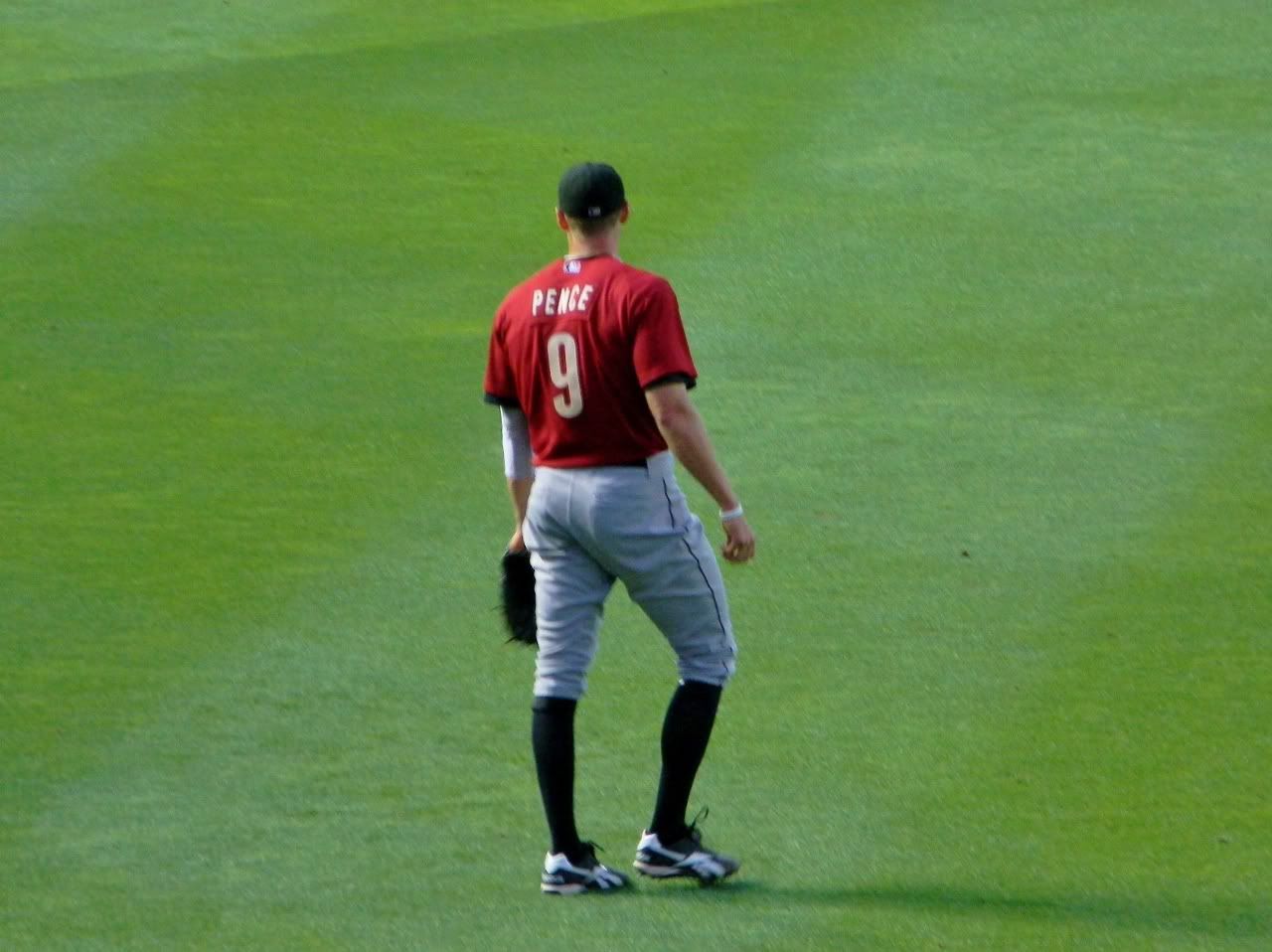 Alison wouldn't stop talking about / pointing at Hunter Pence. She didn't have a camera with her, so I finally just handed her mine and rolled my eyes at her. ;)
She also snagged a pic of Gonzo dancing to the Jumbotron music ❤
This little rookie picked up on the best parts of baseball quickly! Her backpack was adorable, the bullpen boys waved at her, she loved the fireworks for a strikeout and was devastated when the fireworks ran out but the Ks kept coming. After she waved at me her dad apologetically told us she makes friends easily, and I told him it was no biggie. Kids and I usually get along great anyway. :)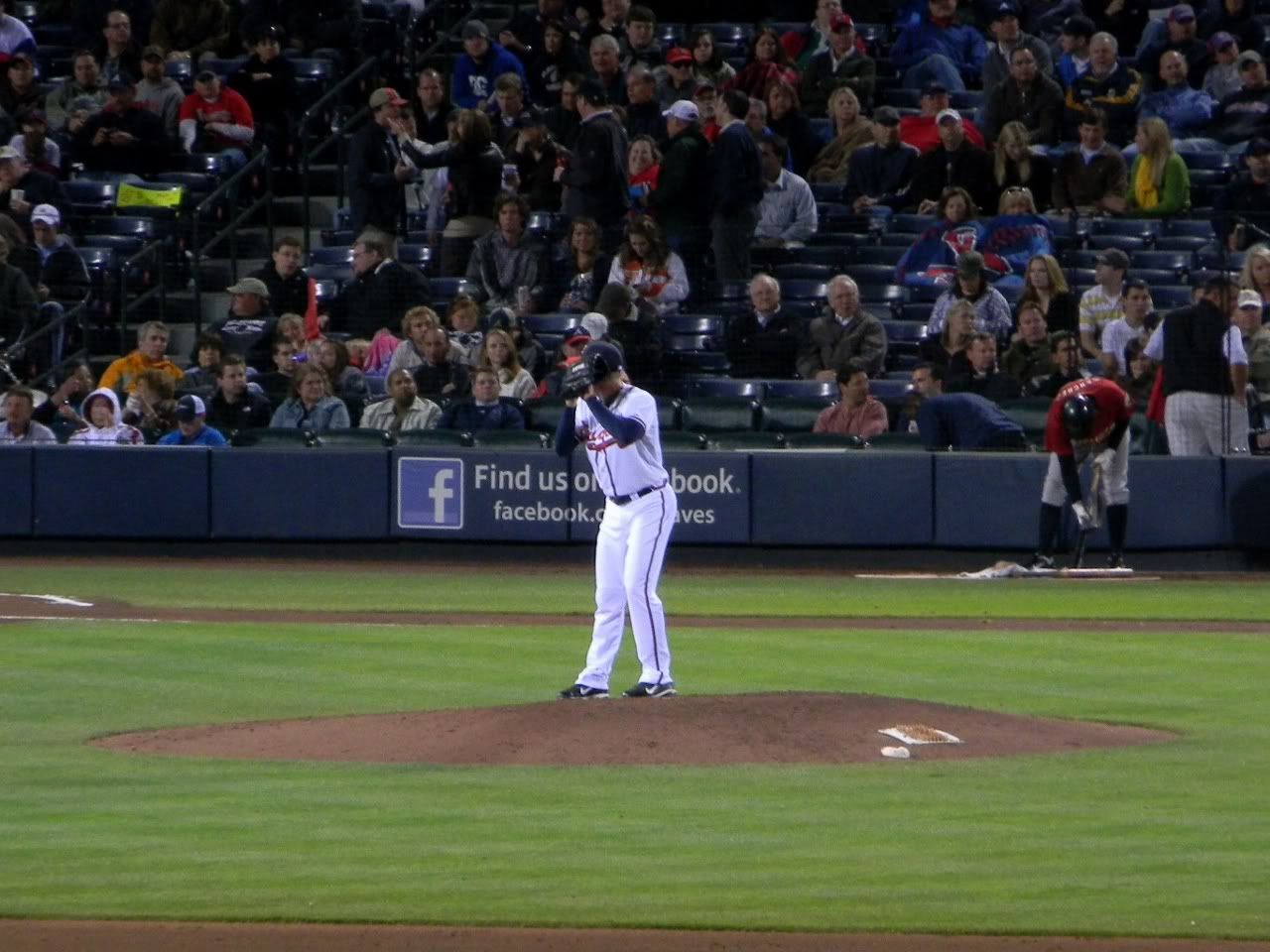 EOOOOOOOOOOOOO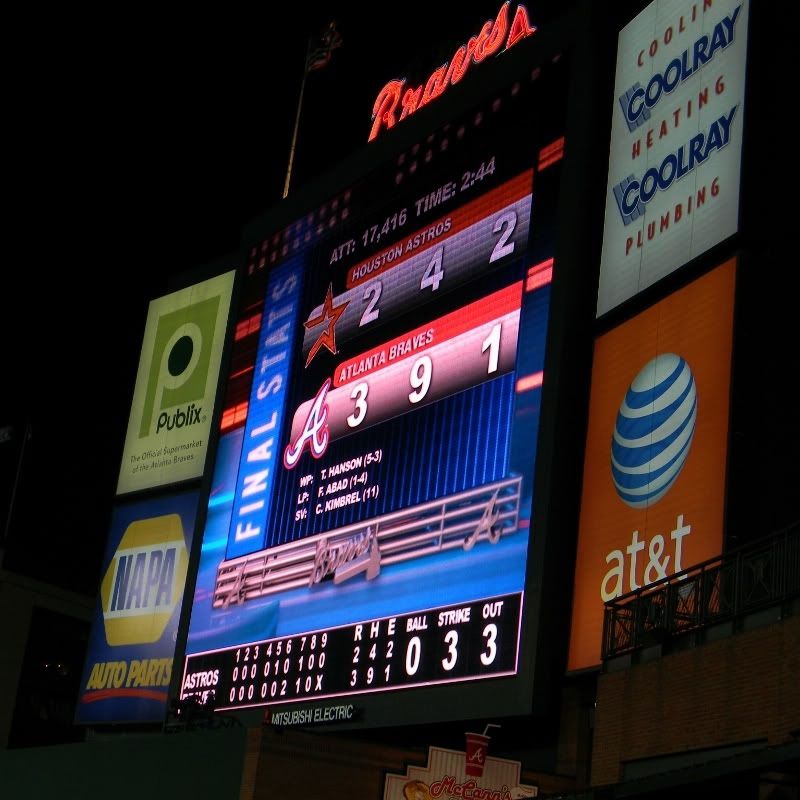 Braves win! GREAT GAME!
Full album here
MLB.com videos here
Hmm, did I leave anything out? My short-term memory's not the best right now. It was freezing. Like, 60 degrees and
windy
. I should have been wearing more than 3 shirts and a sweater. I joked with our usher to go tell our security guard friend to get us some extra jackets from the bullpen. "They don't need them! They need to go 'warm up' anyway." Messing with us, he started trotting down the stairs... nonononono, don't go down there! Ha ha!
They're selling
Kimbrel shirts
in the Clubhouse store now. Didn't see Moylo shirts -- maybe they're sold out?
The end! Super-fun game! Thanks for sharing, Jenna!! ❤