Bye Moylo. Good luck with your surgery. We'll miss you; get well soon!
❤
On Saturday, in honor of the Civil Rights weekend, our Braves wore the Atlanta Black Crackers' uniforms. (
MLB.com article
) I was pretty excited about this for a couple of reasons. First, I love throwback uniforms in almost any form -- I am dying for
Powder Blue
Saturdays instead of Bleeding Eye Sunday Reds ;) -- and secondly, there aren't a lot of native Atlantans living in Atlanta anymore. While I grew up west of Atlanta (where my mom has lived all her life), I live here in Atlanta now and my dad was born in Midtown and lived in various parts of Atlanta for most of his youth.
He used to tell us about how, before the Braves came to Atlanta in 1966, he and his Uncle James used to walk to the only professional baseball in town, the Crackers. Brother and I would always giggle at the name, but he would tell us great stories about how fun the games were and we'd marvel at how inexpensive it would seem. You know, a nickel for a Coke, that kind of thing.
Anyway! The point to that is, if my dad was a hat guy, he'd like the giveaway hats we received on Saturday...
Tweeted this pic at the game, the Braves RTed me. Cool!
OK, so. Y'all ready to see some pics? Remember to click to enlarge! (Except the ones of us at the end, you don't necessarily want to see us bigger; you know what we look like.) Our party today was my cousin
Emily
,
Alison
,
Molly
, and Molly's friend
Jess
, the last two of whom drove all the way from Tuscaloosa just for the game. That's serious Braves Love, y'all. Good girls. ❤
Banners outside the Ted
We started in right field, because when we entered, no one was in our usual spot in LF. All my friends loooooove Marteen and warned me we would be moving over as soon as he came out there -- that's fine, haha! I'll go wherever, I don't really care. So here we go...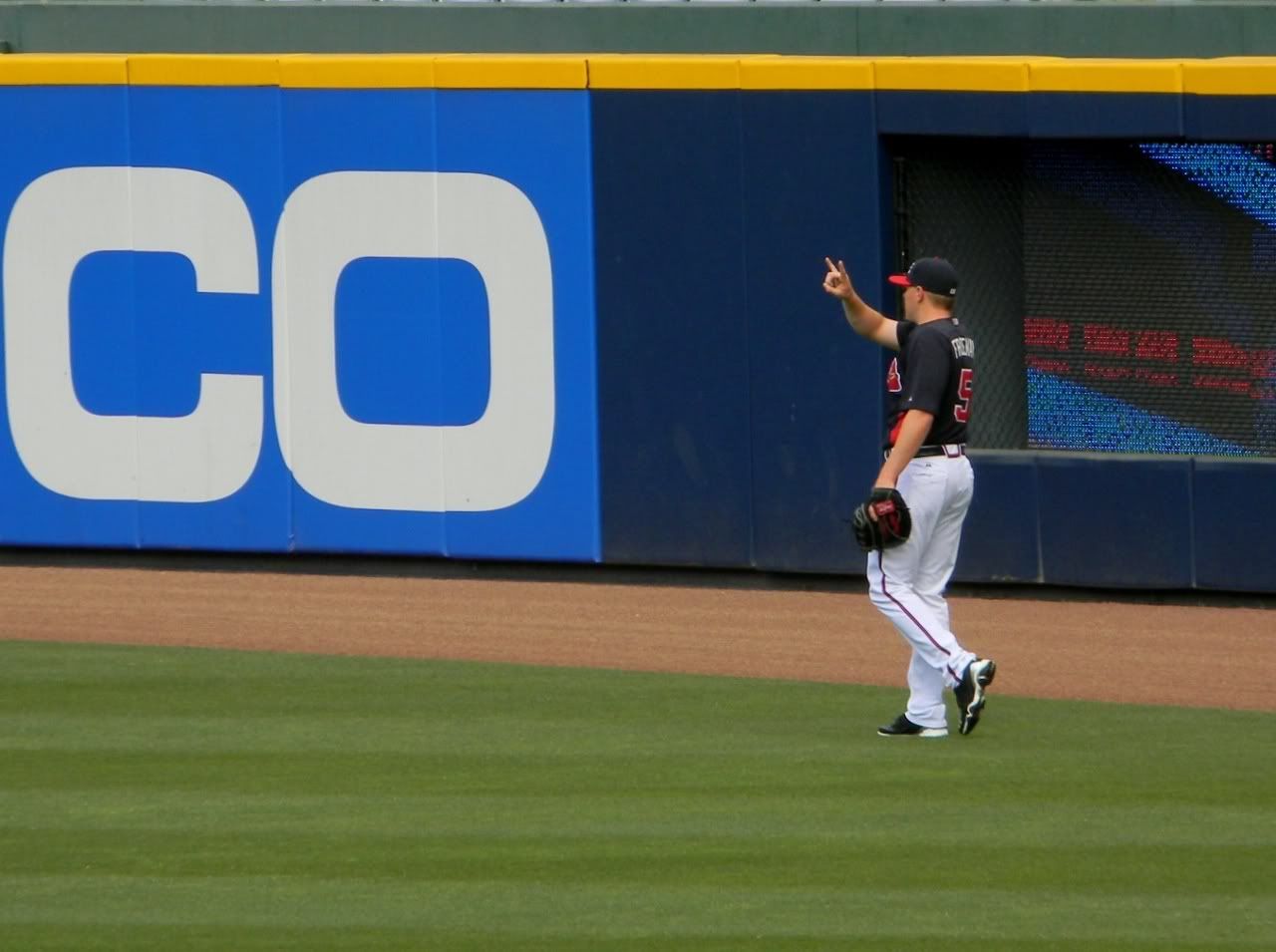 Freddie practicing... left field? Two outs! :D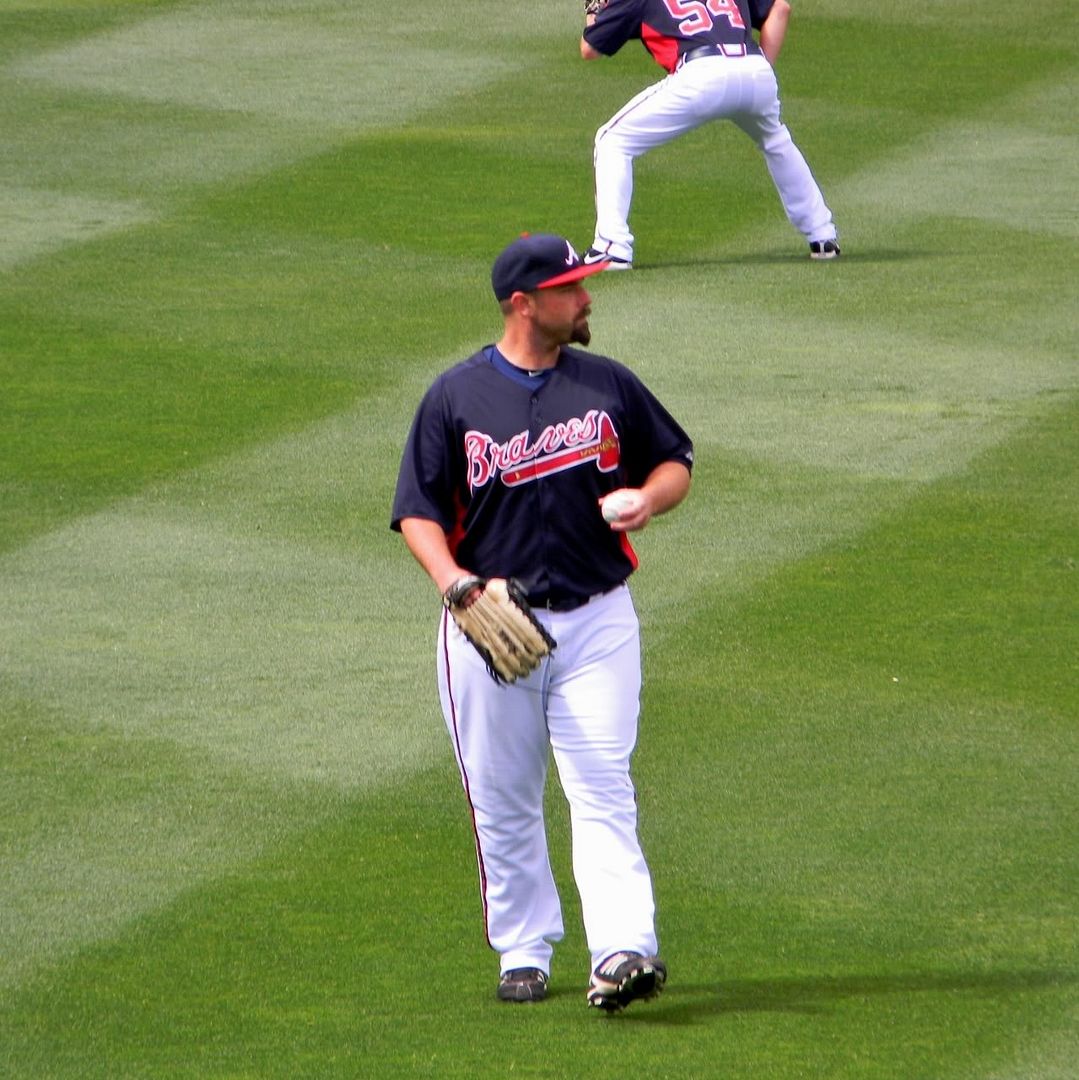 Mr. Sherrill is looking thinner lately, yes? Maybe it's from wearing the winter coat in 90+ degree weather. ;)
Hilarious
EO brought everyone water bottles, and I like that his shoes kinda look pink. I'm sure they're "red"... but...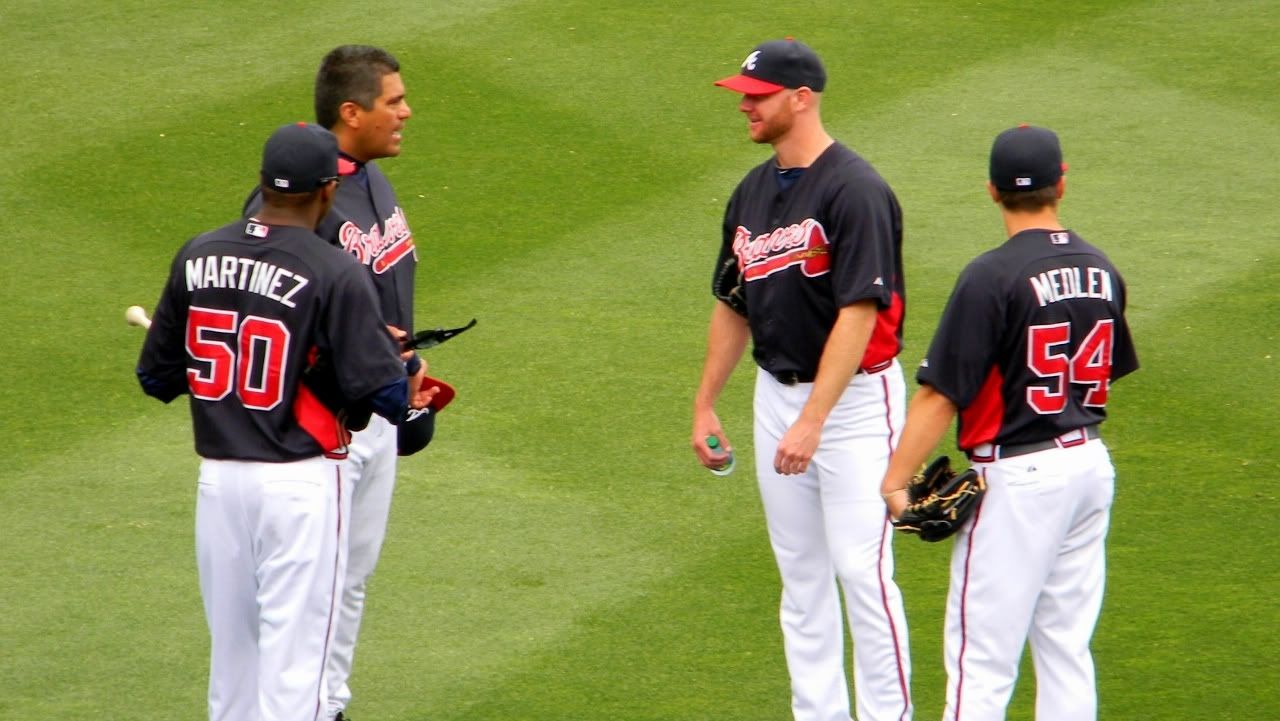 The boys were telling a story...
It got animated...
Meds demonstrated something that made us all laugh
I wonder if Tommy's hair is long enough to ponytail yet. ;)
"LAUREN. LEFT FIELD. MARTEEN IS IN LEFT FIELD. WE'RE GOING.
I'M
GOING. ARE YOU GOING? EMILY, ARE YOU COMING WITH US? MARTEEEEEEEEEEEEEEEEEEEEEEEEN!!!!!!!!!!!!!!!!!!!!!!!!!!!!!"
Well, that's how I remember it anyway. ;) Hee hee. OK, girls, let's go.
Hi amazing guys
Wait... where's Marteen? Only Jonny and CoryGearrin are over here. By the time we got to left field, Marteen was gone. And all the boys ran in not long after we moved, but we did have a good time watching Phillies beepee for a little while...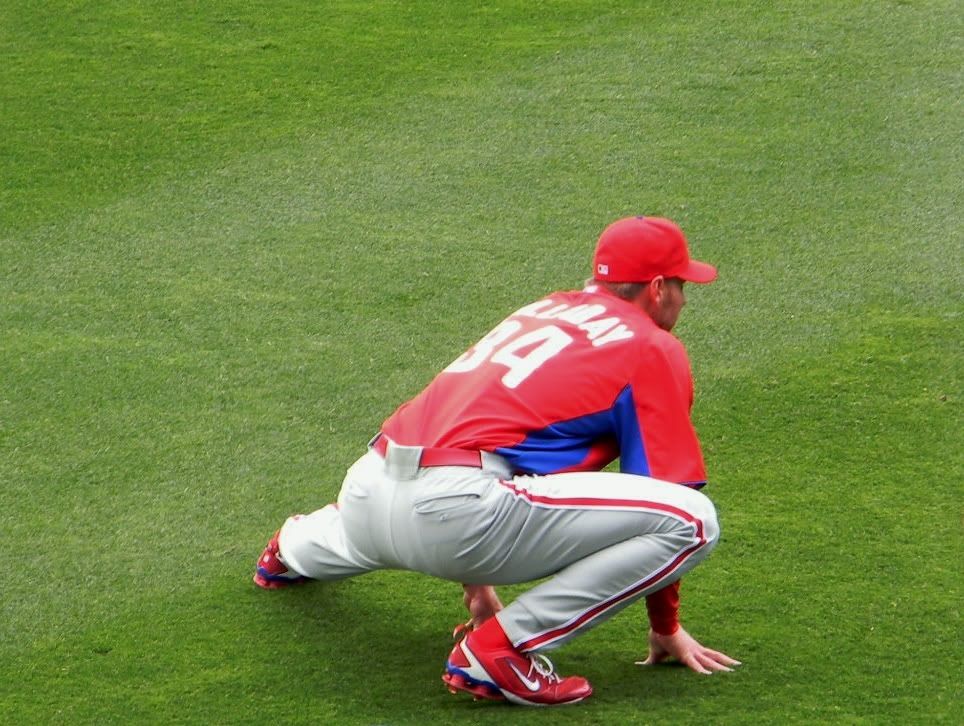 And by "beepee" I mean Doc, who Alison loves. And Cliff Lee, who I love.
Why are your beautiful sweepy lashes covered by those big dark sunglasses?
(I love you Cliff Lee.)
I didn't get any decent pics of it, but
Doc spent a fair amount of time instructing Kyle Kendrick
during BP, and Cliff came over and helped out too. You know, when Sweepy Lashes wasn't looking up at the row of five girls with the cameras and the stupid grins. Sorry. Distracting. Do work. WAIT, NO. YOU'RE PHILLIES. DON'T.
OK. We got a bite to eat, showed Emily and Jess around the stadium a little, and went back over to our bullpen area to watch JJ warm up. I had completely forgotten that Beardy Rossy is (usually) JJ's personal catcher, and I was
so
excited to see him out there with JJ in their throwback unis. On Braves Live today they asked Beardy Rossy what his favorite part of the uni was and he said the pants -- he likes how baggy and comfy they are. We liked the pants too, Rossy. :)
Funny stories... First, today was Moylo's last game before his back surgery, and we have no idea why, but he came out to right field with JJ and Beardy and the coaches for JJ's warmup. No complaints! Hi Moylo!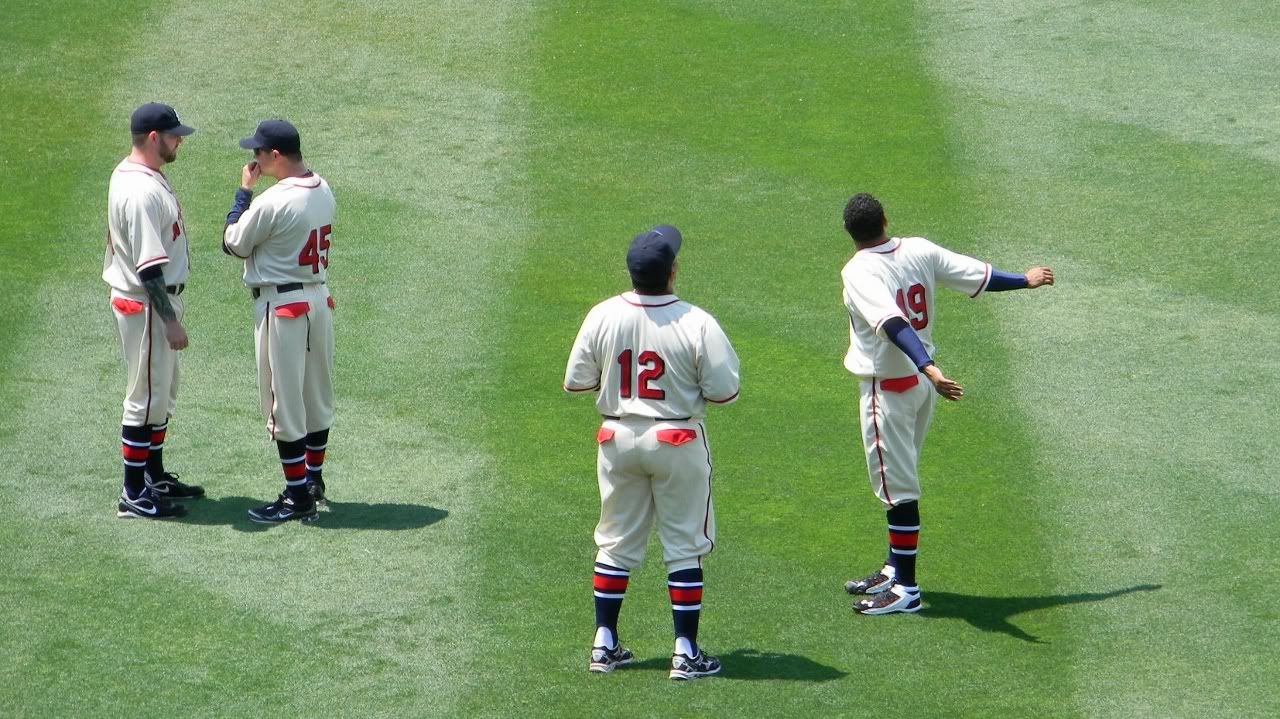 Moylo, Roger, Eddie, JJ
Second story, and I put this on FB... this was my awesome / embarrassing moment of the day - I blew a kiss to say hello to Eddie (like I usually do with my birthday buddy, it's just in fun, no biggie) but he turned his head at the last second and didn't see it. Guess who did? JJ. And grinned and waved back. Hilarious. Love you JJ! Sure, that can be meant for you. ❤ Big ol' flirt. Haha.
Moylo clearly has a Serious Job To Do out here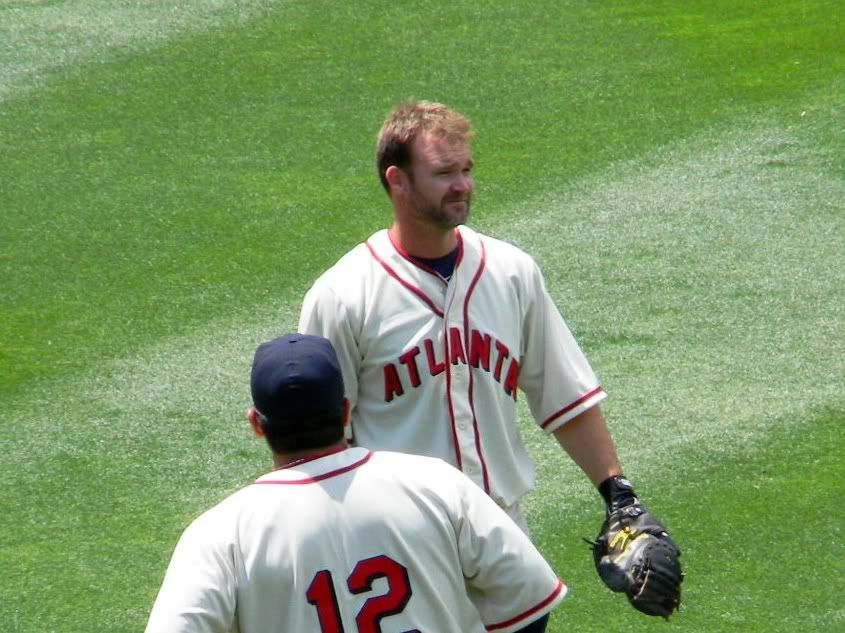 This one needs to keep the beard forever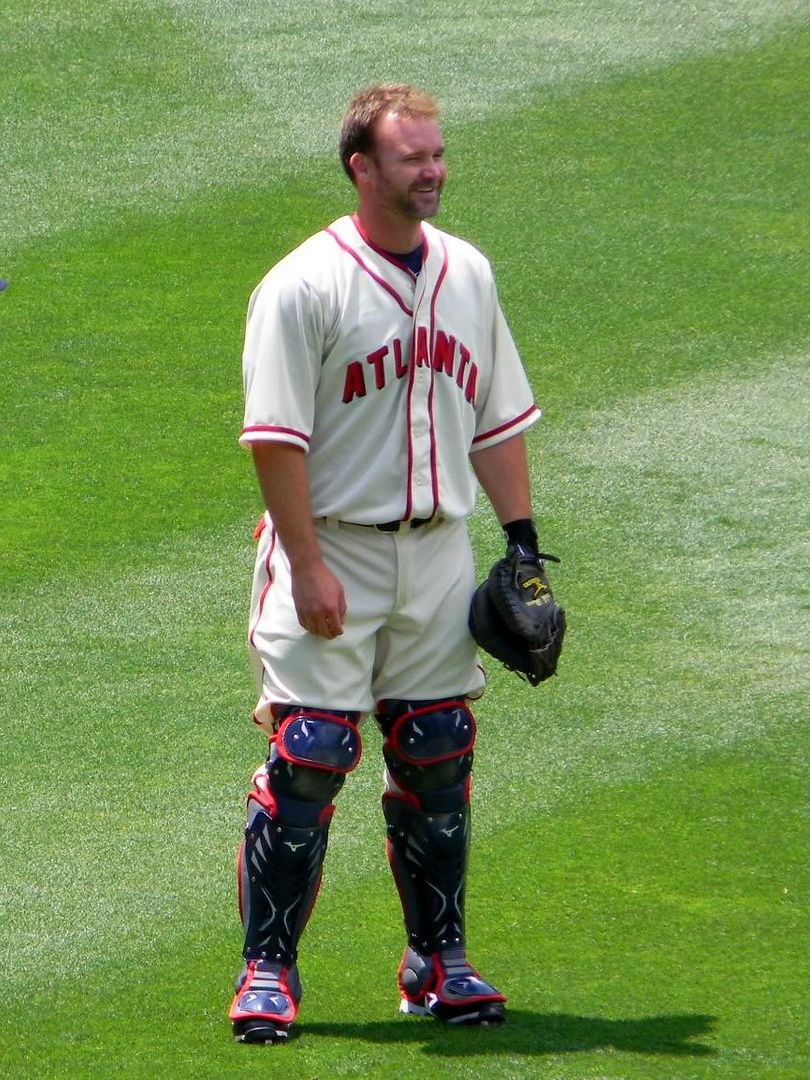 Too cute
AAAH, I'm dying, how adorable is this!?
I know I took a lot of pictures of Rossy; I'm not apologizing.
You should see how many are in the full album.
Aww, bye Moylo. See you in a couple of months!
SKE! Starting! In right field, where we sat!
Rossy's pants, his favorite part, and Joe Blanton's socks, my favorite part of the Phillies' unis. ;) (Are you surprised?)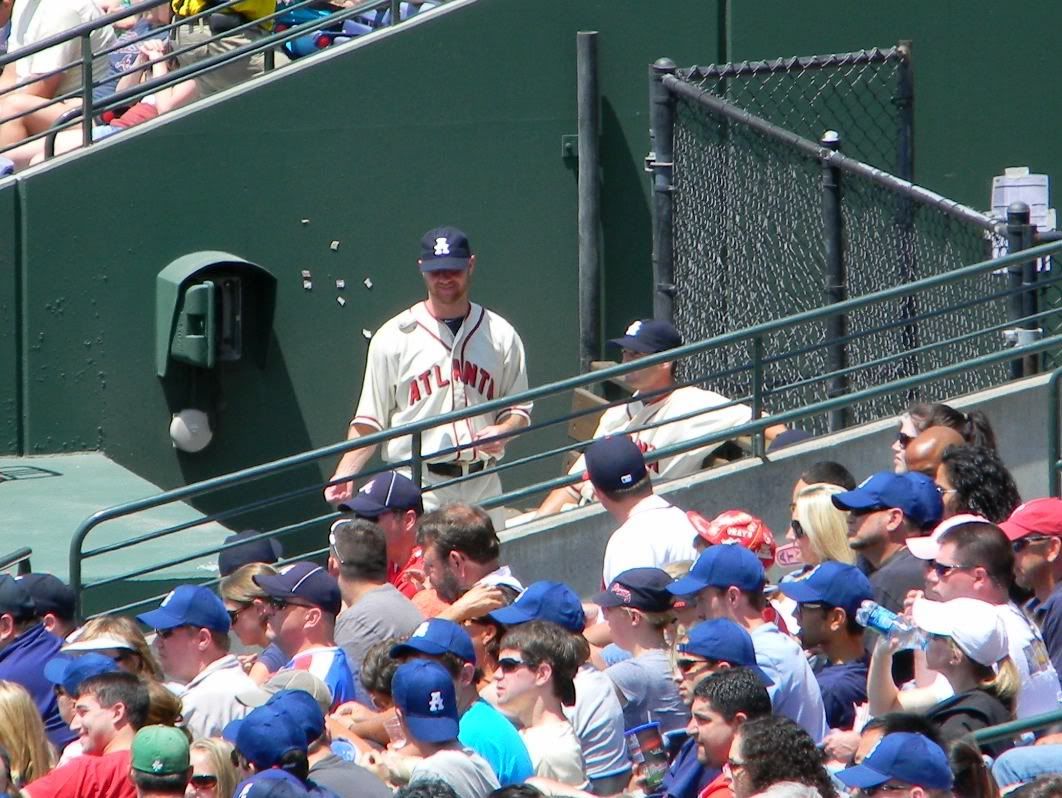 The bullpen bench was empty much of the game, so when JV and CG came out and JV was juggling a ball while talking to Eddie, it caught our eye.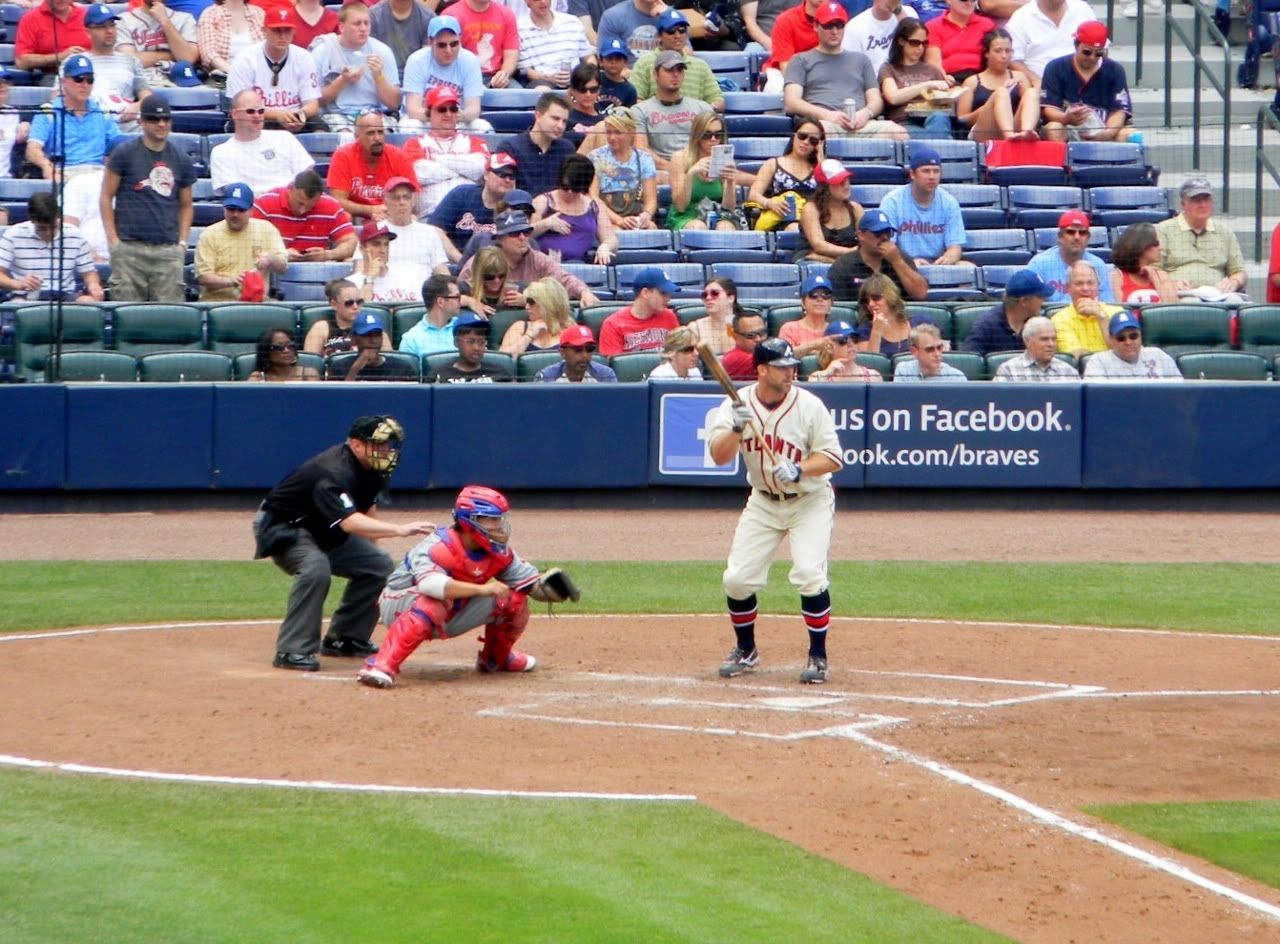 BUNT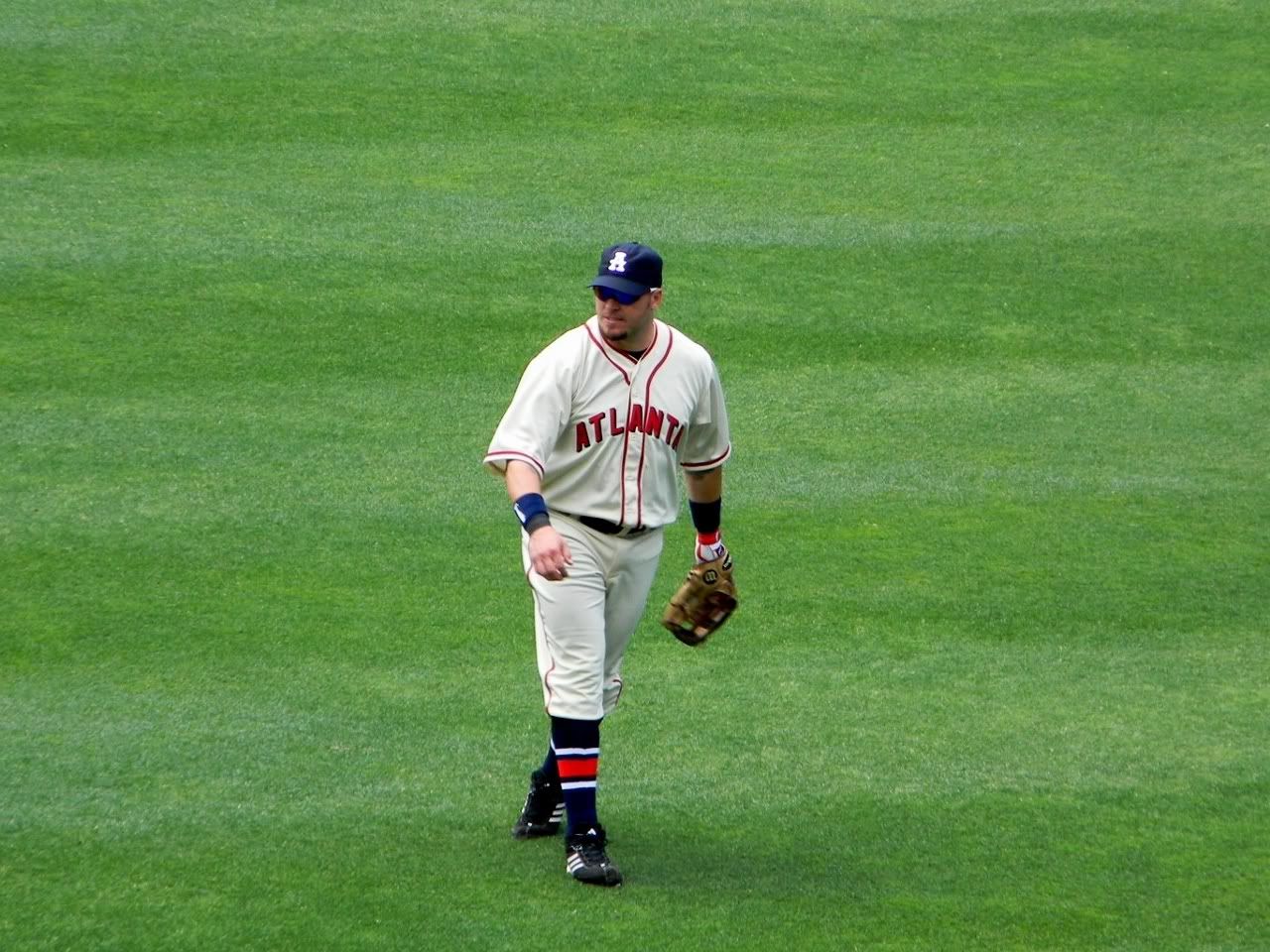 I like all our right fielders, and I'll especially never complain about He-Man getting a start. EVER. ❤
JJ pitched such a fantastic game. He was perfect for 5 2/3 innings and got a huge ovation when he gave up his first hit, then another when he exited in the 8th.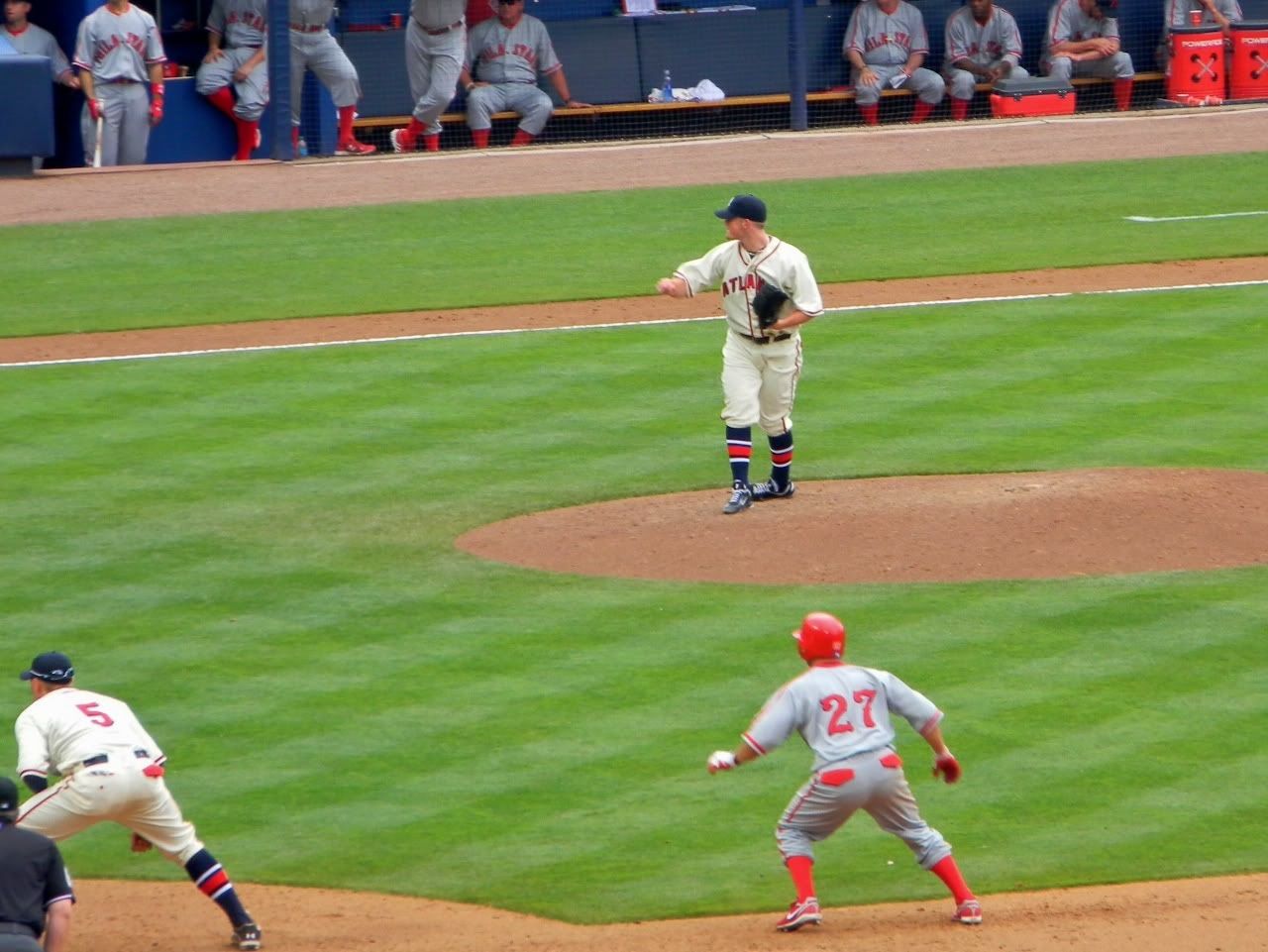 Closer Kimbrel gets the save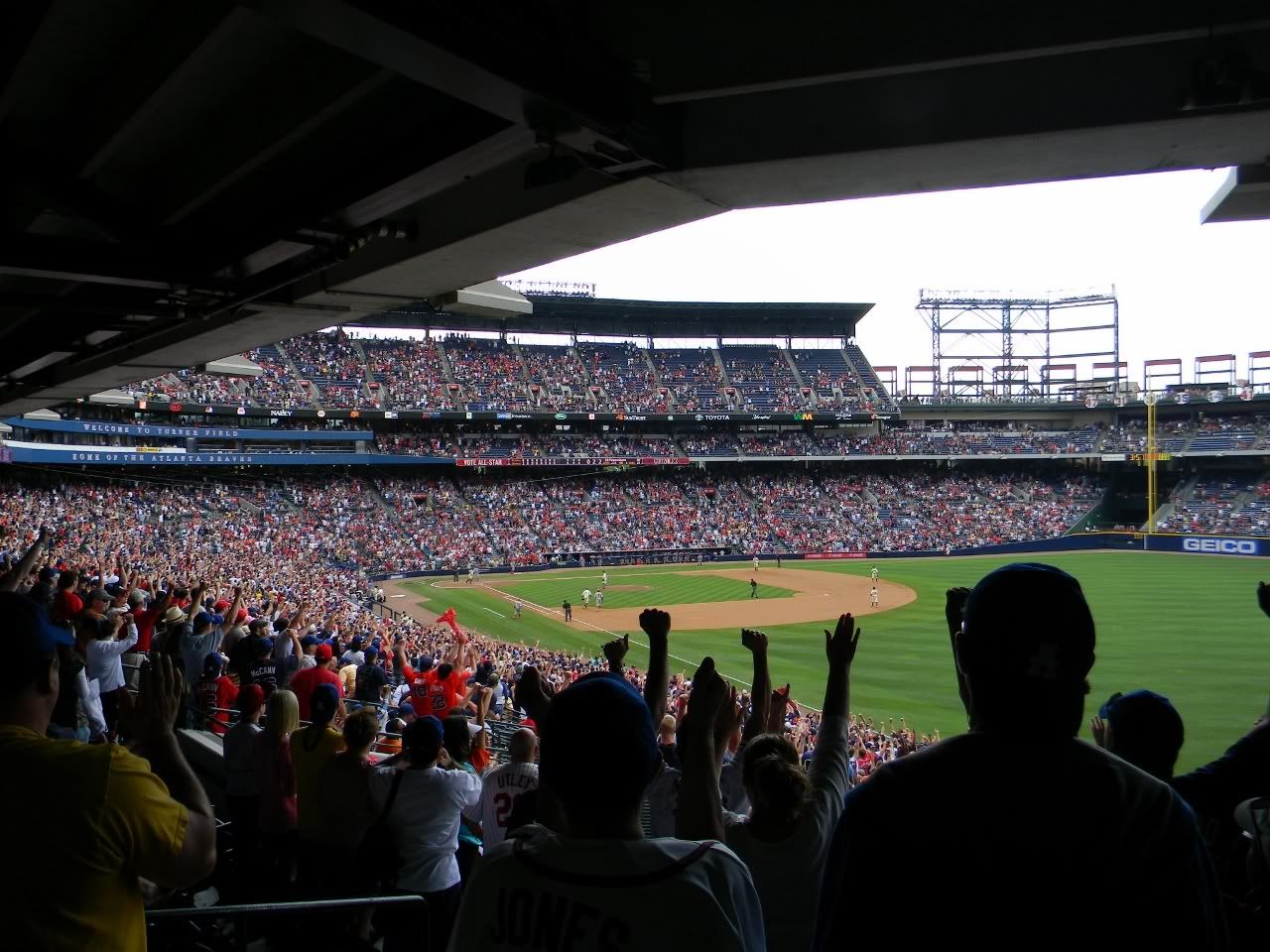 And the crowd goes wild!
Braves win 5-3! We knew this was going to happen when Marteen and Pittsburgh Nate led off with back to back homers, but we were staying cool, you know. ;) Way to go, boys!
Now, time for the Ludacris concert! So disappointed Ciara wasn't there (in spite of mlb.com telling people she was? There were only men on that stage, mlb.com...) but Luda and Fate and DJ Khaled and Jermaine Dupri put on a very fun show.
The stage being rolled out from the RF corner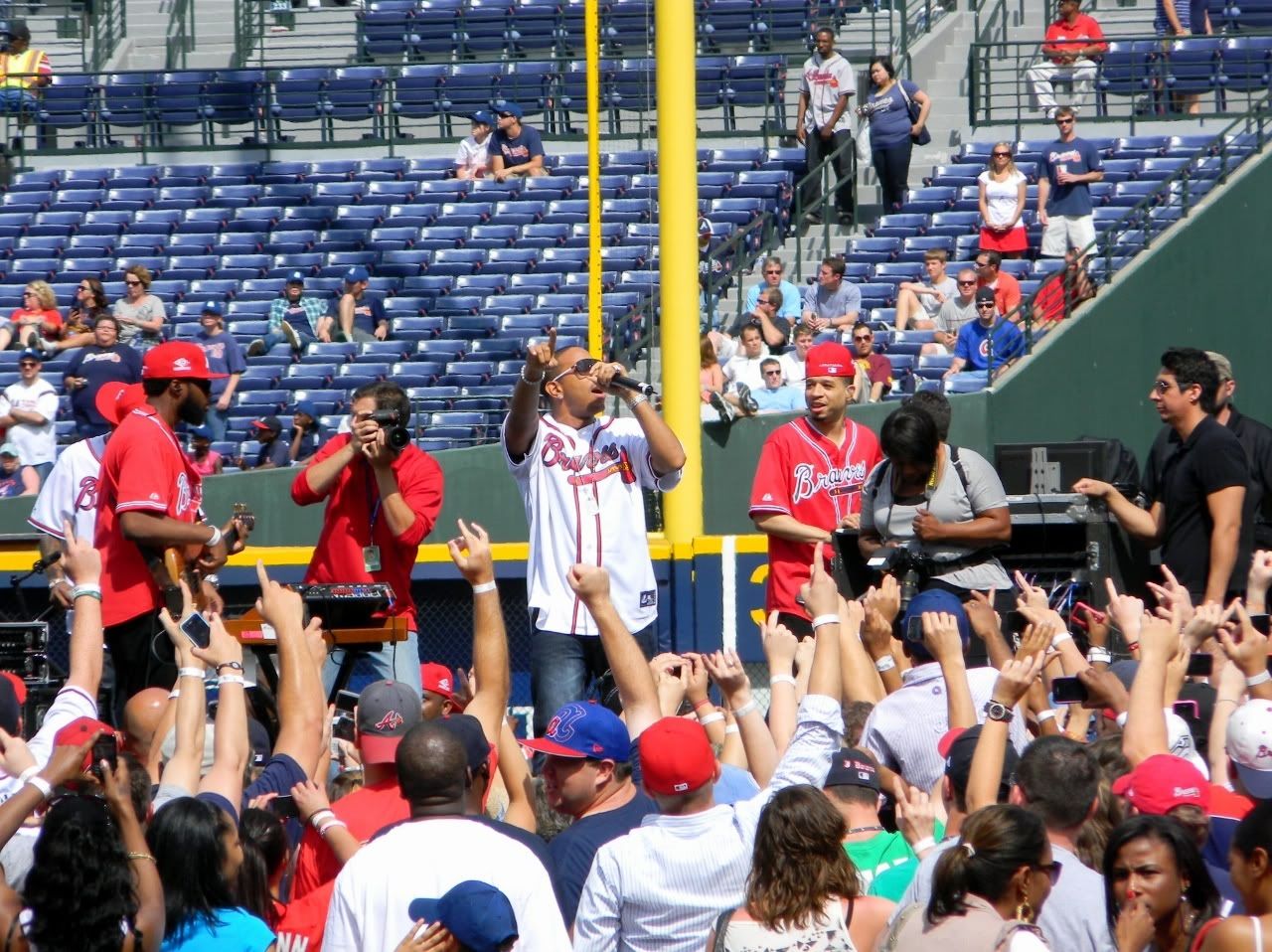 "Put ya ones up!"
View of the stage from where we watched. We had two on-field passes but there were 5 of us, so I gave them to a couple standing in front of us. Turns out, they drove all the way from Albany that day just for the concert and they were SO EXCITED - I thought the guy was going to kiss me, haha. Enjoy, y'all! :)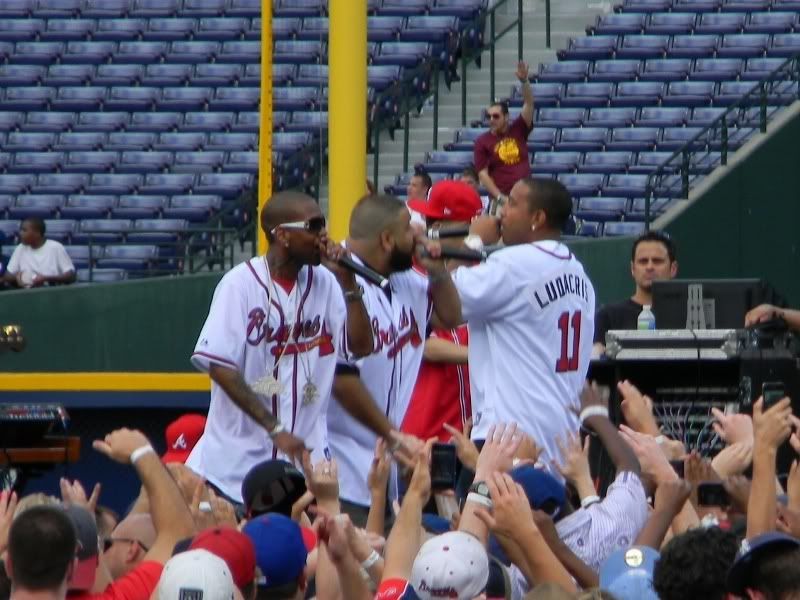 "All I do is win win win no matter what!"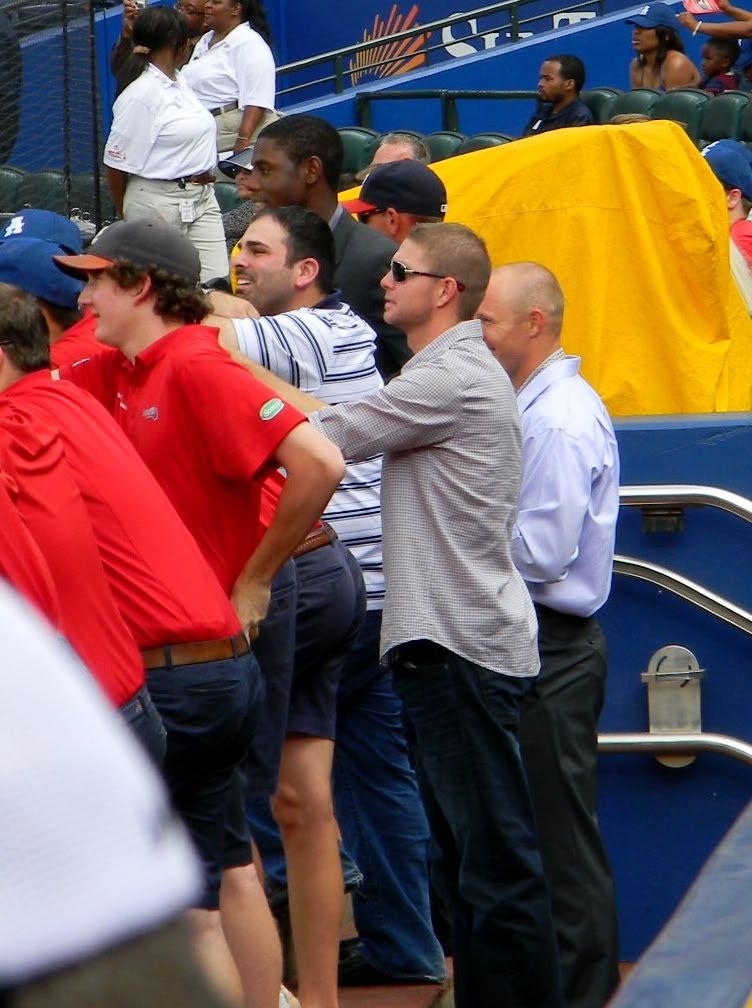 Phillies in their dugout watching the concert -- I recognized Pete Orr!, Ryan Madson, and John Mayberry Jr.
And I'm so excited Molly and I finally got a good picture together, even if my hair needs a trim!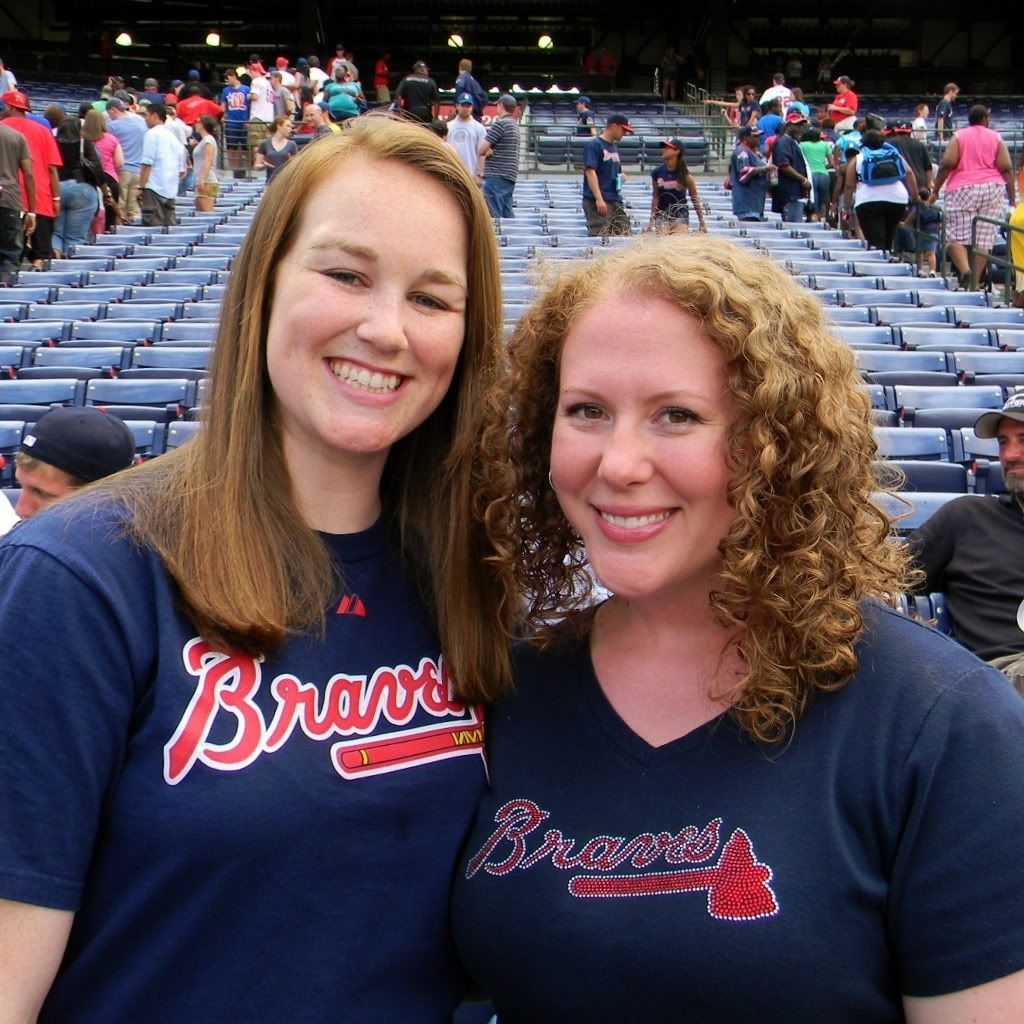 Molly & Lauren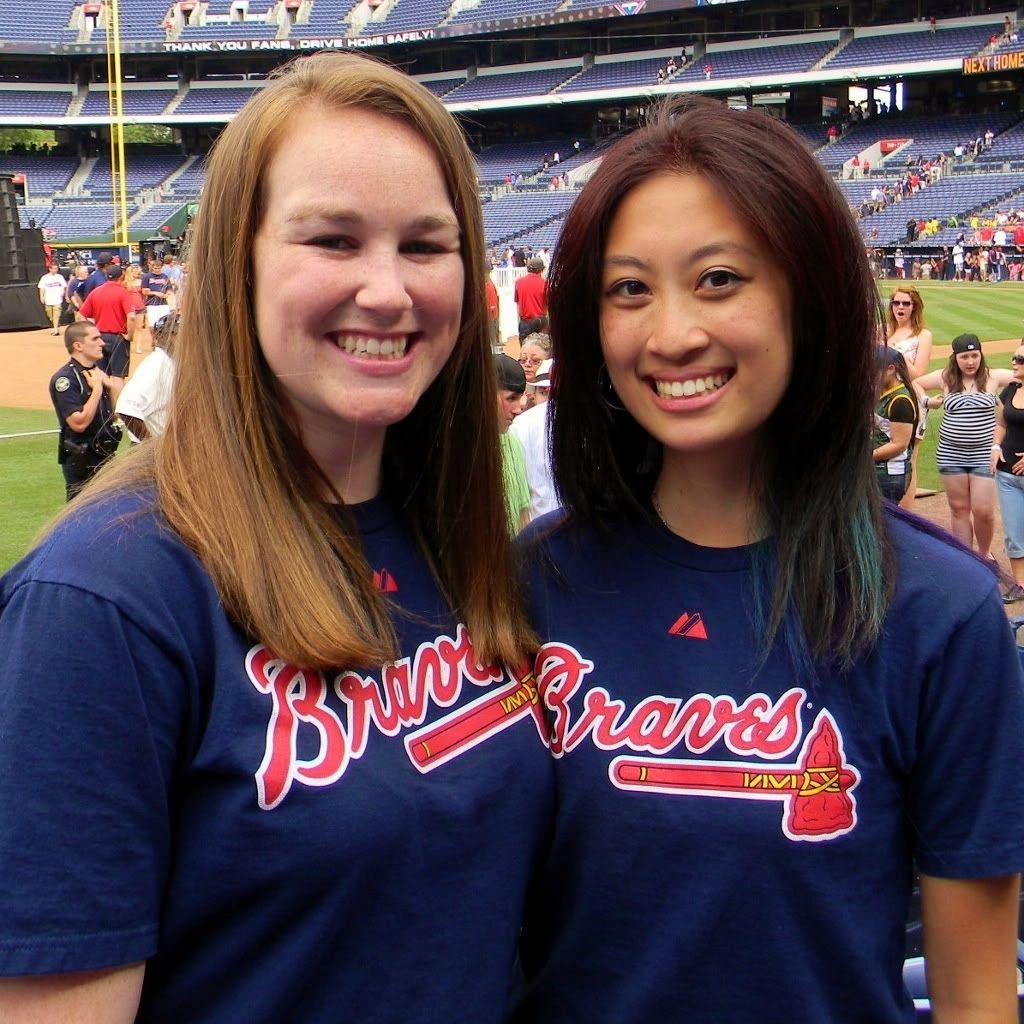 The "twins" Molly & Alison
(I call them that because of their matching #14 shirts
and their matching "I love Venezuelans" brains.) ❤
Oh! One little bit of fun! Tomorrow (Monday!) Jenna invited me to go do the batting practice experience with her! (A lot of exclamation points, I know...) But. She's a season ticket holder this year, and she has an extra pass for 5/16, and she asked if I want to go stand behind the white picket fence with her! Um, yes please! ❤ Exciting!