Joe Mather is lanky
Monday. Talking to Alison. Convo went something like this...
Alison:
What are you doing tomorrow?
Lauren:
Interviews in the morning, then working a few hours.
Alison:
I want to go see Gwegow.
Lauren:
Of course you do. :D
Alison:
Let's go.
Lauren:
I don't super-love going on the first day they come back from a road trip. I feel like they know our faces now. It's like, "HI. I HAVE BEEN WAITING ON YOUR RETURN. It's creepy.
Alison:
I still want to go see Gwegow.
Lauren:
I know, I miss the Gloworm too. I can probably go. Let me see how long I need to work.
We didn't find this out until we got there, but as it turns out, Gregor Blanco isn't even on the Nats' 25-man roster! So he wasn't there! GRR. Alison has a large section of her heart set aside for Venezuelans, so she was extremely disappointed. She still took a million more pics than I did -- I'll update this post with her link when she gets her pics up (she's a few gameday posts behind). So let's get started! Remember, you can click to enlarge all the pictures!
Sherrill's looking slimmer, Tommy's hair looks slightly shorter?
Meds! We miss his tweets. If he got in trouble over the TC thing some of us are prepared to fight. Meds was NOT wrong.
1. Three of my faves! 2. JV's dip can ruins this picture. 3. I

❤

CoryGearrin.
Marteen was not blowing kisses into the crowd, but we can pretend he was, right? ;)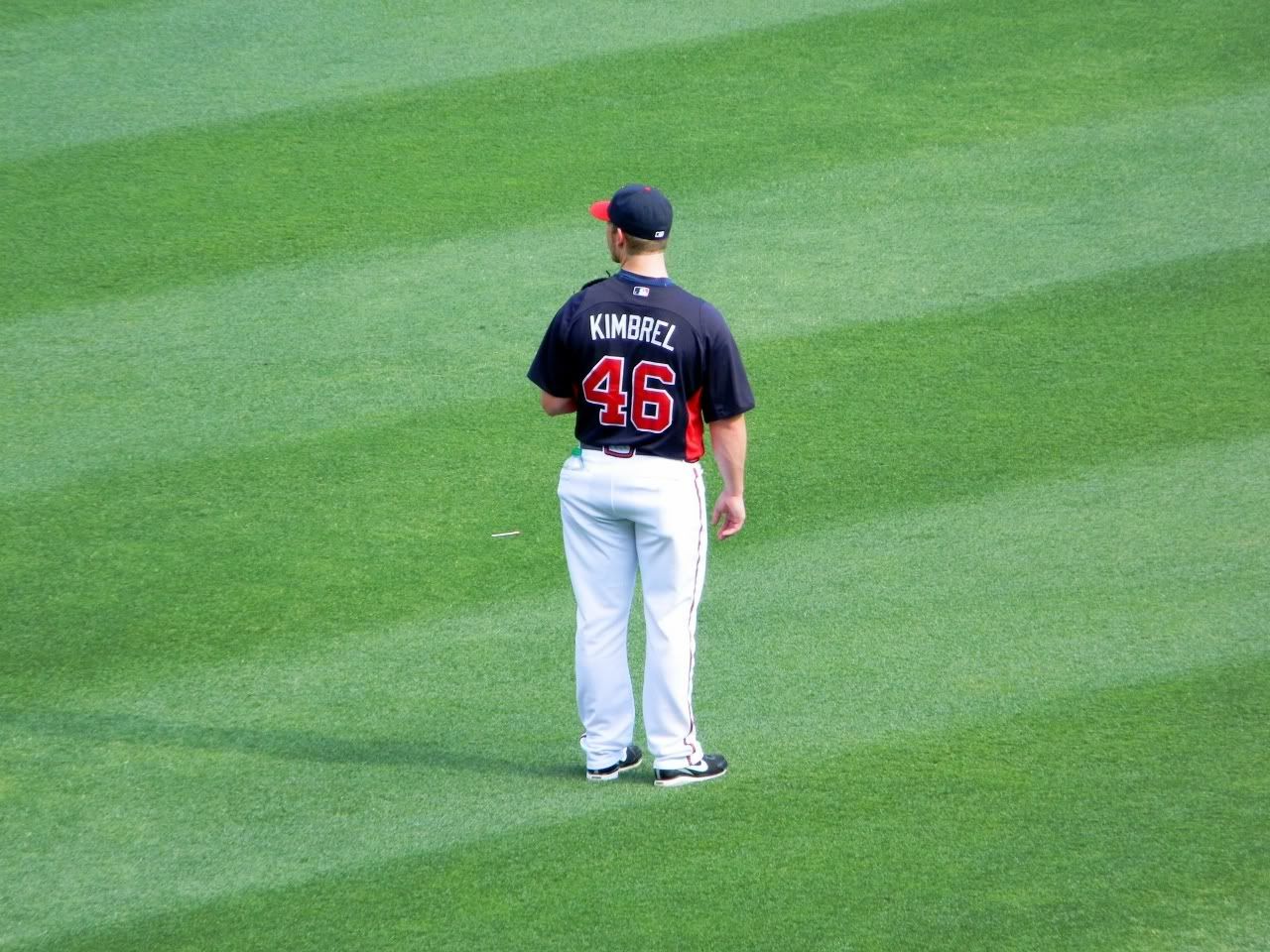 TWO water bottles? Really, Kimmie??
Really.
That left one is trying to escape! A friend of mine has a masters degree in materials science at Georgia Tech; I should get his opinion on how this much matter in this space is physically possible. ...He will probably roll his eyes at me. :D
Beardy's beard is looking more grey lately. I think this was LaRoche he was talking with?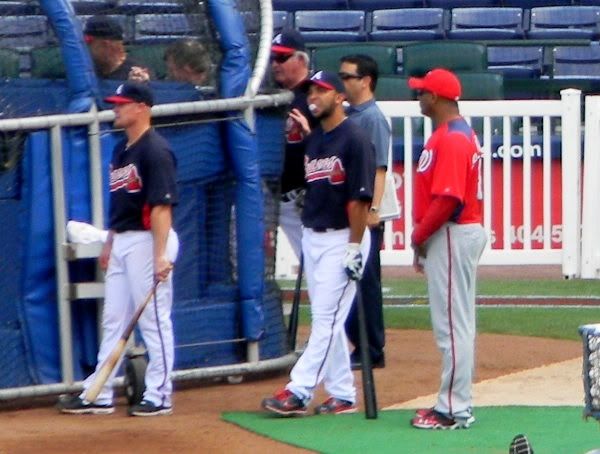 Gonzo bubble! Accidentally got this!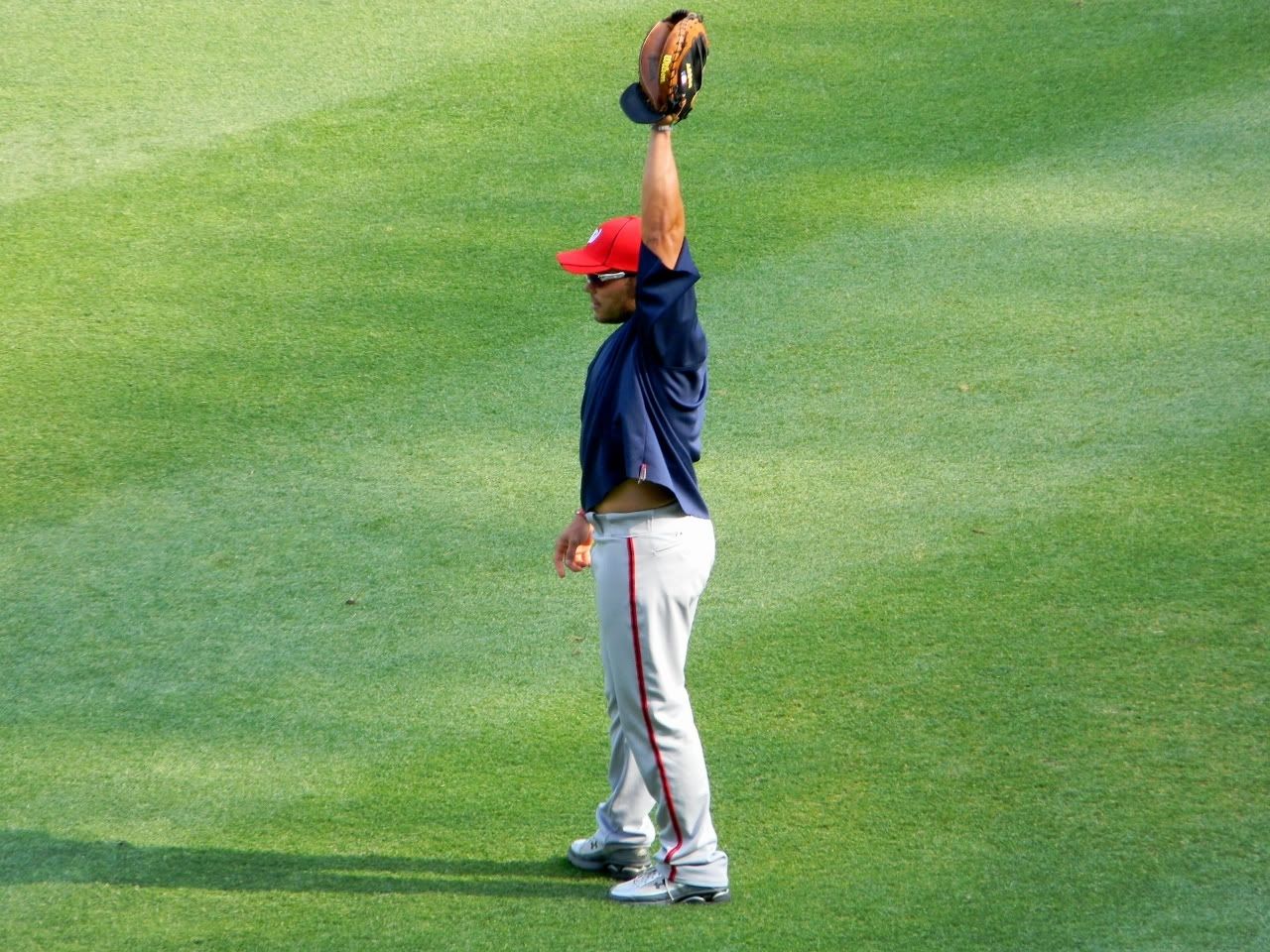 PUDGE!
It always intrigues me to see players enter the stands to talk to people.
George Sherrill. It is over 90 degrees. What is wrong with you.
I really like Interim Pitching Coach Wallace.
I wore the BMac shirsey I bought on the street in 2005 when he first came up. The collar is cut out of it (man-shirts are chokey!) and the number 1 is peeling off, but I kinda love this shirt.
There were a total of 5 people in our party, and we went and saw one of our usher friends and scored much lower seats than our actual tickets. This is what happens when attendance is only "16,000". (Why doesn't anyone go see the Braves mid-week? Come on!)
A woman took a couple of kids down to the bullpen to talk to the players -- we couldn't hear them talking (we were on the top row of the section), but on the way back up the kids had blow pops and the toddler boy (wearing a #55 Butts jersey) was whining in the most adorable way. "I wanted to give him a kiss!" "No honey, you can't right now." "But Mommy, I want to kiss him!" I don't know who he was talking about since the woman was wearing a sizeable #39 baseball-shaped necklace, but it was absolutely the cutest thing ever. ❤
Surprise of all surprises, a friend from high school was in a suite above the Braves dugout. She had texted me earlier in the afternoon to say she was coming to the game and we had planned on meeting up to say hi. Around the second inning, oh, guess what? There are three extra tickets to the suite. Do we want to come up? UM. YES. It took a few minutes to decide on who was going, but Laura and I were
definitely
in and Alison came up for a few innings.
SCORE! Thanks Amanda!!
The suite host was so nice and it was exciting to see Amanda and Brad again. We gossiped and Laura made fun of me taking pictures of the boys on the rail and we tried not to cheer
too
loudly... you know, being in the suite and all. My favorite part of the suite was the private restroom, haha. I joked on the way to the car that I don't want to go with the masses anymore! :D Way to spoil us!
Cute Suite Host brought me a handful of snacks. Yes, I will definitely eat ALL of these. ...No, I won't. :) I did have some Cracker Jacks though! The prize was horrible. We still don't know what it was.
New view!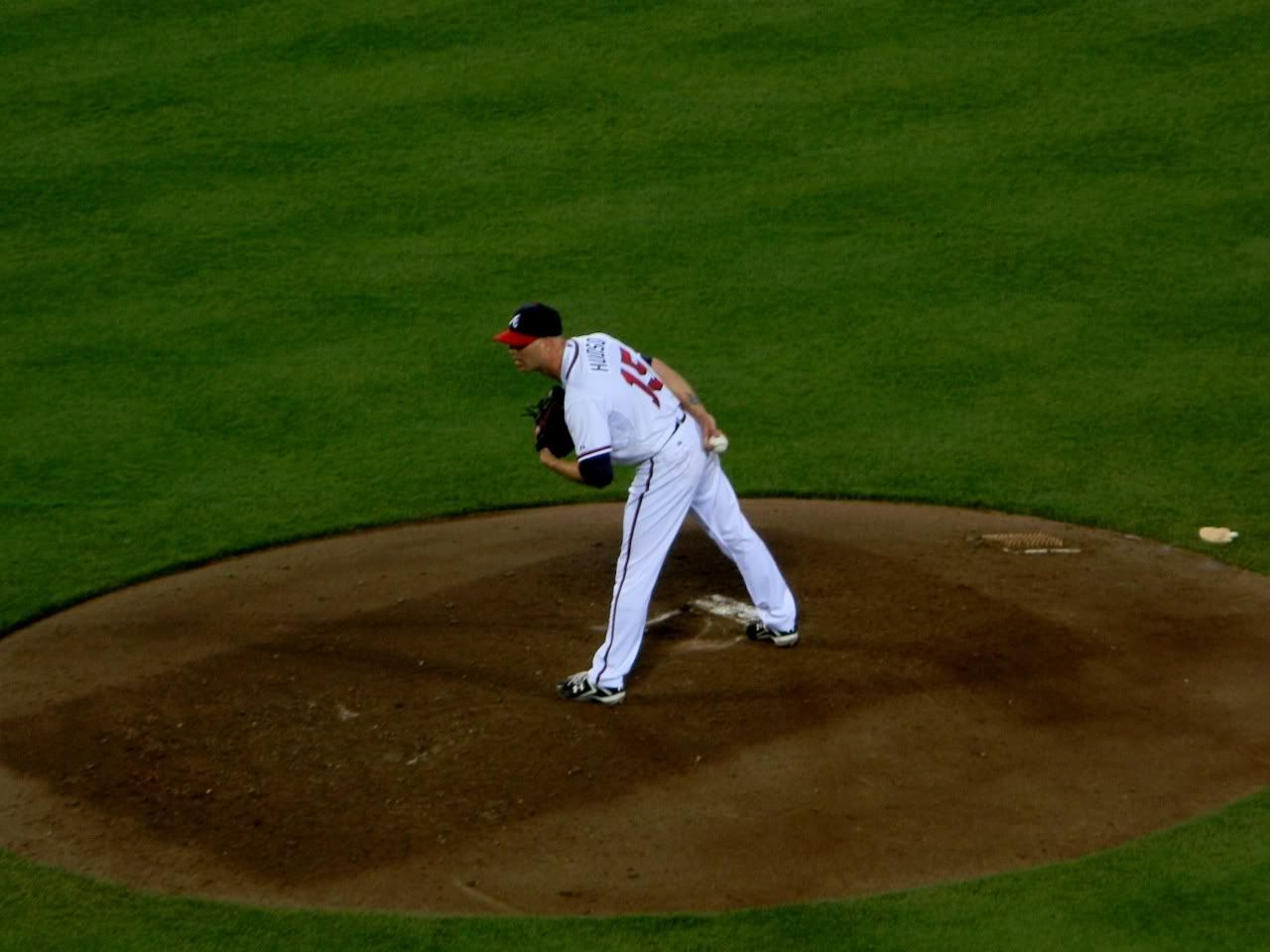 Go Huddy!
LaRoche!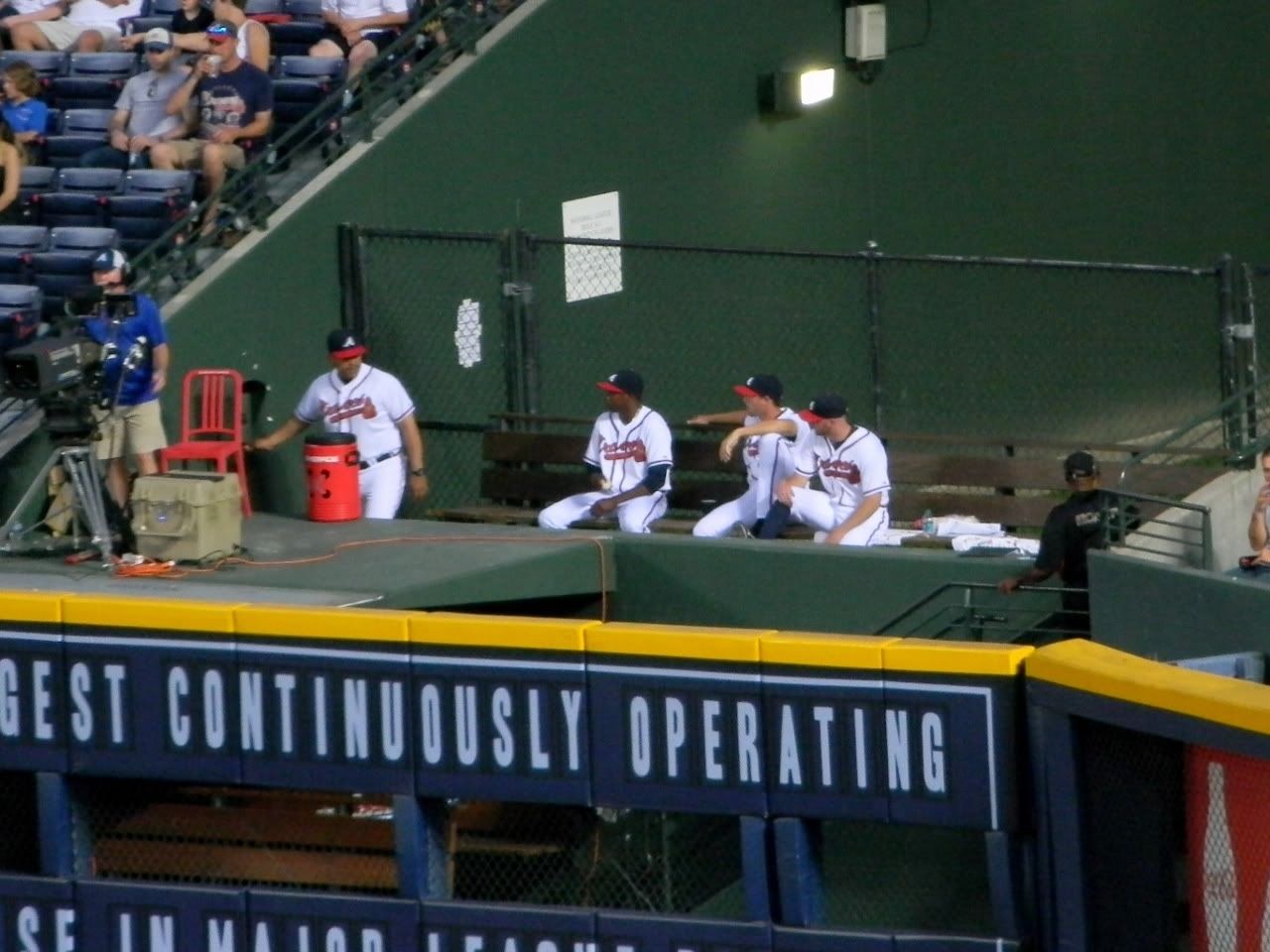 The whole bullpen doesn't hang out on the bench this year; just a few of them stay out there. I like how CoryGearrin and Jonny are sitting here. :)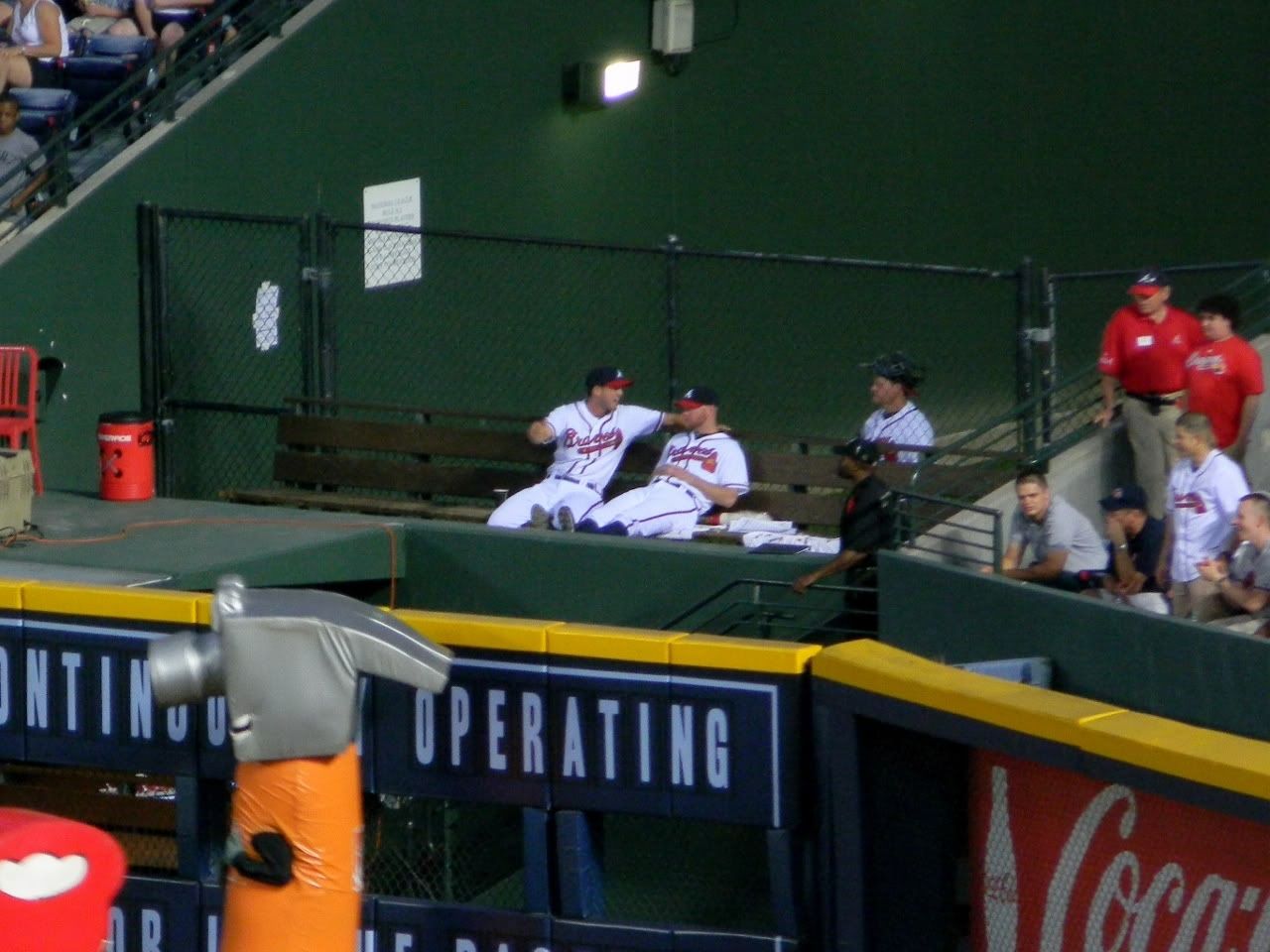 Was taking a pic of the Tool Race, but cropped it up to a funnier part of the picture -- enlarge to look at CG gesturing, and how much JV seems excited at hearing his story. I love it. :D
JJ!
Boys on the rail
Mac & LaRoche
Joe drinks vitaminwater
He-Man's hair is SO SHORT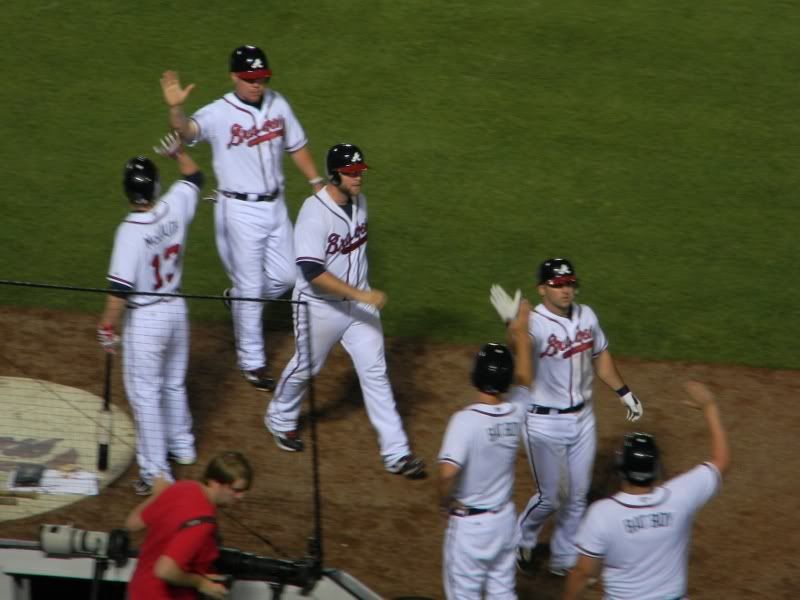 I totally called Uggla's 3-run homer! Ask Laura!!
Lean back! Socks up!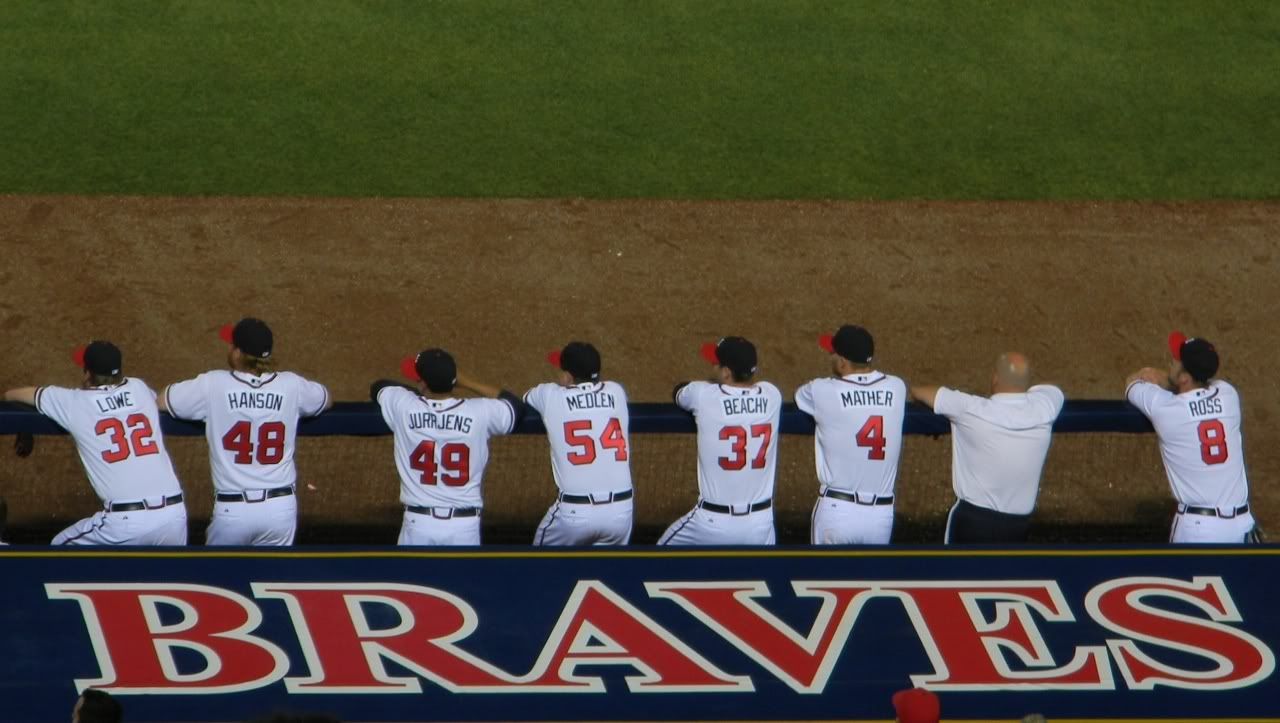 More boys on the rail
For Amanda
We just couldn't pull out a win. :(
Full album here.
See you Saturday, boys! IT'S THE LUDA GAME! I mean... the Civil Rights Game. Yes. We're not only going for the Ludacris concert. :)