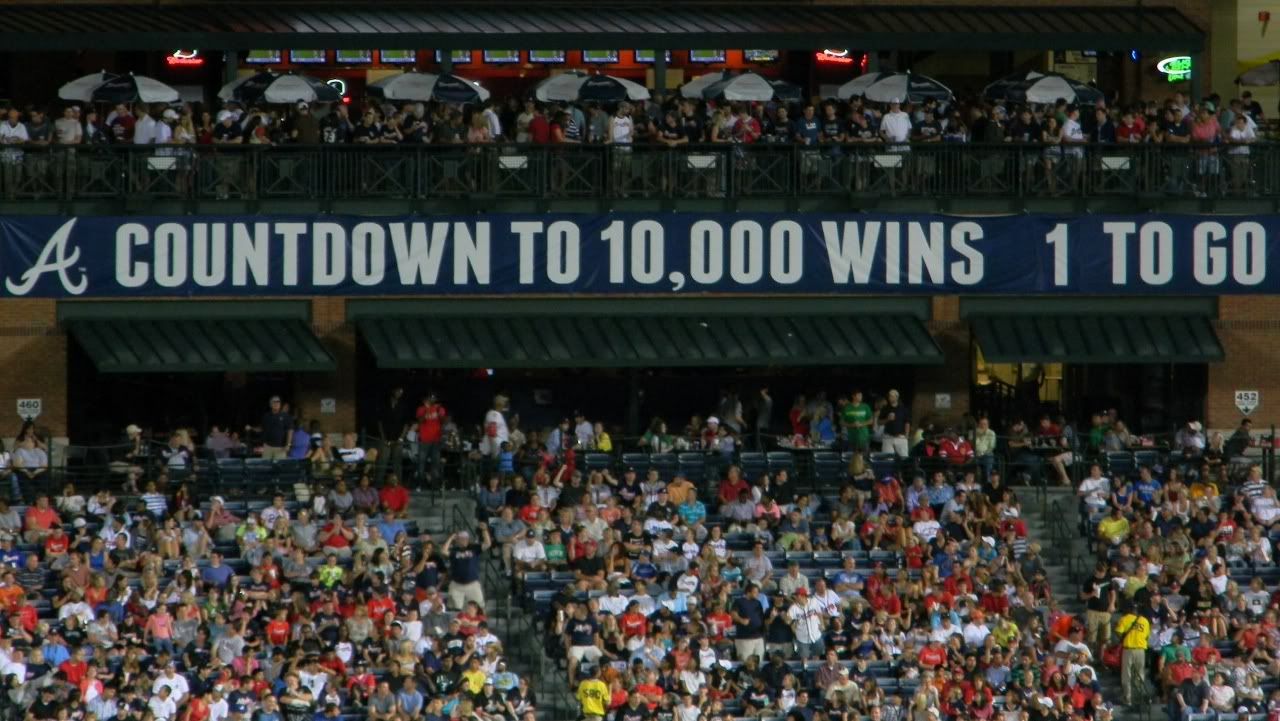 lehgo
Taking franchise win 10,000 by 10 runs was pretty amazing. Jenna invited me to sit with her in her season ticket seats and Alison got a ticket to join us too. (I love that Jenna's tickets are in the club level -- club level means the pasta bar! My fave food in the stadium, mmmm...)
But of course, they were both coming from work far away and my brother and I -- who carpooled from my part of town -- got there earlier than they did for batting practice. Driving to the Ted, Brother was like, "Sis. I'm going to get a home run ball again today." Suuuure you are, kid.
I've gotta stop doubting him.
As soon as the right field stands opened he ran over there and got a ball. In our family, we are almost never wrong about these things -- when we have a feeling something is going to happen, it usually does! :) He called me as soon as he got it and I asked him who hit it. "I think it was the guy before that guy!" ...Helpful. Heh. He wasn't wearing his contacts and they switched out groups before he could ID the player for me, so we don't know.
BP pics, yes? OK. Click to enlarge!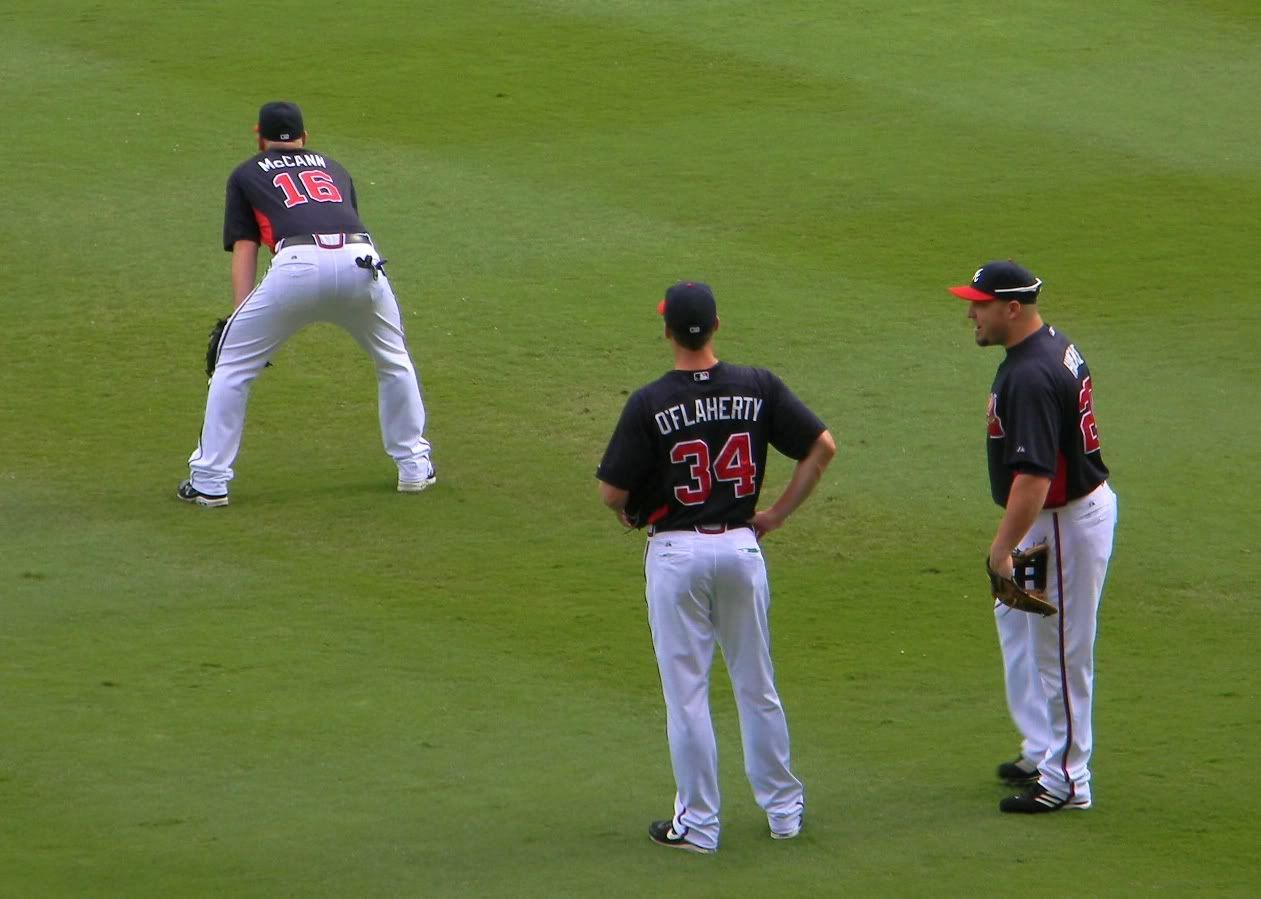 Mac, O, Ske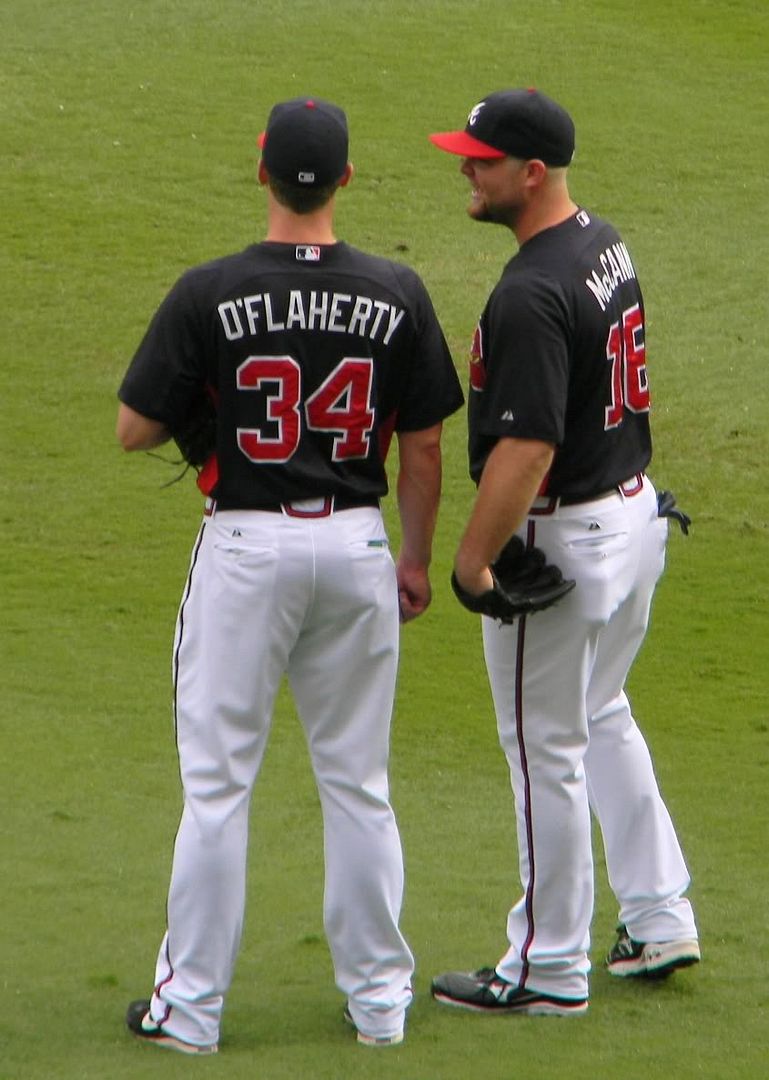 Mac's chatty :)
They made Ankiel laugh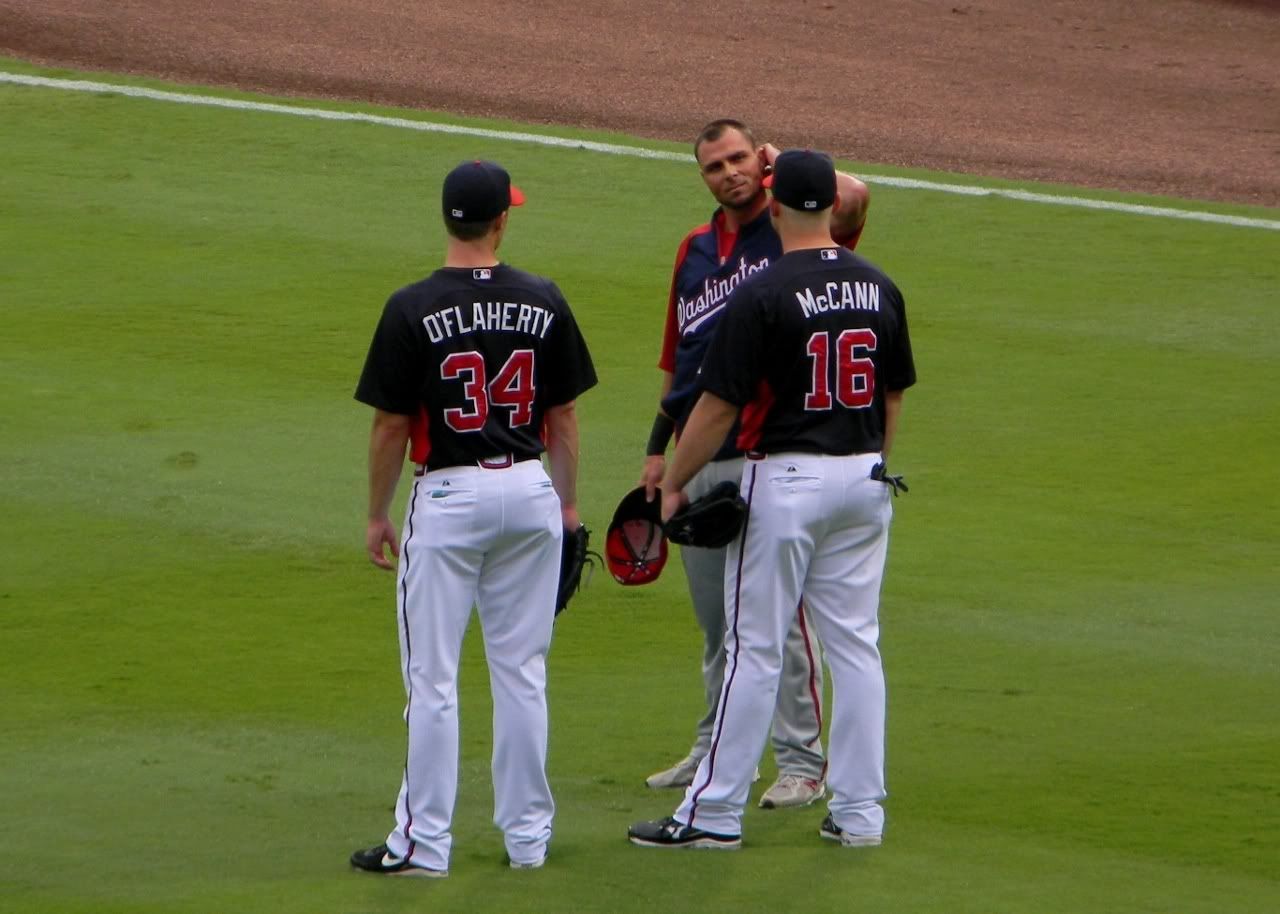 Wait, why is Mac so hairless.
Meds, DLowe, JHey. Meds was using his glove as a scoop - no right arm action.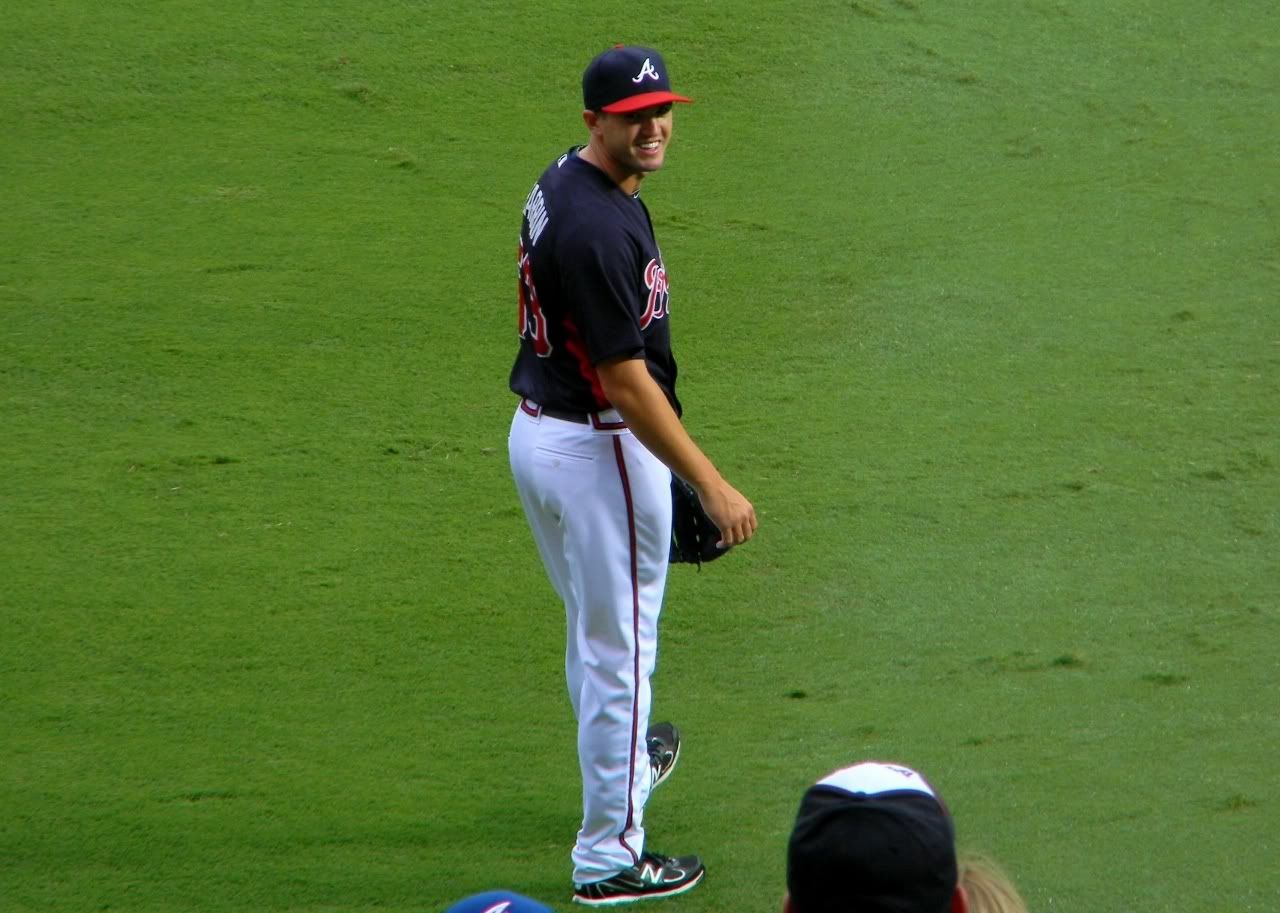 Seriously, he's our new MattE. Grins at fans...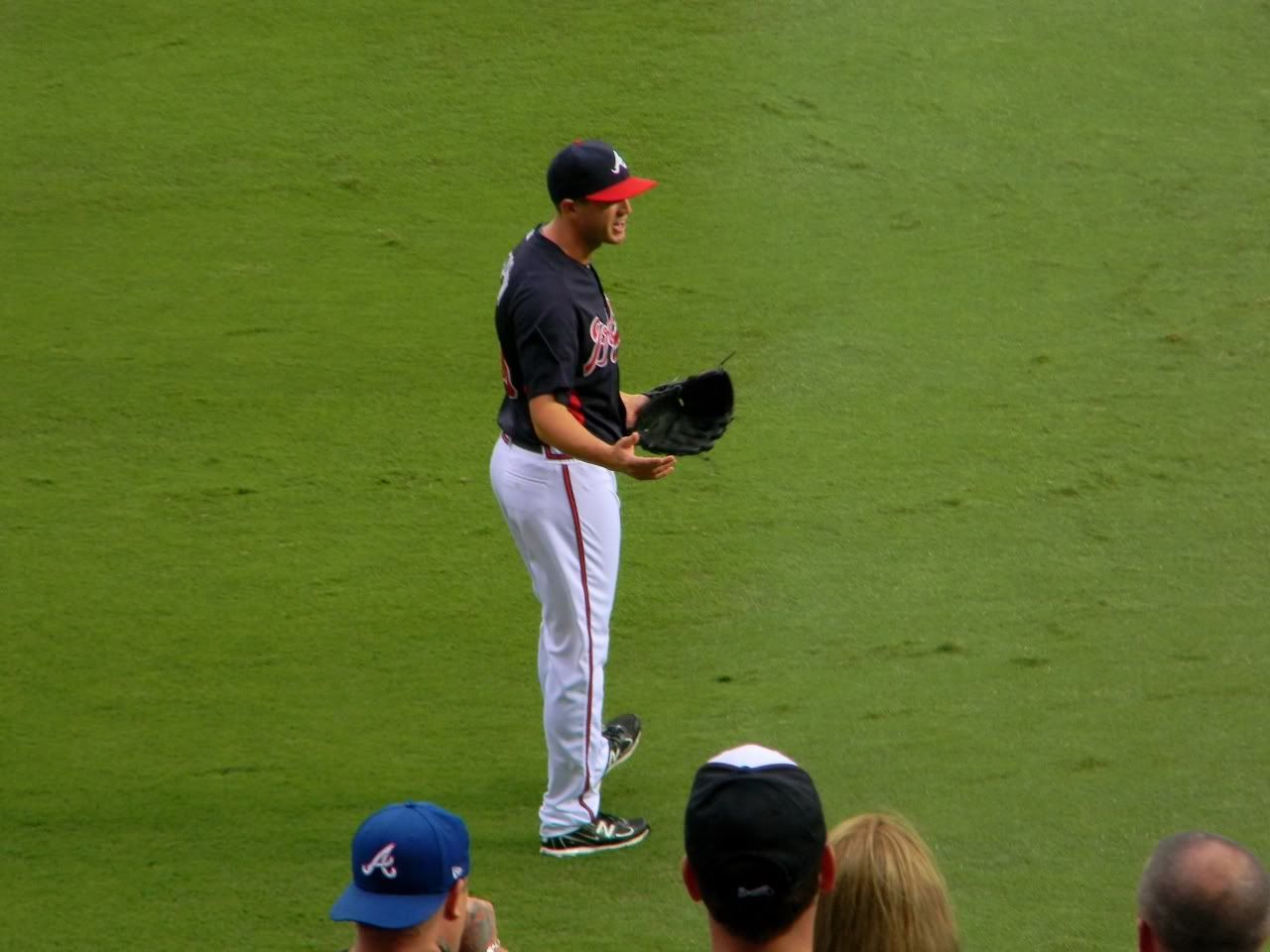 ...talks to fans.
MattE never danced, though, and I swear I saw CG salsa-ing to some music piped in over the loudspeakers. Love that guy. :D
Oh Chick-Fil-A... hee.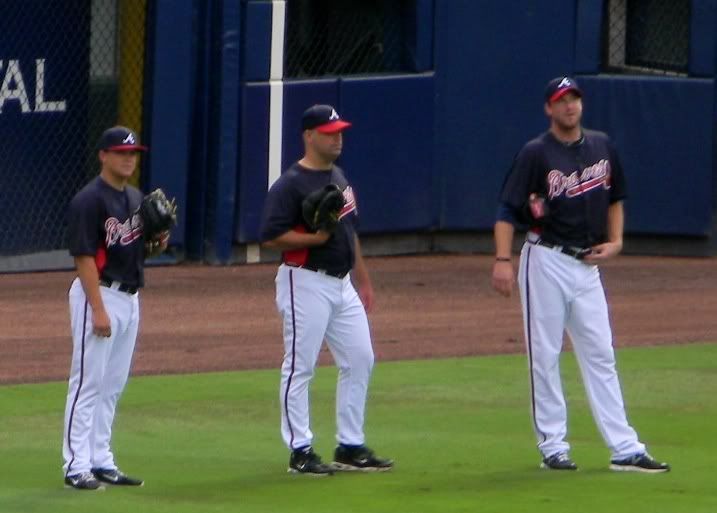 Does Meds know I'm taking a pic of DLowe right this very second?
Wish this was clearer!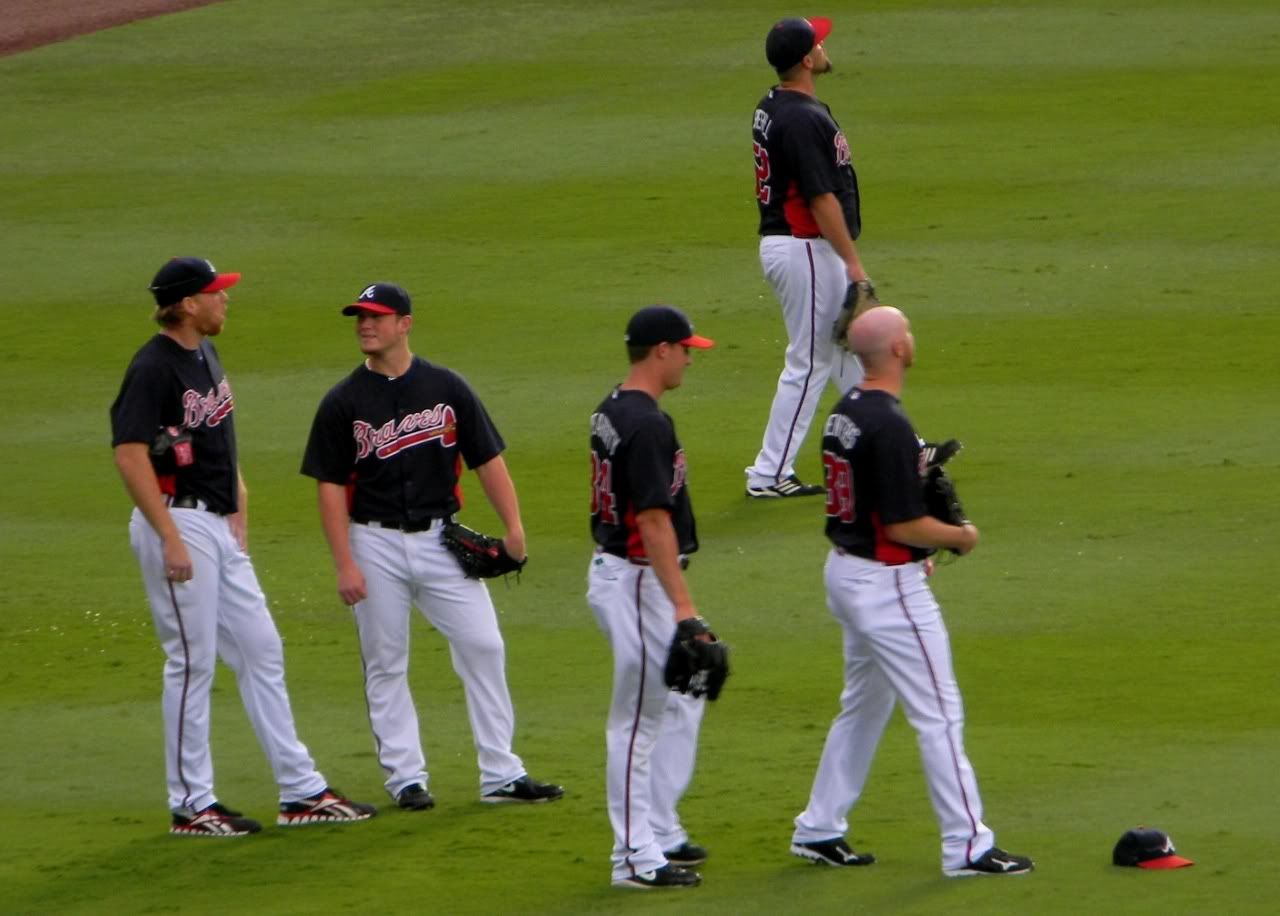 Who keeps throwing off his hat?!
Oh, that guy.
Jenna watched a little bit of BP with me before we headed to a season ticket holder event. It was a mid-season update with Frank Wren, and he gave us some really good information. I tweeted as he spoke so I wouldn't forget anything; if you missed it, here's some of what he had to say...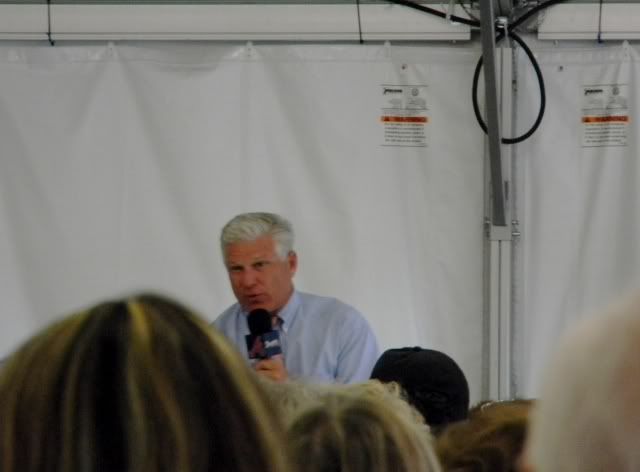 Best shot I could get; Jenna laughed at it. It does look a little Krang-esque.
Wren: "We'll probably try to supplement our bullpen a lttle bit." Also said he's looking for "a part-time right-hand bat."
Wren: Teheran, Delgado, and Minor are NOT available.

[Clarification] "No young pitching" RT @adogwynn: This is how Vizcaino trade rumors start. RT: Wren: Teheran, Delgado, and Minor are NOT available.
Q&A time. Guy just praised the Ted and asked if there are any plans to develop the surrounding area - sports bars, etc. Not now.
Wren: If Chipper retired, plan now is to play Prado at 3rd full-time.
@jennab113: .@BravesLove 's brother, sniffing his baseball: "It smells like a baseball." :D [irrelevant to the serious baseball talk, but we were getting bored with the bad questions and this struck us as particularly funny]
Jersey/shirsey count from my seat: 3 Heyward, 2 Prado, 2 McCann, 2 Murphy, 1 Hudson, 1 Freeman, 1 custom. [Why yes, I do have ADD. No H. I like saying I'm "observant". Tweet]
Most of the Q&A not interesting. Now they're talking bullpen - he says Venters & Kimbrel have "oodles of stuff and makeup". [Link]

[Later reply to CABravesFan] YES. RT @uscfox: @BravesLove did Frank Wren really say "oodles"?? #awesome
Wren: "Kemp is unavailable; I've talked to their guy."
Last one: Wren said he sees a lot from his office window, and said "@PeterMoylan was throwing today like he was coming into a game." ❤
They gave us ice cream sandwiches! FUN.
OK, in-game pics! After we ate our delicious pasta, of course. Seriously, if you haven't had the pasta on the club level you're missing out. It's better than the Hammer Sandwich was. You can put a zillion veggies in it, choose your sauce, noodles, and meat, and the chefs are super-friendly and talk to you while they cook. (And are always surprised at how much red pepper I want. Yes, more. More than that. More. Thank you! Mmmm.)
I'll stop talking about the pasta now. :D
Heating up!
"Made of magic" - Molly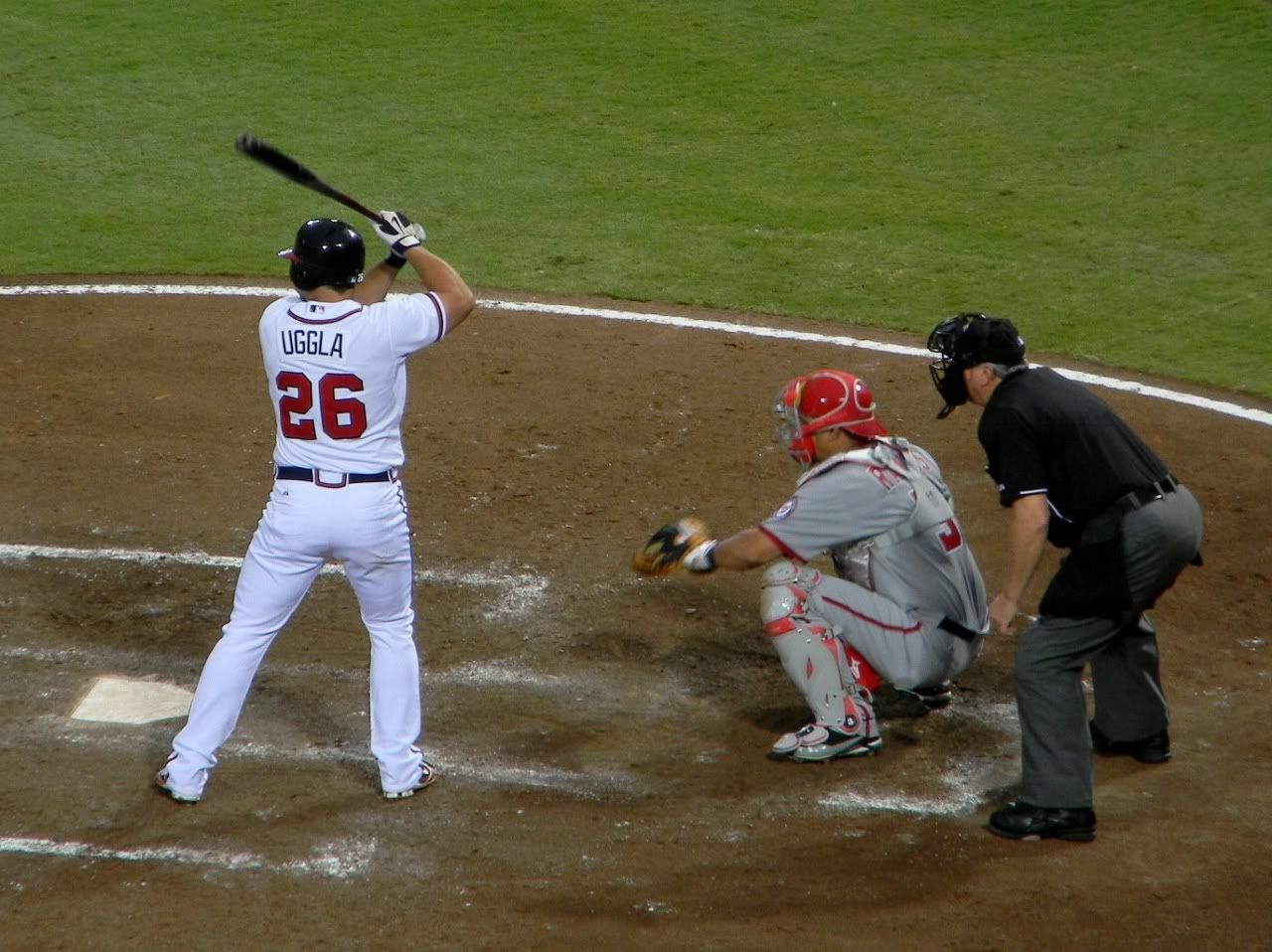 For my cousin Catherine
Former Brave Jason Marquis
I swear I go to games where Mac catches...
I love that it's July and he still has the beard. Beardy Rossy!!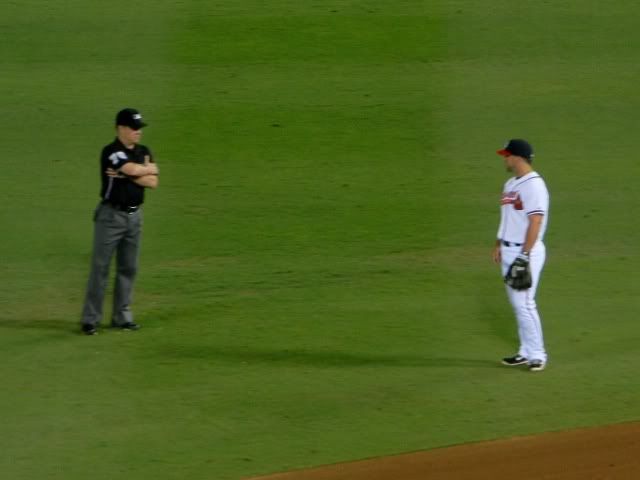 Uggla's always chatting up the 2B umpires!
Welcome back, Martín. Why are you wearing cleats with an orange swoosh?
shiny
Mac's turn to lounge!
"Nate, I don't want to hear about your hair."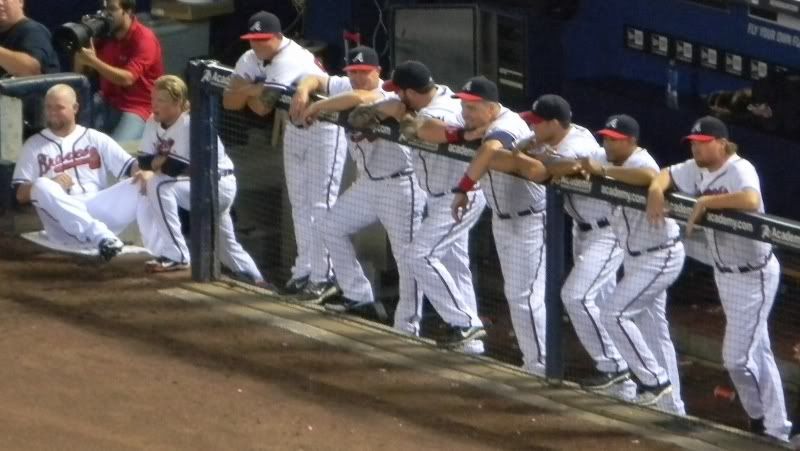 "Wait, Huddy just doubled?!"
running really hard to third! tongue out!
Butt pats. Zim returned the favor.
Who's warming up? EO!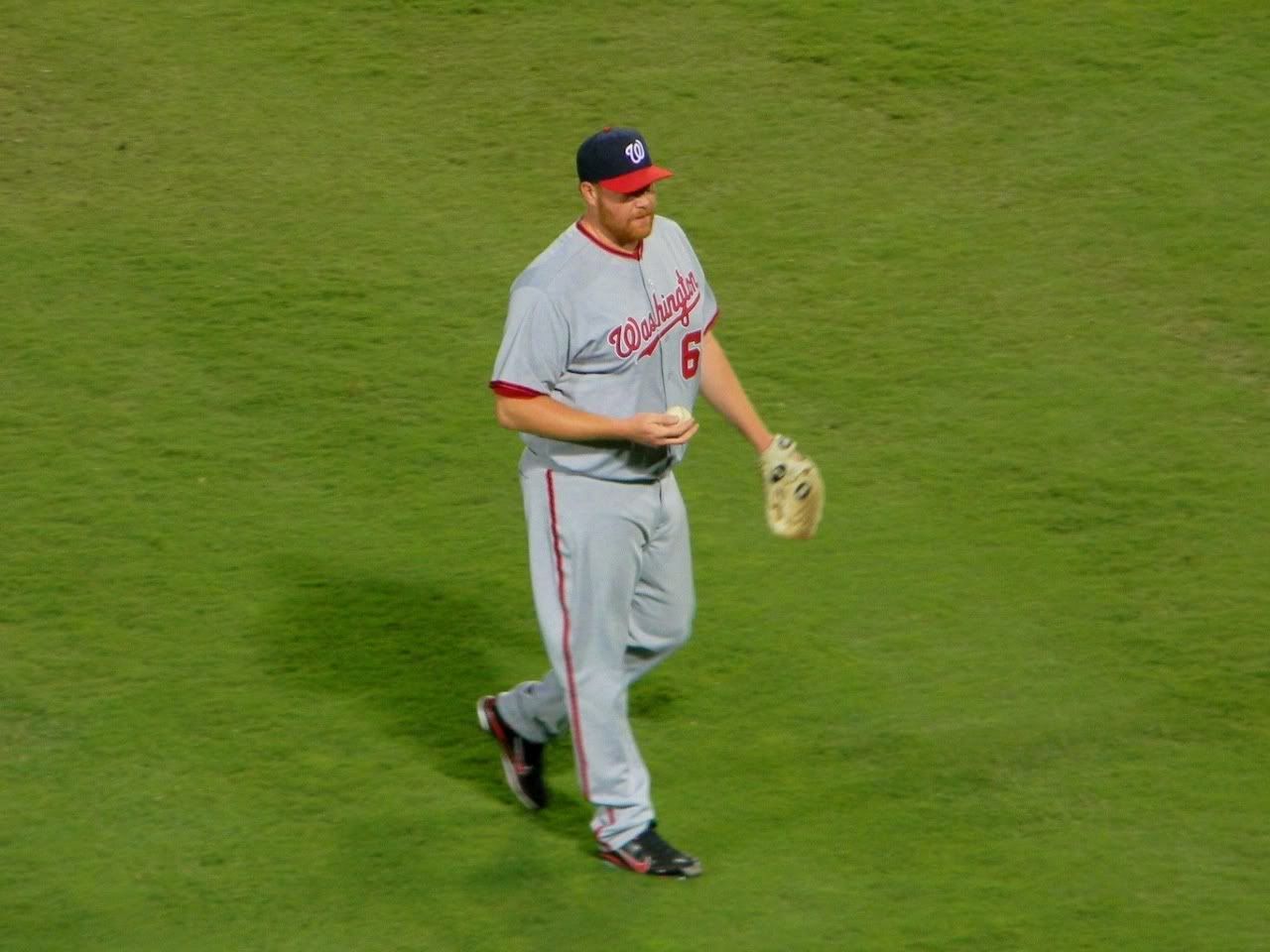 AAAAH, FABF TODD COFFEY!!
Jenna tweeted: "Dear @BravesLove Todd Coffey plays for the other team! Stop making hearts with your hands at him!"
Hahaha, no! He makes me laugh! And he's not a bad pitcher!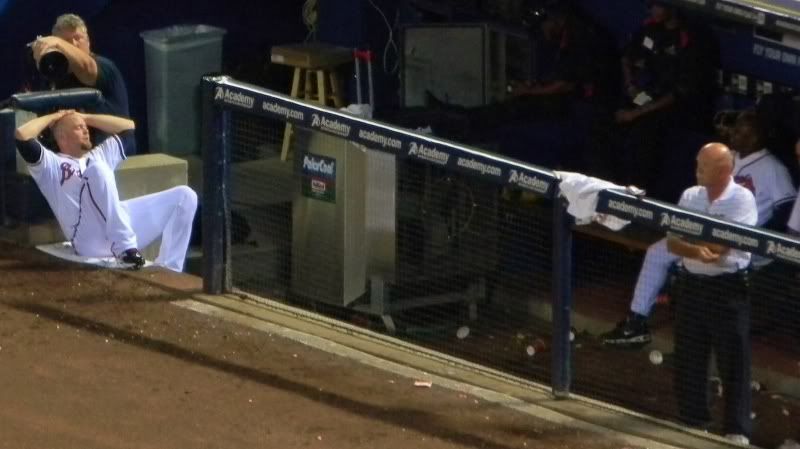 Super-bald Mac, talking to TP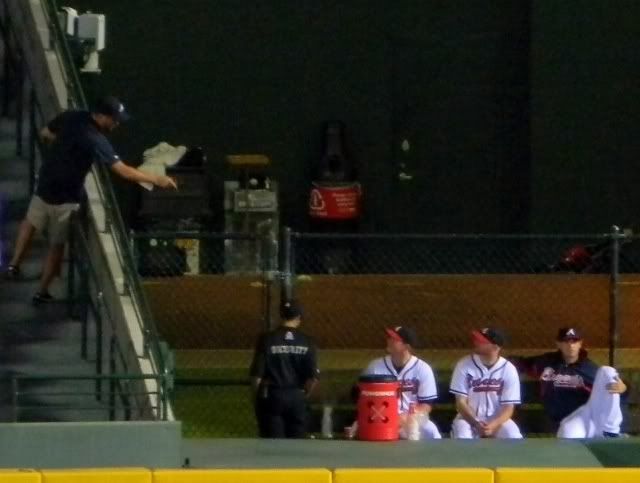 Seriously, fans!?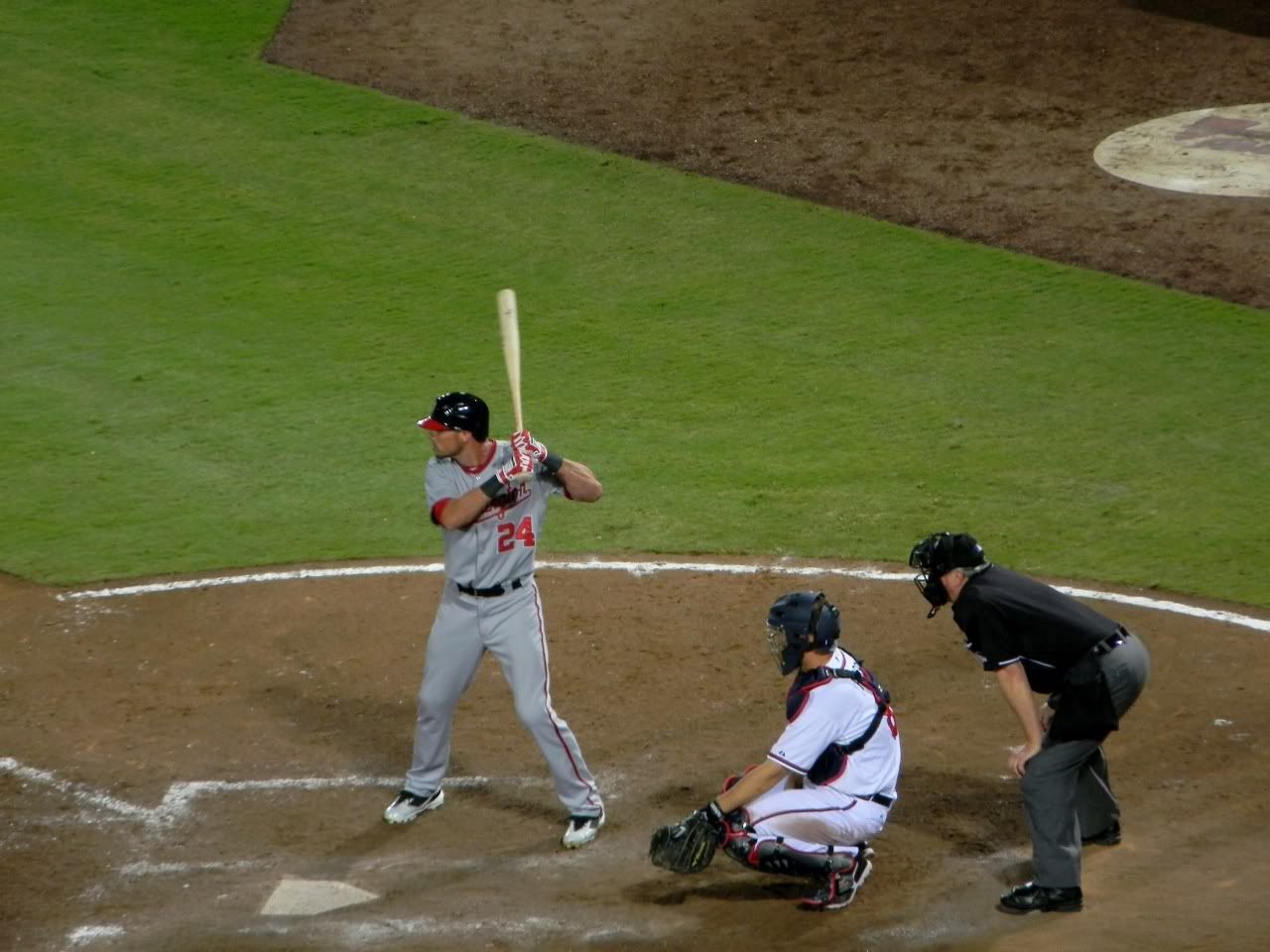 Ankiel!
There is a lot of pointing in this game's album, for some reason.
Go Braves franchise! ;)
Yeah baby!
A montage played on Braves Vision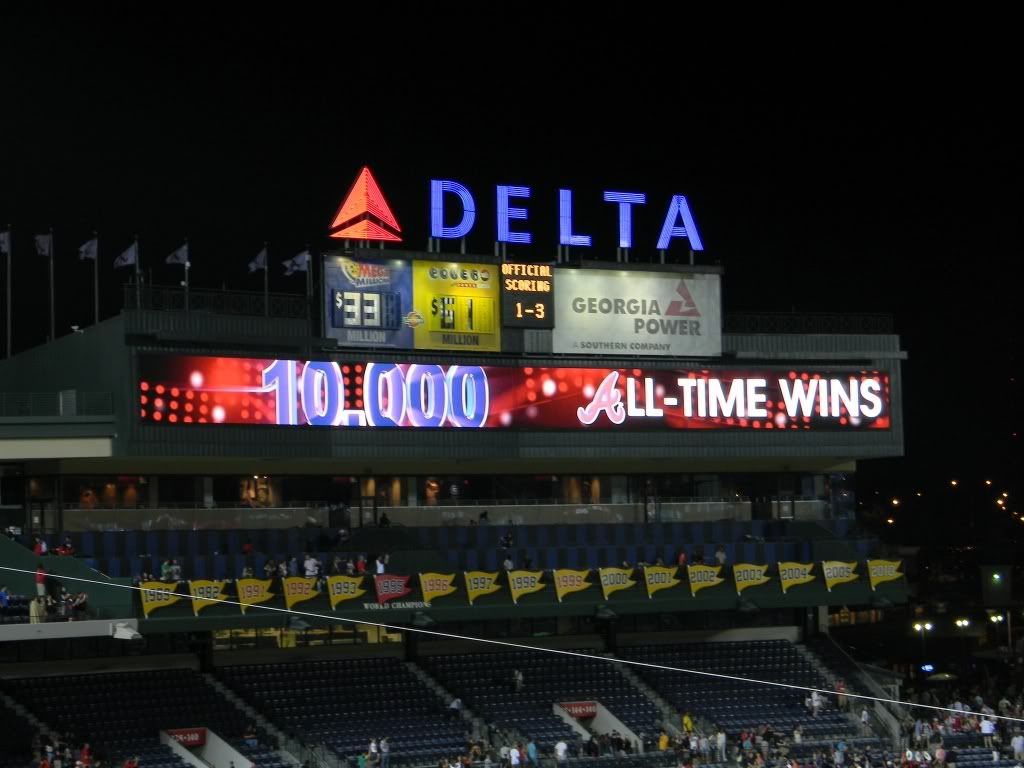 One more picture. I like the Braves A for "ALL-TIME WINS"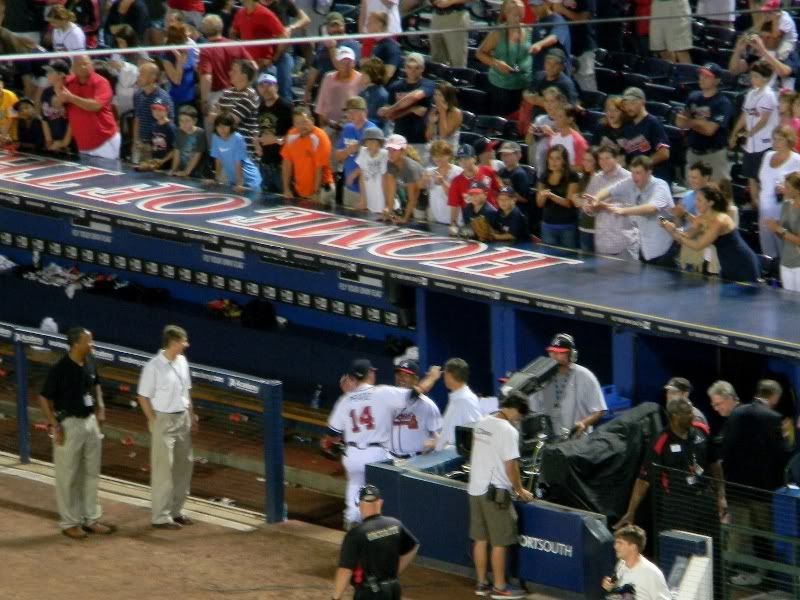 TIME OUT. MARTEEN IS HUGGING EDDIE! HUGGING!!
"Homeboy Upstairs" [/Smoltzie] addressed the crowd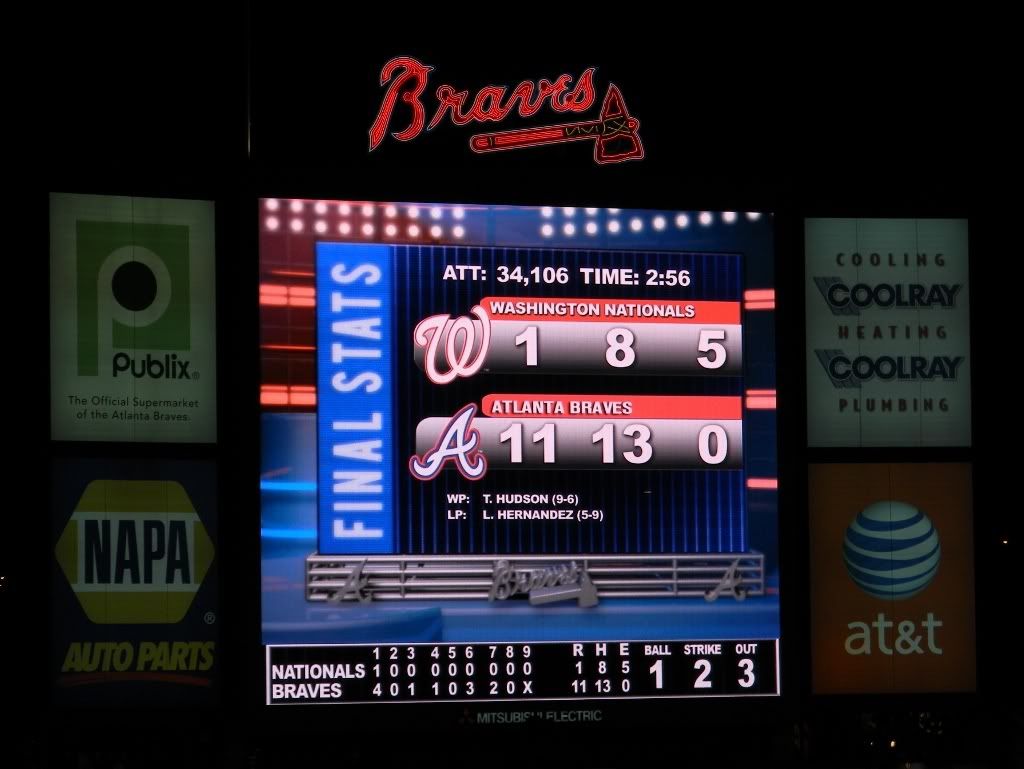 Win by 10 for the 10,000th win!
I'm sure he's most proud of that last part! Love pitchers hitting.
Full album here
, if you're still around. This was a long post, but a fun and historic and FUN game! :)