#6
Historic day in Atlanta - Bobby's number was retired! I did take a lot of pictures of the on-field ceremony but I'm not going to post them in-line in the gameday post, because there
was
a game here! You can see them all in
the full album
. (I kept 172 pictures, kids. Excessive.) (It helps that it was my cousin Catherine's birthday and we had a sweet hookup for some tickets.)
Catherine is quite the outgoing girl, and when we got there we ended up on the front row of the wall for batting practice. The pictures are always better there, but it's full sun in August! You'd better be glad I love you, girl! ;) But oh, did she have a good time. Here are some pictures...
Cousin Emily, Birthday Girl Catherine, C's friend Erine-Fay
Emily: "He really DOES look like a He-Man action figure!"
Me: "I know, right?!"
So close you could practically smell him.
...No, you couldn't. But we did watch what we said. ;)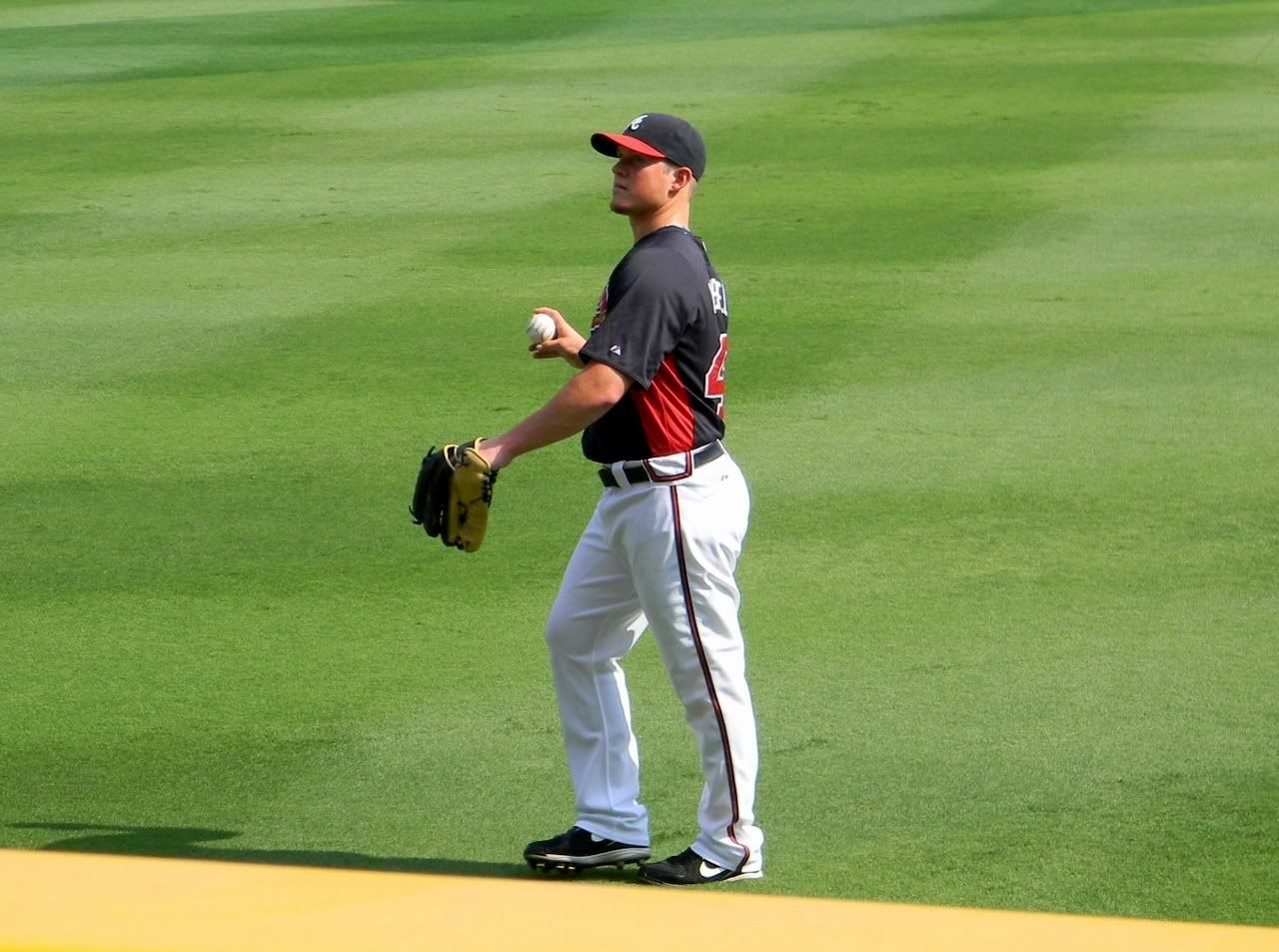 Picking out a little kid for a souvenir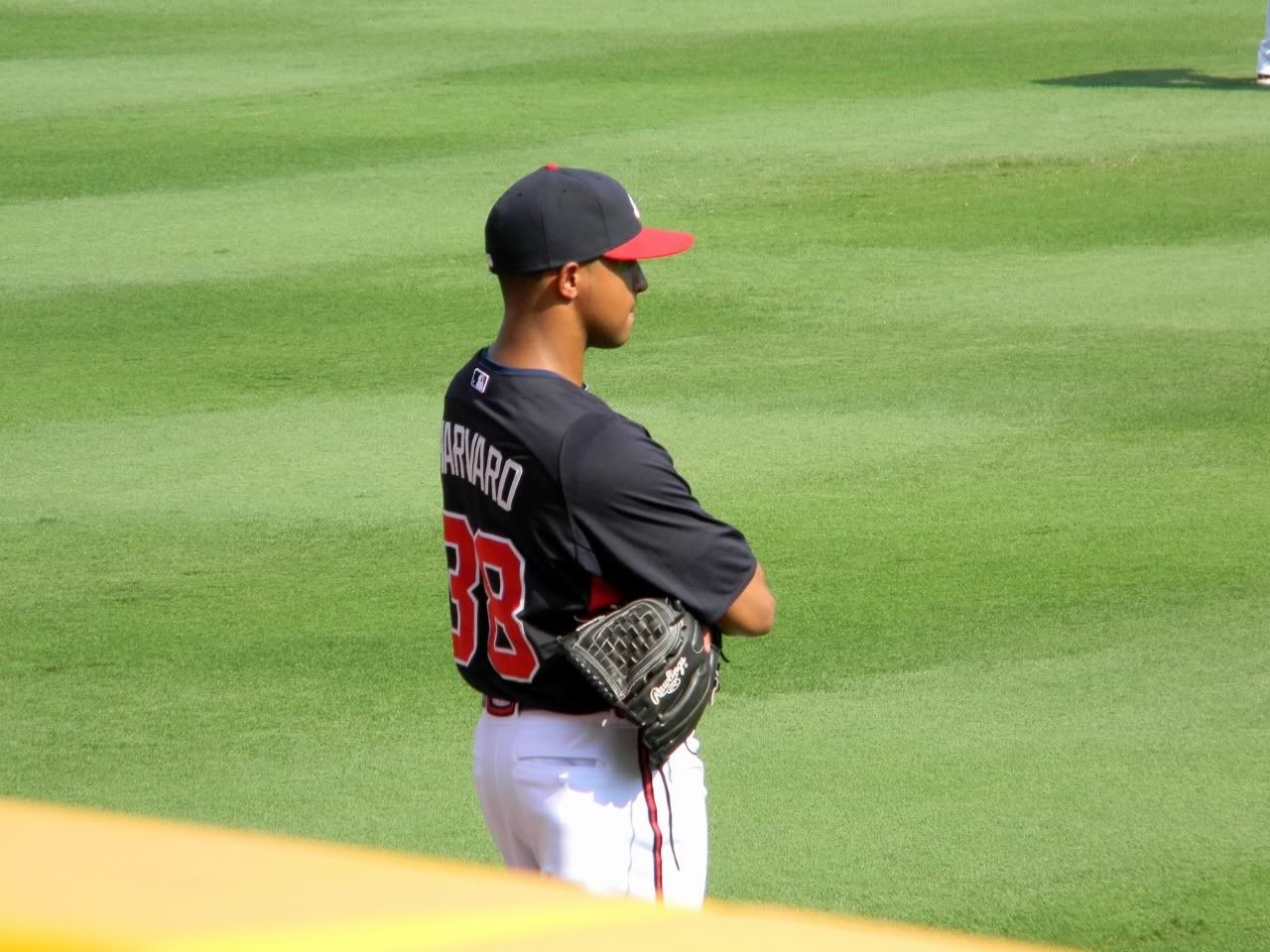 Oh hey Anthony. :)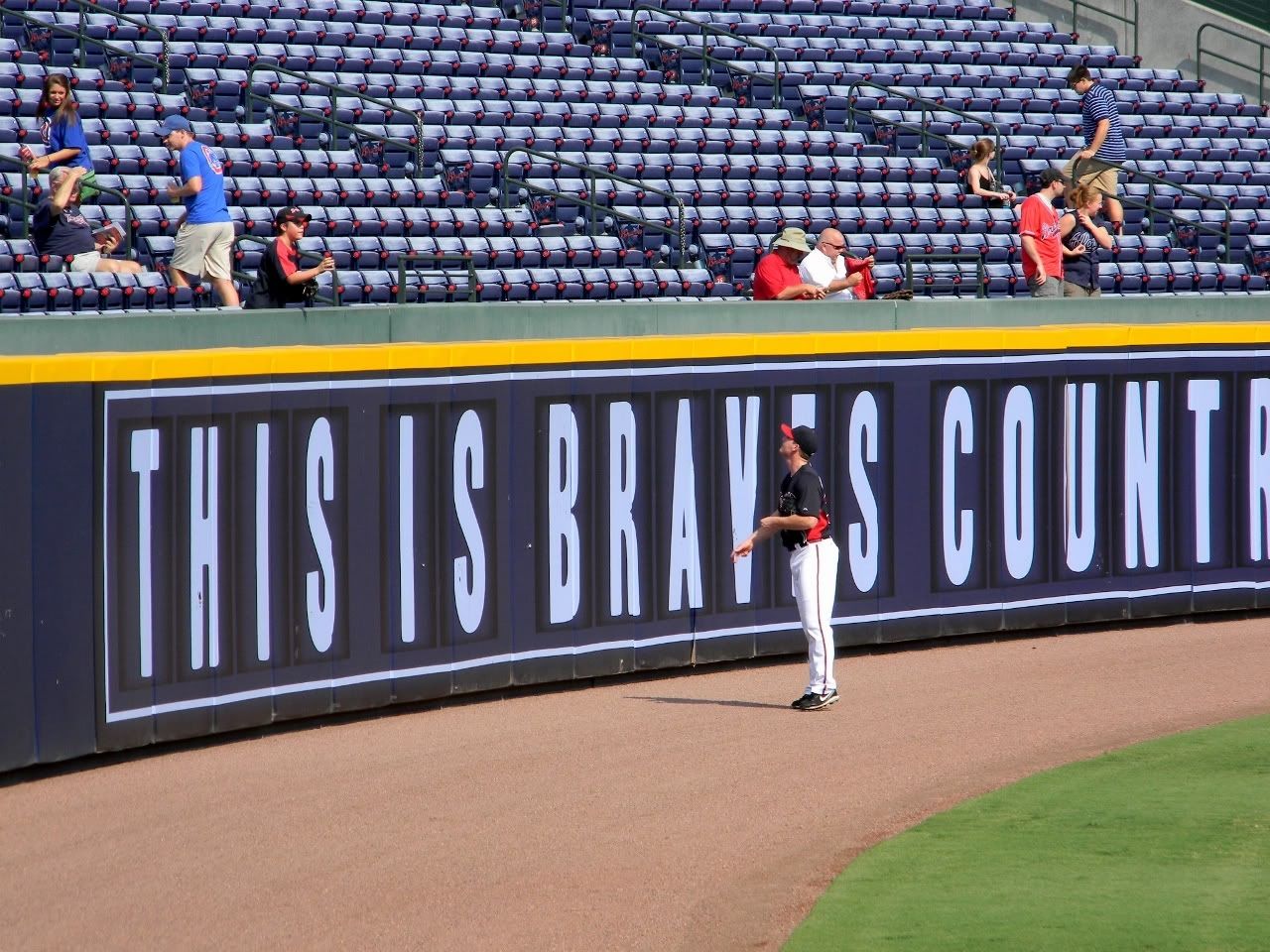 EO autographed for a kid
This is how Beachy was close enough for Catherine to hoot for a ball.
We'll get to that. The pics are chronological. ;)
Heyyy Meds & Huddy
JV and Beachy played catch. Kimmie was not invited to play.
"Cmon, guys!"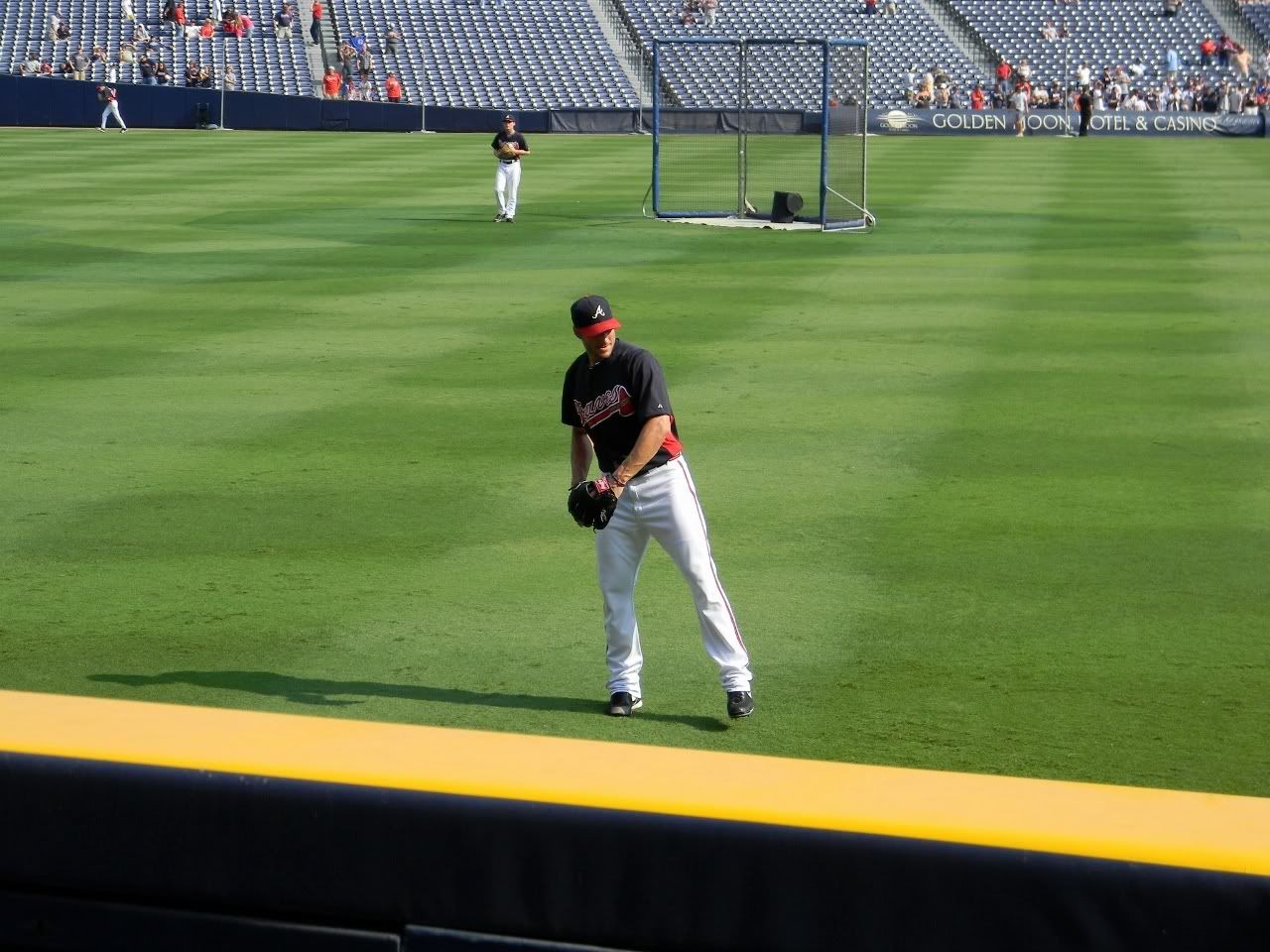 Busy
So this next part was great. You have to hear Catherine's parts in a very heavy Southern accent, and picture her standing while the rest of us were sitting. :)
Catherine:
Larn. I want a ball.
Lauren:
If you want a ball you're going to have to hoot for one. They're only throwing them to kids today, not girls.
Catherine:
It's my birthday; I want a ball.
Lauren:
[pointed look]
Catherine:
LARN. I WANT A BALL.
Lauren:
[
sigh
] Okay, here's what you do. Wait till a lefty's up so no one's hitting them over here. Then tell Beachy it's your
nineteenth
birthday and will he please throw you a ball?
Catherine:
Okay. Do I call him "Brandon" or do I call him "Beachy".
Lauren:
Up to you. I'd say "Brandon".
Catherine:
So he knows I'm not just reading the back of his jersey.
Lauren:
Right.
It was quiet when Freddie came up next, so she totally hooted at him. "Hey Brandon! It's my nineteenth birthday can I please get a bawl?!" He and Jonny turned around, Beachy pointed at her and Jonny grinned, and the next ball hit to Beachy was tossed to her.
Happy birthday, babygirl. :D
Best birthday ever. :)
Hey Emily, this pic's for you. ;)
I watched a little Cubs BP too -- was hoping to see Dempster doing some silly things (as he's prone to do), instead he went to play second base and we got grins from Samardjalphabet and his insane hair so we left.
(Here are some Cubs I shot before we took off:
Garza
~
Alphabet
(hi Pam, ha) ~
Dumpster
~
Kerrybelly
)
Then we went to the top of the 400s to get a shot of the #6 on the field (see the header pic), and we ran into some of Catherine's friends. That girl has friends everywhere. :)
Also on the field for the weekend
On our way to our seats, there were some alumni signing. Smoltzie's on the top right, in blue.
I love it when they wave with their equipment. :)
Tommy with the gate open, talking to a little fan.
Two things: 1. The Chipper camo shirsey.
2. Enlarge and look at Ske. It's such a little boy face! :D
The Braves' official photographer snaps Chipper and David Justice greeting each other. Don't you love how you can see just_ice23's teeth from the terrace stands?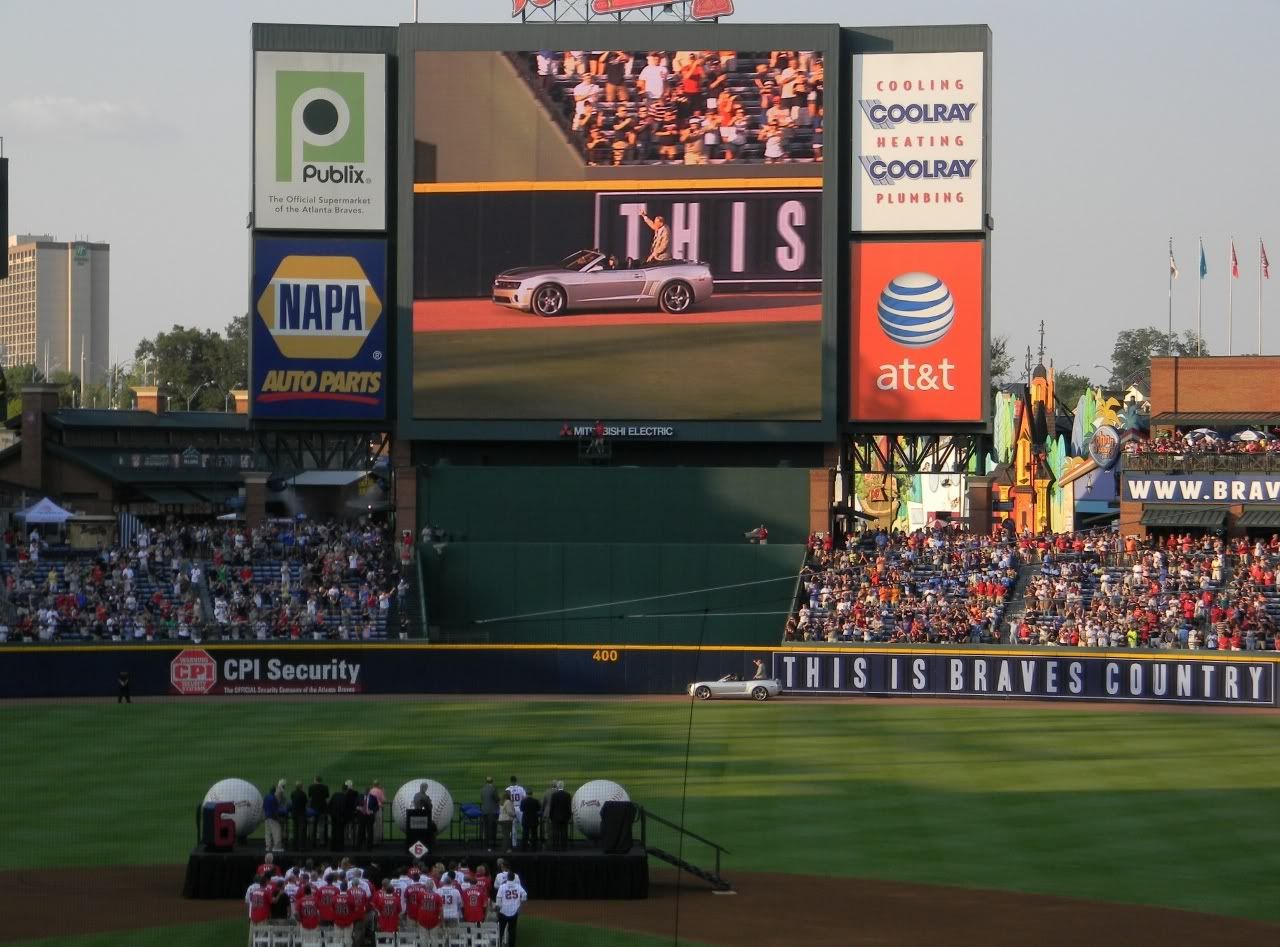 I totally called Bobby coming out in a convertible, "like a beauty queen"!
Hilarious and awesome!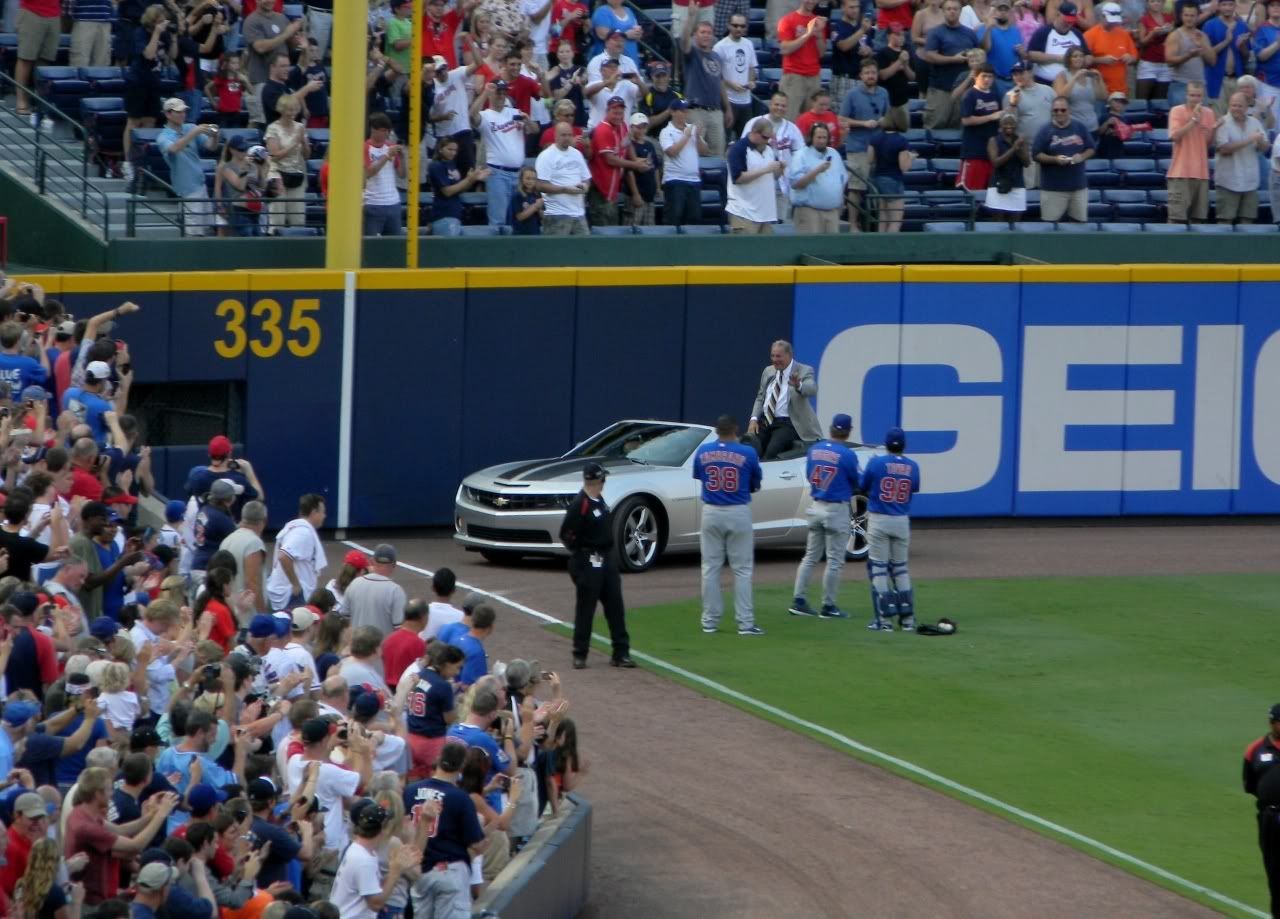 Cubs applaud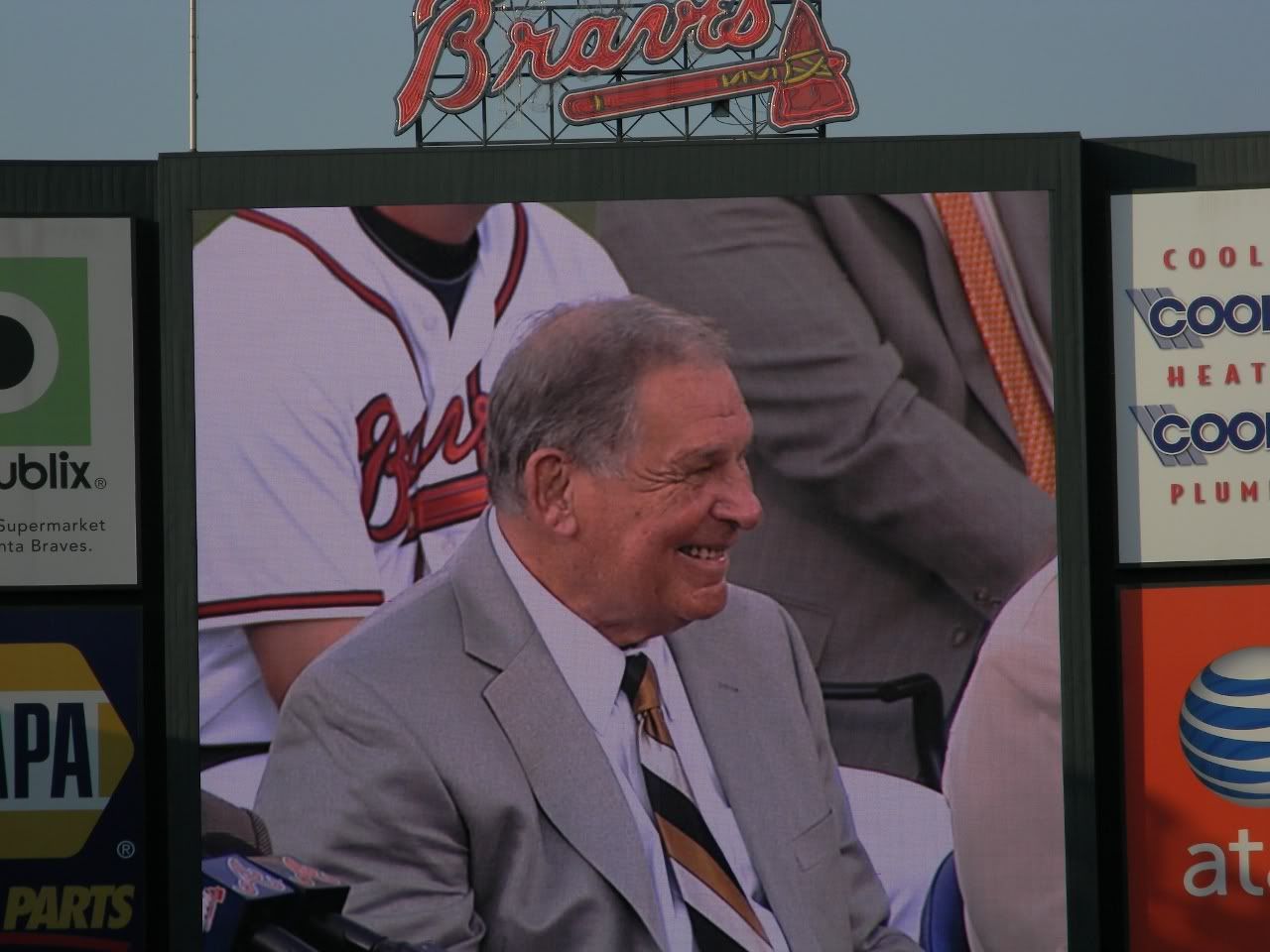 Big jumbotron grin. Not commenting on the tie.
A ton of guys gave tribute, then Bobby said thanks. They unveiled his number. Again, tons of pics in the full album and there are videos on braves.com...
Braves retire Cox's number
Bobby Cox honored in Atlanta
Video tribute to Bobby Cox
Cox's first pitch
Cox visits the booth
Game time!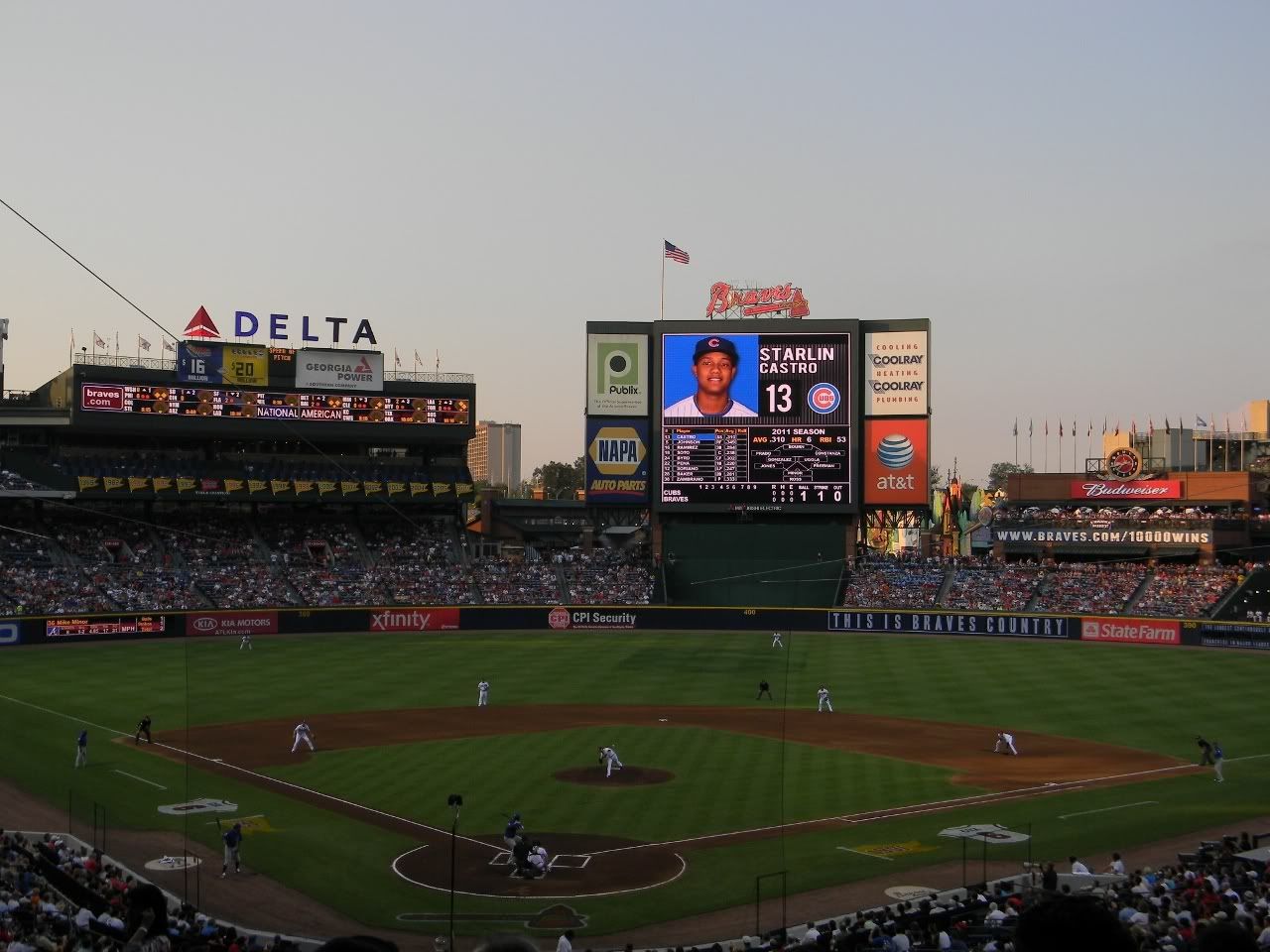 Oh hi, beautiful view. :) I love these gifty seats.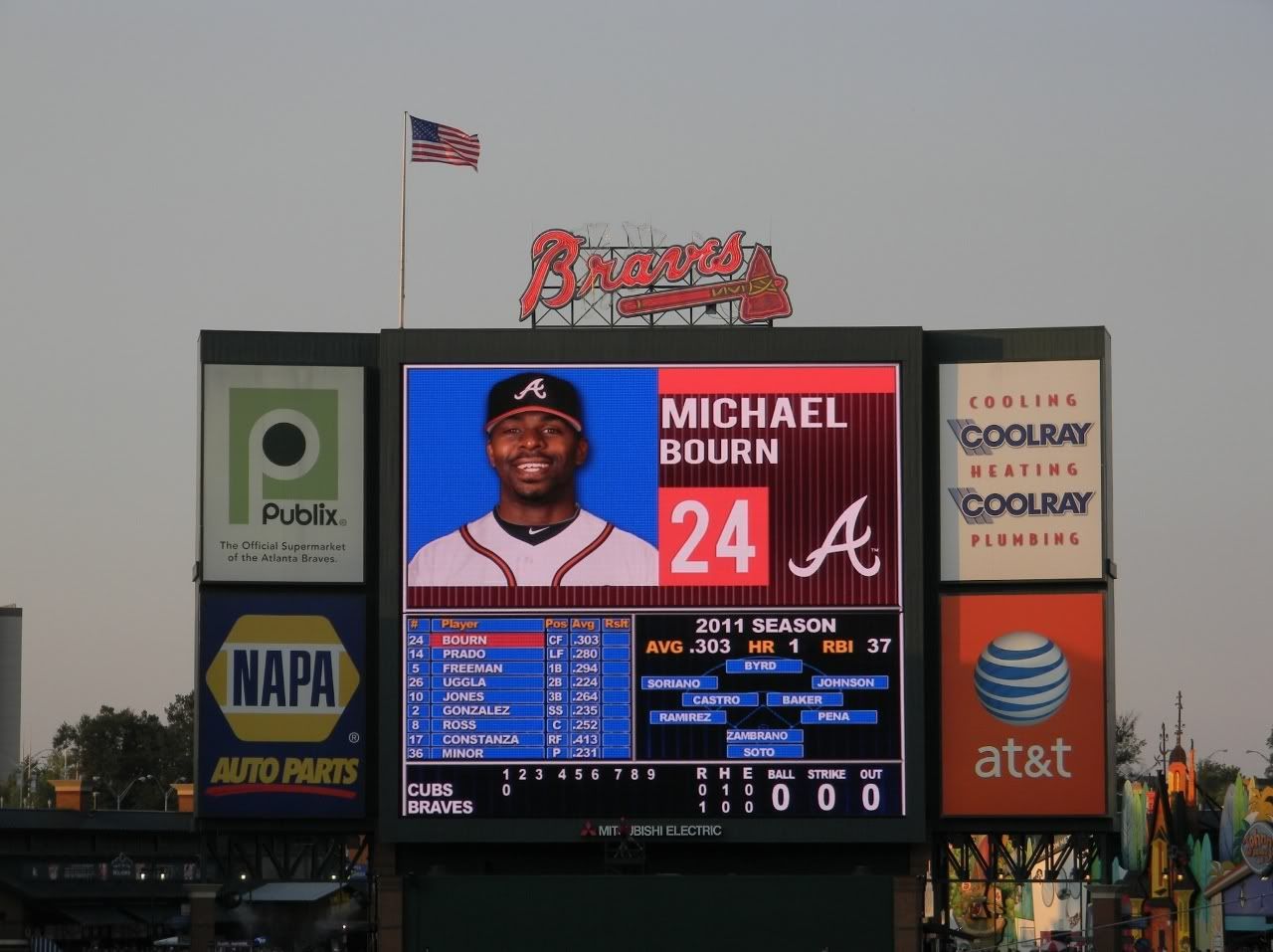 He's got a good mug shot
dumb net, getting in the way. :)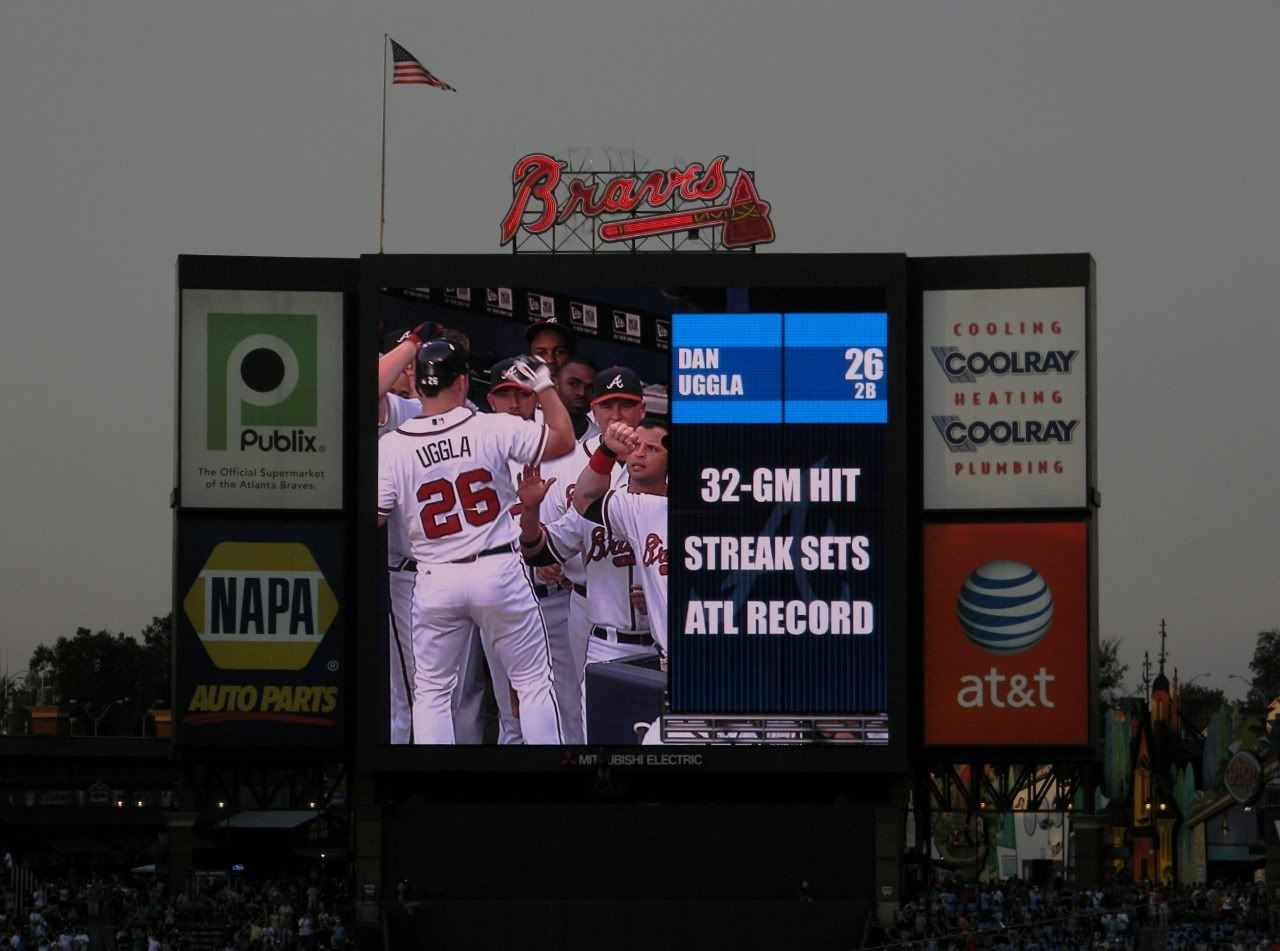 FANTASTIC
Way to go, Huggla!
Even the Tools were decked out with a #6 for the occasion.
Oh yeah, so you'll probably remember that Carlos Zambrano got himself thrown out. He gave up a lot of home runs, threw some inside pitches, and told some guys that he was retiring. He cleaned out his locker this night and was later photographed in the Atlanta airport in street clothes with his suitcase. When he was tossed, there was quite the uproar. Our bench cleared and I was trying to get a video, but it didn't focus so I switched to still pictures. The ones of the dugout were also out of focus (and I'm replacing this camera as soon as possible), but I got one picture of the bullpen lined up and the bullpen door open, which made me laugh...
Get it, boys
The Cubs, on the other hand, didn't move. They know Z. This was just Friday night, haha.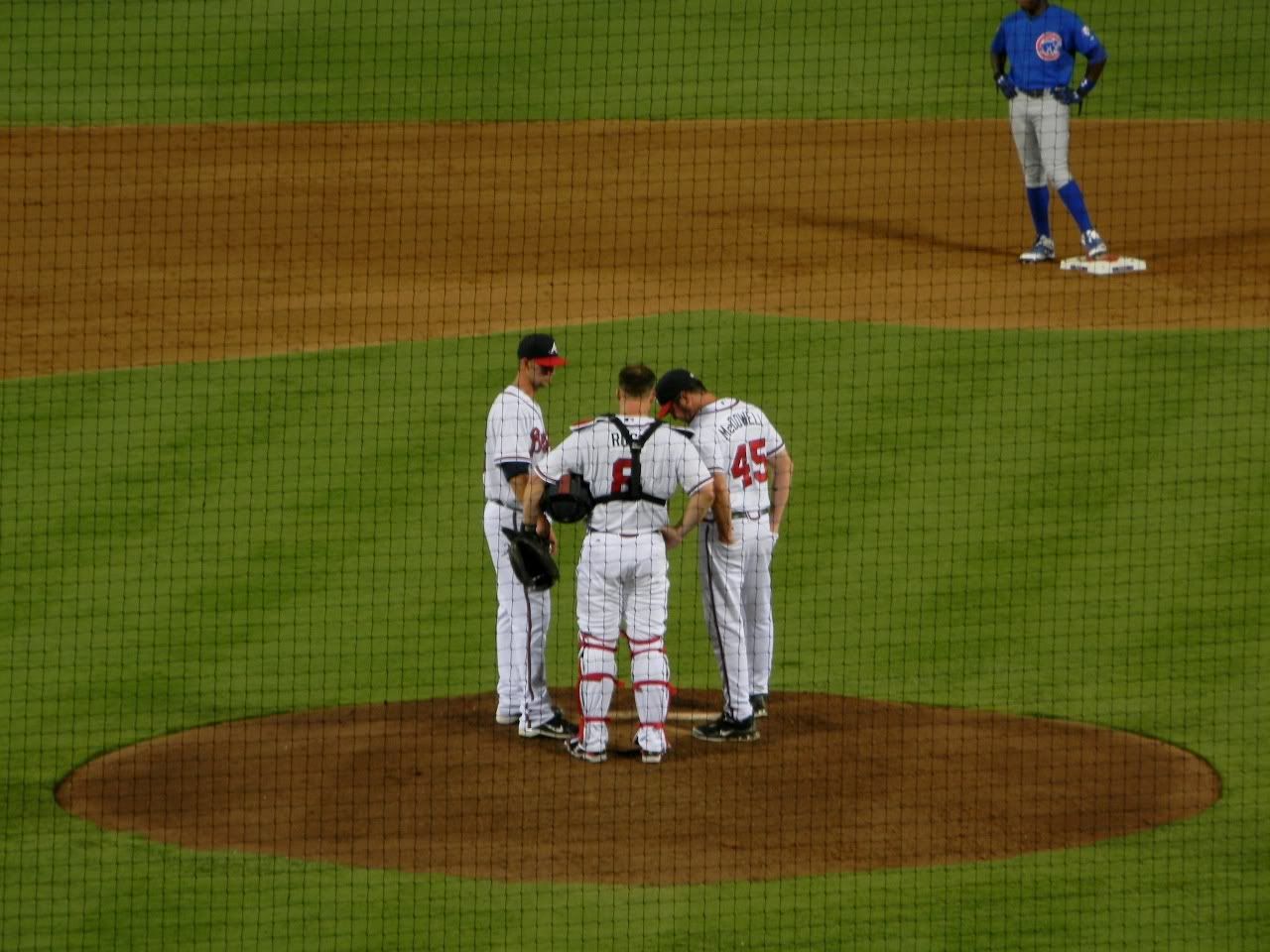 Our Mike Minor pitched well.
Vizzy (tm Molly) held it down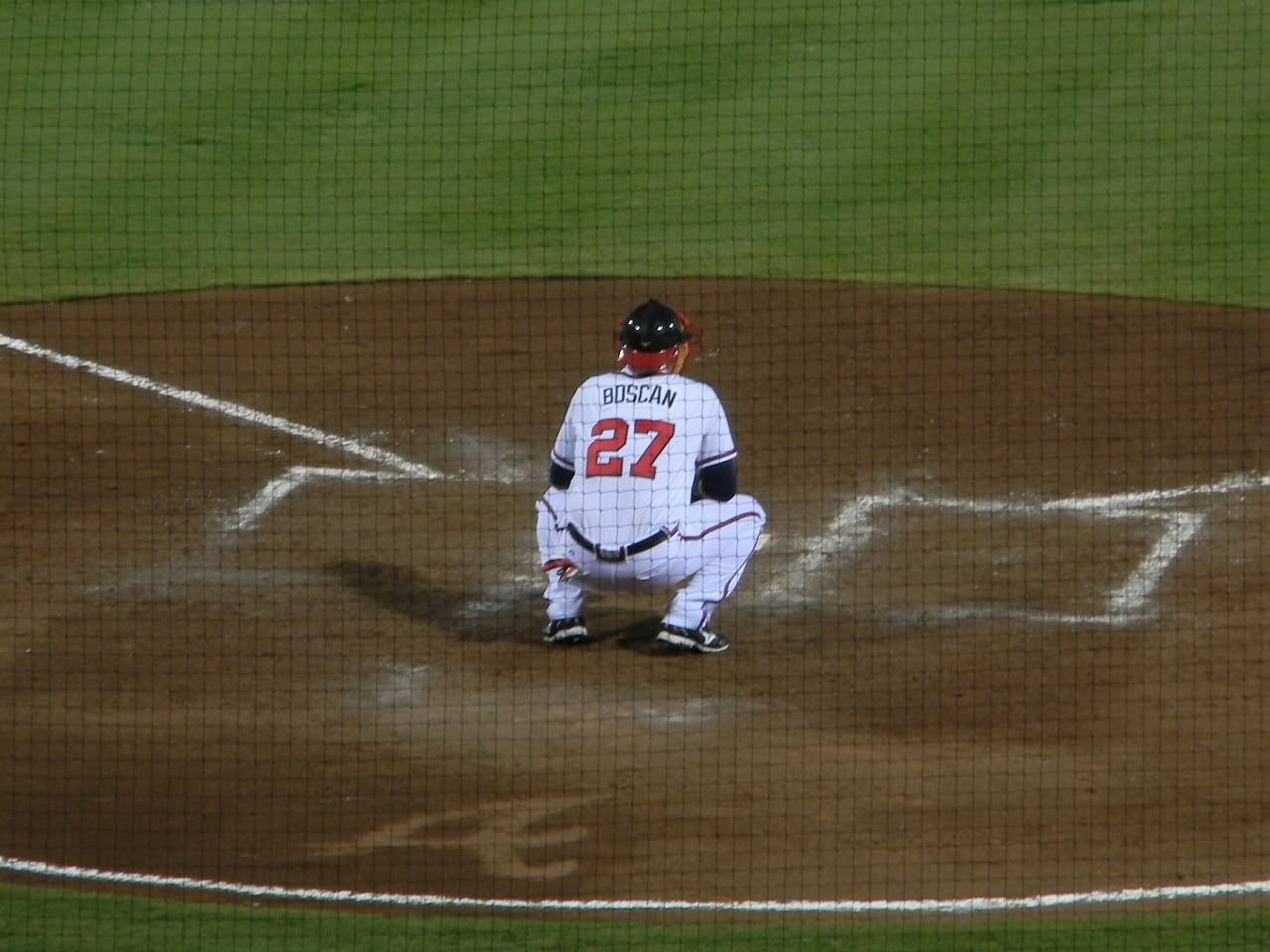 I take pics of so many Venezuelans for y'all... I swear... ;)
Emily: "Look at He-Man again!!"
Winning it for Bobby!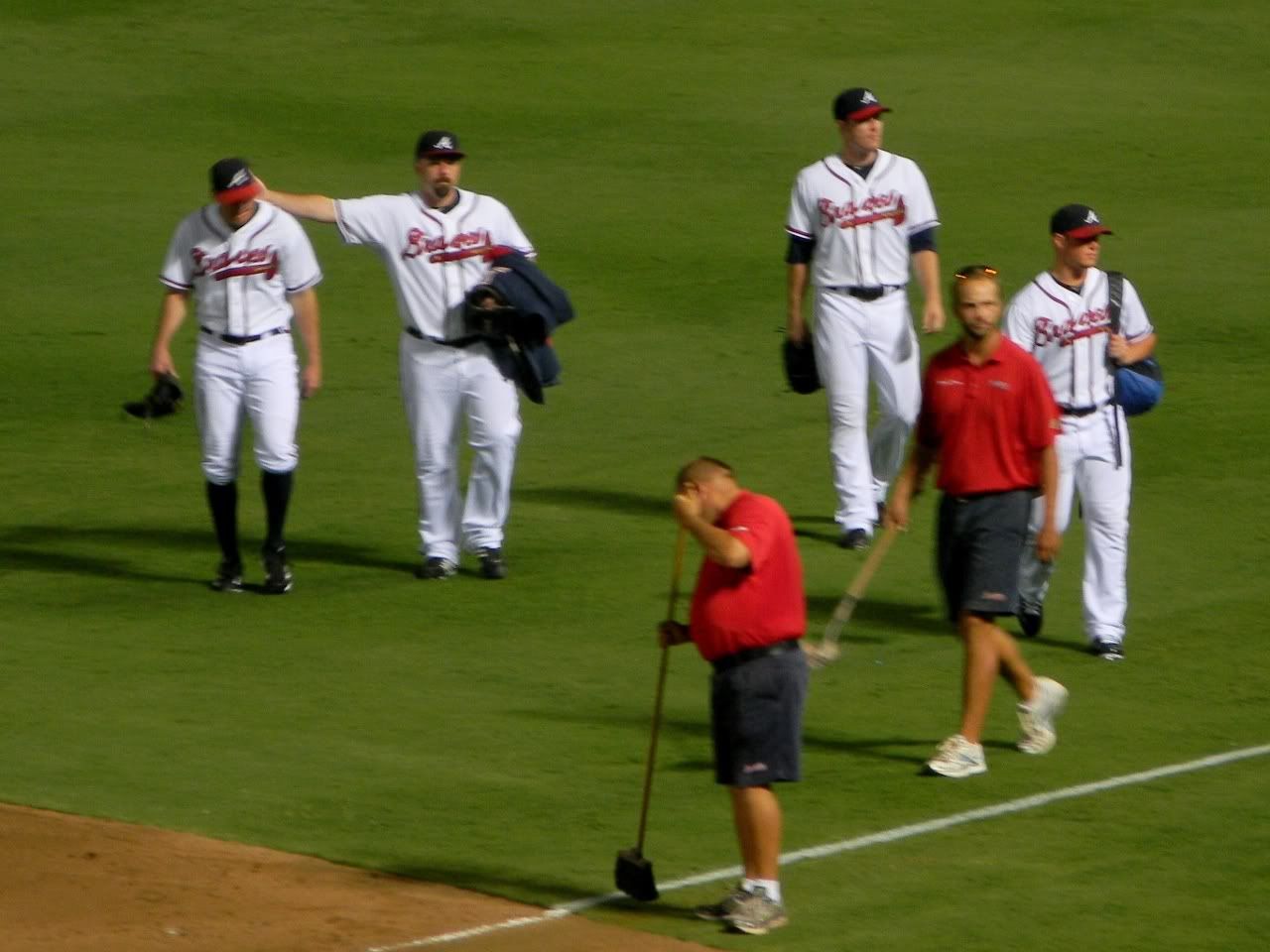 They're always messing with JV, aren't they? :)
Guess he doesn't mind. :D
Player of the game! Way to go, Huggla!
Full album here!
Happy birthday, Catherine!
ETA, after Huggla's second homer, Catherine got this text...