Last-minute ticket? Sure, I'll go! Thanks!
Basically, it went like this...
Tammy:
Why are you having a bad day?
Lauren:
Oh, just little things. How are your girls?
Tammy:
Savannah wants to go see Big Mac. She got in the car after school and declared she wanted to go to the Braves game, so Scott's looking up tickets. You're coming.
Lauren:
No, I can't. I don't have the money right now.
Tammy:
You'll babysit for us one day when we want to go for dinner. Come here.
Lauren:
Tammy...
Tammy:
Good bye!! [click]
So I get there, SJ's wearing her ruby slippers and her BMac shirsey, Baby J's in her "my first Braves tee" (so cute) and Tammy's wearing a gold #8 charm "for Javy". Because in the 90s, you know, we wouldn't have worn silver or white gold. It was real gold.
I love her. Hee hee.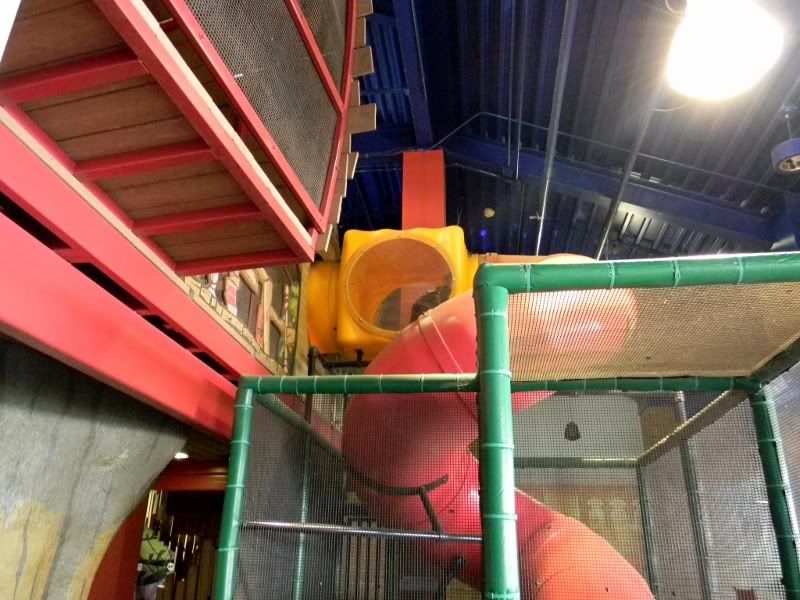 We arrived with just enough time for me to take SJ to Tooner Field to run around before the game. I finally convinced her to go up in the treehouse by herself ("it's not for grown-ups!") and to go down the slide - then I couldn't get her to stop!
When we go to the park, I forget that people always think she's mine. No, she's my friend's kid and I was her Sunday School teacher till recently. She
does
look a lot like I did when I was that age, with the curls at the ends of her braids. :) We went to see a few of my ballpark friends and I took her to the bullpen to watch Mac warm up. She waved but he didn't see - he was busy, of course! - and she was a tiny bit disappointed. It's okay, honey, he's working. Let's go to the seats.
stretch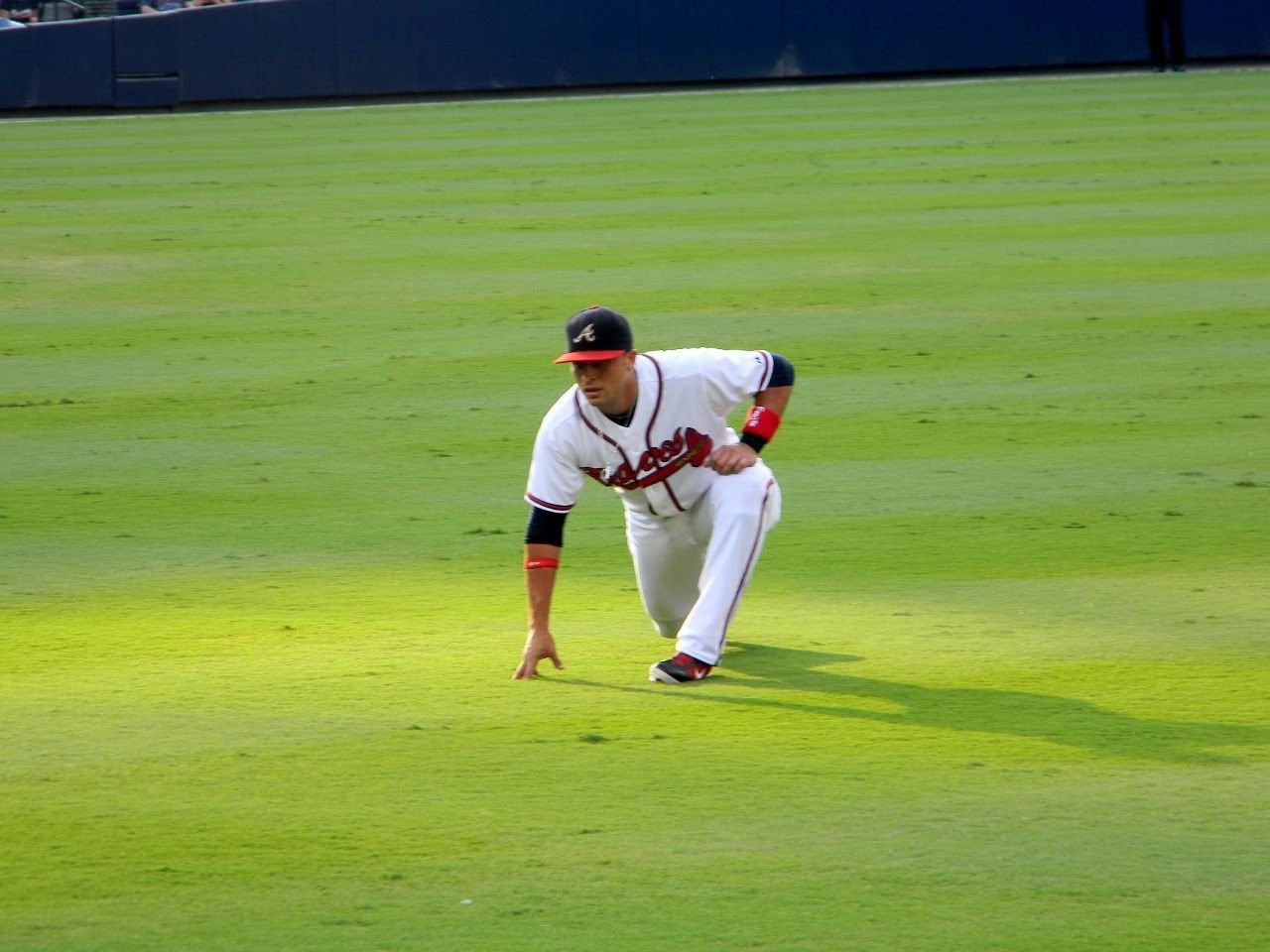 streeetch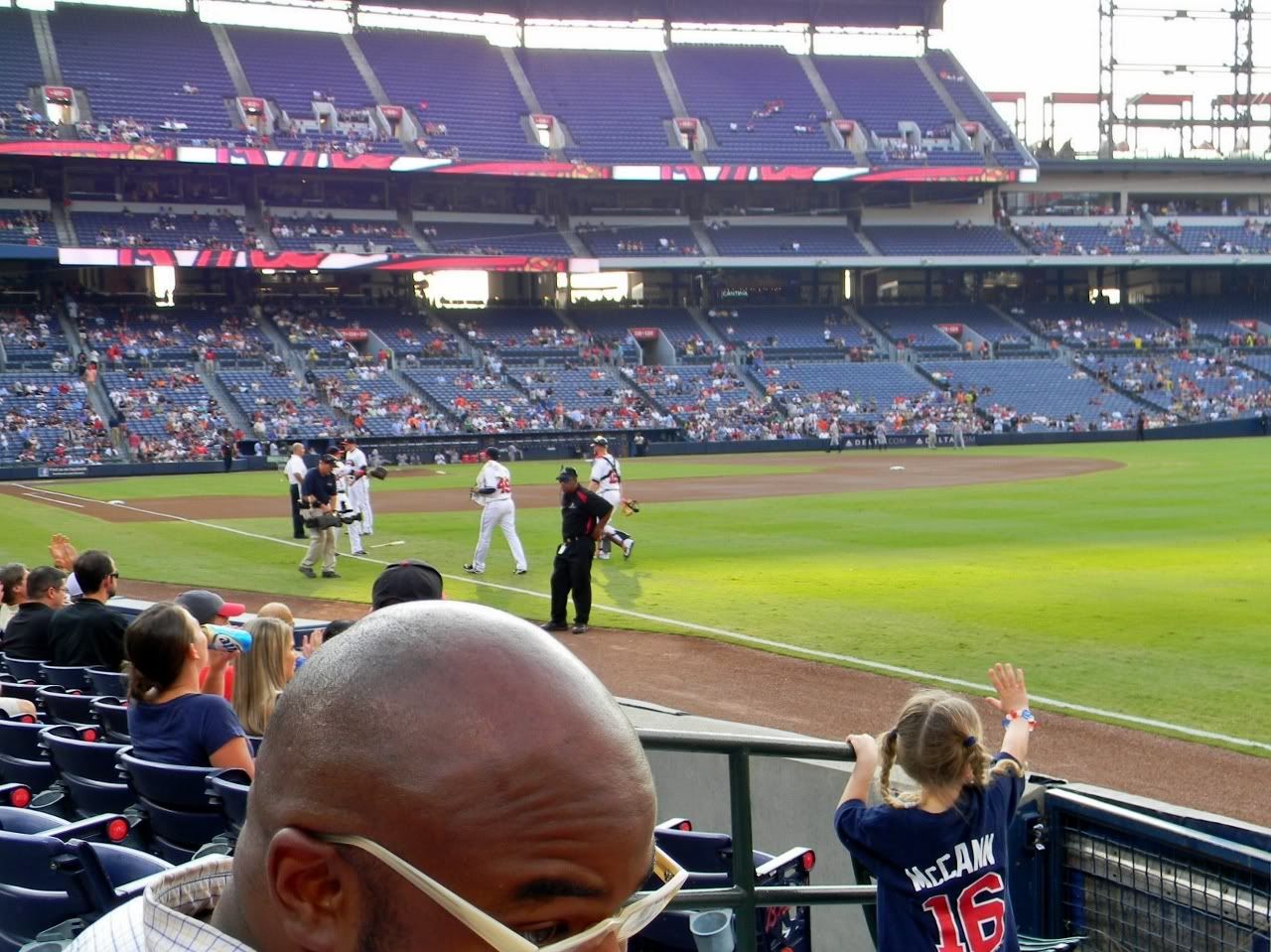 Trying again - this time she got a glove wave back from Mac! Success!!
(I think she's actually admiring her bracelet in the sun in this shot.)
So I guess Roger saw us at the bullpen, and maybe again here, because he stopped by to chat with SJ. Now we have taught this girl well. Notice how she stands there and enjoys the talk with the man in the uniform and doesn't just grab the ball out of his hand and run away. Good girl.
Roger: Hi.
SJ: Brian McCann's my boyfriend.
(as if it's a statement of fact)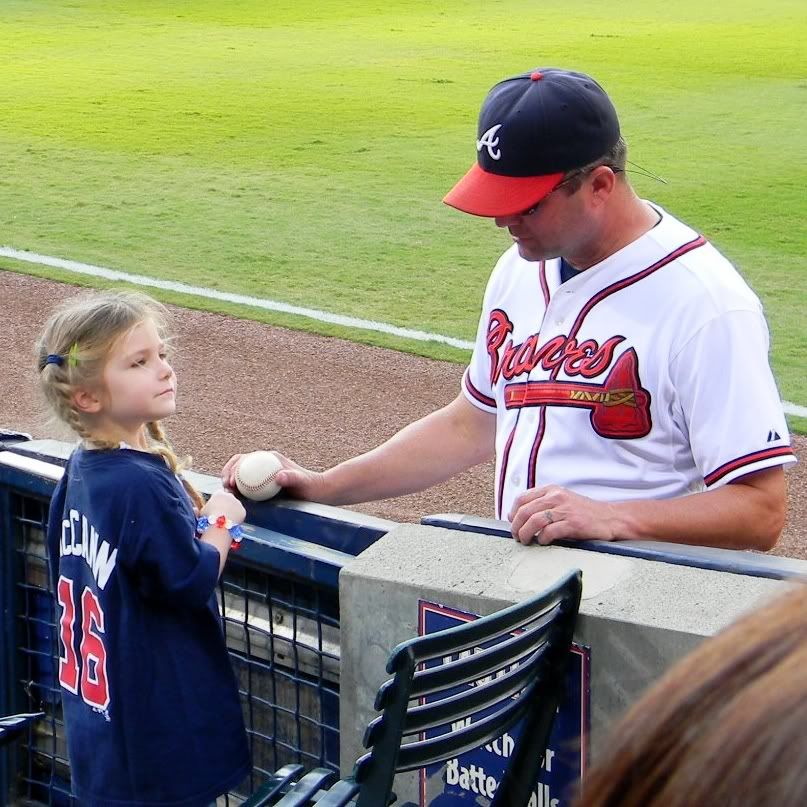 Roger: Oh, does he know that?
SJ: Nope!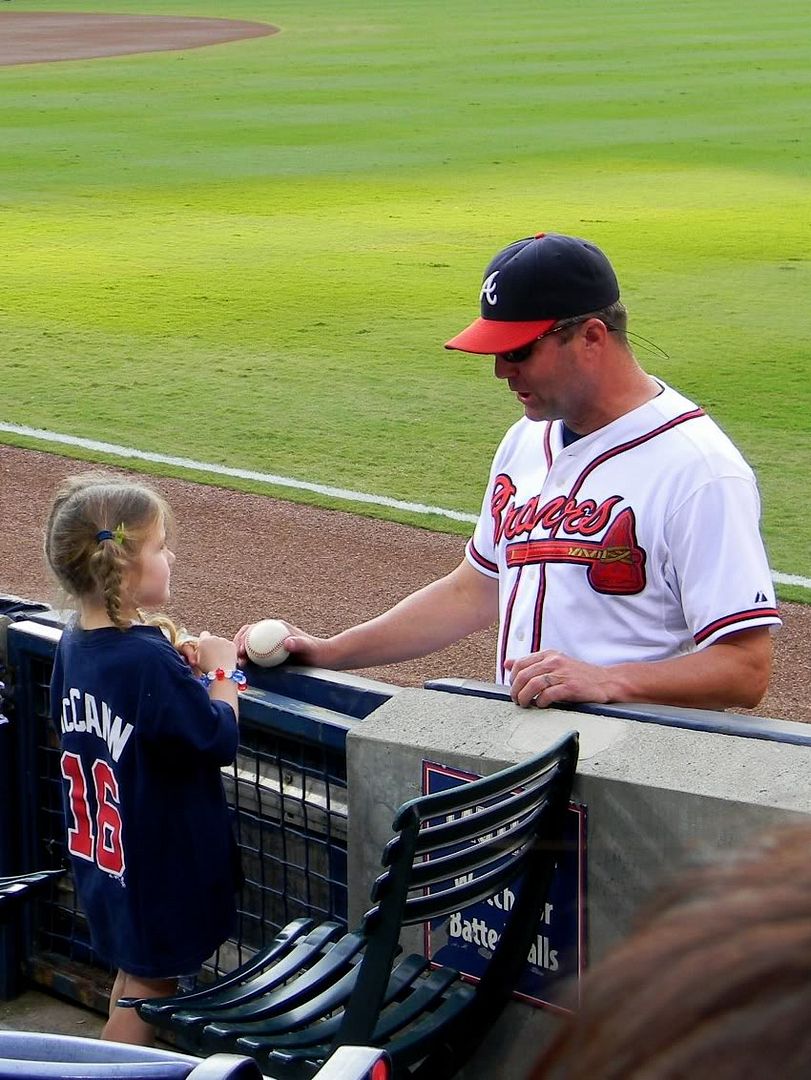 Roger: Well, I'll be sure to tell him.
SJ: [giant grin]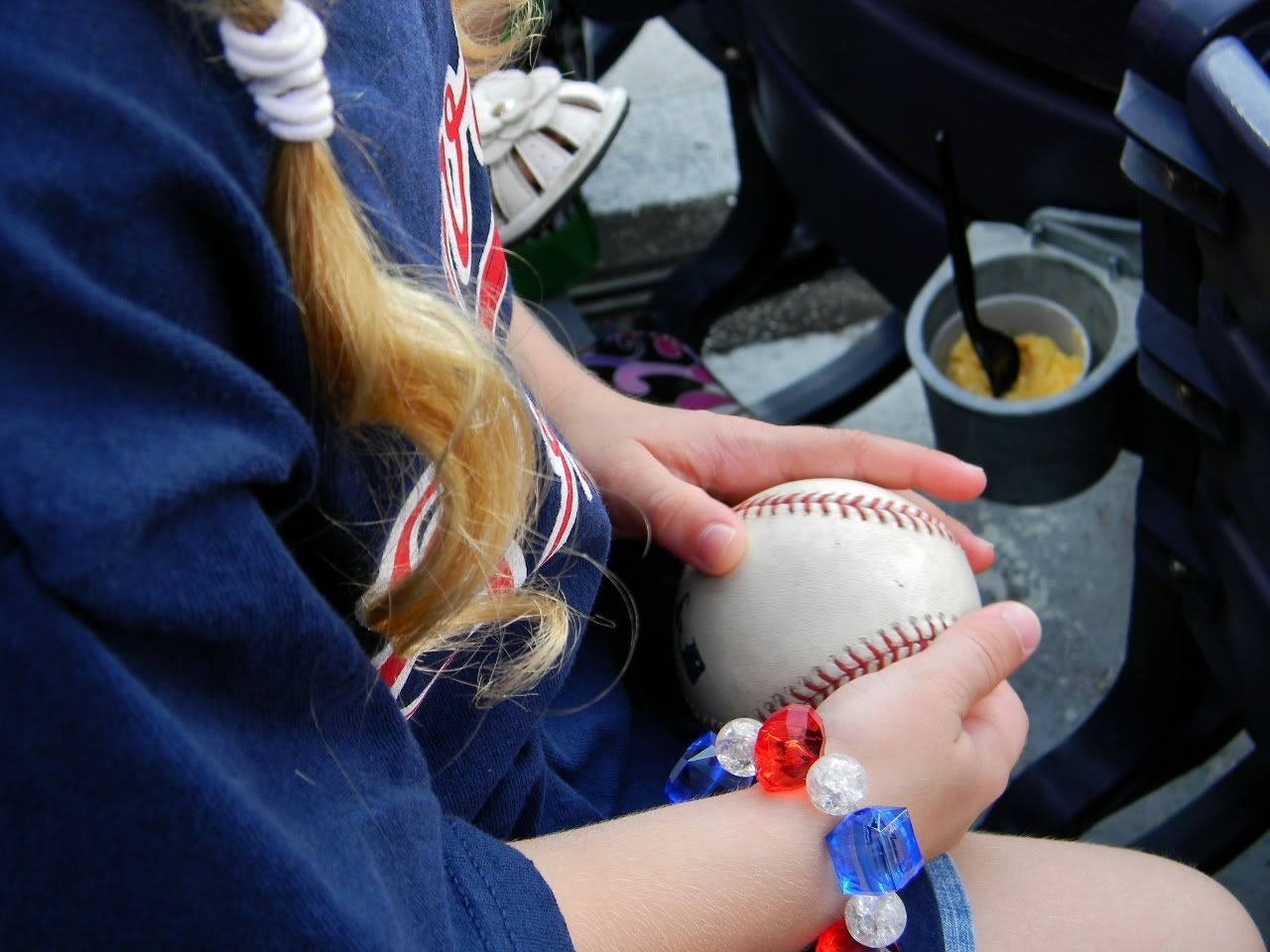 ❤
Oh hey Nate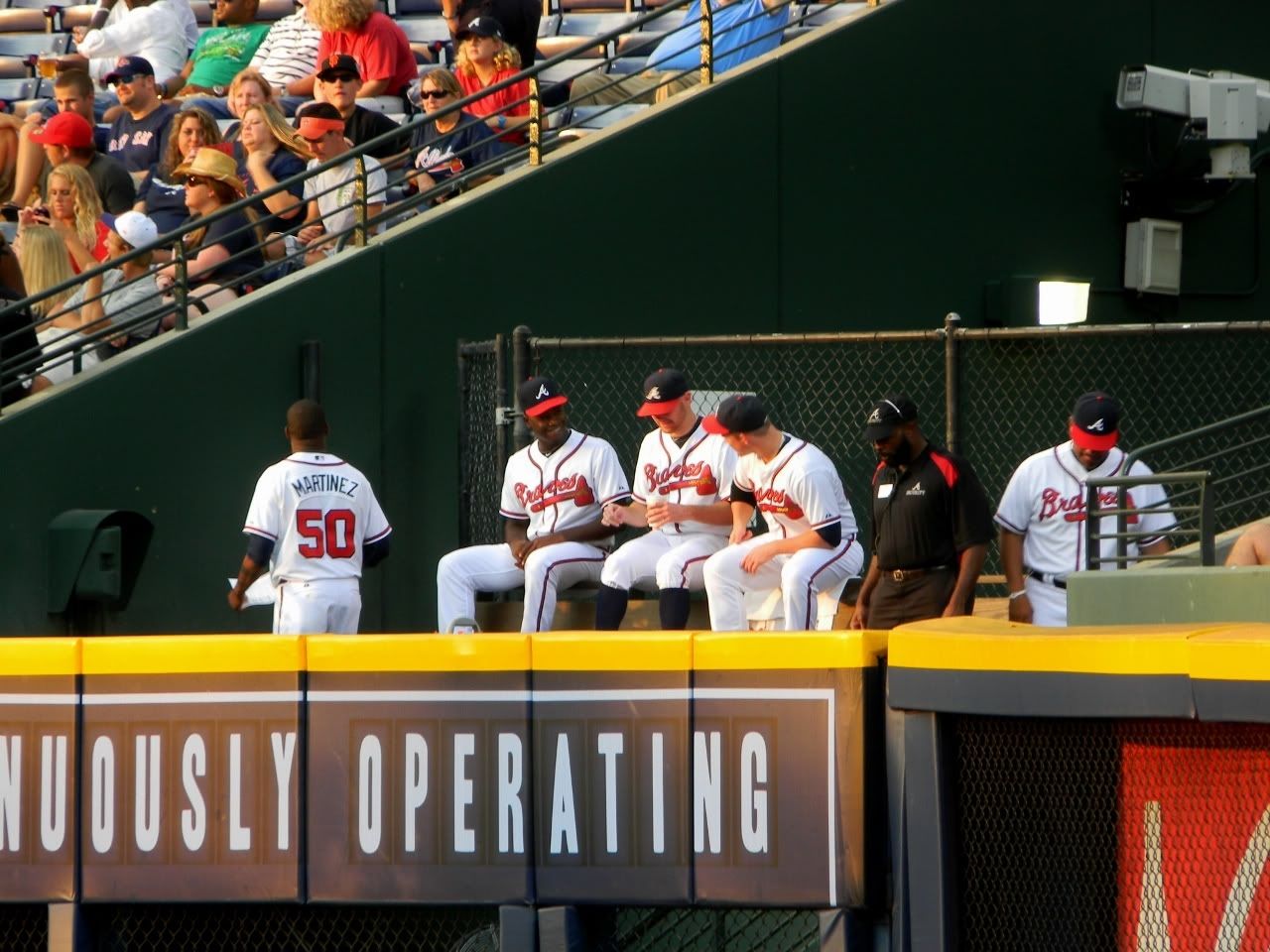 How cute is Vizzy's grin! This has to be a good story. :)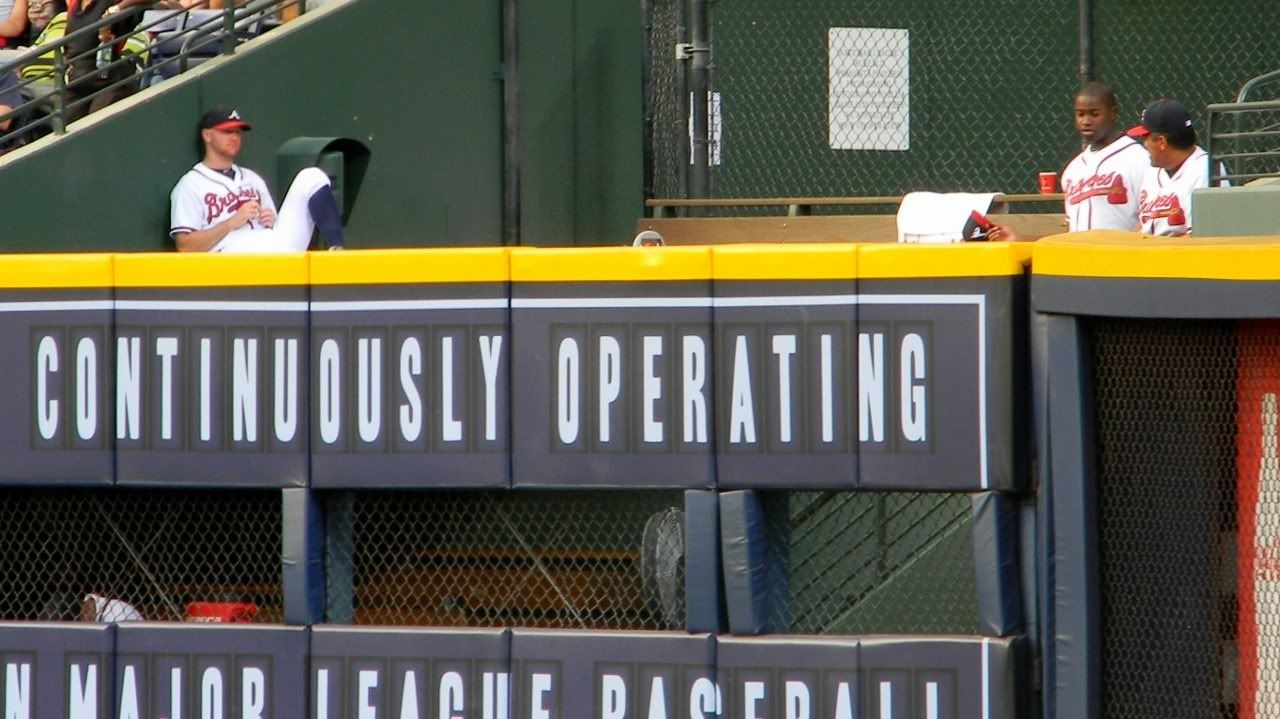 For the most part, the boys seemed so bored during the game. None of my pics of the dugout came out. They were bored too. (The angle on the 'pen was pretty good... you'll see in later pics...)
Tammy said I'm not allowed to be a fan of Cody Ross. I don't care. I like his hustle and his socks up and his orange shoelaces.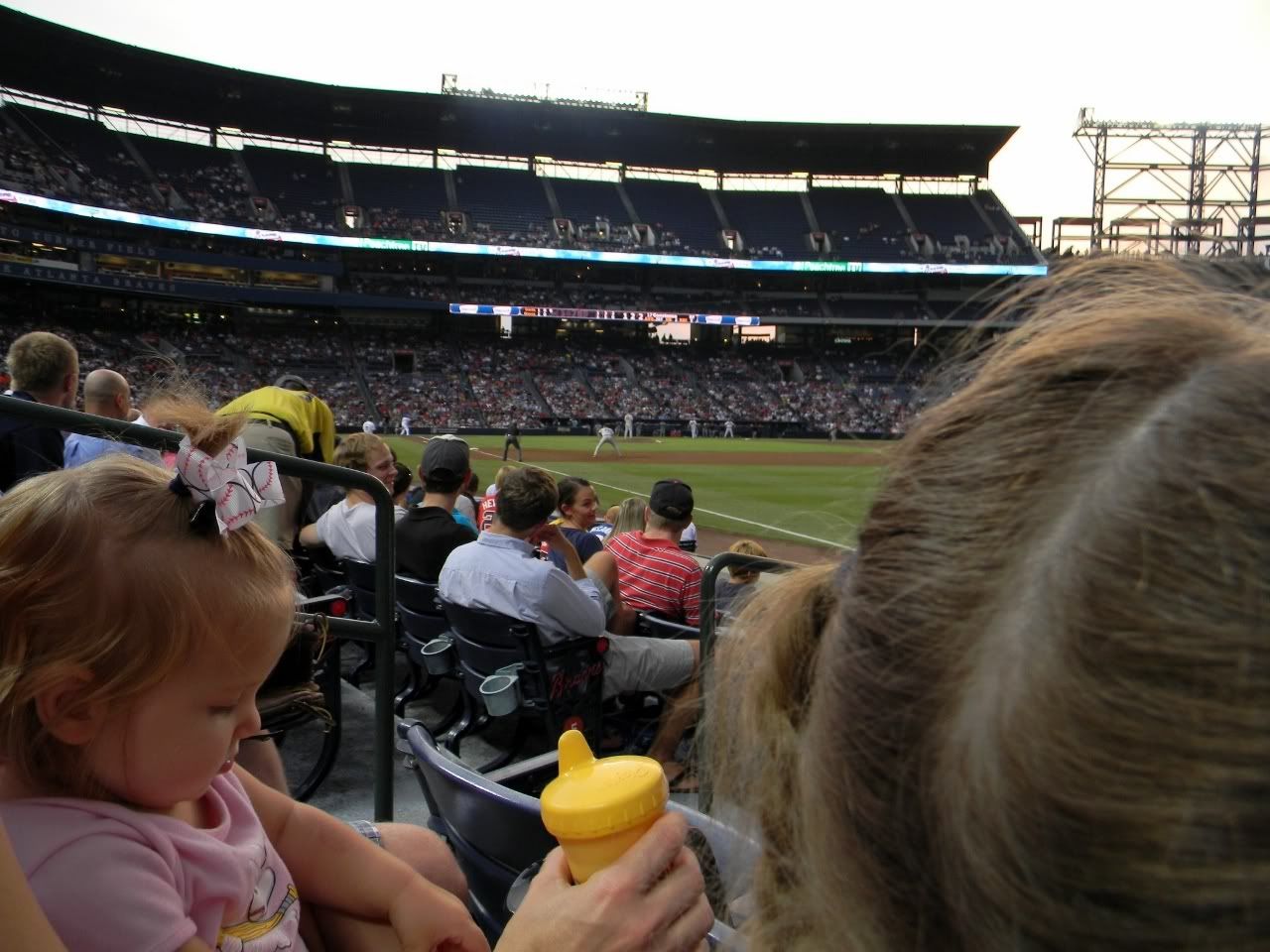 Pretty decent view of the game, right? ;)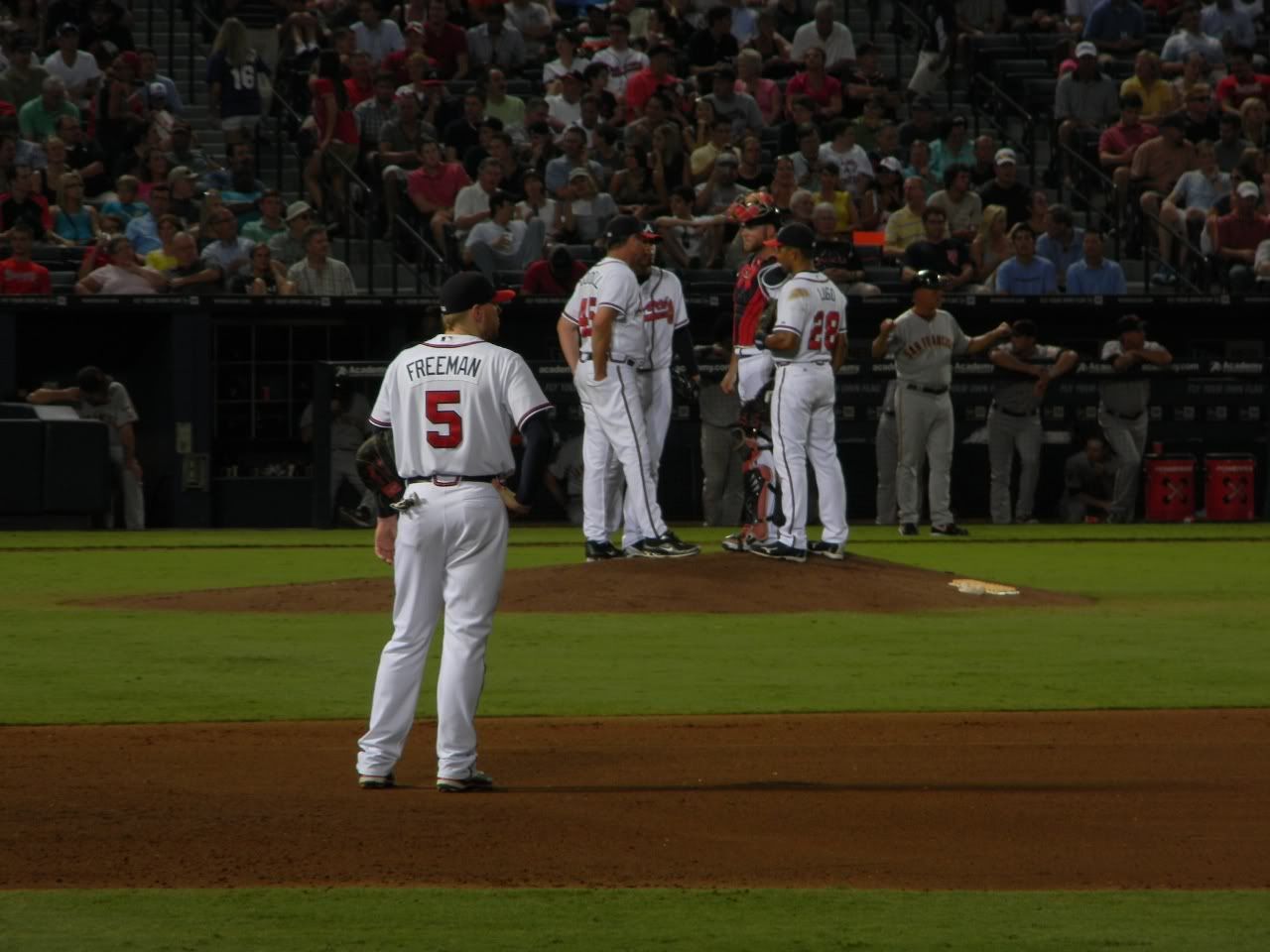 JJ gets a visit
When he pulled her out of the row and did this, she thought she was getting on the jumbotron. Why would she think that?! Well, she wasn't ever up there. Wonder if she was on TV?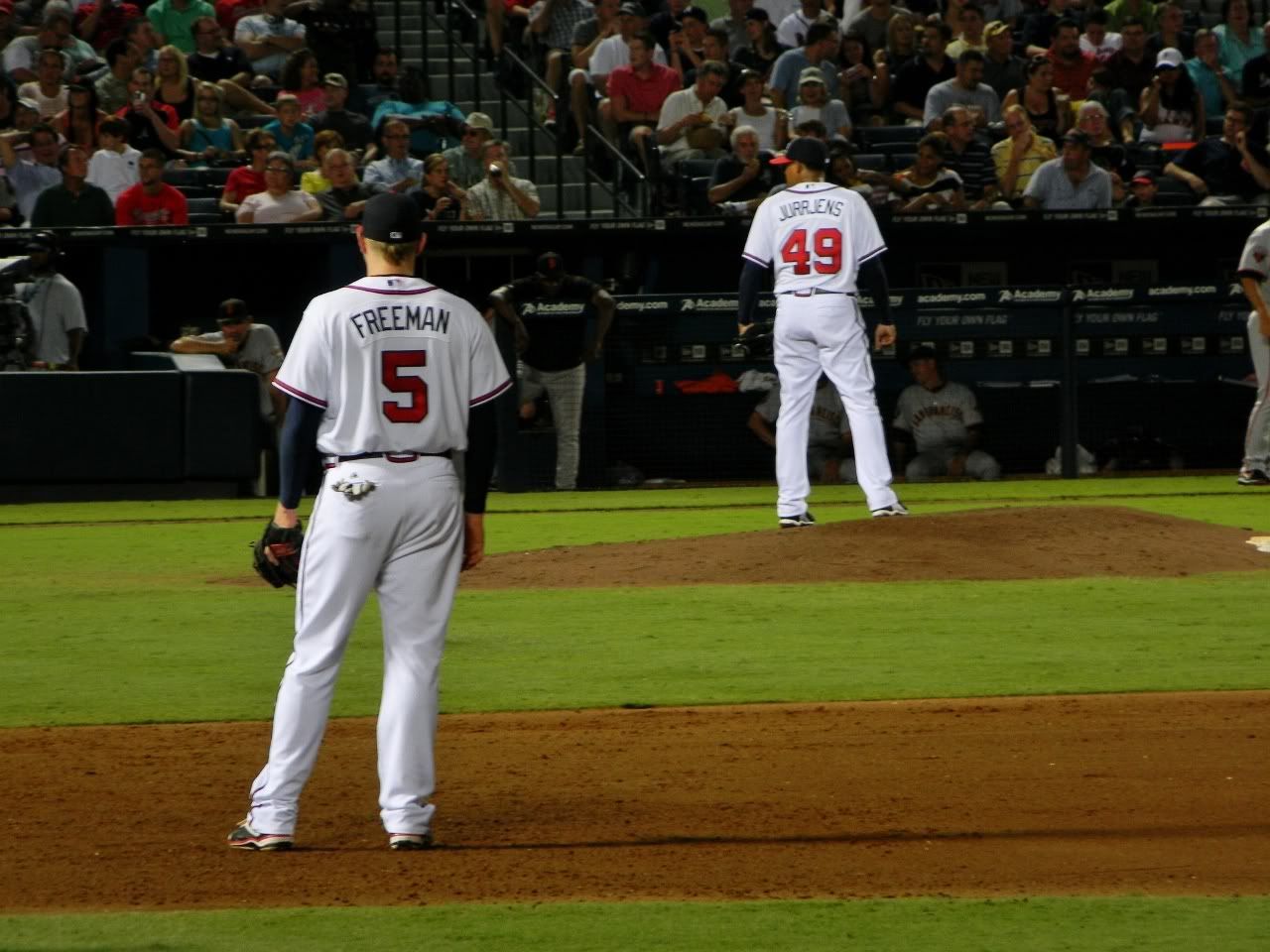 Heyyy JJ and Freddie
Tammy:
LAUREN. GIVE ME YOUR CAMERA.
Lauren:
Hmm?
Tammy:
CAMERA. QUICK!! YOU'VE GOTTA SEE THIS!!
Tammy: Is that not the worst farmer's tan you've ever seen?!
Lauren: That poor woman! ...Yes.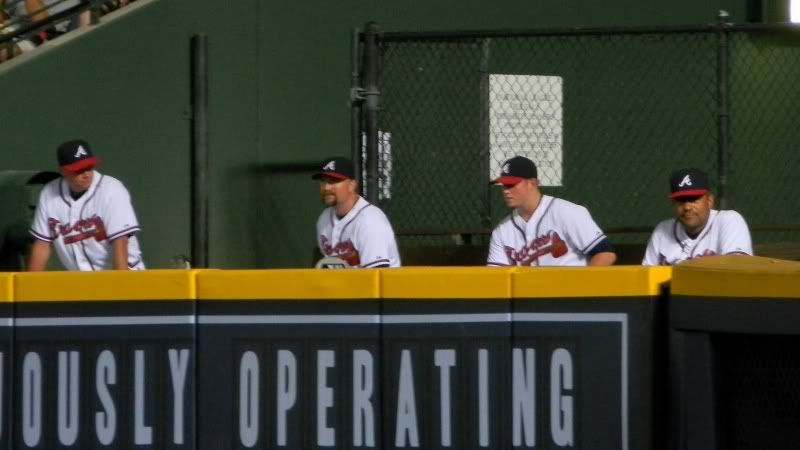 See, the 'pen was so bored, Scott Linebrink actually came out and sat on the bench! I am trying to remember if I've ever seen him out there. Can't.
Jumbotron proposal!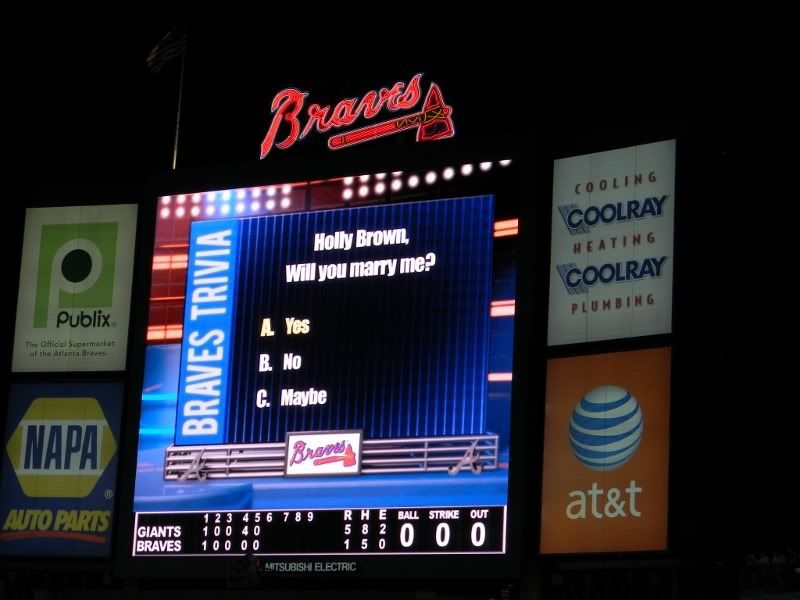 Holly Brown said yes. Aww.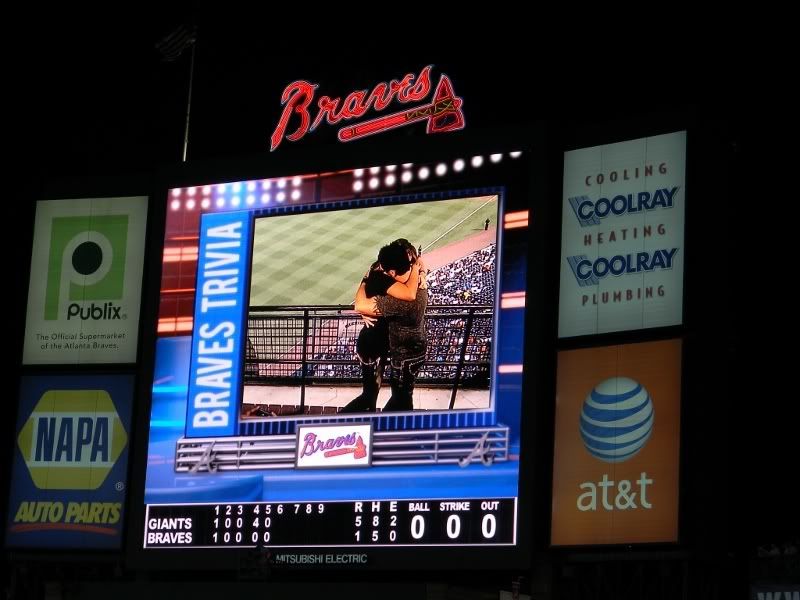 I hate the kiss cam but I do love jumbotron proposals.
I have a friend who would take a jumbotron proposal from this Brave! ha!
Oh, she also got a t-shirt gun t-shirt from one of the Tomahawk Team girls.
"I can wear it as a nightgown!"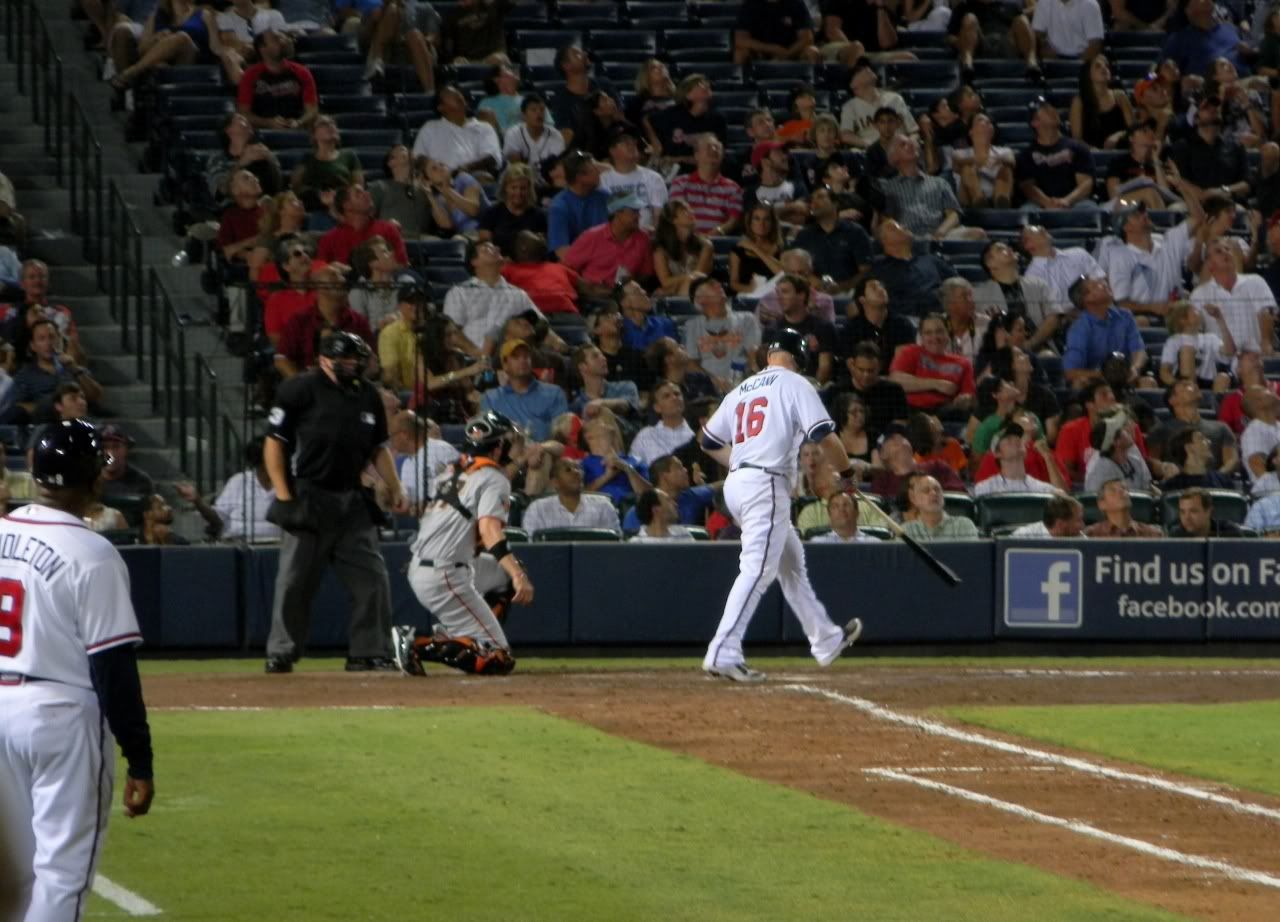 "Mom, it's my boyfriend!"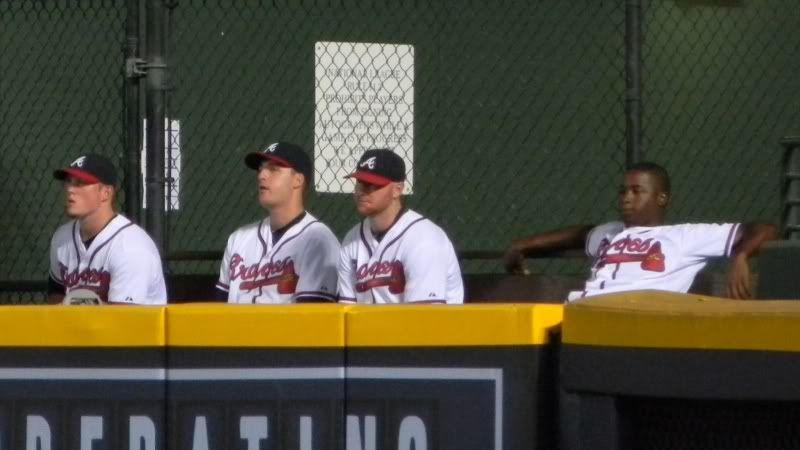 booooooooooooored
Maybe they should just watch this Nate like I did. ;)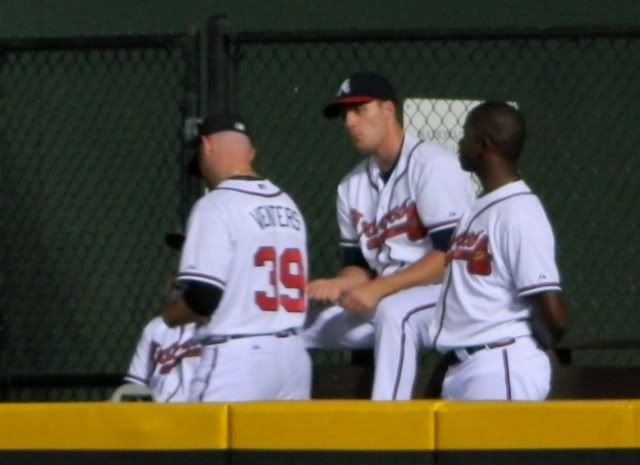 ...Or EO started pelting JV with sunflower seeds. Whatever. Heh.
Oh. Socks. Distracted.
Hee hee, look at Vizzy and Eddie. Eddie's such a chatterbox. :D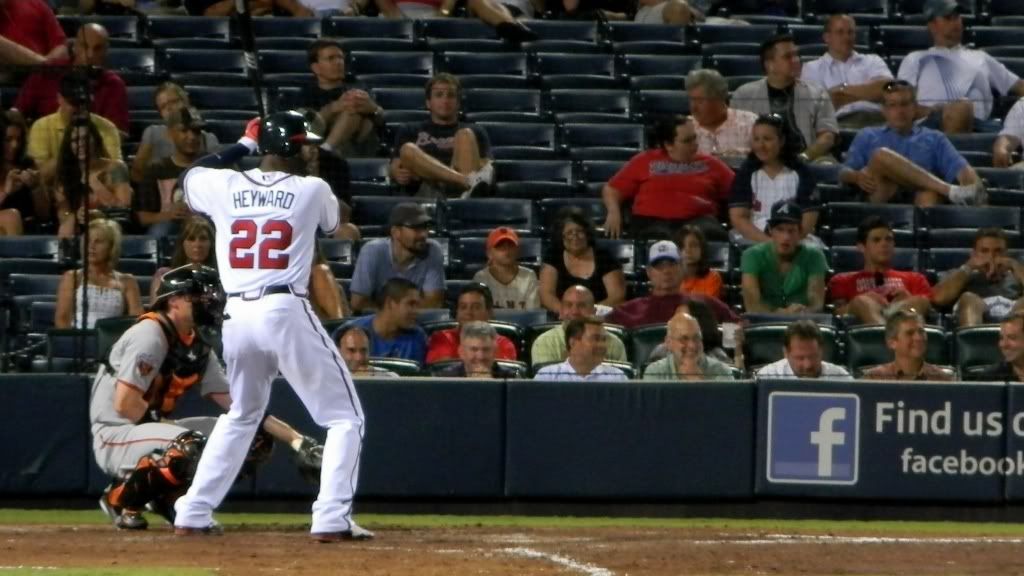 Nice.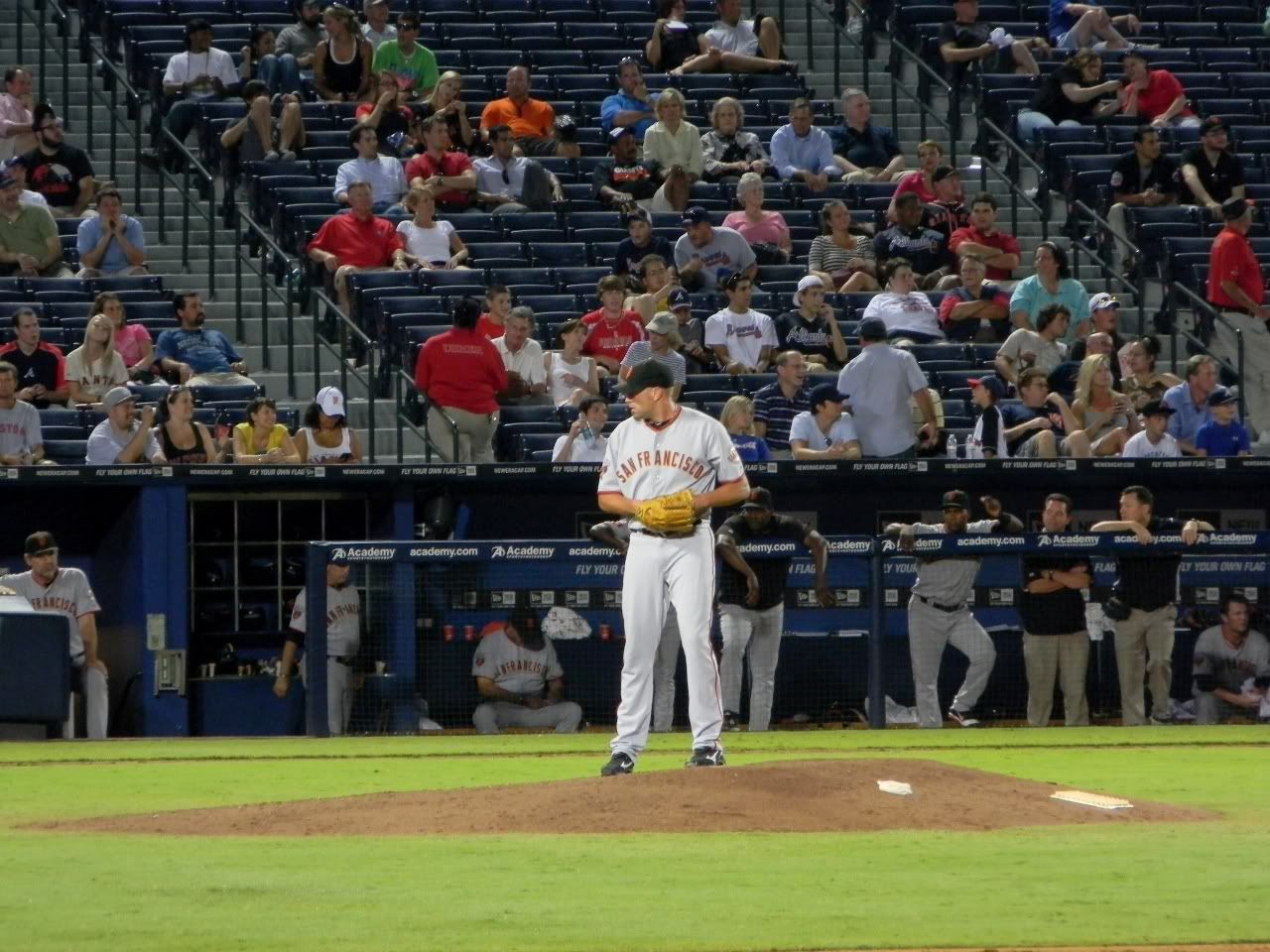 Tammy: Who's that?
[half-glance, just saw shape and glimpse of facial hair]
Lauren: Oh, that's Jeremy Affeldt.
Tammy: How do you do that?
Lauren: I like bullpen guys, remember?
This is the only game we lost of the homestand, so I'm glad I had some extra entertainment. Thank you for the ticket, Tam and fam, and thanks for being awesome to my favorite fake niece, Turner Field! We love you! As usual, there are a few more pictures in the
Full Album
.