Shoot us with the t-shirt gun, Chopper!
The Atlanta Braves don't play until Tuesday because of Hurricane Irene? Can I deal with a three-day break in baseball? ...Apparently not, because my cousin and I planned to go to the Rome Braves with a friend of hers. Well, a lot of plans changed, my cousin got sick (sad), and somehow Jenna and I ended up at the Gwinnett Braves. Look at those fantastic seats for just $7.50 each! Right above the Braves' dugout! Amazing.
I took pictures, of course. Here we go!
lineups!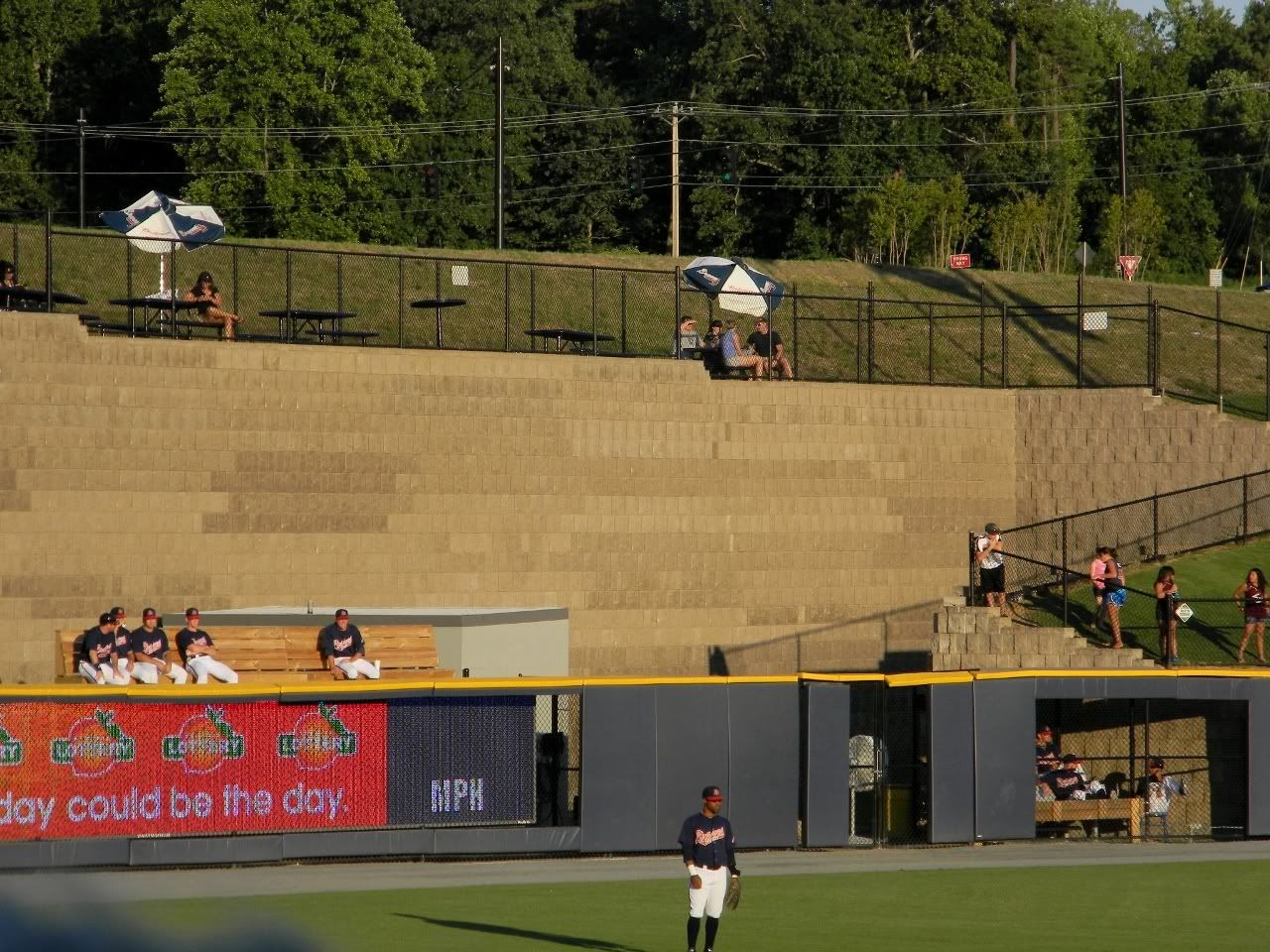 Jenna: It took you about three seconds to start looking at the bullpen.
Lauren: [only half-defensive] I was laughing at all the girls!
(I wish I'd gotten a pic of all the skirts lined up on the fence, hee hee.)
Starter Julio Teheran
Wes Helms is back!
JC Boscan looking into the dugout for signs
sunny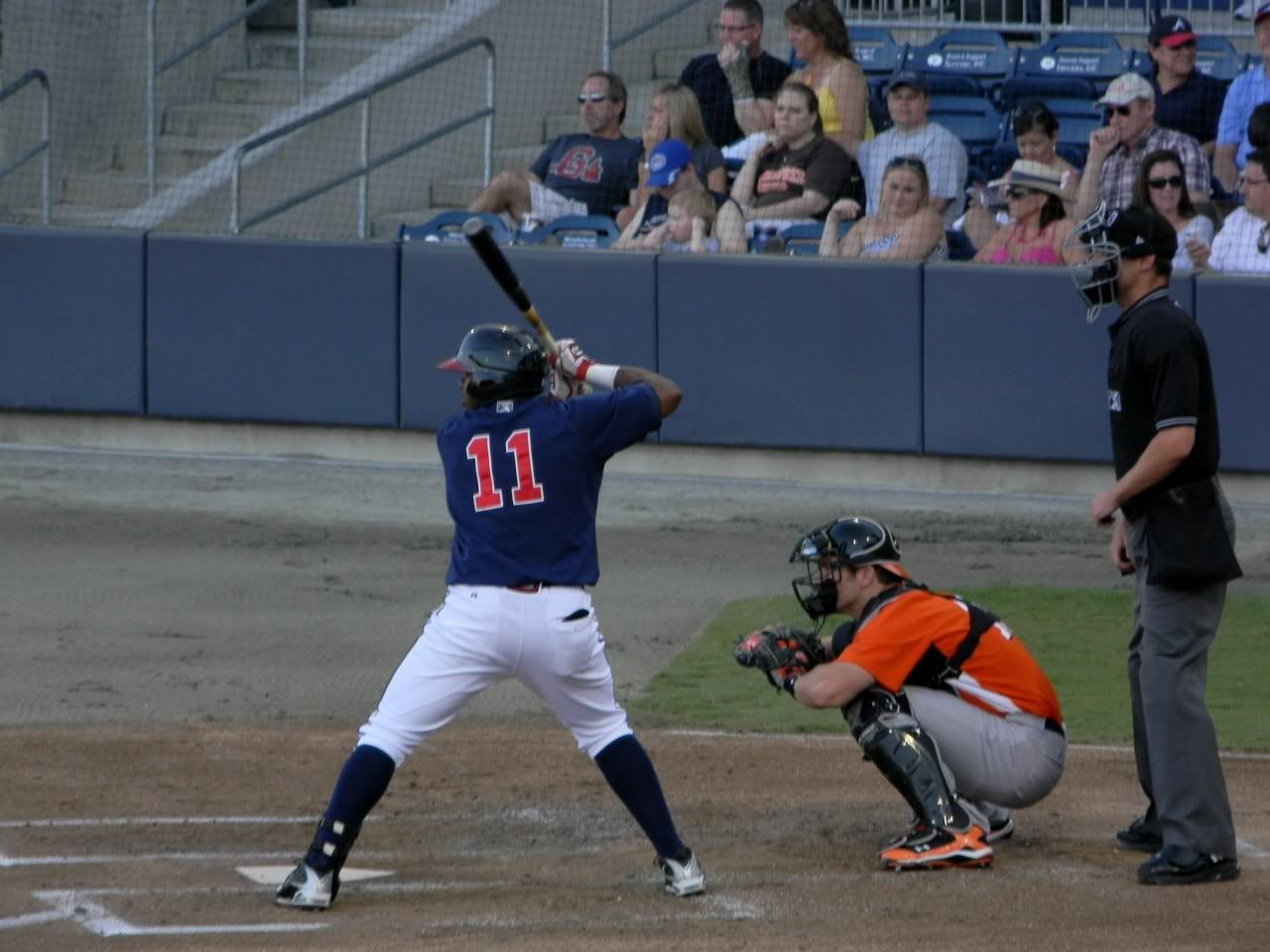 Ruben Gotay is back too!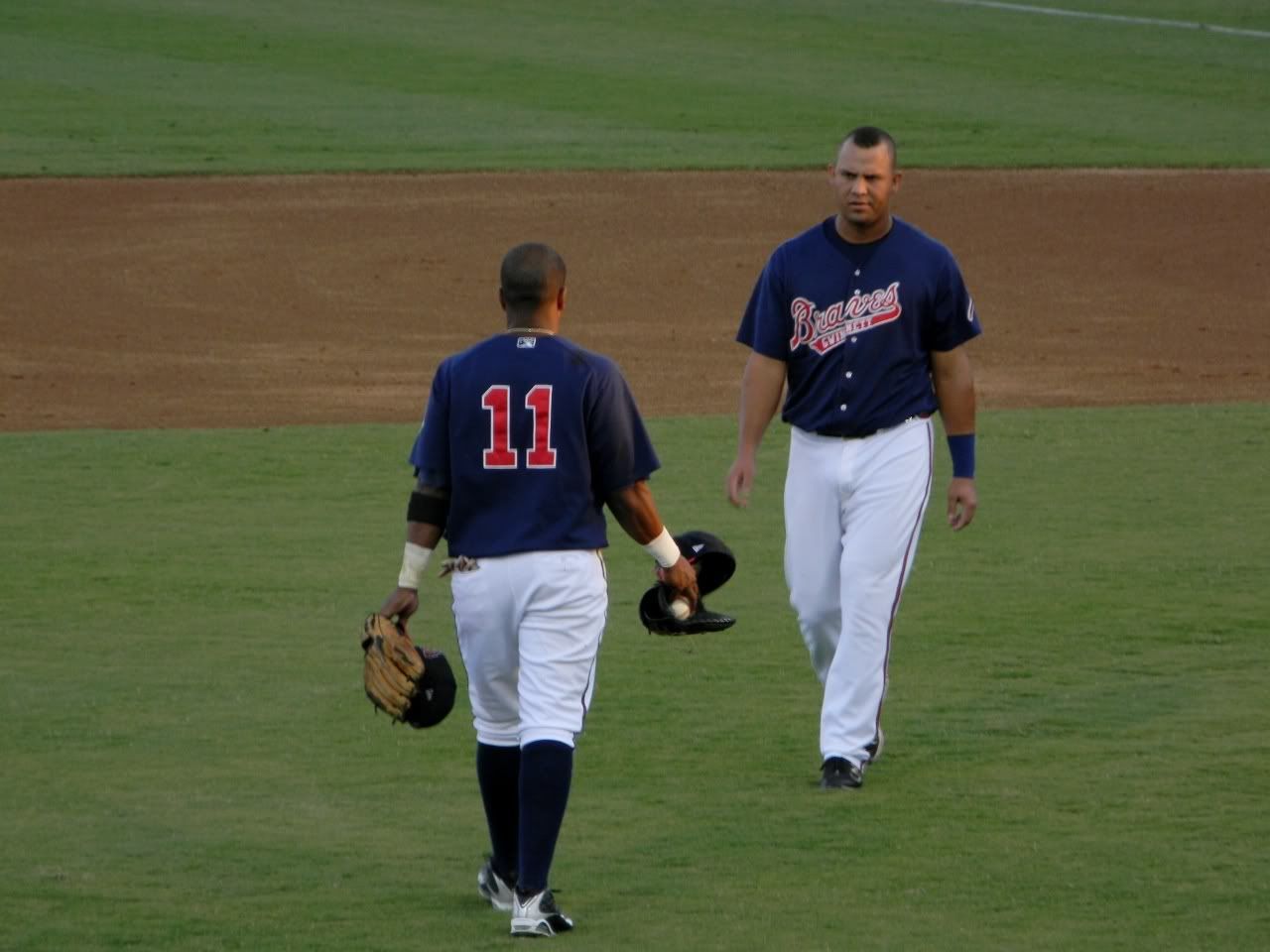 Another remember when... Mauro Gomez hit a walk-off homer in his first at-bat at Turner Field. Granted, it was in one of the pre-season games this spring, but still! He did not like that I was taking pictures. Hon, calm down. I'm taking them of everyone.
Teheran pitched a really great game - picked up his 15th win of the season!
Tried to get a lot of JC pics for Alison -- she hearts him a little. Not a single one came out as beautifully as her pics always do. Sad.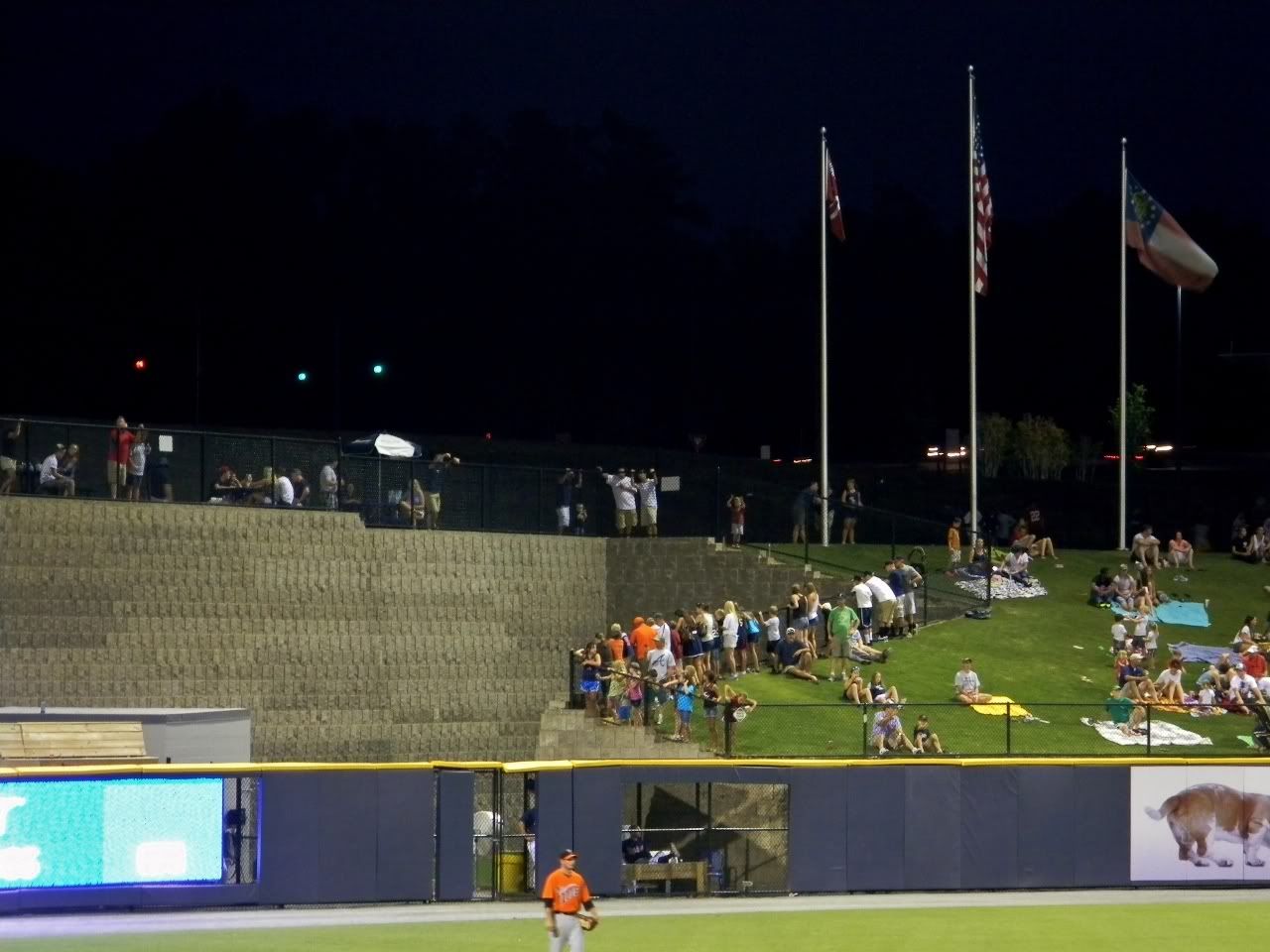 Oh, someone must be warming up in the bullpen. :)
Ruben's just gonna wait here for his stuff. Running bases is hard.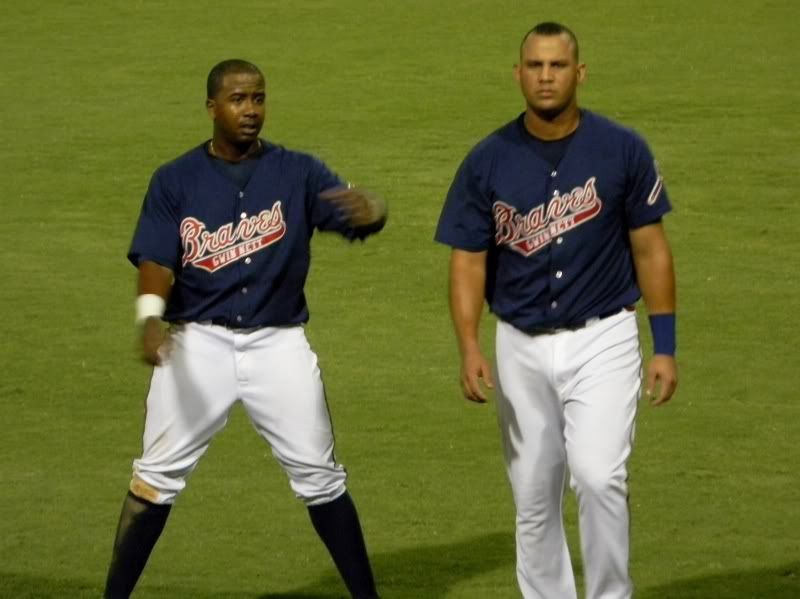 Ruben: Traeme mi guante, si?
Mauro: Ocupado. Enojado. La Rizada Chica es la toma de fotos. OTRA VEZ.
Heyyyy Alison.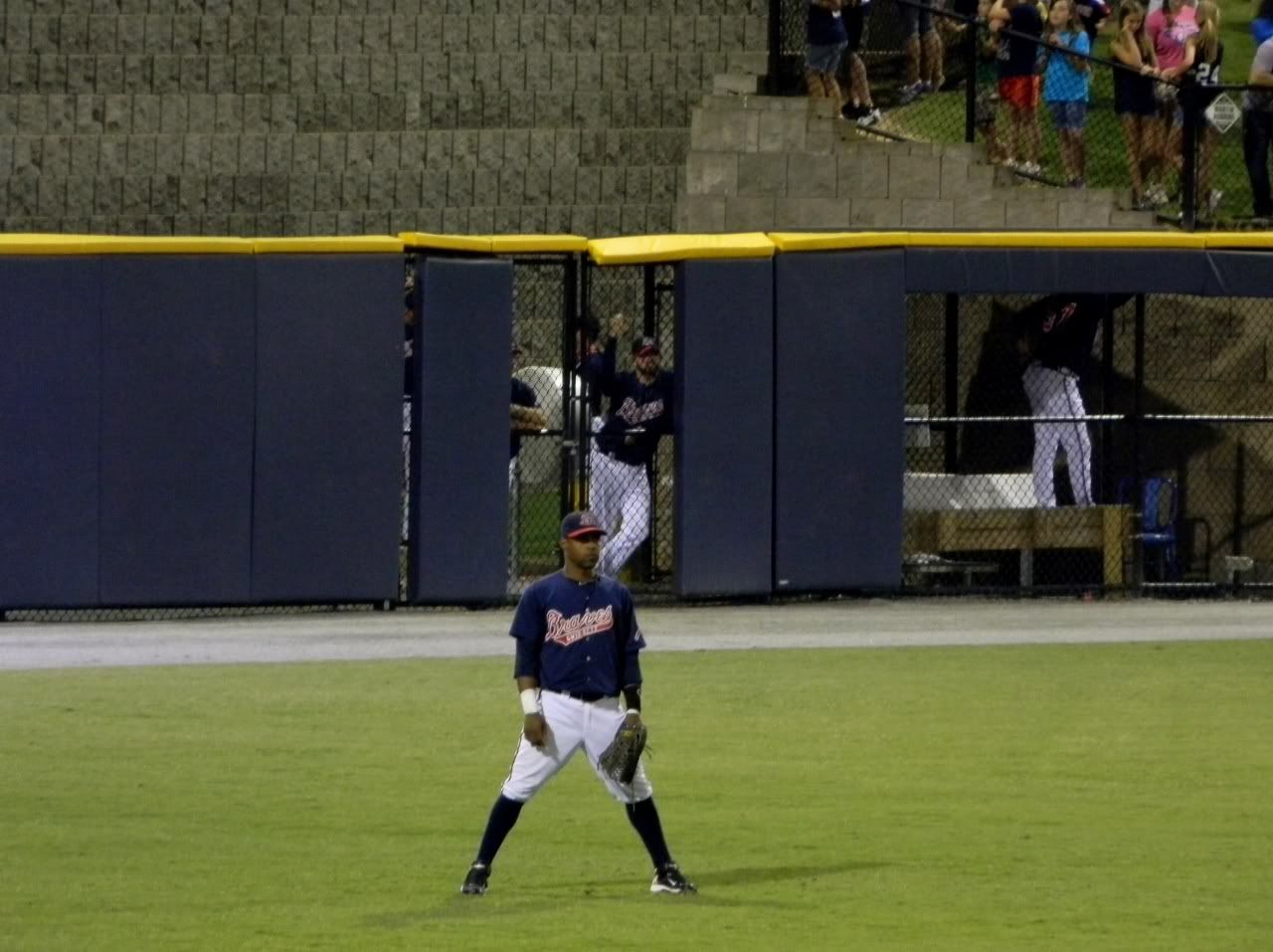 Oh look, Moylo's here? That's totally him! Yay, maybe he'll pitch!
But first, Diory has to try to be awesome. He singled but was called out at second trying to stretch it into a double.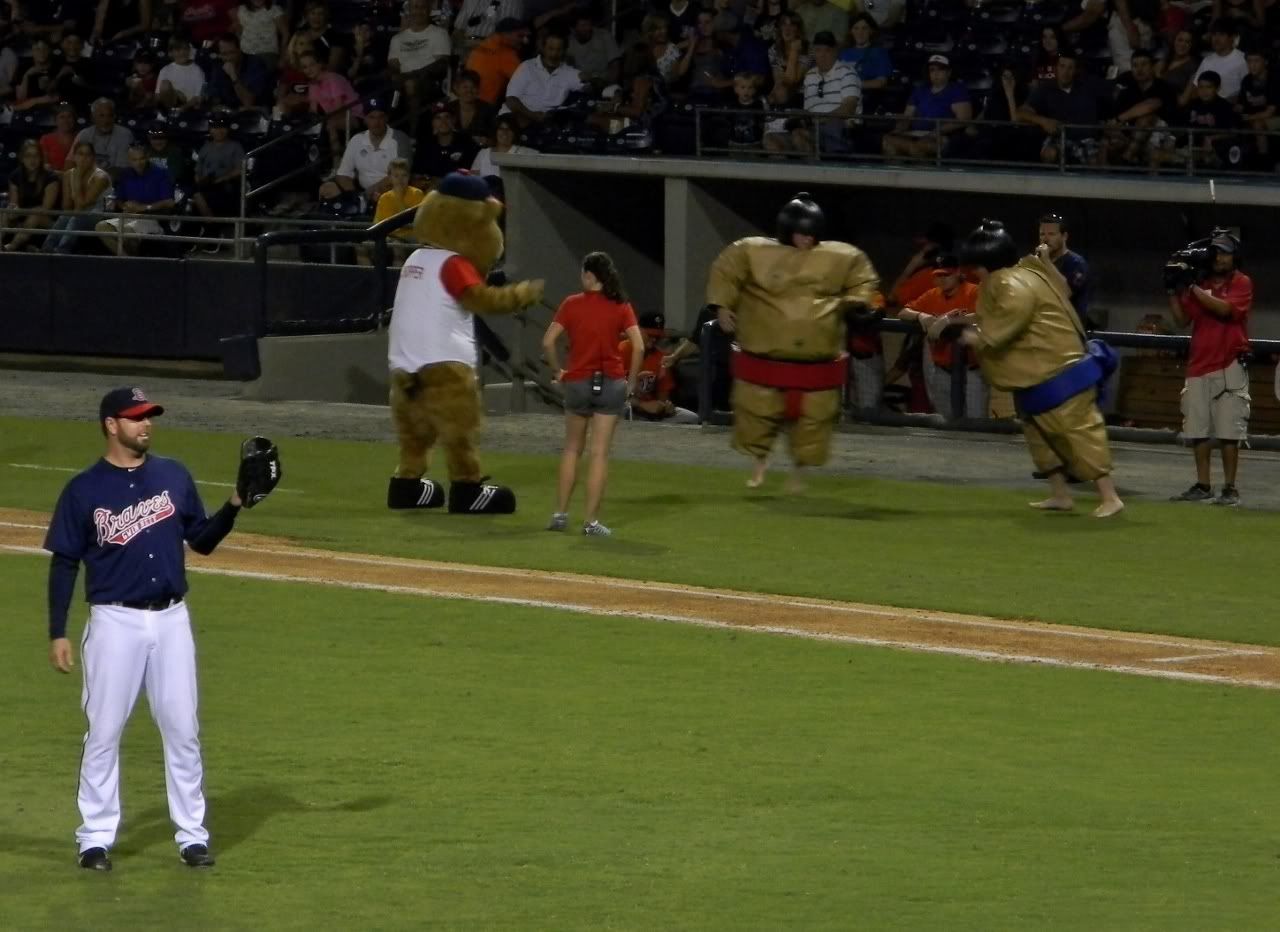 Top of the 7th! Moylo time!
...Wait, what is that in the background.
Oh, of course we need video of this.
Minor-league games are fun, but boy that's distracting. :)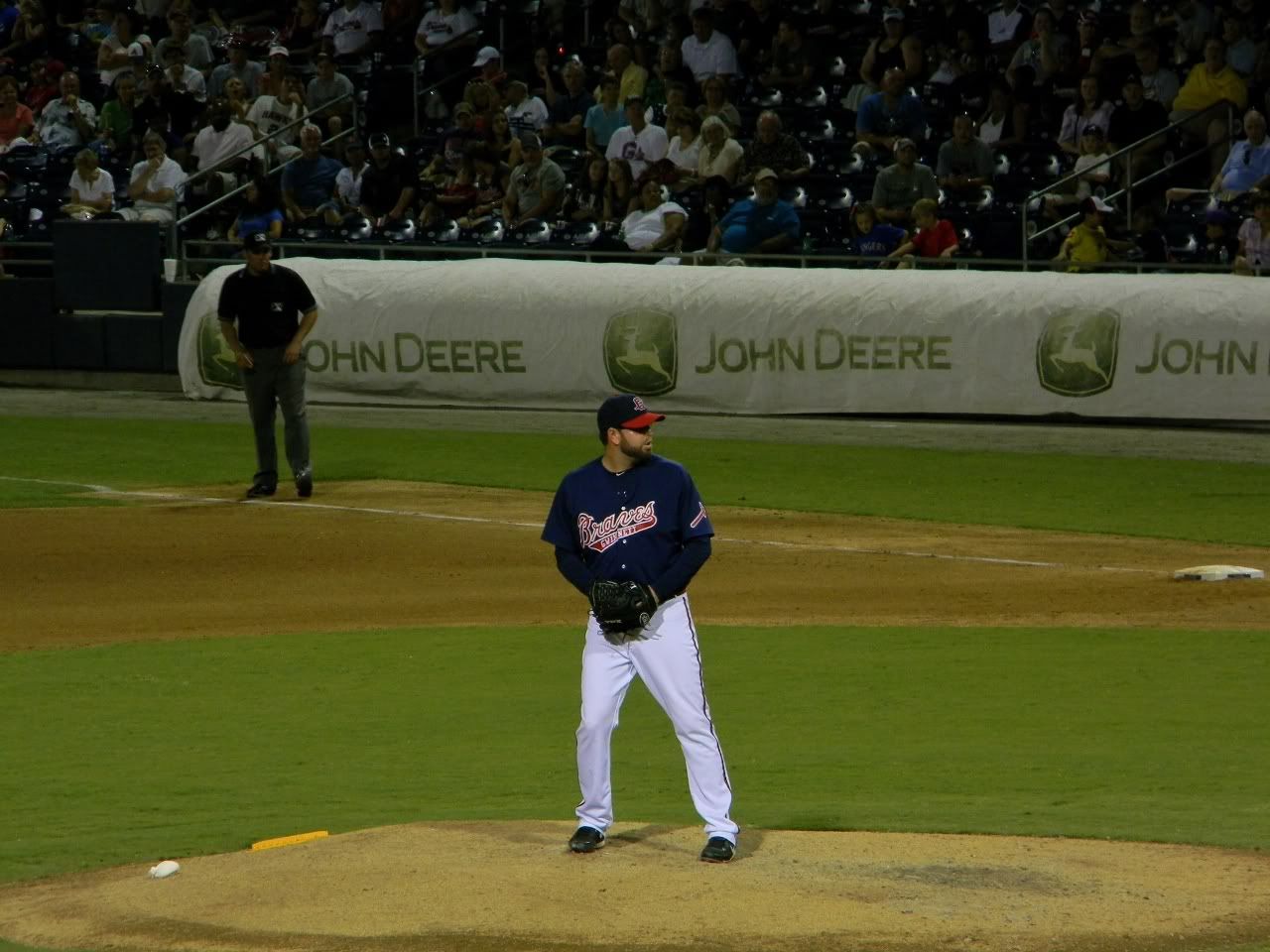 Jenna: Is he wearing glasses again?
He was. You can't see them in these pics. Odd shadows.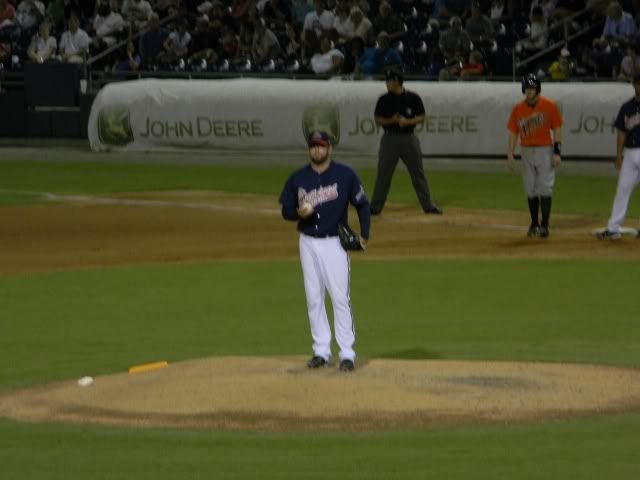 Yep, I cheered. :) Wish this was in focus!
He may have allowed a few baserunners...
But he got a little PFP in!
And in the end, everything was fine.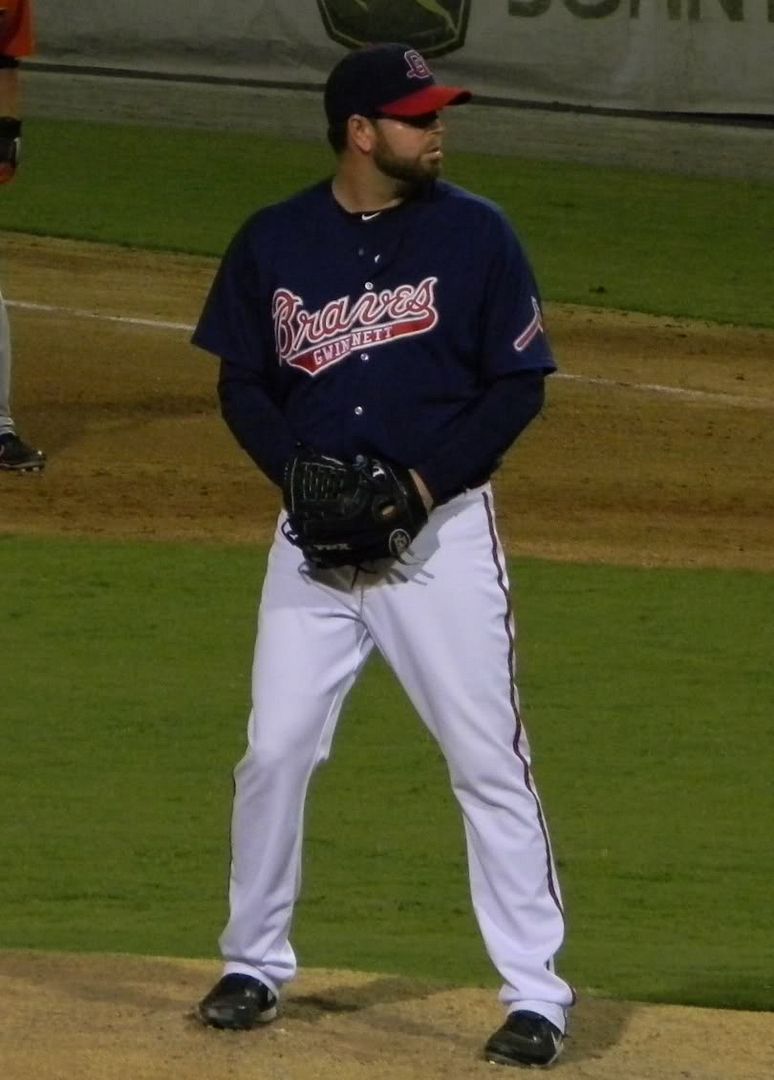 He allowed zero runs.
Bases full of GBraves!
oh my
Of course, they had to run that thing while a reliever I like was warming up. Jaye was so smiley in our bullpen during the Spring Training game at the Ted -- we called him Socks Up Kid until we learned his name. It was freezing and he was still Socks Up! That's awesome. Anyway. Jenna laughed at me for remembering him and being excited about him coming into the game, then later while reading the GBraves Gameday program was impressed with the little blurb on him. "We could have used him!" Well, yeah. I think we got you a new fan, Jaye. :)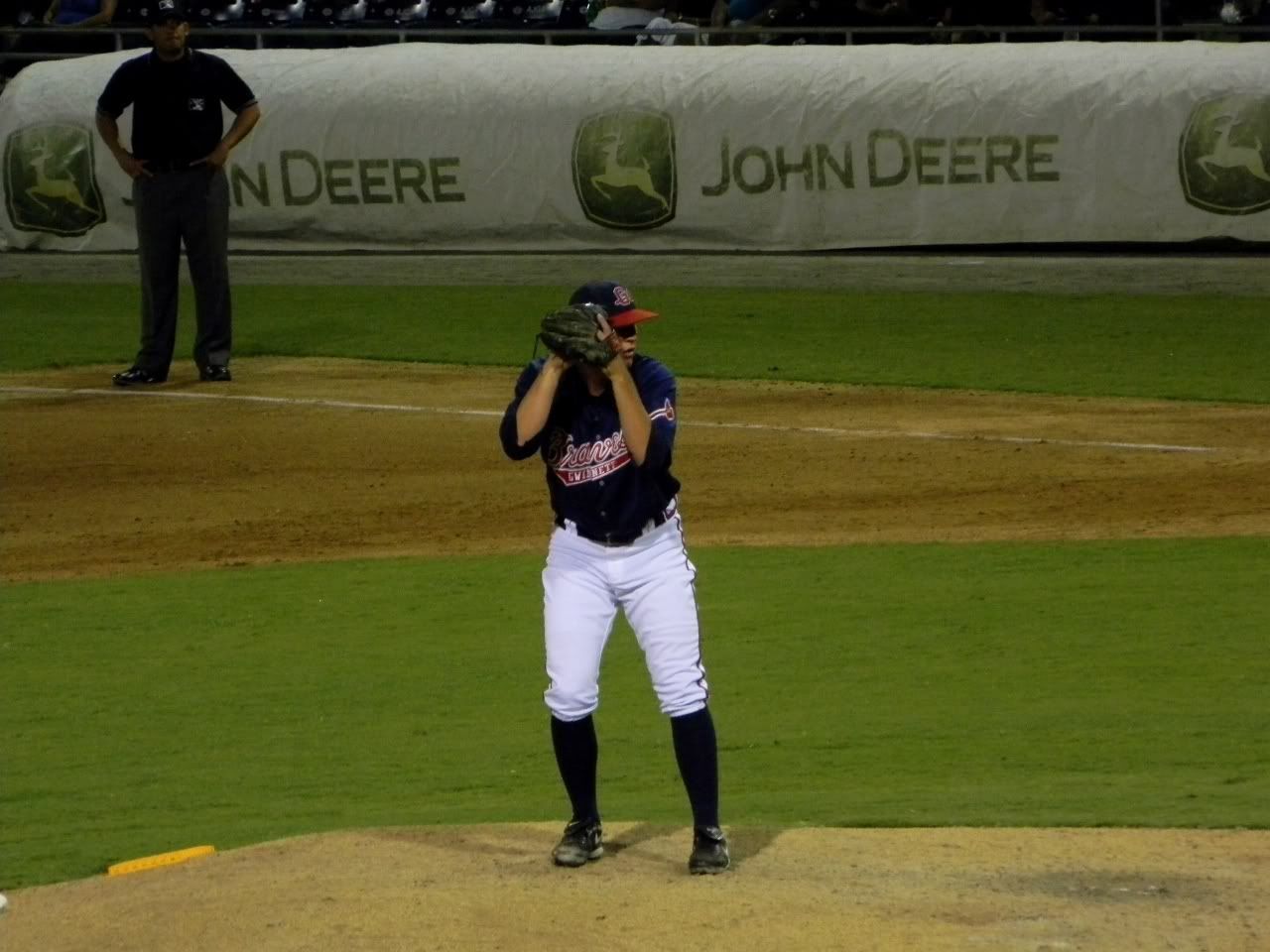 Jaye Chapman warming up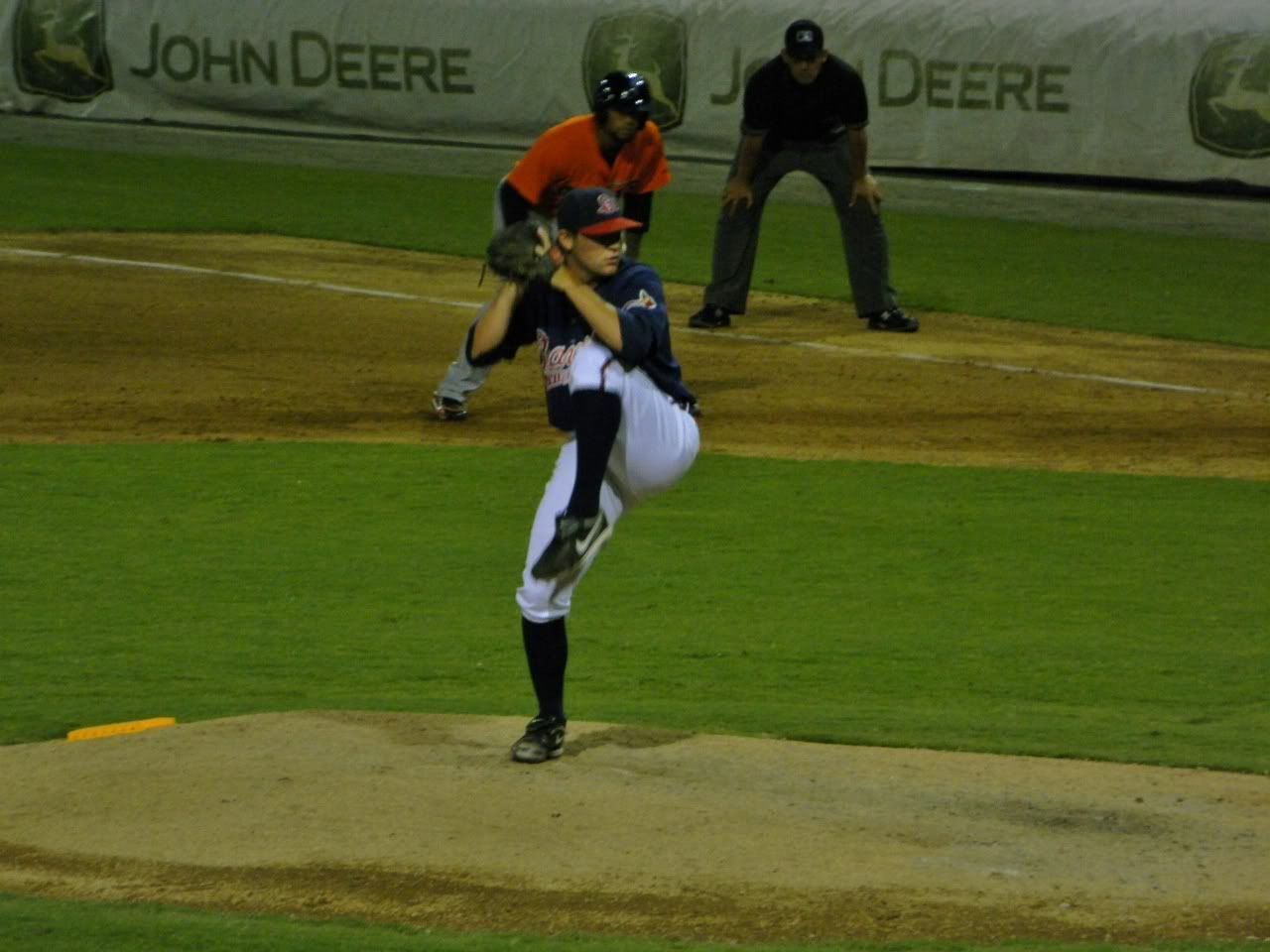 very high leg kick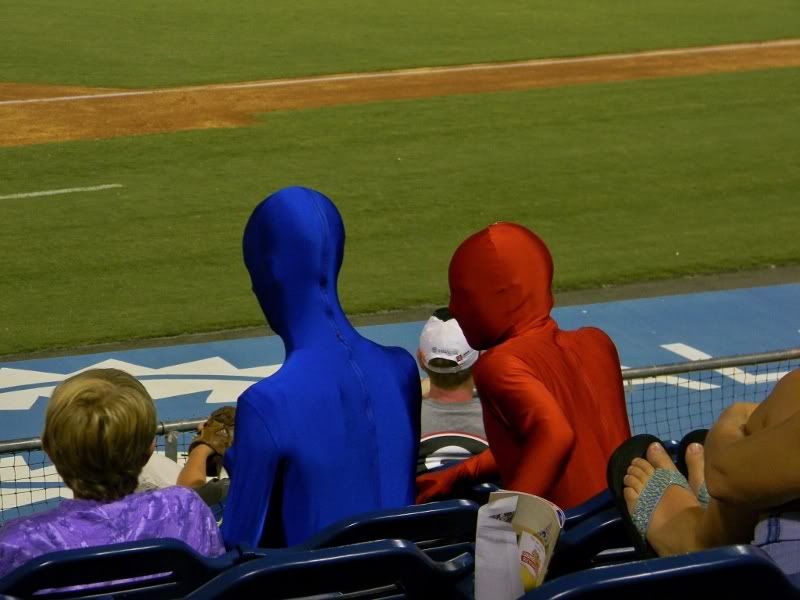 Totally waited for these guys to do something - they didn't.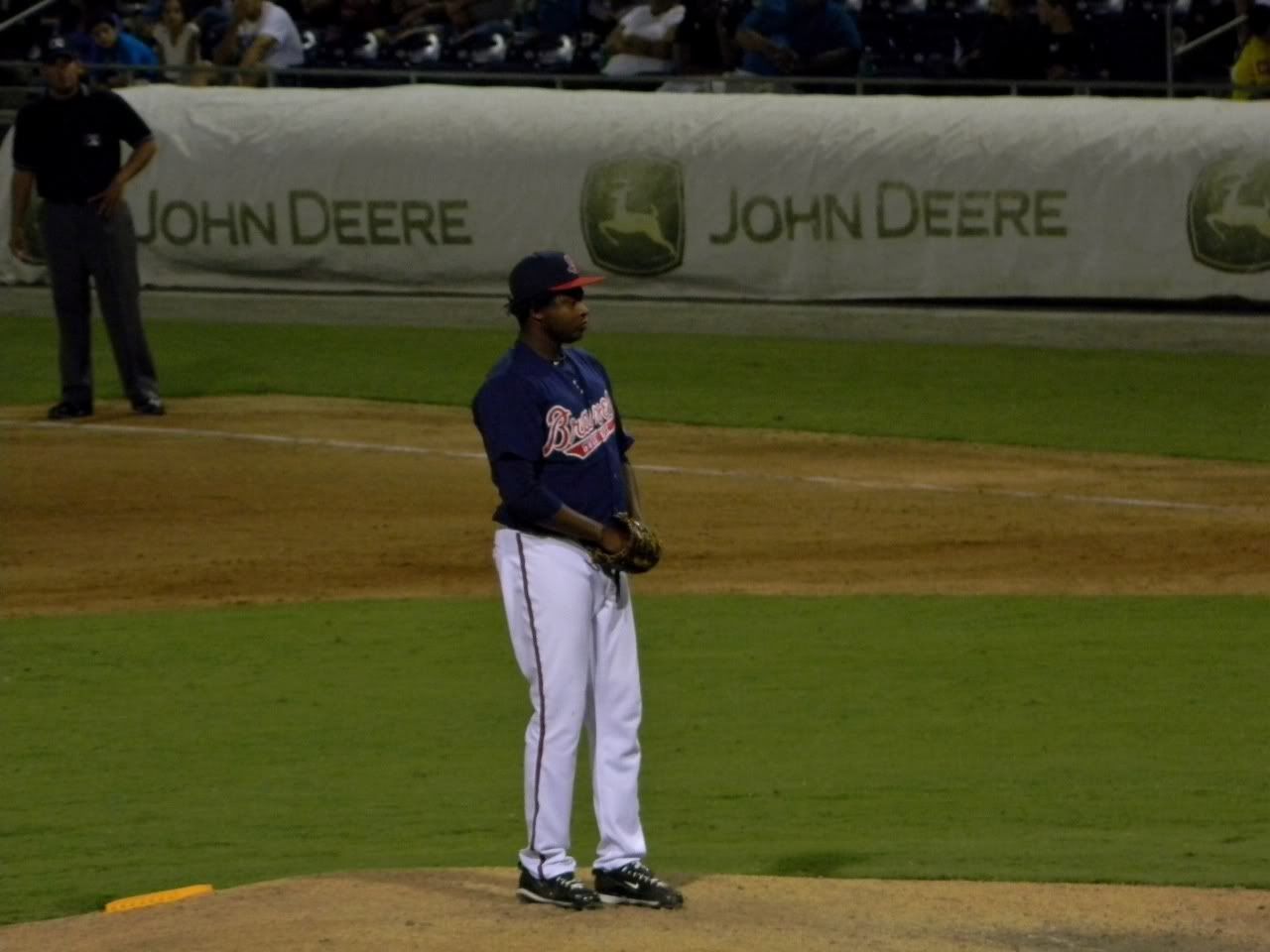 Ascencio (aka Valdez) in for the save.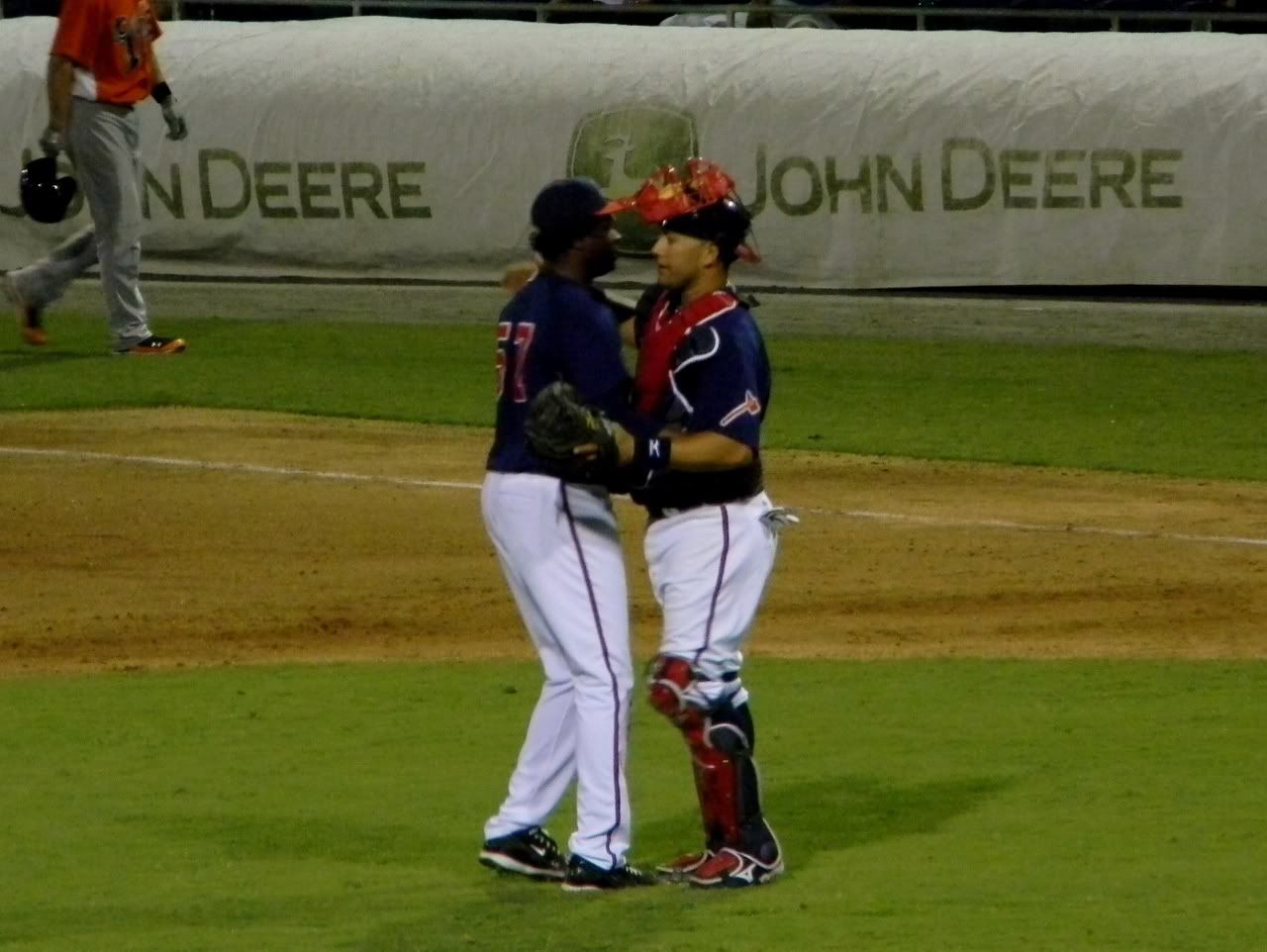 HUGS
good game, good game
4-2 GBraves!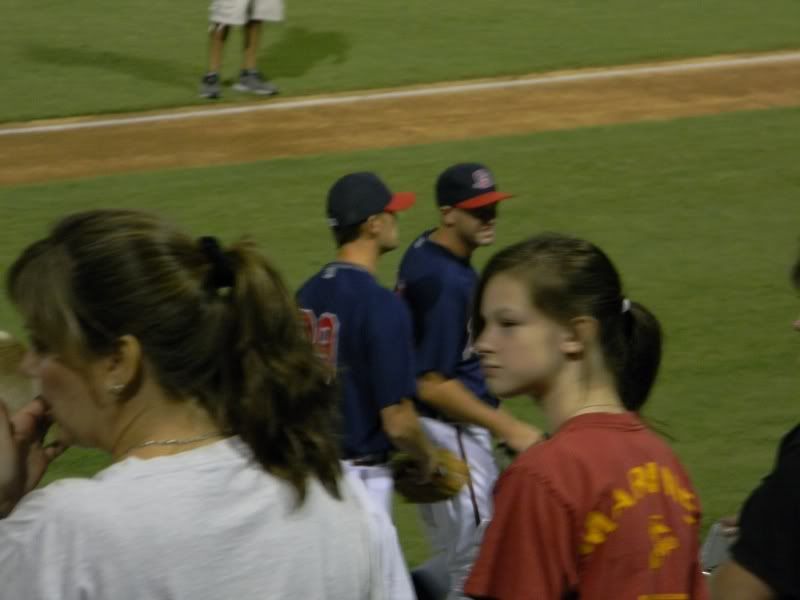 Hey, Cory Gearrin!! I was so busy taking good game pics and looking at the final scoreboard that I forgot to look at the bullpen walking in to see if I knew any of the other boys -- and I won't lie, I forgot Cory Gearrin was out there. I'm a horrible fan. (I still heart you, Cory!)
Full album here
, gameday recap
here
! Minor league games are so fun, even if you don't know the names. :) Go to one soon! Support our guys trying to make it to the show!
ETA: Last time I went to the GBraves, Jonny was the day's starter -- yes, he was socks up! -- and we went specifically because my friend B wanted to see JHey. That gameday post is here, if you're interested.