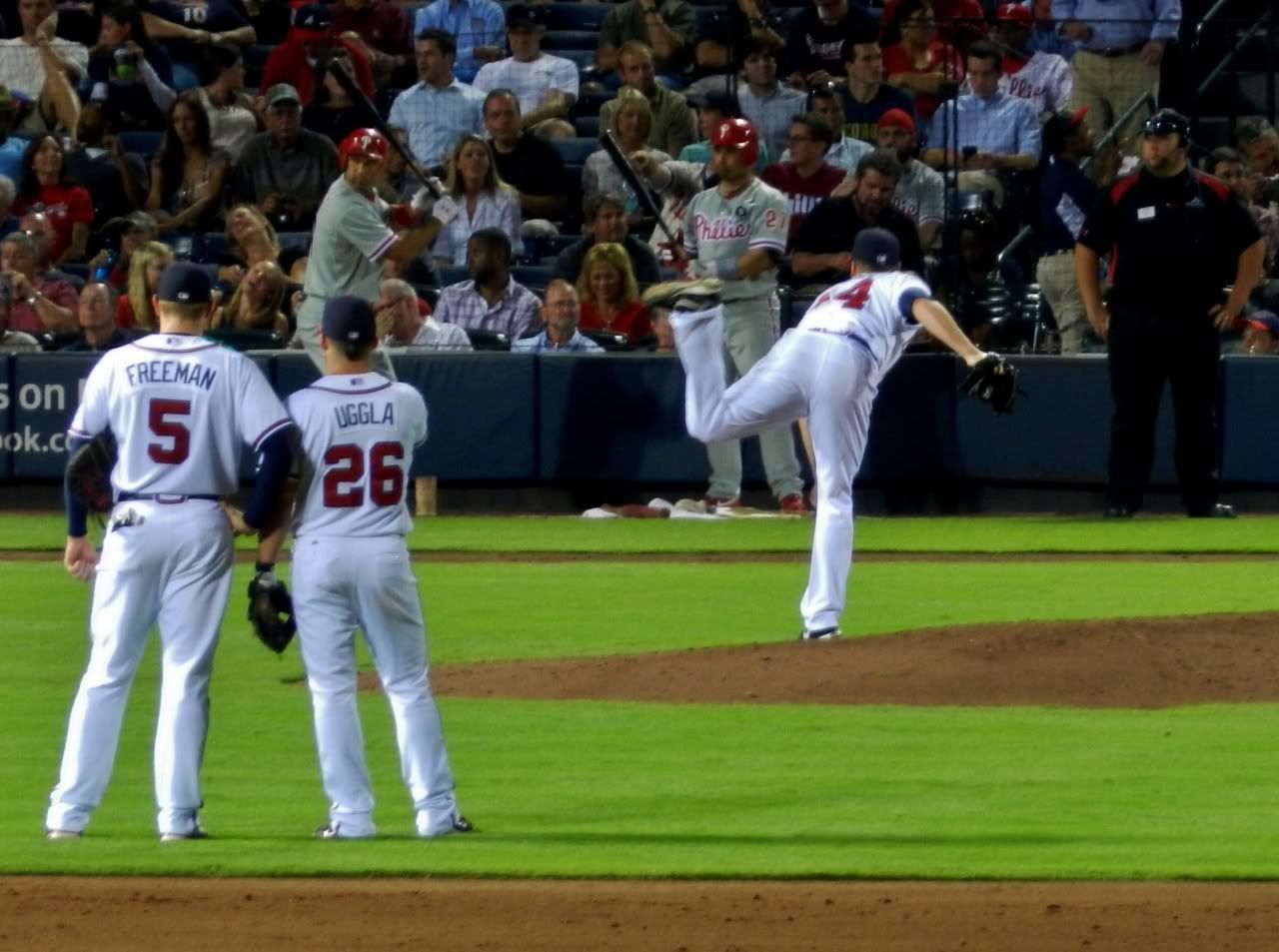 I enjoy our new bromance. It's not the same as McFrenchy, but it's okay. ;)
Game #48 of the year. Crazy. But when one of my blog readers wants to go to all 3 games and wants me to join her for a couple? Uh, yes. Thank you Kolbi - you're awesome. :) She came to BP early too, which was super-fun. Let's look at the pics! Don't forget, click to enlarge...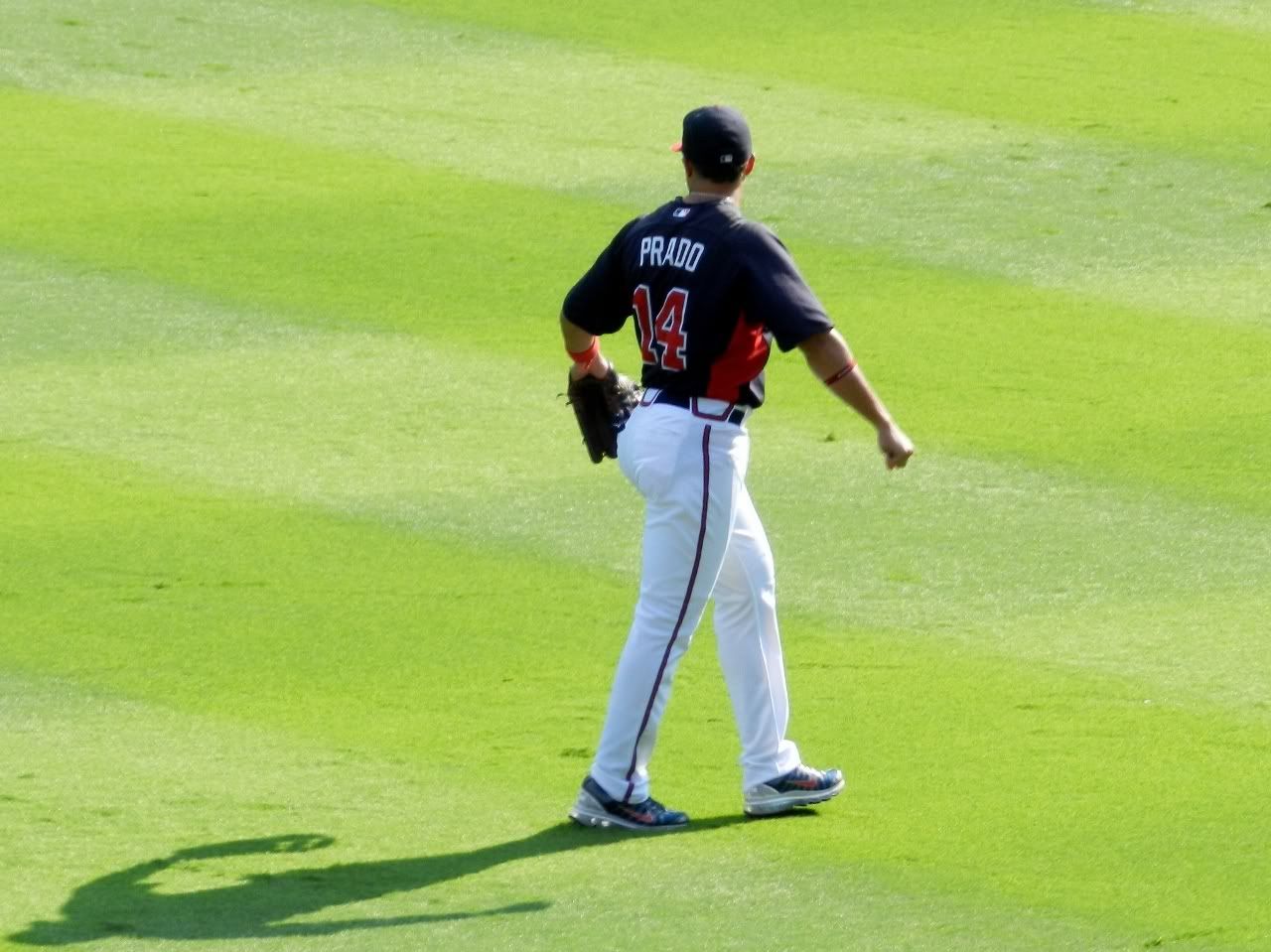 He was dancing to the stadium music again!
A lot of people yell for him
Oh, who's he gonna throw to! His eyes are looking one way but his body's facing another! Also, if you enlarge this picture, you'll see the camera focused on Rossy, not Marteen or the fan hand in front of me. Smart camera. ;)
Hi pretty EO.
Hi cute Kimmie.
Marteen is all over the field. JC's like, what. The baseballs can come to me. I'm a catcher. They know.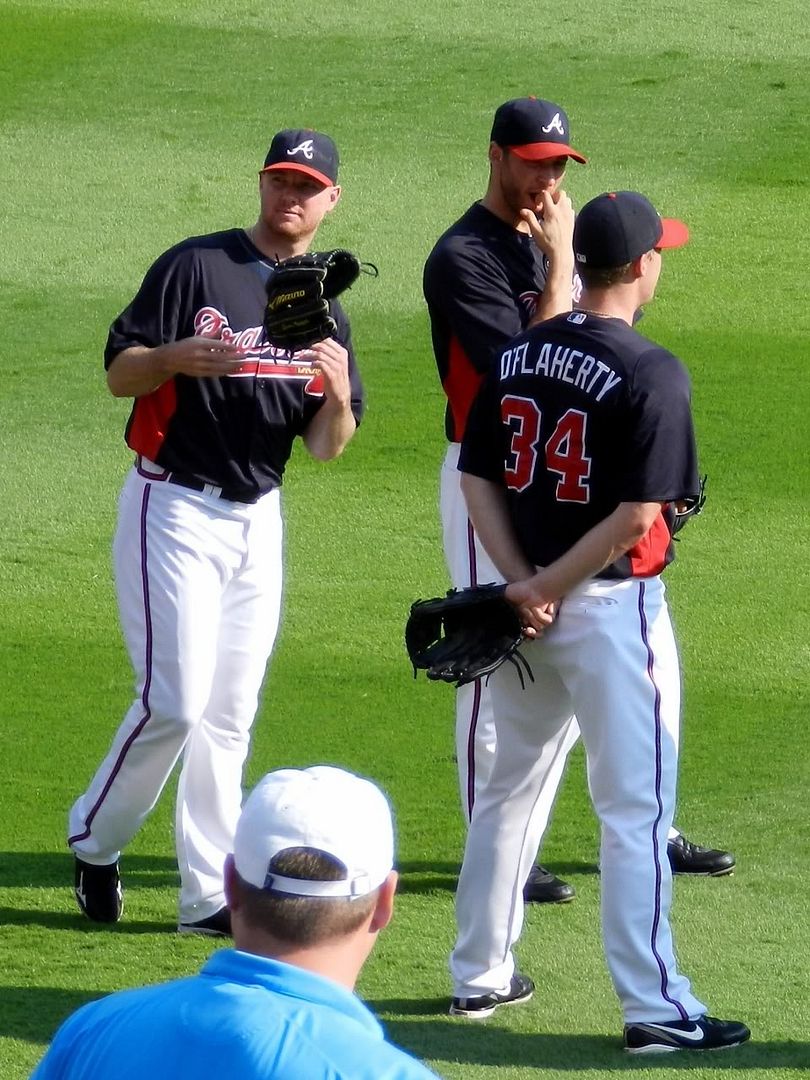 Glove flip! ❤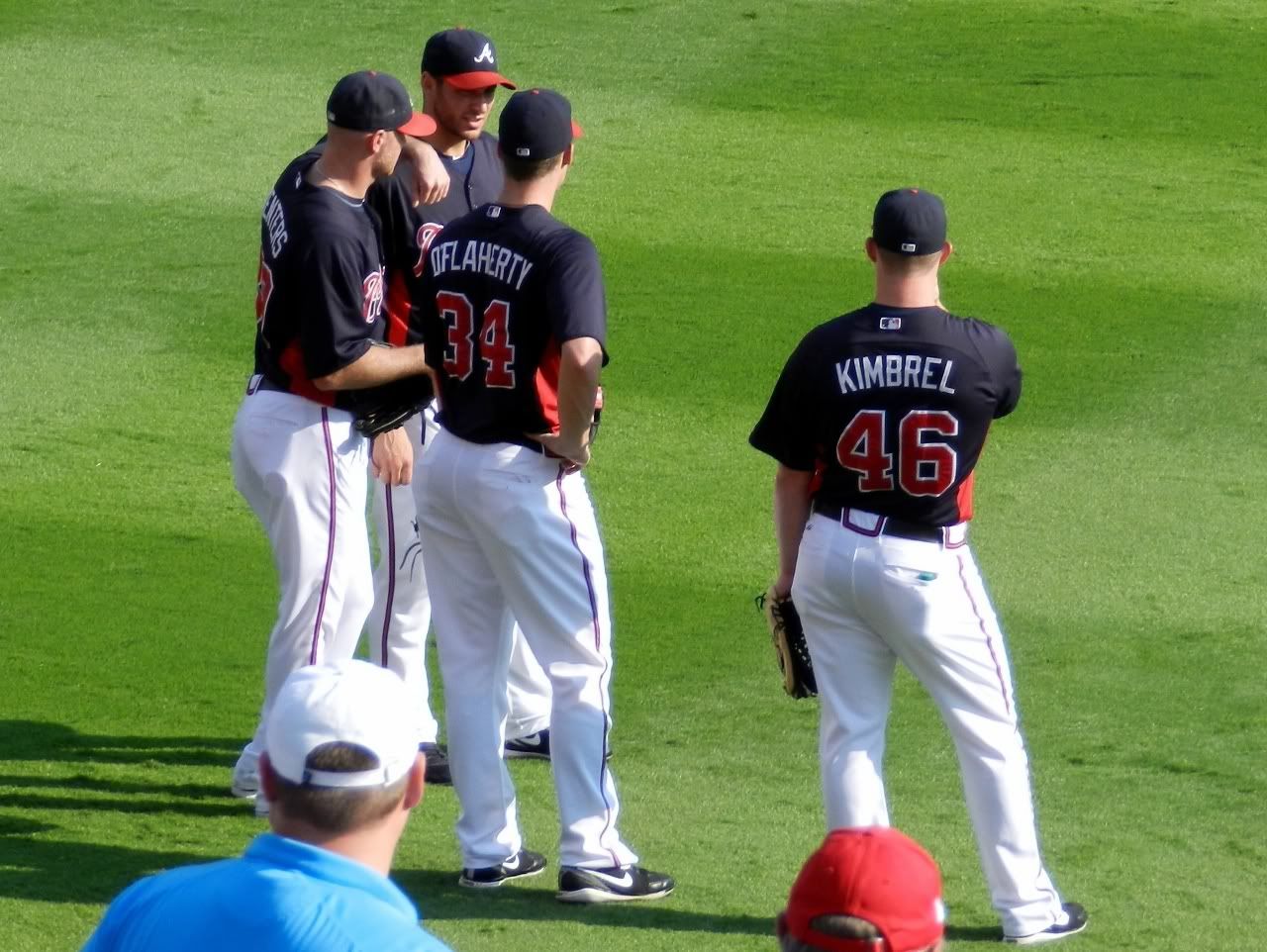 DBHA
ostracized today. why, guys?!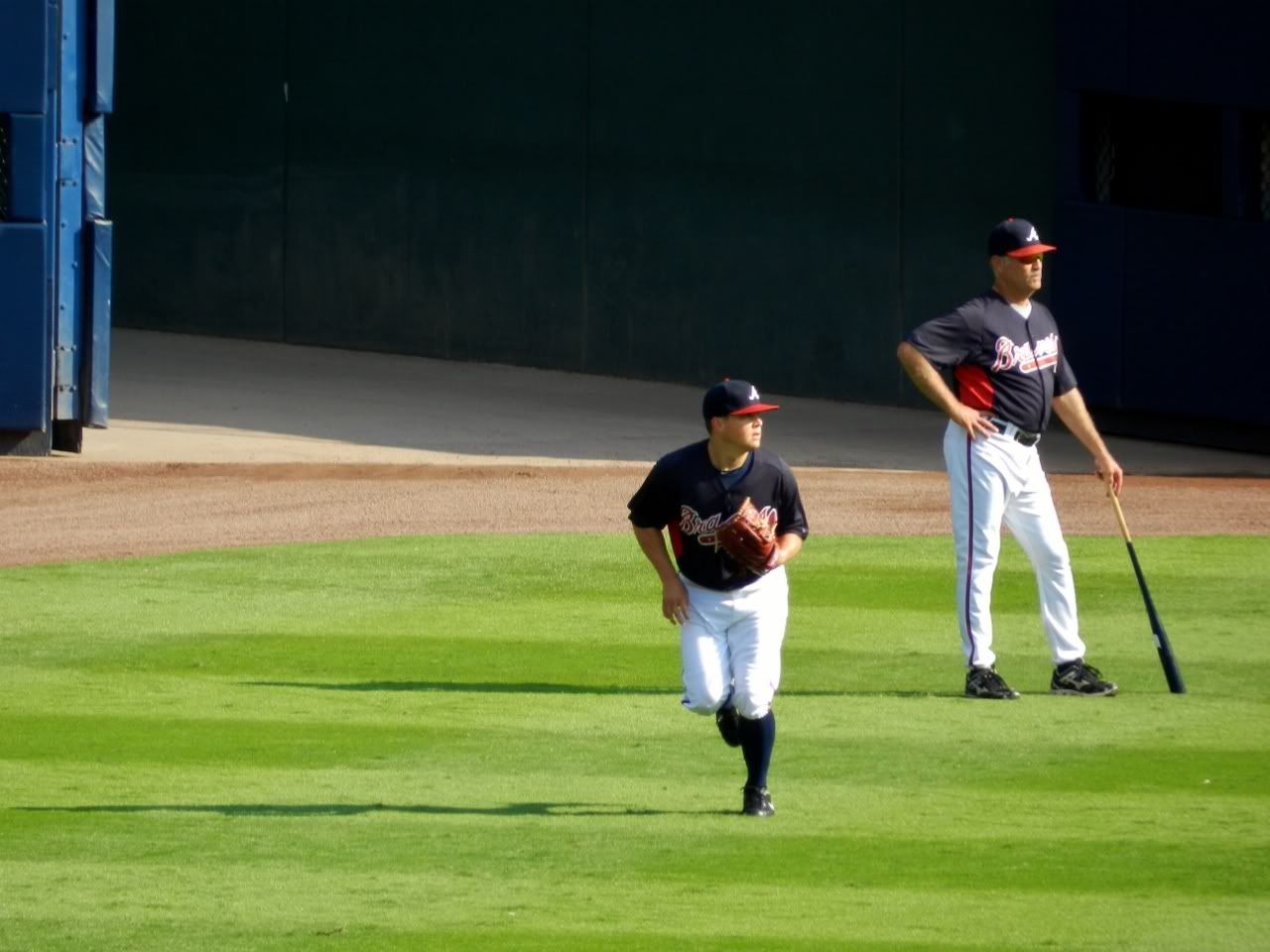 Look who's socks up across the field!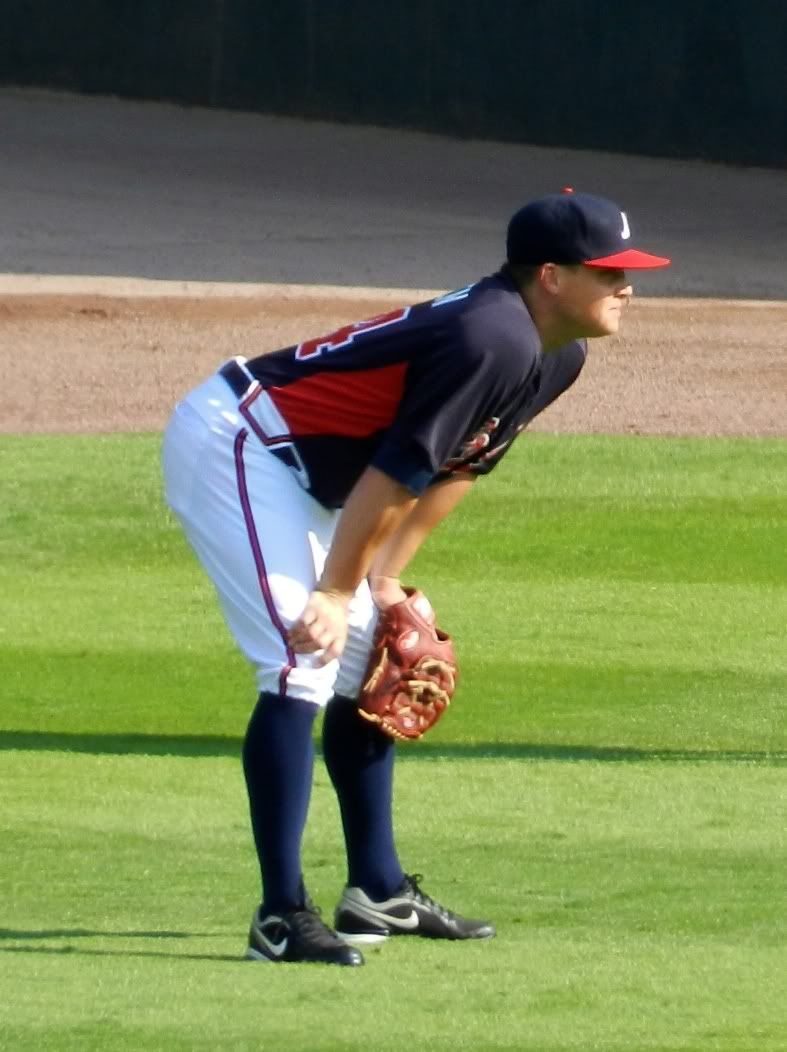 I love this infinity.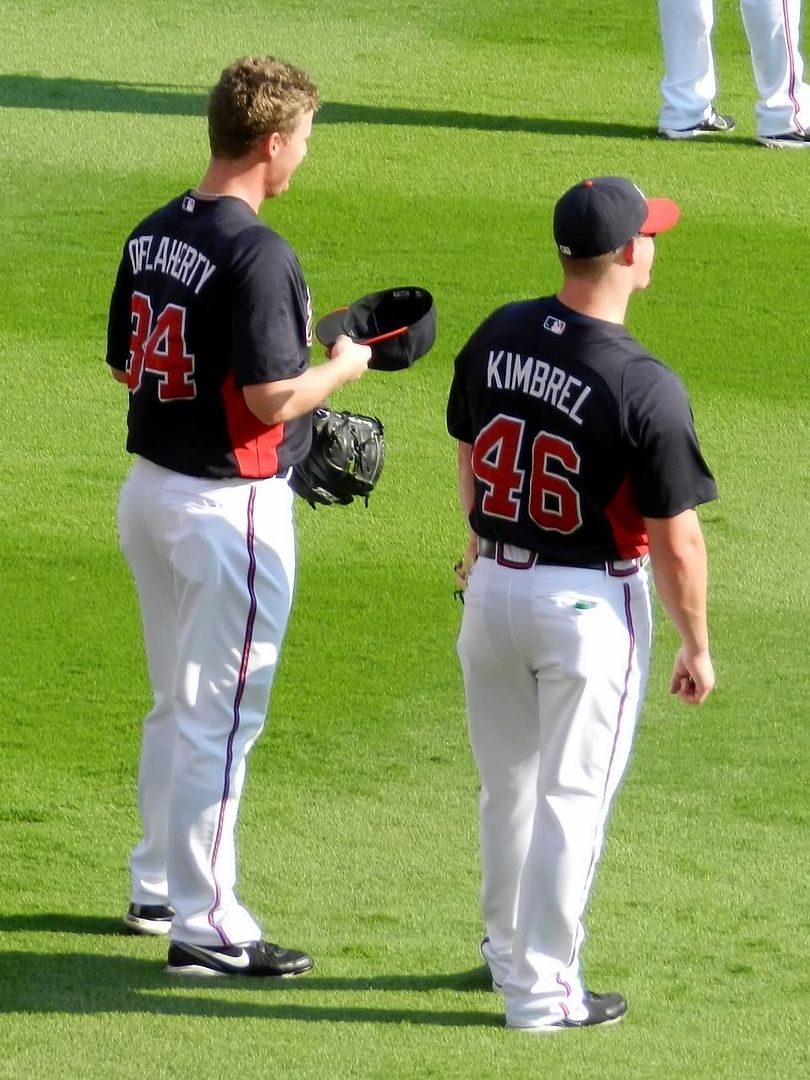 Yeah, I'm still not tired of pics of Hatless O.
And what's that in his pocket? Bubble Tape? It's significantly larger than the circles in the other pockets.
First time I remember seeing Nate in the outfield lately. Hope his oblique is healing up well and he can have a great 2012.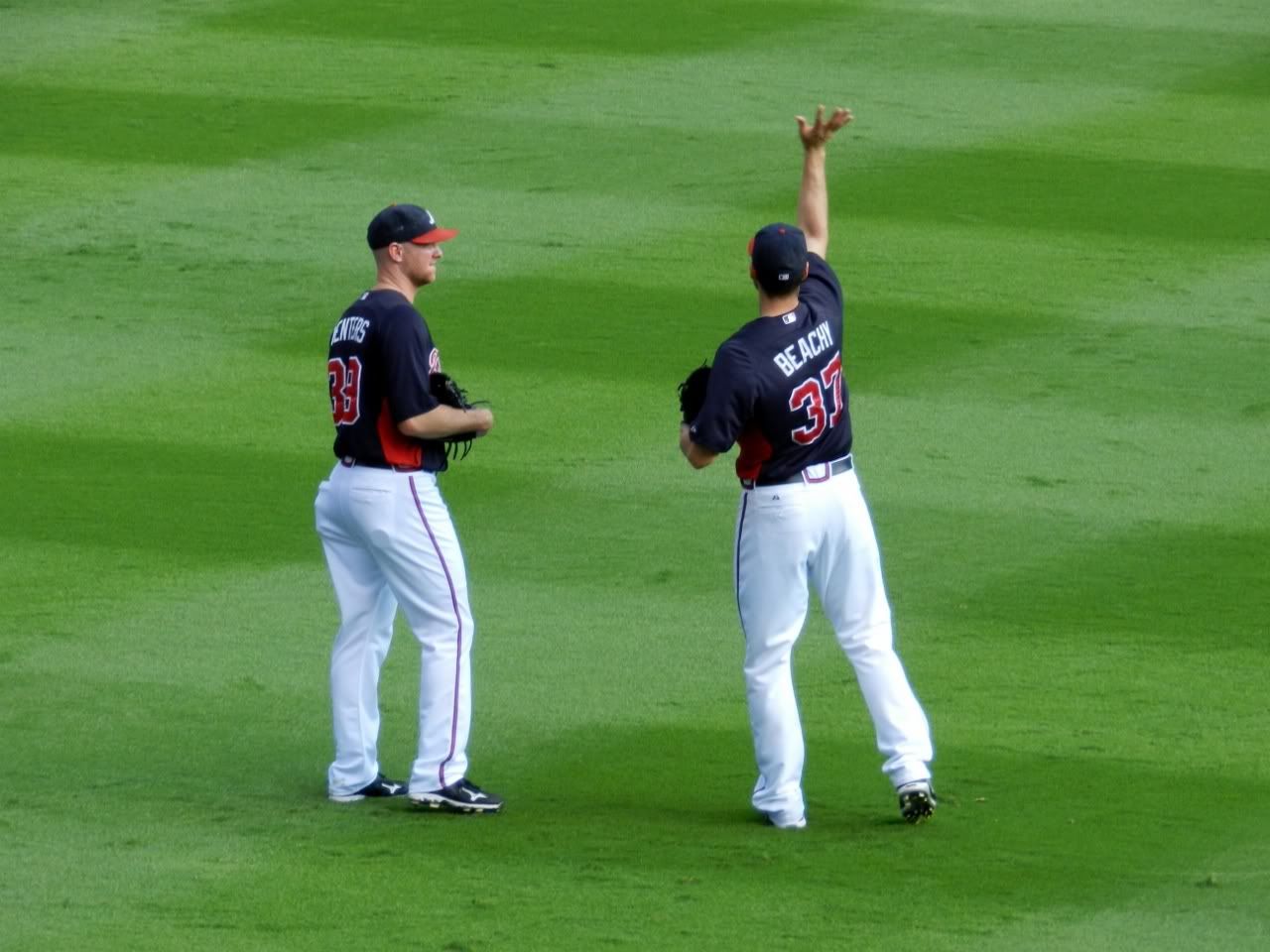 "After we go home, and I turn into Spiderman..."
Too cute, Dewsy!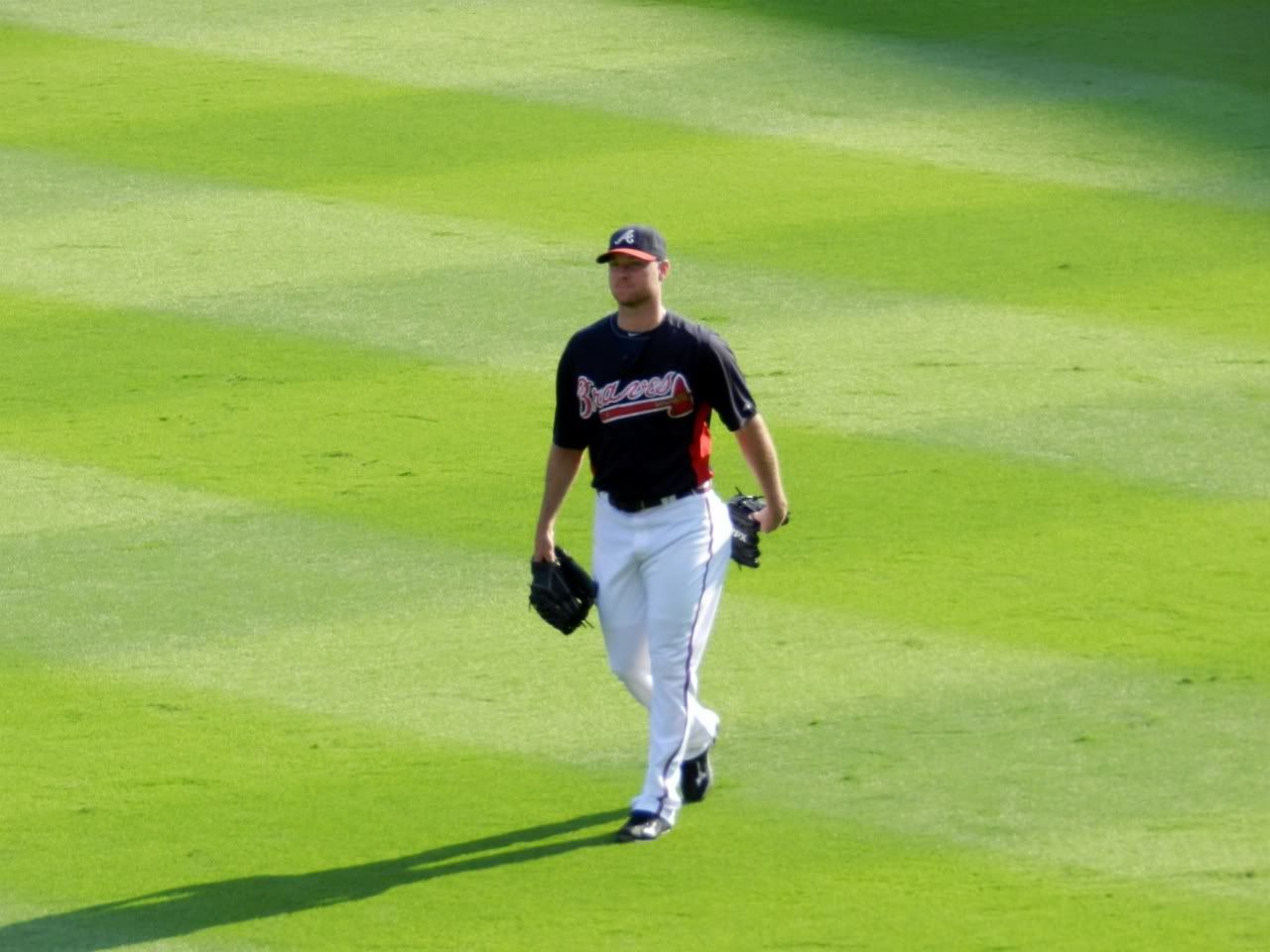 O threw his glove at JV, and JV turned and kicked it farther away. :D But he's a nice guy and went and got his buddy's glove. O thanked him by trying to knock his hat off. Sadly, this is the only clear picture I got.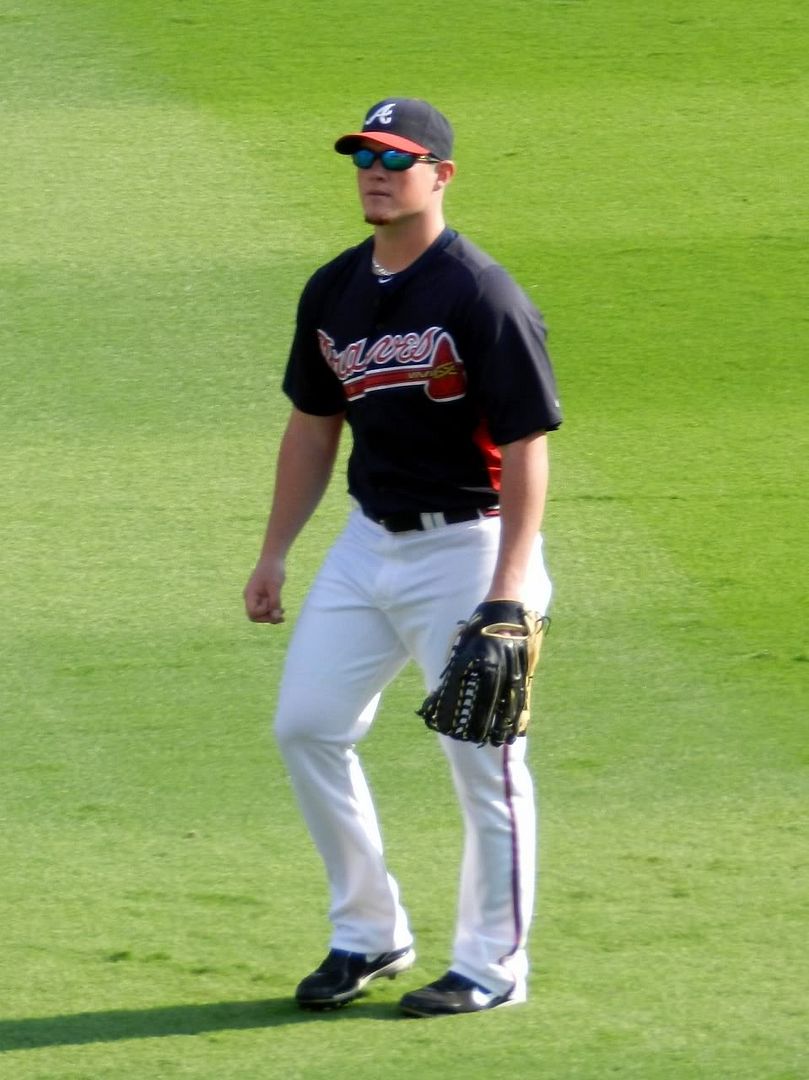 Hey Em, he looks like your brother here. (Heh heh.)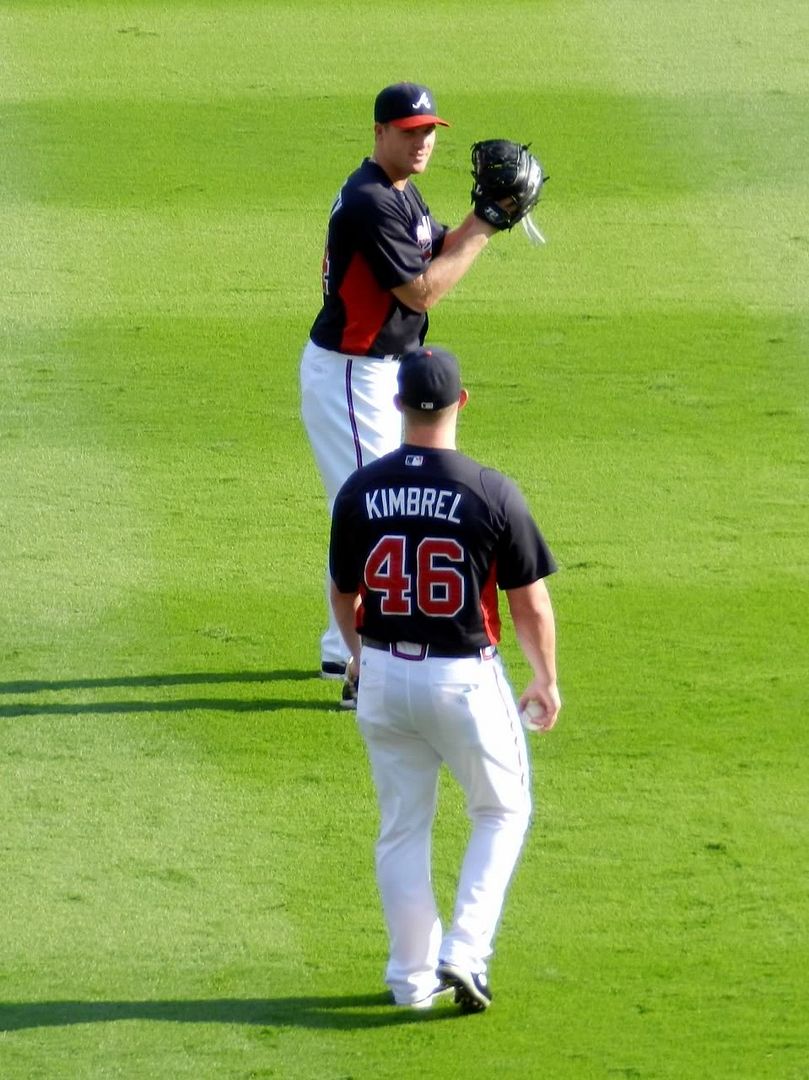 Yes, you should definitely fire a pitch from that range!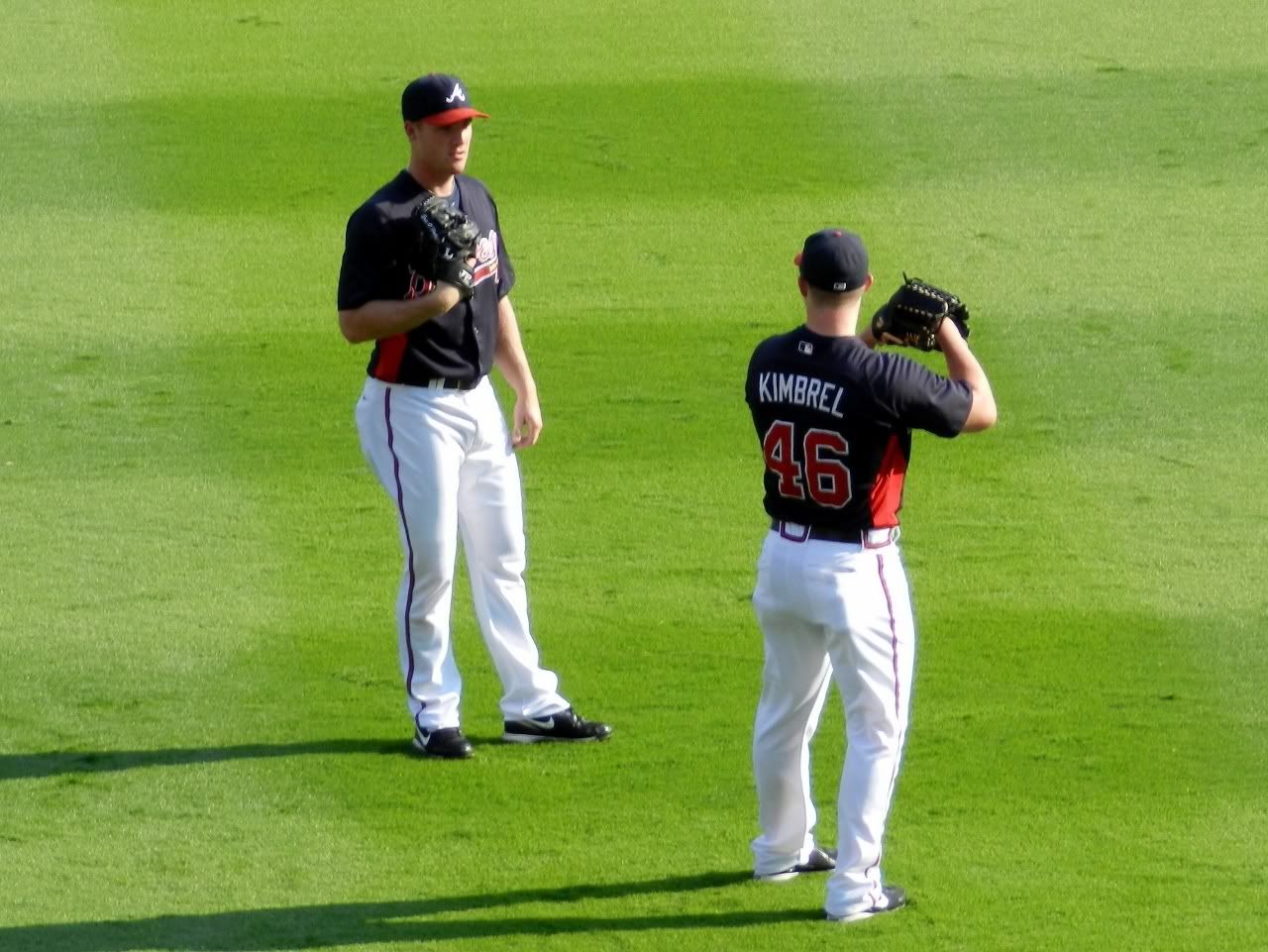 Oh, you're just trying out some pitching stances. I see.
Bye, babies.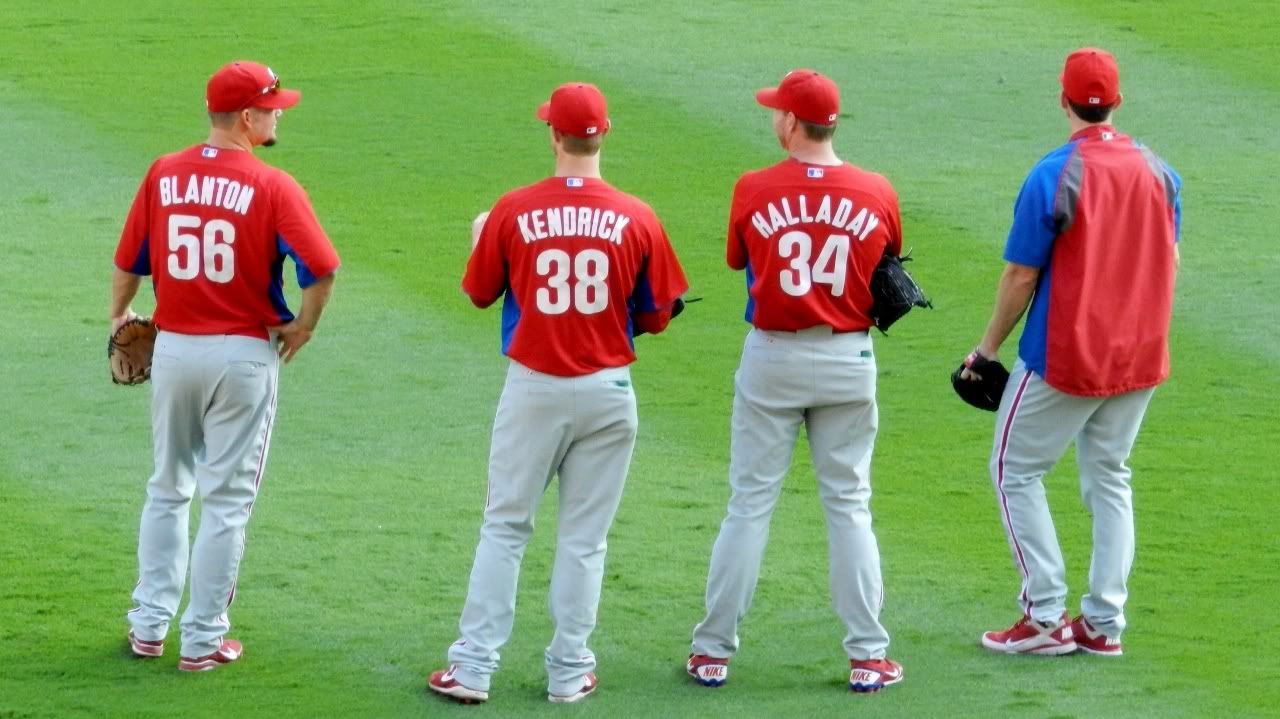 We didn't watch much of Phillies BP - enough for Hunter Pence to almost hit us with a home run! - but I was SHOCKED to see Joe Blanton pants down. I honestly didn't think long pants fit over the bottom half of his legs. :D I guess baseball pants are pretty stretchy!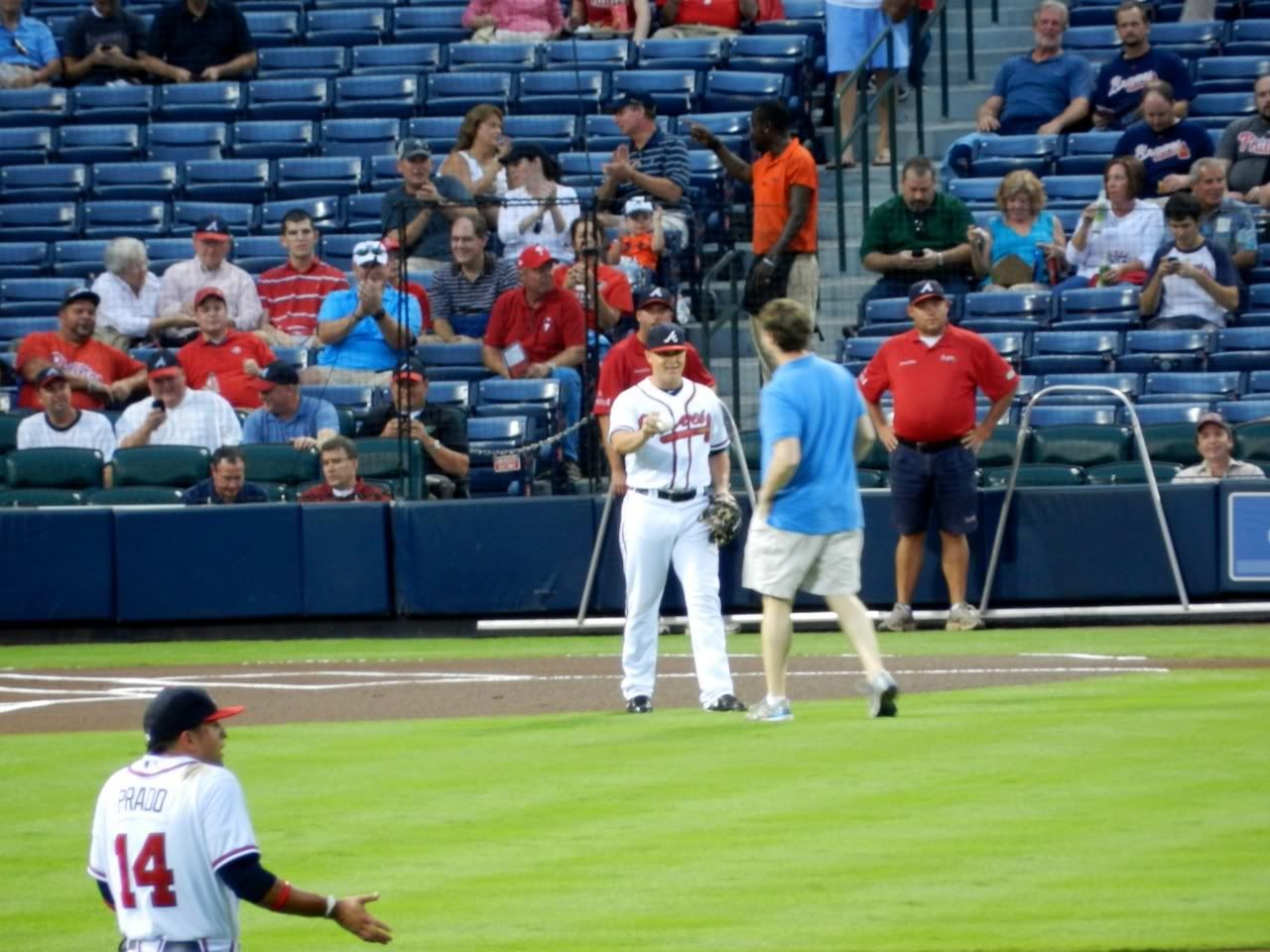 Was trying to get Meds greeting the guy after he caught the first pitch, and accidentally got a hilarious Marteen shot in frame.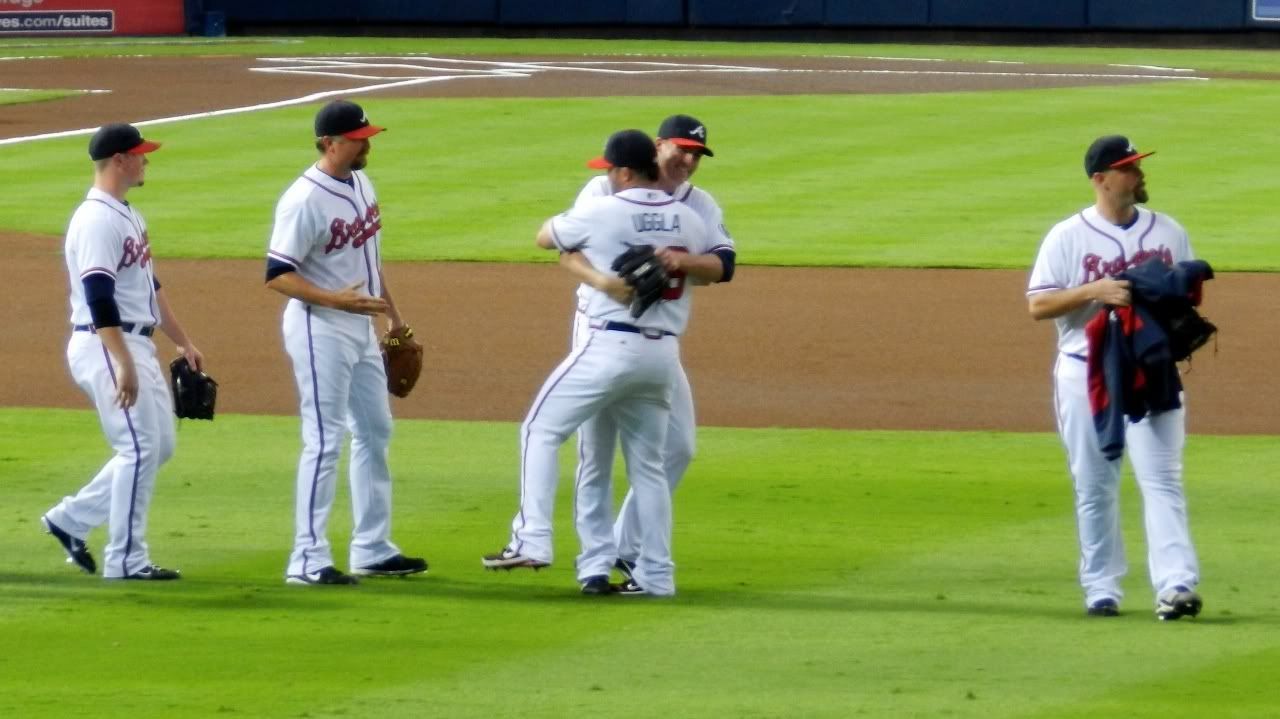 hee hee, Huggla!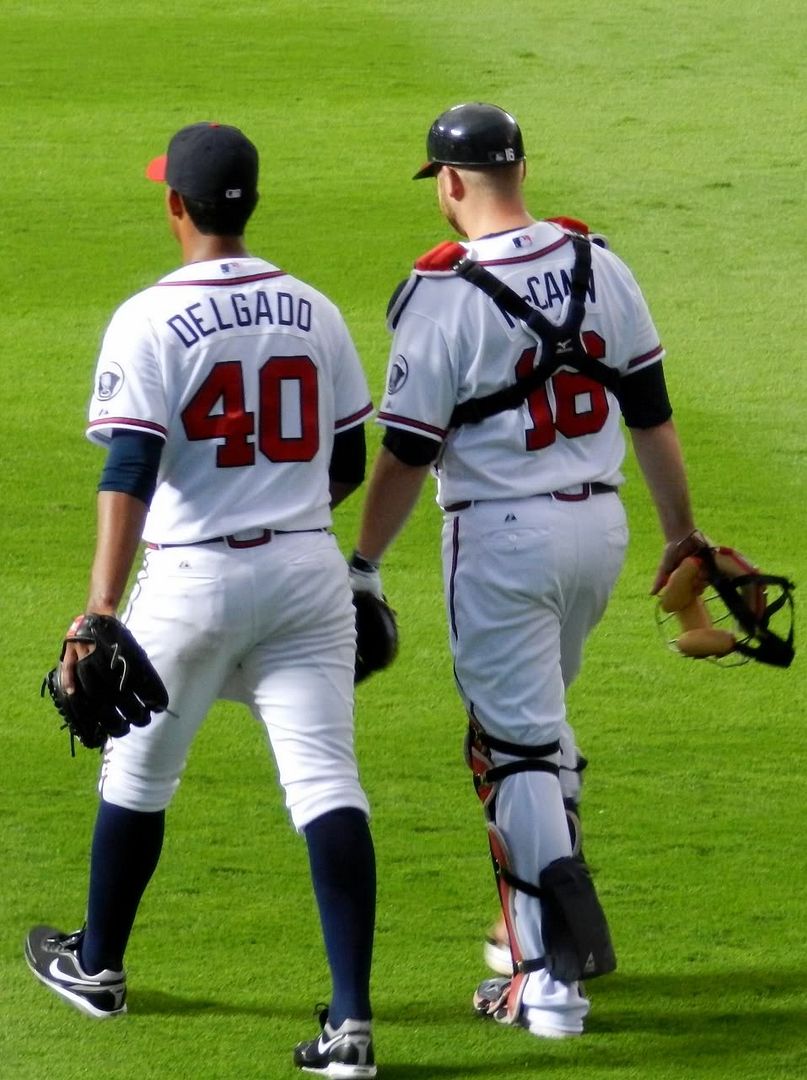 Go kid!
I love what Fredi had to say post-game about Delgado and his performance...
From the AJC:

On only complaint with rookie pitcher was not being able to get six, seven innings:

"The kid did a hell of a job today. Everything considering, he was fantastic. Putting him in this kind of situation, this kind of atmosphere, you can't ask for anything more. At the very least I think the young man will gain from this experience and he's going to be better off for it."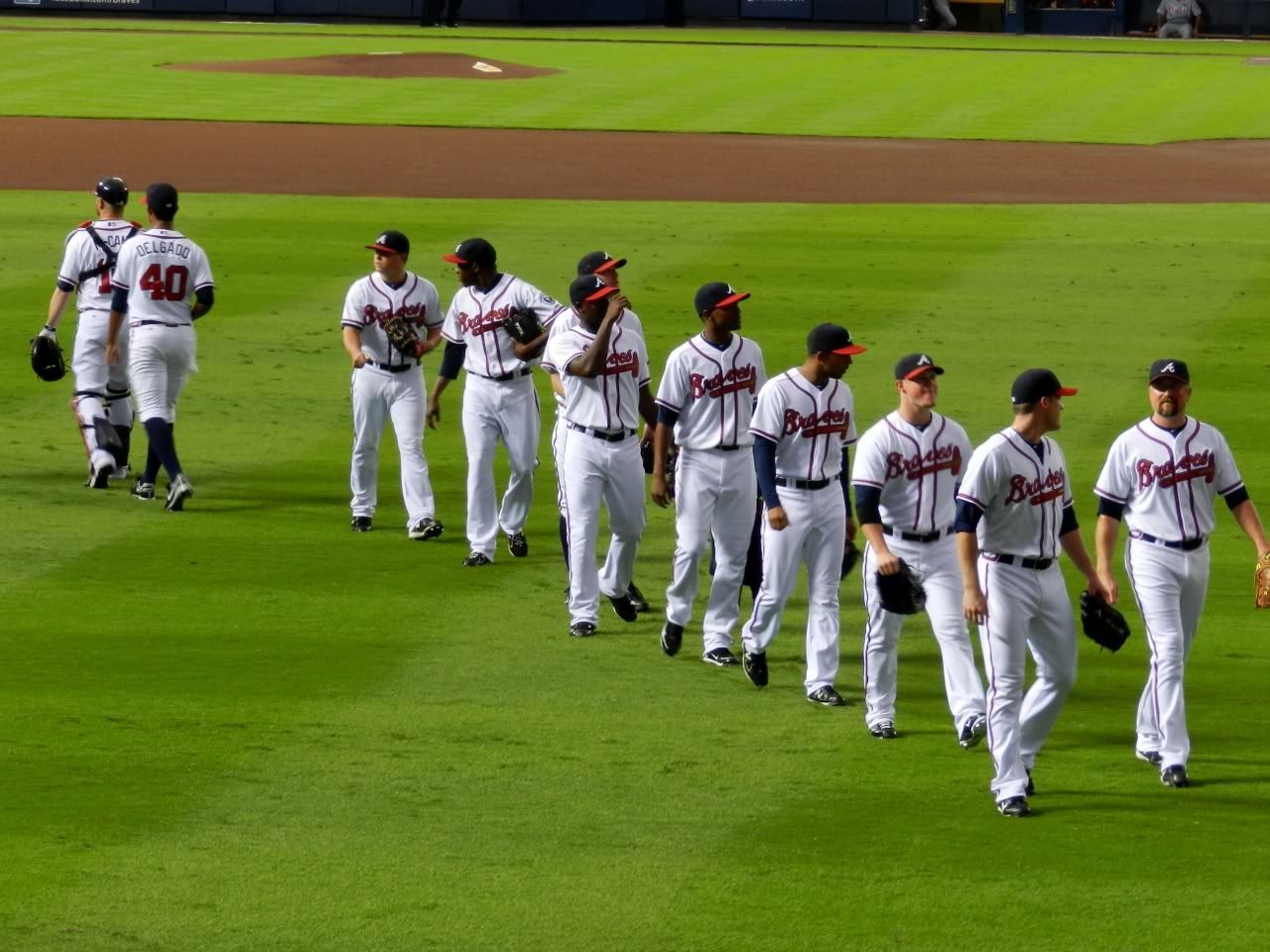 No rookie backpacks, ever.
MattE blew a lot of bubble gum bubbles. I was sad I never got a pic of one.
I heard someone say - and it's bothering me that I don't remember the source - that when watching Hunter Pence play, it's like he's doing everything for the first time. Neither Kolbi nor I care for Pence, so we had a little fun with it. "What's wrong with his pants." "It's like he's wearing pants for the first time!" ... "His mugshot is awful." "It's like he's having his picture taken for the first time!"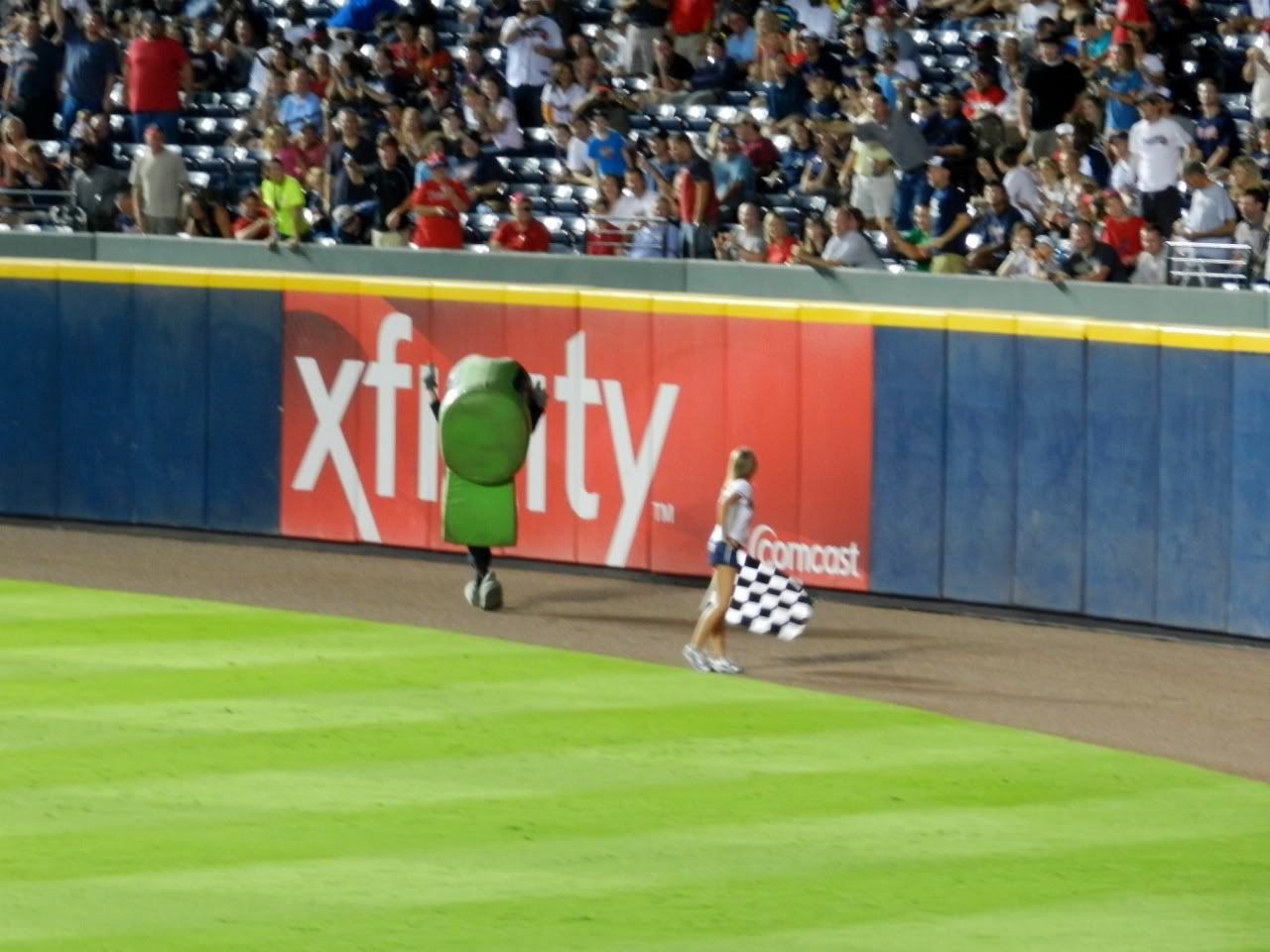 Two-Bit won the Tool Race!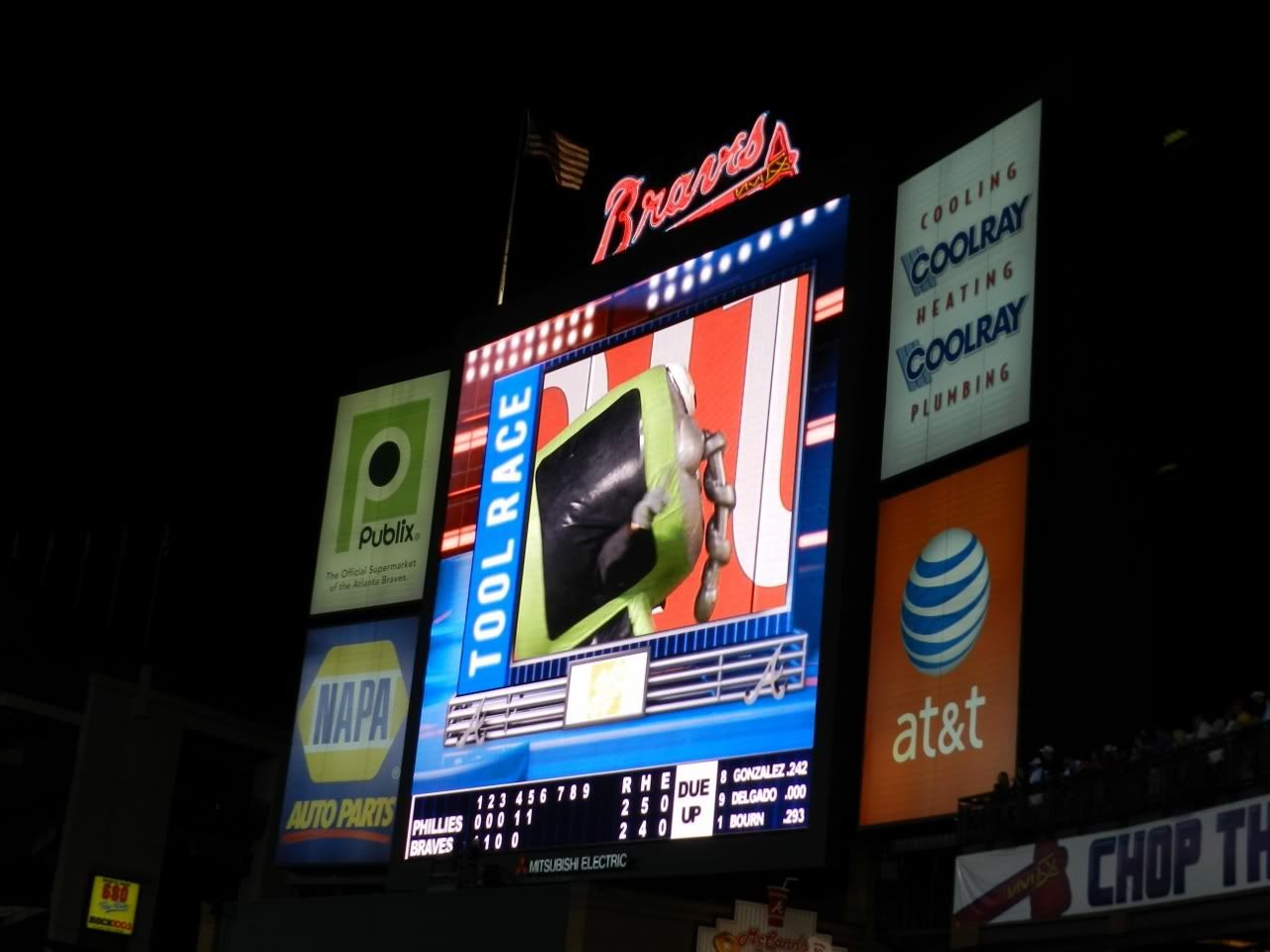 He's always been my favorite!
I like Cristhian's hops.
O came in next, ERA of 0.99 at the end of the game, but I was a tiny bit distracted during his warmups by the 1st and 2nd basemen's body language...
Mirroring amuses me, especially when people don't realize they're doing it.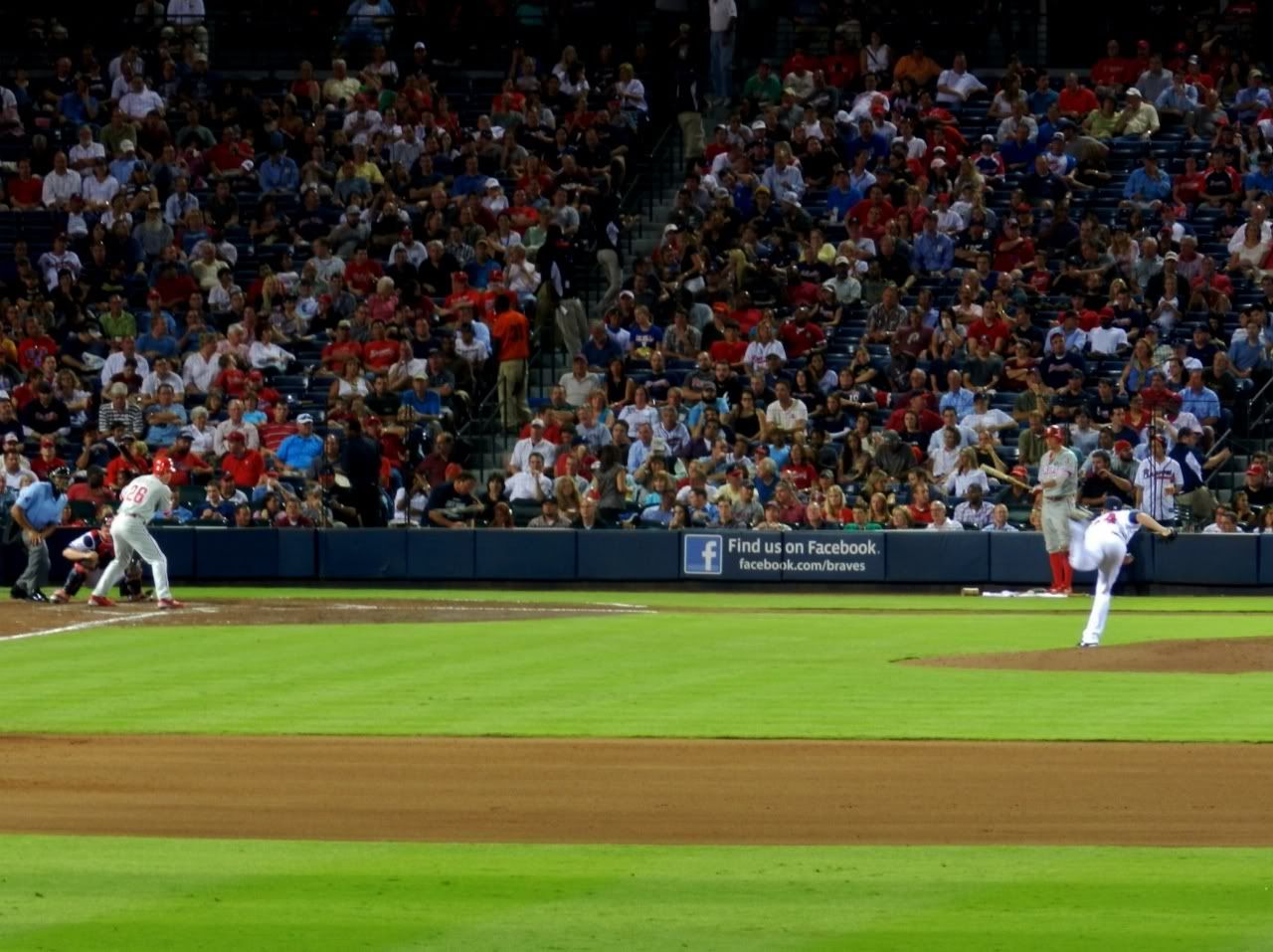 EO vs Utley. I may or may not have yelled, "HIT HIM AGAIN!"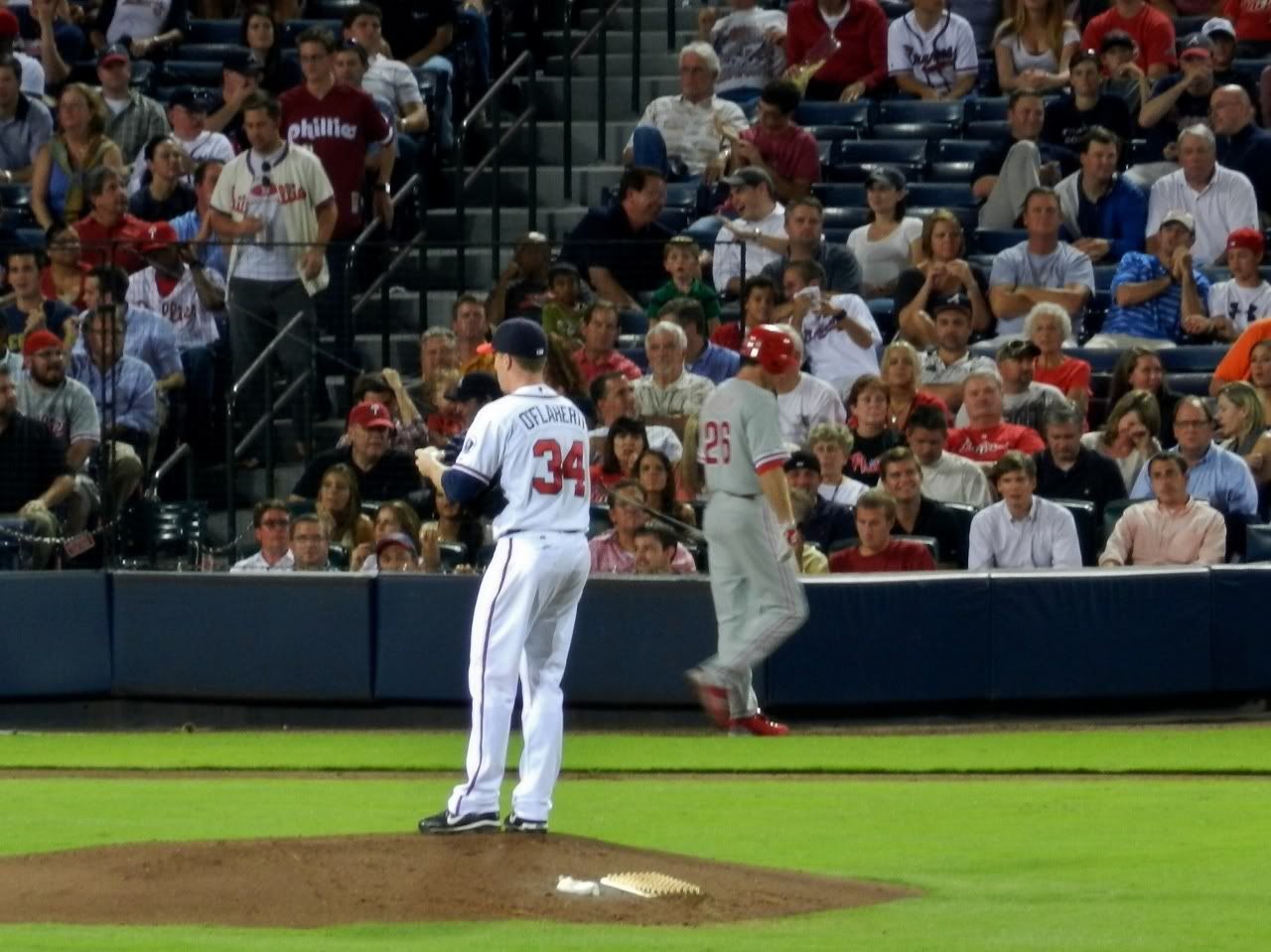 O struck him out LIKE A BOSS. Aww, him looks saaaaad. :D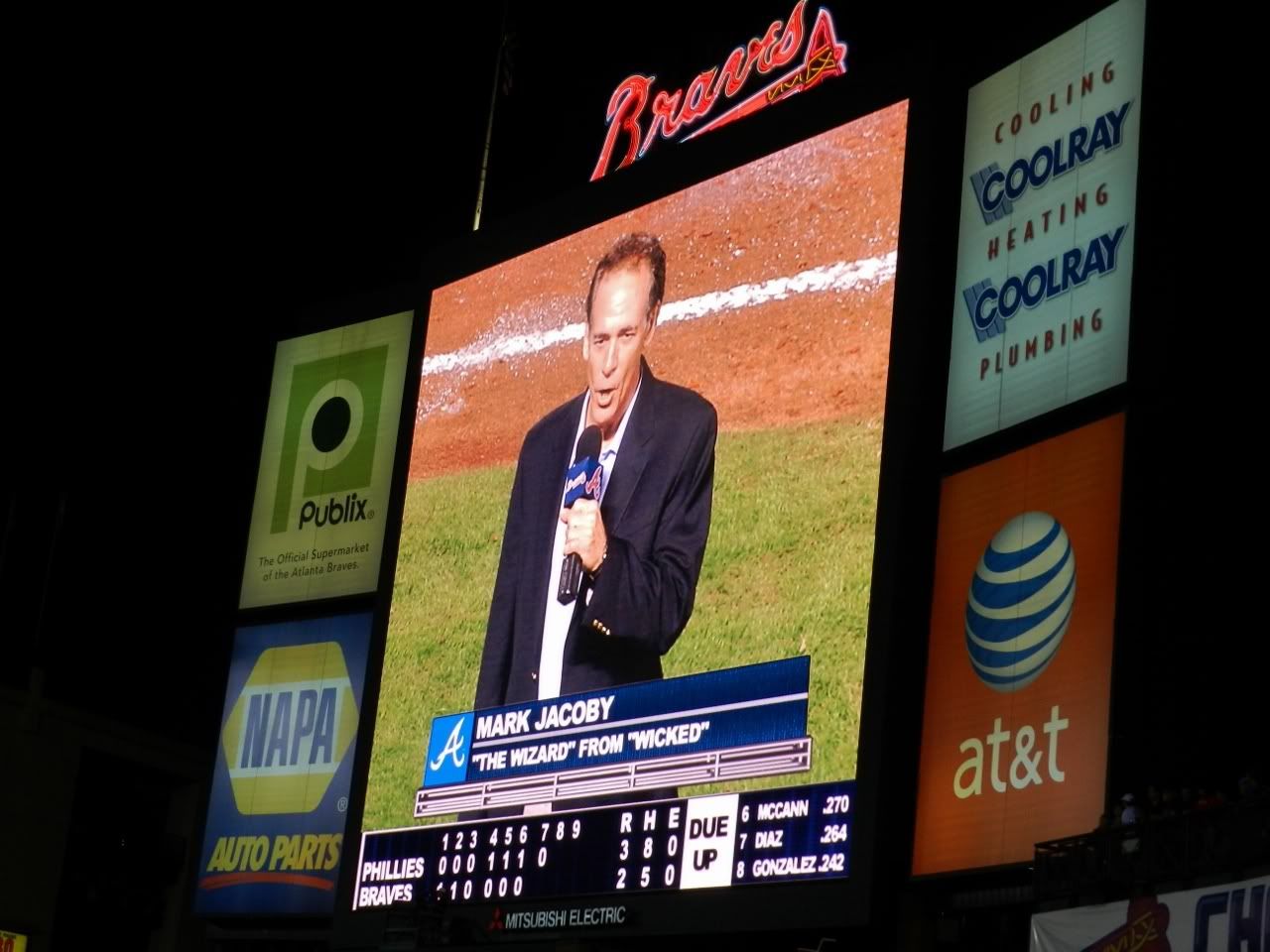 Singing God Bless America, Mark Jacoby, the Wizard from "Wicked"
Apparently while Michael Stutes warmed up, he threw two strikes. Heh heh.
Jonny! striking out Ryan Howard. Awesome.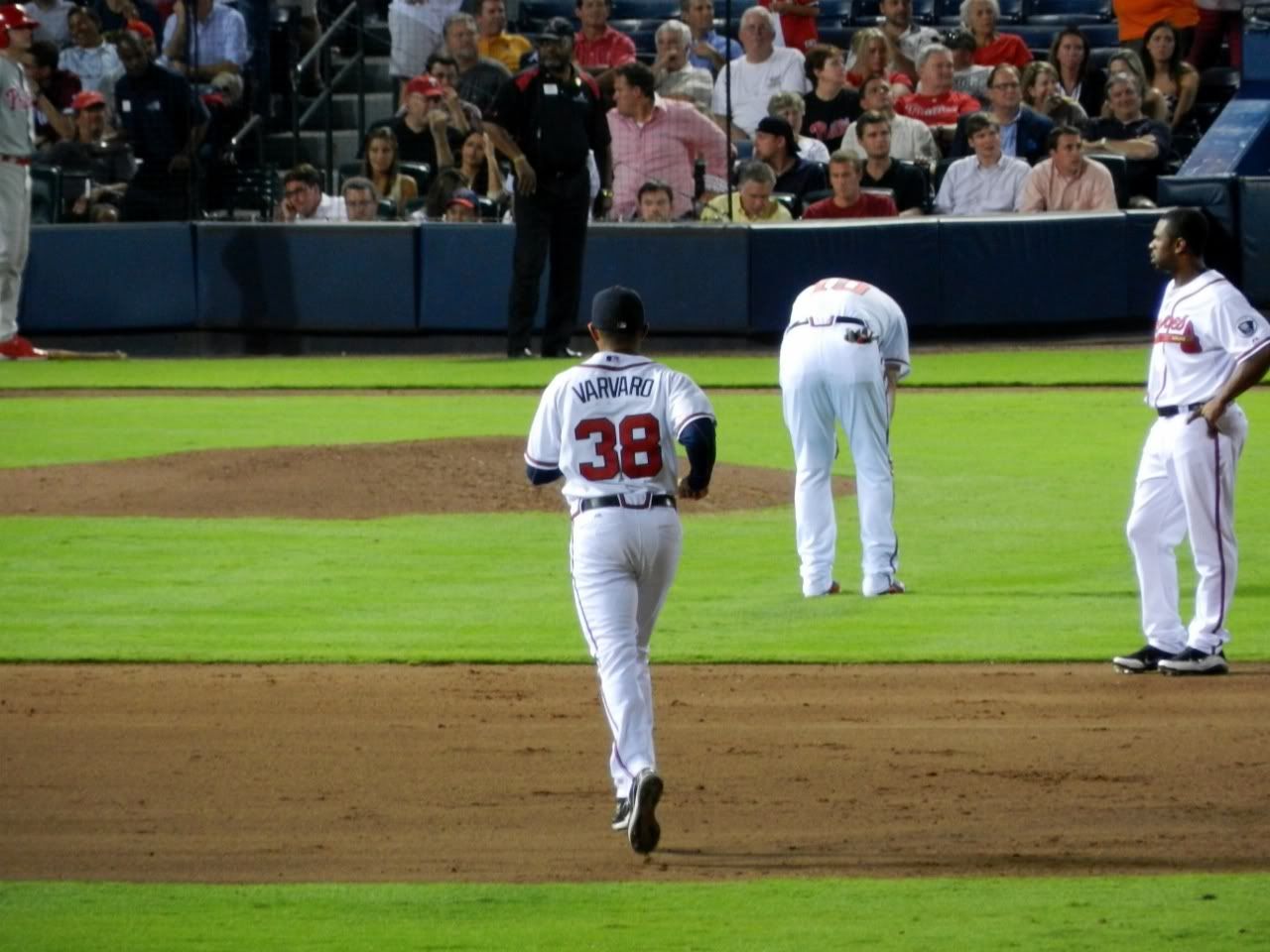 9th inning - go Anthony!
Kolbi: "Stop taking pictures of Ryan Madson."
Me: "But..."
Kolbi: "You're giving him power. It's like Care Bears."
She may have been right. Braves did not win, 4-2.
See Alison, I told you you should have come over here. ;)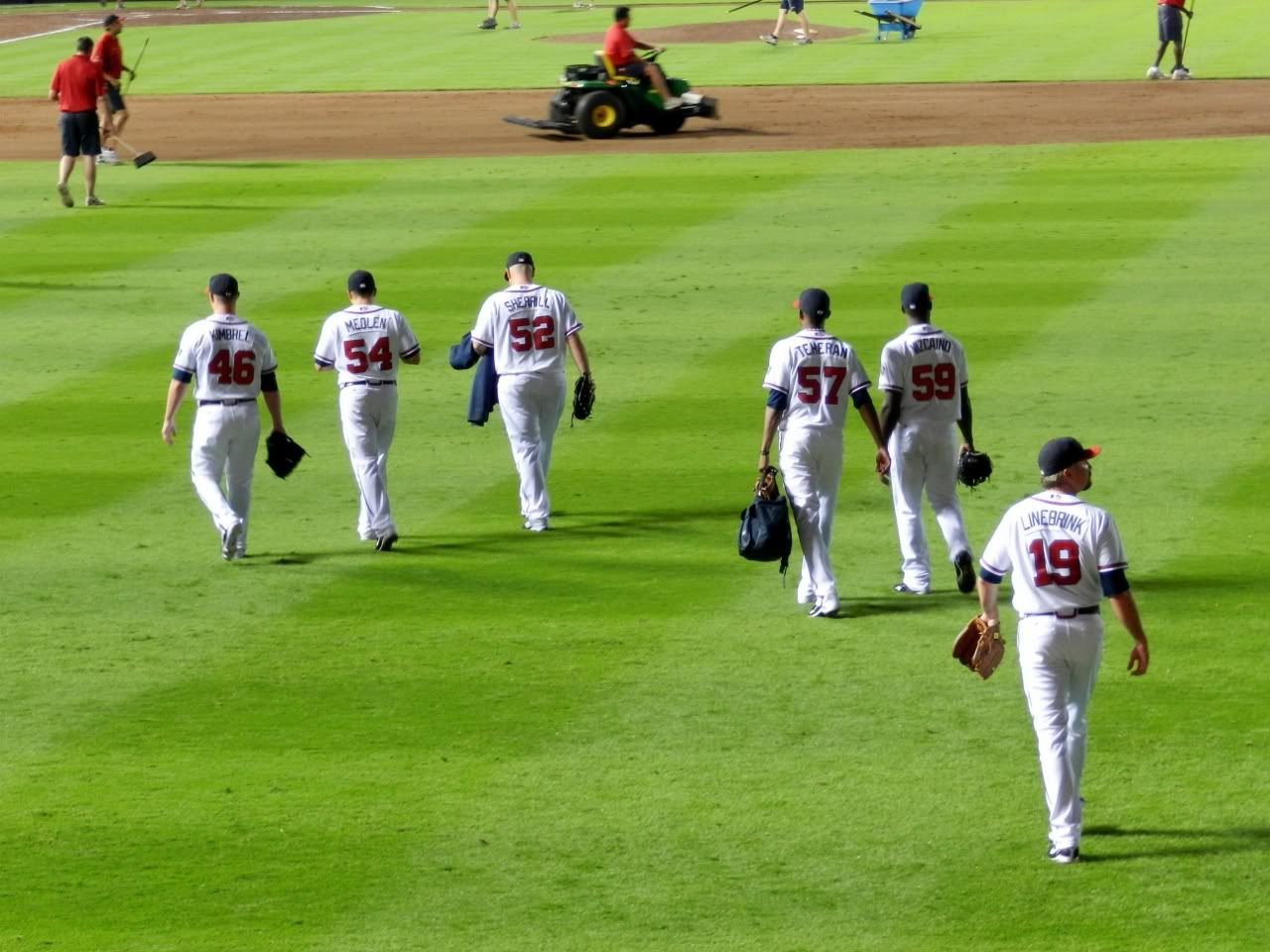 Aww, bye boys. See you tomorrow!
I like Ken Rosenthal because he wears bow ties unironically and gives us tidbits
like this
:
Still, a few stragglers gathered inside the players' lounge in the home clubhouse late Monday night, unwilling to leave Turner Field until they knew whether the Braves would retain their one-game lead or fall into a tie with the Cardinals.

Two clubhouse attendants were present. Media-relations director Brad Hainje. Strength coach Phil Falco. And one 13-year veteran, pitcher Tim Hudson.

"Got to squeeze here," Hudson said as the Astros put runners on first and third with one out in the 10th.

Falco said no, not a good idea.

"Expect the unexpected," Hudson replied.

Second later, the room erupted in shouting and glee.
Here's another article from overnight, this one from Terrence Moore (this time for MLB.com, not the AJC.)
Fighting for playoff lives, Braves remain calm
Full photo album here.
See you tonight, yes? :)