Wasn't planning on going to another game till Wrigley this Saturday, but my cousin called with a last minute invite to the game on Tuesday night. It was Mike Minor's first home game and first win! How exciting! The AJC relayed a fun story about his beer shower celebration (info here, here, and here), and they showed it on Braves Live post-game.

I got to the Ted after the game started, so here are some of my pics and stories...

- View of Minor from 409 - walking up to bat - Jumbotron pic

- Rossy's new Jumbotron pic is good, but I like the smiley one better! Heyward's Jumbotron pic made me say, "21? Really?" Of course, I always say that about him. ;)

- Diory's first home run of the season! (more bad pics in the full album)

- Awesome "vintage" hat on a fan

- In my cousin's party was a guy who looked so much like Brooks Conrad, it was uncanny. I called him Fake Brooks Conrad all six innings I sat with them. Here's Brooks, and here's Ryan. Ladies, yes?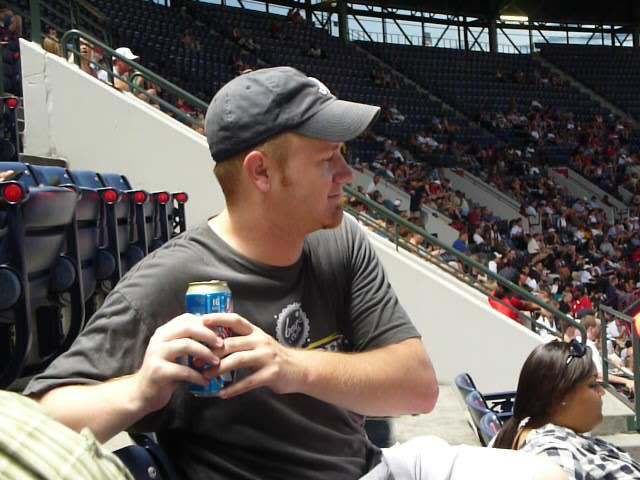 - Hey D-Lowe, is Billie Jean really one of your favorite songs? Really? I'll pay you to sing more than the chorus for me. ...Actually, I think a lot of us would pay to see that.




I moved down to sit with Lizziebeth for the last third of the game, so the rest of the pics are from a better angle. Let's look at a few of those!

- Farnsworth 1 ~ 2

- Huddy beard! I hadn't seen it, so it was a pleasant surprise!

- Heyward dwarfing Hubbard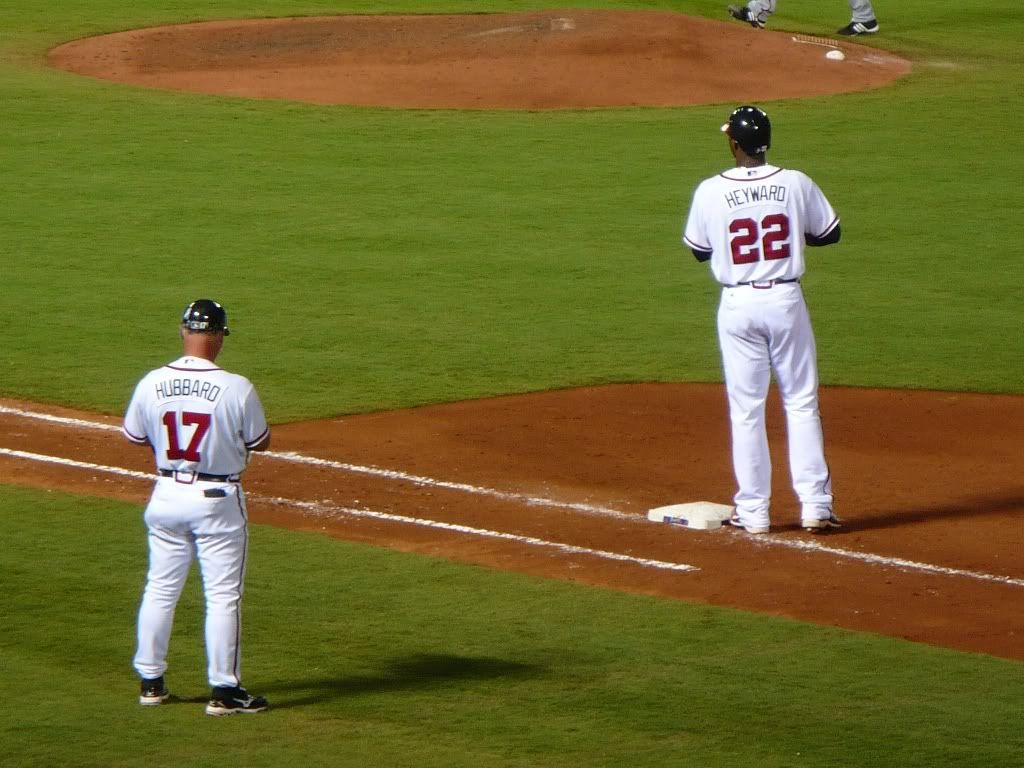 - Brooksy swinging, then at first after he walked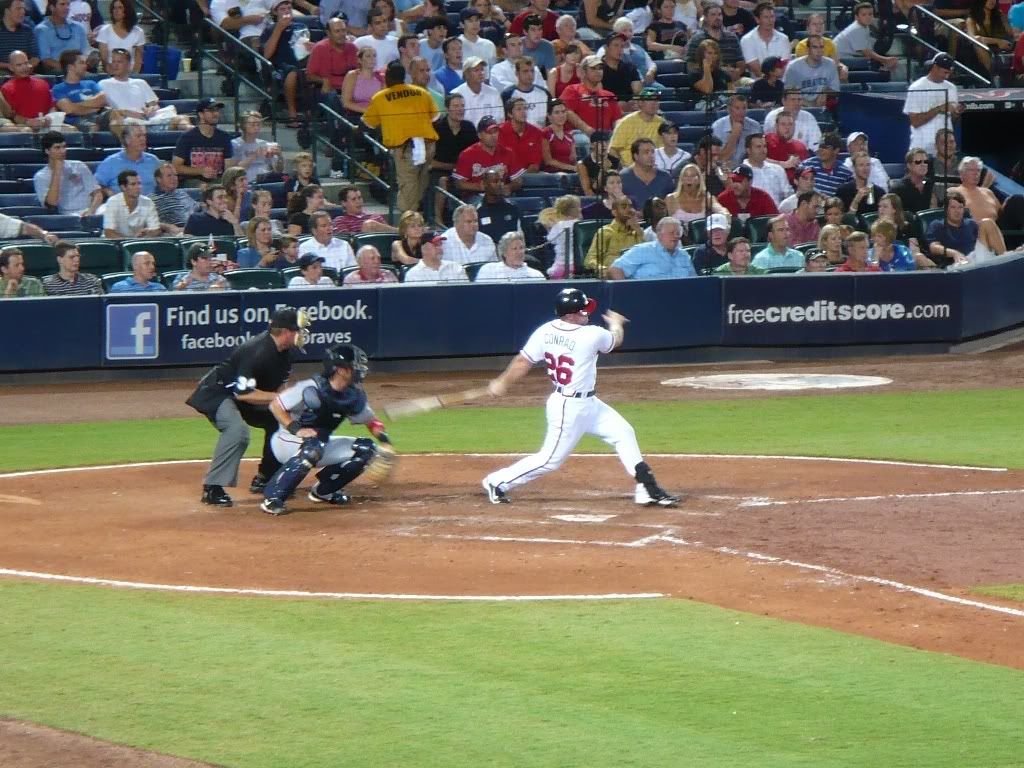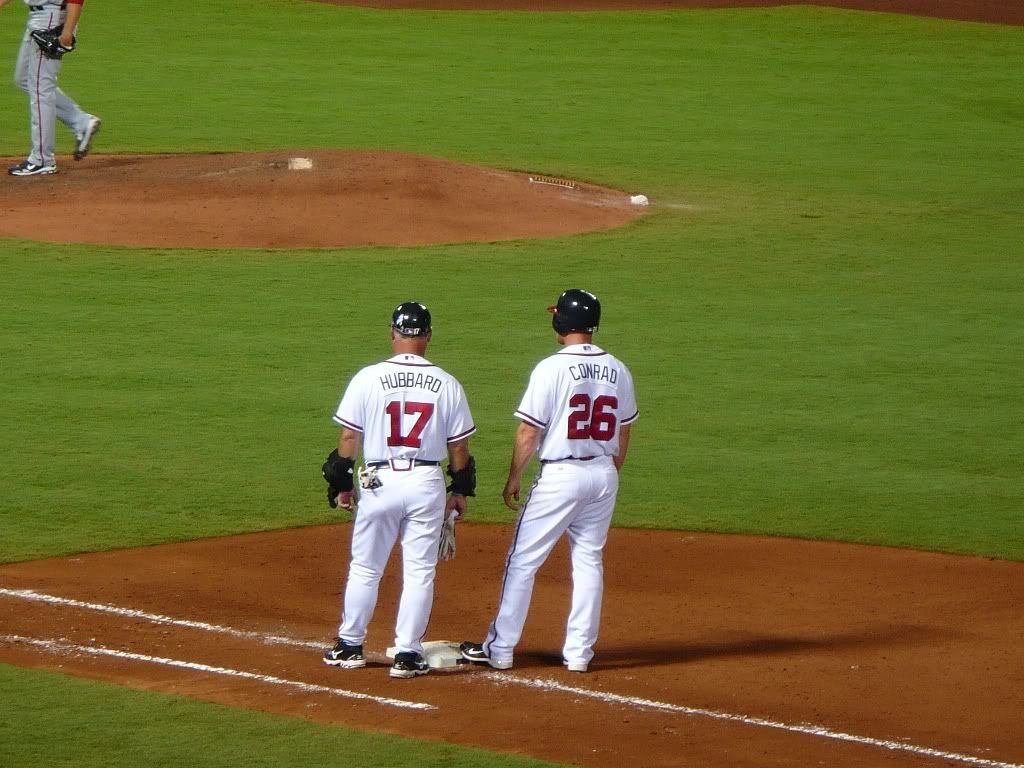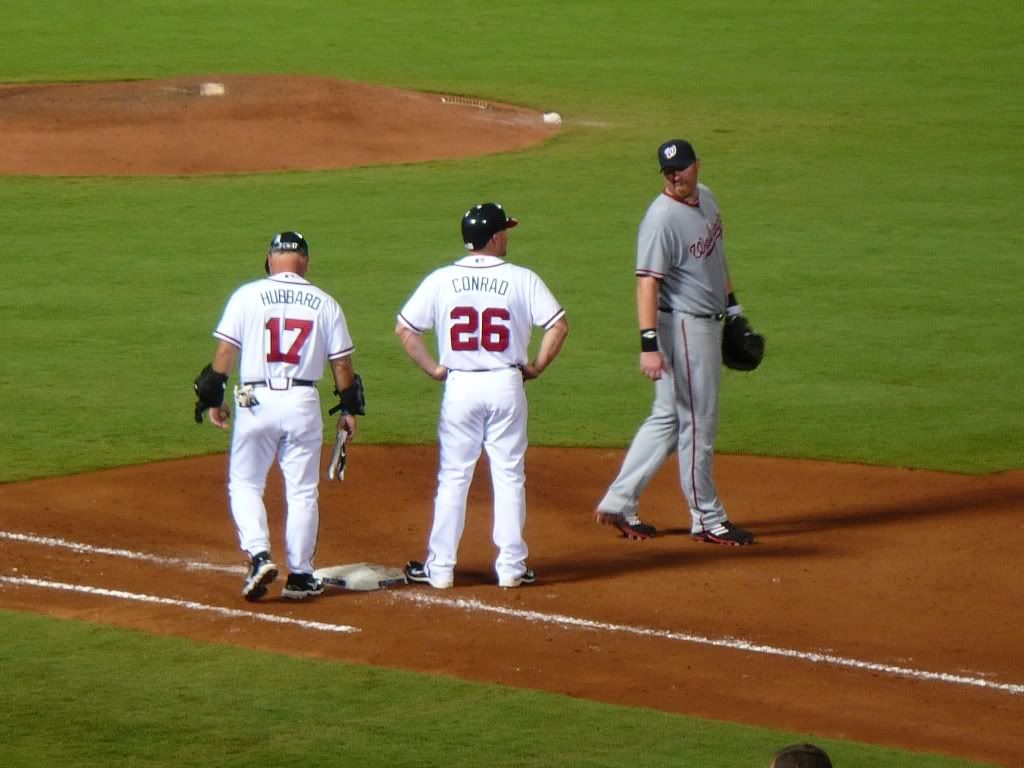 (Dunn must be a monster, because Brooks is
normal
-man-sized.)
-
Glaus
is injured... injured bad.
- Dugout shenanigans
1
~
2
~
3
~
4
- These pictures? This babyface right here? This is why his nickname on the blog is "Baby". It's an old nickname, but come on, Mac looks like a CHILD. Love it! :D
- Hinske!
1
~
2
~
3
~
4
~
5
-
Brooks
&
MattE
Two final videos -- some Braves Win High Fives (cut short because some drunkies stumbled in front of me, stepping in my purse) and the bullpen walking in...
Jonny's like, "Right-handed high five, I didn't have to pitch today! Yeah!!"
Full album here!
See you in Chicago? :D I'll be at the game on Saturday - shoot me an email or tweet if you'll be there and we'll say hi!