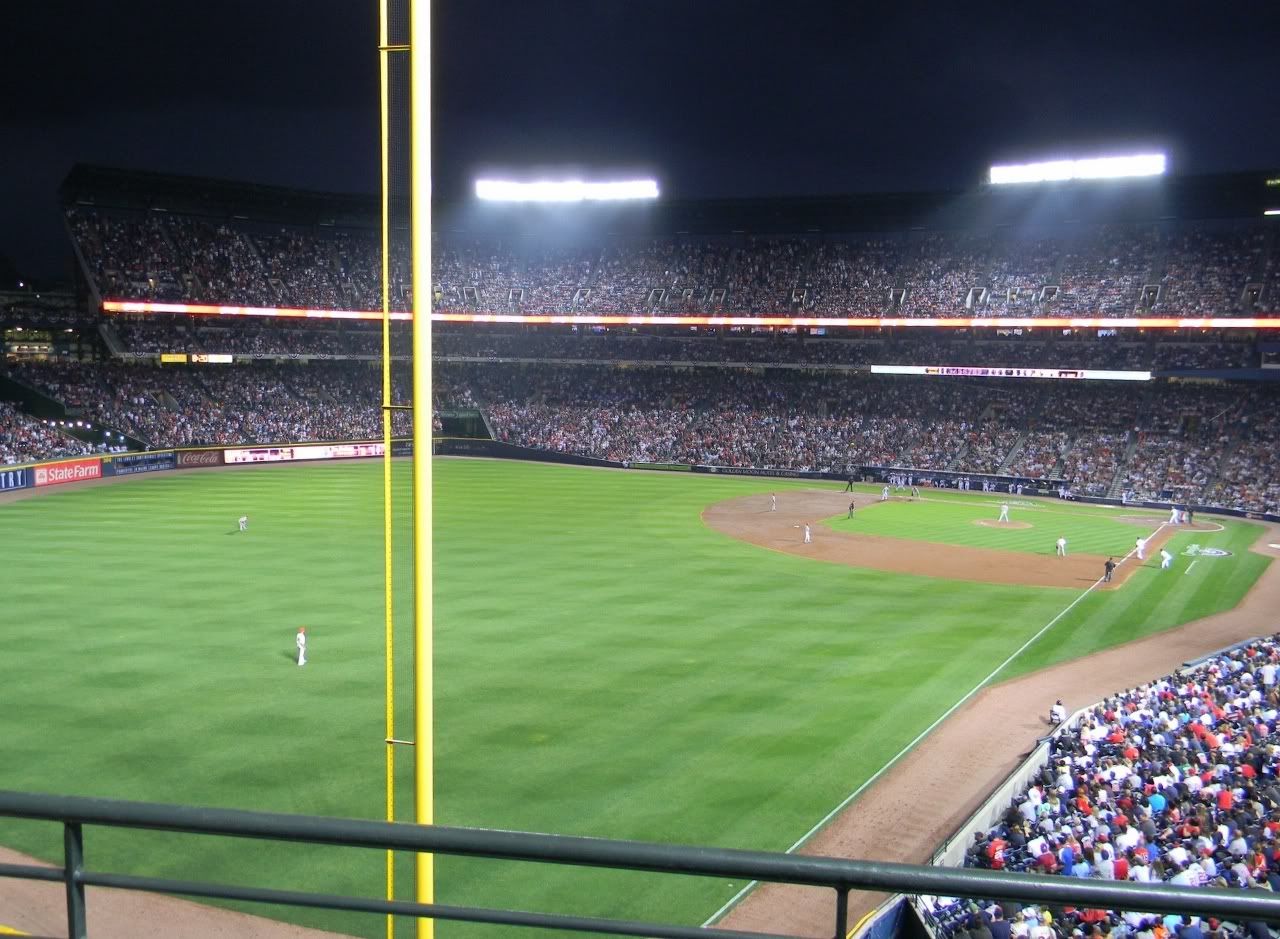 This is your view when you go with 25 people and you wait too late to get tickets for Opening Day. ;) Luckily my new camera has pretty great zoom!
Hello home opener! I LOVE YOU! Okay, I have a lot of love in my heart this week, so this post is going to be very lovvey. If you're new to the blog and you're expecting hard-hitting statistical analysis of the team or predictions on where we're going to finish in the standings... um... yeah, I don't do that. I mean, I
know
baseball. I just watch the game differently. :) If you want to read about someone loving her team with a little snark thrown in, welcome!
So let's look at some pictures and some videos, shall we? As always, click to enlarge!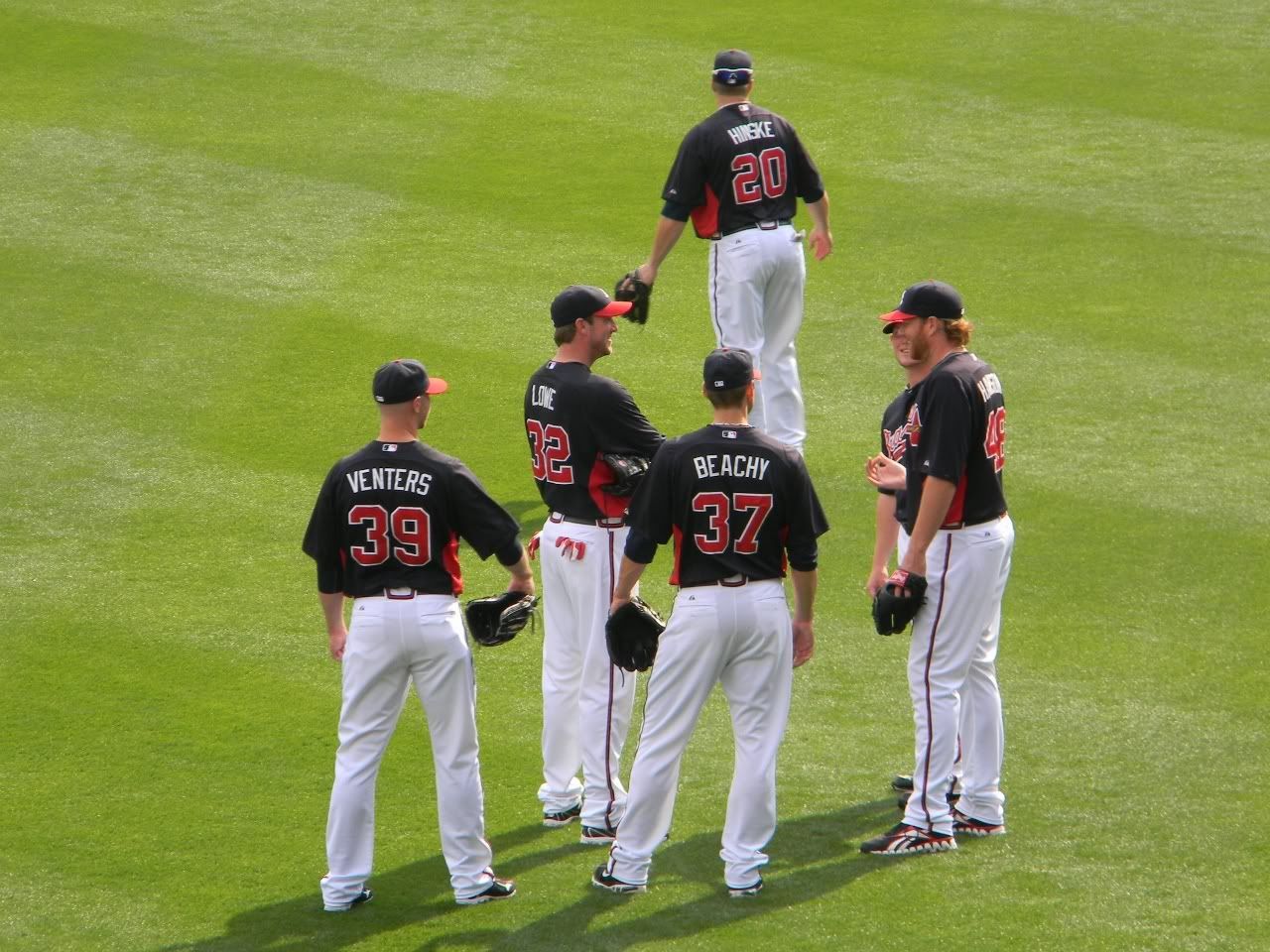 That's #46 hiding behind Hanson, if you can't see his cheeks. Heh.
Funny BP story... I got there earlier than most of my party and settled in left-center to take some pics for the blog. It was nice to say hi to so many blog readers and twitter followers who found me in the section! I was near the top of the section, and as I was getting my things out I hear DLowe yelling up into the stands, calling a guy by name. This older hippie-looking guy in a dusty rose t-shirt and a ponytail standing right next to me / behind me yells back down at him! "HEY! HEY LOWE!" DLowe yelled back, "HEY, WHERE'S YOUR HOVEROUND?!" All the boys around started cracking up, and the hippie yelled back, "IT'S AT GUEST RELATIONS! HEY!
HEY!
WHAT'S UP WITH LOSING FOUR IN A ROW! HEY
HANSON!
THAT LAST ONE WAS YOUR FAULT!" DLowe clearly knew the guy and Tommy didn't seem upset at all by that comment -- ;) -- but security came over and told the hippie to leave the players alone. Hippie was all, "DLowe started it! He was heckling ME!" (True.) Security walked him off, which totally sucked. It's fun when the players interact with the fans!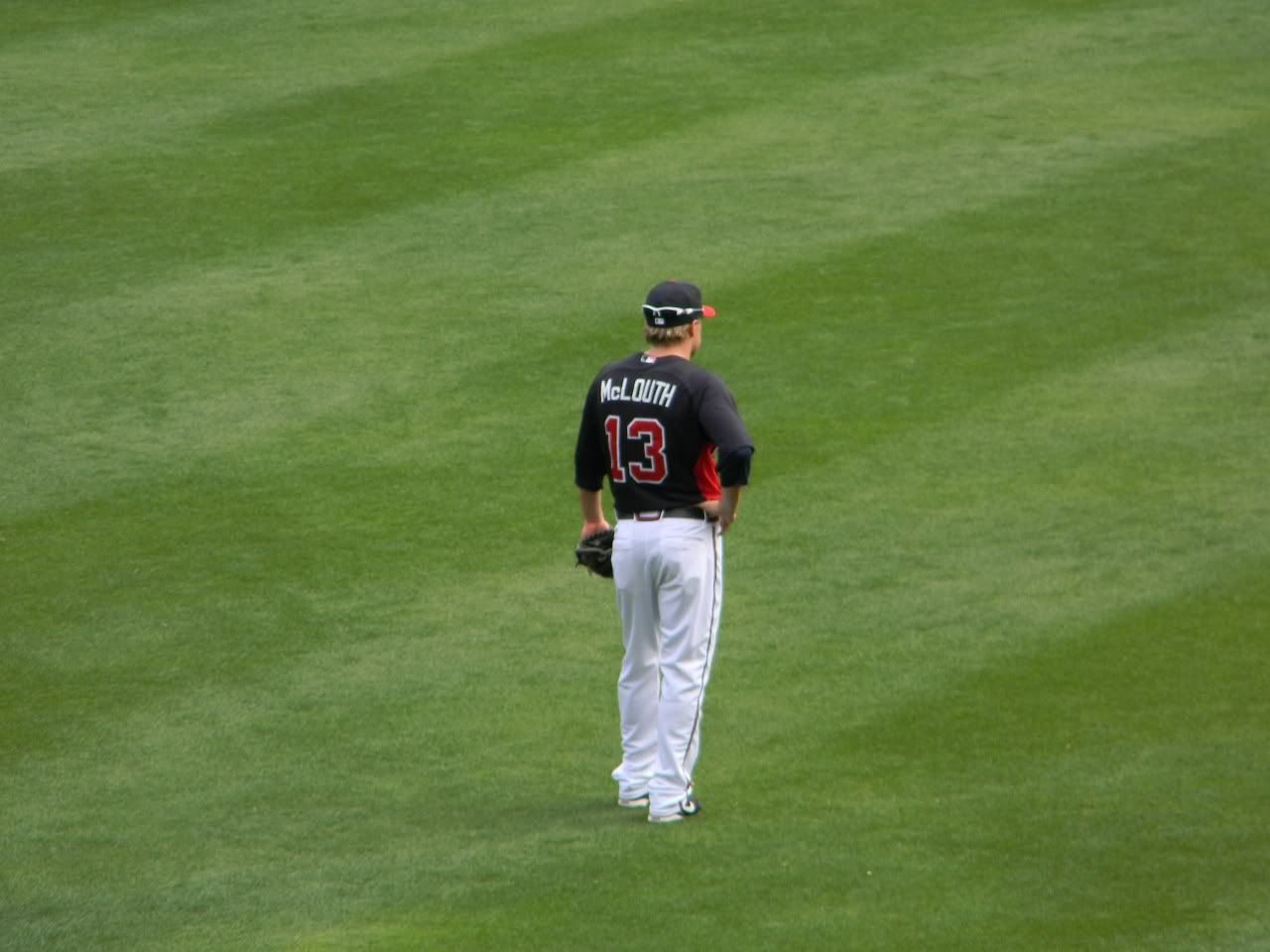 I put this on the blog's Facebook page with the joking caption, "She fine! Halle Berry, Halle Berry!" Sorry, Nate... I so "love" that song, and this was just too funny. ♥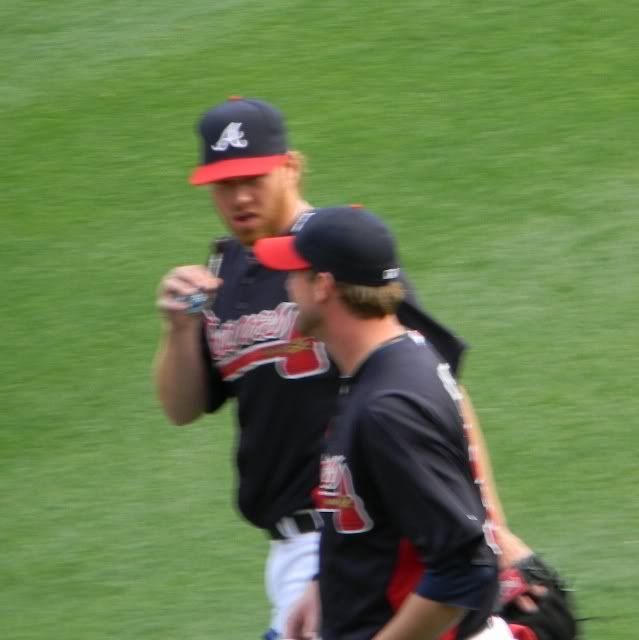 Grape blow pop!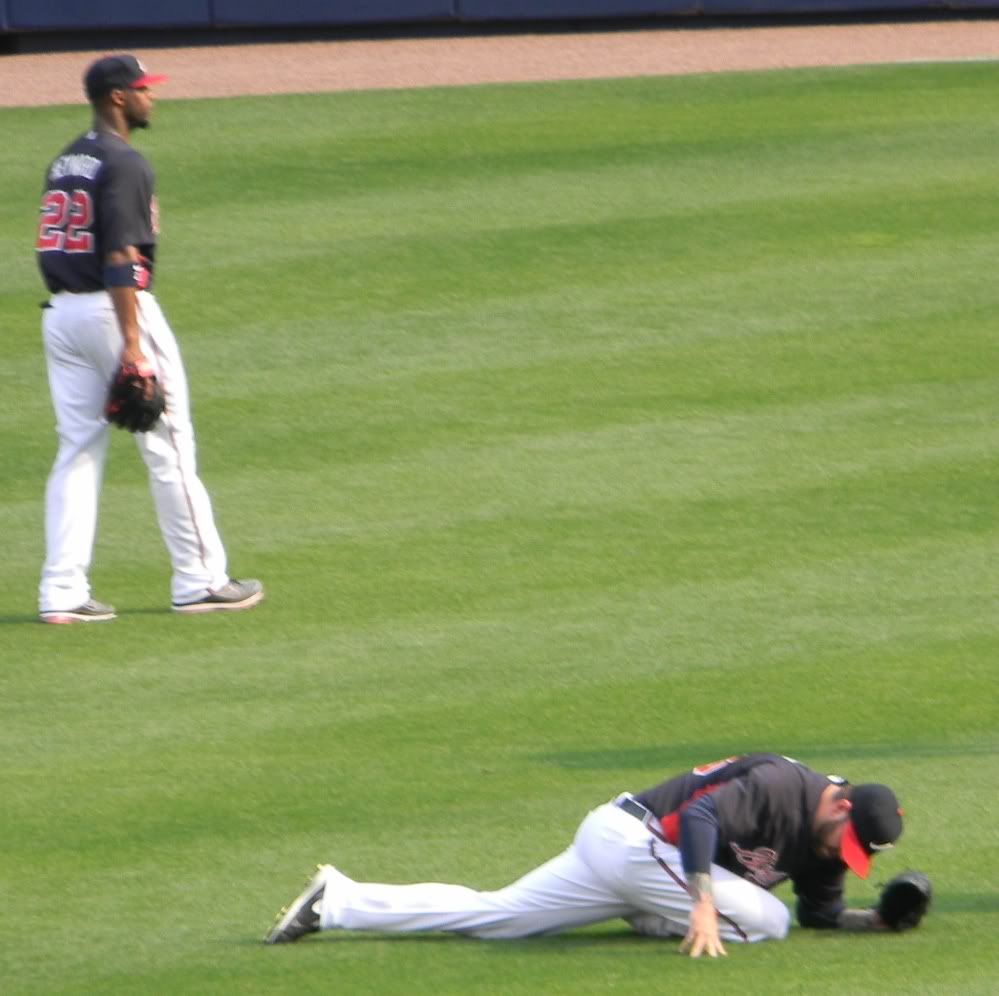 Stretch, Moylo!
Moylo retweeted this - "Great bum", haha.
Don't make me rank the bullpen bums, dude! ;)
Tommy's shoes are pretty great.
This is the new wallpaper on my laptop. They're all so happy! ♥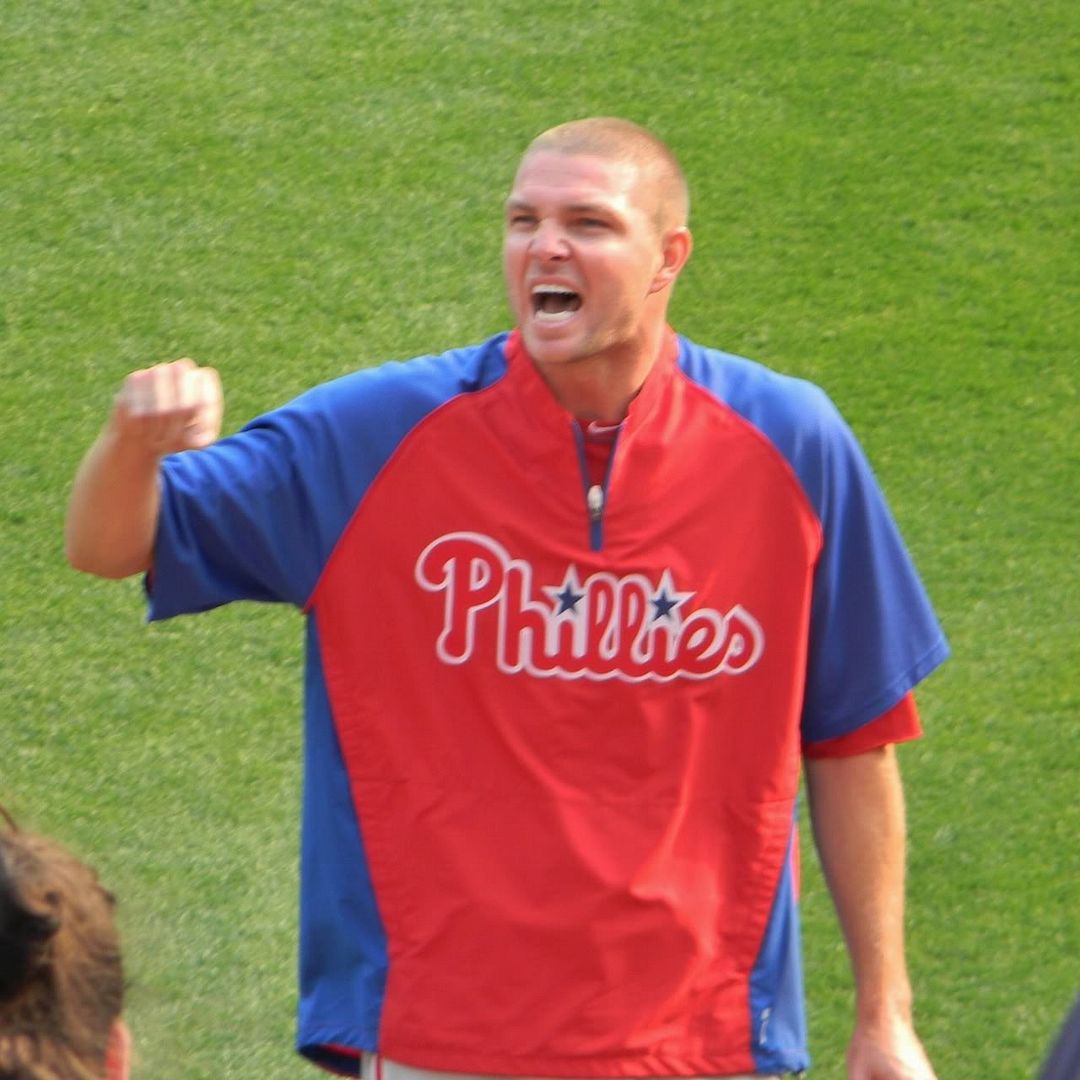 Not happy? Ryan Madson. A fan was heckling, and he yelled back. A lot. Some friends heard what he was yelling, and... he is not the brightest bulb.
(He's still pretty, though. He can stand over there.)
The Phillies are in town, so obviously I took batting practice pictures of Joe Blanton's socks. (SOCKS UP!) I narrowed it down to only six in the album! Aren't you so proud?! :D
1
~
2
~
3
~
4
~
5
~
6
Our tickets were in the club level, and we had no idea how to get to them. Seriously. The entrances go from 324 to 326 (the all-you-can-eat section) to the 755 Club entrance. We were in 328L. Um, how do we get there? We actually missed the unveiling of the 2010 Wild Card flag and the boys running in from center field (
killer!
look how
amazing
! aaah!), but we did make it to the seats in time for the lineups and the ceremonial first pitch.
There are tons more pics in the full album of the entire team on the baseline watching the national anthem - it's cute.
GAME TIME!
Prado - SOCKS UP! - writing in the grass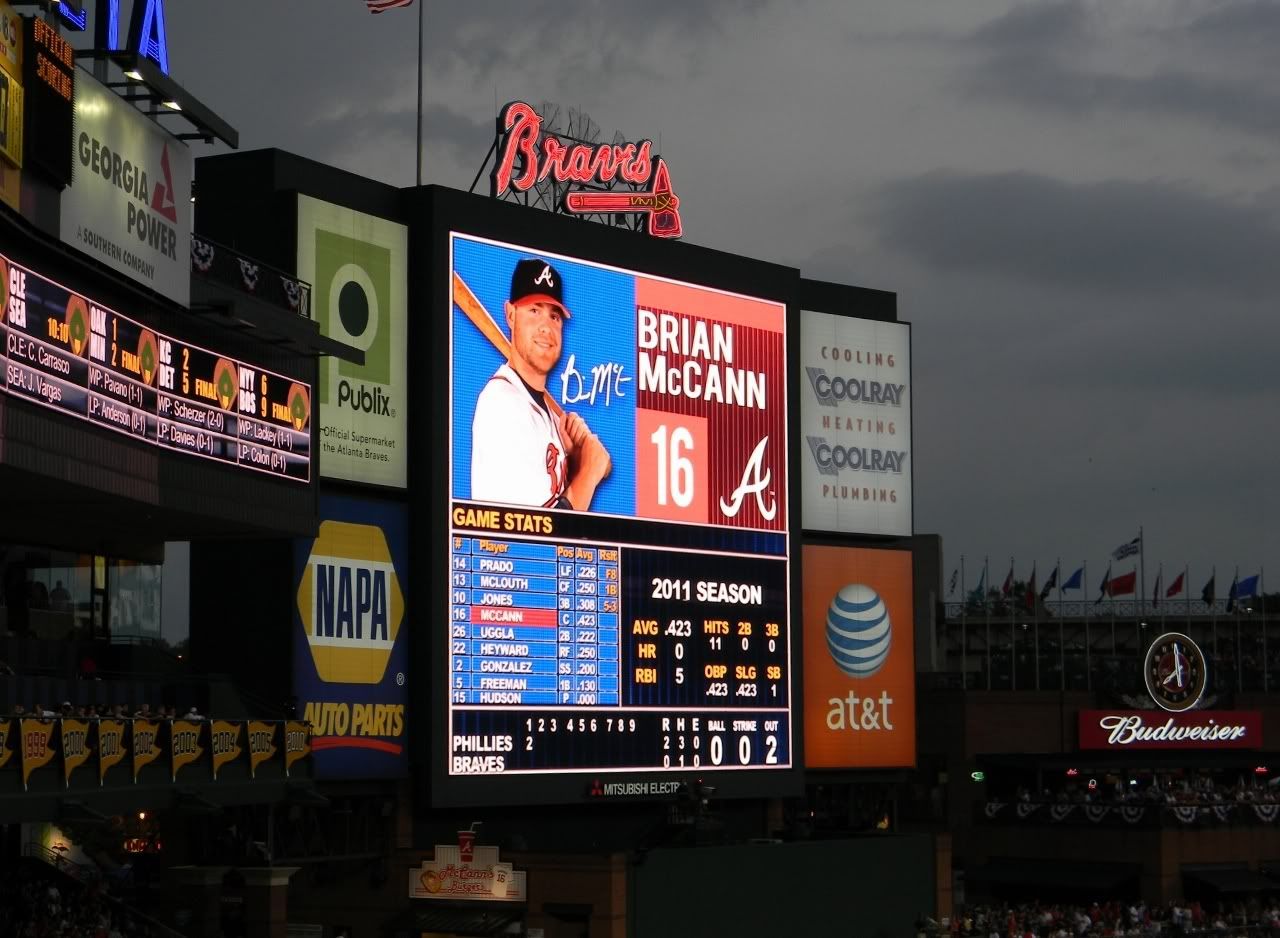 How long has BMac been using this picture? Who cares, it's adorable.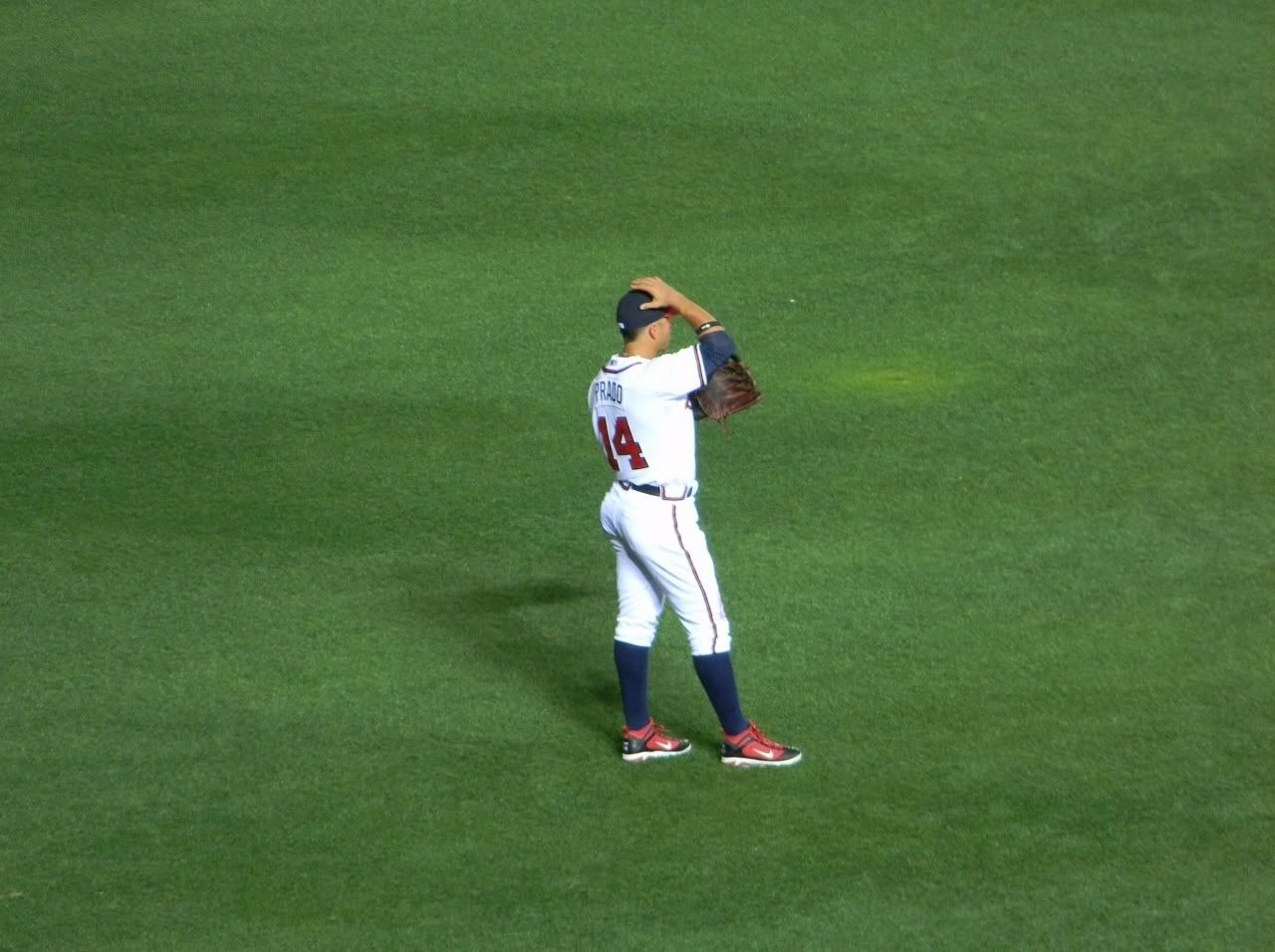 The view from our seats.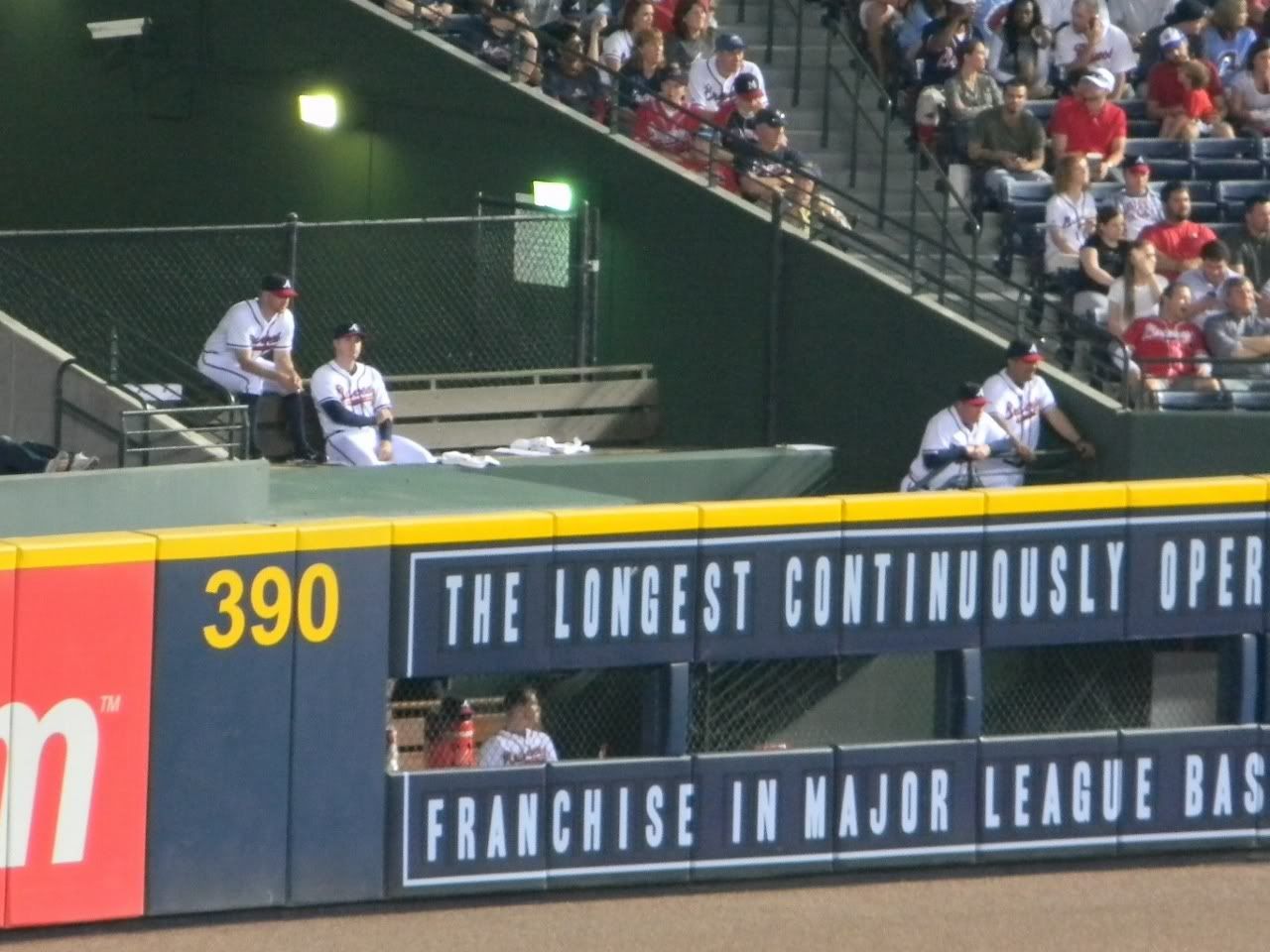 Is that Kimmeh in the downstairs? Did he get in trouble? :D
Huddy!
Sadly, the best picture I got of Cliff Lee. I'm still working with this new camera.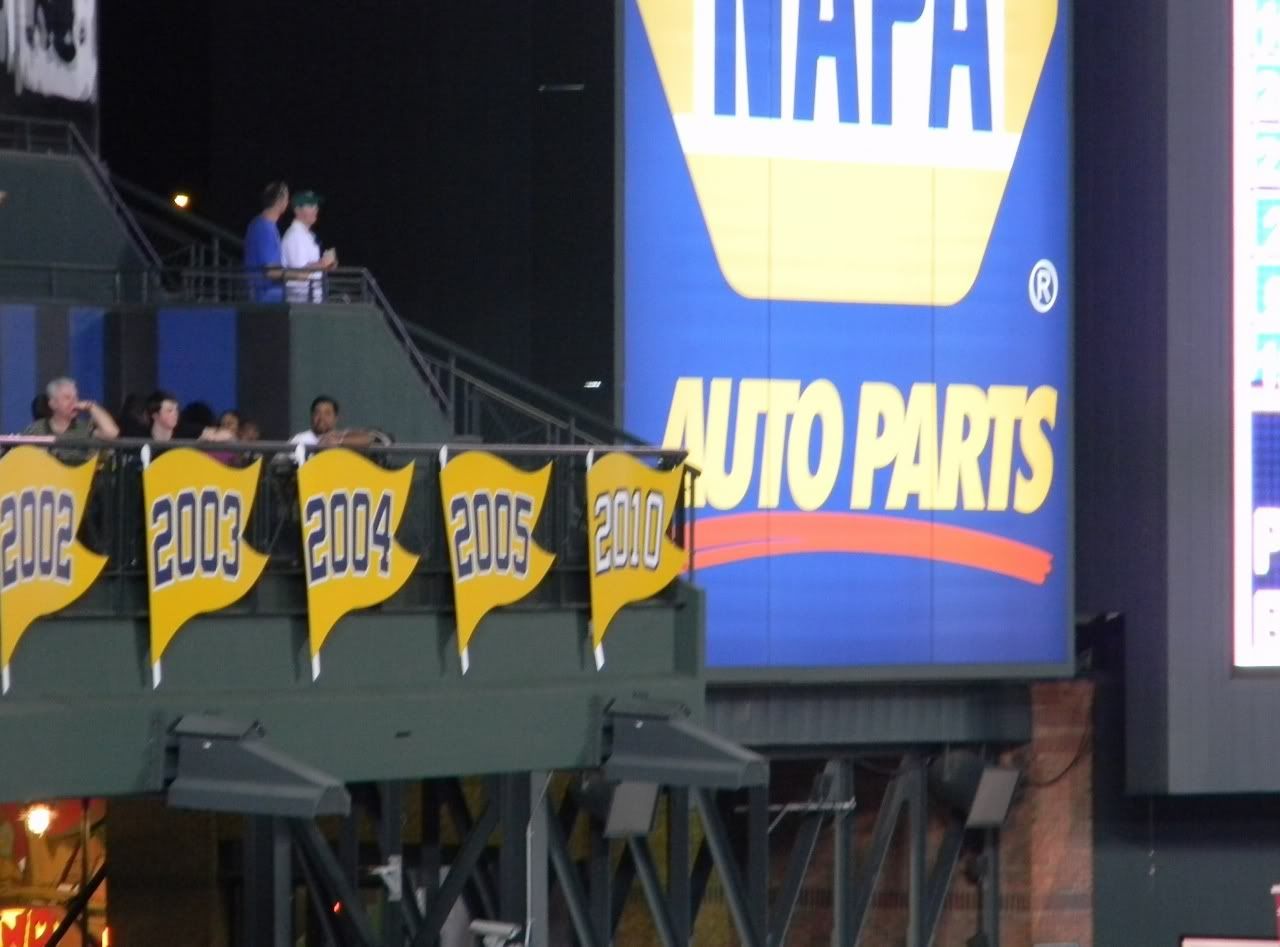 WILD CARD FLAG!
My girls think he's got the cutest jumbotron pic. I say we haven't seen them all yet, but it's gotta be in the running.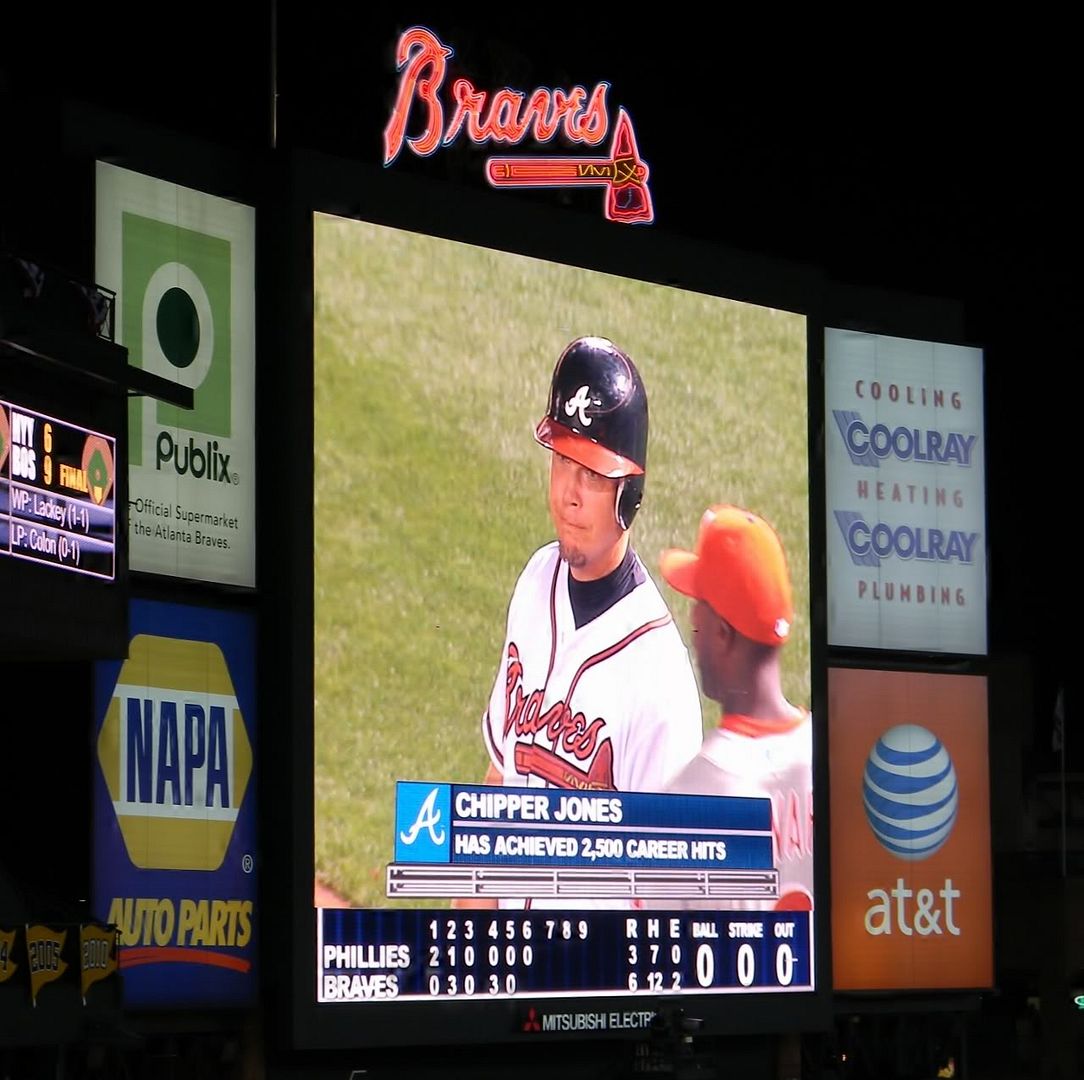 Achievement Day
Love it when Jonny sits this way. It just looks so comfy. :D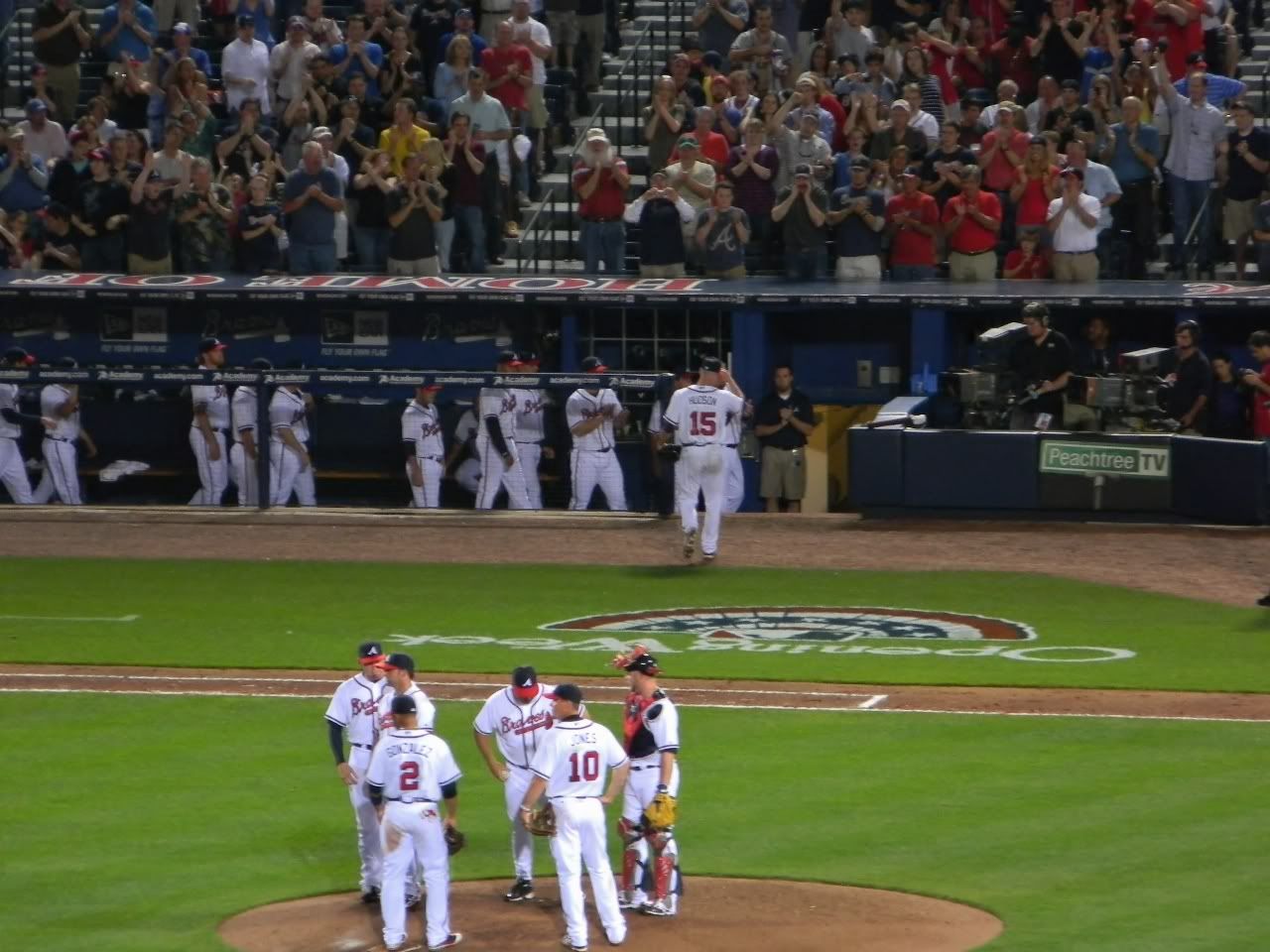 Huddy's ovation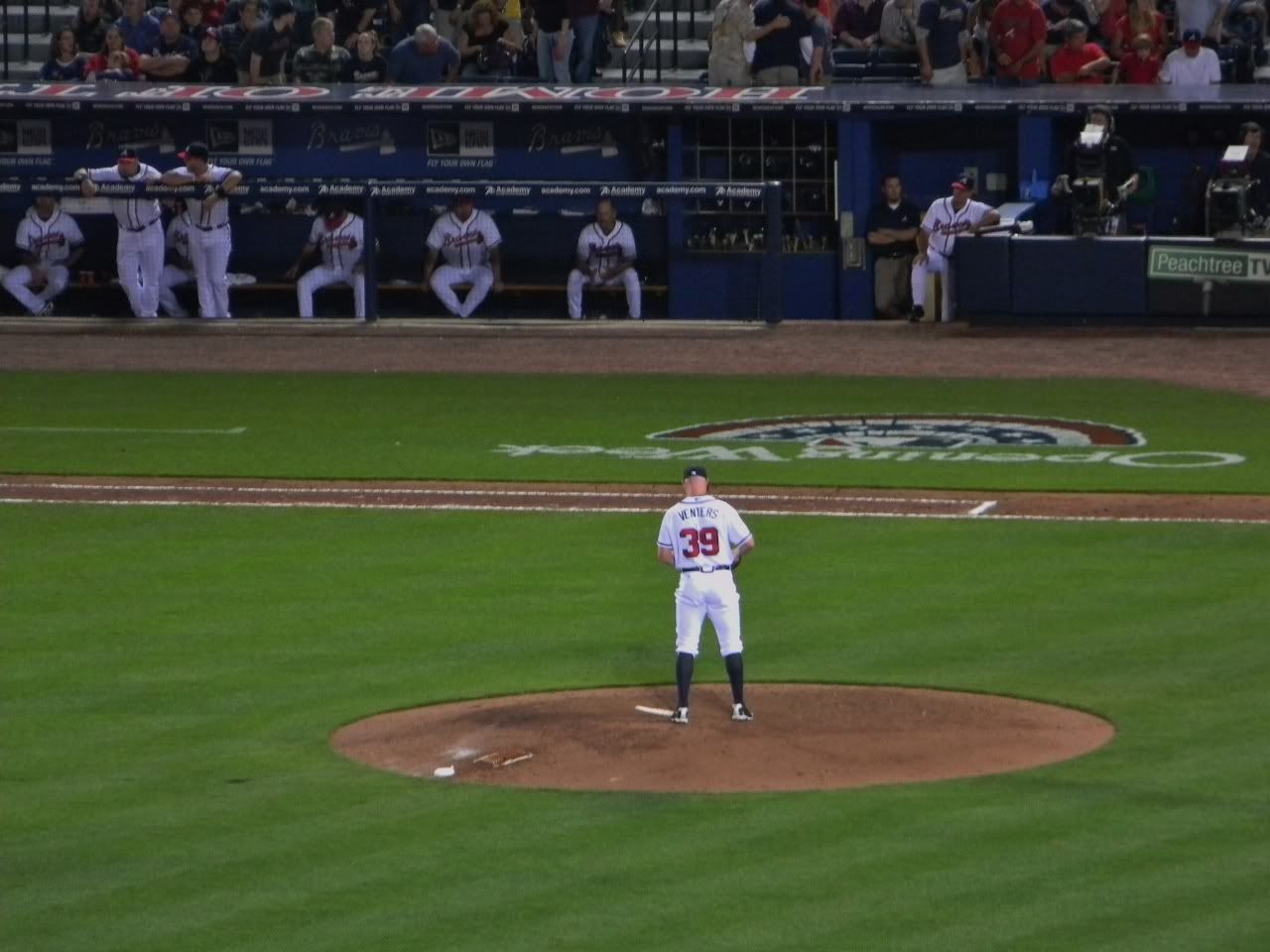 And who's replacing him? My fave Brave! Go Jonny!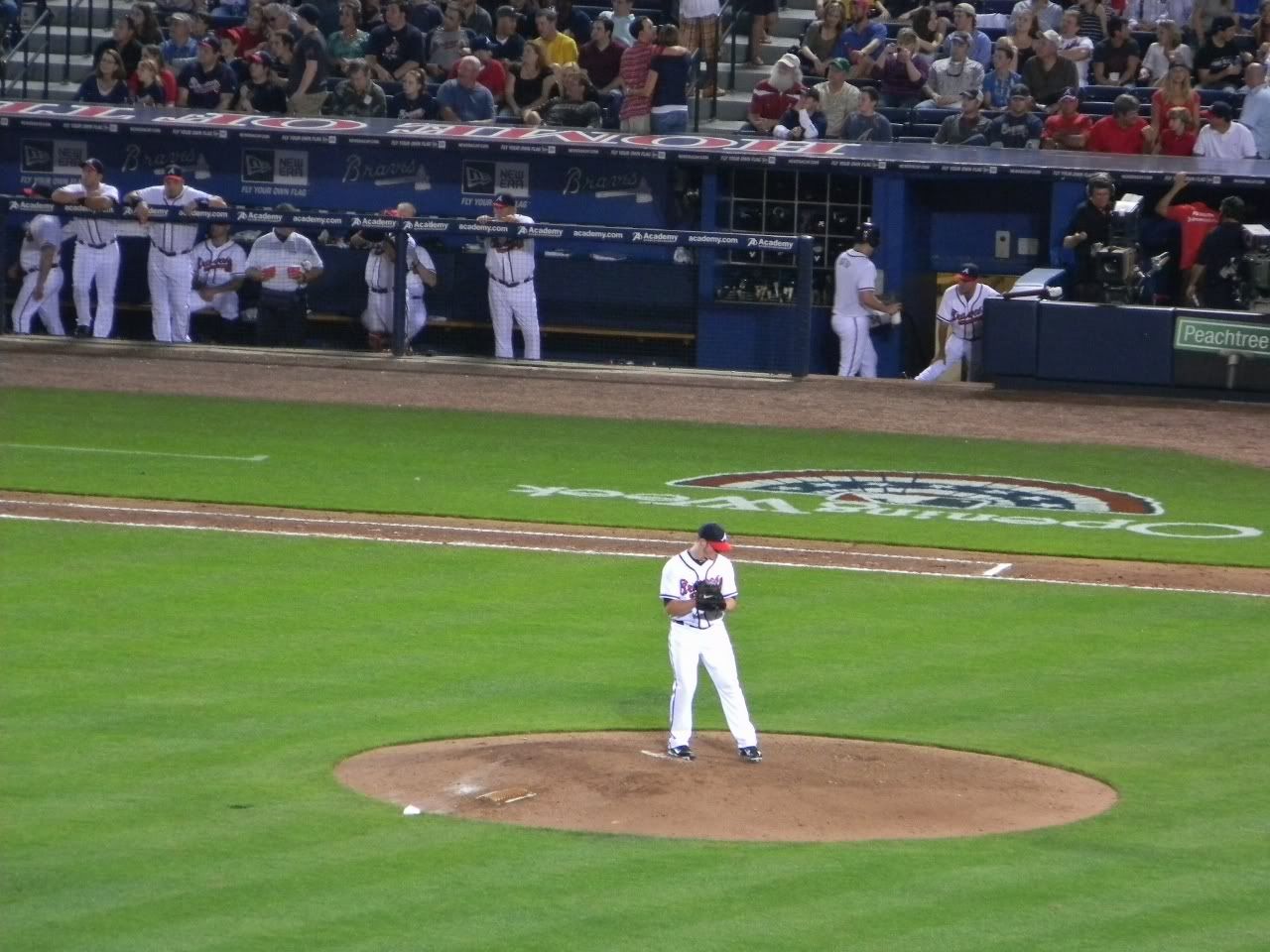 Kimmeh to close it out...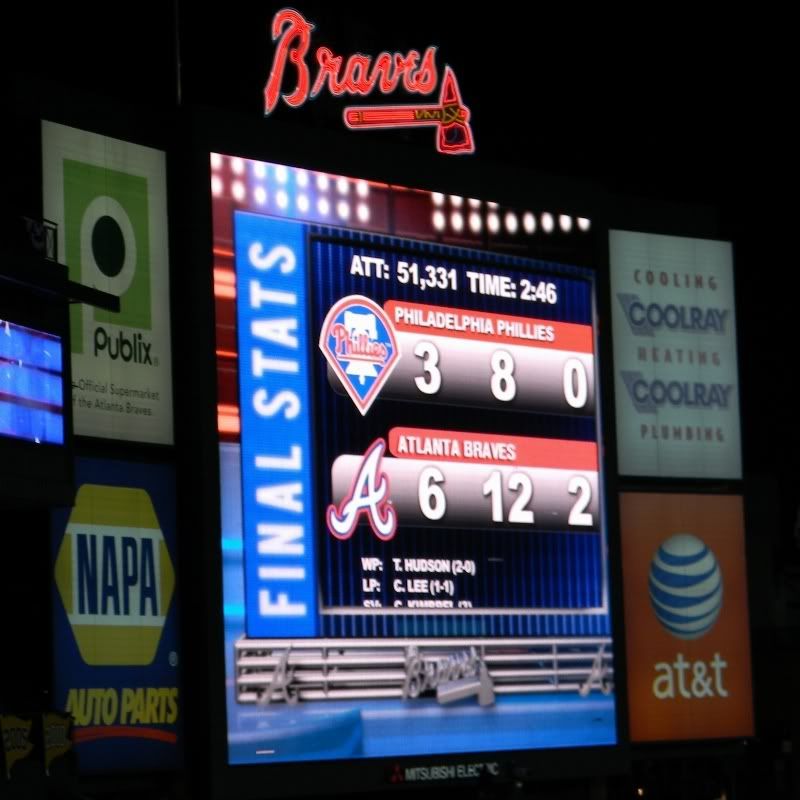 Braves win!
Good game video!
Were you there? Share a link to your pictures in the comments, please! :)
ETA: I like how I asked if you were there, and Alison didn't share her link. LAZY GIRL! ;) Kidding, I love her, and she
was
sitting right next to me. Here's the
link to Aly ♥ Baseball's post
from the same game.