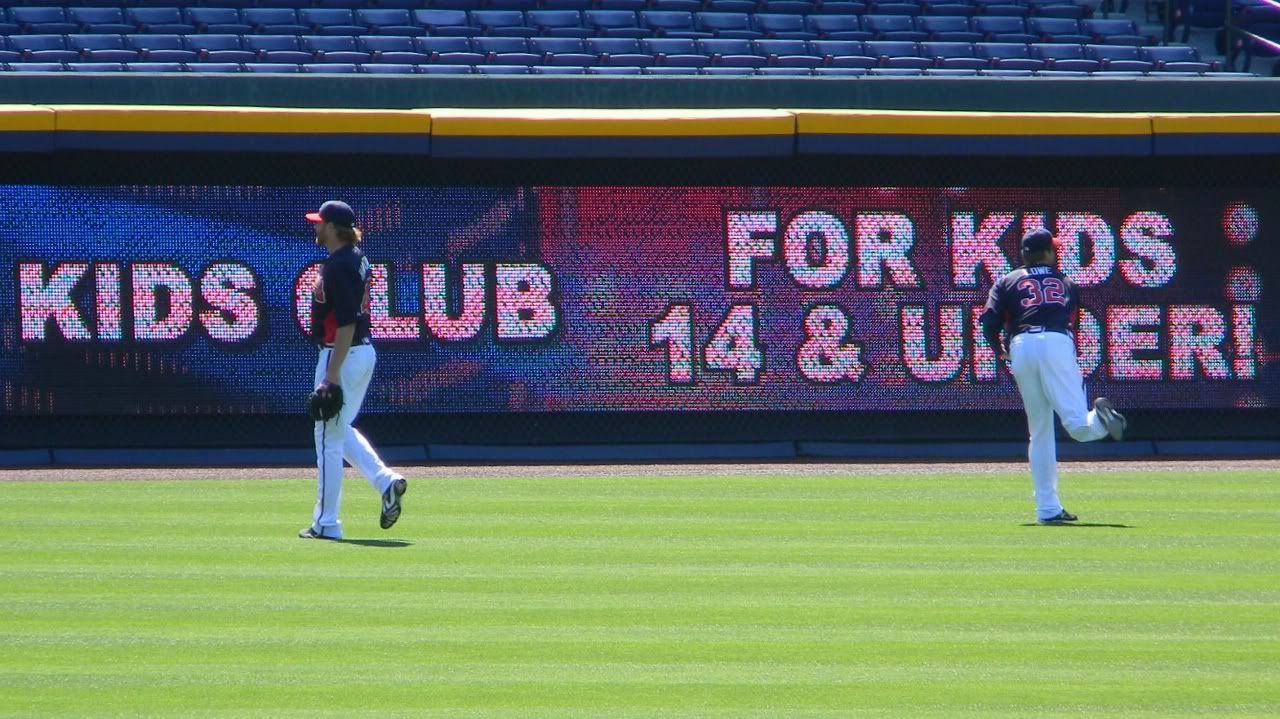 This will always be funny
This was a hot, hot 1pm game. OK, it wasn't
that
hot, but since I was under the weather and after taking hundreds of pictures at the previous night's game (in the amazing seat upgrade!), I only have 44 pictures in this game's
album
. It felt hot to me, anyway!
Alison and I got there early and sat on the front row of the wall because no one was there yet and thought it would be the best way to get good pictures. Well, then the Cardinals strutty mcstrutterson trainer guy set up a bunch of stuff in front of us so most of the Braves stayed on the other side of the field. As I mentioned, I wasn't feeling great and was trying to move as little as possible, so we just stayed put and relied on camera zoom for pictures as we joked that the boys were scared of us and were staying as far away as possible. (We don't hoot at them beyond game-cheering for them, you know? We're just trying to share the experience with those of you who can't go as often as we do!)
So, here we go - a few beepee pics... (click to enlarge, as usual)
I like it when position players play pitcher-catcher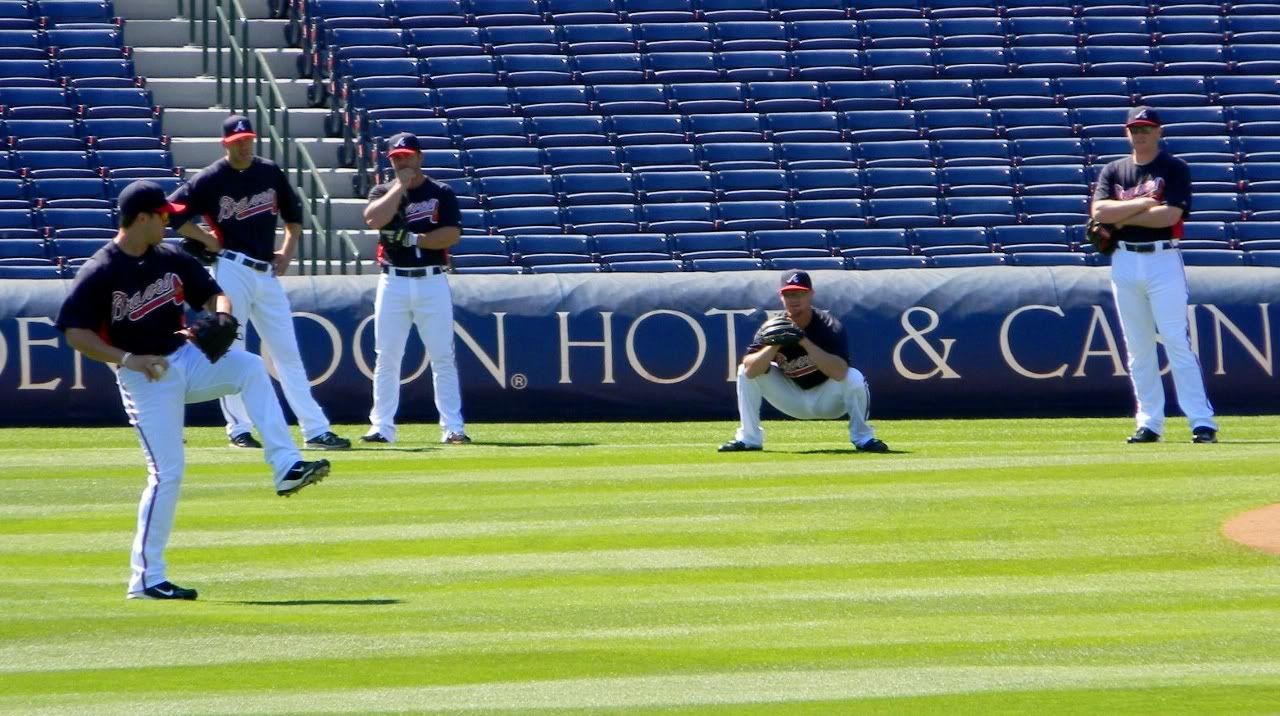 Brooksy and Brandon Hicks played together for a minute, while Joe Mather, Uggla, and Fweddie watched
Cute pose, Meds. Also, EO! Hat!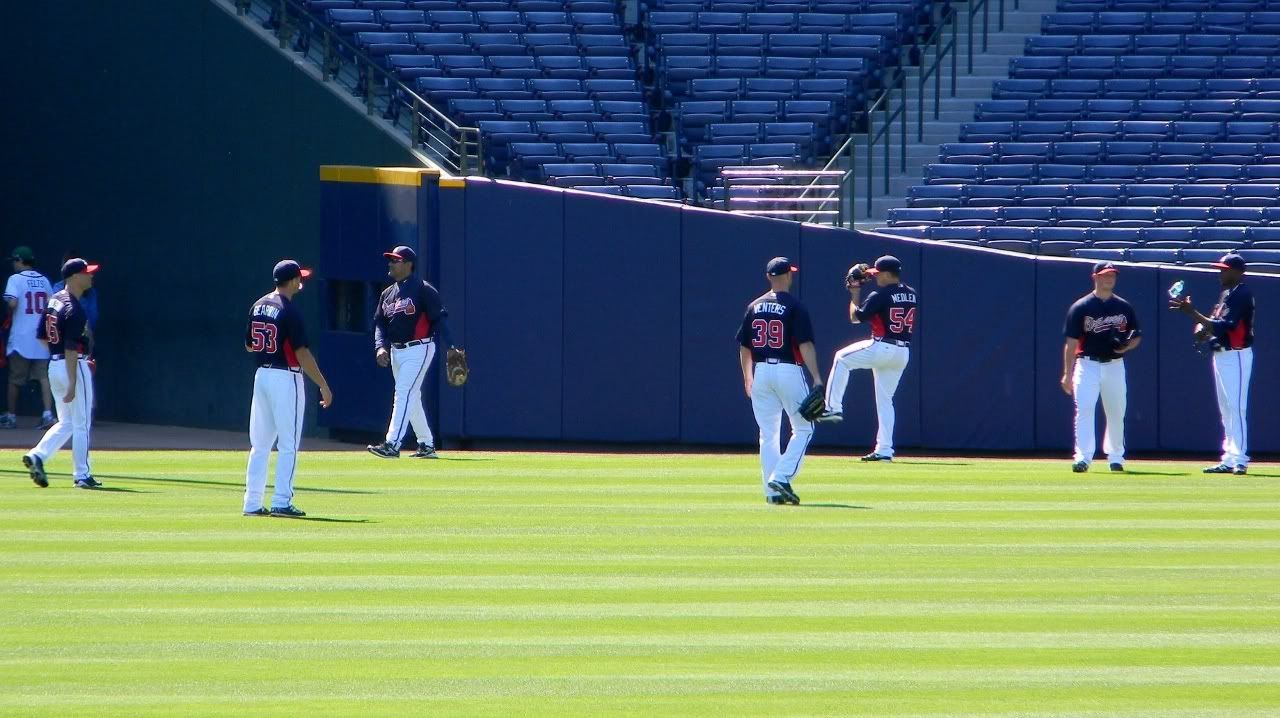 I'm hoping this CoryGearrin bubble means he's tobacco-free.

❤
He came closest to the Cards' workout, we think. :) Hi cutie!
Jonny had water bottles in both back pockets.
Alison was quite preoccupied with Marteen, who'd just run out to LF.
Me: How much stuff is in Jonny's pants?!!
Alison (serious): Don't know. Busy.
I laughed at her and she didn't even notice.

❤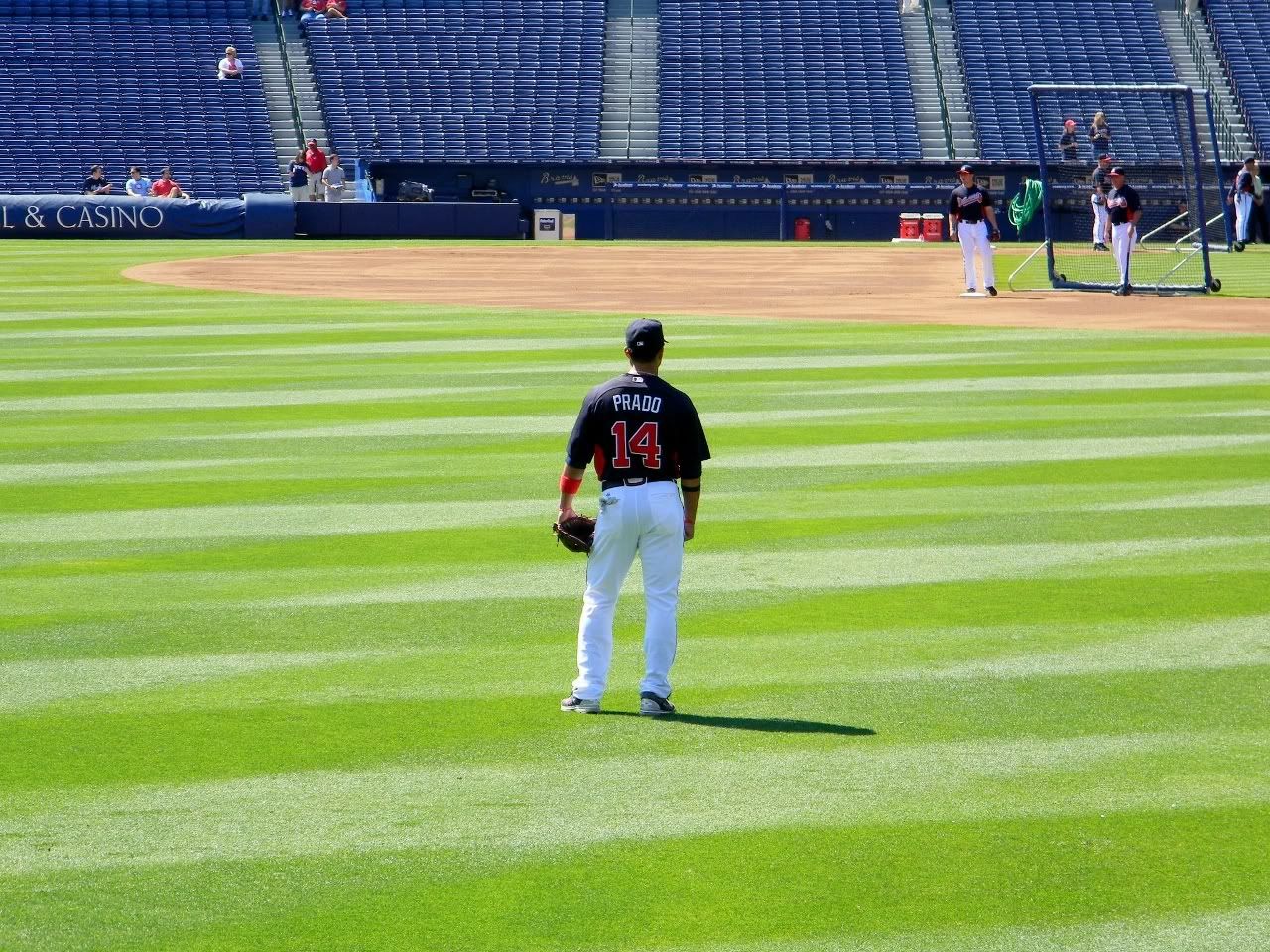 Hi ladies.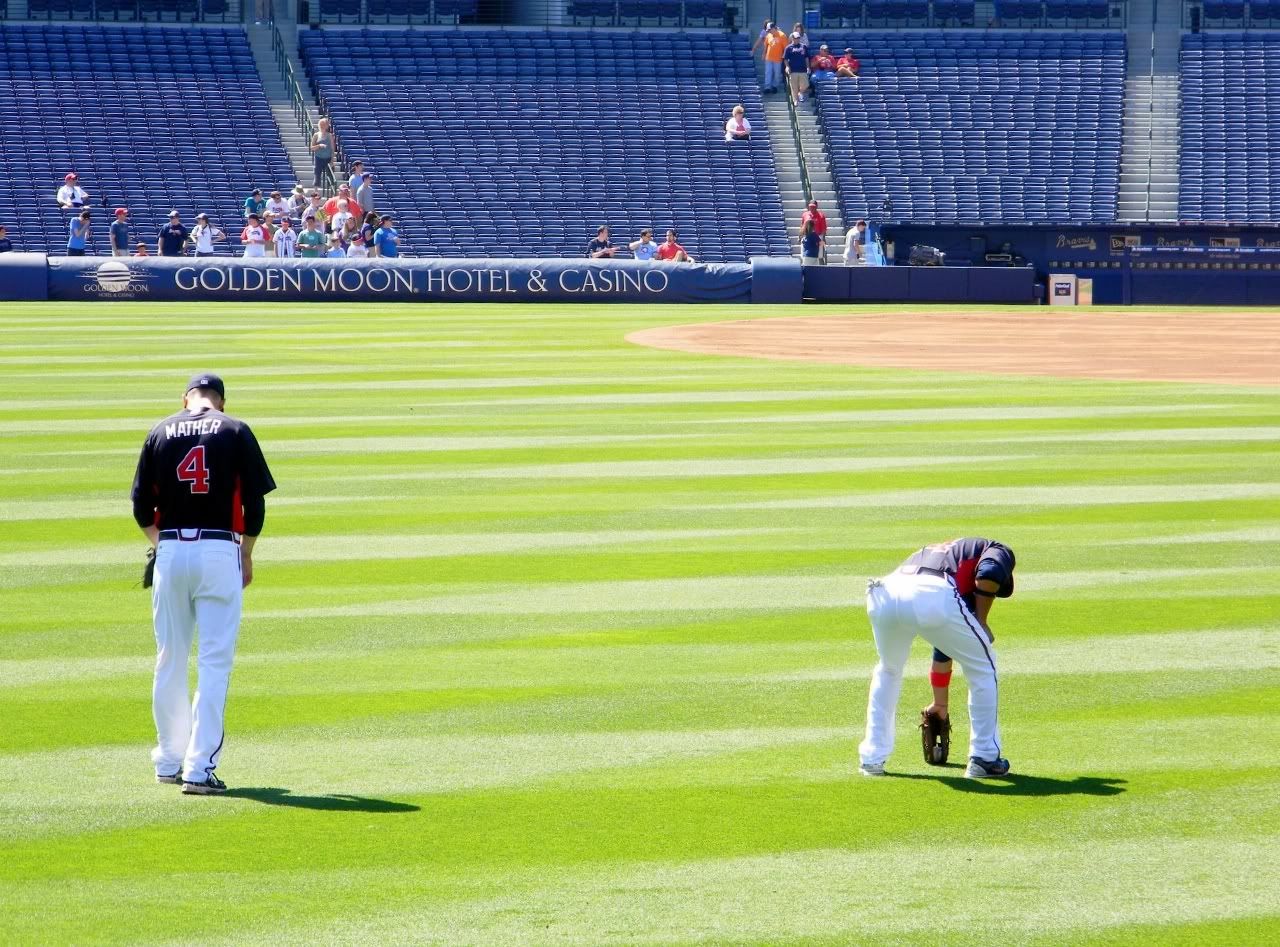 Joe Mather joined; Alison died.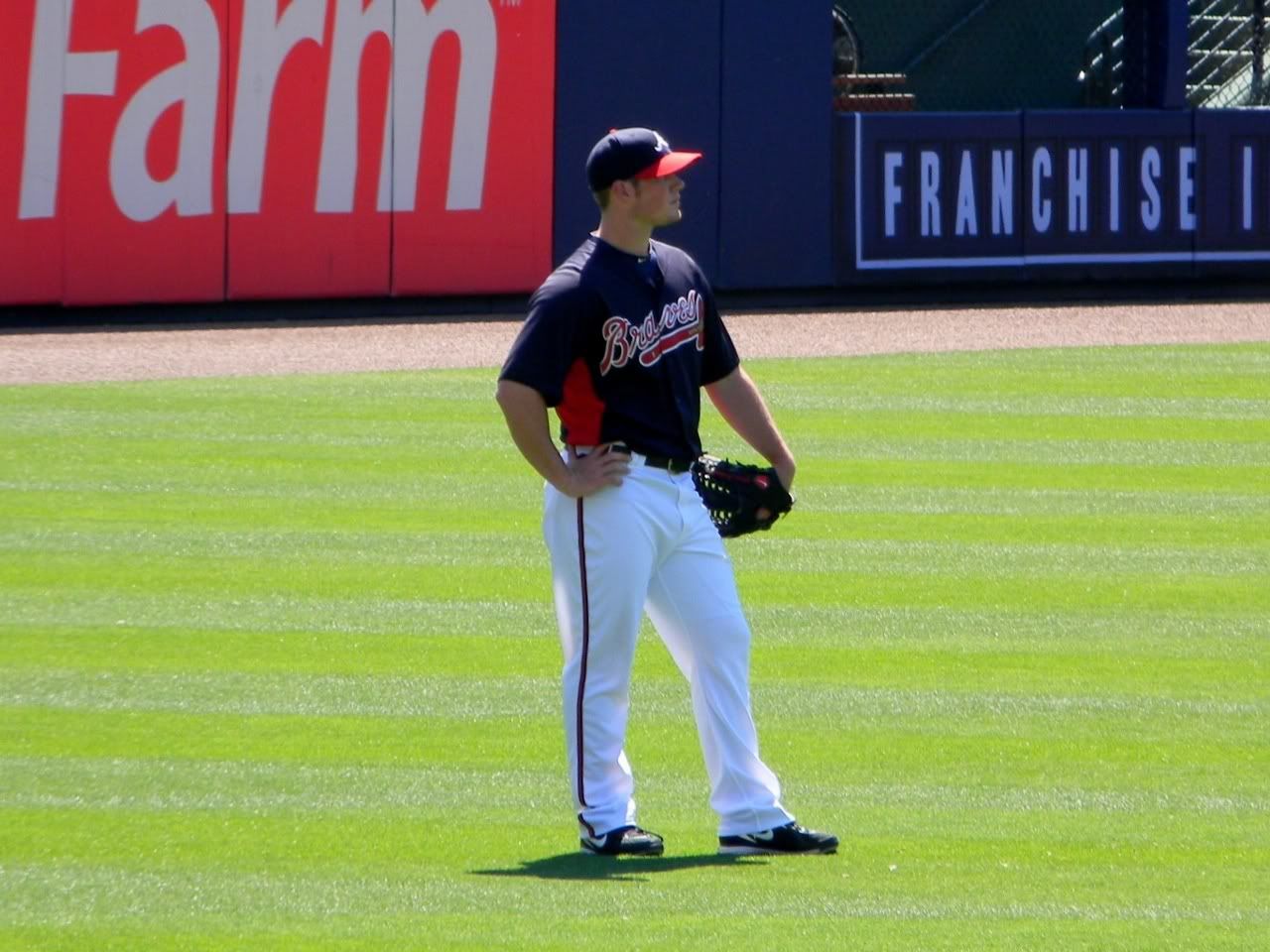 Kimmie should model

After Braves beepee, I needed to get out of the sun and Alison needed food. She'd been dying to try a McCann burger, so I hung out at a picnic table, sucking on a yummy blue powerade and talking to the random people at the table (yes, my hair is real ?!!). When she came back, she thought it might be fun to put the burger inside the bagel I brought her for a snack... and she kinda didn't know I was videoing her. She knew I was taking pictures! Haha, love you for not getting mad, Alison. You know I'd delete it if you weren't so dang cute!
Basically, the game was too far away to take a lot of great pictures. I wasn't feeling fab and I'm sure Alison will have a lot more when she puts up her gameday post (I'll link to that when she's got it up). As it is, here are a few from during the game...
No more full-sun 1pm games, we decided.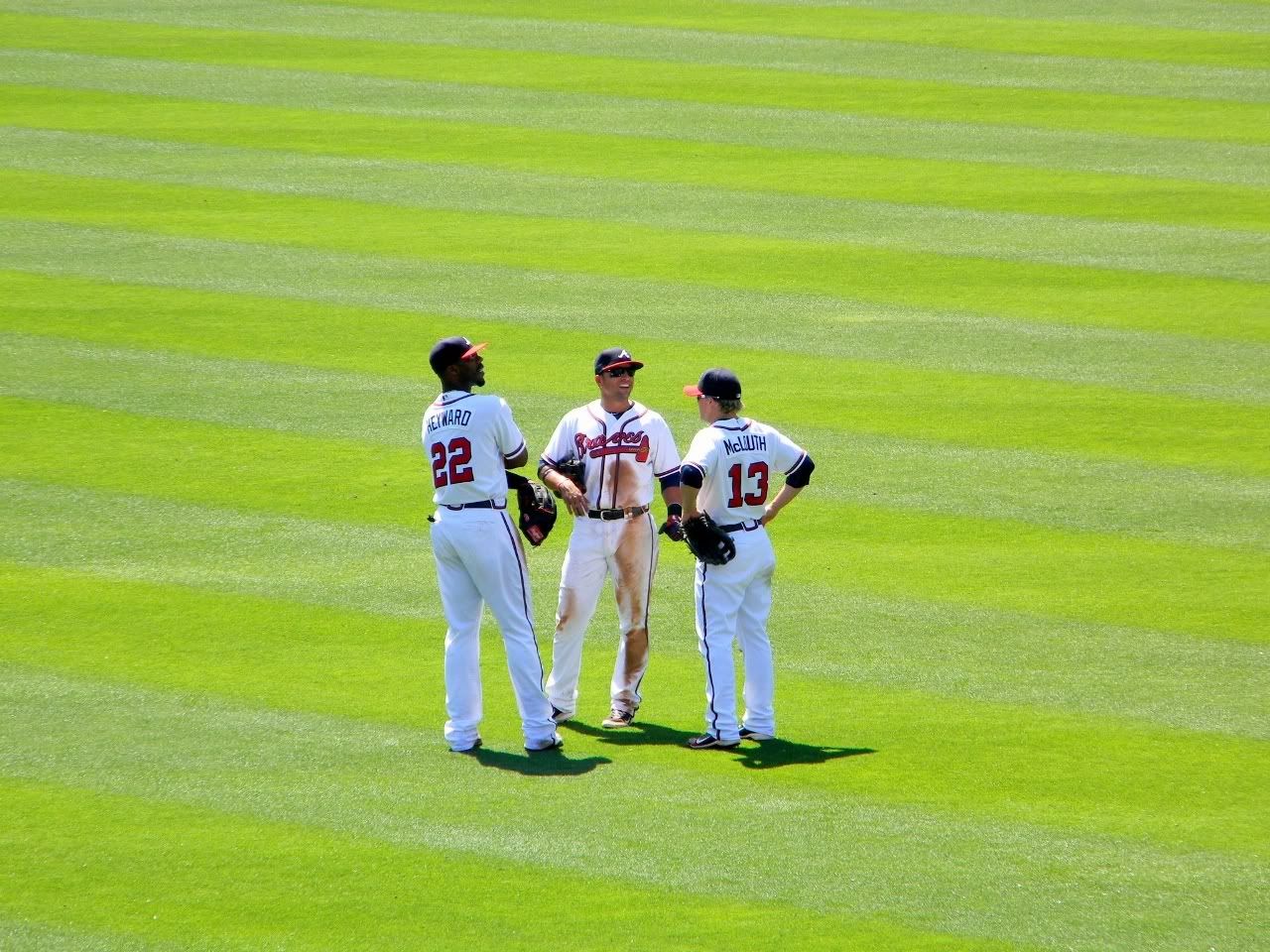 Our outfielders!
Killin' it, as usual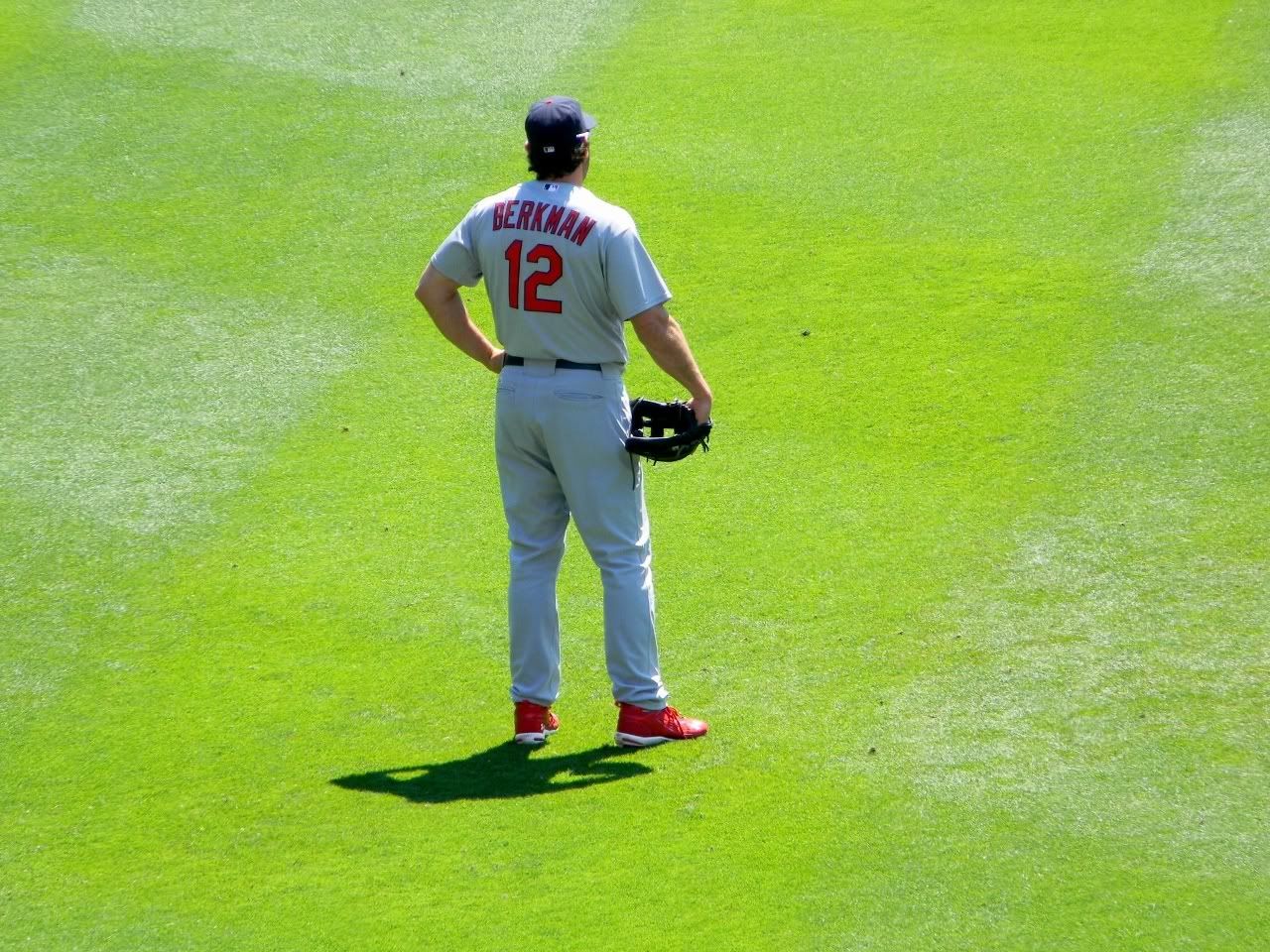 For Shaun
Hi Molly
Loss. :(
Took me an hour to get home - usually a 20-minute drive - and was stopped by this. AGAIN. ALWAYS. If you know what you're looking at you're shaking your fist with me. :)
Tweets of fun things that happened during the game - are you following?
https://twitter.com/BravesLove/status/64395063005945857
https://twitter.com/BravesLove/status/64398804497088513
https://twitter.com/BravesLove/status/64408672868110336
https://twitter.com/BravesLove/status/64416805380308992
https://twitter.com/BravesLove/status/64446632716013568
And, two other great stories. First, we were watching
Beachy warm up
in the bullpen and a half-lit guy next to us yelled at Mac, "YOU'RE SO [expletive] SEXY MCCANN! I LOVE YOU!!" Mac laughed and a couple of seconds later, pointed his glove at the guy in acknowledgment. Everyone loves Mac! :D
Second, during the game, a couple of military guys (which service line wears blue shirts, tan pants, and white hats?) went to the bullpen rail and Jonny and CoryGearrin hopped up and shook their hands. Good boys.
The end. Not much more in the big album, but check it out if you're so inclined...
Full Album