Happy birthday, Kimmeh! The girls at Braves Love love the hairdo. :)
Saturday was a "fun" day. Alison and I both woke up feeling pretty gross. Are we sure we want to go see Kimmie? We see Kimmie all the time at the park. Yeah, but it's not the same as talking to him up close in person on his birthday. But we're so tired... Oh! Jennise is going to go! We'll meet up with her, yay. We can do this.
So we waited in a little line, talked to the people around, as usual. I didn't take pictures of the line or the event -- like I said, we weren't feeling well, and the pics we have are from Alison's little point-and-shoot. We took a few silly ones while waiting in line (here's her test shot of
me against the glass
; if she wants to post the test shot of herself she can do that on her blog!) and asked for some with Kimmeh himself.
When our turn came up, I gave him a copy of
this picture
, wished him happy birthday, and made a little small talk. He was so nice, as usual -- he's always a doll -- and he signed a ball for me as well.
I asked if I could get a picture with him, he said yes (again, so nice), and Alison said the first picture seemed blurry on the screen! So after I had popped up, I had to go back for another picture. As it turns out, both pictures were
fine
, and I love his face in them.
Version #1, nice smile from CK, I look hilarious
Version #2, excellent smirk ;)
Too cute!
Alison asked him to sign a Gameday program where he was the star. (She'll probably post a pic of that on her blog as well, when she catches up). Bye darlin'! Hope you had a great birthday!
~ * ~ * ~ * ~ * ~ * ~ * ~ * ~ * ~ * ~ * ~ * ~ * ~
After shopping with Jennise and her crew (hi ladies!) and a car nap because we still weren't feeling amazing, we headed to the Ted. The gameday pics are few and far between because I was
*thisclose*
to going home and going to bed the entire game.
Must mention: it was awesome to see Jo, who drove up from Tally and was rocking her Huddy shirt. Can't wait to see you again for the Rangers game, girl! :)
ETA:
Jenna also invited me to a season ticket holders Q&A with a rookie -- we didn't know who the rookie was going to be until we were sitting there eating a pretzel. It was Freddie Freeman! He answered questions from the audience about his rookie experience. Y'all, he's ginormous. He is
a huge man
. They asked who he goes out with -- he said "obviously Jason, since most of the old guys are married", ha! -- and asked to see his haircut, and he complied. He also tipped us off that Meds was downstairs cutting Prado's hair into the team fauxhawk. Love it! Someone else asked what kind of music he listens to, and he said he grew up with country but Jason introduced him to hip hop, so that's mostly it, country and hip hop. He also said that the "Fred-die Free-man" chants make him nervous and he's still not used to all the attention. Too cute, if you can say "cute" about someone SO GIANT. He is giant.
Giant.
So there aren't as many BP pics as usual, but there are more in the full album. Here we go!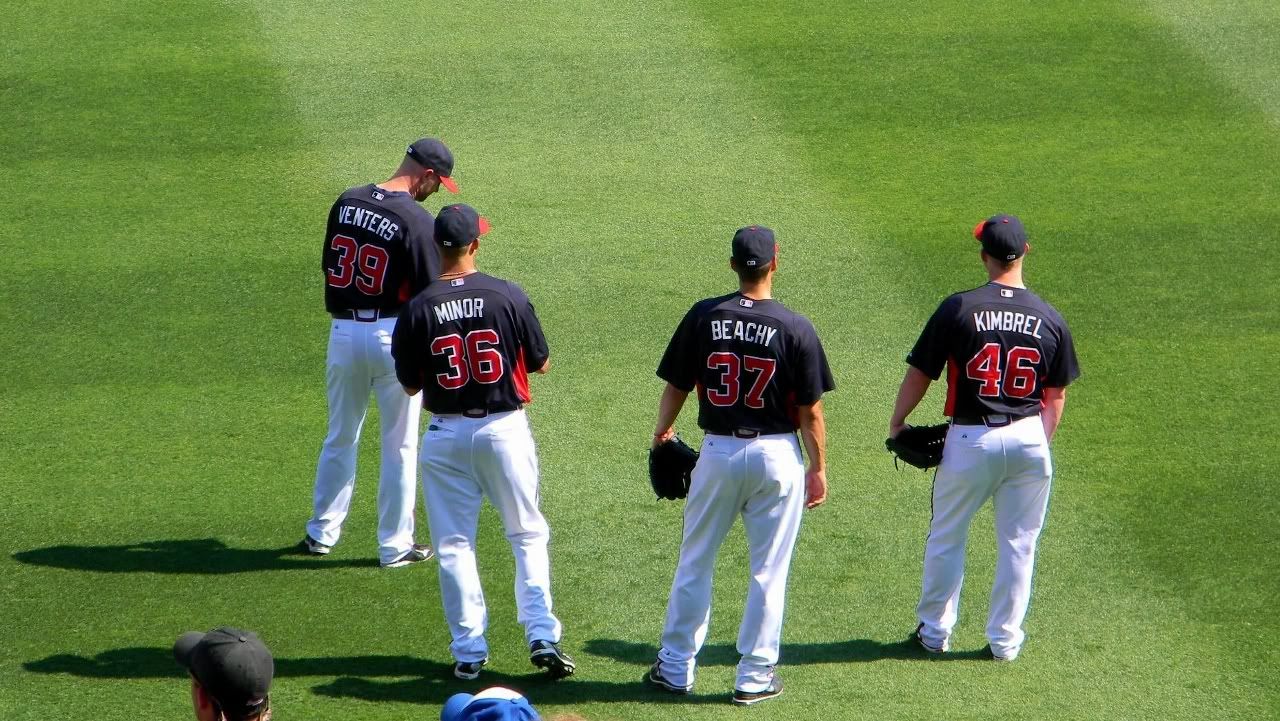 It's hot enough to sit in the terrace shade for BP again, yuck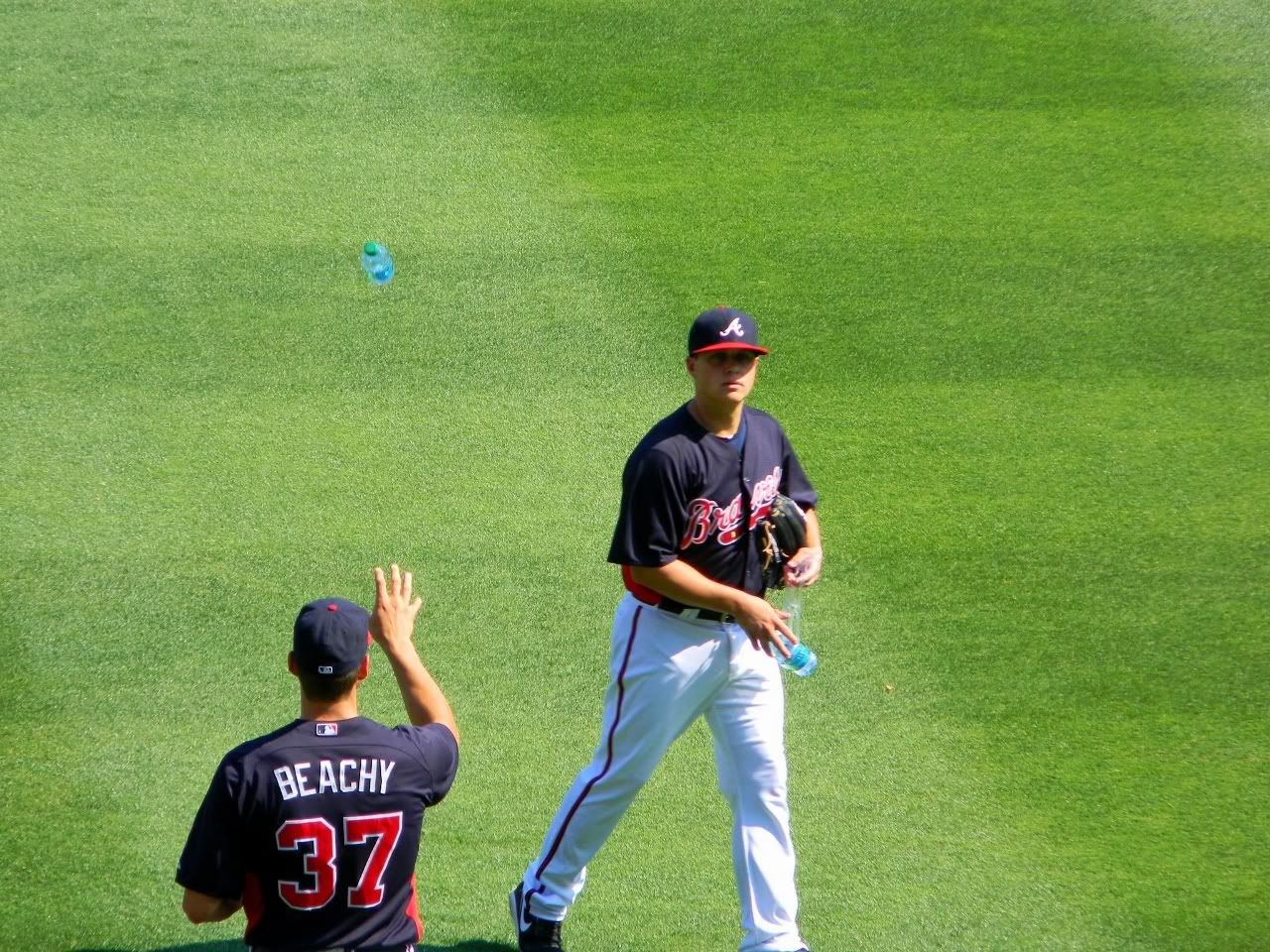 Good boy, Meds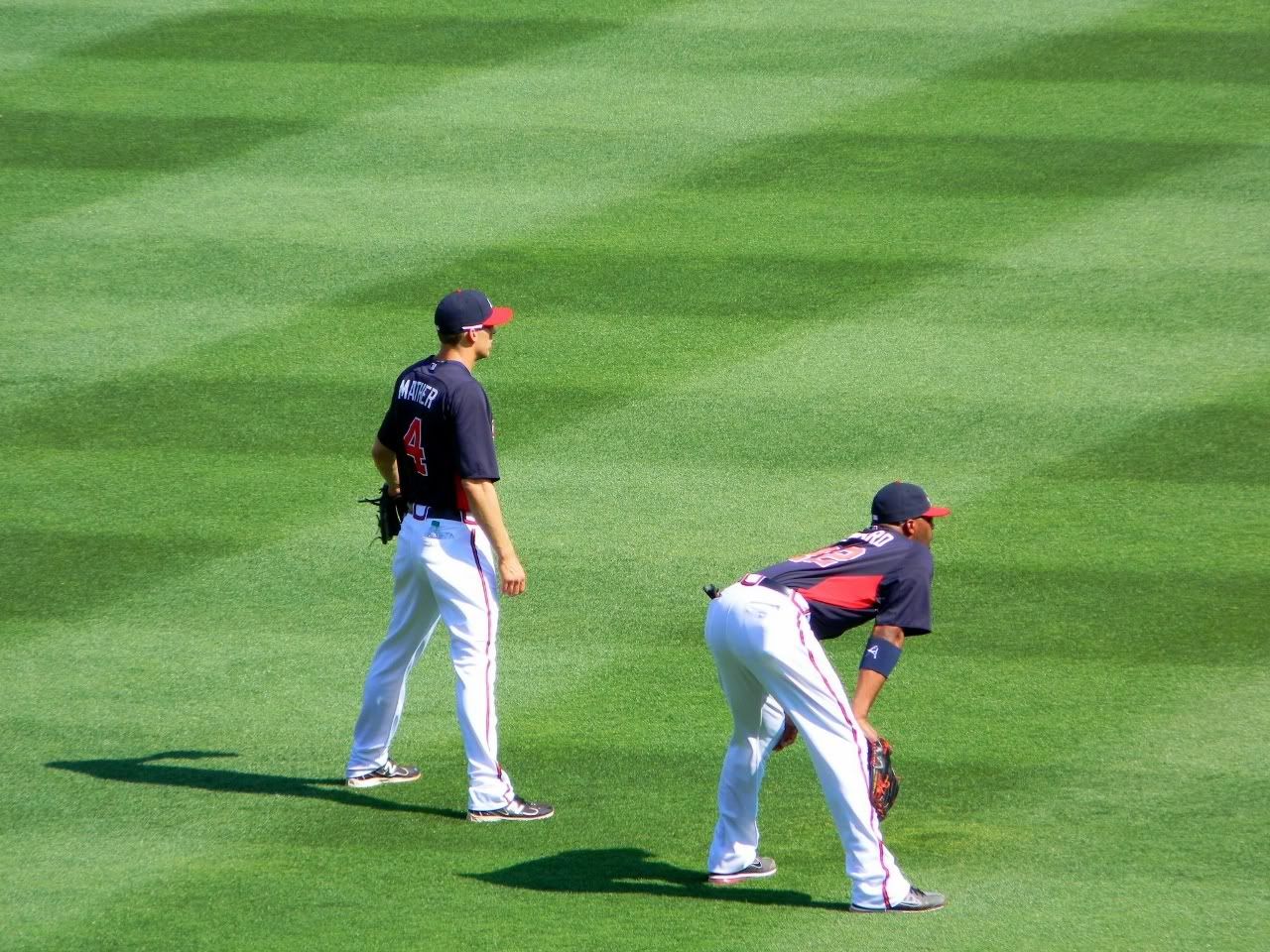 Two of our right fielders
Socks UP! Marteen stretching pre-game
Marteen & Brandon Phillips
I like it when they wave with their gloves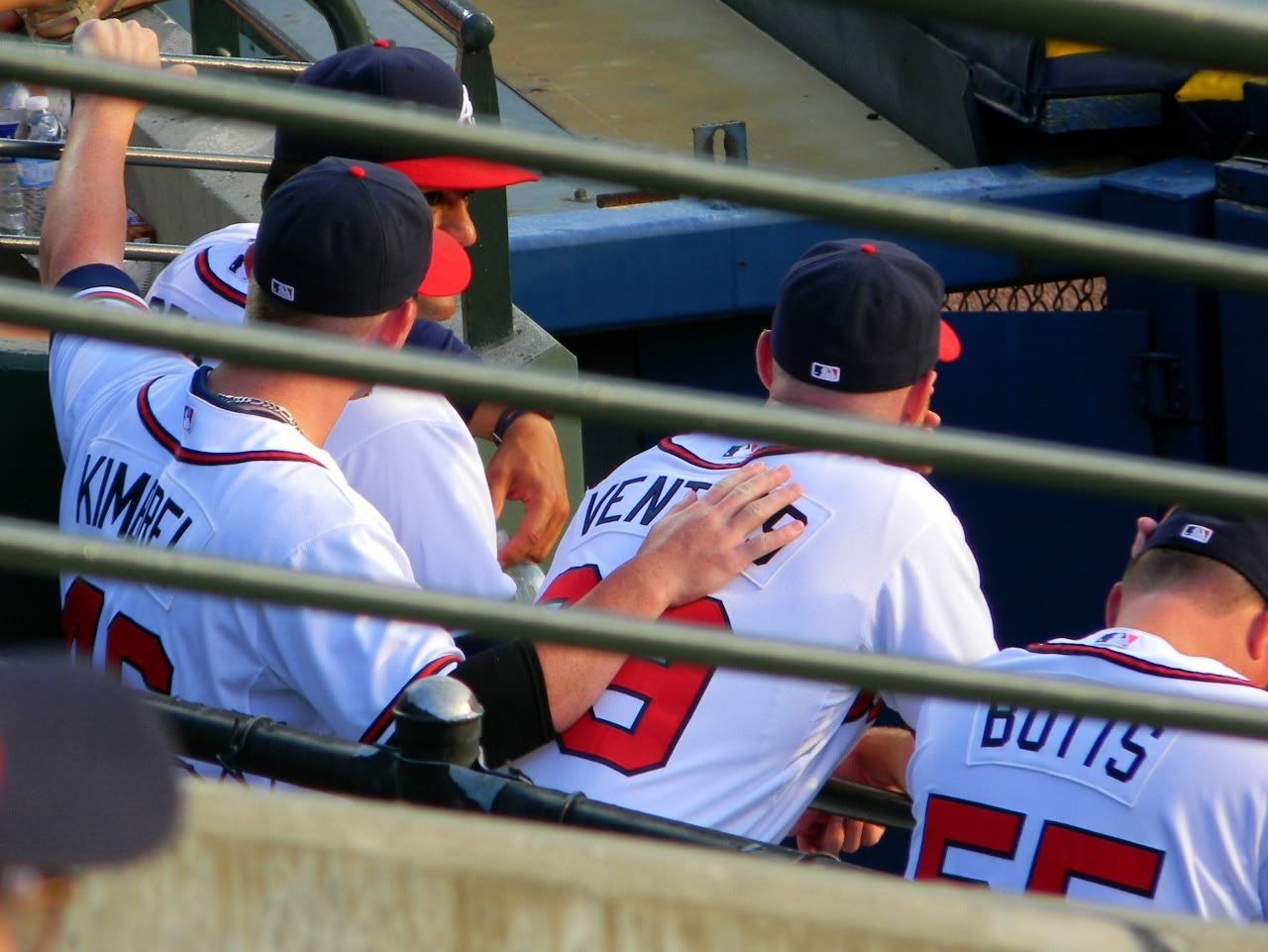 When we sit by the bullpen, I don't usually take pics of the players on the bench because they're so close and it feels weird and peep-y, but this was just too cute.
Another cute story from around this time -- Eddie and JV were playing games with a few baseballs, and the games kinda ended when Eddie threw a ball into the video screen behind right field and made Jonny go get it... while the game was going on! He disappeared behind the video screen and came back out grinning with the ball while Eddie stood there on the rail like everything was normal. So fun. :) It's gotta get boring out there for them sometimes. Heck, we're on our phones and talking to each other and watching fans and watching them for extra entertainment, and they have to be
in the game.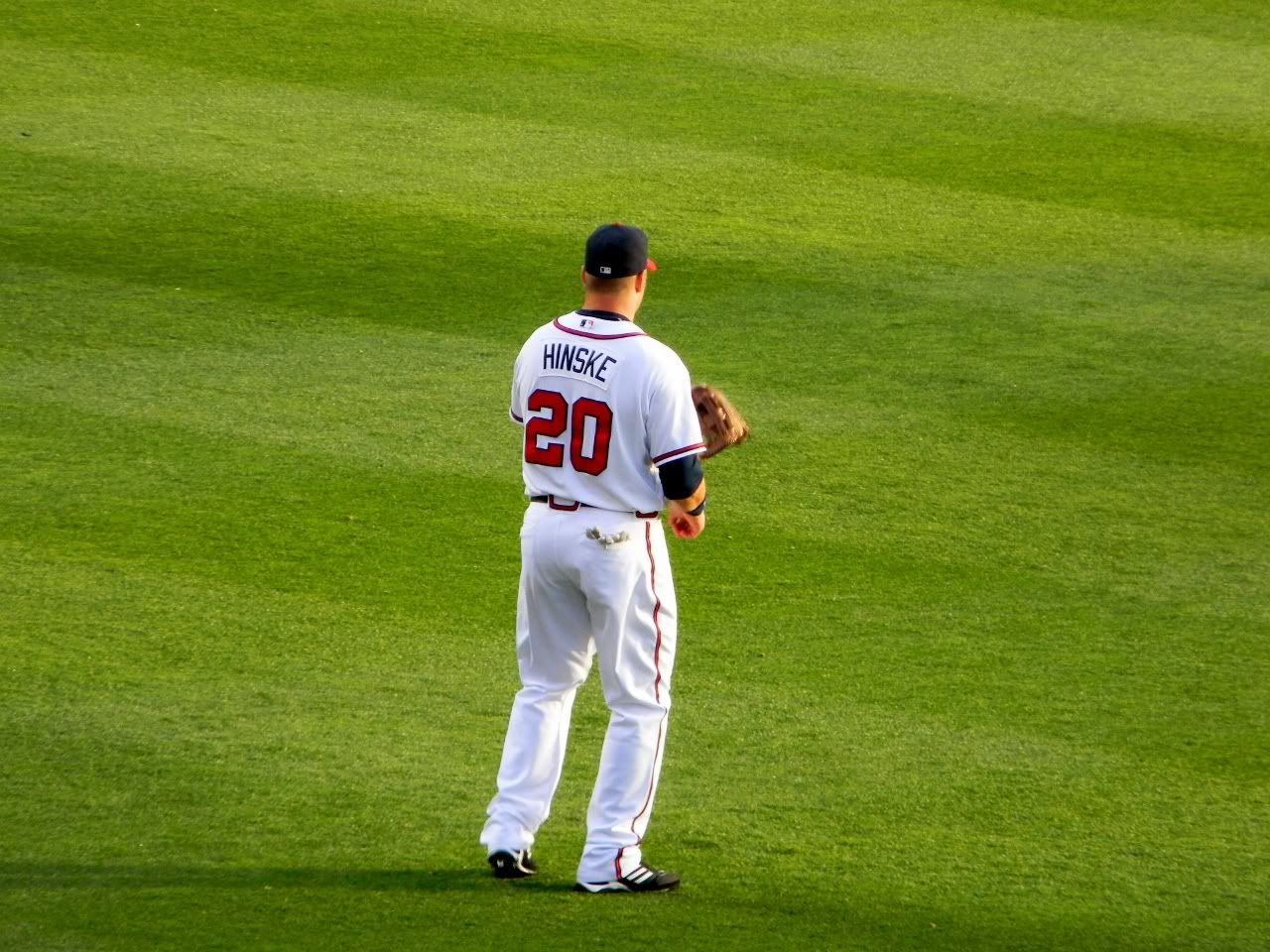 He-Man, not dancing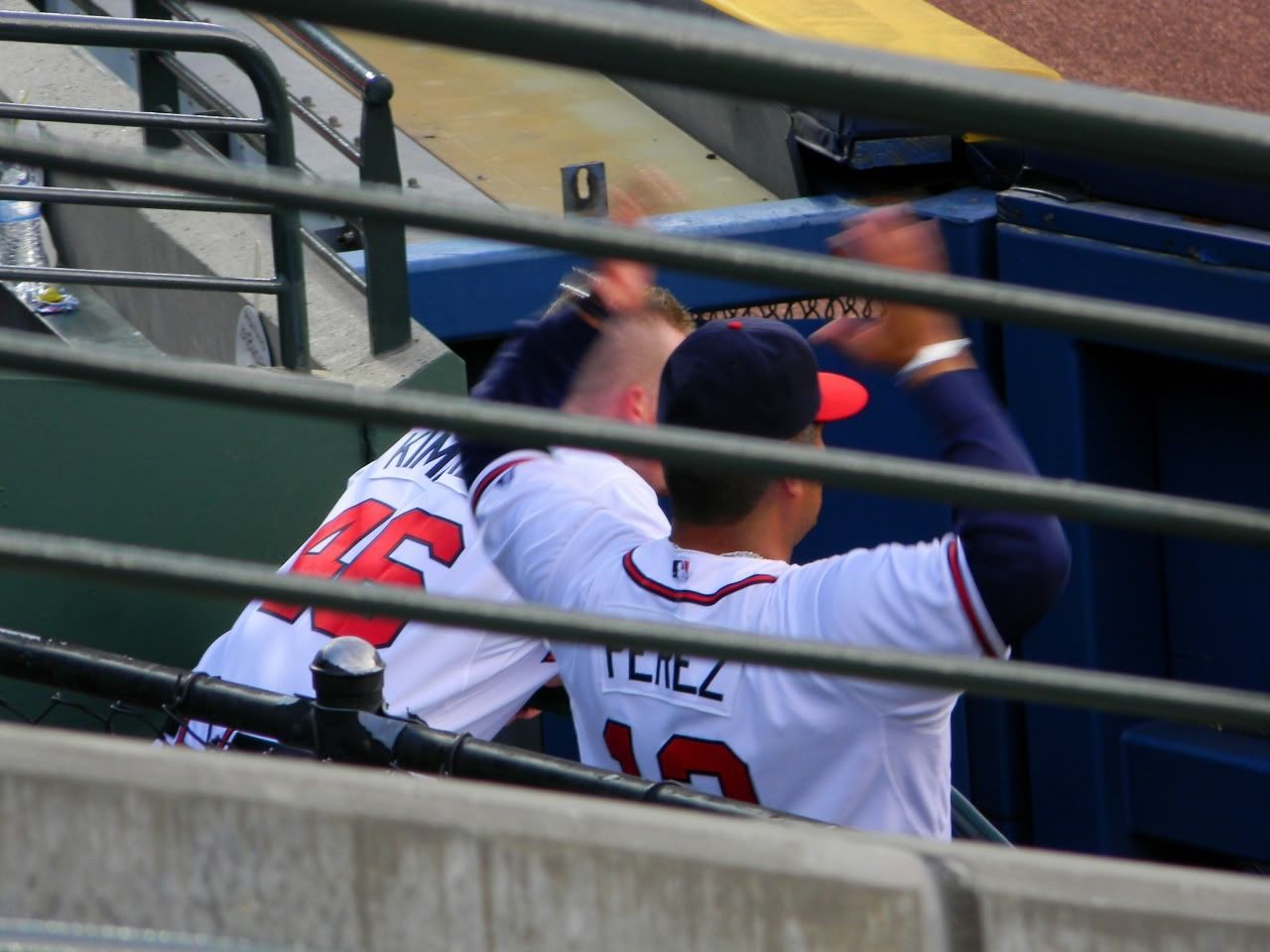 Eddie gesturing at Ske
Last year Cristhian's warmup was Jimi Hendrix' "Fire", and now every time I hear Usher's "More" I think of Cristhian and I have no idea why. Anyone? An idea? It's not even close to his current song.
outfielder meeting
Proctor's been doing very well in his return this season
Jonny vs former Brave Edgar Renteria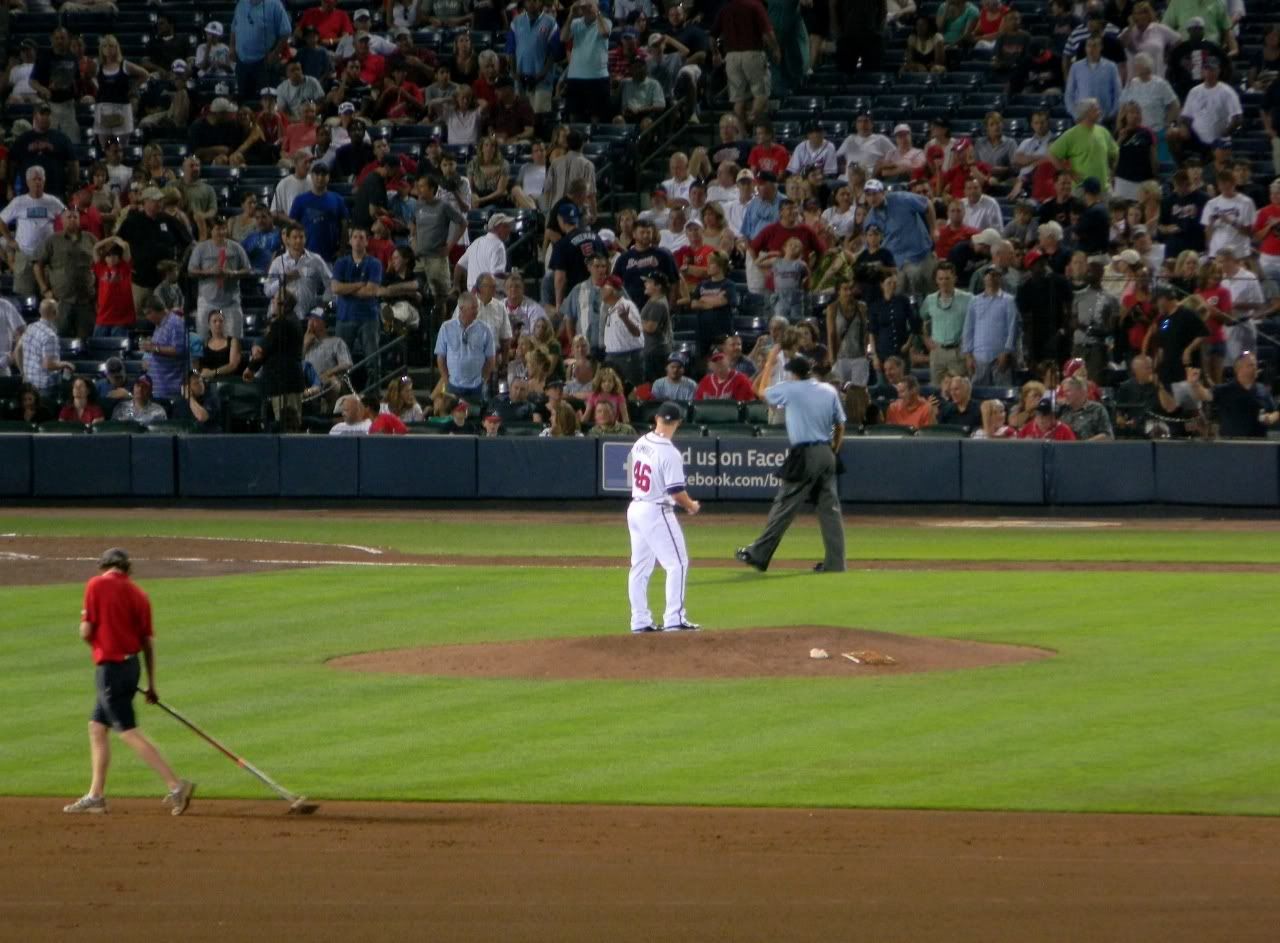 Birthday boy!
We left with the score still tied in the 12th. We felt horrible in leaving early... and felt worse when we got to our on-the-street parking and found my driver's window smashed. The SUV in front of me had its back window destroyed as well, and it looks like it was just random violence on the cars on the street. They took my CD book and GPS charger but they didn't find my GPS or emergency gas money (yay, secret hiding place!) and it's going to cost me $337 to replace my window. I... do not have $337. This sucks. Good times! Happy Memorial Day Weekend!! ;)
Oh, and FOX put me on TV eating a Twizzler. This was not my evening.
Full Album Here.
The next game was better. :)