Memorial Day!
Memorial Day is the unofficial start of summer! For Braves fans that was the first regular season game, right? ;) My friend Jey was in town on vacation from NYC and was dying to see his hometown Padres, so we made plans months in advance for this game. Our shady seats were my late birthday gift from him, and I made sure to point out all the boys he'd like in return. He liked everyone, of course (he's as bad as I am in that department), but he did have a few ultra-favorites and that horrified the woman sitting to my left. Sorry lady! :D
Due to the late game the night before and the day game today (we're guessing), the Braves didn't take outdoor BP. The usual swarm of pitchers didn't even come out to warm up! Jey busied himself taking pics of his Padres stretching in left field while I tried to see who from our team was in right -- there were only a few pitchers who tossed and then signed autographs, but I was excited to see...
Cory Gearrin is back! Our bullpen should never be without a sidearmer.
Gearrin, Venters, Moylan, and Martinez signing autographs
So we watched the Padres for a little while, nothing interesting happened, and then we shopped a bit and went and saw some stadium friends. Faye loved Jey's hair and they talked forever about their real jobs and their unnaturally blonde hair while I got a little crispy in the sun. Faye's never met a stranger -- she loves every friend I ever introduce to her. Next thing I know, she's touching my collarbones..."You're pink, baby, you gotta get in the shade now. You got your sunscreen?" Yes ma'am, kisses bye, we'll head to our real seats now. Love you! :)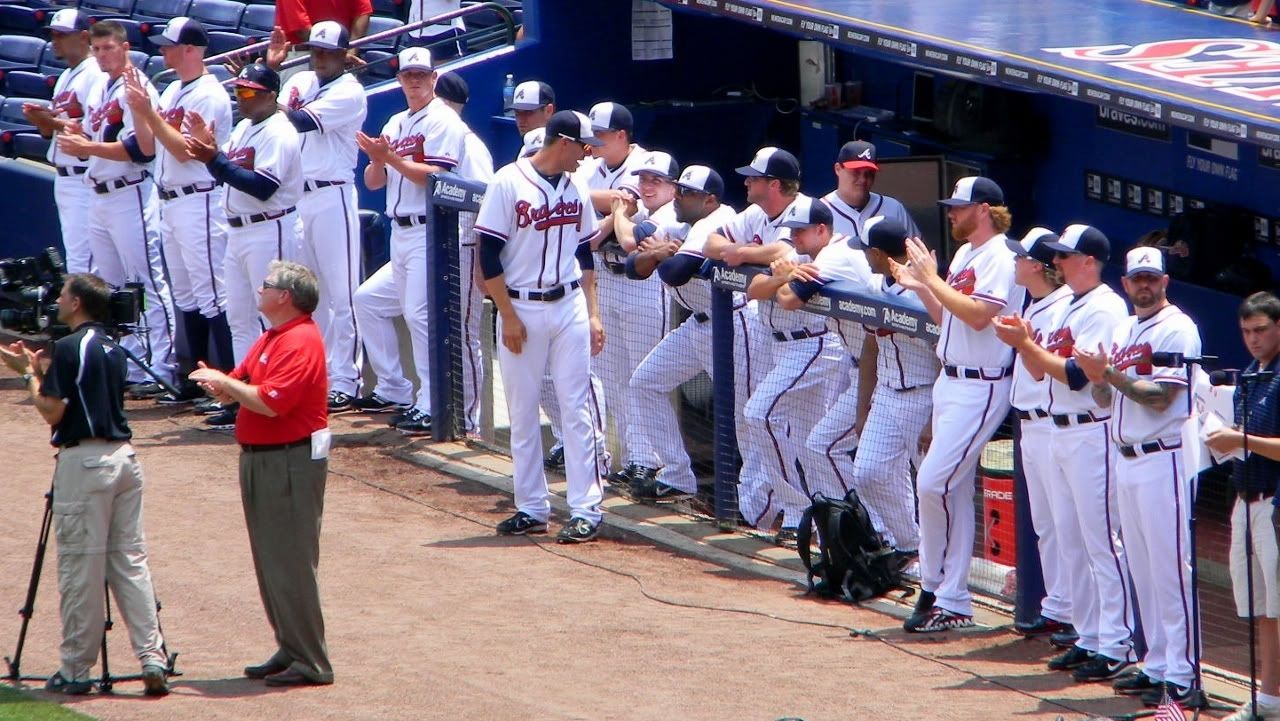 The players applauding the military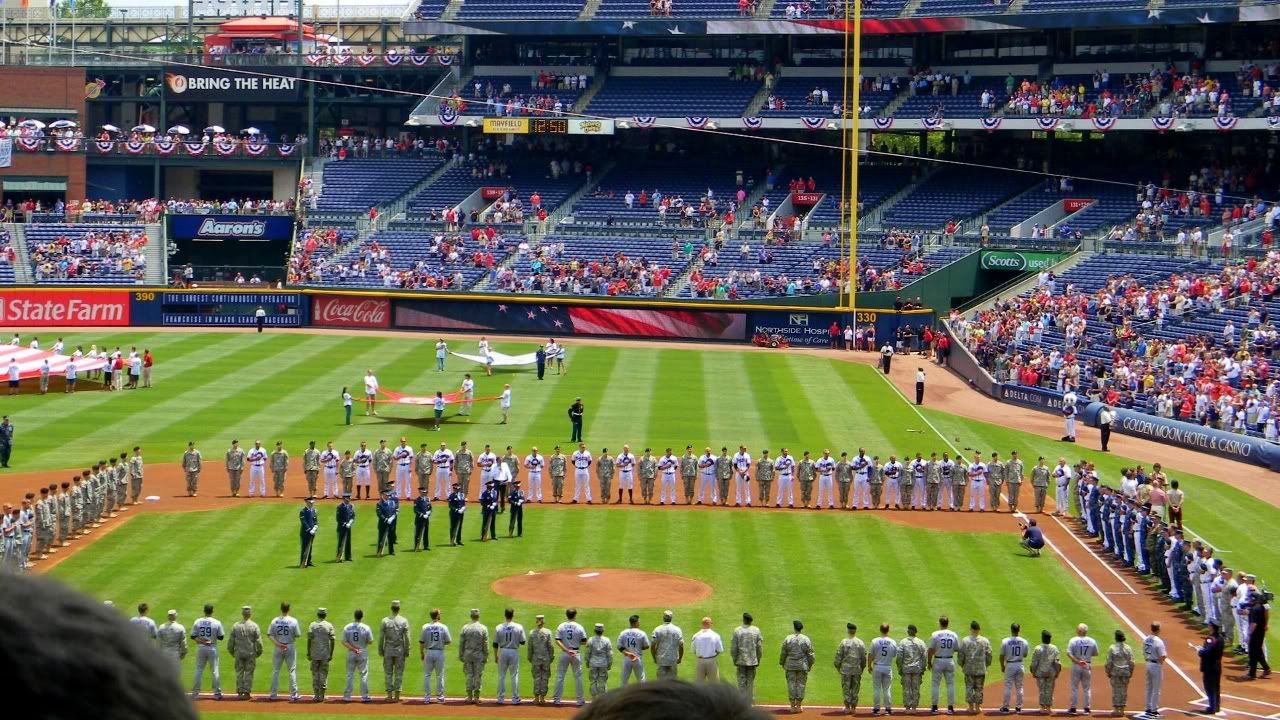 All the players lined up between members of the military around the diamond for some pre-game ceremonies. Very cool.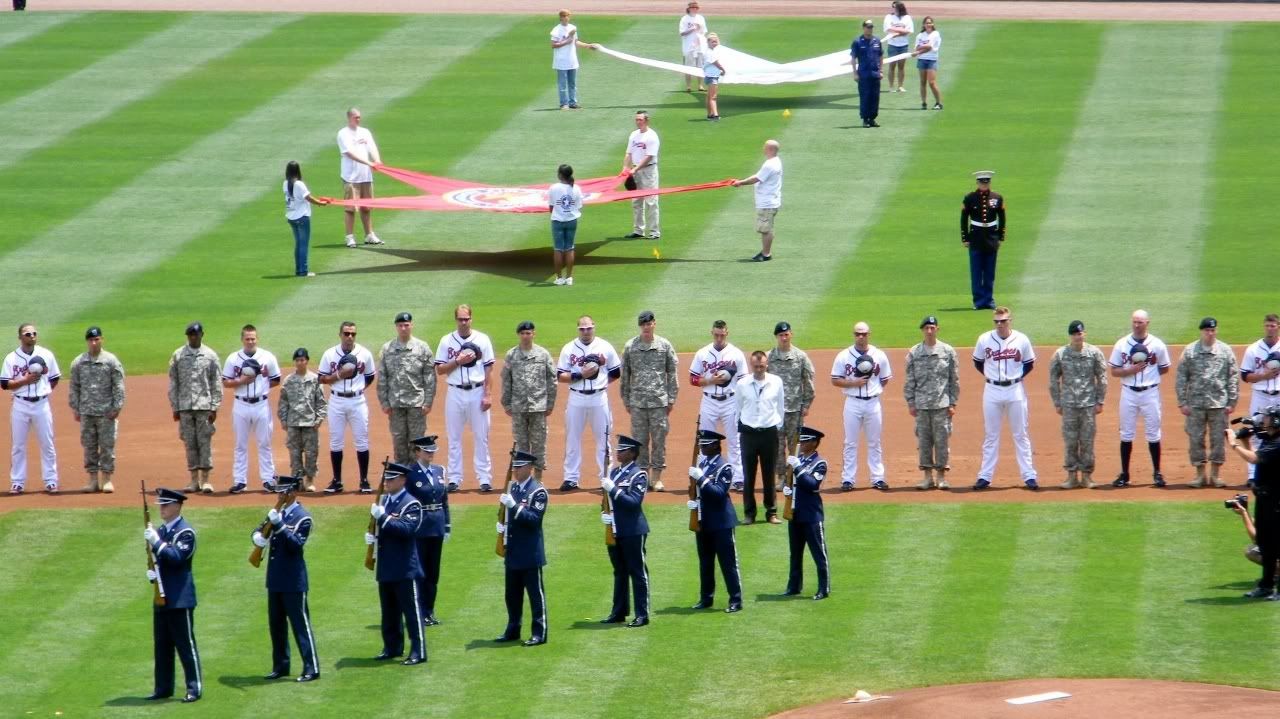 21-gun salute
Taps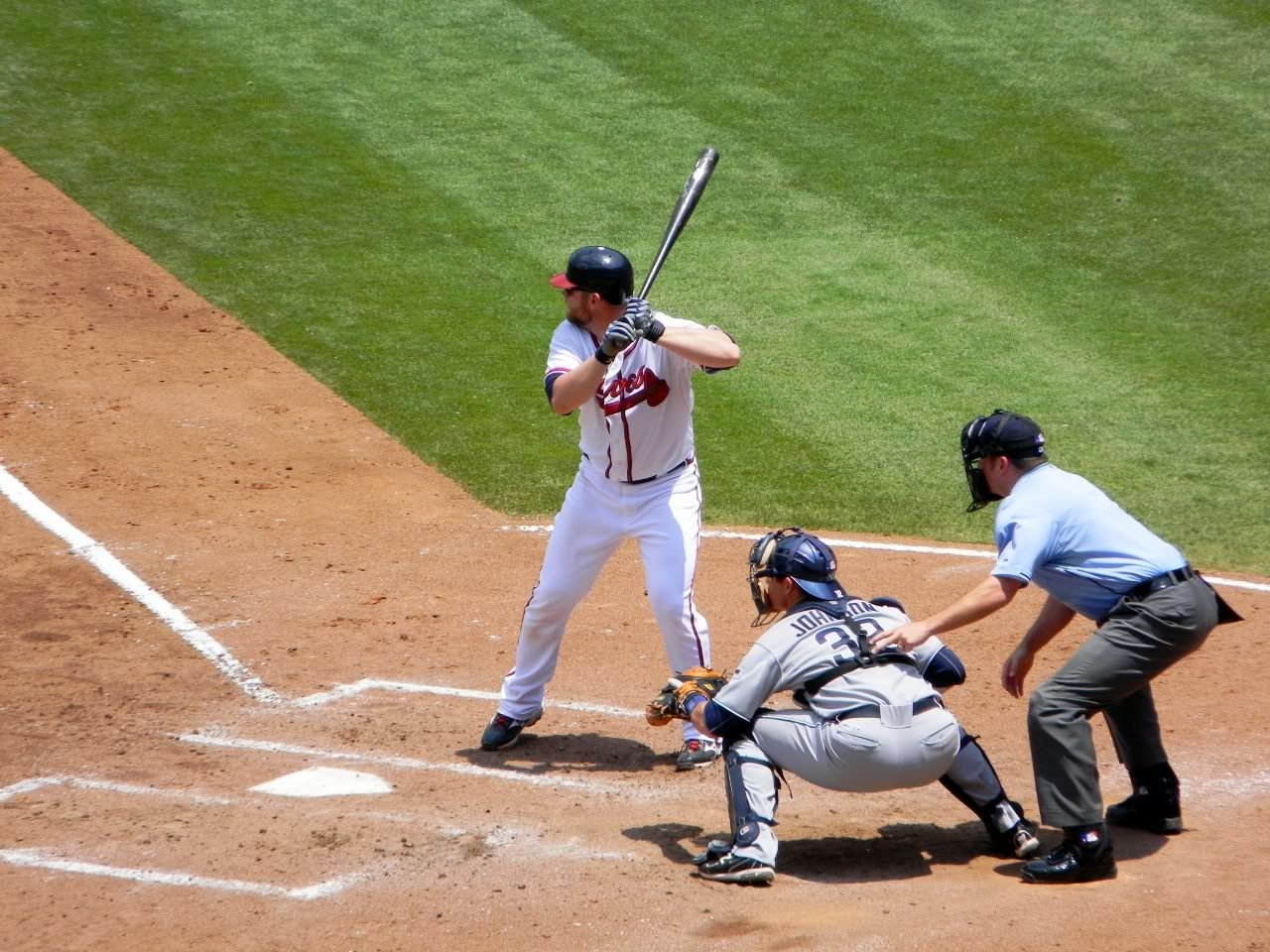 Mac
I don't miss Yunie at all, and I really thought I would. Gonzo is awesome.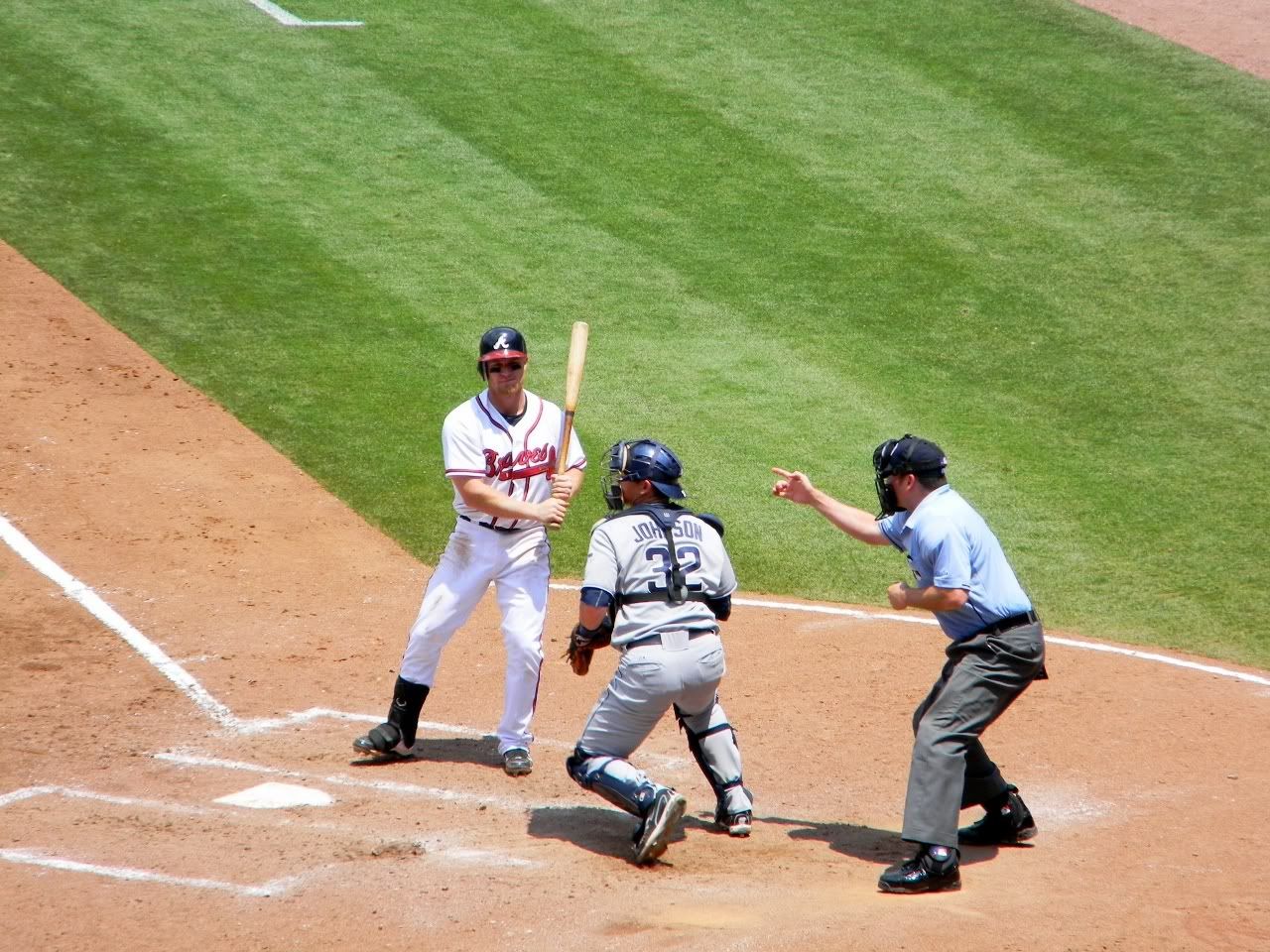 Strike on Brooksy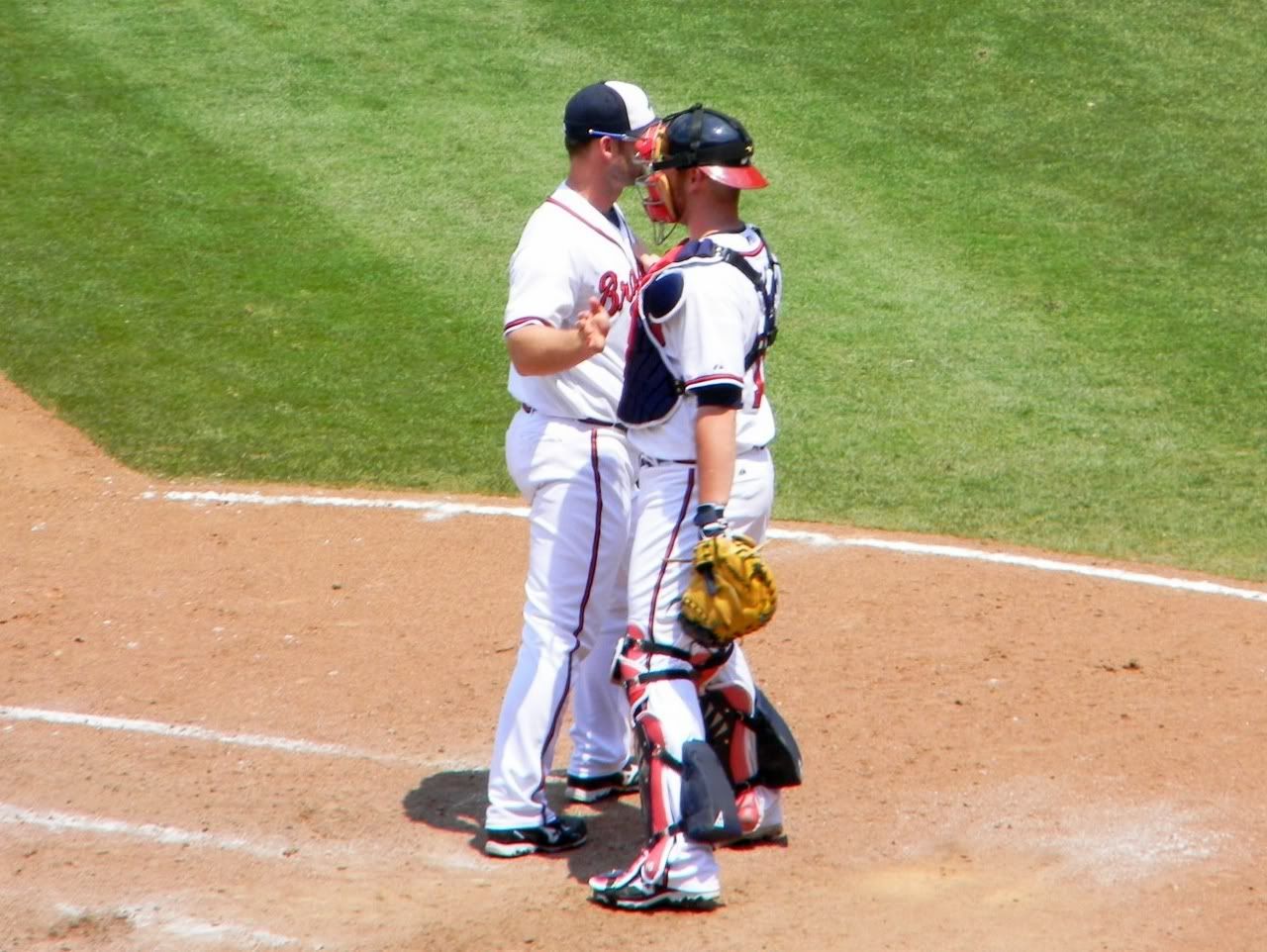 CHEST PAT
Hi Huddy
For Molly :)
Rossy was #2 on Jey's list of new fave Braves
as the moment of silence ended
One of the best parts of the in-game entertainment is the Dance For Your Dinner contest, and one of the only reasons I love it so much is that Kris Medlen dances along in the dugout along with the contestants atop the dugouts! I caught a little of him in this video -- see for yourself!
Brilliant.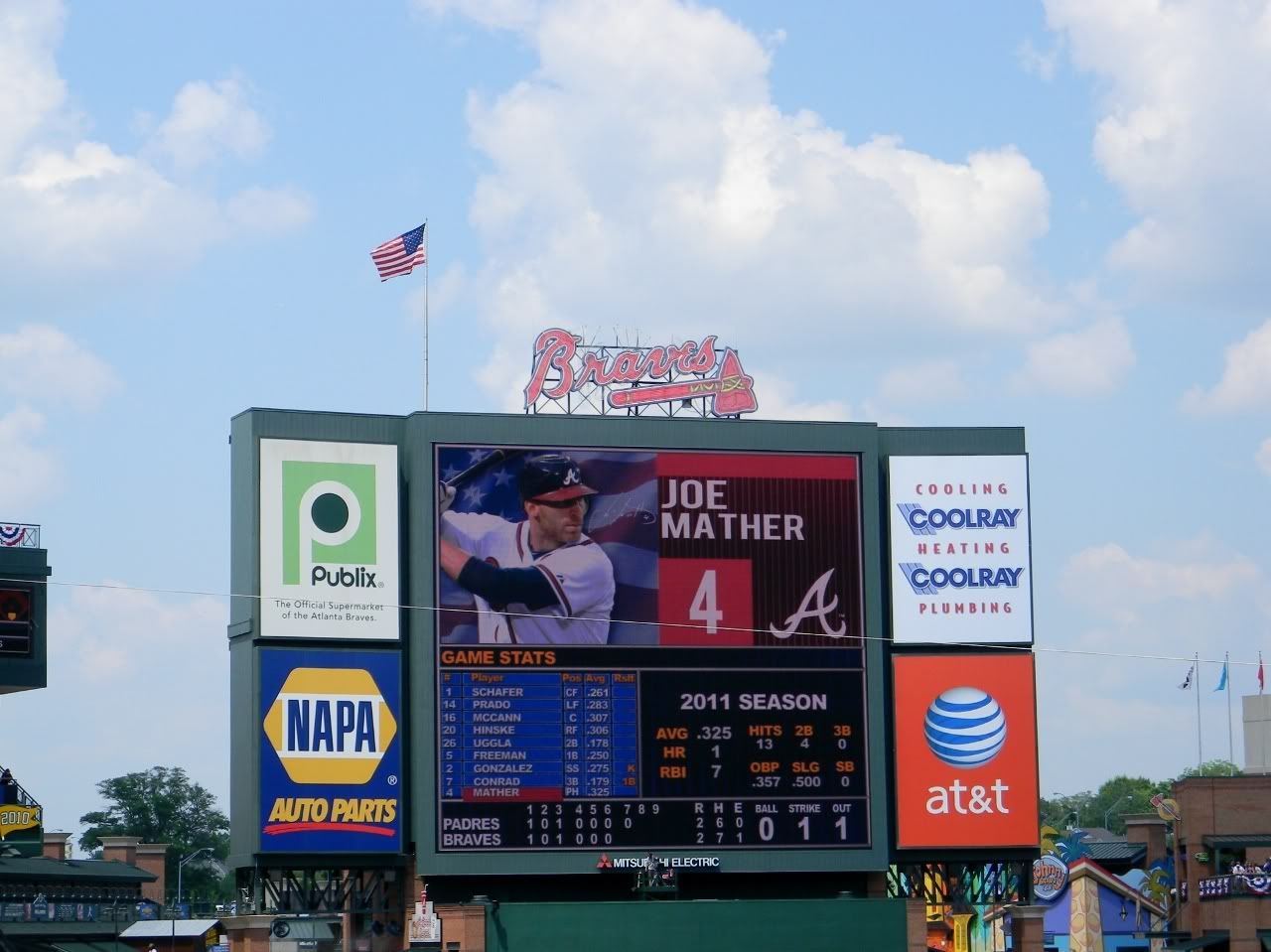 Go Joe!!
Seriously. Love Joe Mather.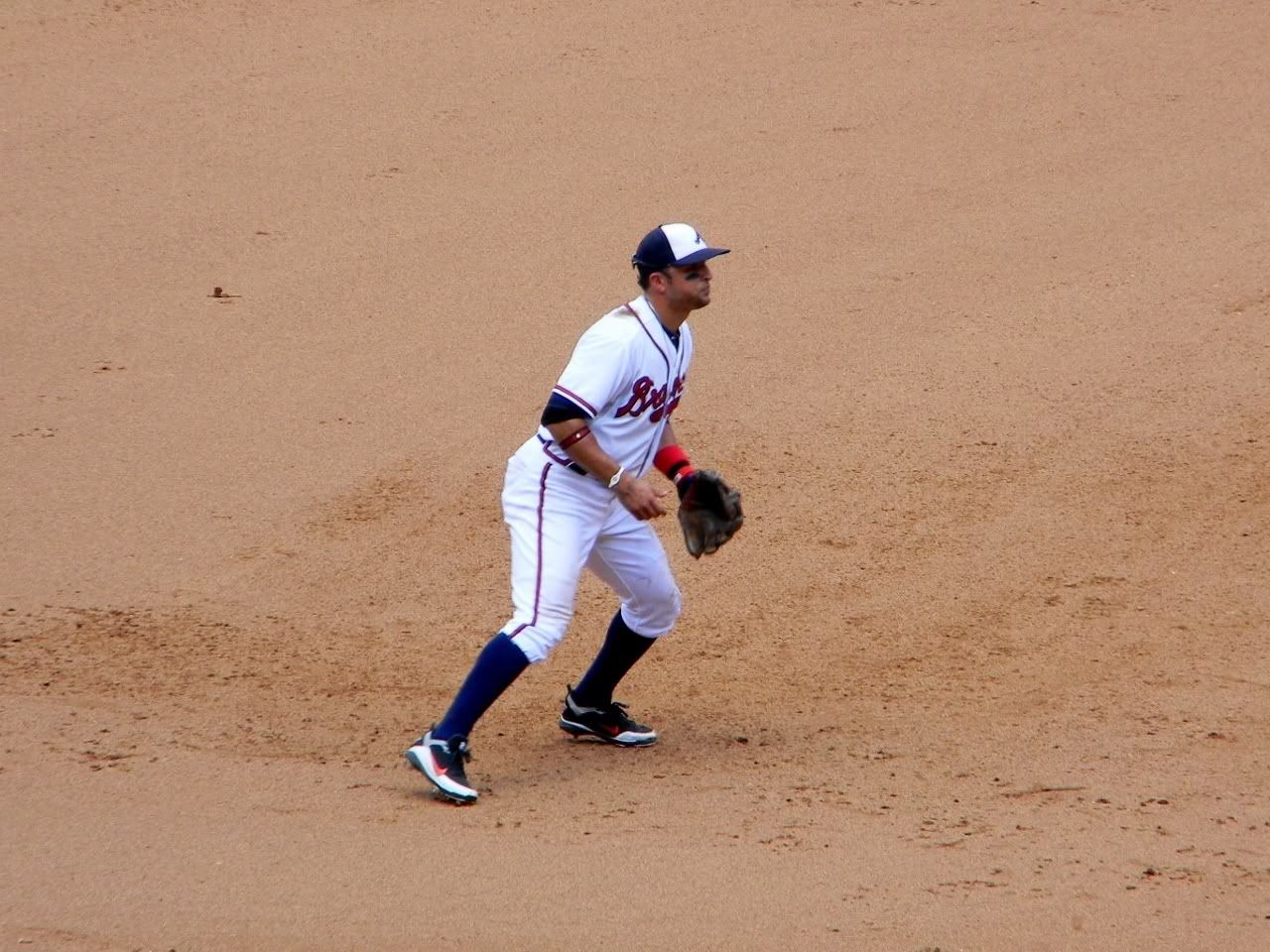 How long does it take Prado to put all those things on? ;)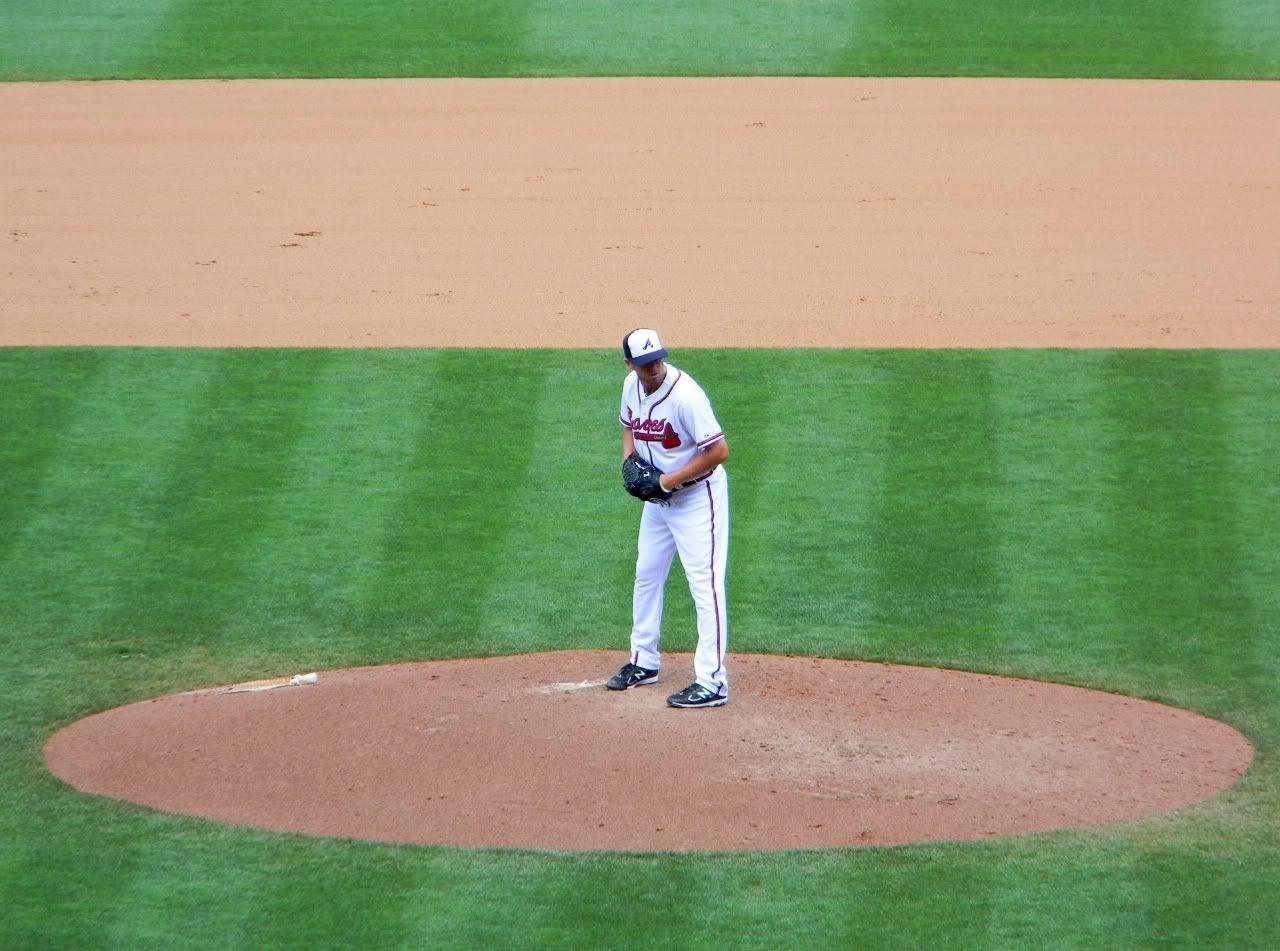 CoryGearrin!!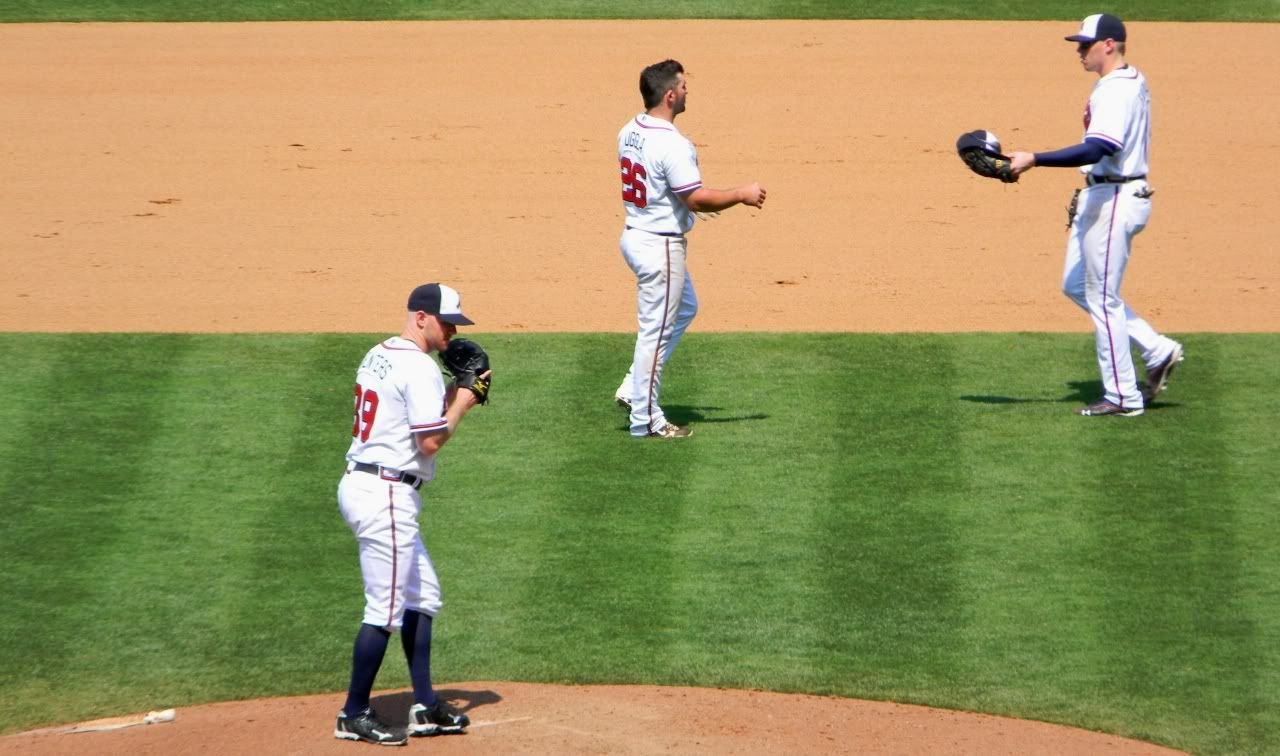 This one on the left is gonna be an all-star this year... wait for it!
Hope he wears socks up in Arizona, too!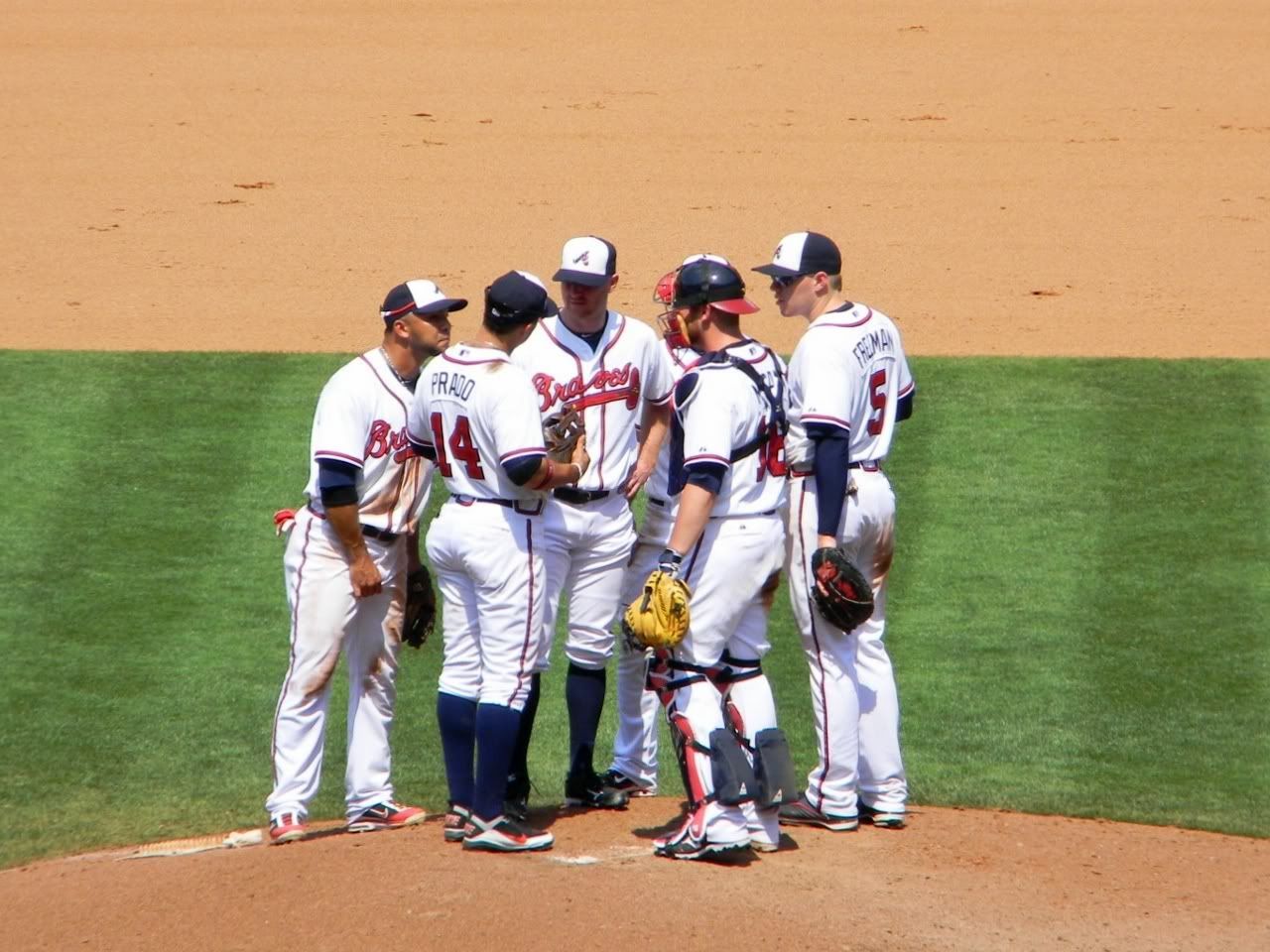 infield meeting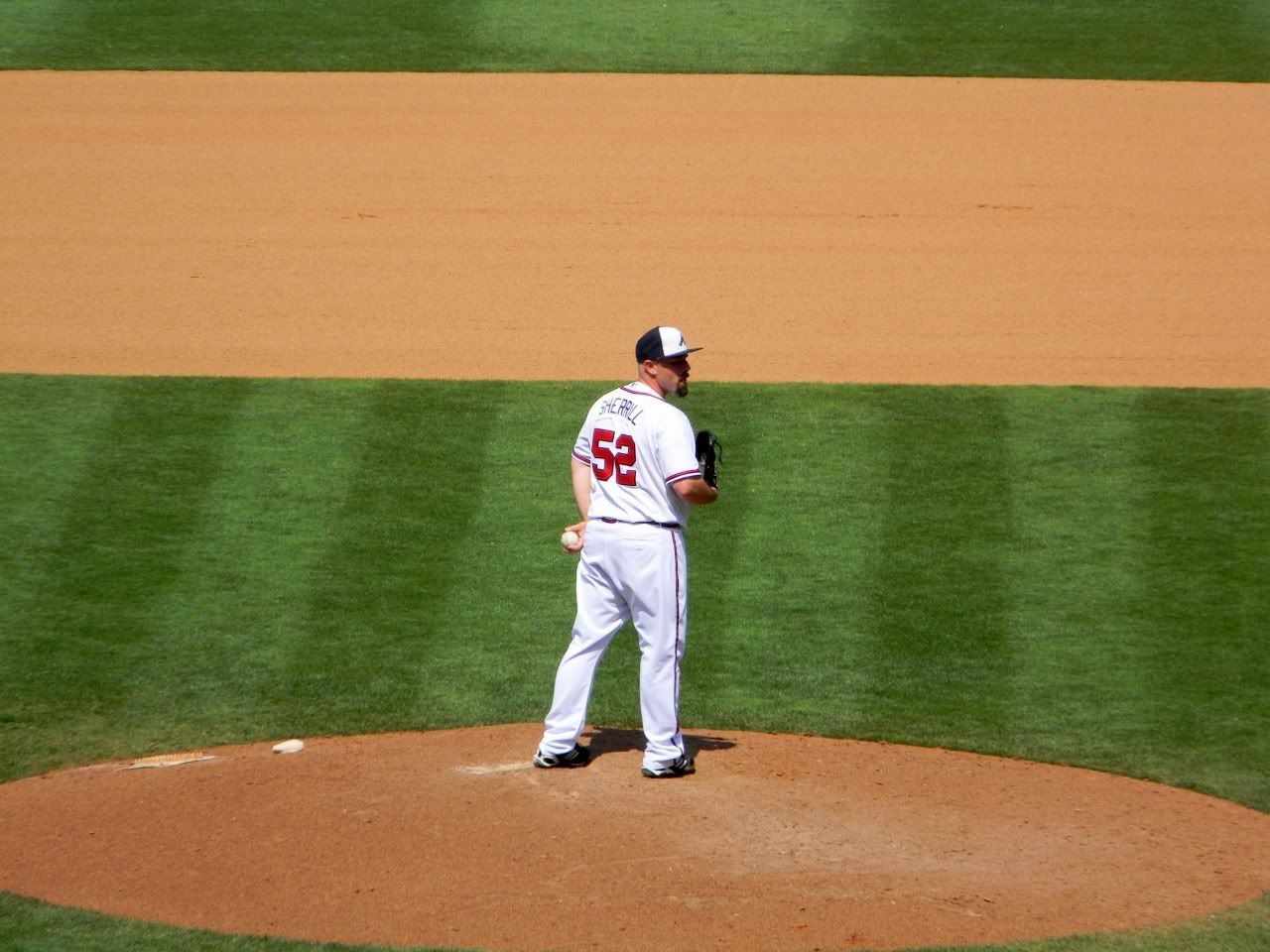 Sherrill gave up the winning run... Jey was very happy about this.
Padres win :(
~ * ~ * ~ * ~ * ~ * ~ * ~ * ~ * ~ * ~ * ~ * ~ * ~
Interesting story... one of my Twitter followers jokingly asked when he should watch for me on TV for this game and I replied I definitely wouldn't be on TV, we had shaded seats! Well, I kinda got roped into being interviewed for a local news segment about the Braves organist that you can watch
here
, if you want. My hair looks awful! But, my parents were excited to see me on TV and my PawPaw said I looked "so purdy," so that made me feel a little better about stumbling over my words. Some people are meant to be in the spotlight, and I'm not one of those people! Thanks for making me try, Jey. ❤
Jey and I in our shady seats!