I love rain delays when we're sitting in the open! /sarcasm
This Pirates series was insane. INSANE. This game
only
had a 47-minute rain delay, as opposed to a two-hour rain delay or 10 extra innings or regular extra innings. :p The guys had to be exhausted after this game, for real.
Every time the Braves RT one of my pics, it has thousands of views.
It makes me feel special. Thanks, Braves. I love you.
Today was Chipper Bobblehead day. Lovely blog reader Amanda sent a donation to the blog in exchange for my Chipper bobblehead, and I went to the game with my friends David and Alison and Dave's friend Nick. David got us tickets
in center field
, and
do not sit there
. I mean, unless you really love a center fielder and you want to watch him. You can't see the Jumbotron. You can see balls and strikes if you have super great eyesight... but who does? Not many of my friends. :D You're far from all the plays and both dugouts and both bullpens and so you can't see the game and you can't even be entertained by the boys. It's not fun. David apologized almost immediately. "I was just thinking proximity to the field, being low to the field!" he said. We understand. We've learned our lesson. :)
Also important: today was Laura's birthday, and I met her awesome parents! Happy birthday, lovely! Hope you had an amazing day and I'm glad you liked
your round gift
. :D
OK, want to see some pictures? Yes. Let's. :) Click to enlaaarge, as always!
Took this of JC just for Alison, who was on her way from work!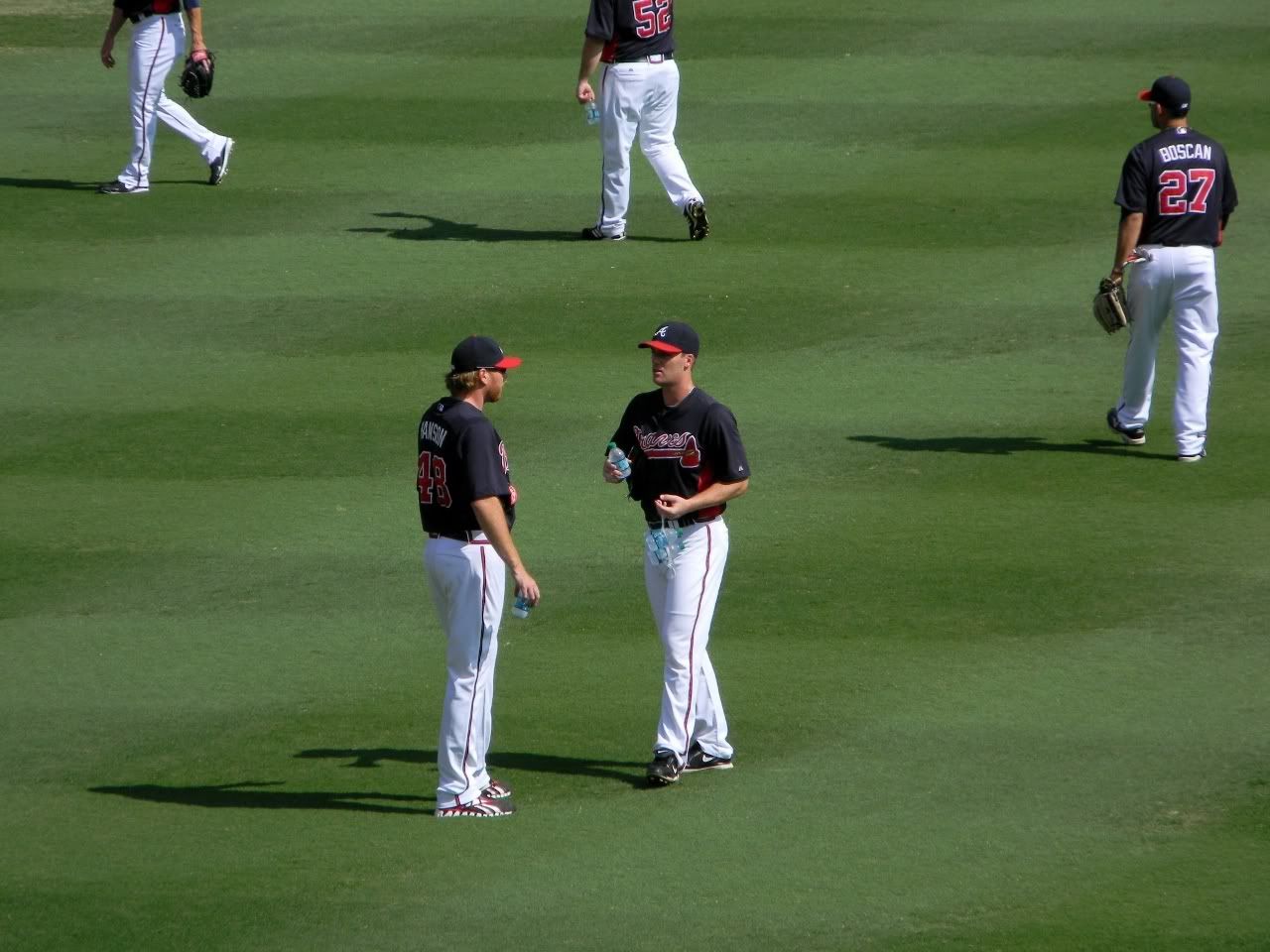 Tommy for Jenna, EO for me (heh), JC for Alison
Closer was not as smiley today as usual. I need a #46 shirt; I'd like a navy one.
Sup, Cristhian.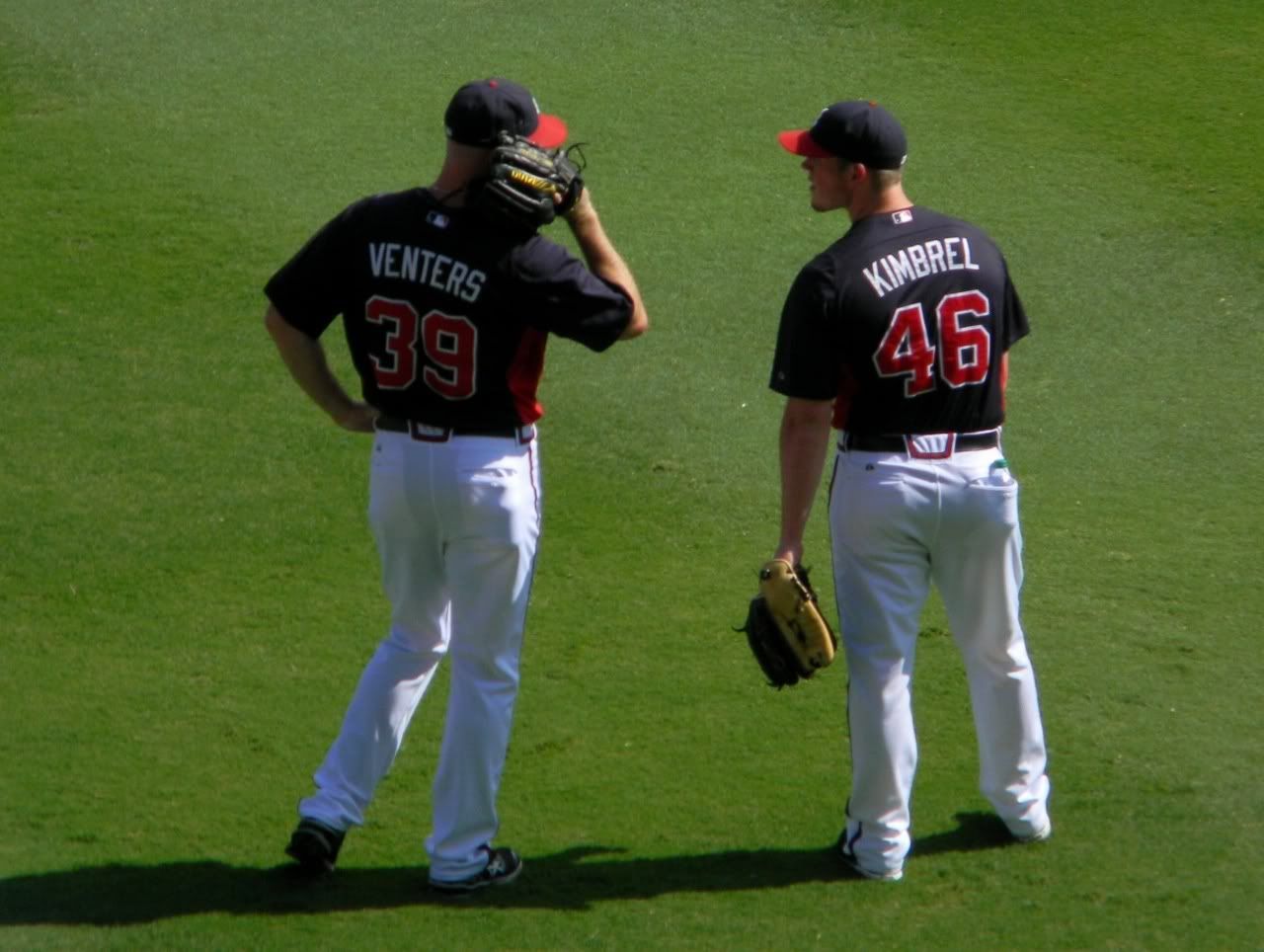 if we talk in our gloves no one can hear us
Or maybe the glove is just glued to his shoulder and I don't know what I'm talking about. :D
Lugo looks like Happy Yunie here, right? Cristhian looks like Cristhian. :D
Guys born in the 70s again. They think they're so funny! ;)
Last best pic of Schafer before he got traded.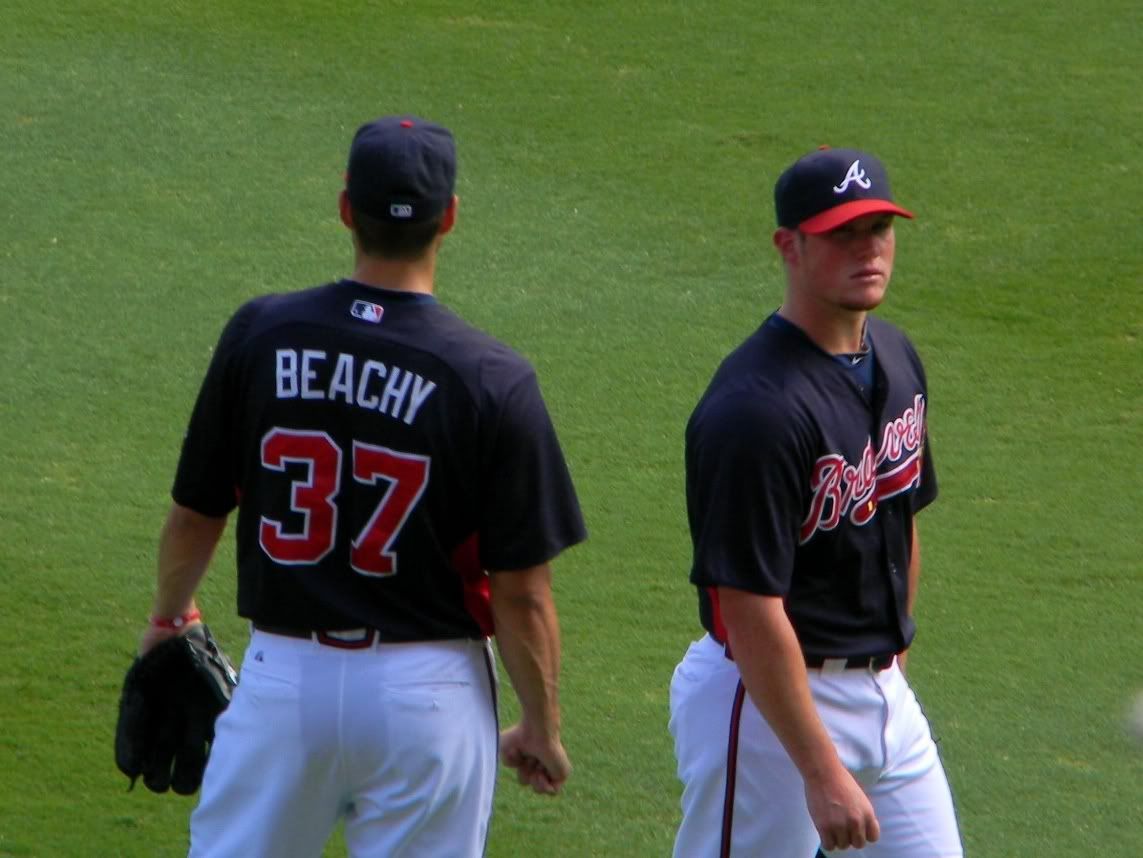 See? Not smiley.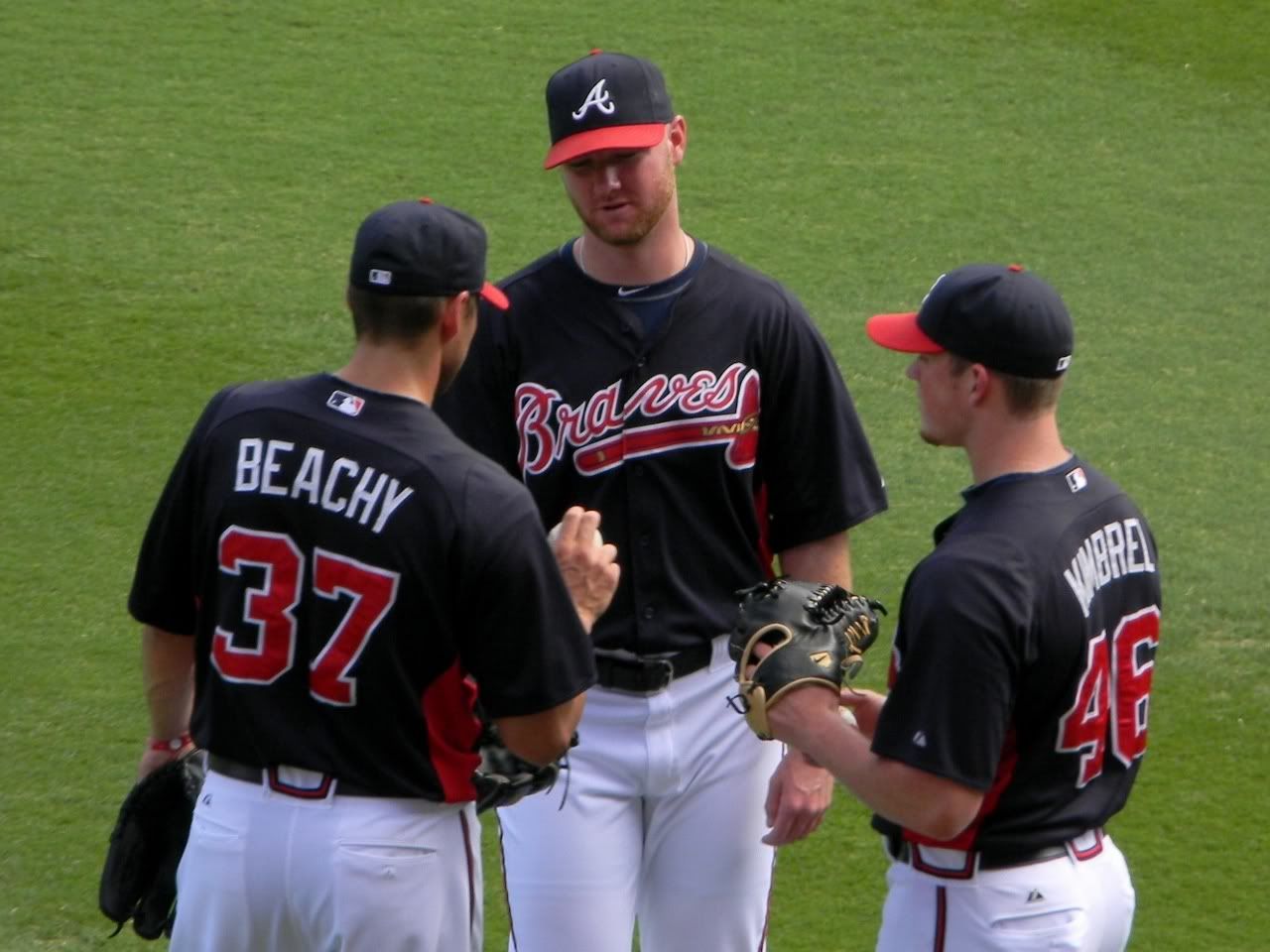 Talking pitching
Ball's down there, Nate... (kidding. I kinda feel bad that he's displaced.)
JV: Of course you can have a baby Dasani, friend!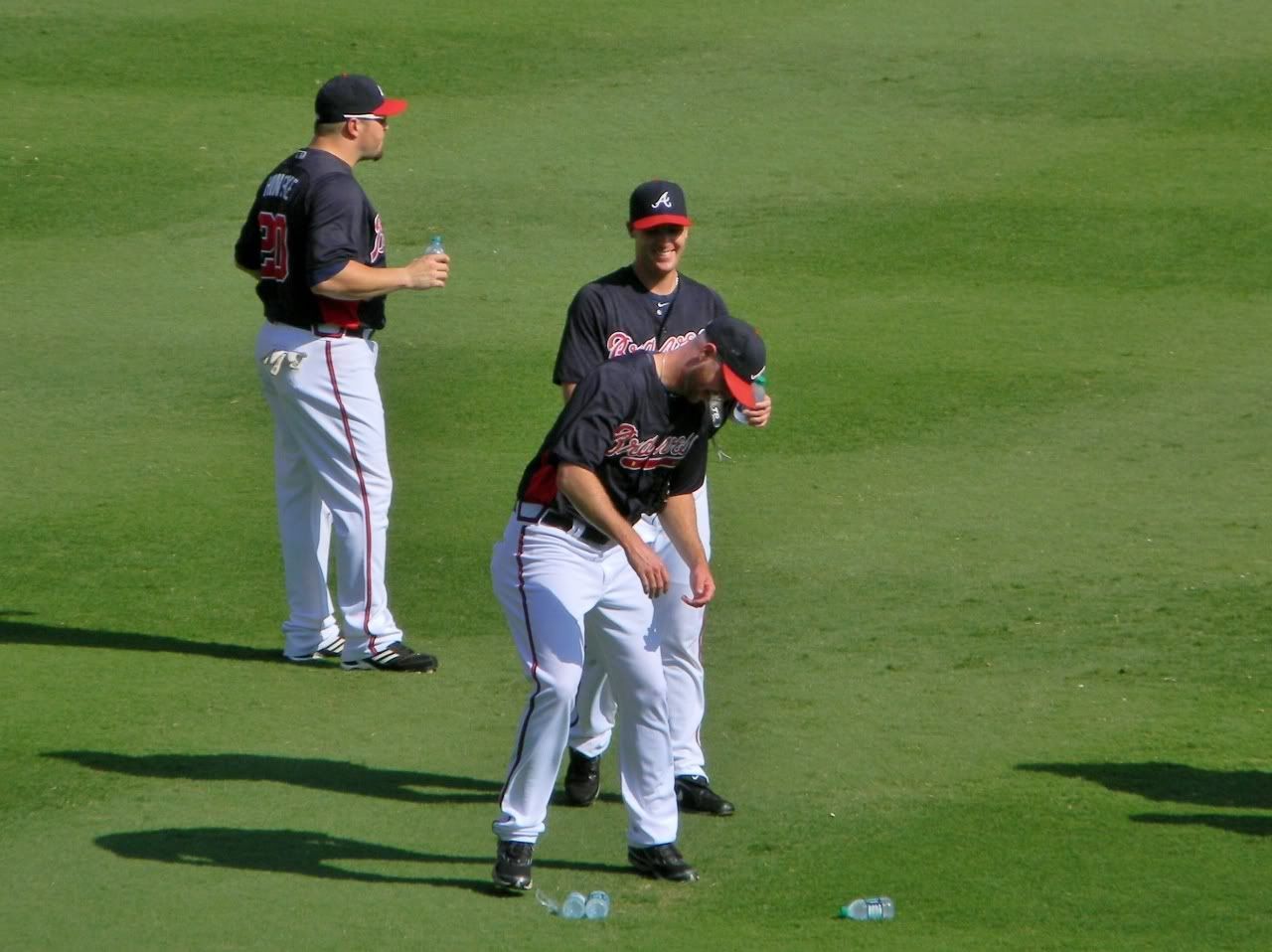 O: Bahahaha
Time wise, this came next. I took a Twitter poll and while most people want to see this some don't, so here's a link to the pic and an explanation... In a group shot, I accidentally got a very popular Brave blowing a snot rocket. If you want to see him,
click here
. If you don't, move along. Boys are gross. :D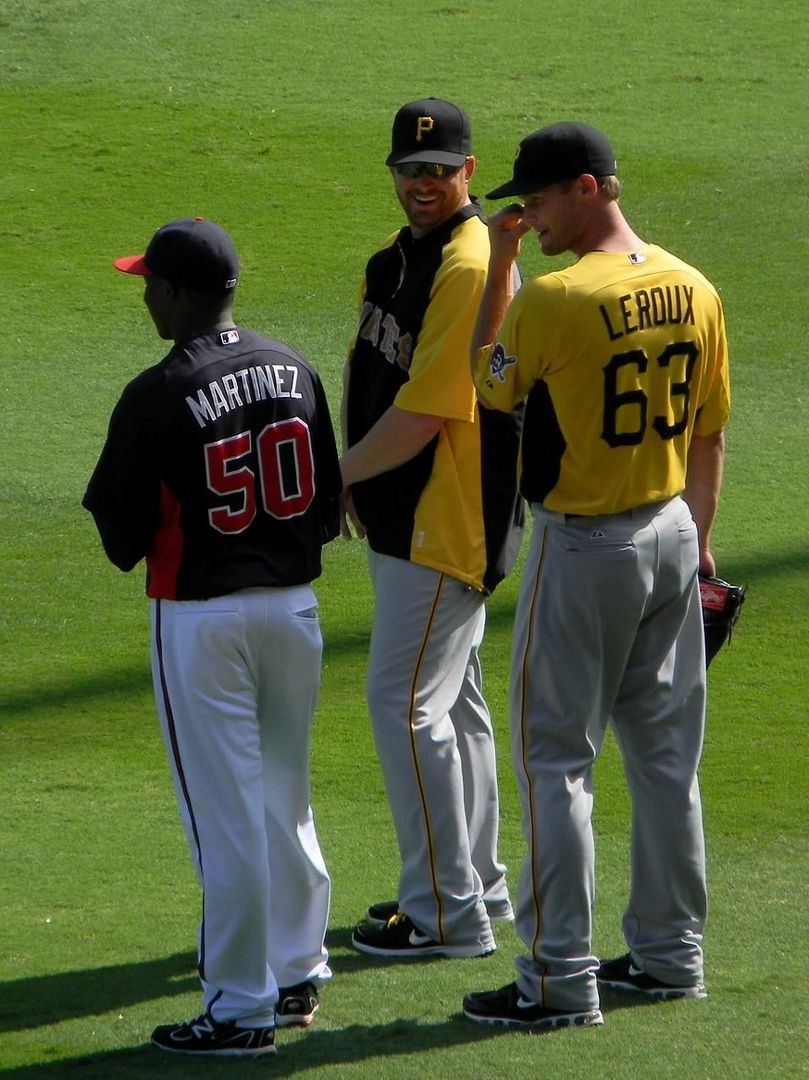 He has Pirate friends too.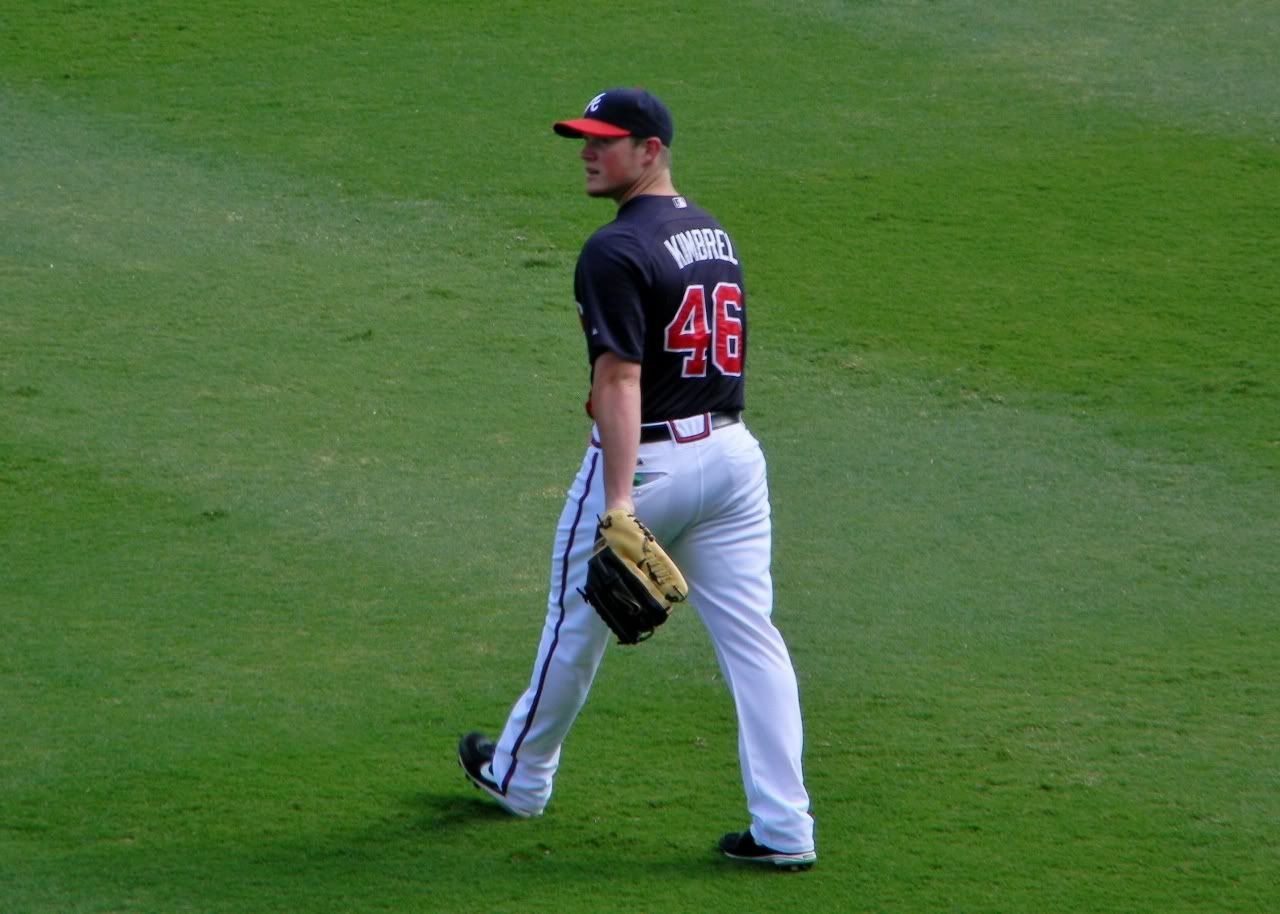 Is he just trying to look hot today or something? I like cute better.
Pirates relief pitcher Grilli behind the wall!
Pre-Bourn comment: I wouldn't be opposed to McCutchen being our CF.
Dugout entertainment
Heyyy Ske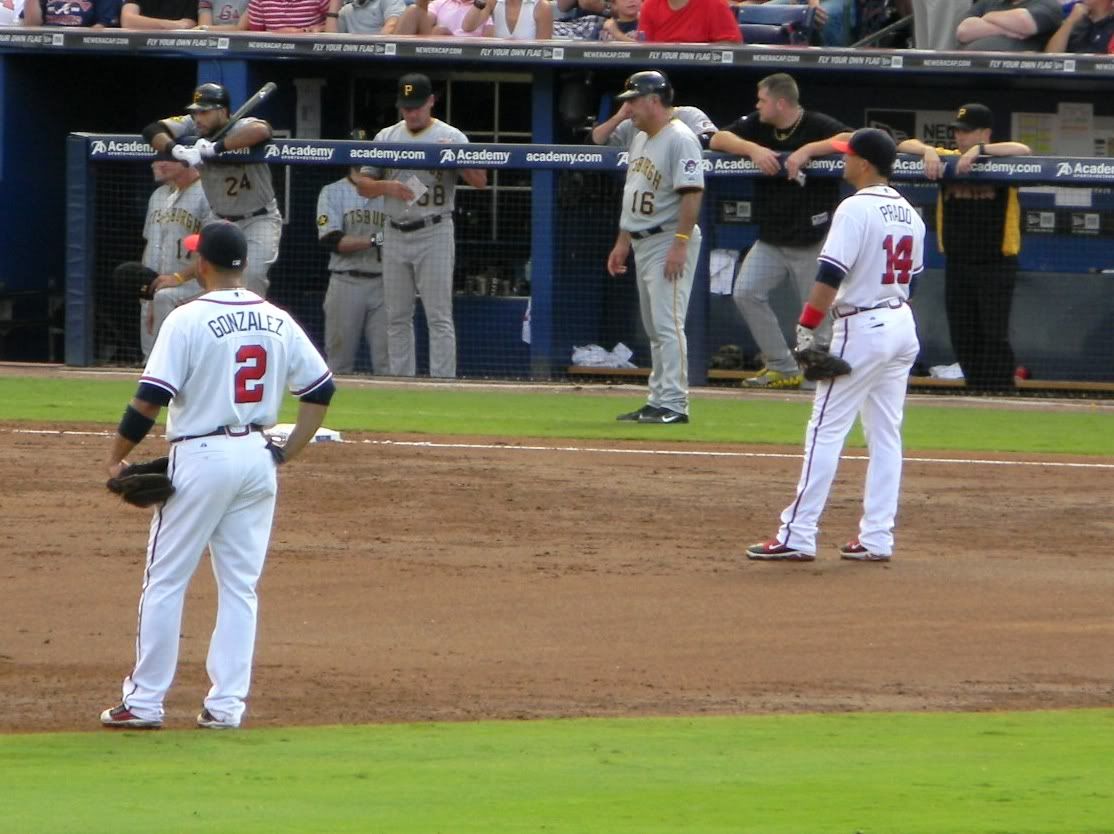 In my head I hear two girls I know squealing, "VENEZUELANS!!!"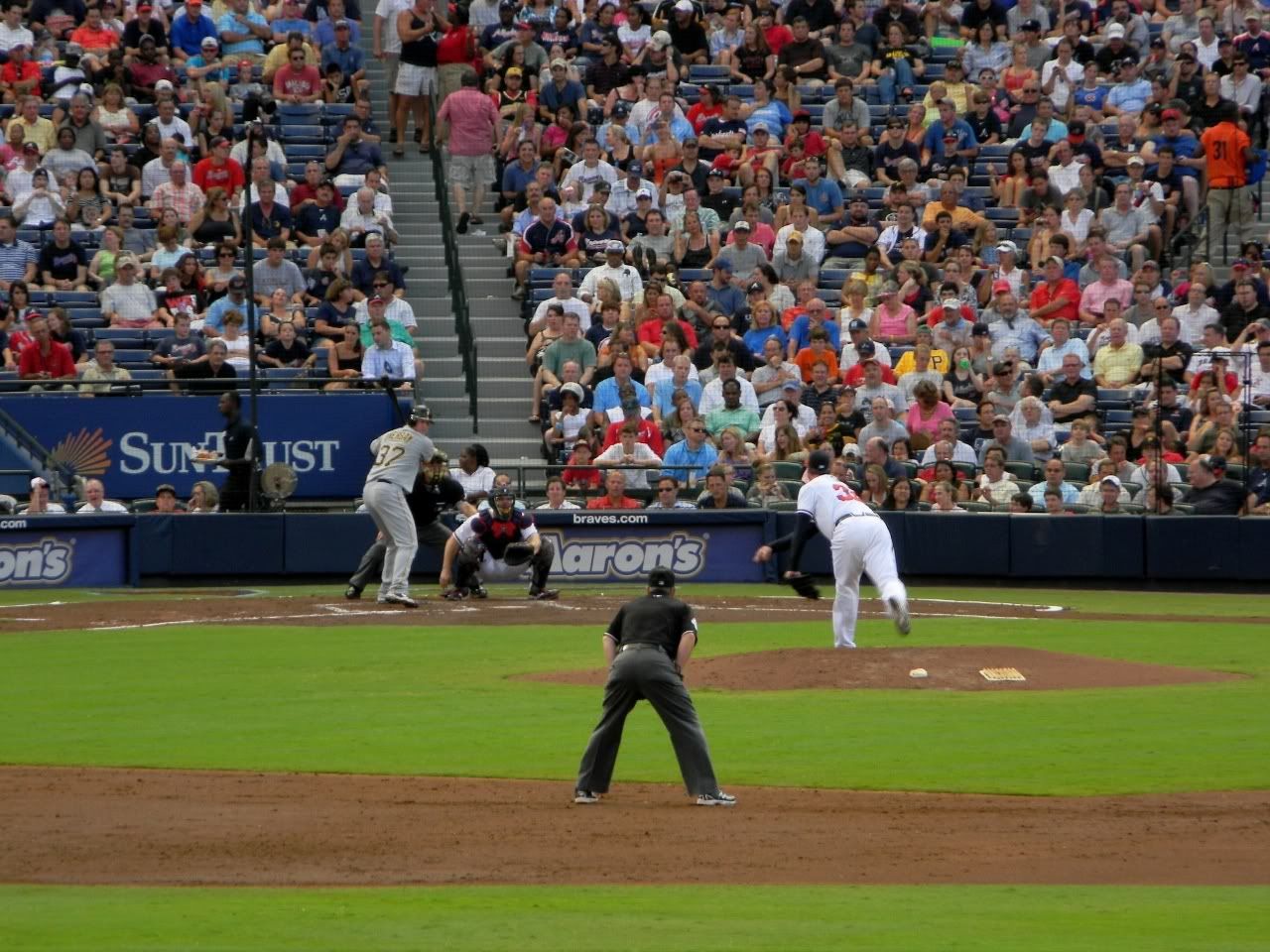 Max zoom on my camera. Eyes don't zoom this well. :(
Go DLowe and Rossy! Also, totally can't find the ball in this pic.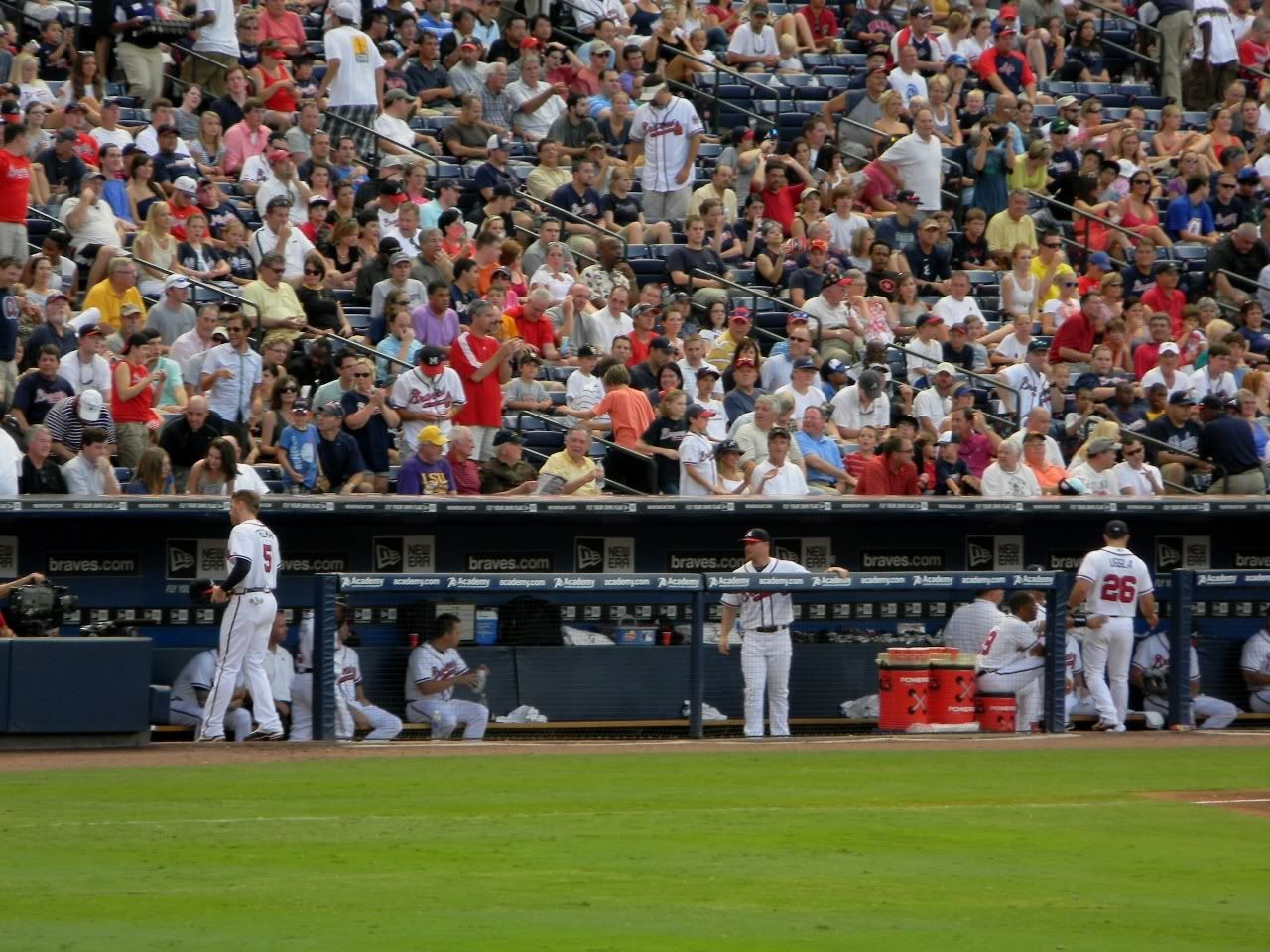 Can't see anything from CF. :/
Pretty cloud in the rain delay
So, it started sprinkling. Convo went something like this...
Me: I'm going to get my drink now.
Alison: I'm going to let it rain on me a little. I'm still super-hot.
Boys: Yeah, we might get some Dippin Dots.
Me: OK, we'll catch up if the rain gets worse.
Of course the bottom fell out of the sky and we had a 47-minute rain delay. We talked to Jason for most of the rain and after it cleared up, Eddie saw Alison and I standing at the back of the bullpen (it was the closest covered area to our seats!), so of course Alison wanted to go talk to him. He needed to ask her about her new hair color and I showed him the numbers on the back of my new Jonny shirt. Eddie rolled his eyes -- I think he would for any number except 12, ha -- but when Jonny came out and Eddie and Alison were still discussing her hair, Jonny said it was awesome! So I was happy with that. Yay, my fave Brave! Then the kids started crowding in for autographs because Braves were filing back in there, so peace out boys, we're going back to our seats. Sign stuff for the 19,834 kids -- we'll see ya later. :)
Aside - while we were in the club level with Laura before the game, a little girl (maybe 7 or 8 years old) stopped me. "Excuse me, ma'am? Where did you get your Venters shirt?" I told her I bought it online, and gave her the shop.mlb.com web address. She looked so disappointed, and I asked her if Jonny was her favorite. She said yes and grinned really big, and I said mine too! She smiled again and went back to her older adult female guardian, who nodded at me. What an awesome girl. :D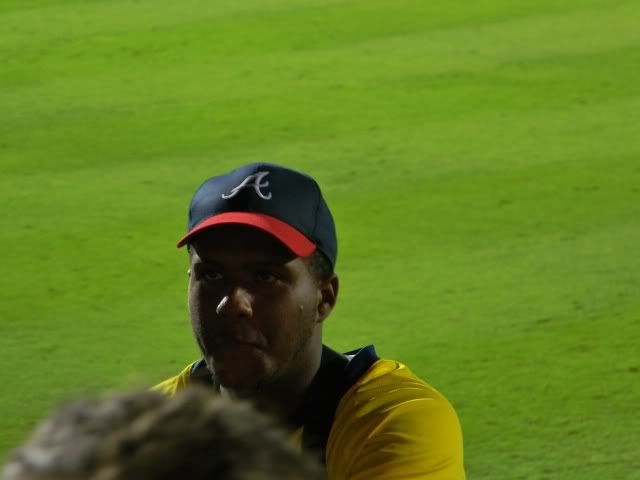 This was the beer vendor who just sat at the base of our section and waited for people to yell at him. Pretty smart. Also, he looked like Ruben Gotay when he wasn't pursing his lips.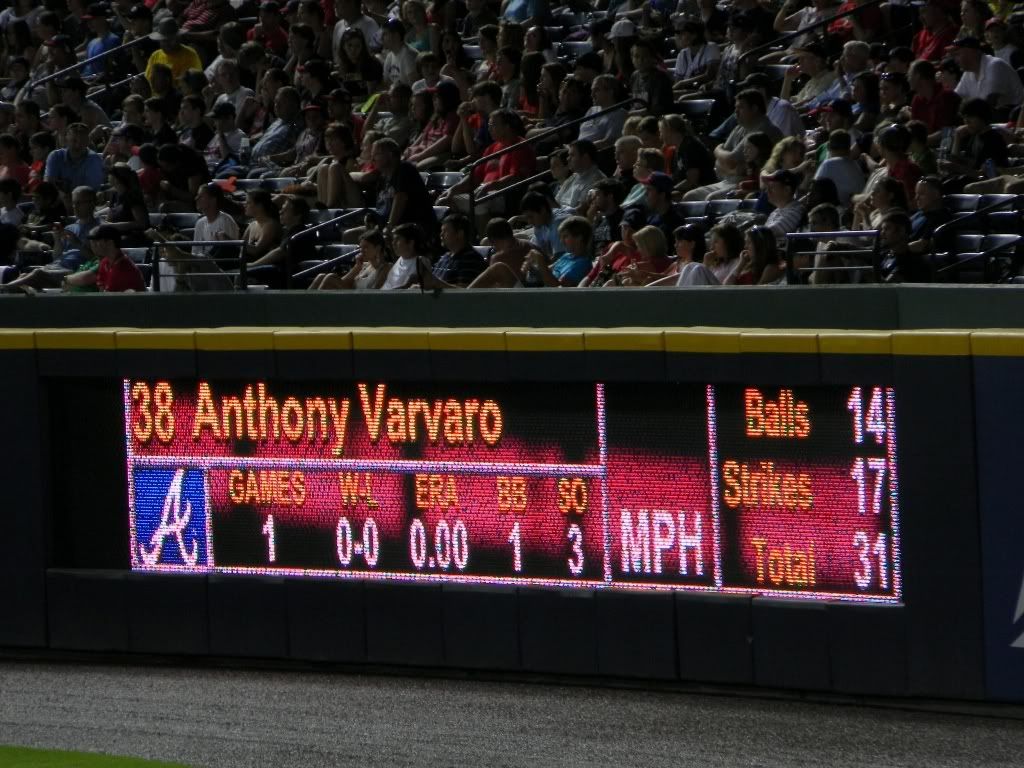 I like this kid; he can stay.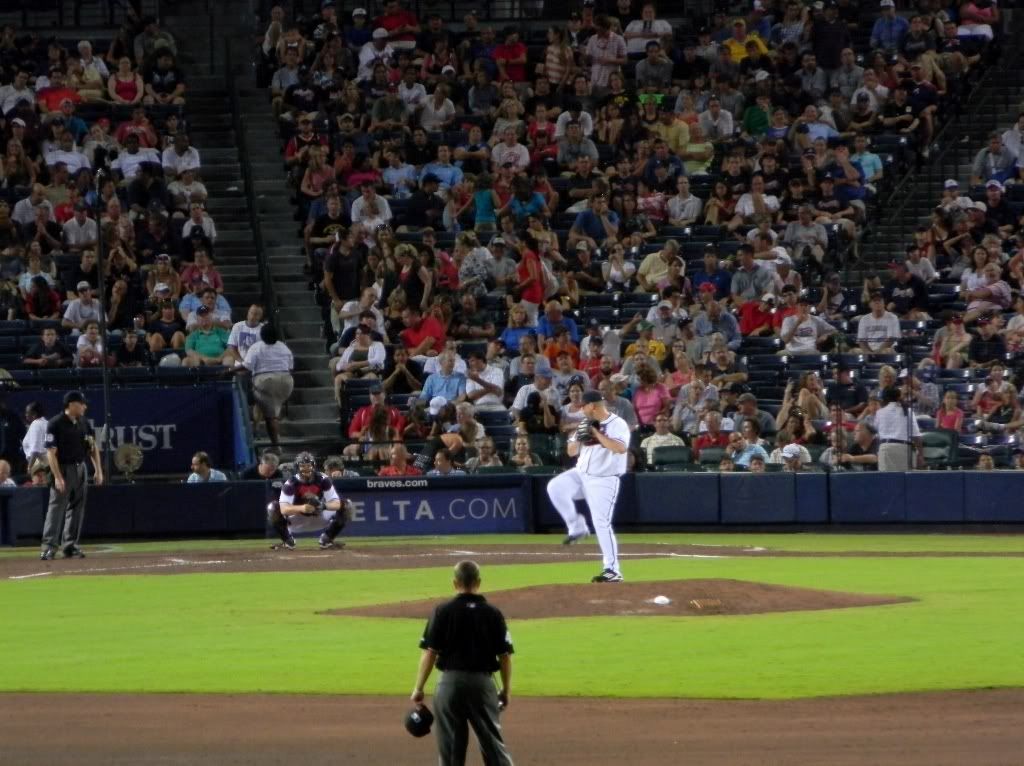 I like this guy, too
And giant Joel Hanrahan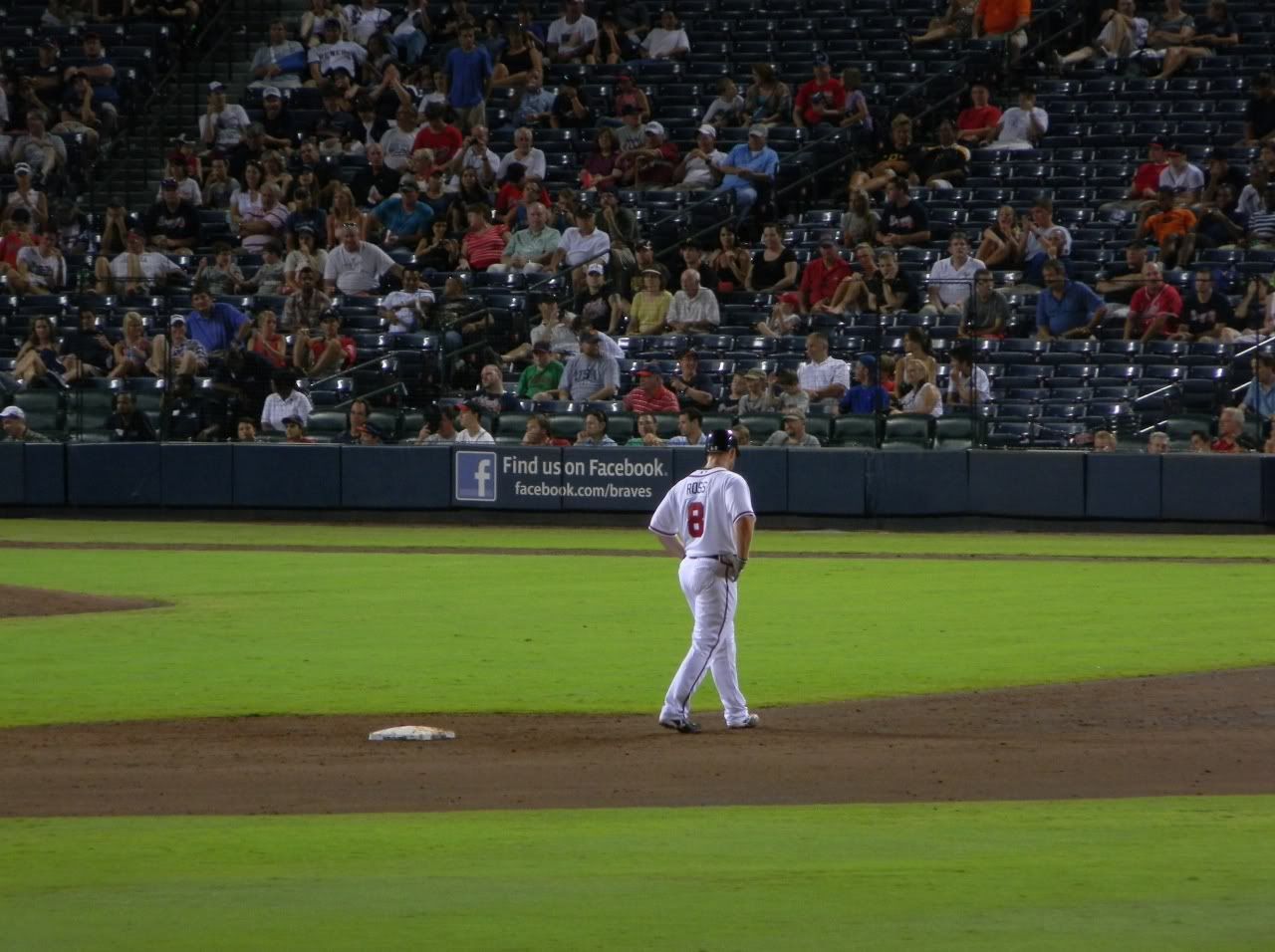 I wrote two captions for this and deleted them. :)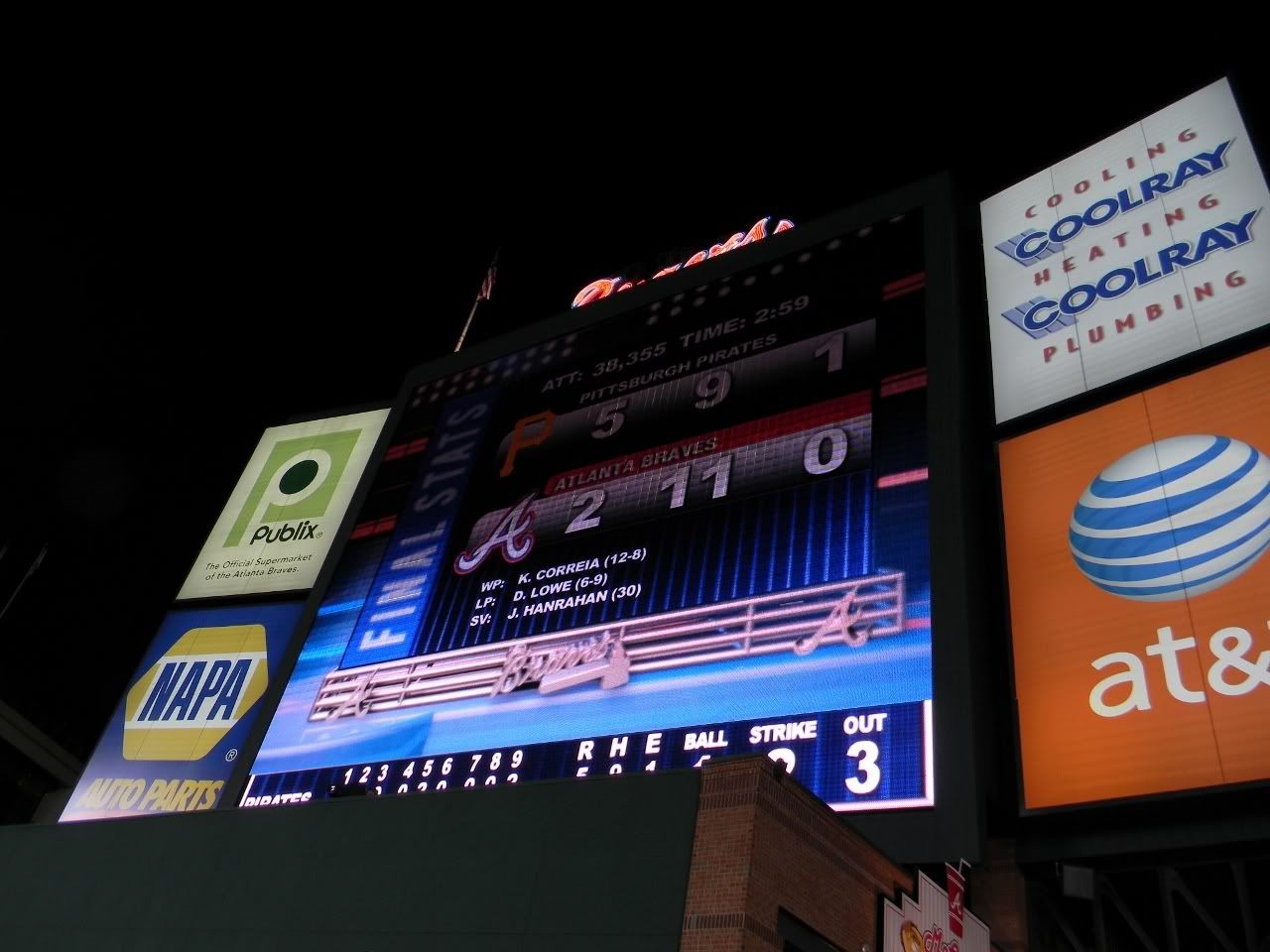 Hanrahan got another save. :(
Finally, some fan shots...
And a fun story. Most days, no matter where I'm sitting, I take the time to go see my usher friend Jason and my favorite security guard Faye. Faye likes to see the occasional fab BP picture; Jason just likes to talk. :D Well today, across the bullpen, I was surprised to see a girl wearing the same shirt I was wearing - a Jonny Venters All-Star shirt! And wait a second, I met her at the Moylo Delta Day thing! I talked about her in
this blog post
! Unfortunately I've had a headache for about 4 days straight, so I couldn't remember her name at all (it's Brittany!)... so I tweeted hoping she was following me and we could say hi. Yay, she does! And we got a pic together in our twin shirts...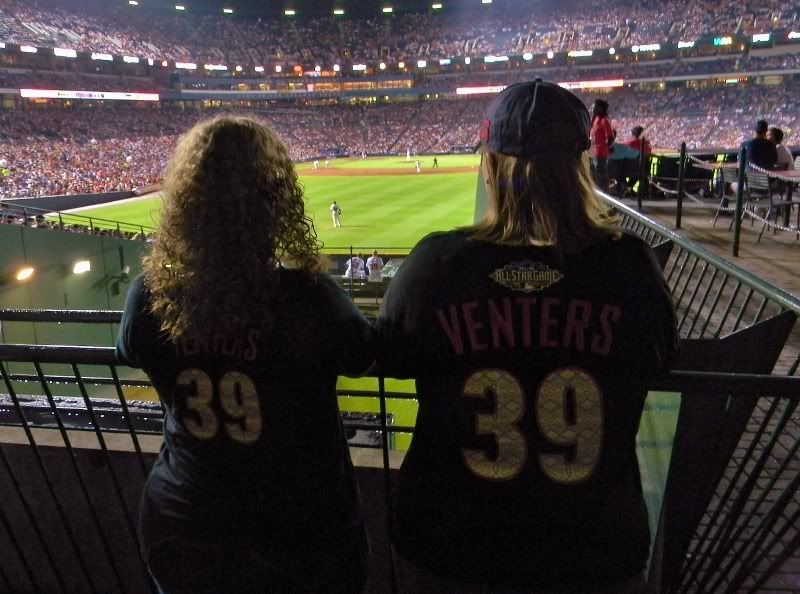 No, we're not creepers; this was just an easy place to meet between our seats!
Photographer: Alison
So fun! Love meeting other Braves fans, especially ones who love the same Braves I do! :)
Full Album here.
More soon!