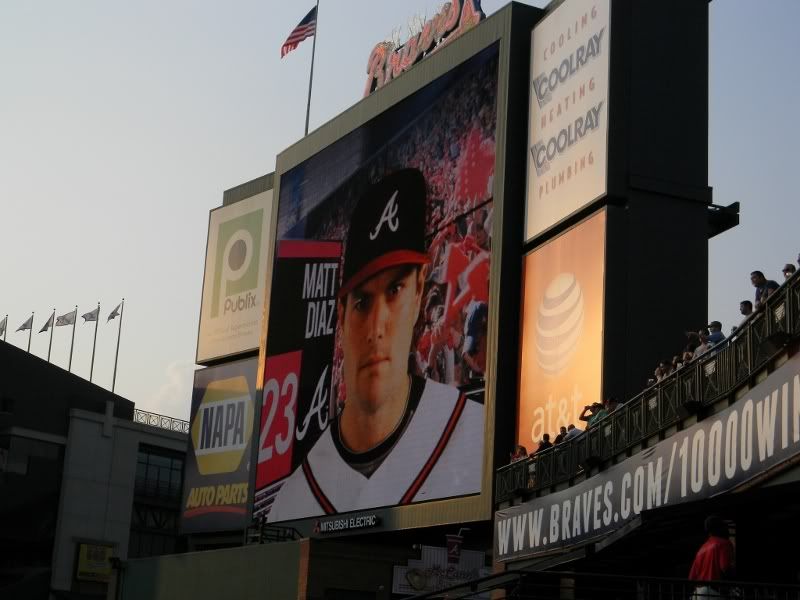 Best Wednesday surprise of the year!!
Thanks to all my friends and twitter followers who called, texted, and tweeted to tell me MattE Diaz is back. I turned off my phone for a couple of hours yesterday and when I turned it back on, I actually thought my phone was exploding. I can only think of one other situation that would involve that kind of exciting phone reaction, haha. So I got home, and this happened. (click to make it readable)
Oh. It was worth it.
My emails are so much more excited than hers, haha! And yeah, I didn't get that last email. I was already gone. :D
On the way to the park, blog reader Chandra called to offer her season tickets, but I was already on the way and if I turned around to print them, I'd miss MattE in BP -- I was hoping to see him shagging some flies before hitting (if I could get there in time), and knowing MattE, he was getting back to Atlanta as fast as possible. After the game, I was so excited to read his
quotes in the AJC
:
***MATT DIAZ

On getting two hits in first game back with Braves

"It's fun to play. That's why I busted my hump to get here today, because they told me if I got here I'd get to play. Hadn't played much lately over there [with Pittsburgh]. Chance to play is always better than a chance to sit. Didn't want to waste a chance today and made sure I got here for this game."

DIAZ PREGAME QUOTES, about 15 minutes after he first arrived in clubhouse

What's it like coming back here?

"Pretty excited. Couldn't really sleep last night because something funky was going down. They didn't pinch-hit me at the time I would normally pinch-hit, and they told the other pinch-hitter – who wasn't happy about pinch-hitting – they said, 'You'll know more tonight; something's going down.' So he came to me and goes, 'you're outta here.'

"So I couldn't sleep much last night, thinking about what it would be. Then at 10:30 this morning Central Standard Time, got the best news I could have imagined. I got on a plane within an hour-and-a-half, I think."
That's MattE -- all hustle and heart. So happy to have him back. :)
After I got to the Ted I realized we also had a chance to see Kimbrel's record-breaking 41st save!
EXCITING.
This was turning into a fun game, right? Well, it got better. Let's go ahead and get to the pictures. Remember, you can click to enlarge all!
Busy boys. I saw MattE in RF but didn't have time to get my camera out before he ran in to hit.
This would have been my best Mike Minor picture ever if it had been more clear. I hate my camera. It's getting replaced immediately.
You can see Kris Medlen's Tommy John scar clearly in this shot.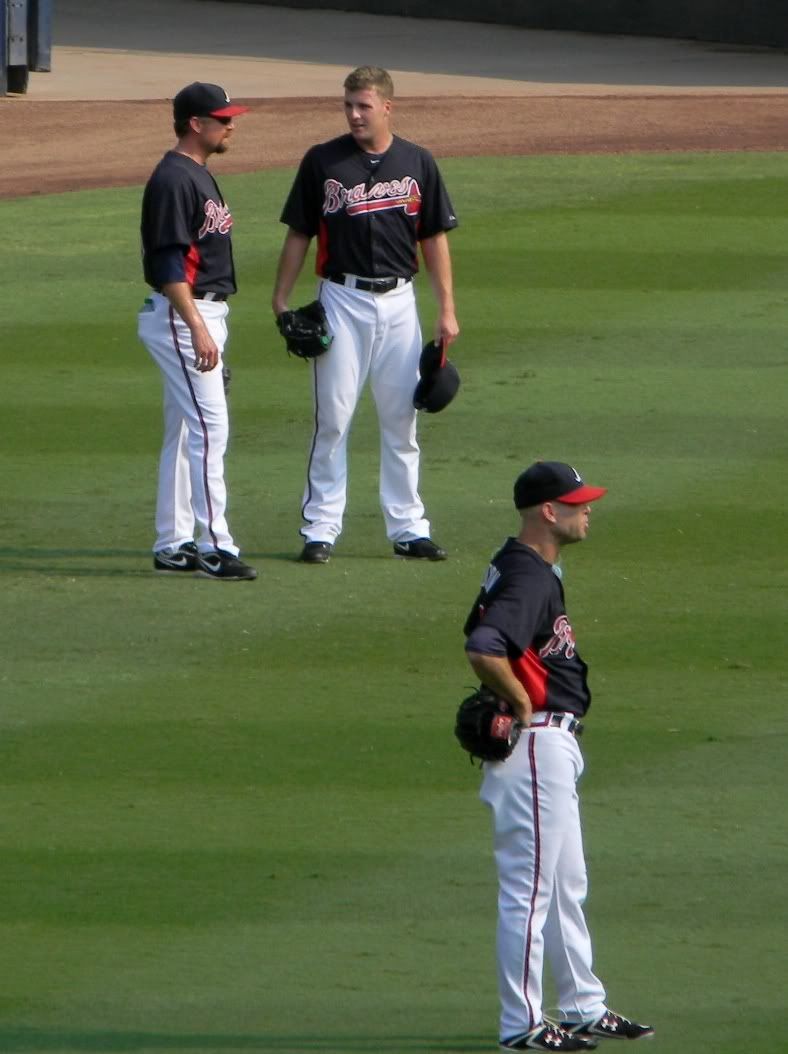 If I remember this Saturday, I'm going to ask O why he never seems to be wearing his hat whenever I snap his photo. Or why he's messing with it. Or why he messes with other people's hats. :D
Constanza!
Racing for a ball! Cute!
WAIT. NOT CUTE.
It DOES ruin the landscape. It was so nice before. Come on, now.
Bat Boy (there ya go, Catherine), MikeMinor, Vizzy
MattE never saw a "strike" he didn't like. :)
BP baserunning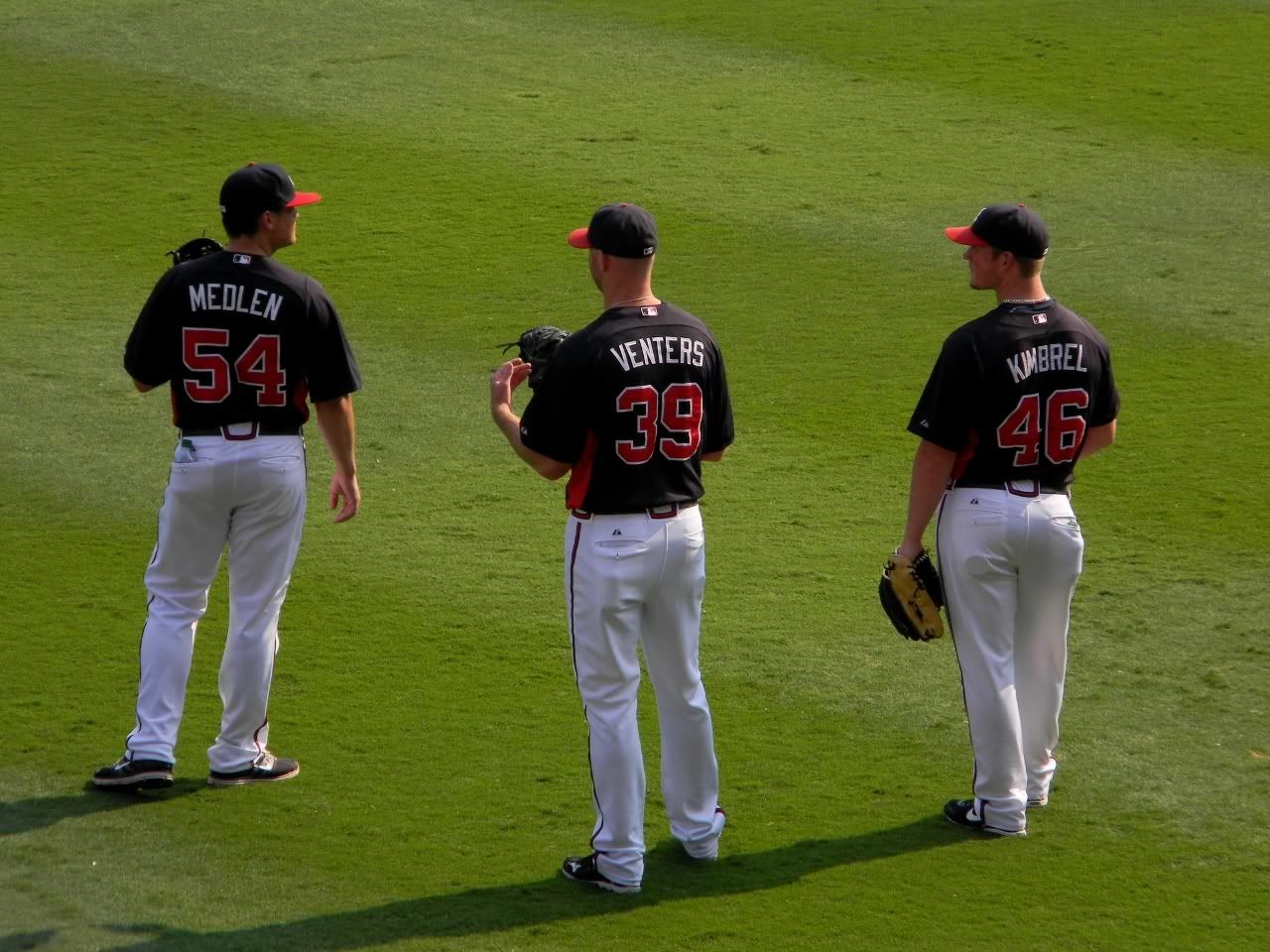 I like it when Jonny tosses his glove back and forth when he gets bored.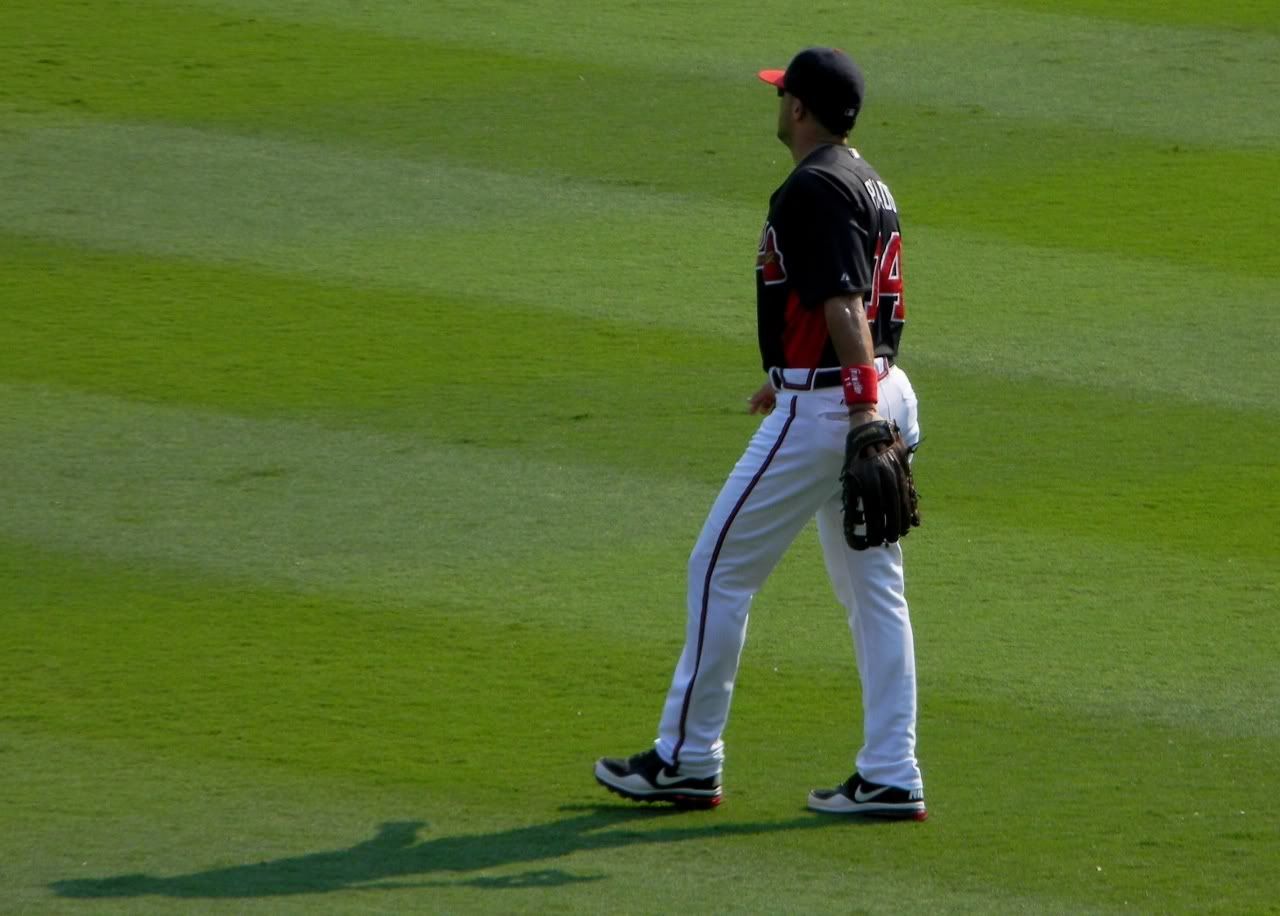 MarTING!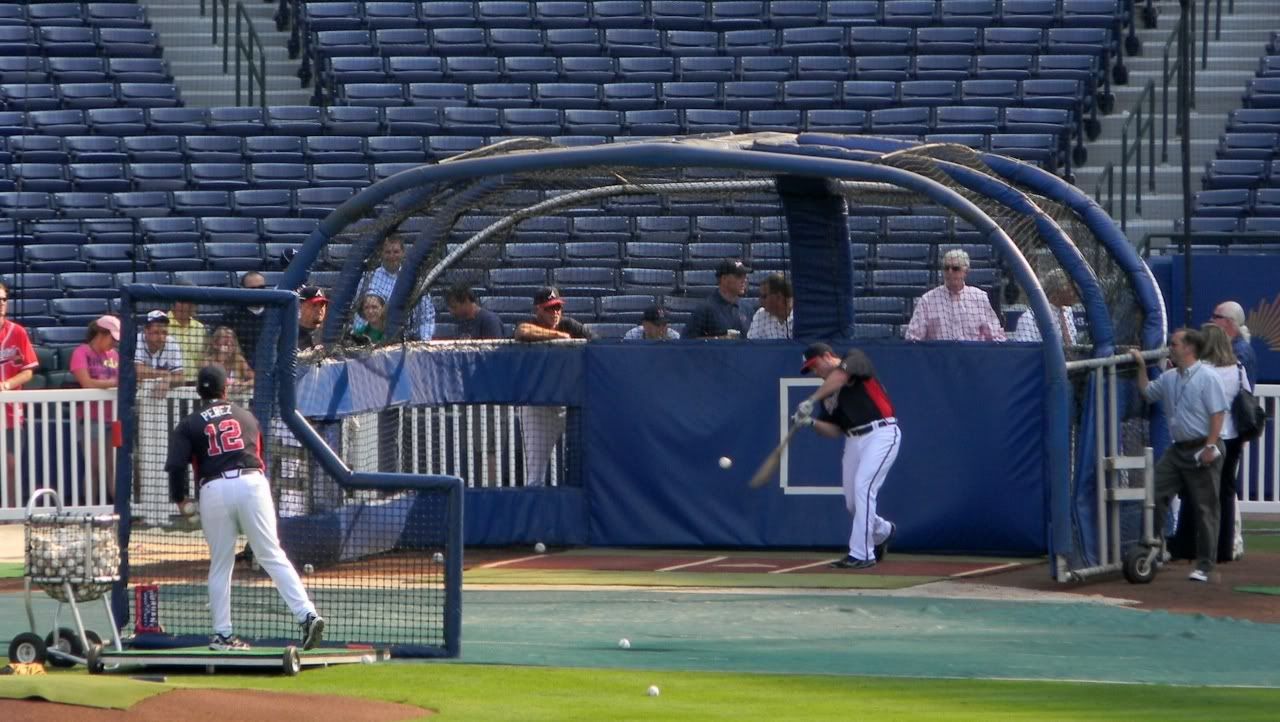 Oh wait, MattE's hitting again! He took some hilariously "MattE" hacks (you know what I mean) but overall everything looked on the up and up.
distracting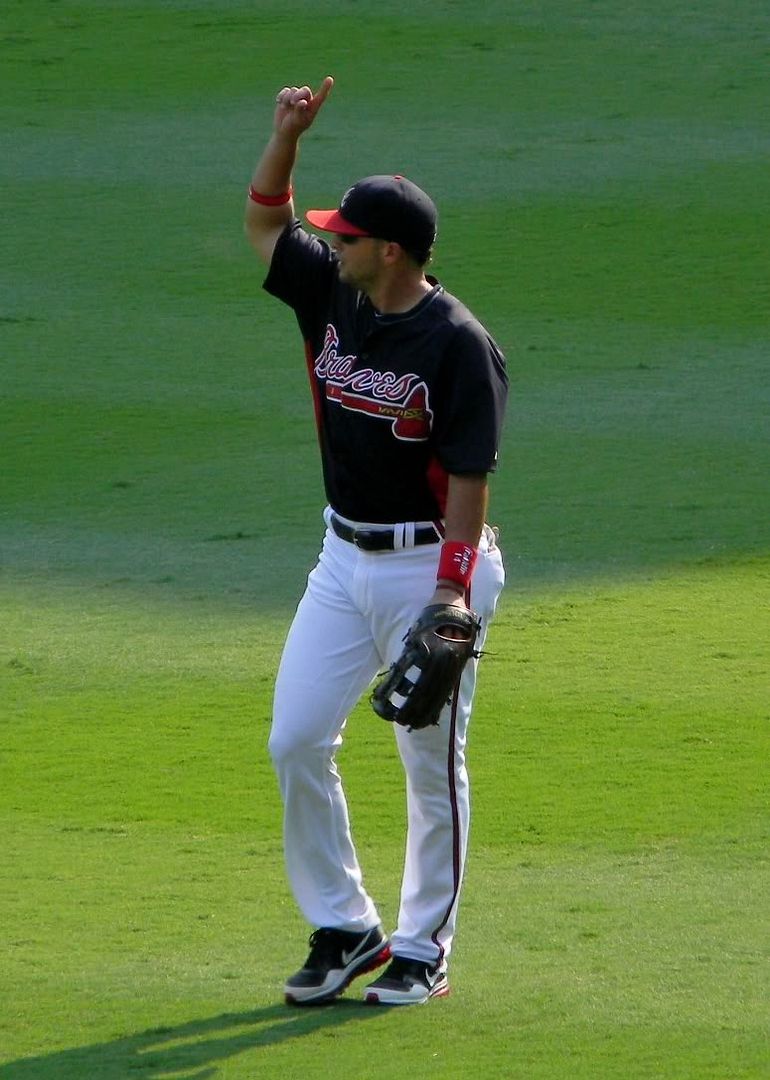 ...yeah
I'm pretty sure MattE's finished batting now. If he's not I'll catch up with him later. We have the whole night. Look who's right here.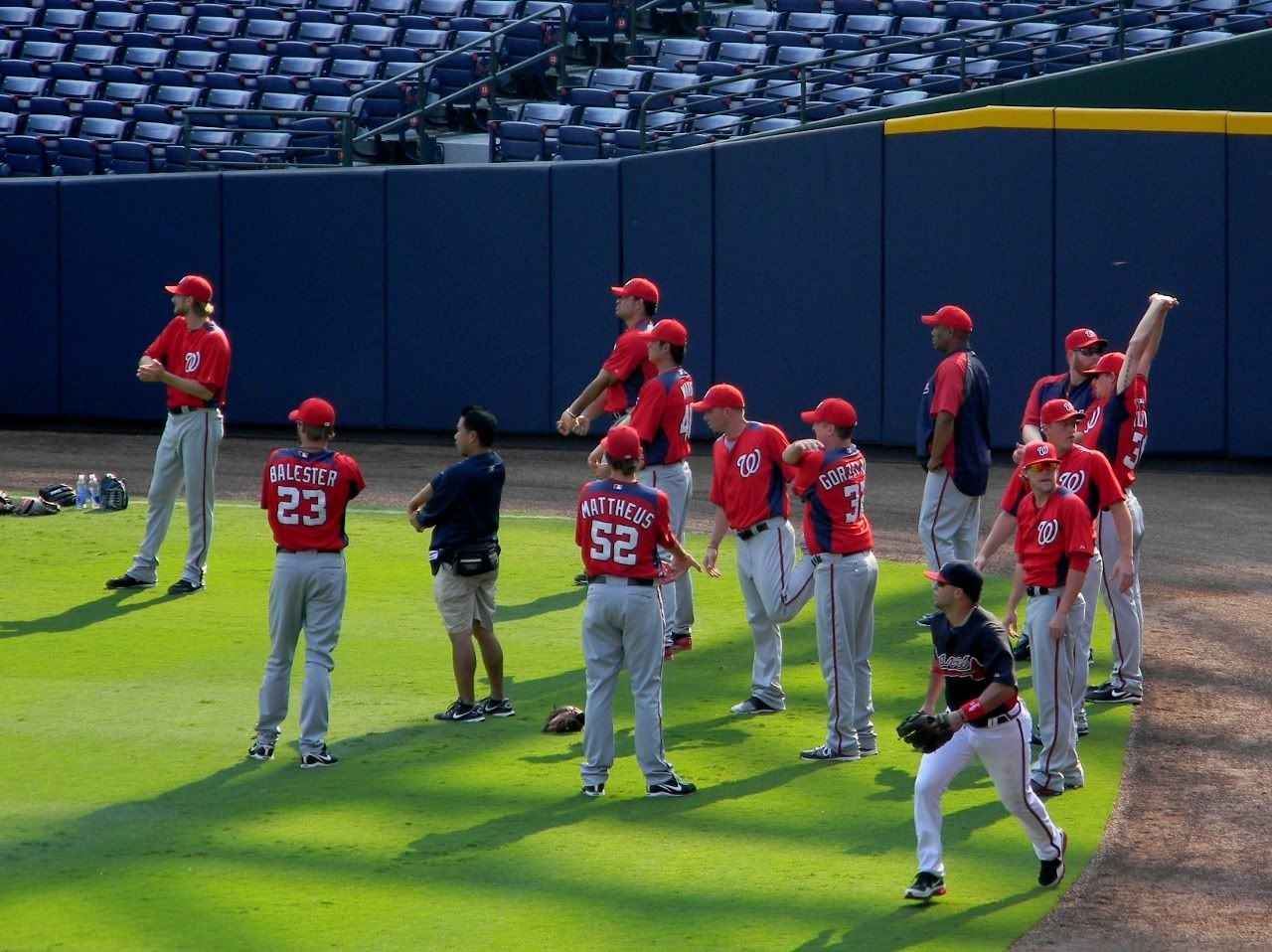 Where's Waldo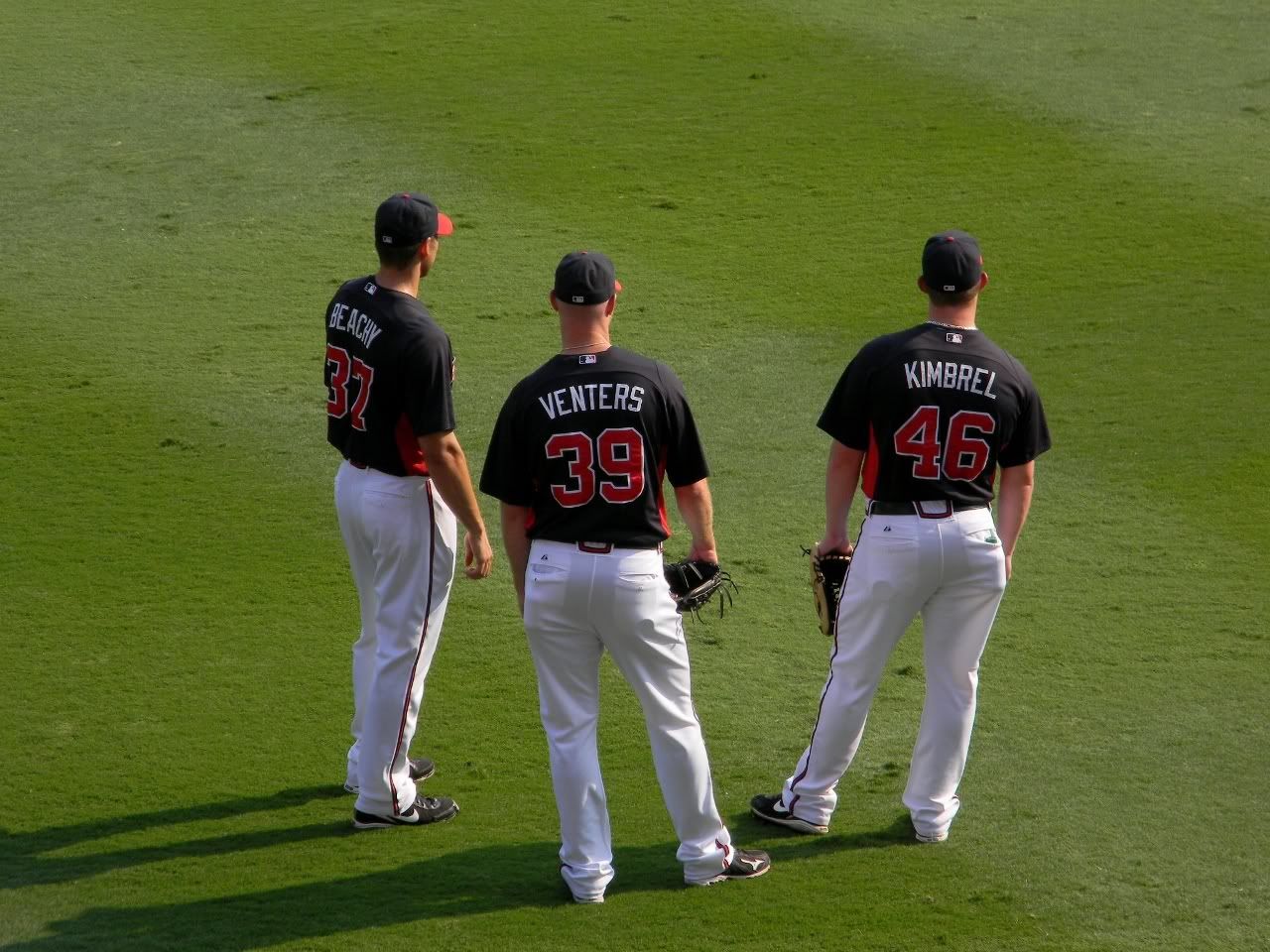 I am so distractable today. But look at that. Just look.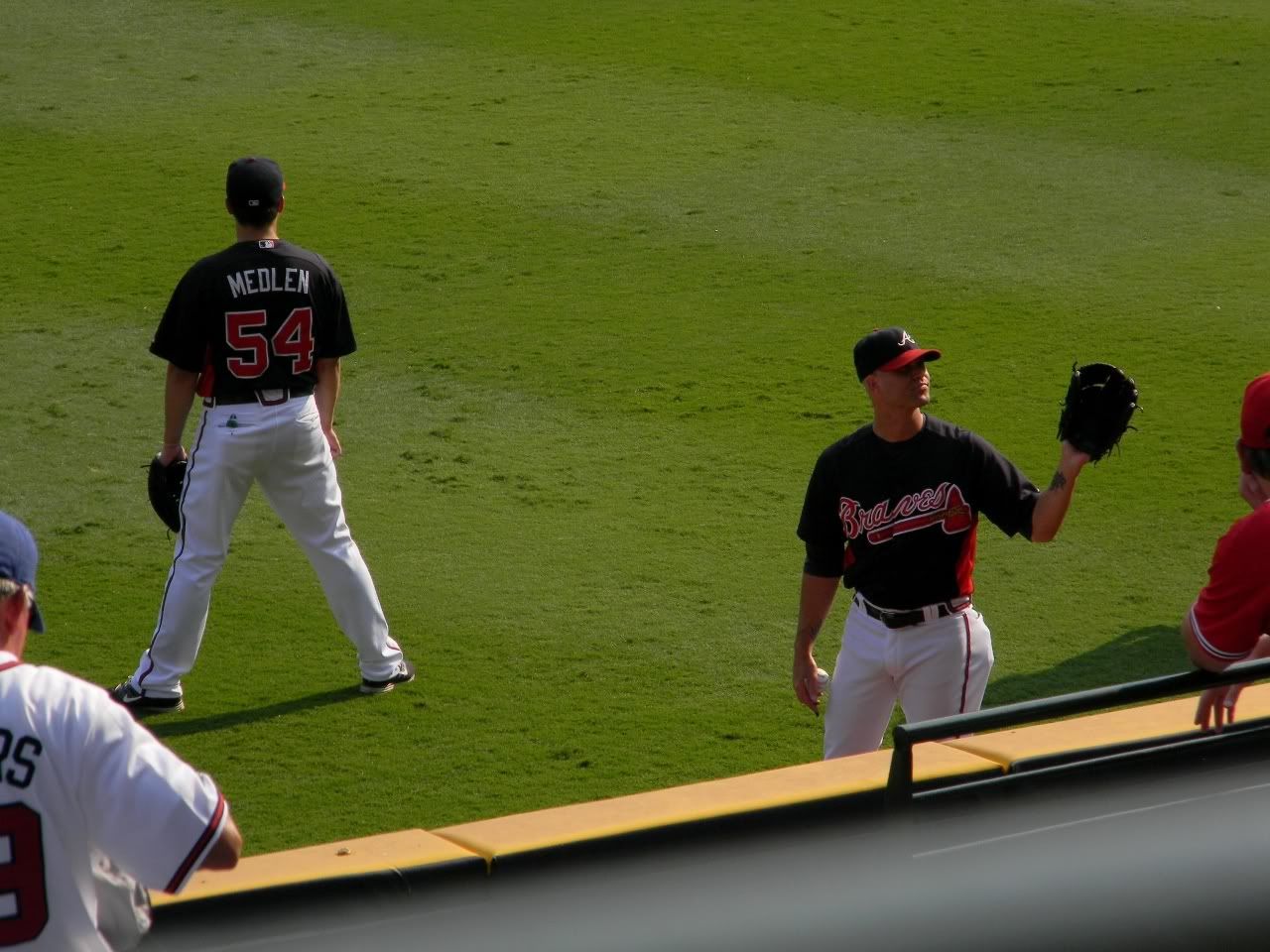 Huddy tat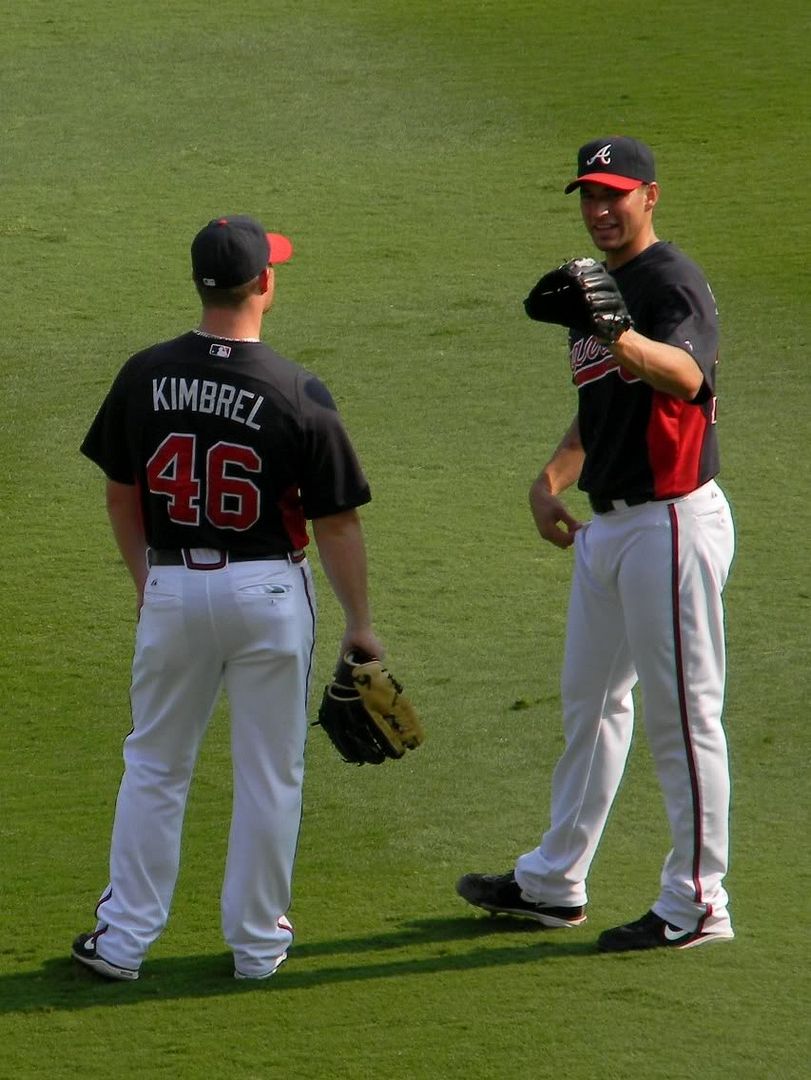 Beachy waving at kids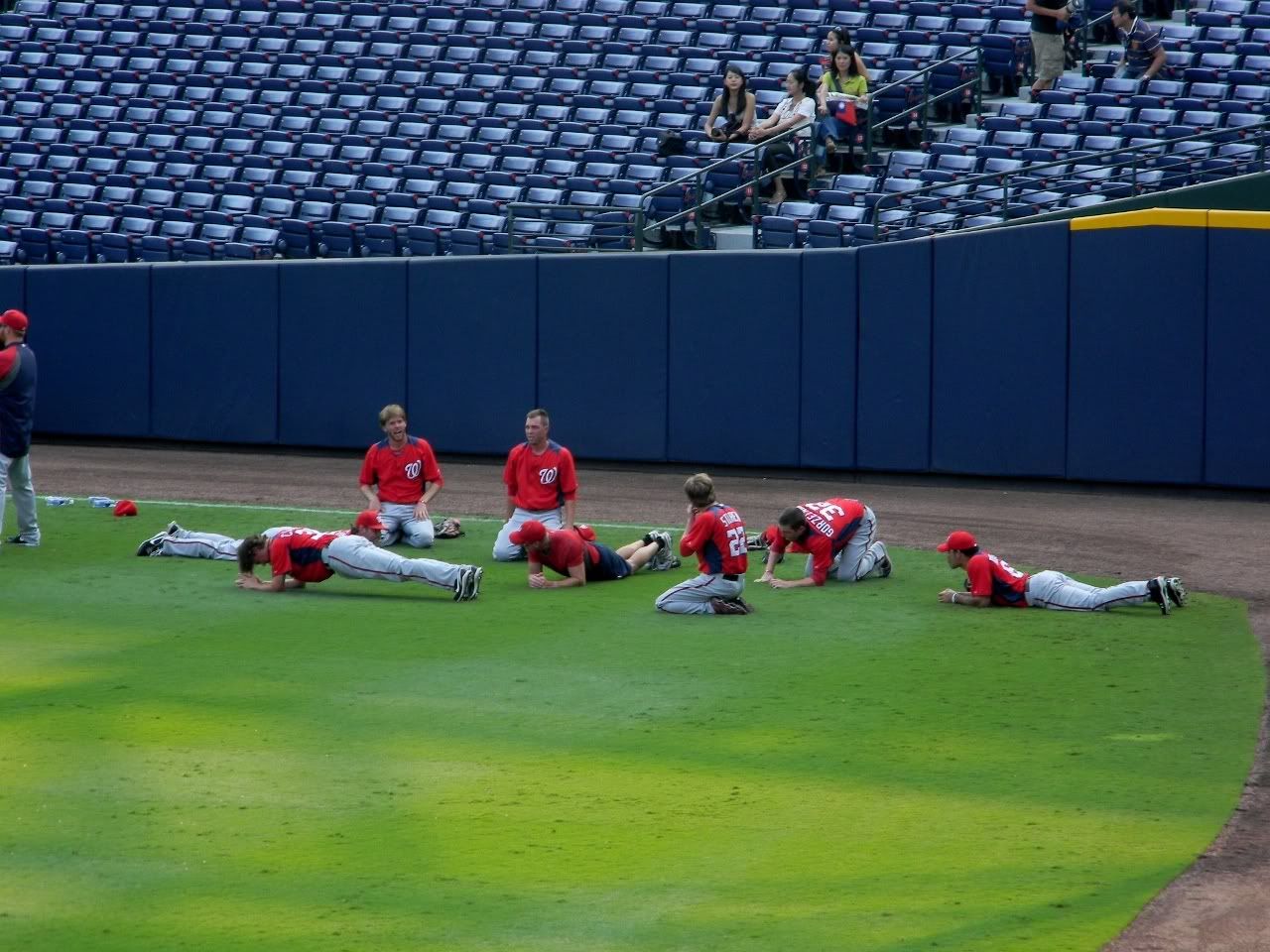 All the Nats did yoga's plank pose (the real one, not the trendy "planking")
...except Todd Coffey. See him on the far left? Yeah. ;)
Yeah, I'm talking about you, and not about your running (for once!)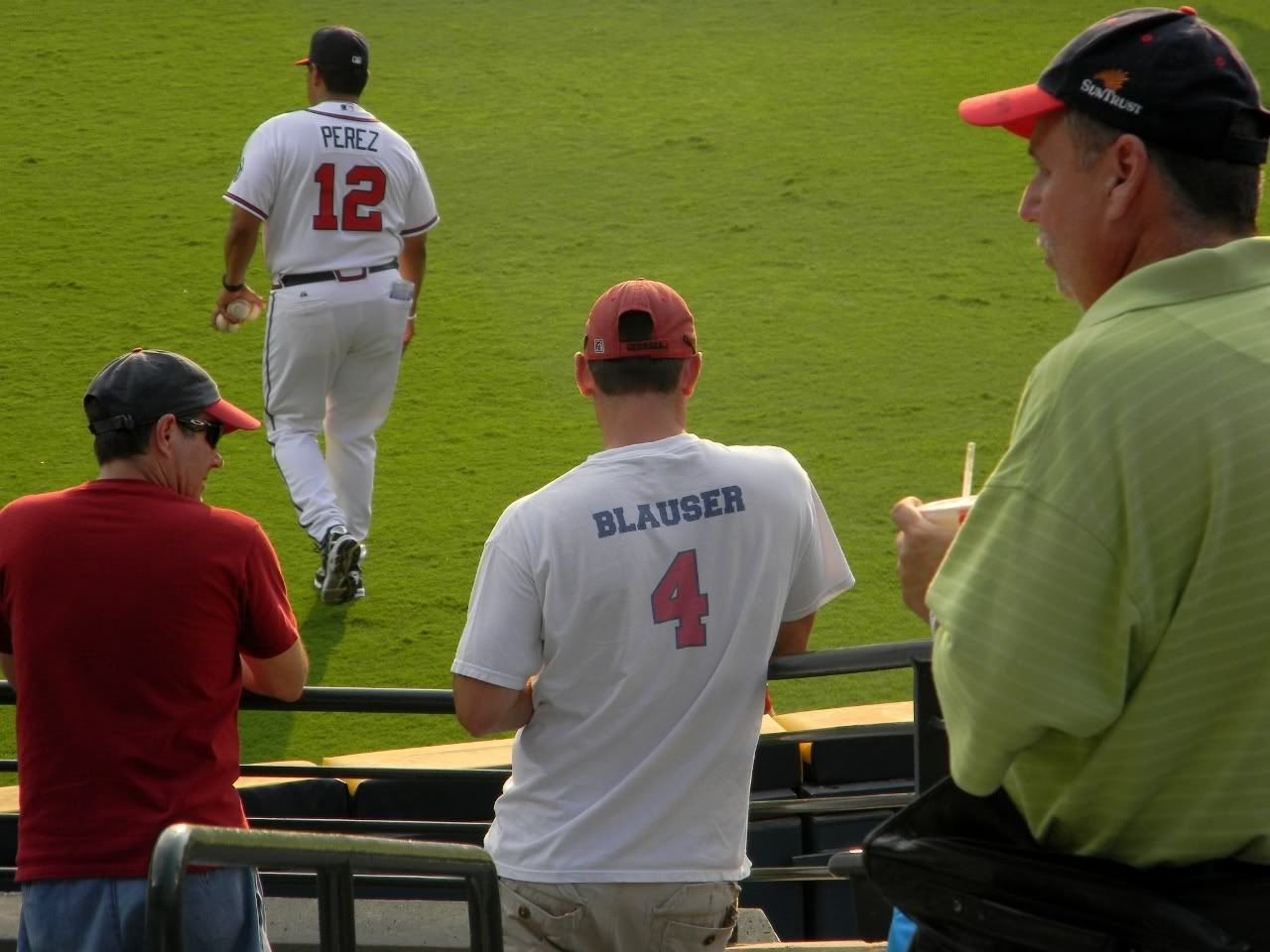 That's a great fan shirt.
Let's all stretch our torsos! Wonder how Mac's oblique is feeling.
froggy DLowe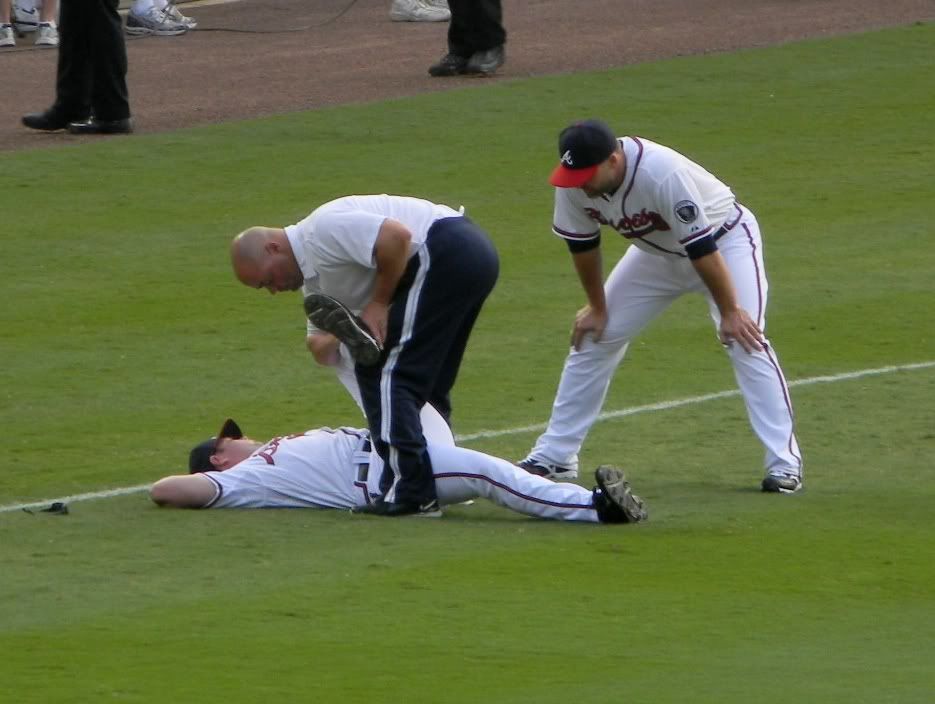 Rossy supervised MattE getting stretched. I love BossyRossy.
And I love this.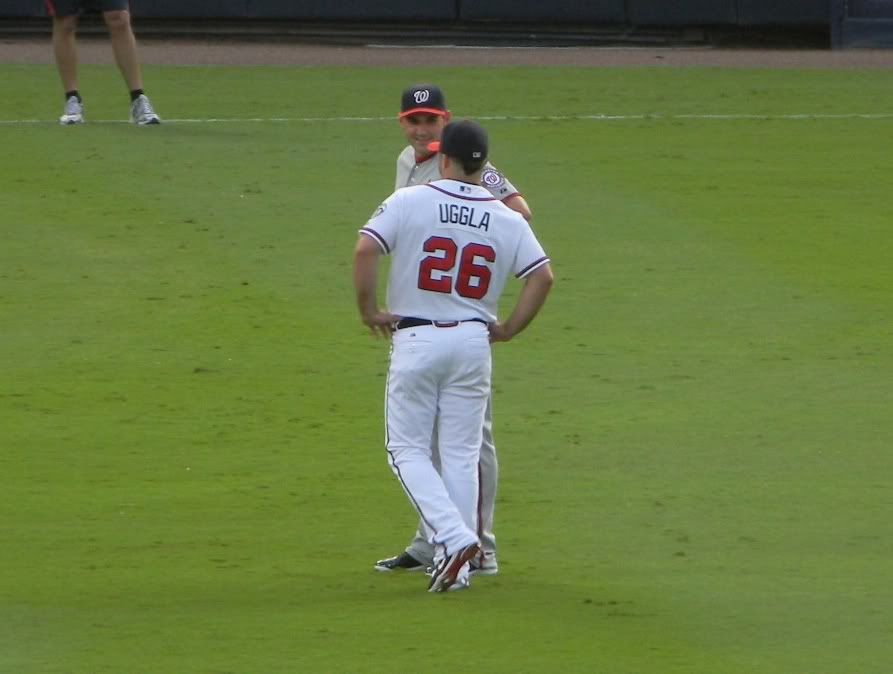 Zim and Uggs are friends. I feel like I mentioned this earlier in the season, their fraternizing. Don't really remember; I've been to a lot of games. :) Alison took the first version of this pic, but it came out super-blurry, so I took a few more.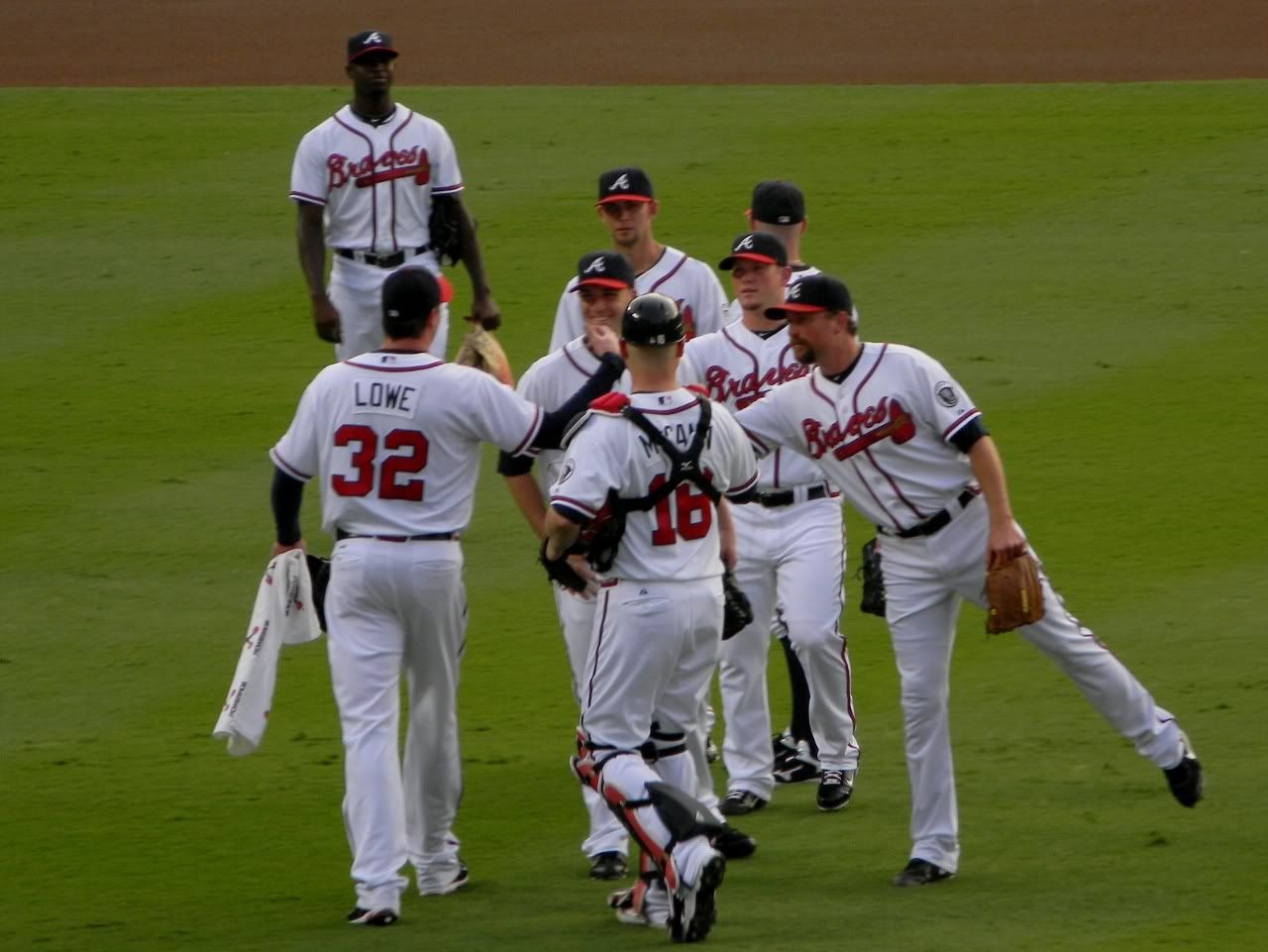 Good luck!
More luck!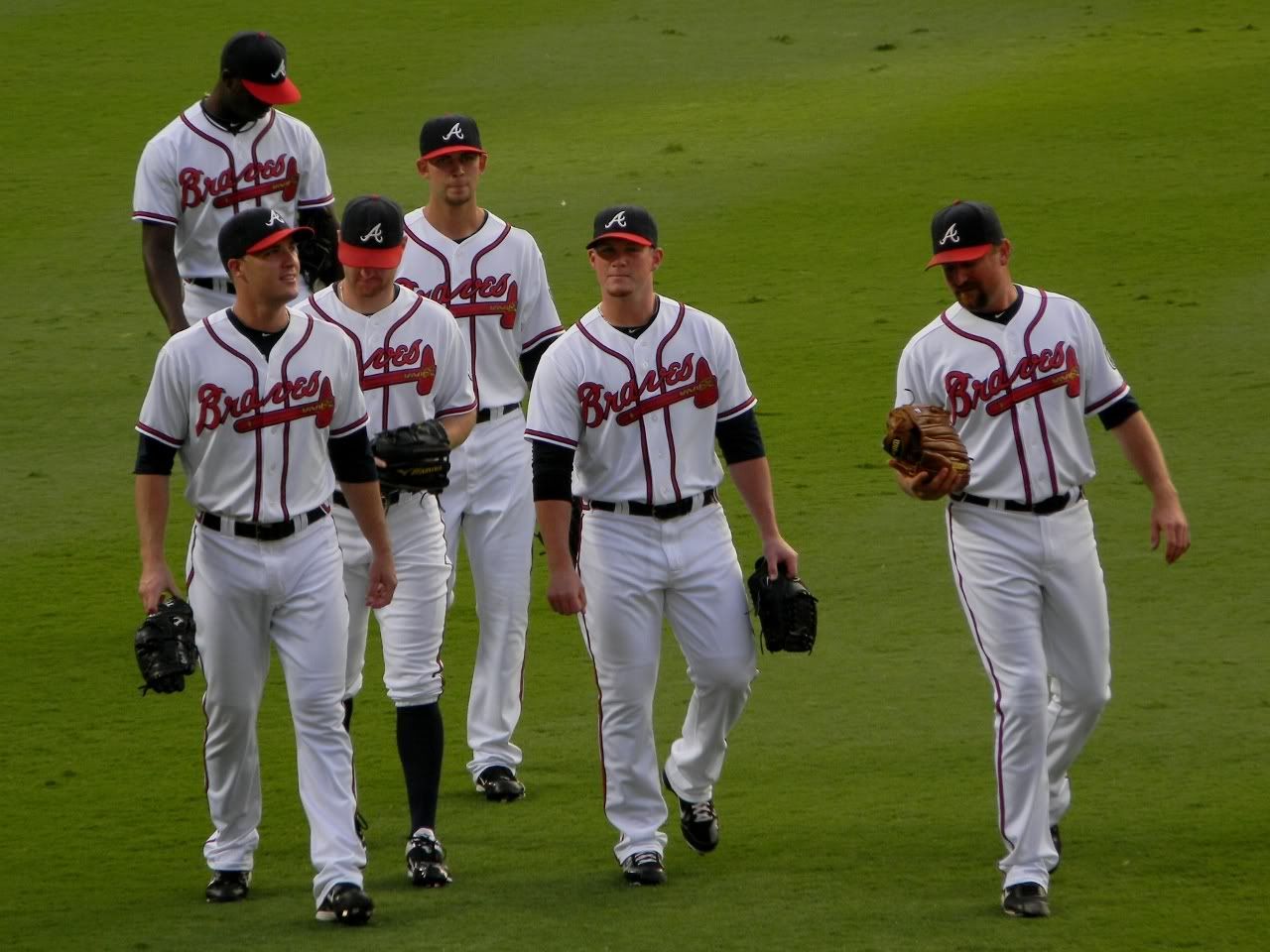 Hey, MikeMinor's available in the bullpen for a few days? How 'bout that.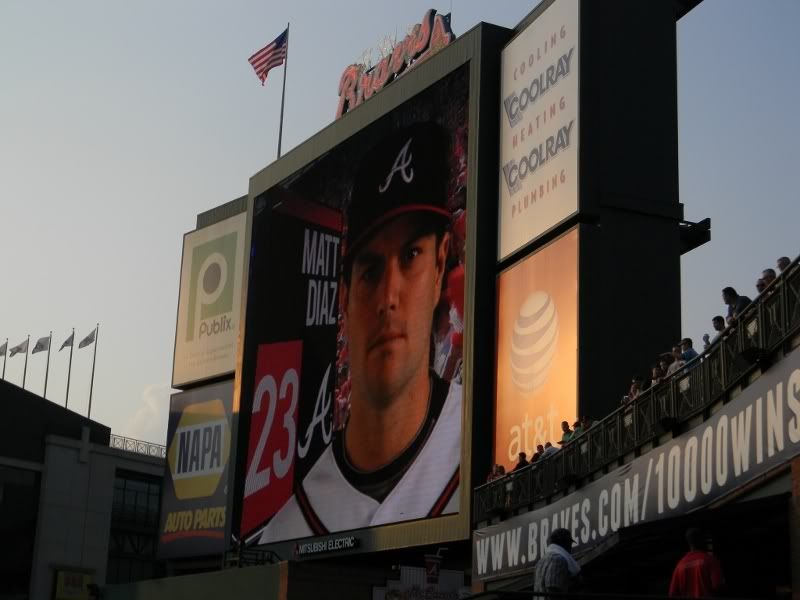 Totally reused last year's look-up picture :)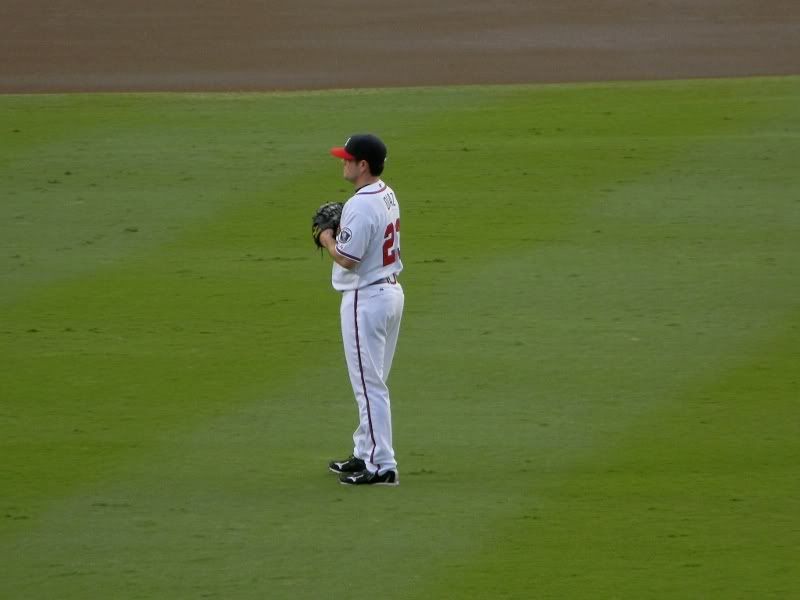 !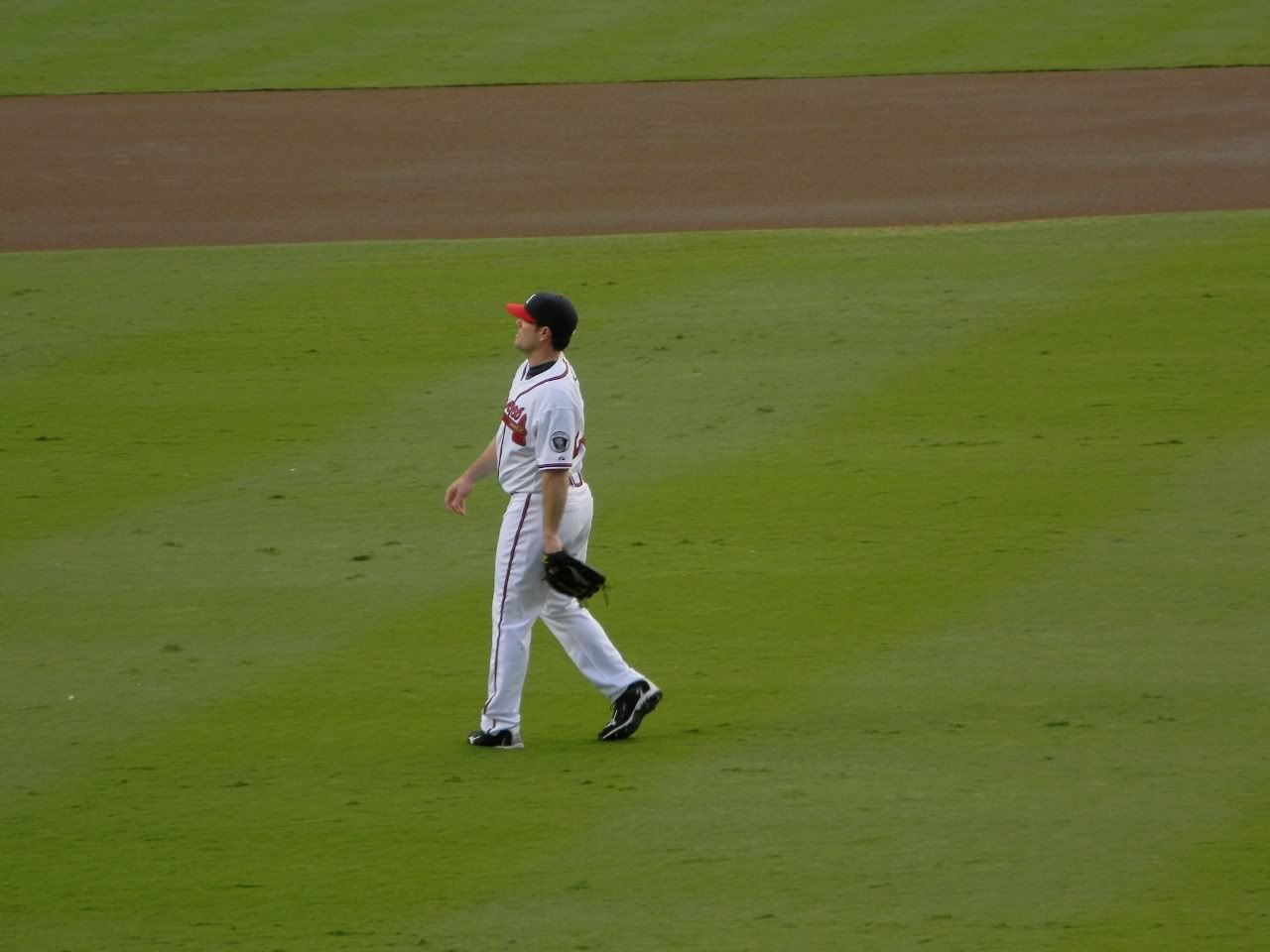 !!
!!!
Chipper hit another homer!
Video: Chipper's 450th homer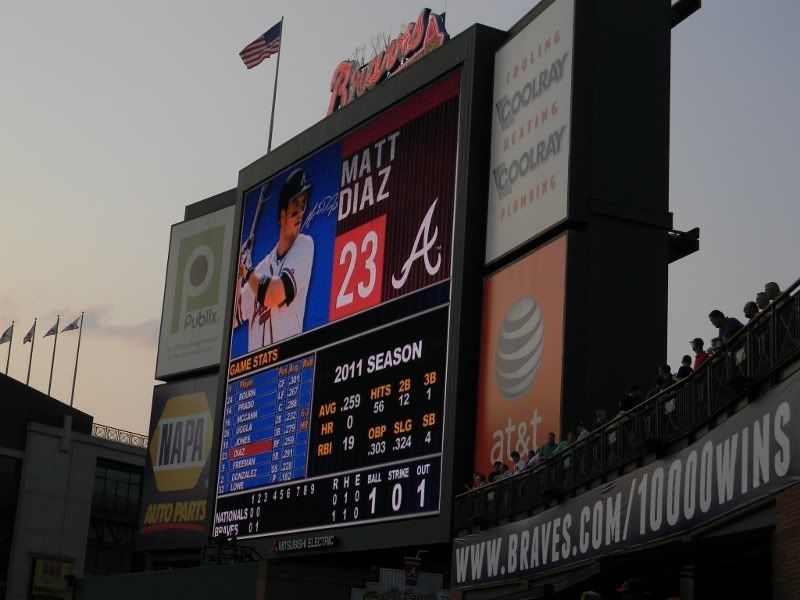 See? Same. :)
MattE got a perfect MattE hit in his first at-bat back in a Braves uni -- a broken-bat opposite field bloop. I loved it, and hated that I didn't hear him announced in the stadium. The people around us didn't hear him either. Grrr. Finally in his last at-bat they played his old intro song, Jeremy Camp's "Take My Life". Wonder if he'll keep that this year (and if Cory Gearrin will have to change when he comes up)?
In the third inning, DLowe got his first home run! EVER!
Video: Lowe's first career home run
***DEREK LOWE

On hitting first homer at 38 years old

"That was fun, I'm not going to lie to you. I've never hit a home run – ever, since I was a Little Leaguer. That's the first ball I've hit over a fence in 38 years of existence. The home runs I'd hit as a kid, they'd just roll and they'd kick it around. But I've never hit a ball, ever, over a fence."

Thought it was going to hit the wall

"I got around first and kicked it into gear, trying to get two…. It would have been fine if I could have enjoyed it a little bit longer. I don't even honest-to-God remember running around the bases. Because it's like you've got a million thoughts going through your mind. It was pretty cool, though."

AJC
Mac's grin!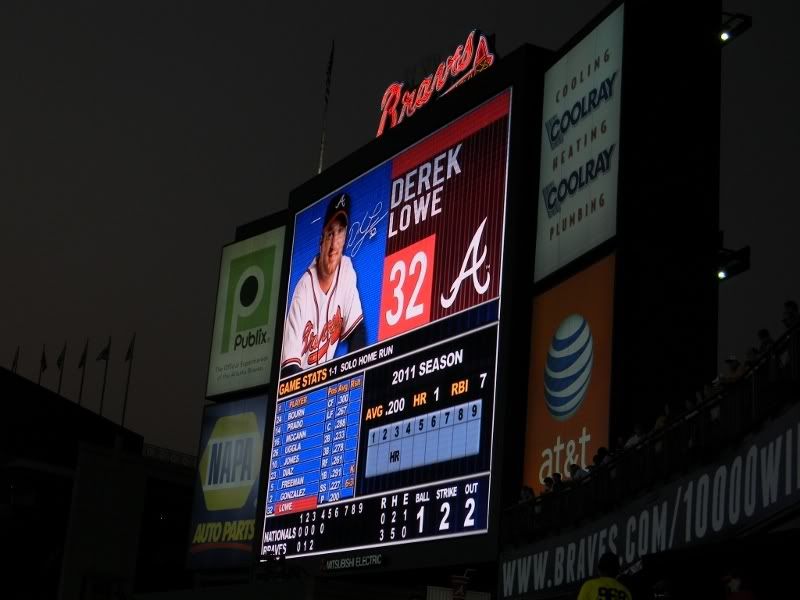 Lowe's next at-bat, look at that HR on the scoreboard!
This just looks right.
Backing up a play at first
Love the fan support!
They pulled out an old MattE "Jukebox" too!
Score was 3-1. O ran in, I hear JV warming up. Game over, obviously.
♡♡♡♡♡♡♡♡♡♡♡♡♡♡♡♡♡♡♡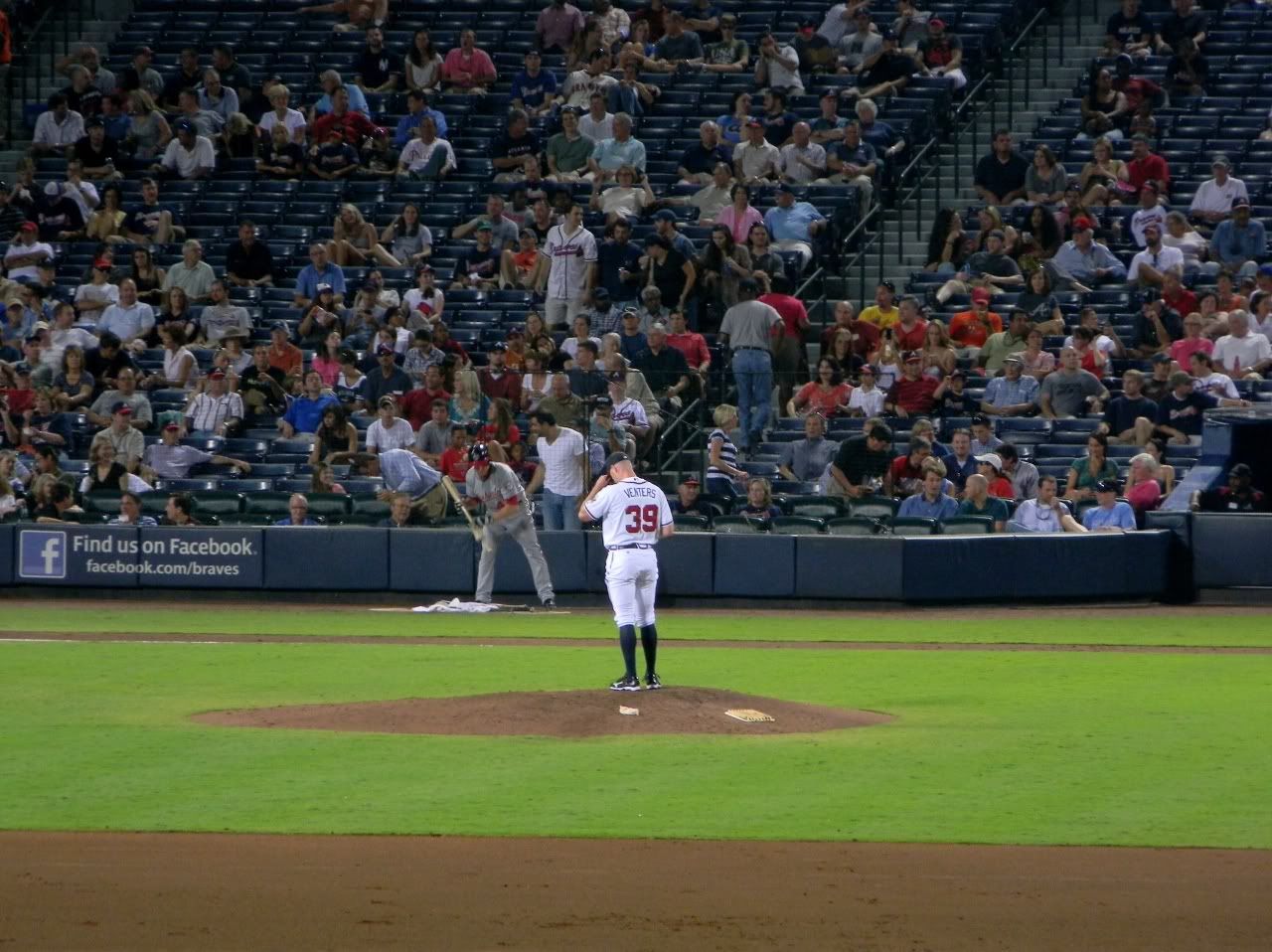 socks!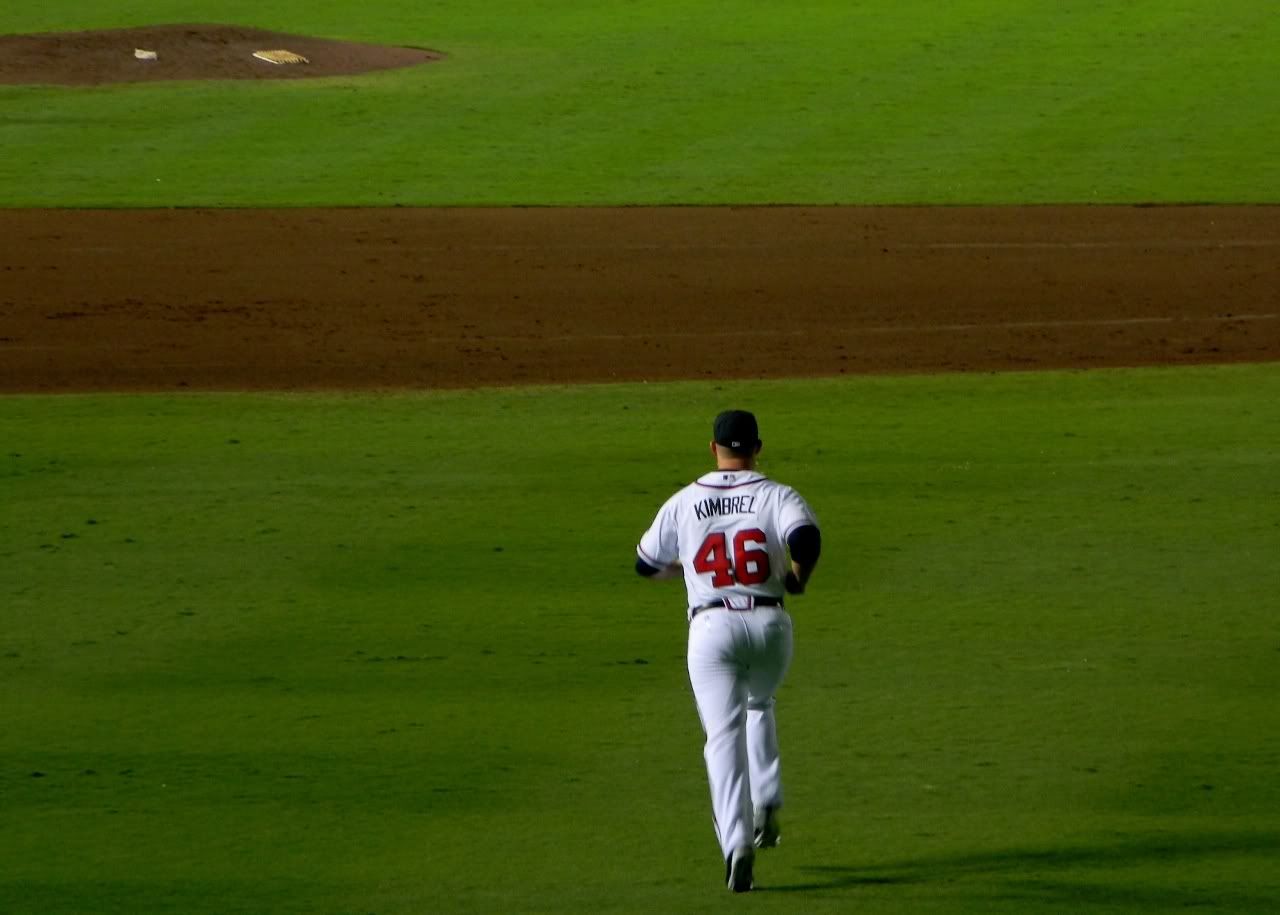 On his way to record-breaking save #41!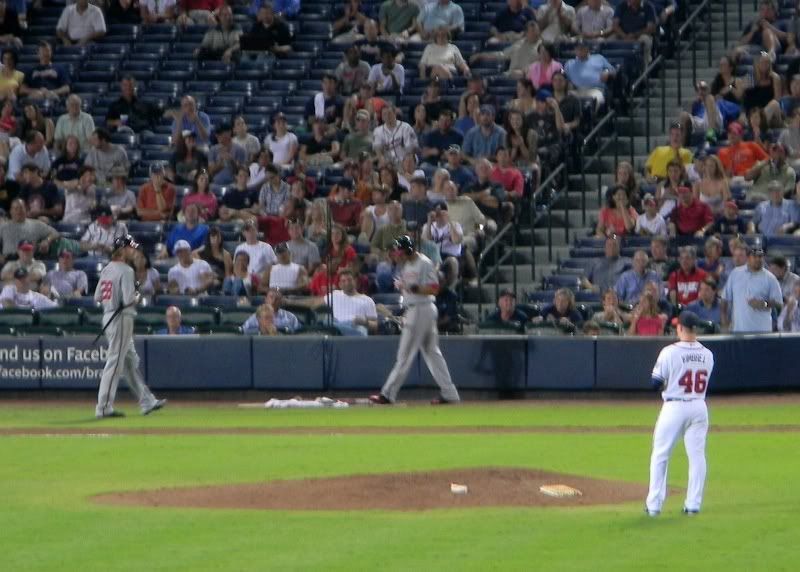 Jayson Werth didn't like his K. We don't care.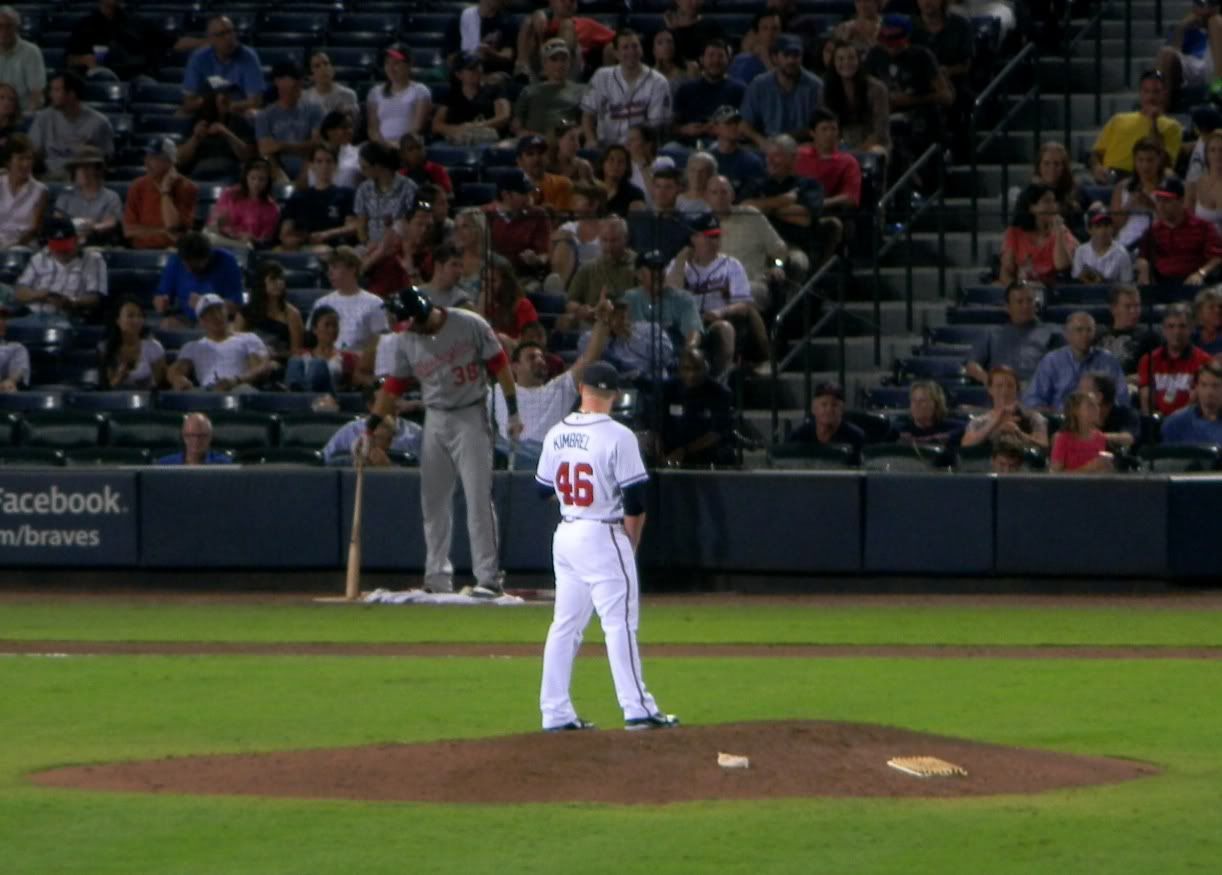 about to bring it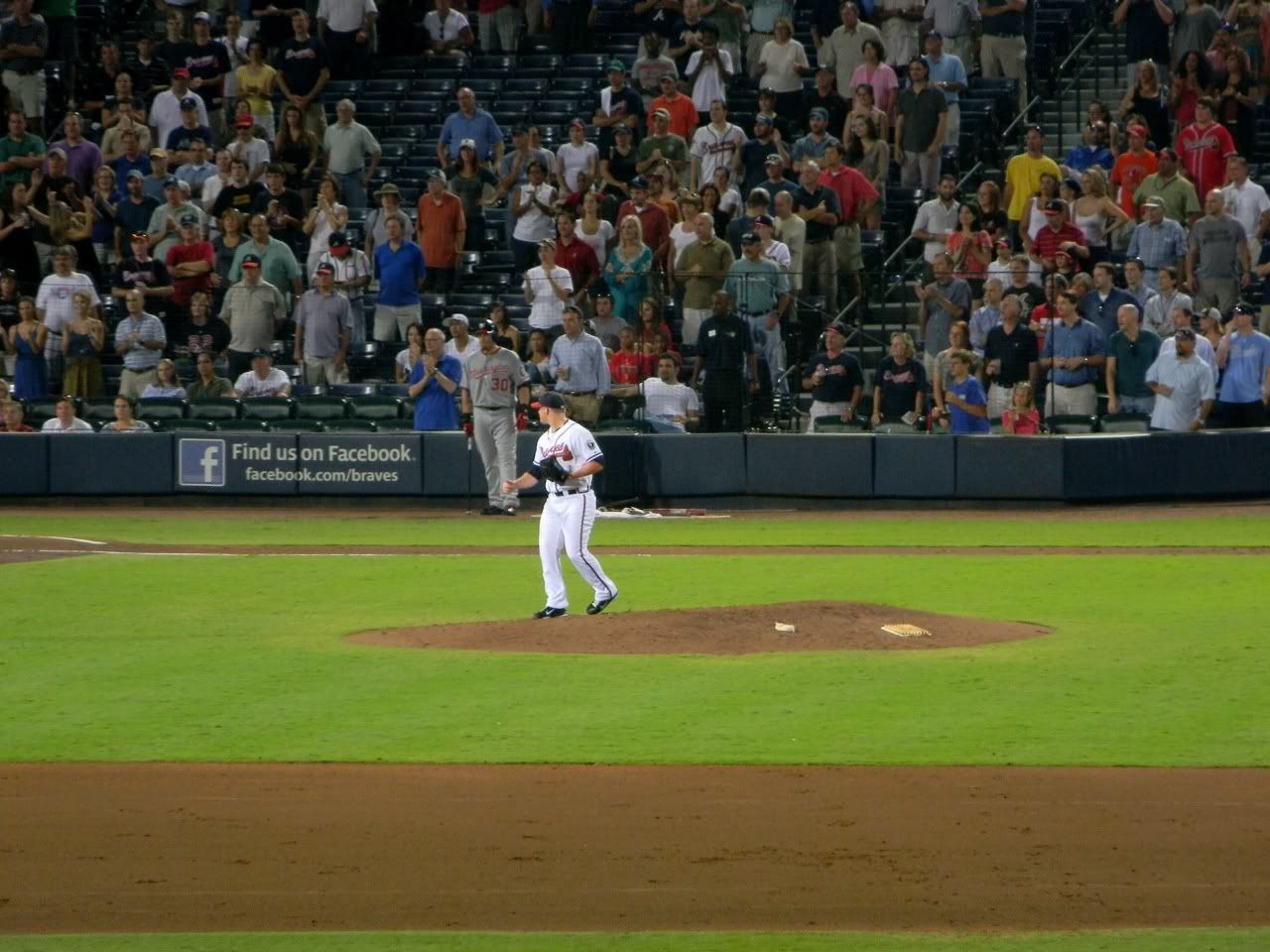 follow-through
Video: Kimbrel sets rookie saves record
I love it. LOVE IT. Way to go, Kimmie! Here are some hugs: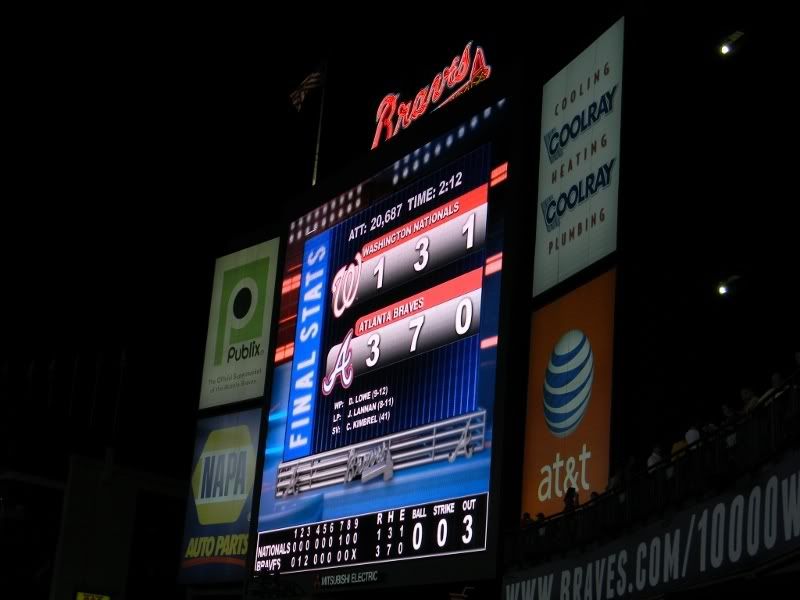 3-1 win!
Player of the game!
Video: Kimbrel on his record
Video: Braves talk milestones
Full album here.
What an exciting game!! Seriously, I loved today. Welcome back, MattE! And thanks to all the other Braves for making today so fun! :)