Even though I'm not the biggest fan of the autograph "opportunities", I am a big fan of Jonny Venters, so Susan and I trekked down to the Braves Clubhouse Store at CNN Center to say hi and have some pictures from Baseball 101 signed. Apologizing in advance, my pics are not very good and I didn't ask for any of us together -- I'll get to that in a sec.

We got there right at 2:00, and after being in line a few minutes I noticed a Braves Clubhouse Store employee hovering behind us to cut off the line. I asked him who was sitting at the table with Jonny, and he said that's an auditor from Deloitte & Touche, there to authenticate the autographs and give people the holograph stickers if they so desire. Most of the people in line around us had generic items like baseballs, though a guy behind us had what appeared to be a Mississippi Braves batting helmet signed by Jonny. I love seeing things like that.

We were only in line about 20 or 30 minutes before it was our turn. I stepped up and didn't realize Susan hung back until I was already crouched beside the autograph table. I showed him the picture of us from Baseball 101 I wanted him to sign, and he asked if I had a good time and said that was such a fun day for him. I said I loved it, and he asked if I wanted the pic signed with black or blue Sharpie. It didn't matter to me, and while he was signing I asked if he was allowed to accept gifts. He said sure, and I was really hoping at this point he wasn't thinking I was some kind of weirdo stalker or anything!

See, I just happened to be at his first major-league game -- the Ubaldo Jimenez no-hitter -- and I had a spare ticket stub and gameday program from the game, from a friend who wasn't able to make it. They were in perfect condition, and I had been holding on to them in case she ever wanted them (you know, no-hitter and all), but she never mentioned it again. So when I was looking through my measly memorabilia collection to find something for Jonny to sign, I searched my blog pics and realized I'd mentioned on the blog that I was at his first ML game! And I have this spare stuff, and you know what? His wife or family might want these, if they don't already have them. So when I printed the pics from 101 for Susan and I to have signed, I printed 3 pics of him on the mound in his first game, and put the ticket stub and photos in the gameday program and put that in a baggie to take with us. (It was raining.)

Jonny seemed to think it was cool, but asked, "Are you sure you don't want to keep these?" I assured him I have my own, these are spares, and he said his parents would love them, and thanked me while looking through the pictures again. I asked him for one more autograph, in the yearbook, and while he was signing I asked if his arm was going to fall off. He laughed, "Yes!!" and he really did look a little tired, but I said what are you gonna do, say no to Bobby Cox? I told him we're getting a little worried, to take it easy, and thanked him for talking with me and wished him the best for the rest of the season and the post-season. He thanked me again for the first game stuff, and I motioned for Susan to come over.

Here's her story:

Ok, so I've loved watching Jonny pitch this season for 2 main reasons. First because he's awesome and second because I love when he wears his socks up :) After meeting him at Baseball 101, I was left with a really good impression of him. There's something about his bashful half-smile that is so lovable. Everyone on the team is constantly talking about what a great LHP he is, but he always seems so grounded and plays it off like it's no big deal. But he IS a big deal and I can't wait to watch him become a superstar one day. The main reason I was looking forward to seeing him again was to ask him, "how are you? How are you holding up? Is your arm okay?" but as soon as I walked up to the table he smiled at me and said "hi, how are you?". This completely threw me off. He stole my line :) We exchanged a fairly generic greeting and I asked him to sign the picture I have of us at Baseball 101 and thanked him for being such a great sport that day. Not surprisingly, he gave a bashful half-smile and said, "yeah, no problem". I said, "listen, take care of yourself and your arm because we are going to need you in October". He kind of gave a look like, "I'm trying!" and you could tell that he didn't want to admit that pitching every night is getting exhausting! I told him that I was happy that he didn't have to pitch the night before (Huddy pitched 8 and Wags closed the door) and he agreed that it was nice to have a night off. I finished by telling him to keep up the good work and that we'd see him at the game later tonight. It wasn't until about 5 minutes later that I realized that I forgot to tell him that I LOVE when he wears his socks up. Oh well, I guess that will have to wait until next time ;)
Yeah, we like the socks up! We both forgot to tell you that. :) In other uniform news, he appeared to be wearing a game-worn cap at the signing, and when he left Susan noticed he was wearing cowboy boots with his jeans. It was awfully hot for that in my opinion, but I'm trying to imagine telling my uncle (who owns a duck hunting preserve) what to wear and I'm laughing right now. You can't take the country out of the boy!
I probably talked to him four times as long as Susan did, but the more I hang out with Susan, I see I talk more than Susan does anyway. Oops, sorry, bud! Anyway, I don't know how long we talked, but it wasn't 20 seconds like the dudes with a hat or baseball who just wanted the hologram sticker. It wasn't 5 minutes, either, but I'm sure the people behind us were getting a little impatient with how much time I was taking, so I didn't ask for a picture of us together. I have plenty from 101 (even though my hair in our posed one is *awful*), so no biggie. As I've said before, I'd rather have a conversation with a Brave than an autograph, and Jonny was very nice and didn't rush to the next person at all.
We didn't get our photos authenticated (obviously), rather, we shopped a bit in CNN Center, then got a cold drink and people-watched for a little while until time to go to the game. When Jonny left, he took my little packet with him, which I didn't think about until I happened to see him
walking away with it
. I'm sure they get all kinds of crap given to them at these events, and you never know if it's going to be left behind. I mentioned it to Lizziebeth later that night; she said she's seen a non-Brave famous person leave a
lot
of gifts from fans behind after events, and her face lit up when we told her our stories. So I'm glad he took it with him -- it was a good day.
Here are the bad pics. :)
With a fan's baby
1
+
2
~ signing a
mini-glove
~ autograph table
1
+
2
+
3
This isn't my vid, but a friend sent over
the link
and I thought it was cute and worth sharing:
----------------------------------------------
Susan and I went early for batting practice, but the
tarp was on the field
, awaiting the oncoming storms: no BP today. There were a few pitchers
warming up
in short right field. The only fun thing we saw was Jonny (hey!) and Cristhian Martinez running from right field to left-center, tossing the ball to each other as they ran...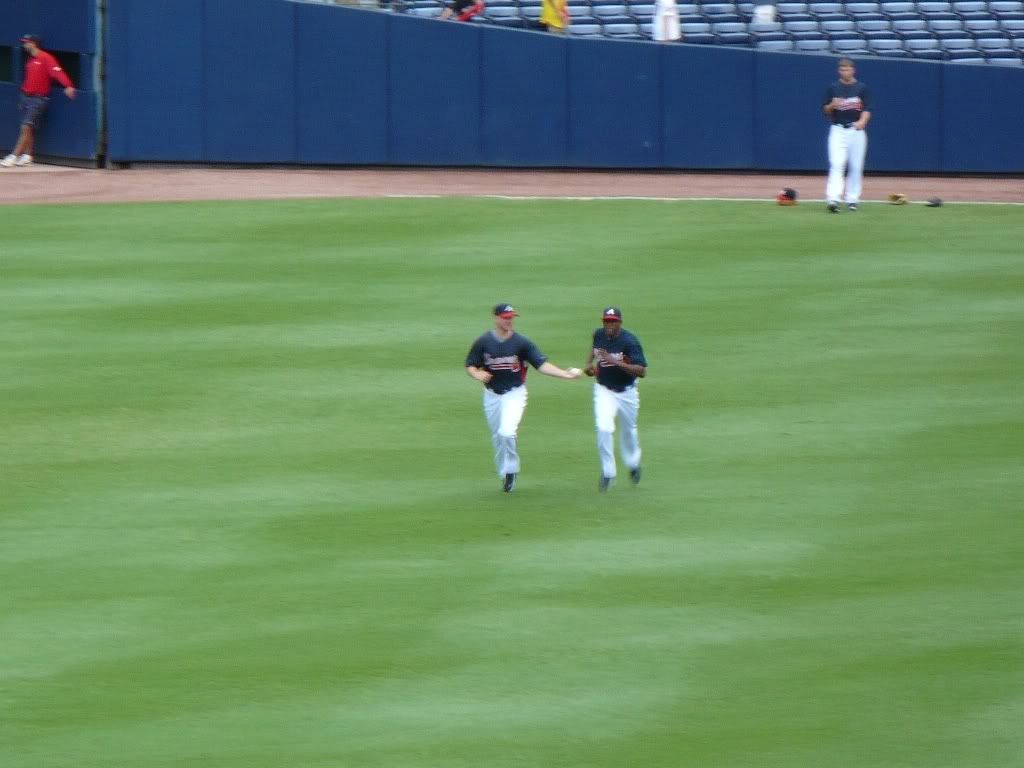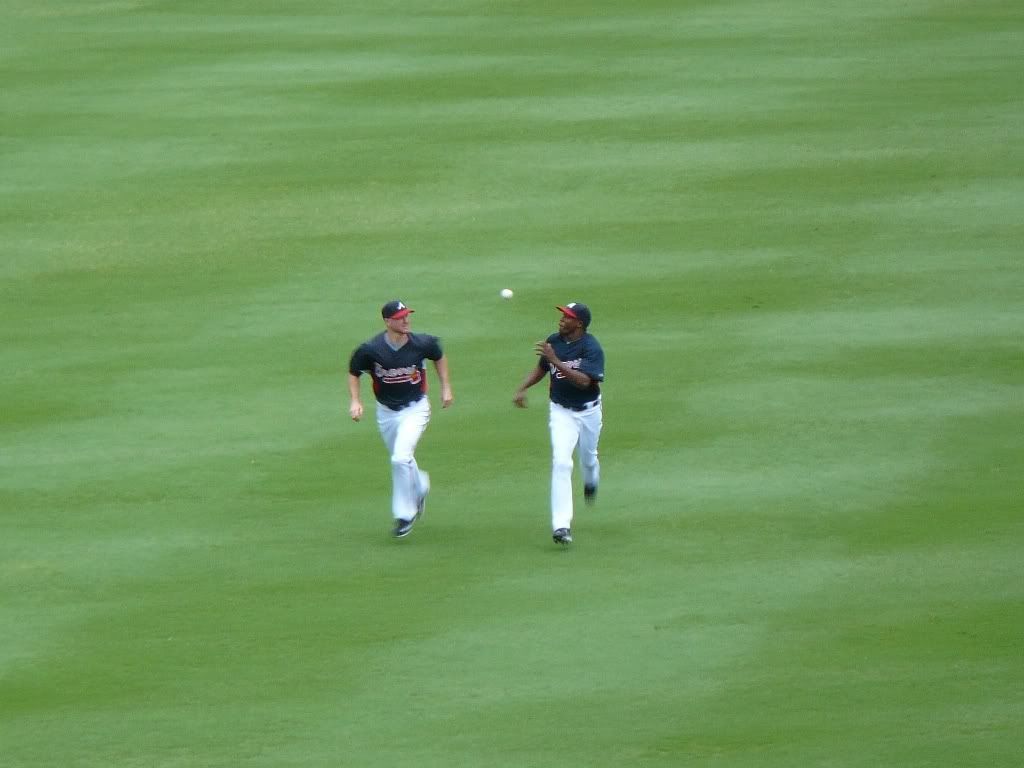 We watched the rain for a while (thank goodness for smartphones - boredom killer!), hung out with Lizziebeth for a bit, and shopped for a new Braves shirt for Susan. Next thing we knew, it was gametime! We stopped by the bullpen to see if D-Lowe was warming up yet -- he was, and while we couldn't see him we could see BMac catching him. The video below shows a few pitches, then cuts to Lowe and Mac leaving for the field, with Mac signing and tossing a jersey up to a kid. (I missed videoing him high-fiving everyone on his way out of the bullpen -- so awesome.)
Notes from the rest of the game:
- Mac stole a base! Love it!
1
~
2
~
3
-
Medlen
sat alone or with Phil Falco most of the time. (There are a few dugout pics in the full album of him on the bench with his roomie Hanson talking to him.) Chin up, kiddo! Look how strong and awesome Huddy is now. You'll be okay!
-
Farnsworth
was doing some really funny-looking hip/leg stretches in the
back of the bullpen
early in the game -- I'm sure they felt great and I'm sorry I missed capturing them for y'all. :) When I was doing massage therapy for the minor-league hockey team a few years ago, we did some really strange-looking stretches that just feel amazing. (I miss those days sometimes!)
- When's the last time you saw
Casey Blake
sans
beard? ...Yeah, I don't remember either.
- Busted
K
-
Ausmus!
He's pretty. ♥
-
Jonny
came in to pitch;
this pic
looks like he's praying his arm doesn't fall off. ;) Seriously, we need him in October! Don't overwork him! Here is his LED wall screen
before
and
after
he gave up a run -- ERA went up a tiny bit. No worries, it's still well under league average. :)
-
Hinske
was announced but
didn't get to bat
. They changed pitchers and the Braves pulled him and had
Rossy
hit instead. (Rossy got our only RBI of the night.)
- The wall scoreboard things were having issues last night. Since when does MattE play for the Dodgers? And how can Saito be pitching for the Braves if there's a Dodger in right field??
Braves lost; at least they handed out mini-Moon Pies.
See the full album here!
My next gameday post will be from Wrigley Field in Chi-town, baby!! I'm going to visit one of my besties, Chicago Jen, and I'm excited to see Wrigley and see our boys play in another city!