I miss Willie Harris.
Traditional doubleheaders are amazing fun for hardcore baseball fans. Even on long days like today, I never get tired of it. I don't tire of the game, ever, really. If I'm fortunate enough to one day be a mom to a boy (or boys!) who is/are talented enough to play, you'd better believe I'll be at every practice, every game.
The day started with the Brandon Beachy autograph signing, which has
its own blog entry here
. Alison and I went to lunch after the CNN tour and then to the park for batting practice, where we took pictures. Shocker, I know! Want to see them?
(These are all mine, I'll link to hers when she posts. Don't forget to click to enlarge!)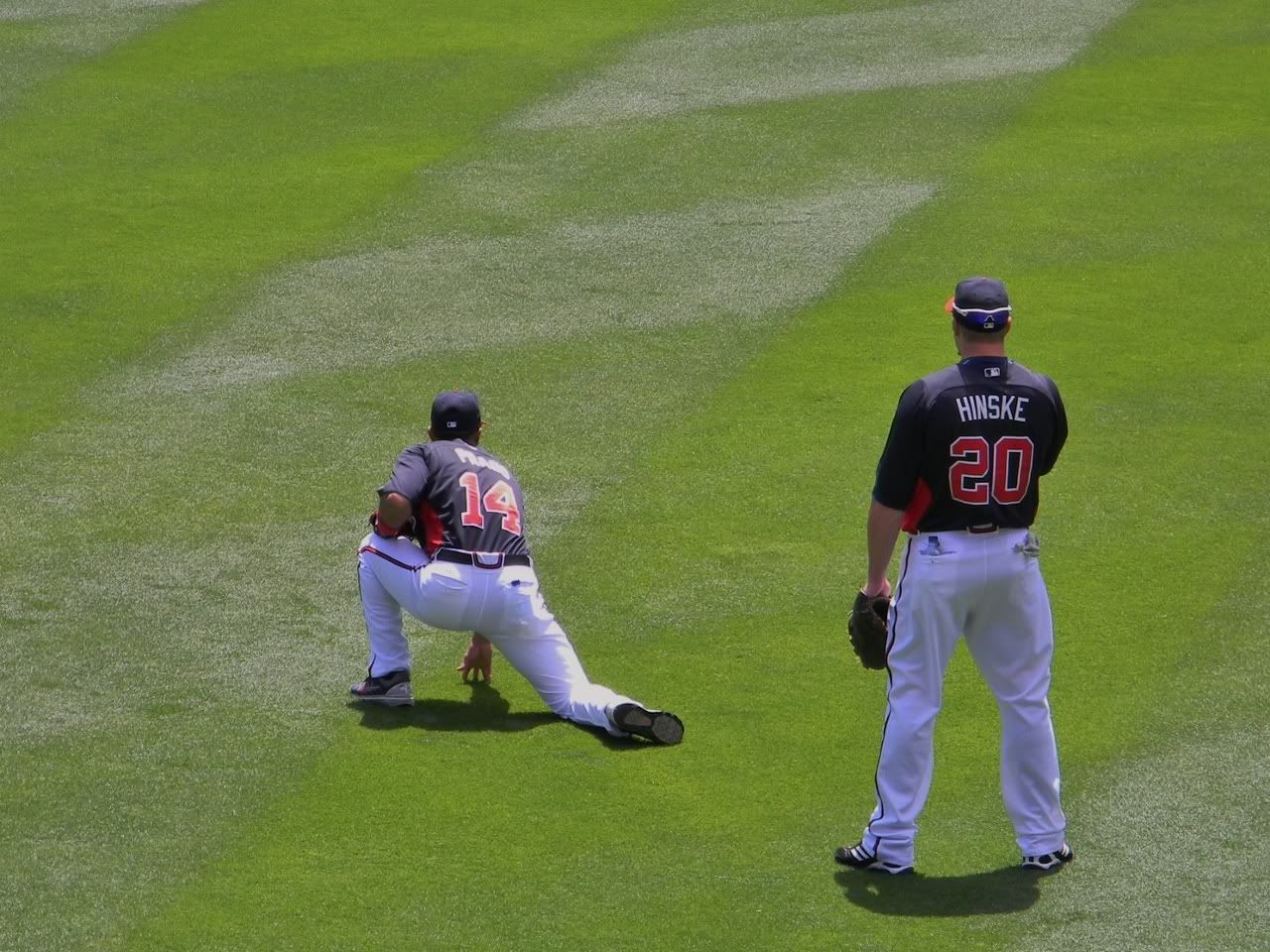 Before Prado started dancing to the club music. Seriously, those of you who skip beepee and show up for first pitch (or at the end of the second inning) miss sooooo much! ❤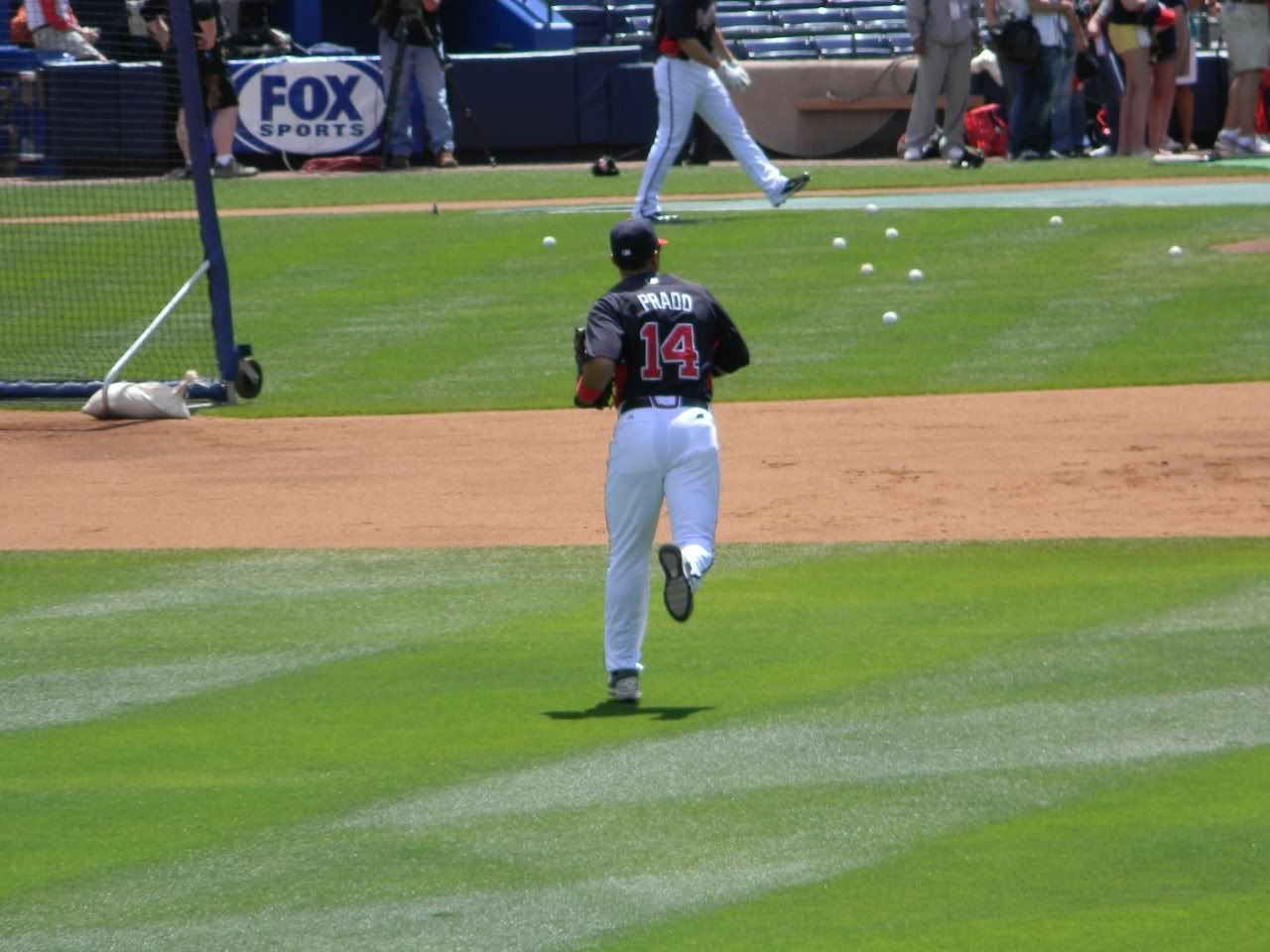 Dancing while running in to hit!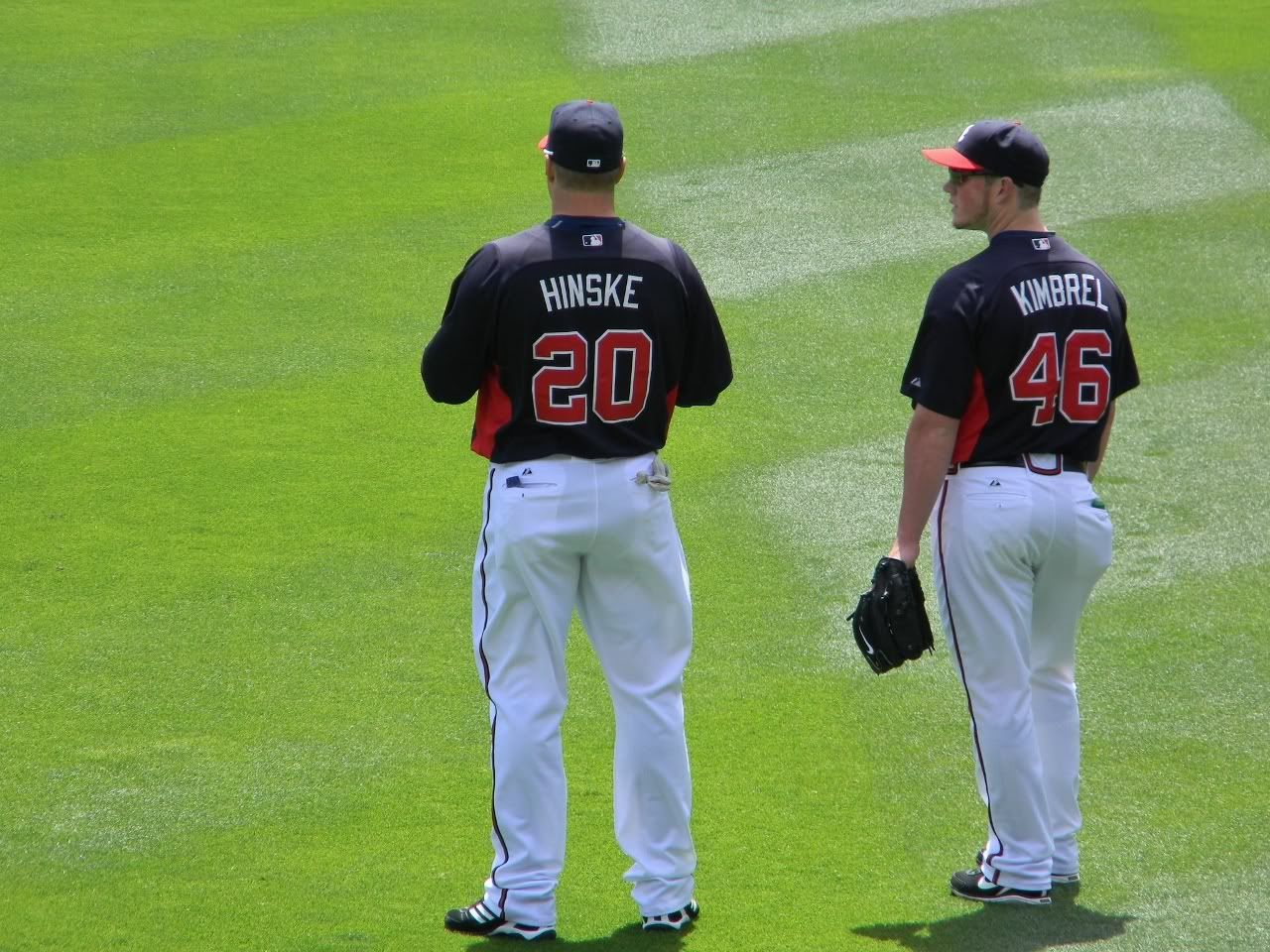 actual IM conversation
Lauren: wanna see maybe my fave pic of Kimmeh's 'donk I've ever taken?
Alison: haha
Alison: yes
Alison: I enjoy looking at his apple behind.
Now, I did give y'all
a heads up about this on Twitter last night
. ;) Don't worry, this isn't a Butt Blog and I don't plan on it ever becoming one. But 1. I can't help it if the seats face their backsides, can I? 2. The massage therapist in me really, really misses working on pro athletes. The muscle tone - it is different. Seriously. (I did my externship in massage school in minor league hockey.) And 3. most of my pictures are accidents. I am a fan, not a pro photographer. This was an accidental shot that makes him look pretty dang good.
OK. Moving on. :D
Before he started game 2, I was concerned Beardy Rossy was turning into a player-coach. He stands on the top step, hardly gets any time in the game, and look, here he is hanging out with all the... well, the staff, not the players. But then he started game 2 and did a fantastic job of it. :)
Braves BP seemed very short - I'm sure it's because they were playing two games. We went up to the Chop House to get some field shots (see below) and then over to right field so Alison could try to get some shots of the Mets she likes before she had to leave. I only got two pics of a Met,
Chris
Capuano
, who was Socks Up! and totally scoping out Alison's camera. Mmm hmm.
View from the front row of the Chop House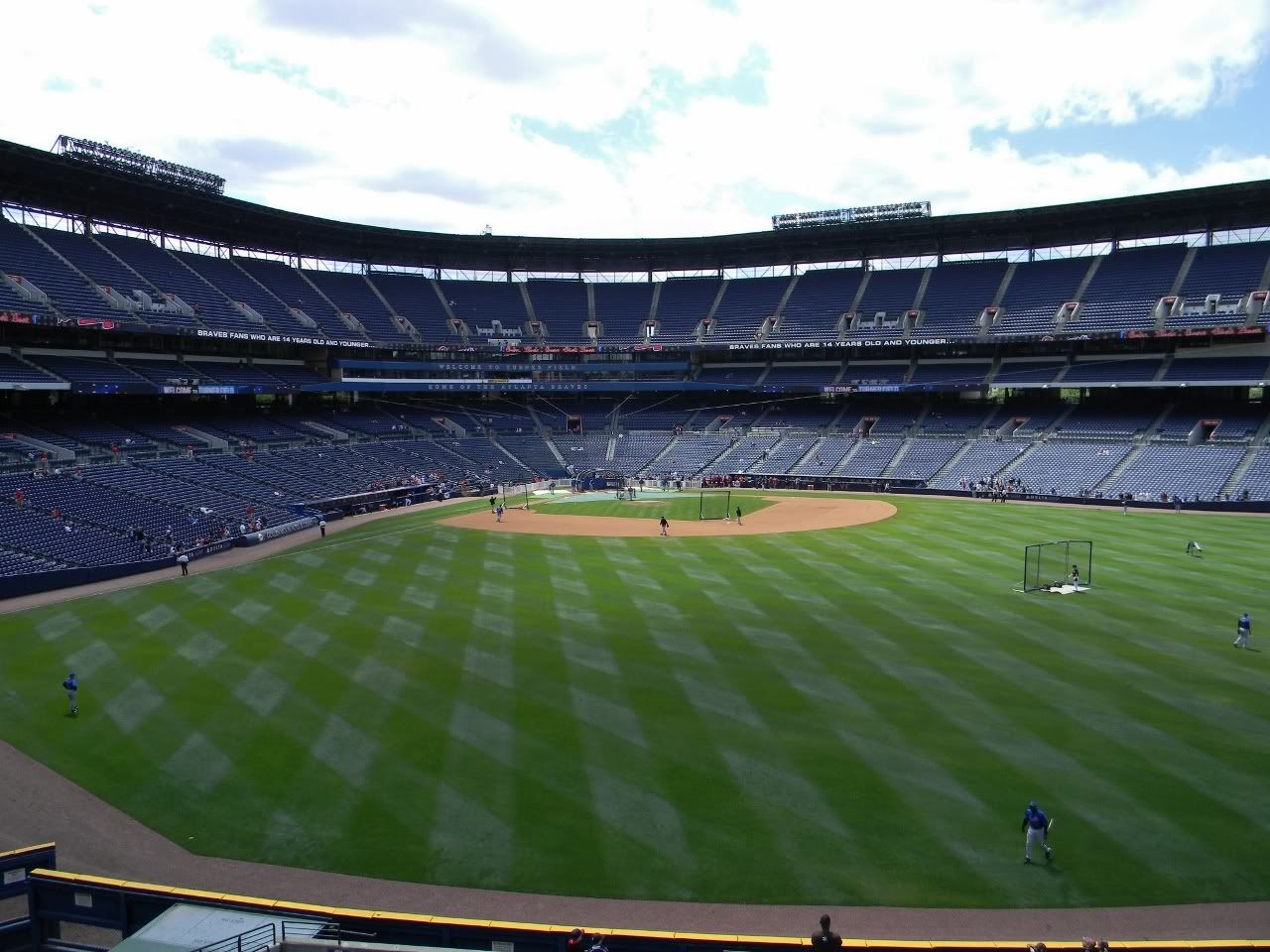 The sun was going in and out of the clouds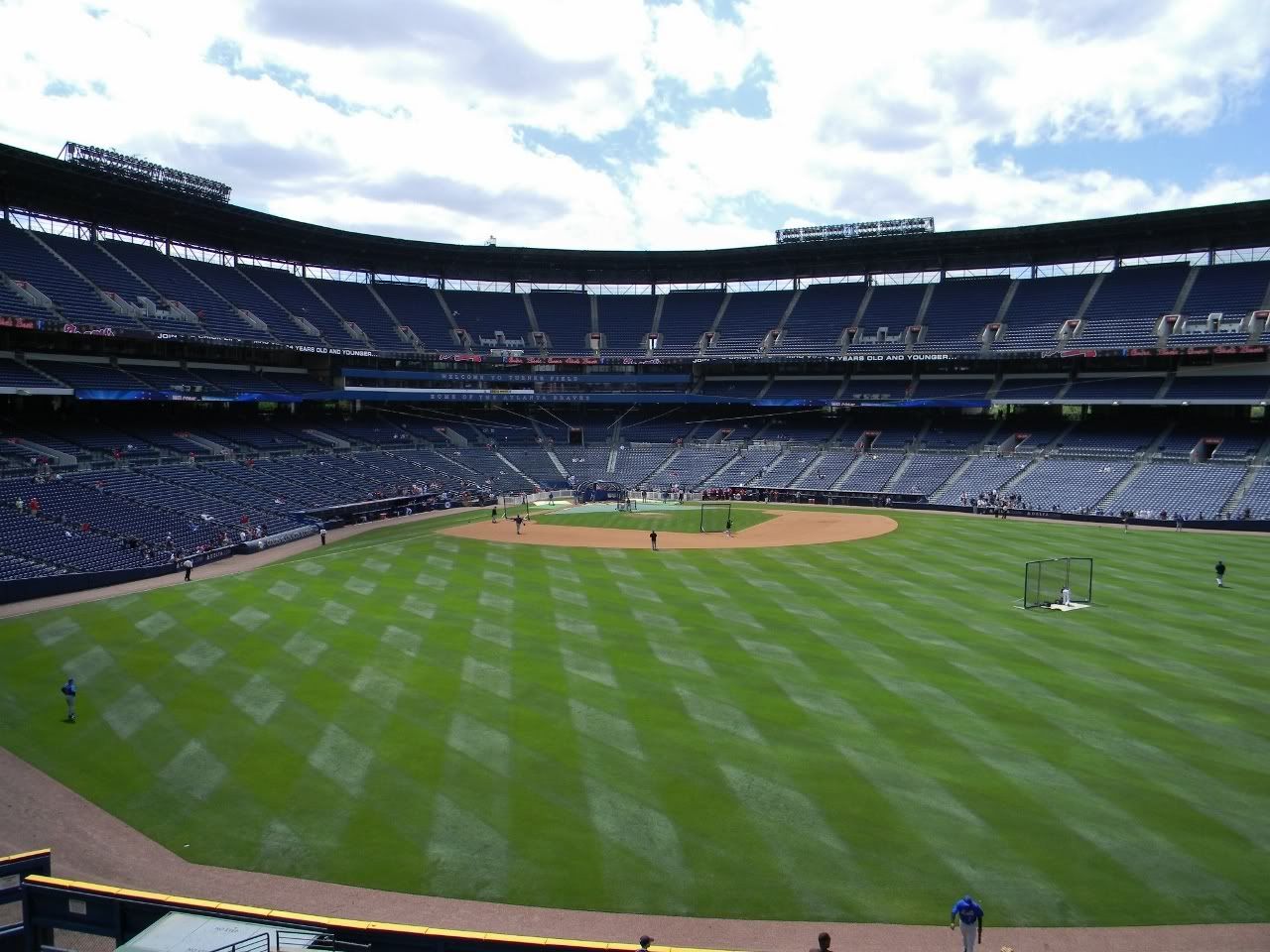 It's especially nice before everyone starts being smoky all over you.
Alison had to go take care of a family matter and I had plans to watch the game with my lovely friend Jenna in her season-ticketed seats anyway (love you, Jenna!), so Alison went home (hopefully to come back for game 2? she never made it though. sad.) and Jenna and I met up and the bullpen where I took some warmup pics.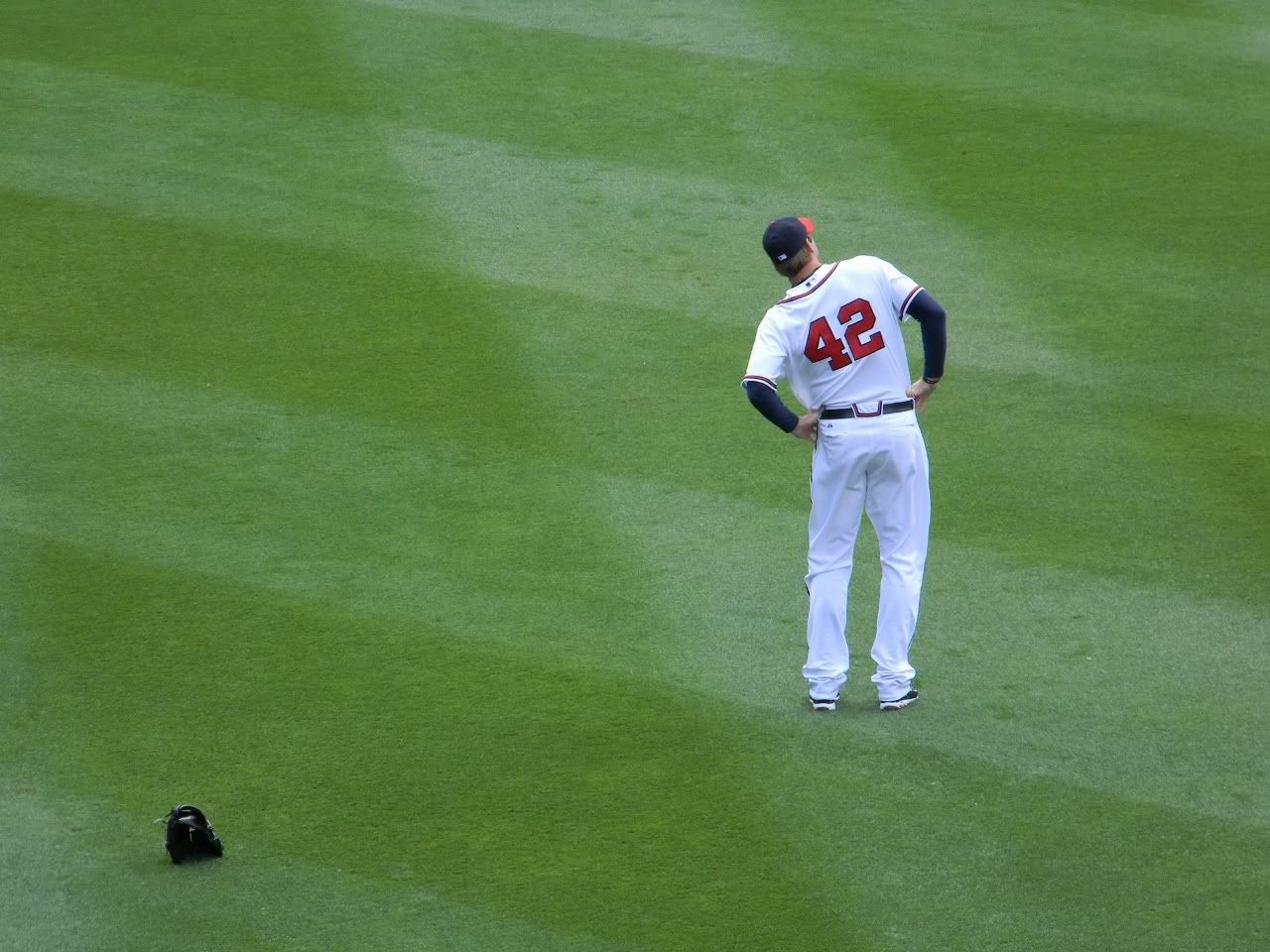 DLowe! Everyone's wearing #42 for Jackie Robinson Day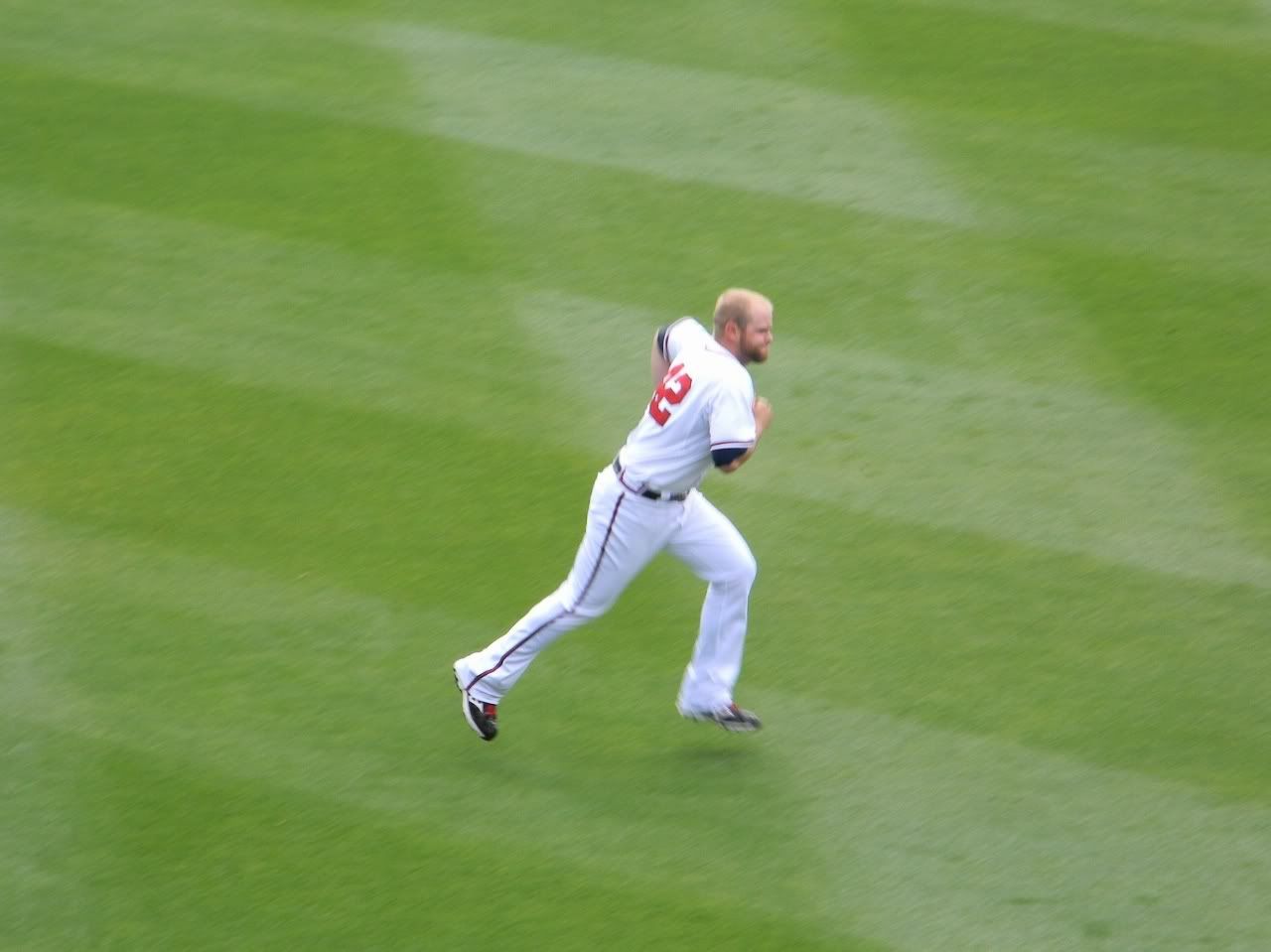 BLAZINGSPEED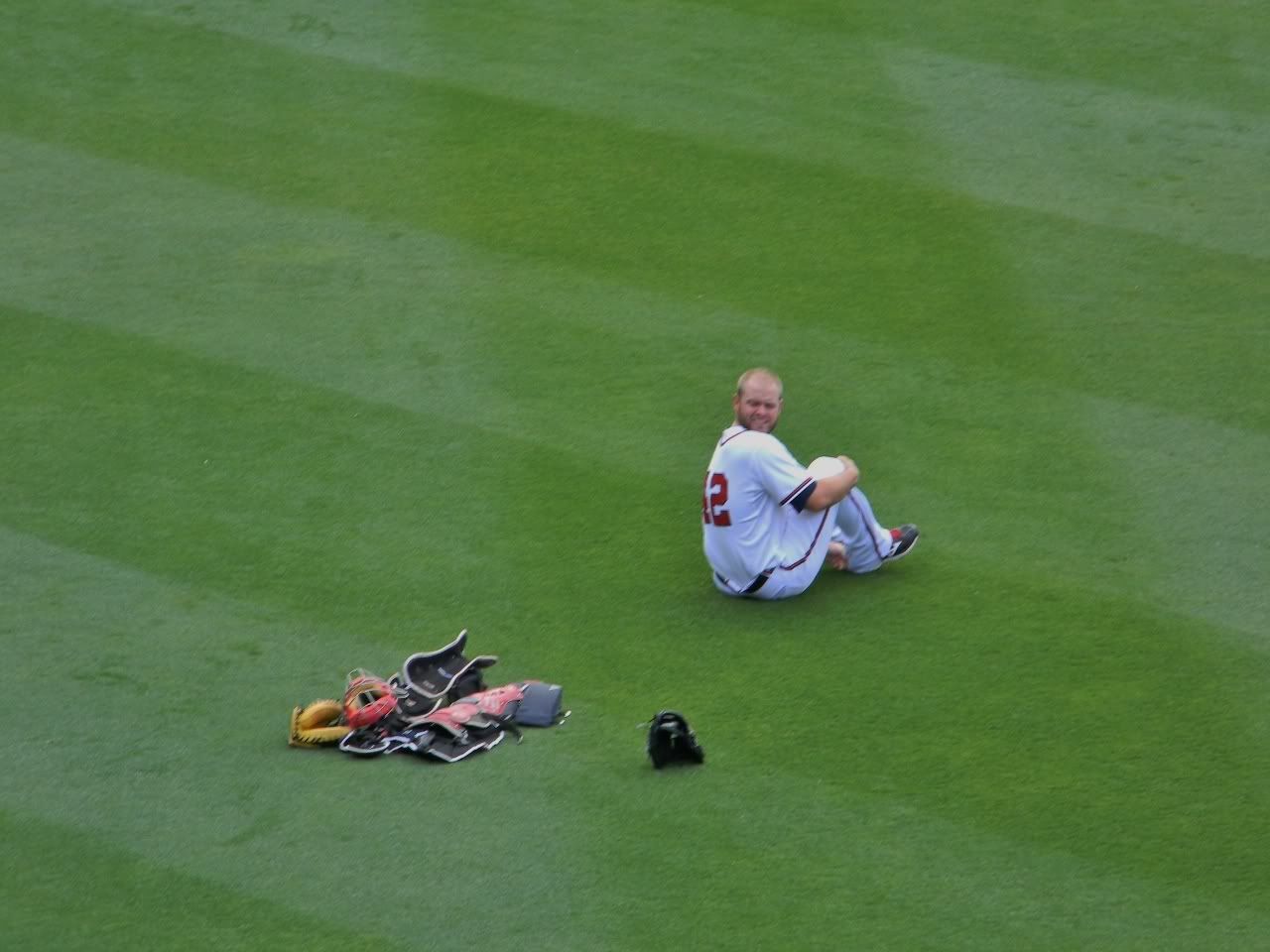 "Hi Dad"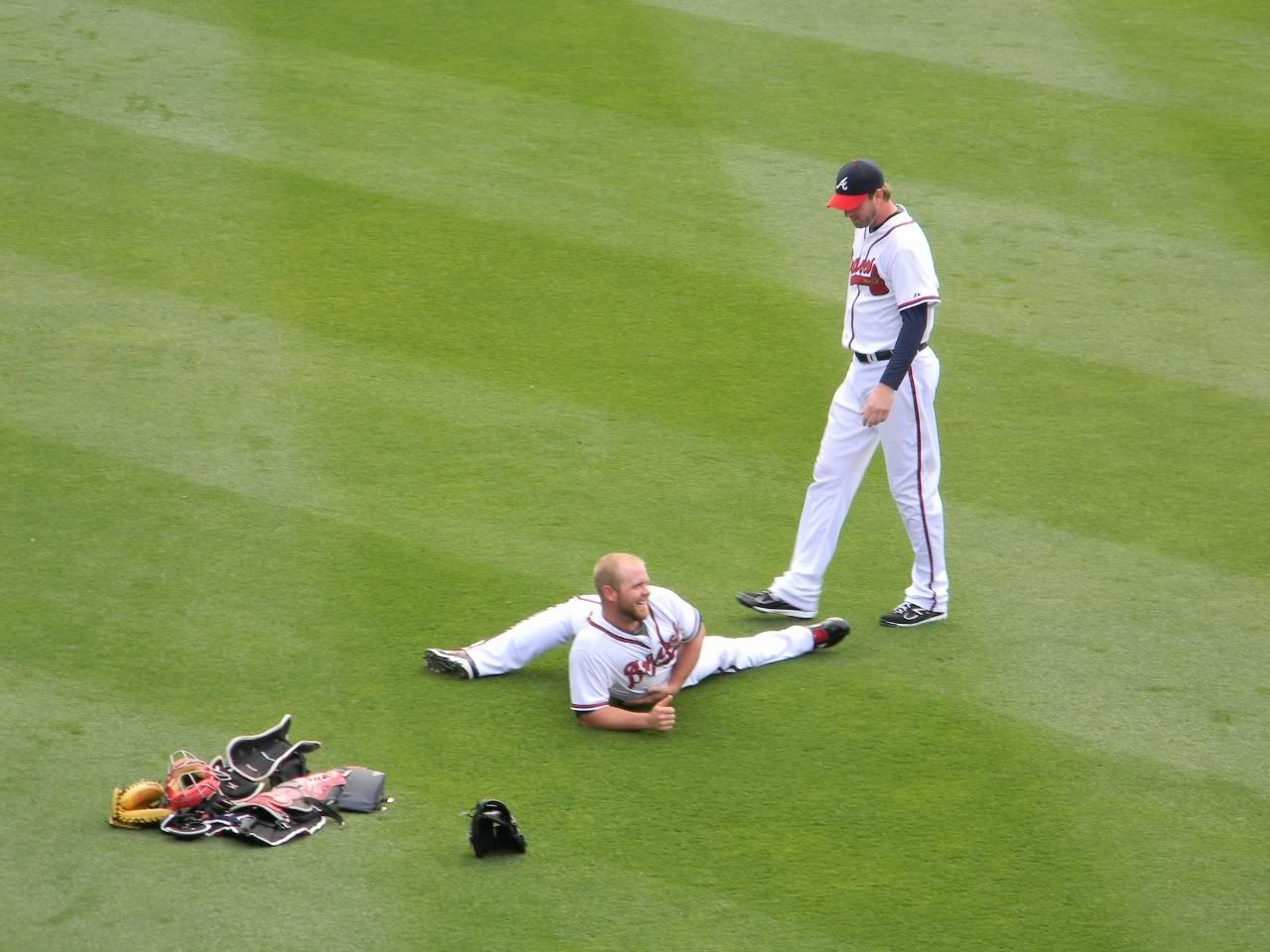 Watching Rossy interview him on the jumbotron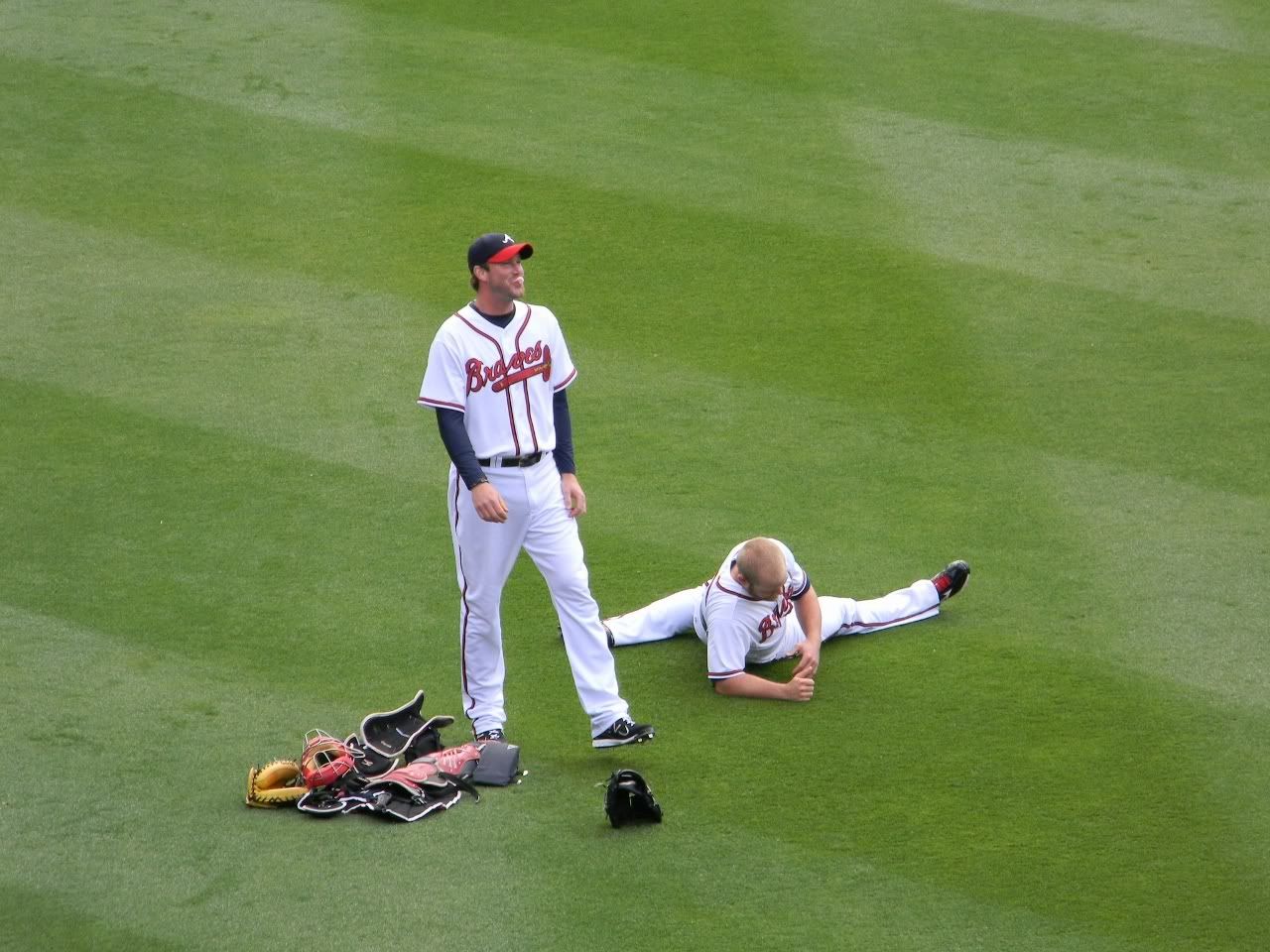 DLowe - and the rest of the stadium - laughed when Rossy asked, "boxers or briefs?"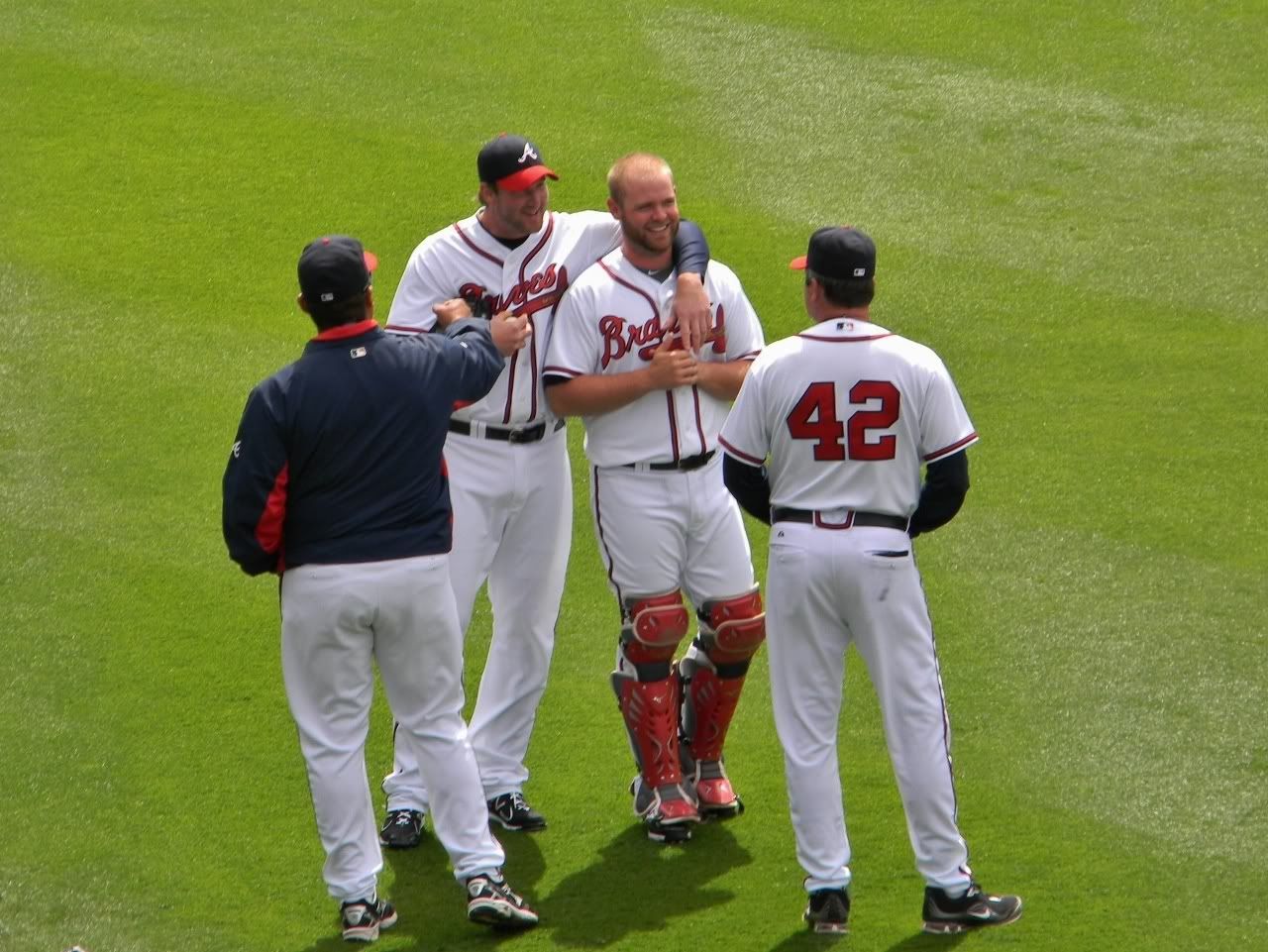 A few people asked on FB and Twitter - that's Eddie on the left and Roger on the right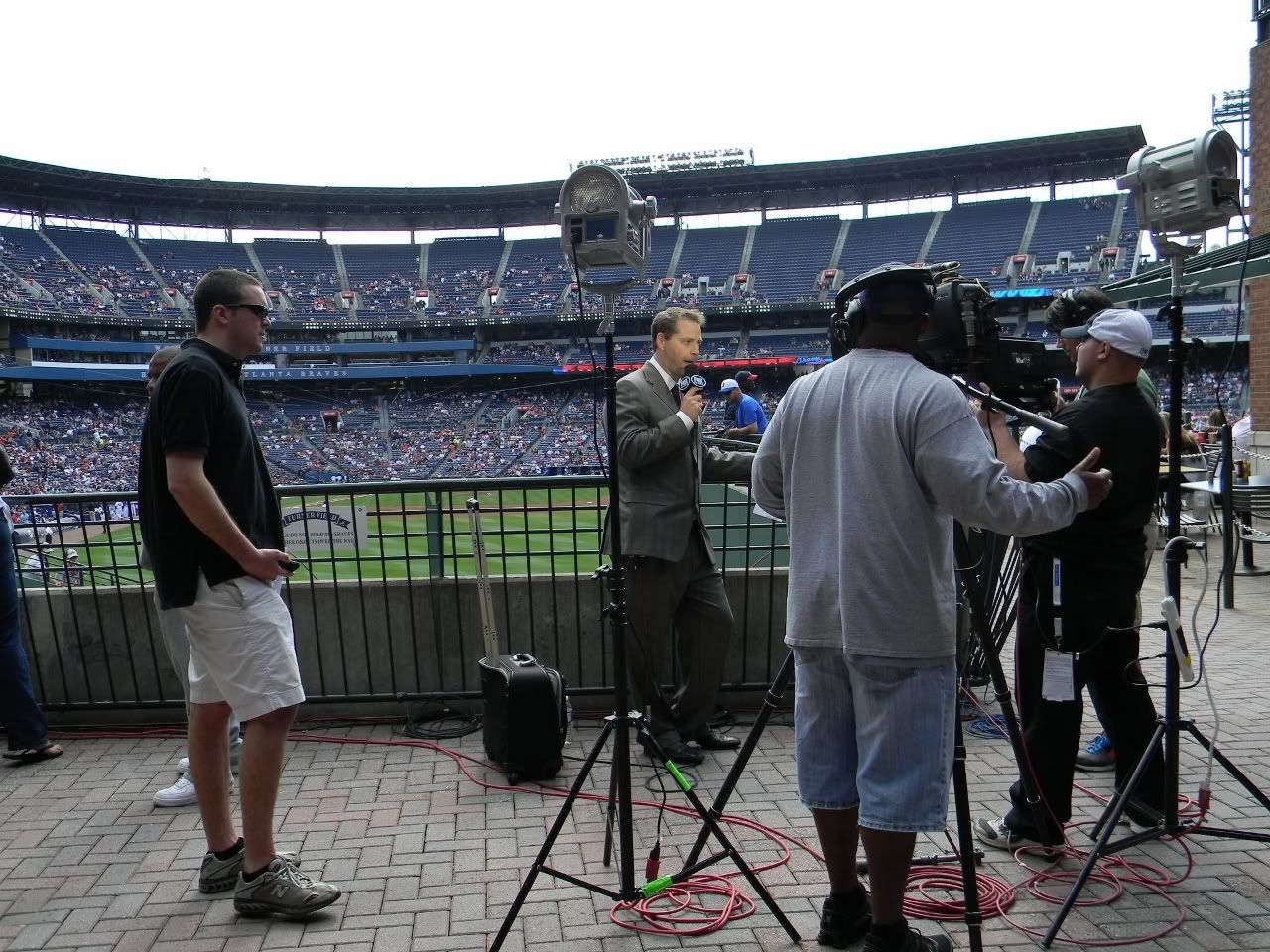 CHRIS ROSE. LOVE. Remarkably handsome in person.
GAME TIME. Jenna's seats are in the Golden Moon Casino level. It's taken me a while to stop calling it the Lexus level, and it still slips out sometimes. Most of the time I just call it the "club level" to keep it safe. I had dropped my gameday program - with ticket inside - somewhere in the stadium. If you're keeping count, I'd sat in a minimum of four locations at this point, and it was really more like 7 different seats. There was no telling where it was, and losing my ticket was making me a tiny bit distressed. I am usually very organized! Luckily the ticket office was super-friendly and helpful (as usual), and Natalie re-printed my ticket right up. Amazing. We missed first pitch (sorry Jenna) :( but at least I got in!
Look, Huddy's in the bullpen! There, on the left! Why's he out there? Entertainment? :D Of all days to not be out there...
Little more zoom, definitely Huddy, love it when Jonny sits that way, Kimmeh's getting comfy too, I see. Where's the rest of the 'pen? ;)
JAVY!
Not having a heat stroke!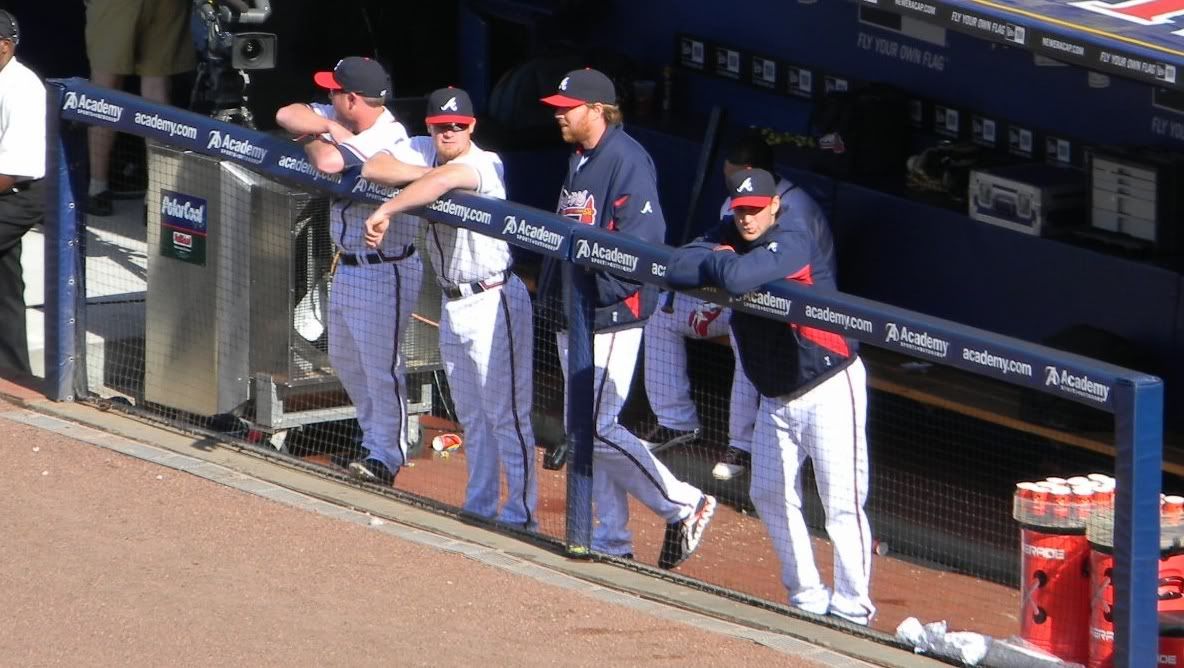 Beachy.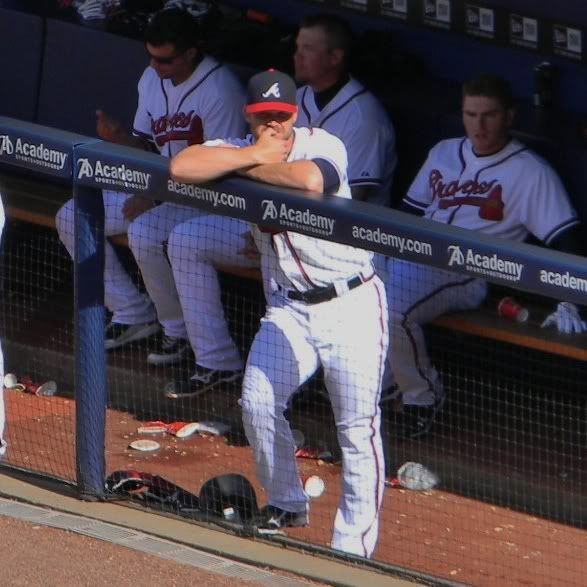 Rossy was mic'ed, but we only got to hear him sing once on the broadcast. ...for about 2 seconds. *sigh*
It amuses me when the boys play the jumbotron games...
...but this game is ridiculous. You have to guess if a player's batting average is higher or lower than the previous player's batting average. What average fan is going to win this in April?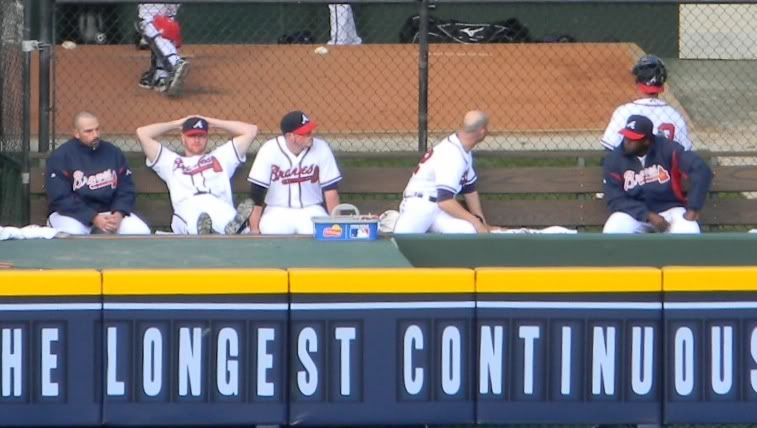 Seriously, it seemed like every time I looked over there JV was sitting all relaxed and loungy. I love it -- save that energy for pitching, babe. :D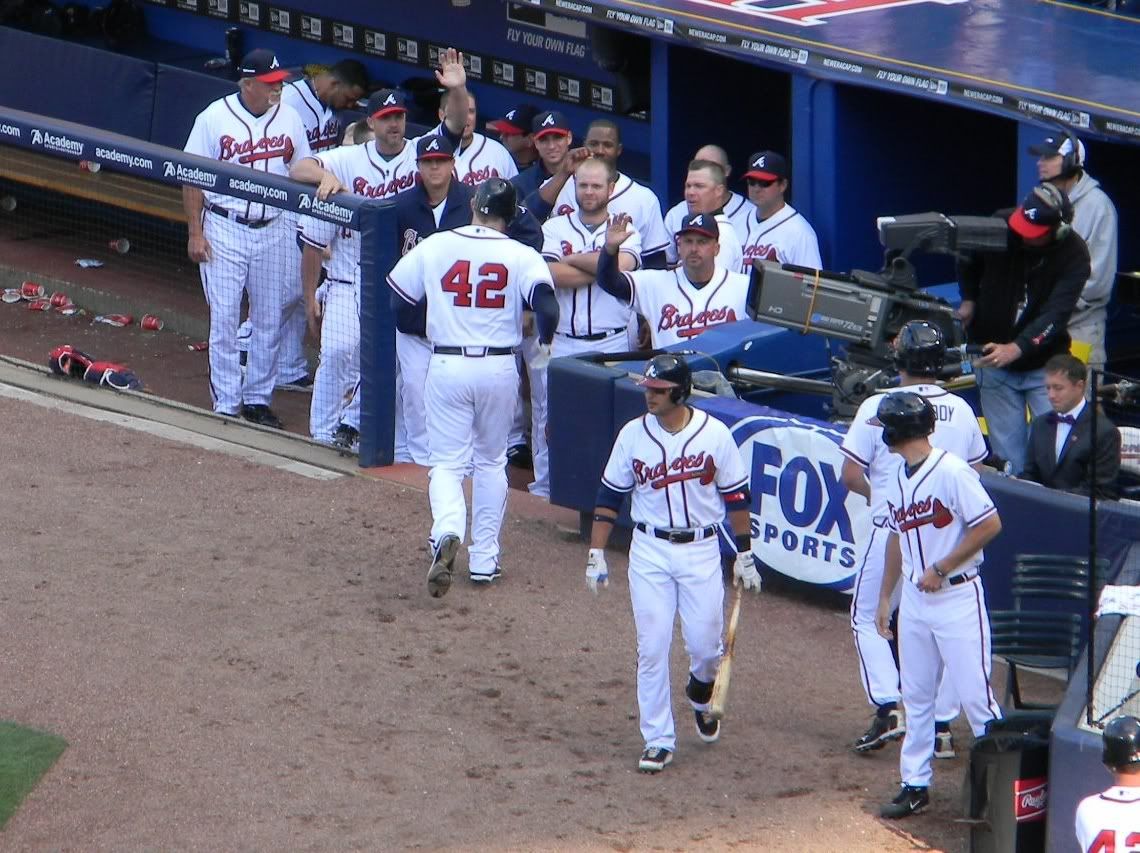 Freddie's first homer of 2011!
(look at Mac's reaction)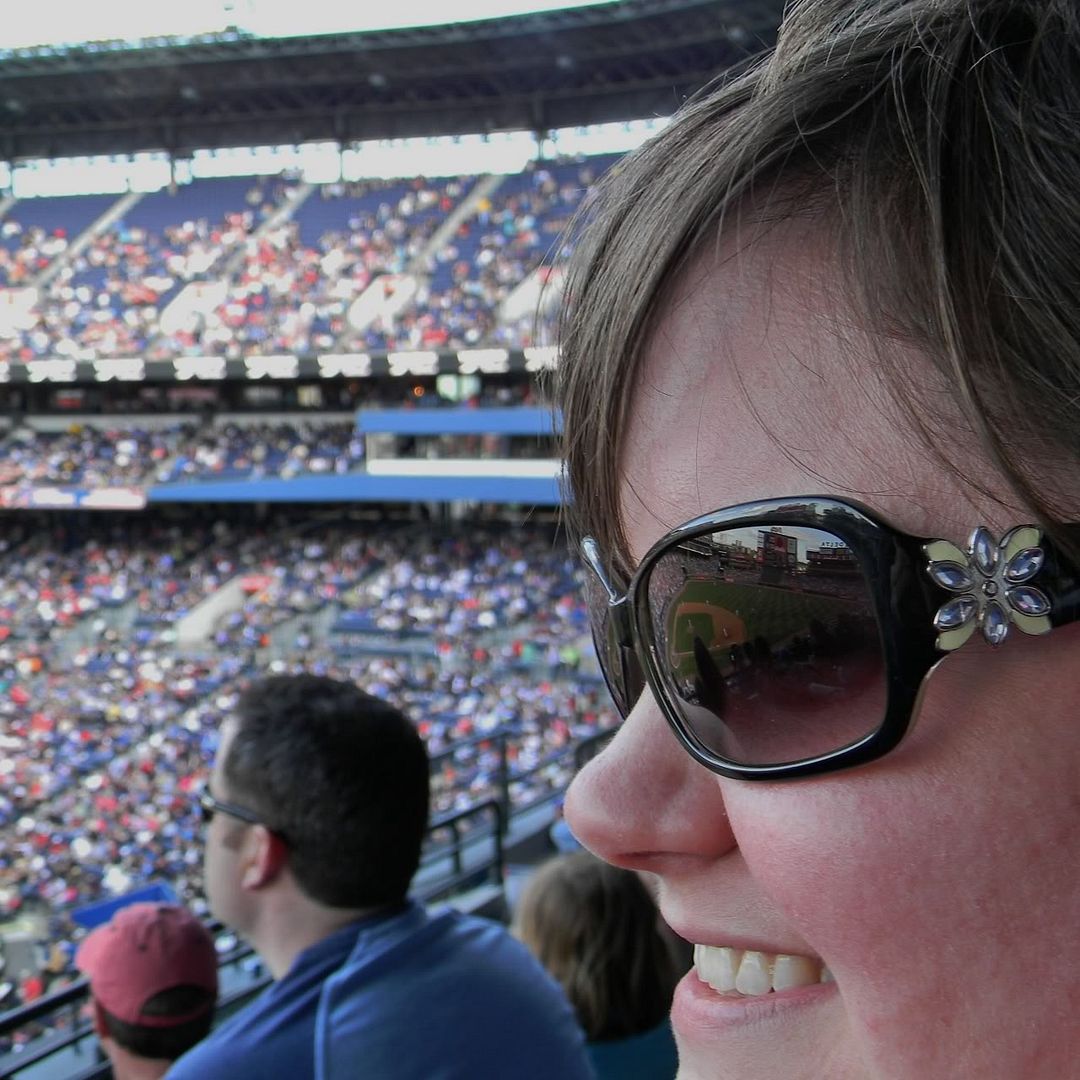 My lovely hostess. I also tried to take a pic of us for Twitter, but none were coming out well and I finally got tired of it and posted this one. :D
Sport-continuous shots of one of Jonny's warmup pitches
The wind was really whipping. Also, JV's been doing a little lean-back before he pitches -- like MattE-lite.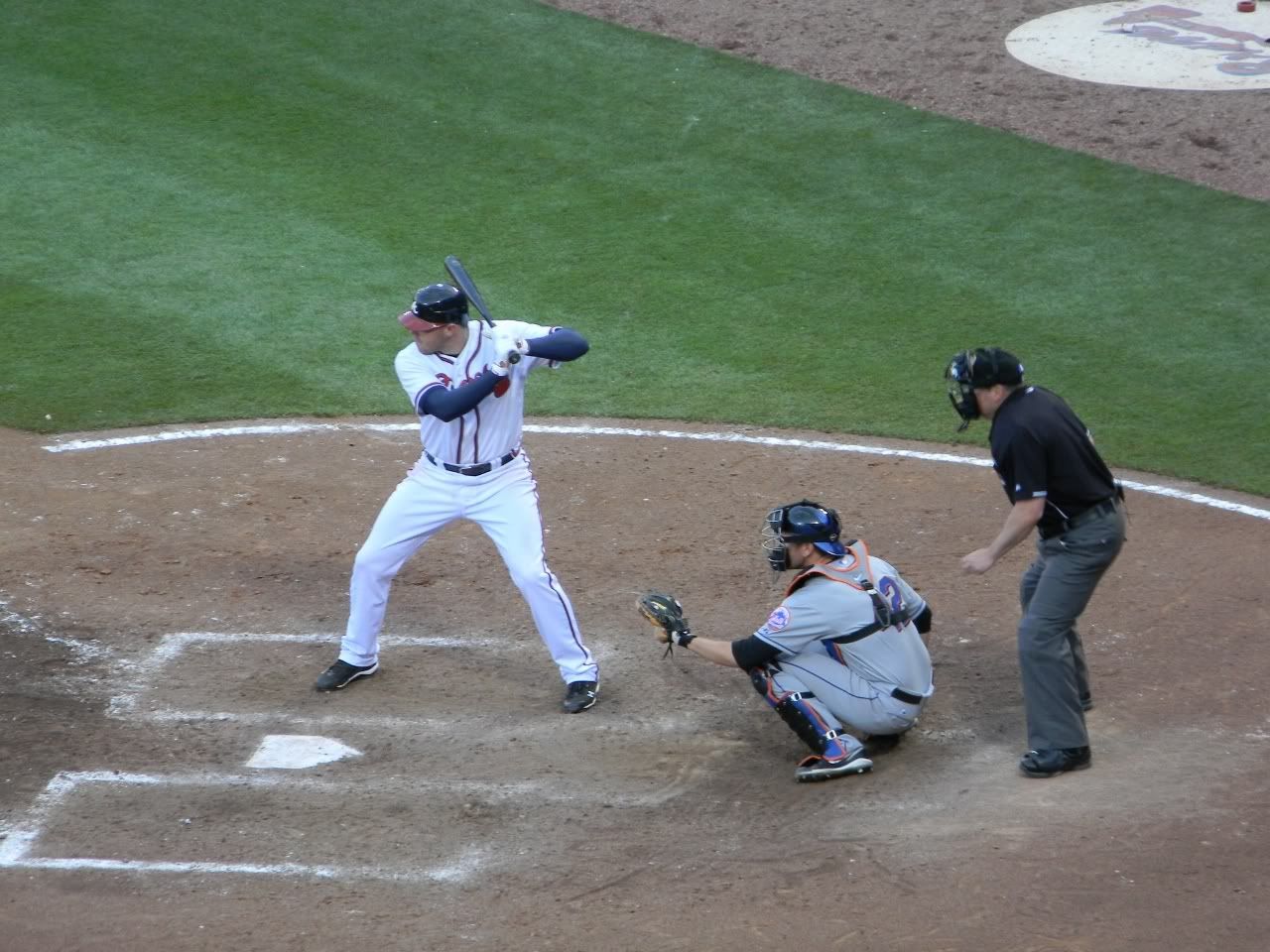 Freddie just looks huge this season
Look who has his own closer's intro! I LOVE the blue/gray smoke. You don't even see the flames, because you've swung and missed. Sit down, son. :D
Kimbrel in for the save
(did a little exposure saturation on these - love how it came out with his cheeks)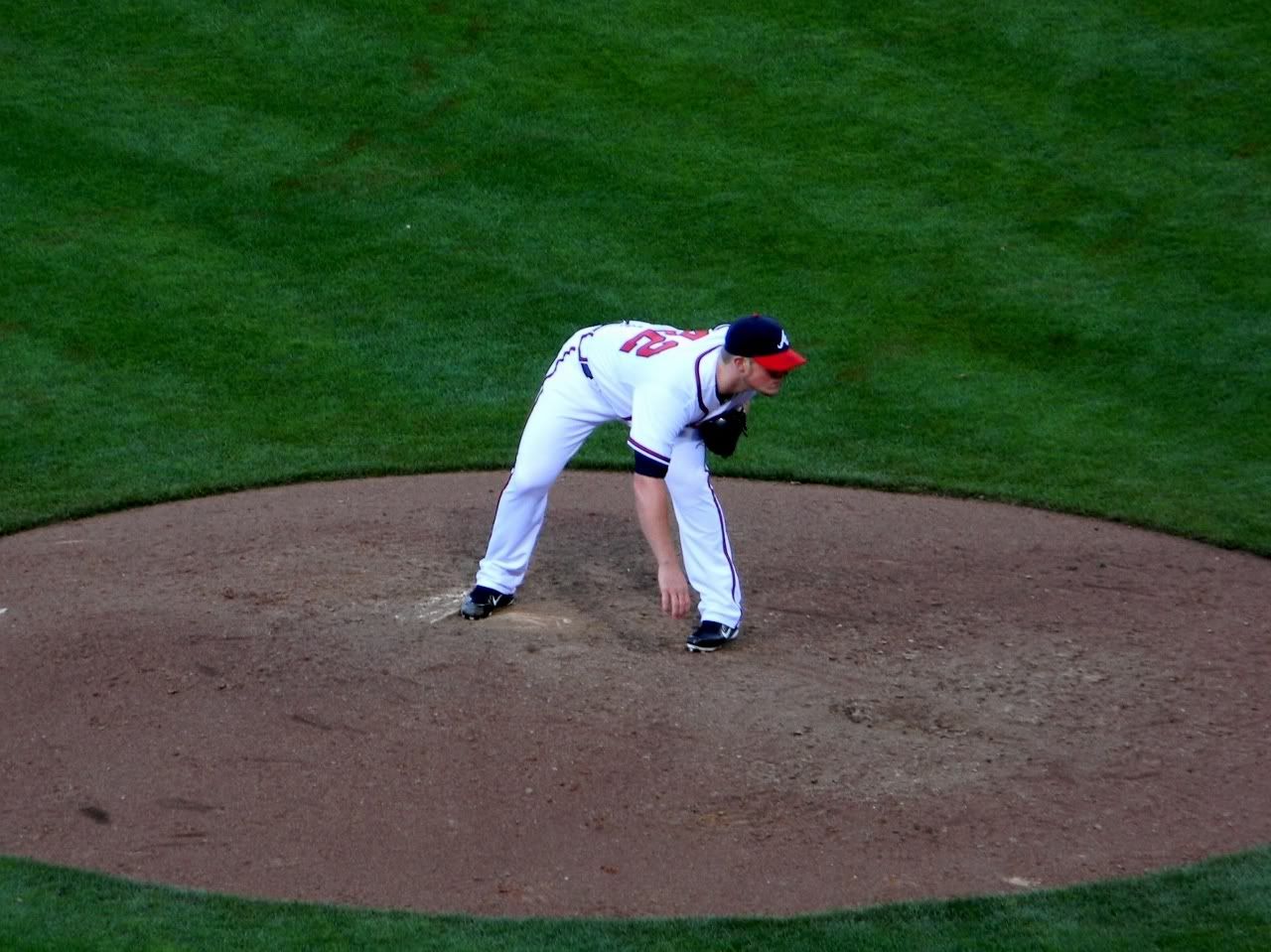 Alison: that unfortunate chinstrap
Lauren: I know. He's from Alabama. Maybe no one's told him.
Alison: Molly. Tell him.
Molly: ha. ha. yeah, next time we're hanging out I'll mention it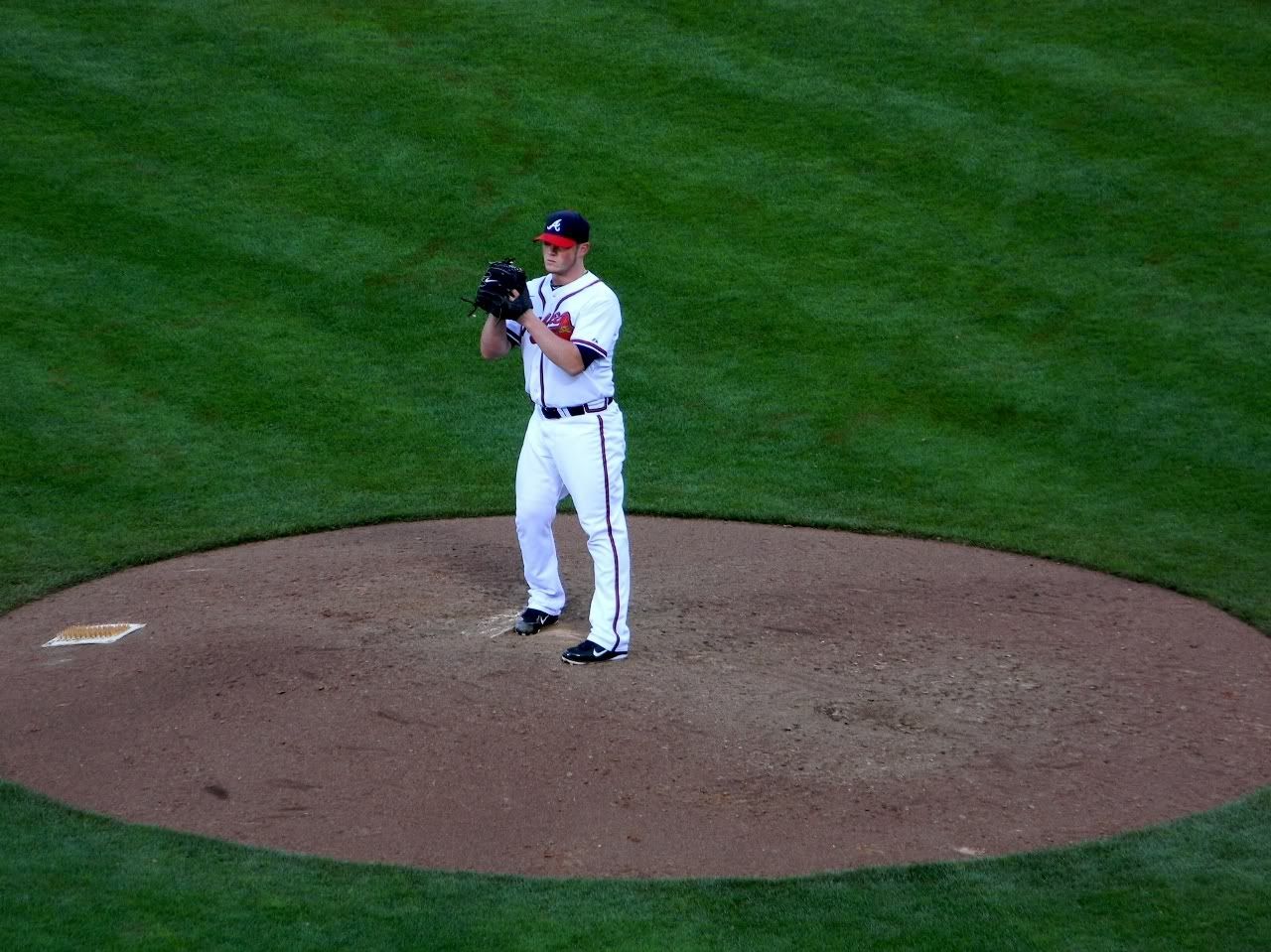 Get 'em, Kimmeh!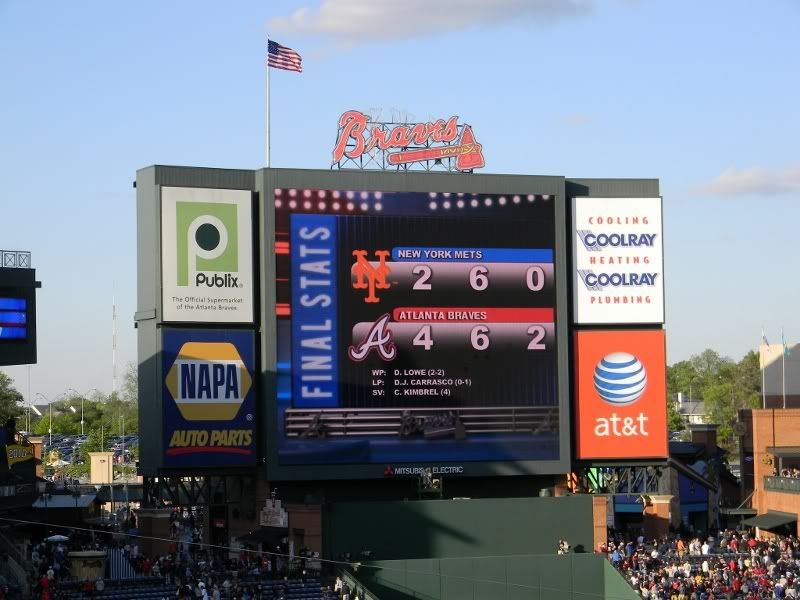 Braves win game 1!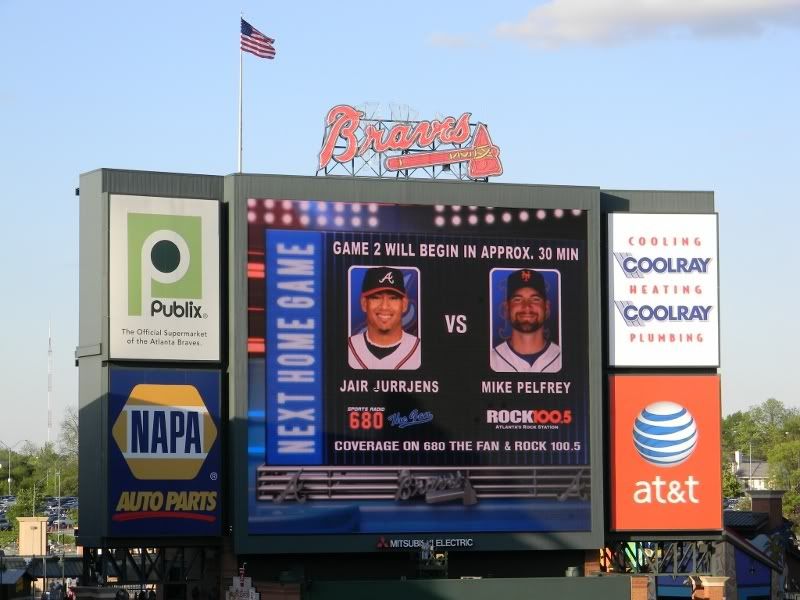 30 minute break before Game 2!
~ * ~ * ~ * ~ * ~ * ~ * ~ * ~ * ~ * ~
Now, here's something interesting... I can't speak for the entire stadium, but the GMC level wasn't initially serving food OR beverages during the break. Um, it's 7:00. It's dinnertime for normal people. We're ready for food! It would be good for the overserved people to get food in them before the second game starts! ;) Well, they weren't serving drinks either, and people were
very
upset about that. They did reopen the food lines but weren't serving beer until the first pitch. I asked a few food-service employees the reasoning on this, and they said they didn't know; they were just following orders. If they had to guess, they would assume it was so the people drinking all afternoon would have a break between games. (They did stop serving in the 7th inning of game 1, as if it was a normal game.)
Hi JJ!
Look who's getting at-bats!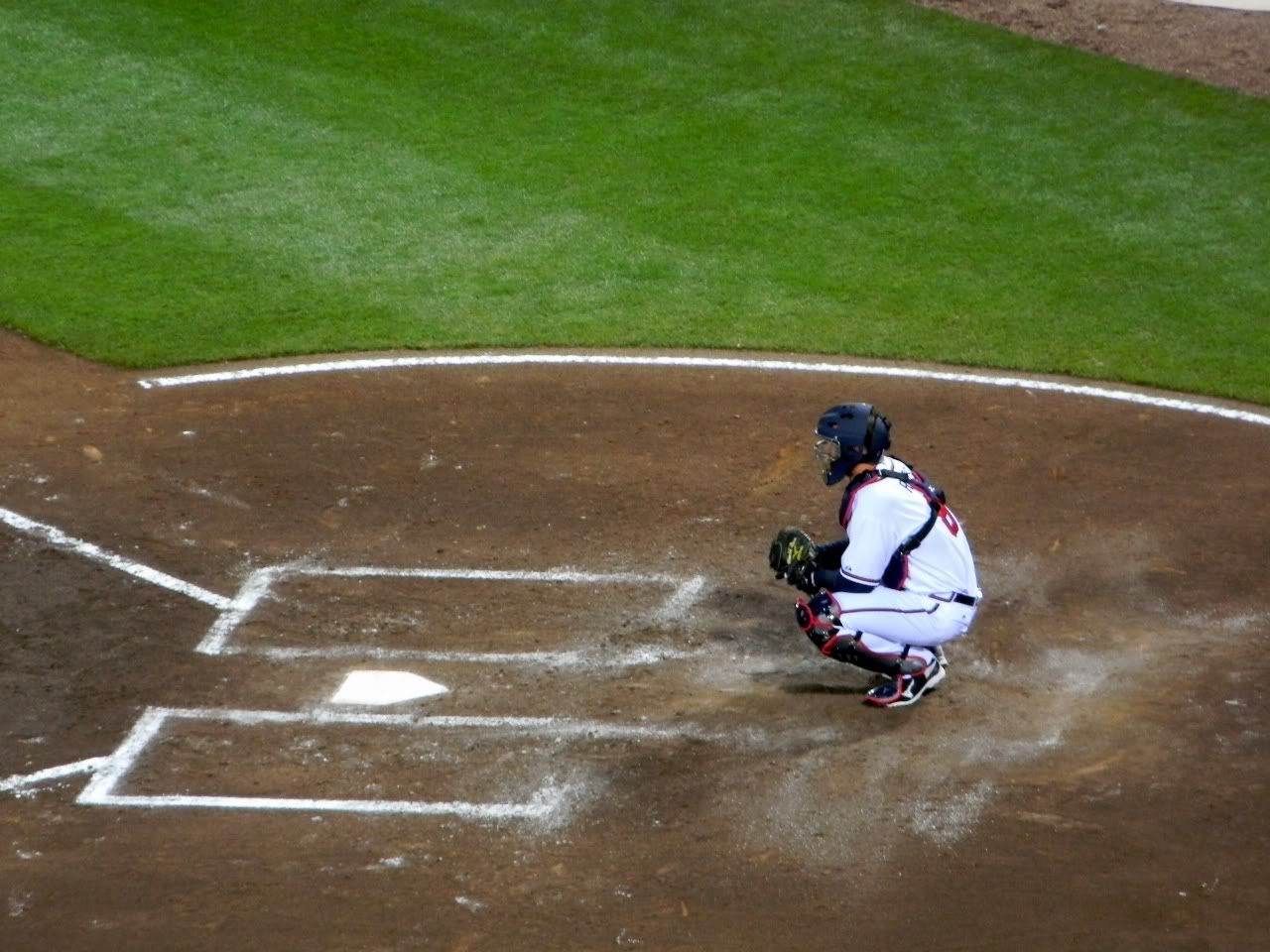 And starting!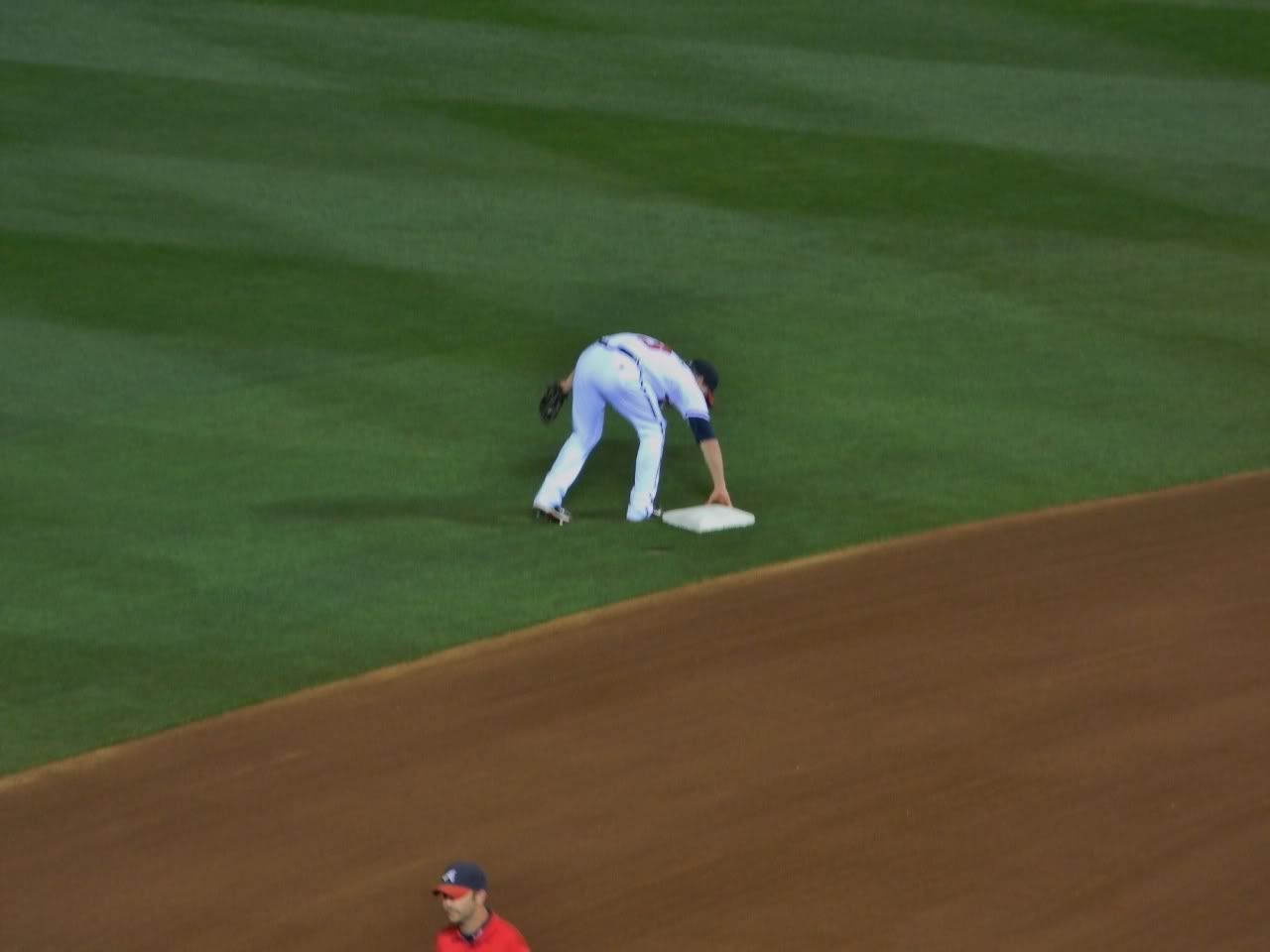 Nate assisting with the stolen base challenge!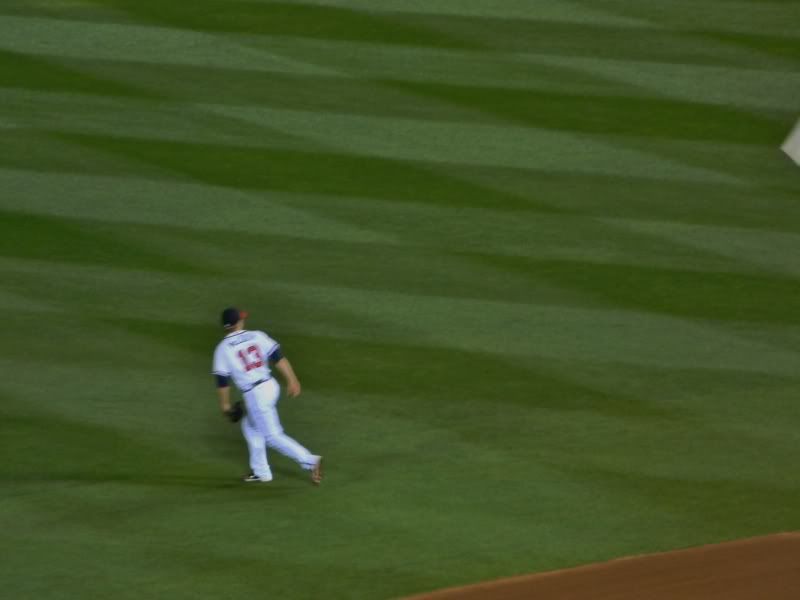 Good boy, Nate!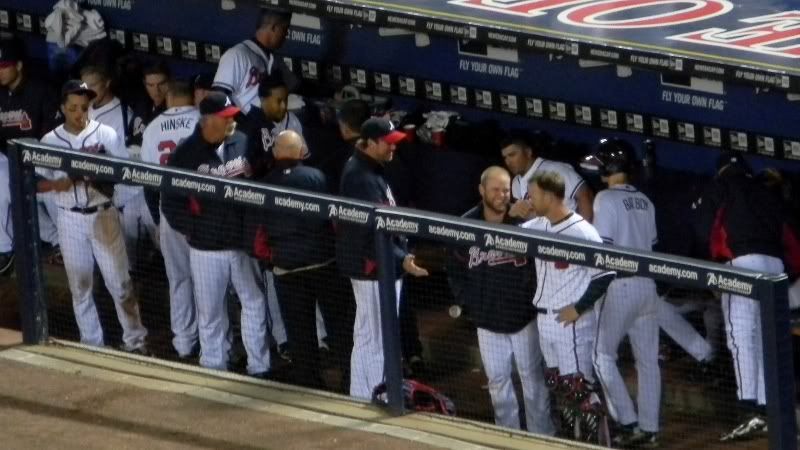 Everyone wanted to hear about Rossy gunning down the runner
Sherrill took care of business! He was awesome.
Warmup jacket! Regular hat! No pads! I don't know this Mac!
SCOTTY! Also shutting them down.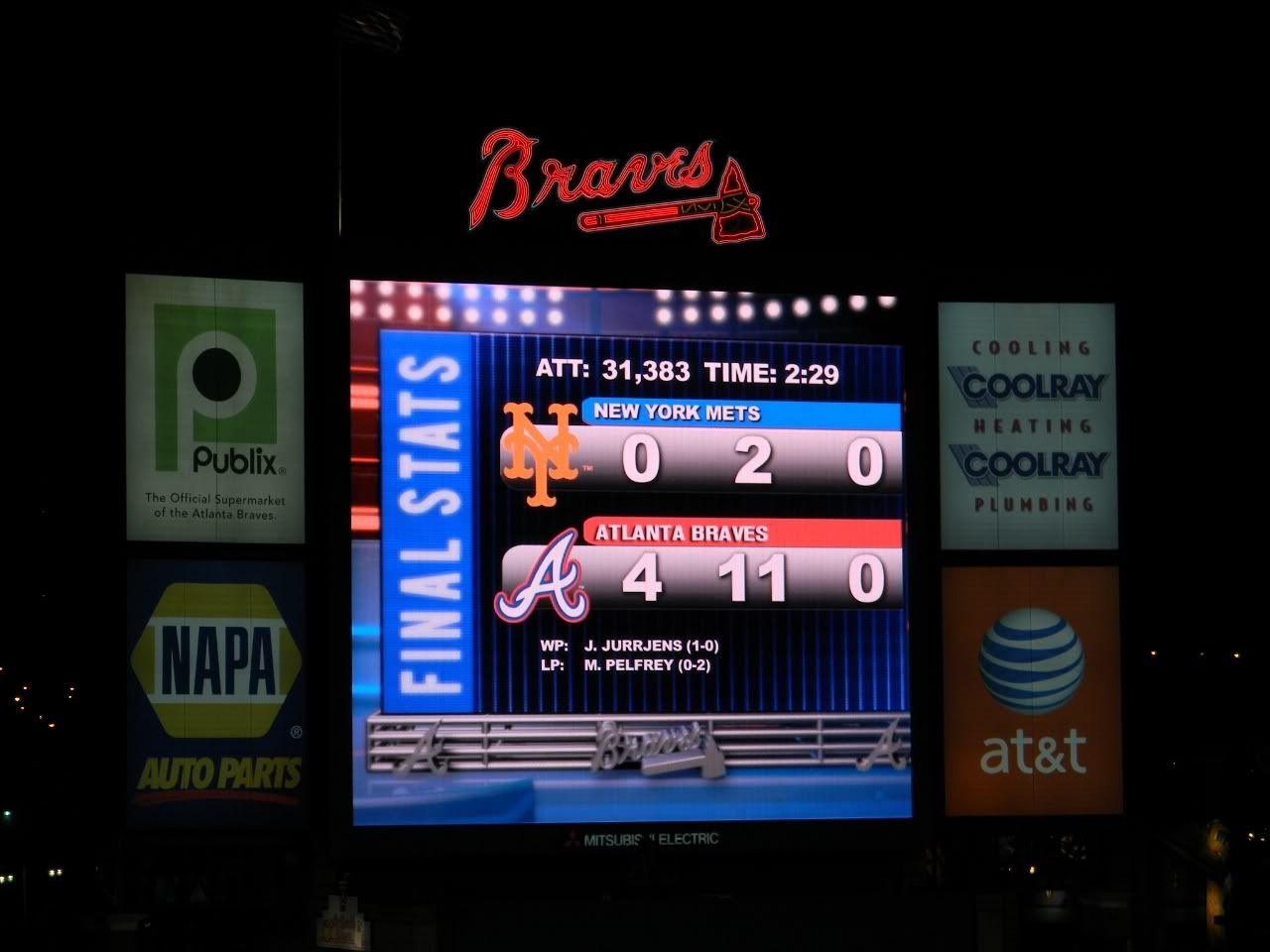 BRAVES WIN GAME 2!
What's better than beating the Mets? Beating the Mets twice in one day!!
Full album here
, with beepee and both games all together. Putting out good vibes for a winning west-coast road trip, boys! Enjoy California!