Afternoon view from section 233L.
Shade was important today, and Stubhub is awesome.
1. I almost never leave games early, and somehow, I've left two games early recently. I blame this one on going the previous night, the super rain delay, and...
2. Alison and I went to the CNN Center for the Jonny Venters autograph session that morning.
3. He was awesome, of course.
Since I have Jonny's autograph on a few things and I think autographs are kinda dumb anyway, I didn't take anything for him to sign. Instead, I printed a few pictures I'd taken of him as a little present (my fave was the worst, photographically speaking - it was the one from
the 4/17 game
my friends fondly call "Deer Jonny"). Alison didn't have anything either and we had planned to just ask him for a picture.
SO bored, waiting in line
Lady passing out tickets (one autograph per person) was nice; lady guarding Jonny, not so much. We felt very rushed and even though Jonny greeted us warmly, his guard lady was still giving us the angry face so we barely had time to get a picture and move along. He seemed surprised the pictures were all for him -- don't be, doll. All for you. You're awesome.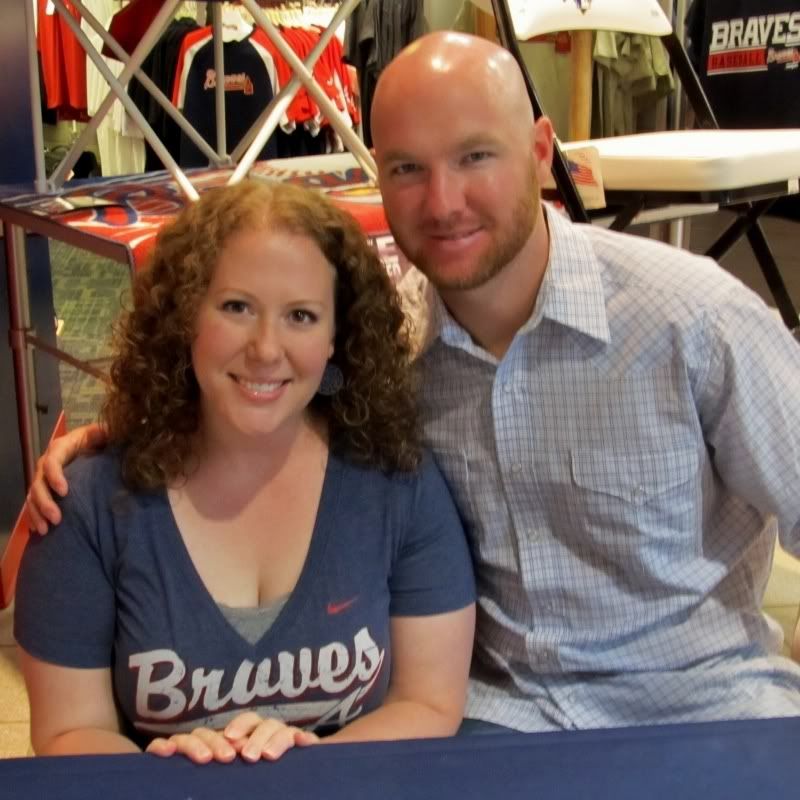 My fave Brave! ❤
After a little bit of discussion, Alison wanted to go back in line again. She felt weird coming to an autograph session and not coming away with an autograph, and she had a funny idea with a gift I'd given her earlier in the day. Me, on the other hand, I was good. I am pretty sure when we went back, he could tell I was like, *sigh*. Can't believe I'm doing this again.
Well, while we were in the (teeny) line (btw, where was everyone?), a guy asked us if we had anything for JV to sign. No, I don't, I said, and he handed us sparkling
gameday programs
. Cool! When we got to the table again Alison told Jonny why we were back and he grinned when I flopped the program on the table. I was kinda making a face - the real-life equivalent of :/ - but I said that I meant to tell him earlier to have fun in Arizona. ;) His face perked up a little and he tried to shrug it off, but come on, hon. We all know you're going to the All-Star Game, and if you don't, it's going to be a tragedy. I told him we're putting the good vibes out there! He's totally going.
As soon as we were finished I got pulled aside by blog reader Kolbi, who was so fun to talk with, and I got to see and speak with a couple other blog readers too. Hi y'all!
~ * ~ * ~ * ~ * ~ * ~ * ~ * ~ * ~ * ~ * ~ * ~ * ~
After eating the innards of a free Moe's burrito (thanks for the homer last night, BMac!), we headed to the Ted for BP. Let's look at pictures! Click to enlarge, as usual.
Bye Joe. :(
Ske & Rossy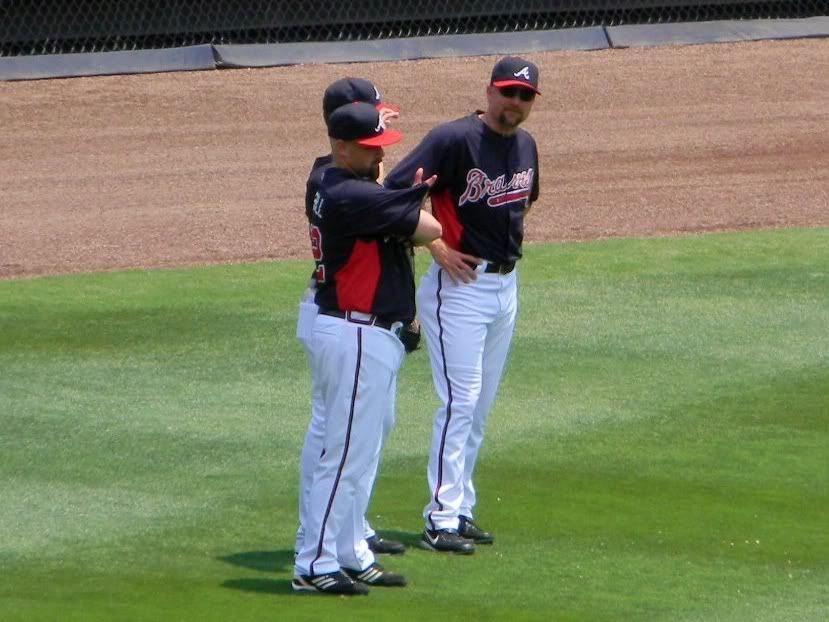 Sherrill, ?, Linebrink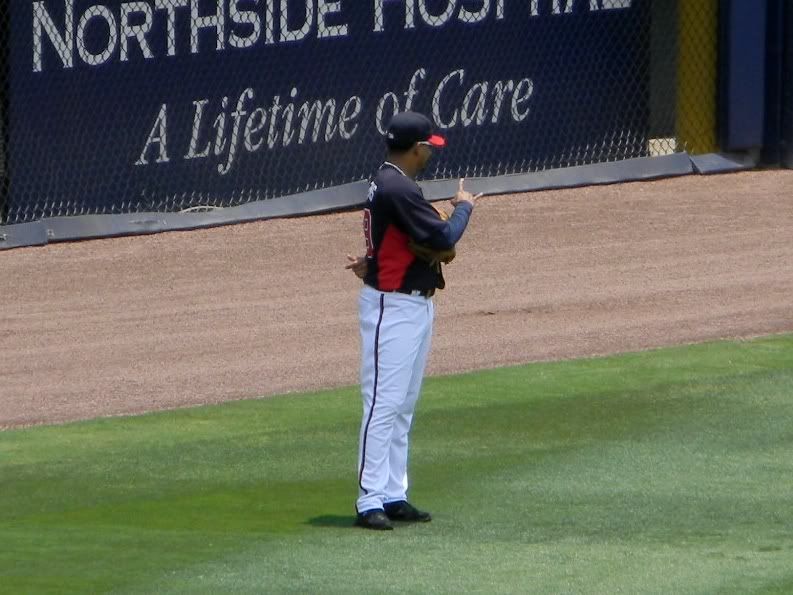 JJ! "A lifetime of care", haha! ❤
Hi Beachy
There are more Kimmeh shots in the full album than of anyone else. When you look in there you'll see why. ;)
MikeMinor's back in the minors now, but he pitched pretty well up here!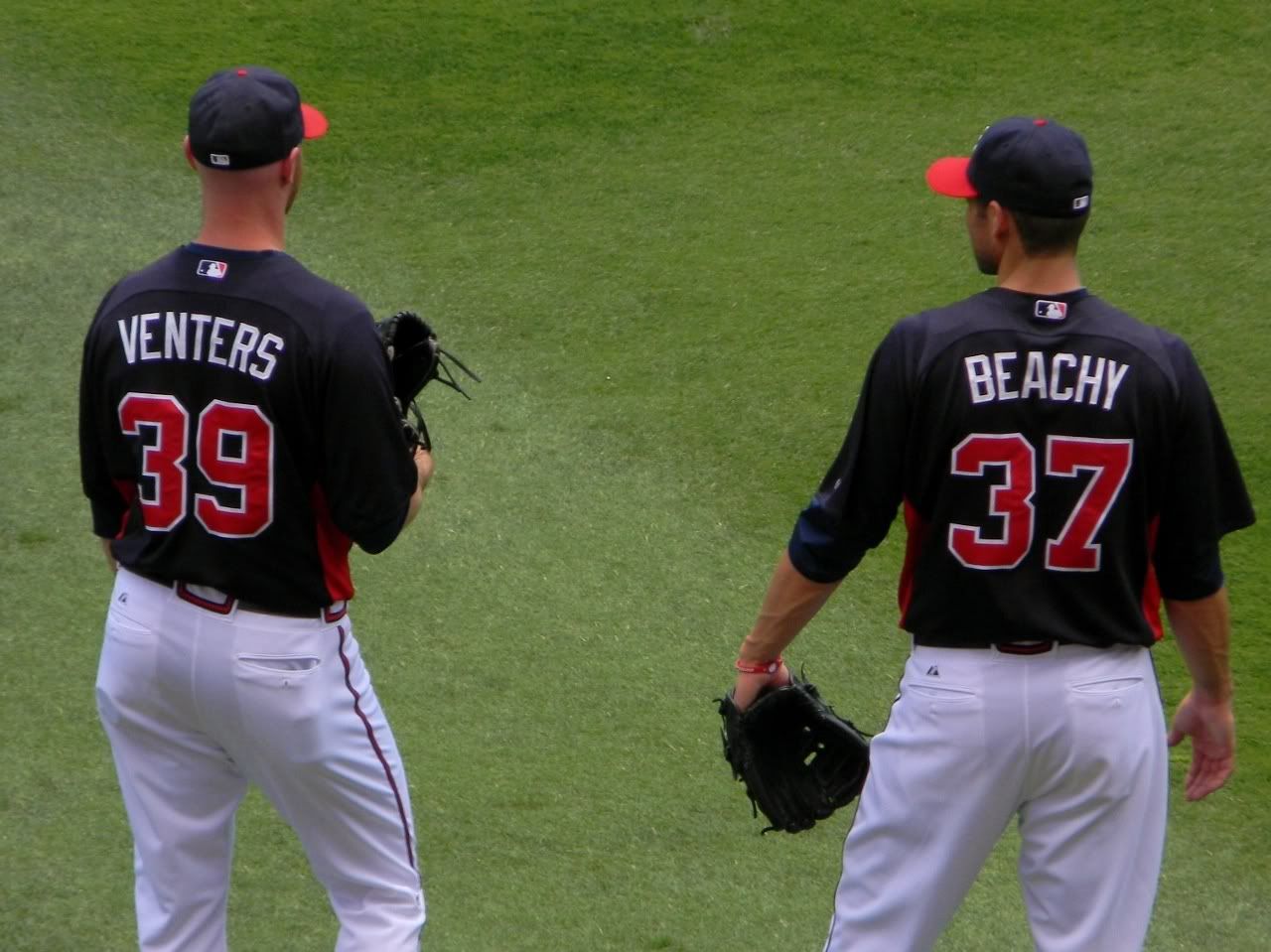 Several of these shots too - they were right in front of us.
(Sort of - we were in the shade of the terrace. Day game sun and all!)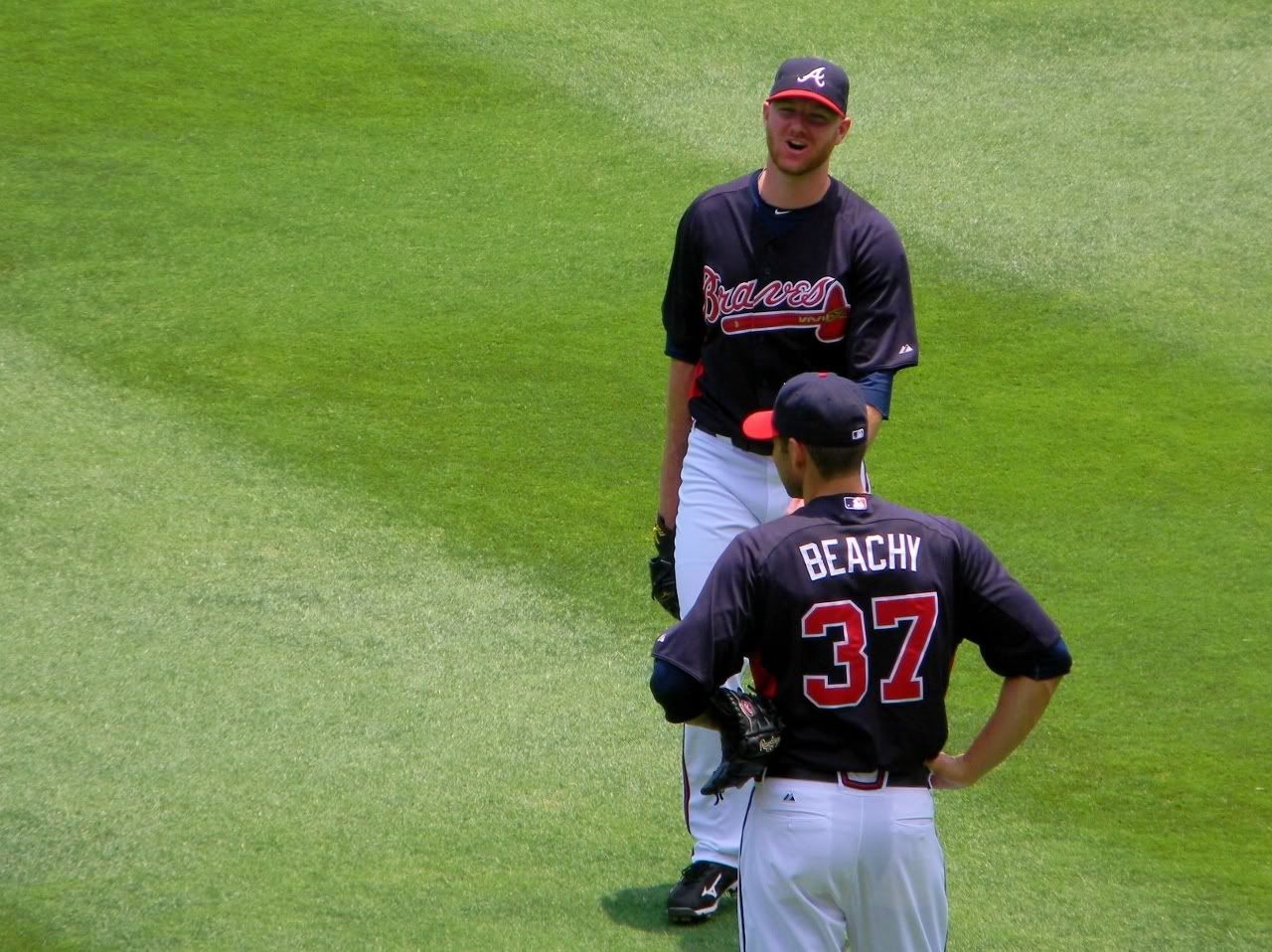 CUTE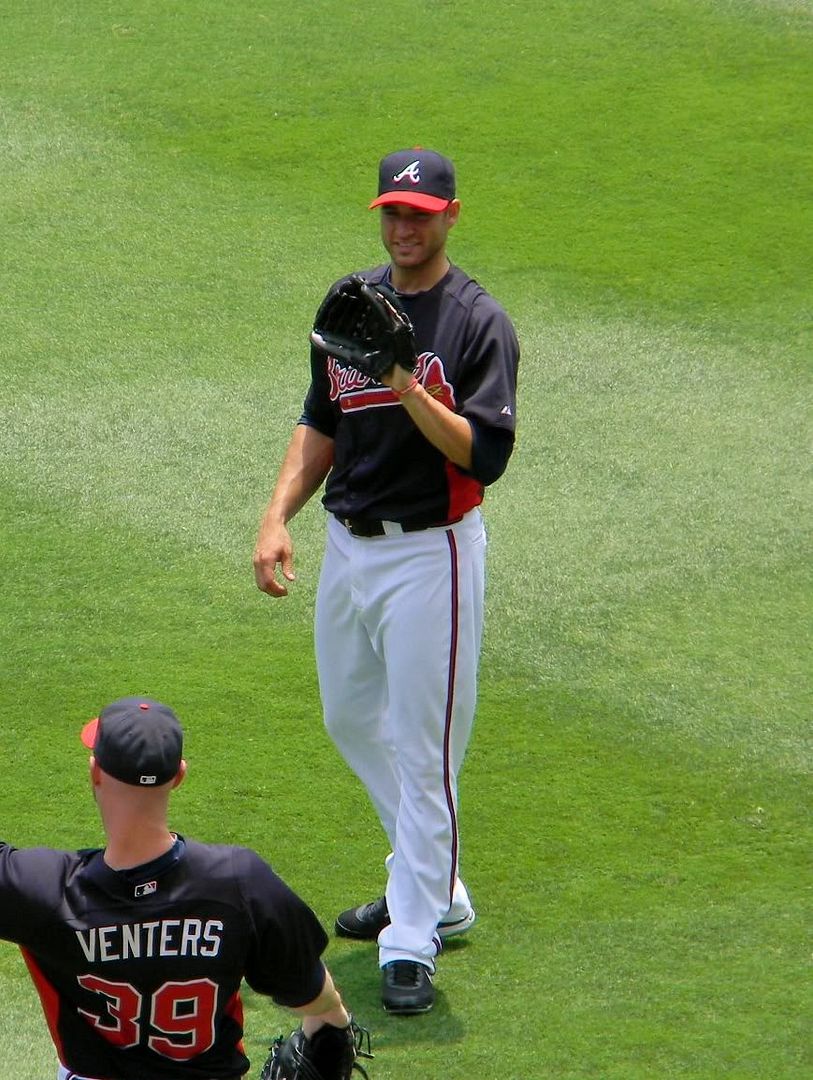 CUUUUTE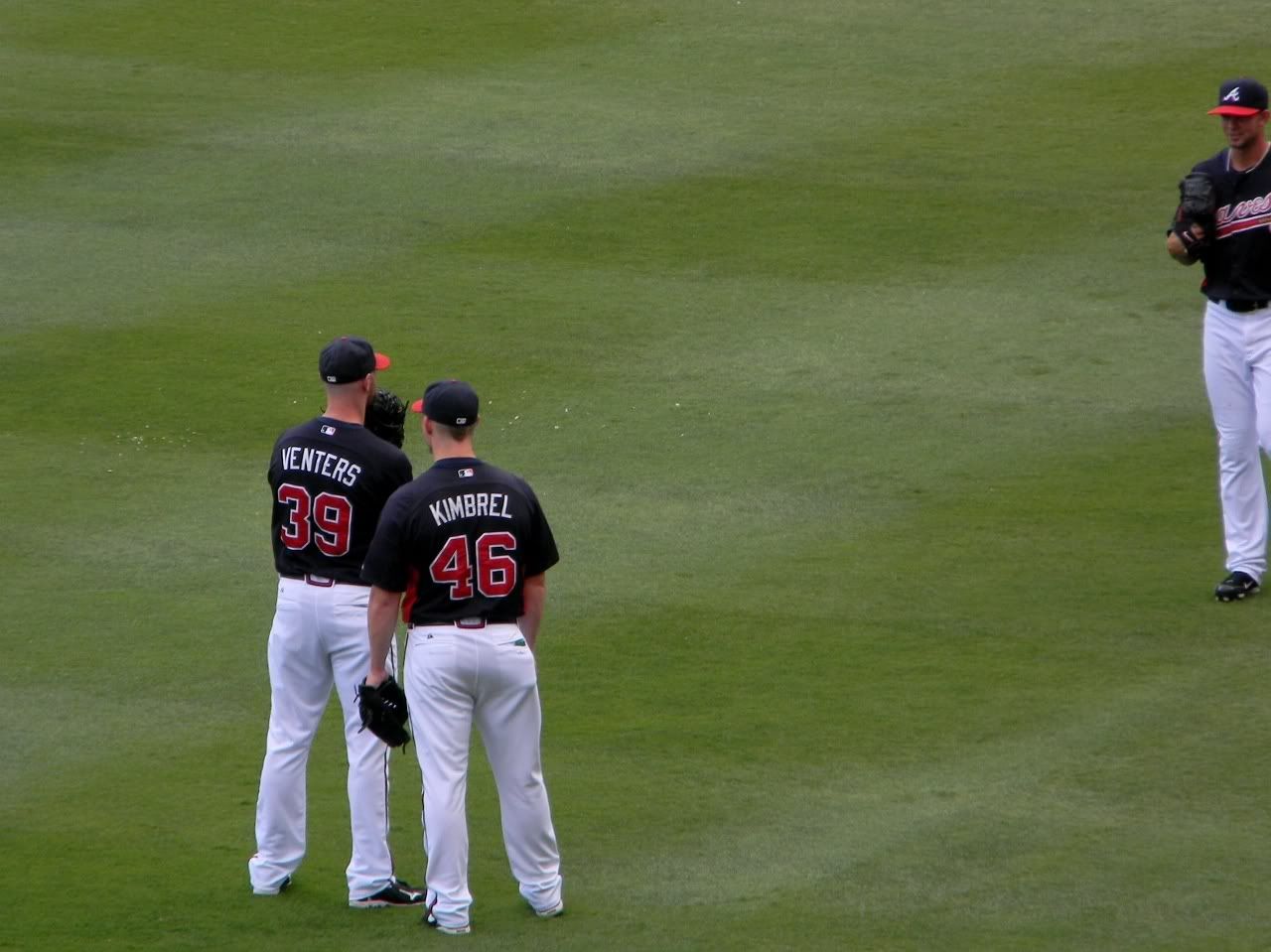 I am a super-curious person and I always wonder what they're talking about... but then I think twice and you know? I probably don't want to know. :D
Bye boys...
Game time!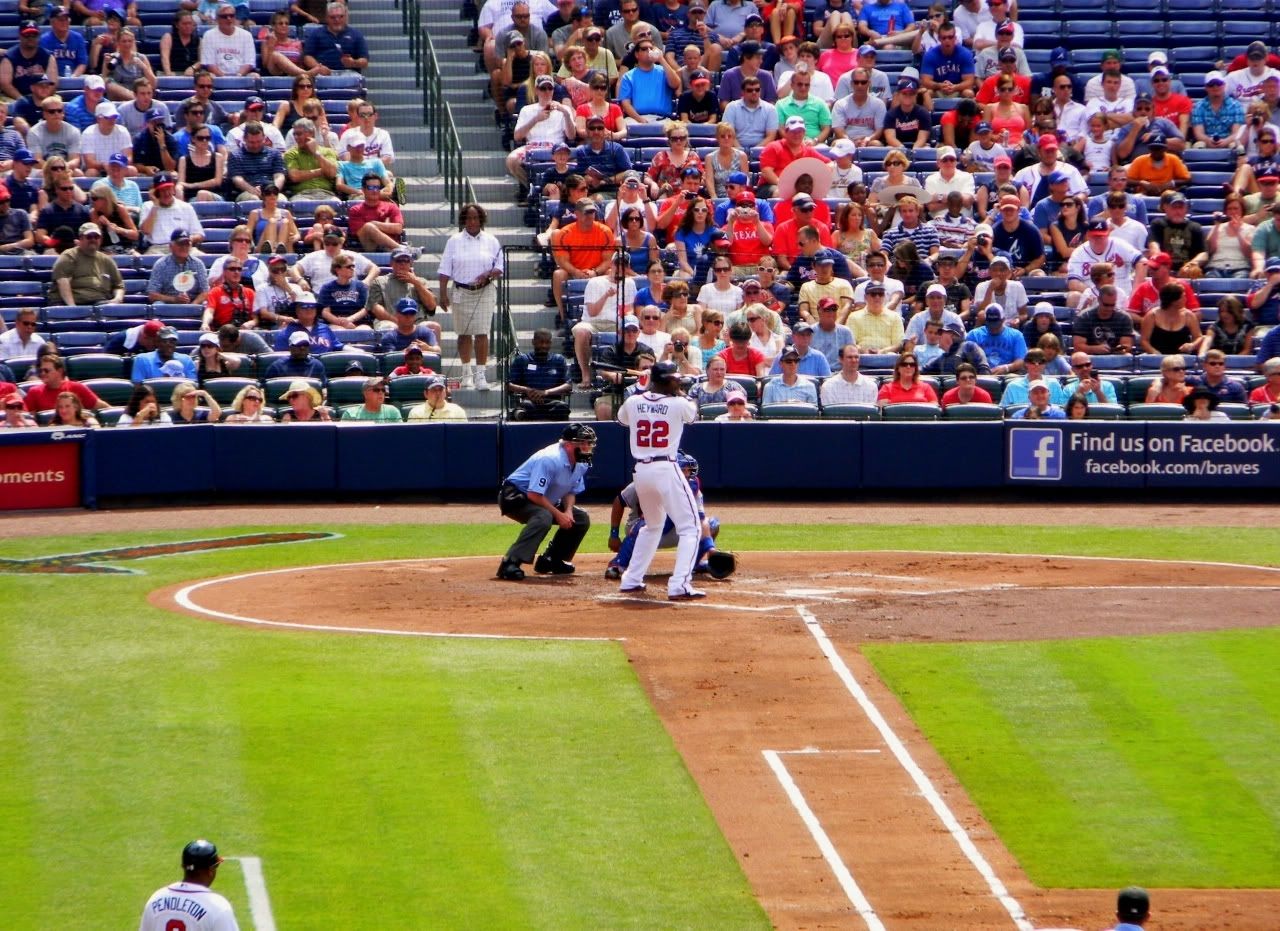 JHey at bat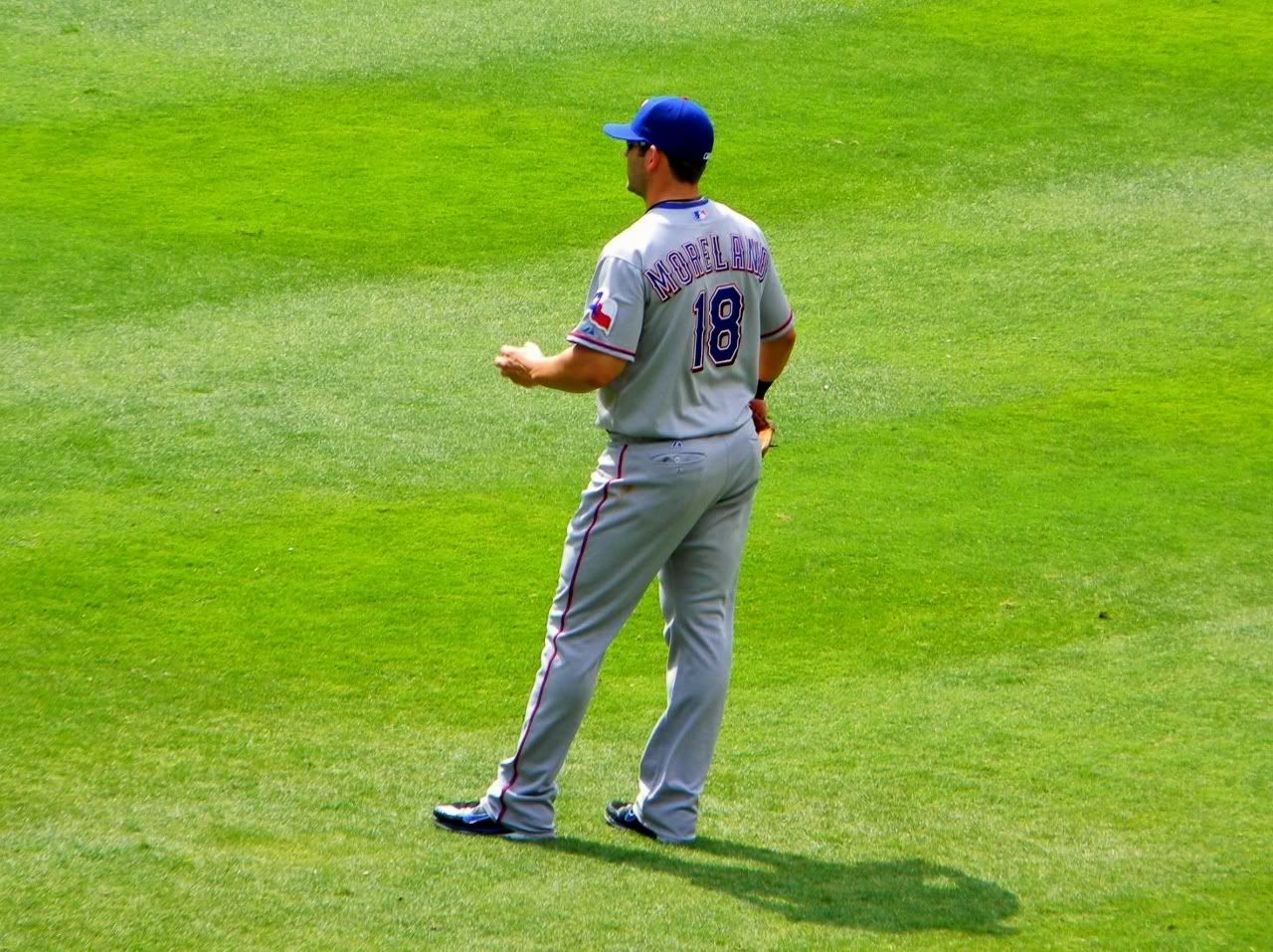 My friendly Ranger from the night before
DLowe!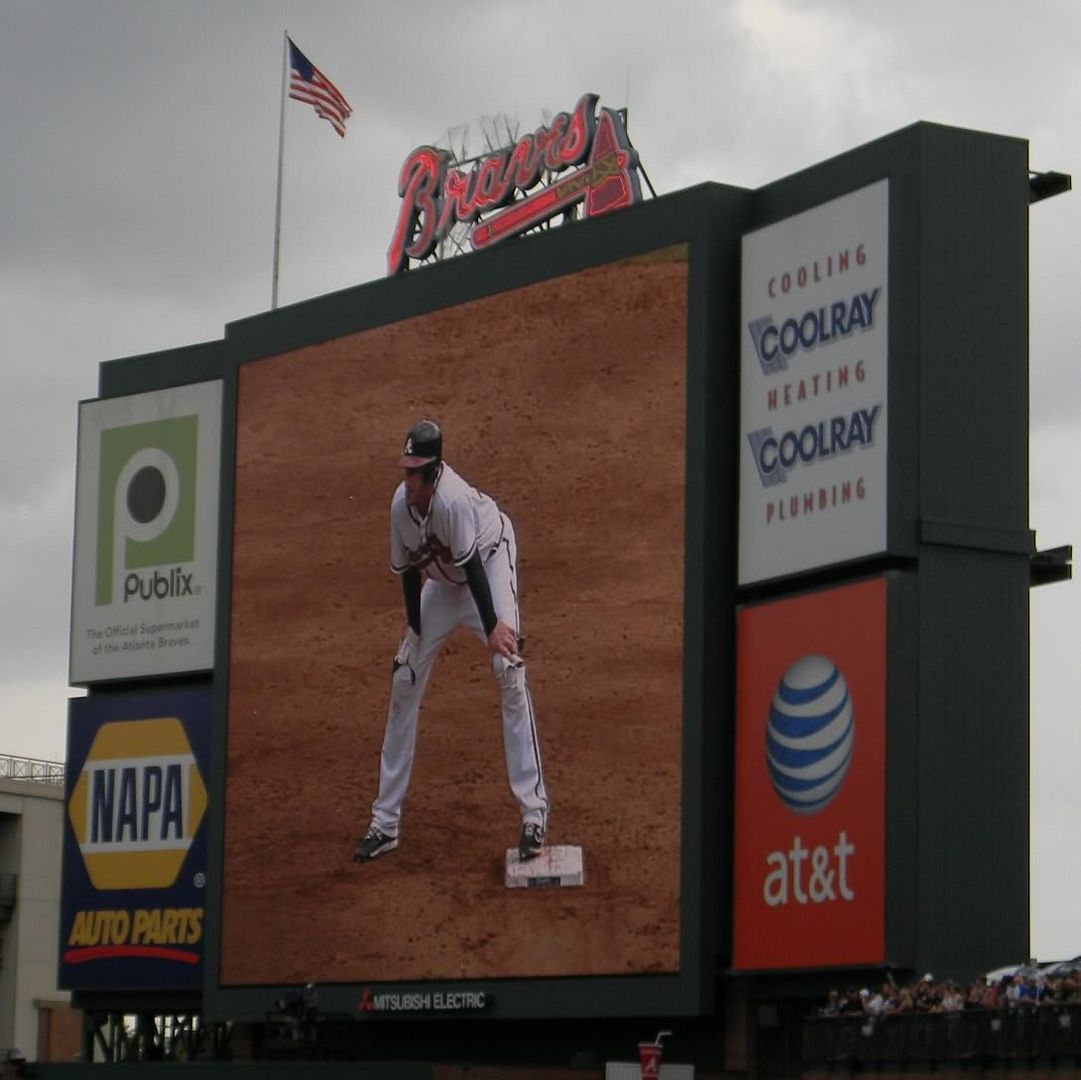 HIT A DOUBLE!
Getty Images Photo - I loved this SO much.
ATLANTA - JUNE 18: Carolyn Lowe cheers as her husband Derek Lowe #32 of the Atlanta Braves hits a double against the Texas Rangers at Turner Field on June 18, 2011 in Atlanta, Georgia.
(His daughter's pretty cute too!)
Schafer bustin' it down the line
Very long rain delay. They took the tarp up and put it back down.
During the delay they showed more of "The David Ross Show", and this time Rossy interviewing Meds. From our seats at the top of the terrace section we could see the little TVs but couldn't hear anything...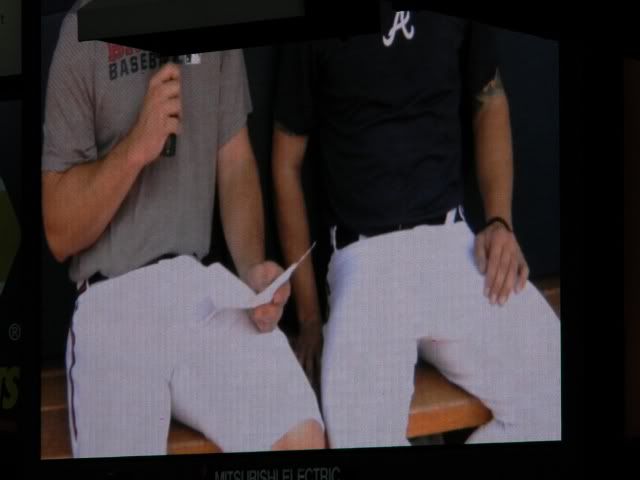 ...and this is all we could see of the jumbotron. See the overhang above?
Hey Braves, know what would be helpful on these Rossy interviews? Subtitles. No one he's interviewed is difficult to understand, but it's so loud in the stadium that I've never been able to hear an entire interview, and I've been to over 20 games this year. Club level, terrace level, field level, outfield pavilion - never been able to hear. Thanks. ❤
We went home before the game started up again. We were tired, and
we didn't win
. (Okay, that part makes me feel a little badly -- the boys need encouragement no matter what. But it's not like they could hear us all the way up where we were!)
See you at the Ted soon! :)